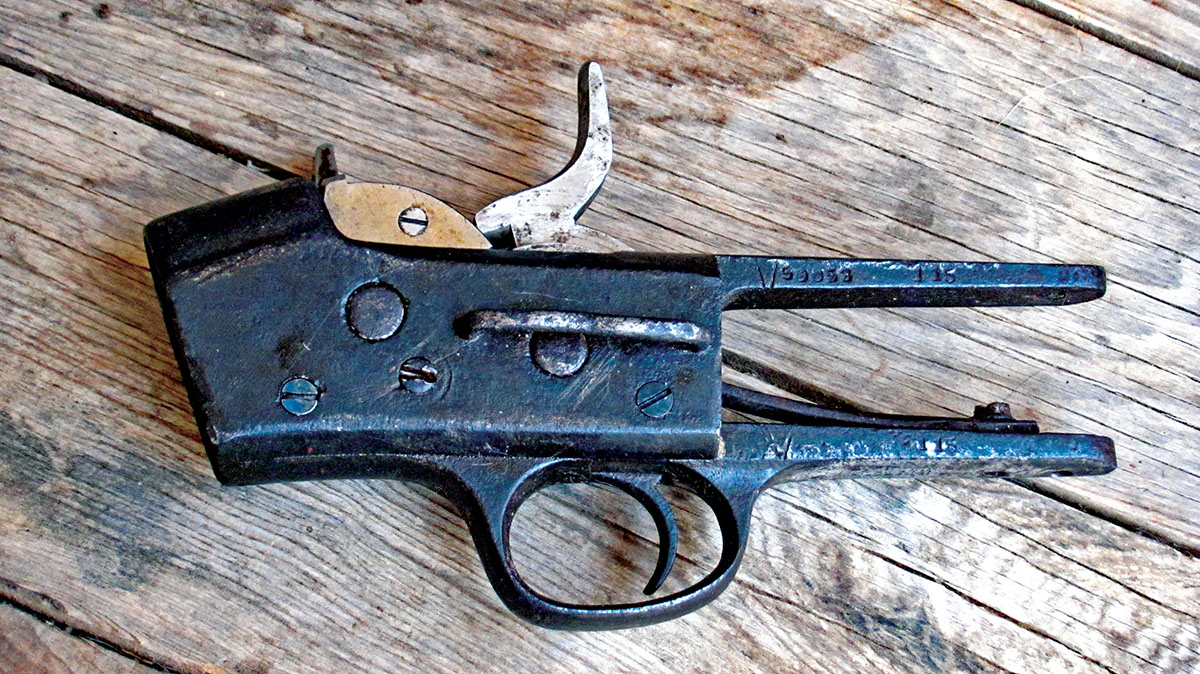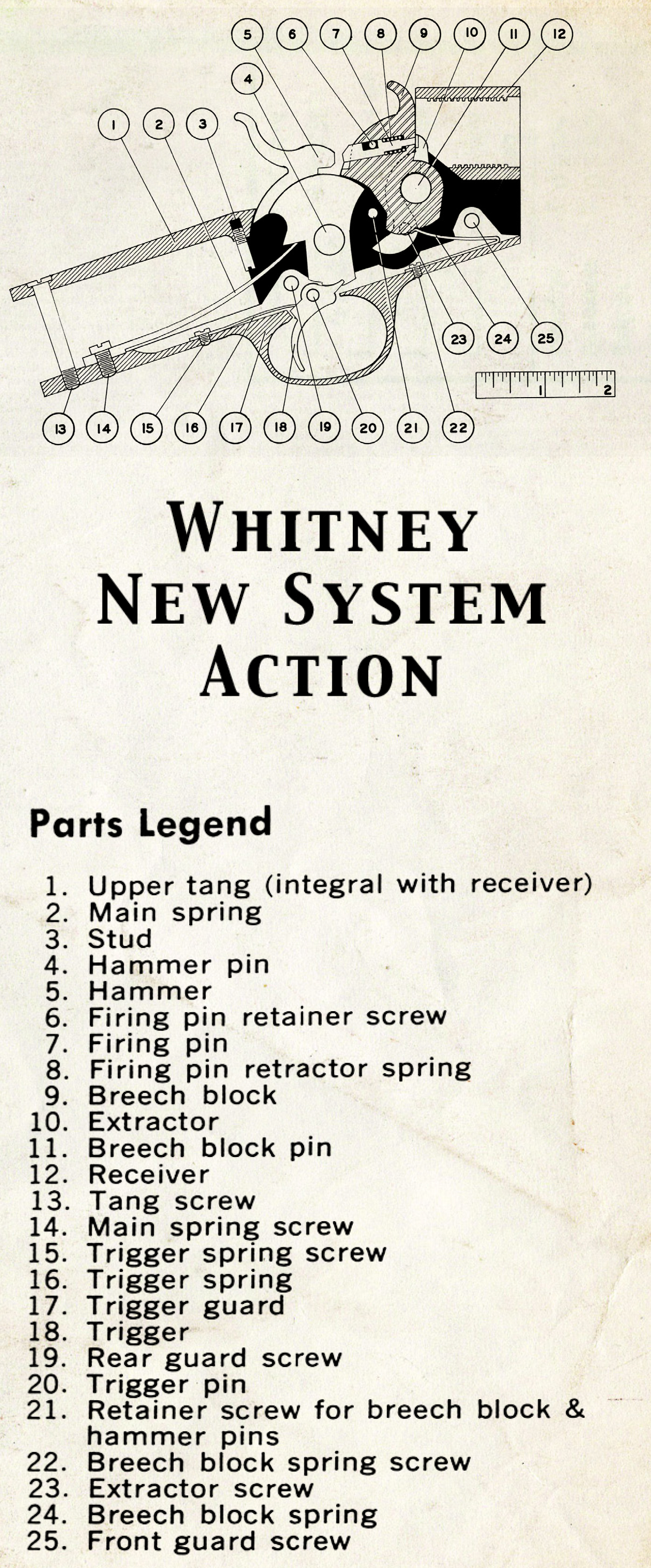 Back in the late 1980s, a heap of rifles and shotguns made their way into Texas from Mexico as a result of that country enacting Draconian gun laws. I bought a few Remington Rolling Blocks as well as several shotguns from Deep River Armory in Houston. One day, while looking over new offerings, I came upon a Rolling Block, "bar and ring" carbine with a strange breechblock with two square holes in the face. Upon asking Jim Hughes, the owner of Deep River Armory, what I was looking at, he informed me that it was a Whitney chambered for both .50-70 centerfire and .56-50 Spencer rimfire cartridges. The carbine was rusted, full of historic dings and missing its wood. To make matters worse, someone had used a drill bit to reshape the chamber and the rifling was gone.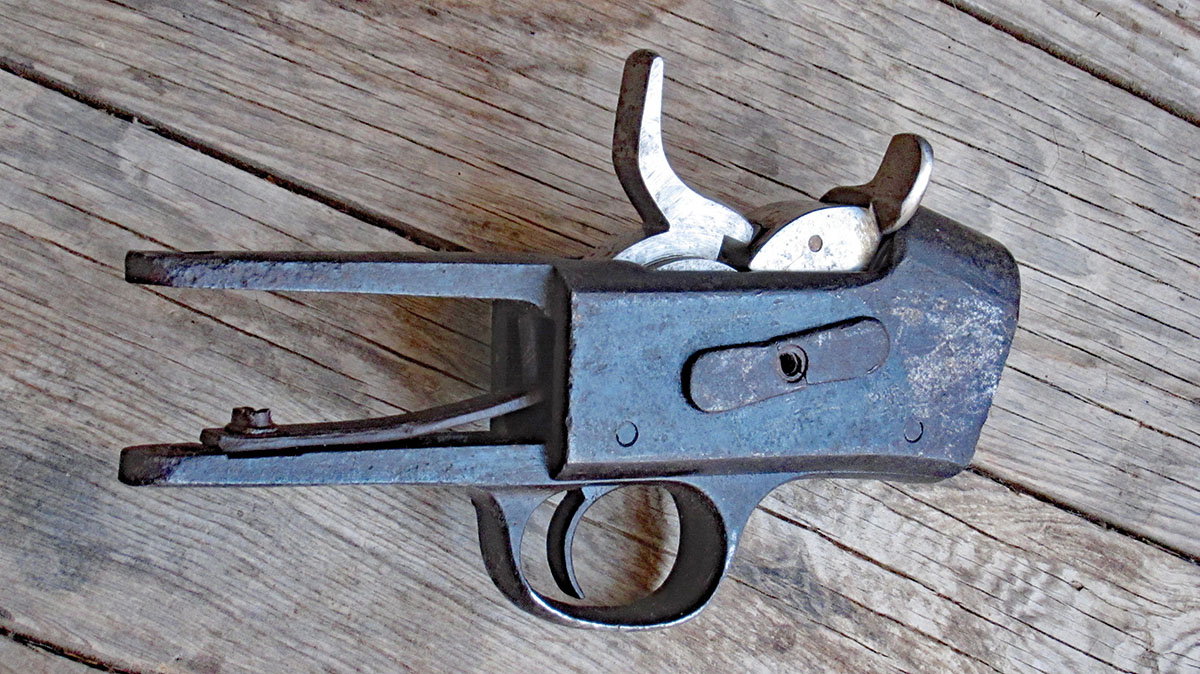 With lots of other projects to finish, the Whitney was put away. Around 20 years ago, I decided to buy all the parts needed to complete the action before the supply dried up. I acquired a new hammer, breechblock, extractor and a couple of screws from Dixie Gun Works. I already had a Remington Navy carbine barrel that would thread into the Whitney receiver. Again, everything was put away due to other priorities.
Recently, I decided to survey the Whitney "New Style" action to see which parts were missing and figure out what needed to be done to put it back in shooting condition. Missing pieces included the extractor, breechblock/hammer pin retaining screw and tang screw. These were found in my parts bin along with enough wood and the Remington carbine barrel. So far, so good. What was not good were the several rusted-in screws that didn't want to move and a barrel that wouldn't headspace. The other issue was thick rust that needed to be removed before restoration could begin. Yet another problem was a hammer that would not come to full cock.
After cleaning up the slots, as well as other exposed screw parts, all screws received a dose of Break-Free. Two days later, with the help of my drill press, all screws were removed, except for the breechblock spring screw that wouldn't budge. After removing the old homemade main spring, I was able to get a good look at the hammer problem. On Remington No. 1 actions, there is a mainspring stop pin that runs from left to right across the rear of the upper receiver. The purpose of this stop pin is to limit upward mainspring travel so that the hammer may be easily mounted or dismounted. On the Whitney, this pin is replaced by a vertical stud that serves the same purpose.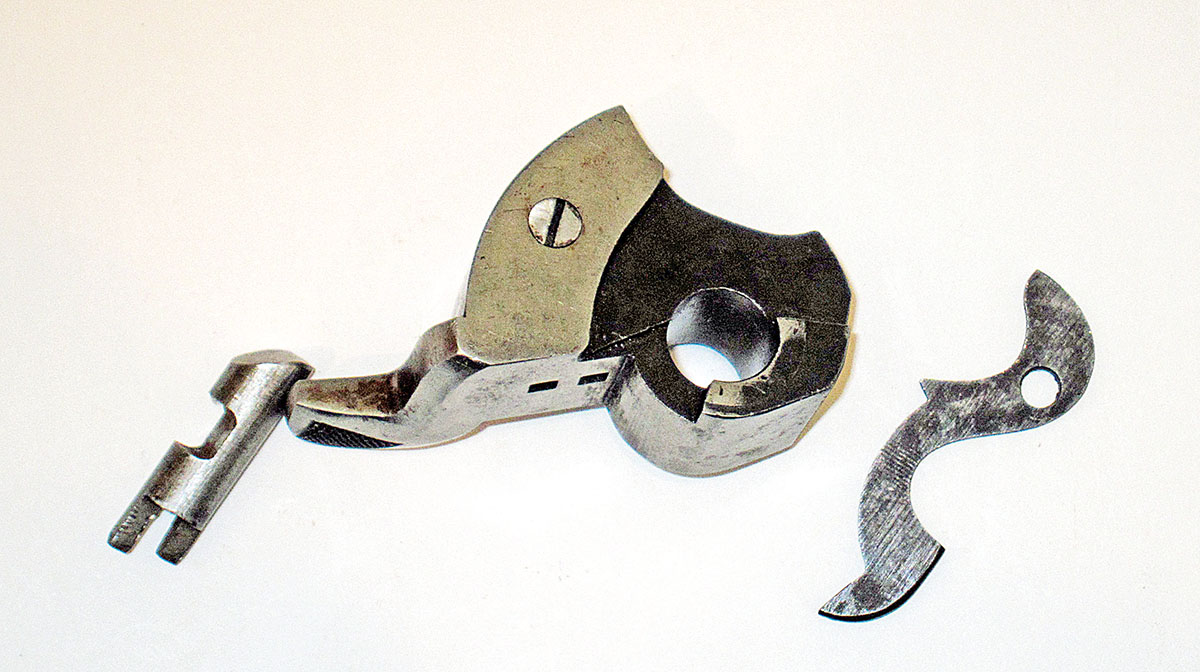 The reason my hammer would not come to full cock was that the stud was bent inward, thus limiting rearward hammer travel. The offending stud was removed with tiny pliers and will be straightened or replaced.
With the hammer problem corrected, I decided to continue researching this little-known action. First consulted was Single Shot Rifles and Actions by Frank De Haas, where I confirmed that the original mainspring had a squared raised portion around the screw hole. This raised portion fits into a corresponding milled out square in the lower tang. The homemade mainspring that came with the action was flat where it should have been raised. The replacement spring (a newly made Remington replica), has a raised portion that extends too far forward of the milled-out square in the lower tang. In addition, the replica spring's screw hole diameter is a little too small. My Dremel tool will attend to both problems on this spring.
In the De Haas book, the author noted that little information is available and that the action is scarce. The photo and his description are of a .32-caliber rimfire sporting rifle with a thinned trigger guard and a rounded receiver. He stated that although rounding the receiver reduces weight, it also weakens the action. He further mentioned that the largest centerfire caliber chambering was .44-40. It is obvious from these two statements that De Haas never inspected a military New System Whitney. My receiver is not rounded and the .50-70 is larger and is far more powerful than the .44-40.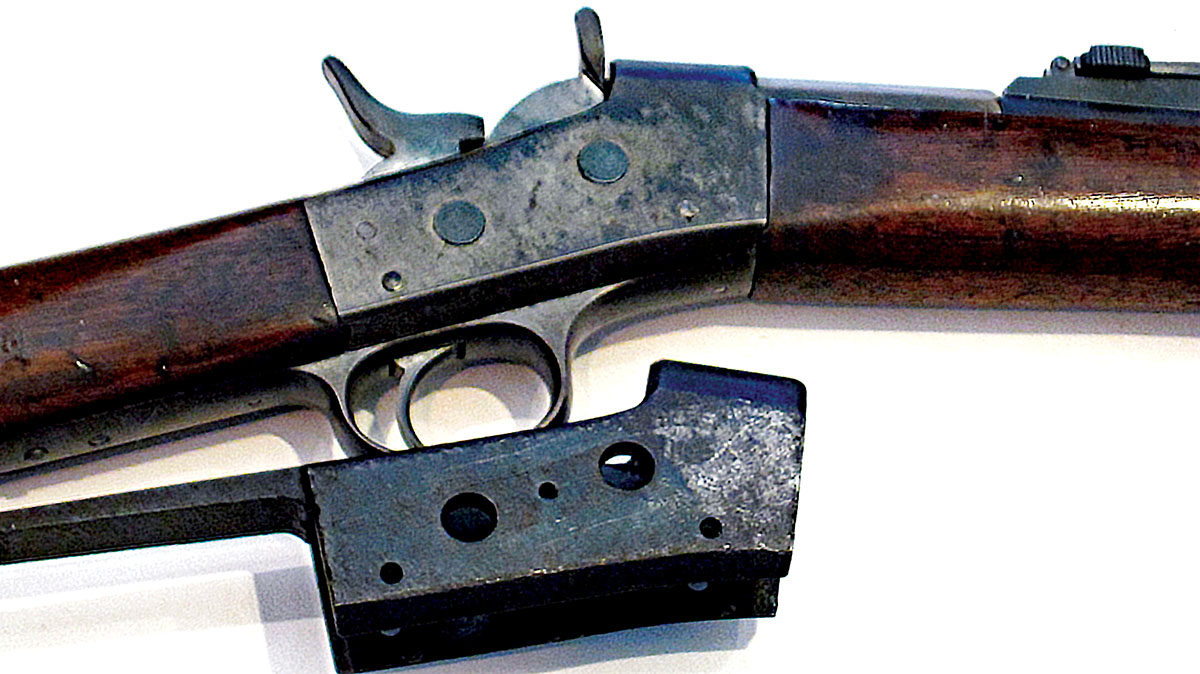 Another written source is Mexican Military Arms, The Cartridge Period 1866-1967, by James B. Hughes, Jr. This excellent book includes Spencer carbines, Peabody rifles, Remington carbines (chambered for .50-70 Government, .56-50 Spencer), Whitneys, machine guns, pistols, etc., that were issued to various Mexican states, federal and other military organizations. While writing this book, Hughes traveled to Mexico City to examine archives and interview sources. This work is highly recommended as it covers all arms within the time period noted in the title. It also includes a cutaway drawing of a Model 1872 Whitney action, as well as a photograph of a Whitney New Model rifle. In addition to the above information, there is a confidential memorandum dated July 16, 1916, entitled The Mexican Army and Military Commanders. The memo is from Headquarters Brownsville District (U.S. Army) and describes such leaders as Emiliano Zapata and their abilities as commanders. This document mentions that the Mexican Army is mostly separate groups of armed civilians and notes their locations, numbers and other information. This thumbnail sketch is what today would be called an "Order of Battle" report.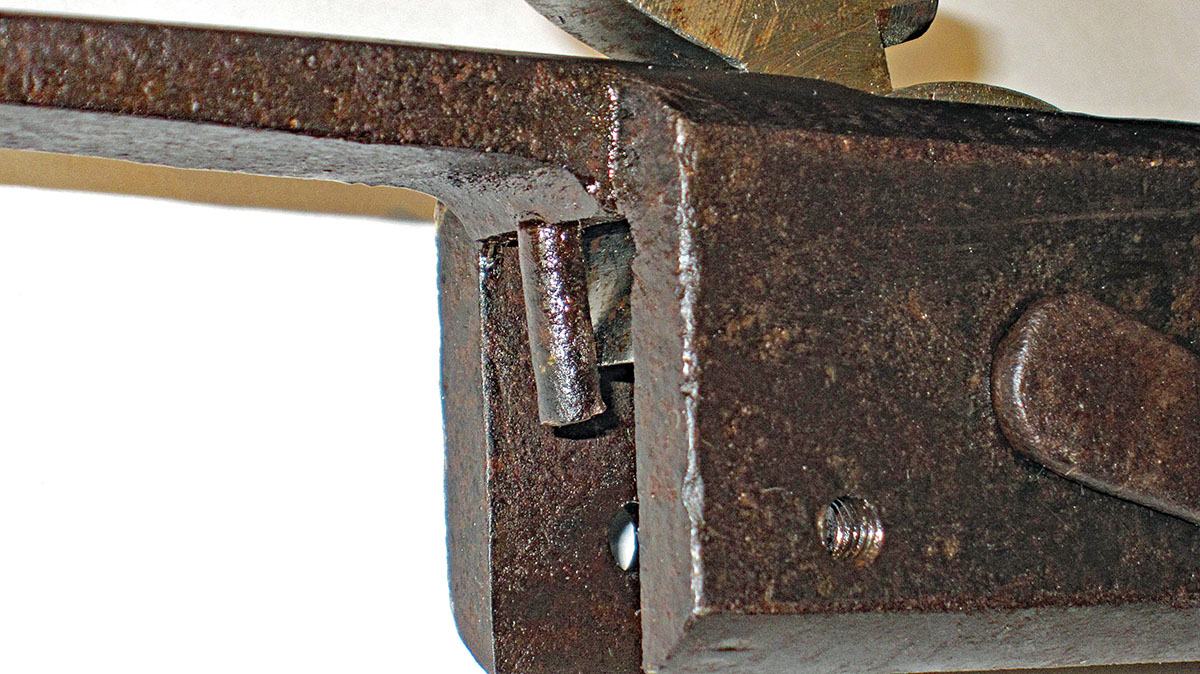 Because I have seen only one New Style Whitney rifle in 50 years of collecting rolling blocks and other single shot military long arms, I began to wonder just how rare they are. None of the several collectors and two gunsmiths who work on antiques had ever seen a Whitney like mine although several had seen the older Model 1872 Whitney. There was one person I had not called who knows more about Rolling Blocks of myriad types, as well as parts for each, than anyone I know. He deals in Rolling Block firearms, hard-to-find parts and is also a collector. I called Kenn Womack and told him I wanted to know how rare my carbine was and gave him a brief description. Kenn asked me the shape of the firing pin holes in the face of the breechblock. After responding that they were square, he mentioned he had seen four or five in his life and verified that they are indeed rare.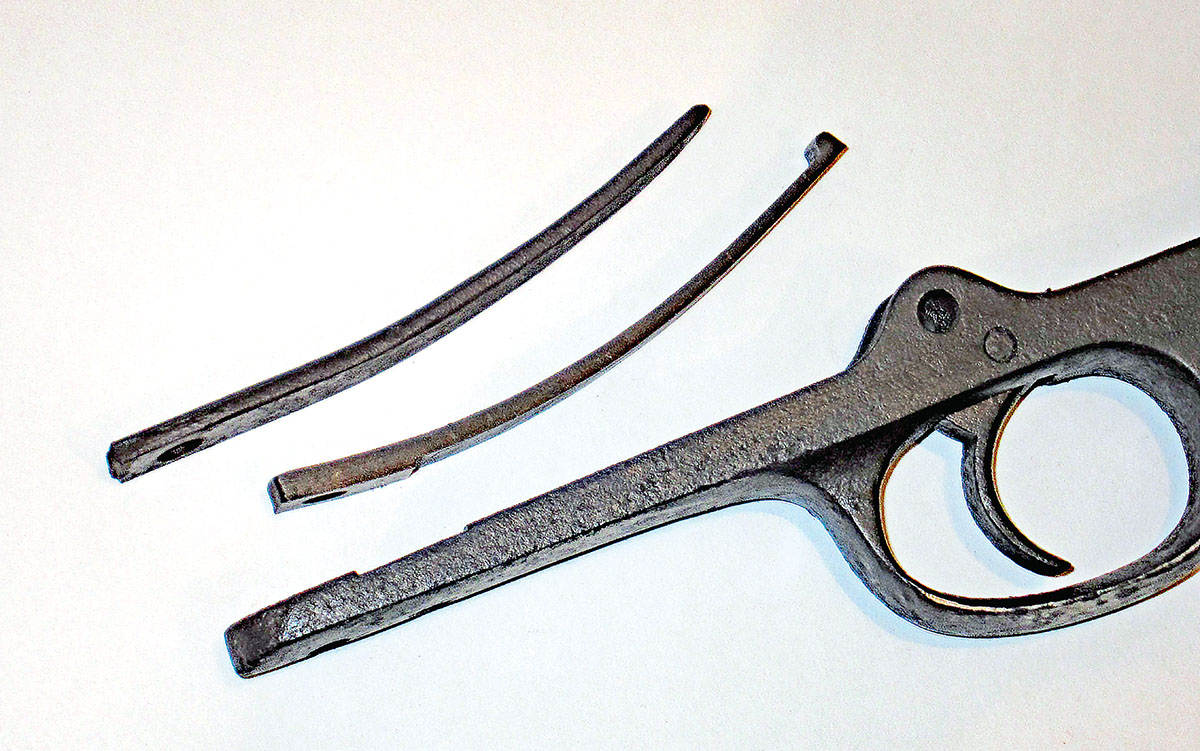 Most folks are unaware that Whitney rolling blocks exist in two distinct types. The original action, aka Model 1872 (1872 to 1880), is quite complicated and entirely different from the New System. I own and shoot a Model 1872 three-band rifle chambered in 11.15 x 58R that I repaired. The Whitney New System, manufactured from 1880 to 1888, is basically a copy of the Remington No. 1 action with a few minor changes. For those who own the earlier M-1872, be aware that action disassembly without proper instructions will result in breaking an internal part (the cam latch aka locking lever). Disassembly instructions and lots of other data, as well as photos of internal parts, etc., of the M-1872 military rifle are found in Chapter IV of my book,
The Yellow Book of Selected Articles
. Another warning pertains to removing the eared breechblock and hammer pins from either model. Resist the temptation to use the fragile ears to pry or twist the pins out of the receiver; they will break. Instead, after soaking in penetrating oil, gently tap the pins out with a brass or plastic rod that will not mar the original finish.
References:
Single Shot Rifles and Actions (De Haas)
Mexican Military Arms, The Cartridge Period 1866-1967 (Hughes)
The Yellow Book of Selected Articles (Barker) Cistern Publishing – Ph: 361-865-0030