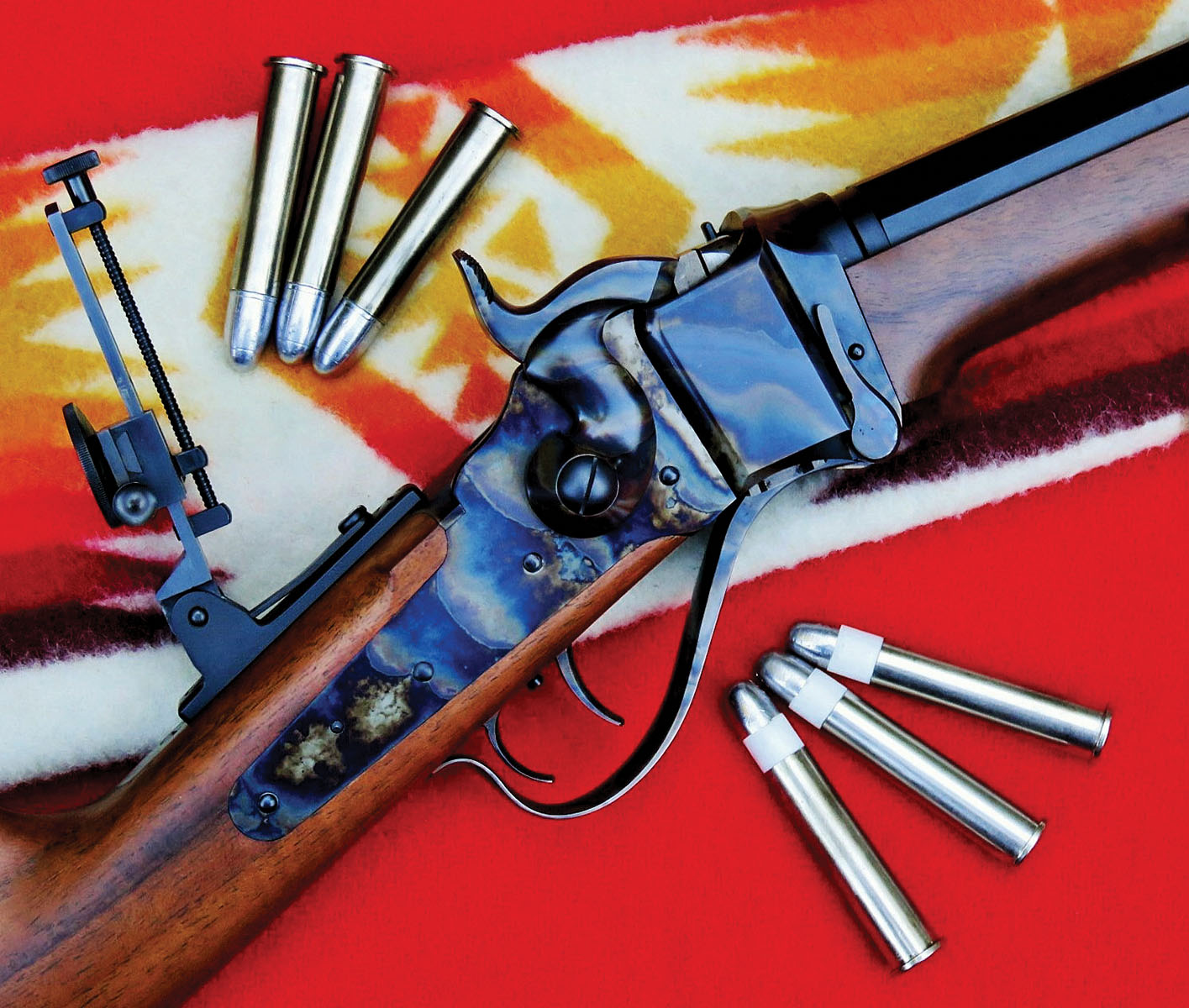 While shooting my C. Sharps Arms Model 1874 Hartford chambered for the .44-70 cartridge, several questions surfaced, which I tried to answer. Sometimes those questions simply lead to more questions and often the answers were simply wrong. My search in quest of "that perfect load" was nothing more than a pathway through several trials and errors, but a very good loading was finally found.
The .44-70 that I'm talking about is what we should call a modern black-powder wildcat cartridge, one that has not been commercially produced. It is made by simply sizing down the standard .45-70 case to .44 caliber, from the .458-inch diameter for the .45 bullets to .446 inch for the .44 bullets. That's a simple step to take and is mainly done by shooters who don't think the .45-70 is quite "perfect" enough.

My .44-70 rifle is a gun that I've mentioned before. It became mine in 2017, after I had watched it on the C. Sharps Arms "ready rack" for over half a year. That was almost my first error concerning this rifle because when I mentioned to Pat Dulin at C. Sharps that I was interested in it, he told me they had just taken the rifle back to their work area to re-barrel it to a more popular caliber. If I hadn't spoken up when I did, I would have missed getting it. The .44-70 was not getting any nibbles, at least not until I spoke up for it. They reassembled the rifle and had it waiting for me when I got to Big Timber, Montana.
The rifle is a Hartford Model with the optional No. 1 Heavy Barrel by Green Mountain, with a 17:1 twist, 32 inches long and cut with the Hartford collar. While picking up the rifle at the C. Sharps Arms shop, I had the barrel sights removed and replaced them with a Deluxe Mid-Range sight on the rifle's wrist and a spirit level changeable aperture globe front sight. A slot blank and a headless screw were added to fill the slot and the screw hole in the barrel where the open sight had been.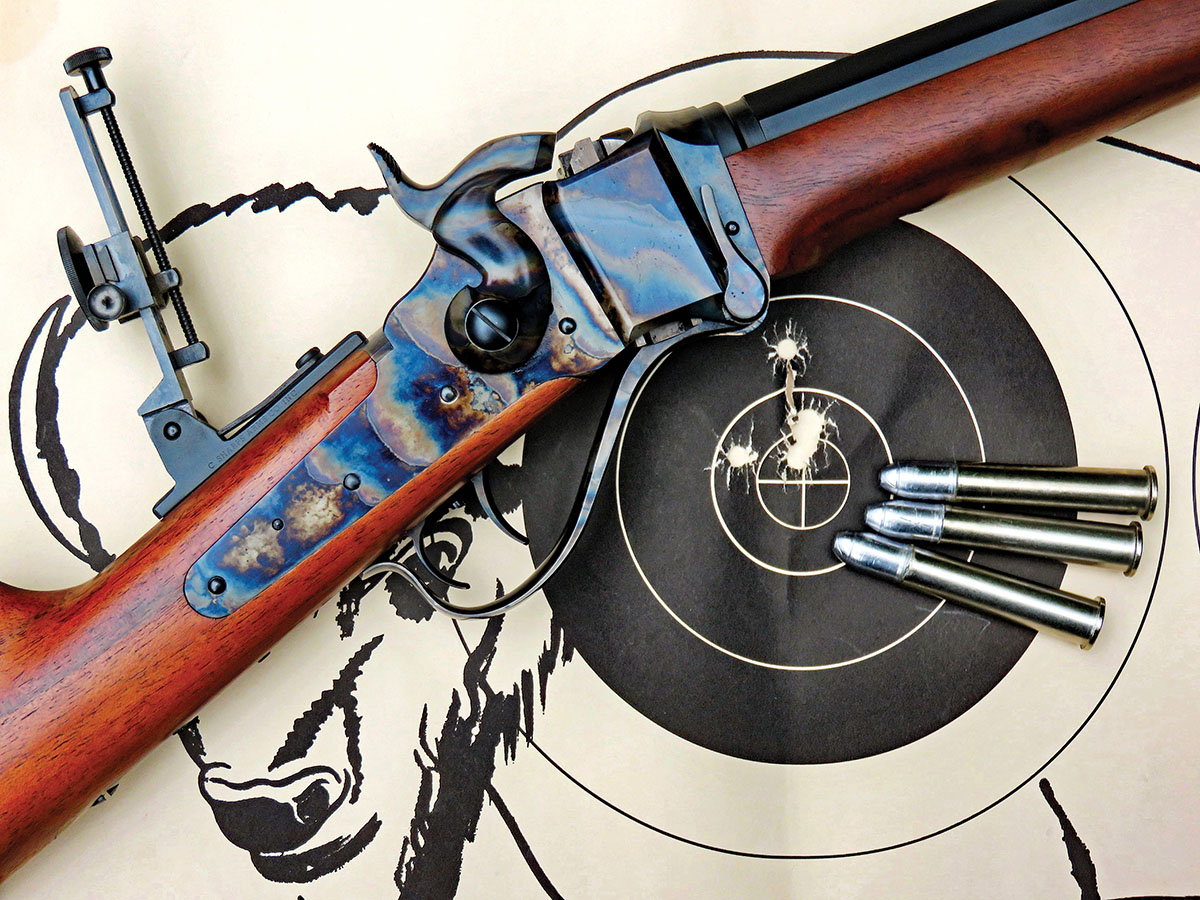 With the rifle, I also bought a set of custom Redding reloading dies for the .44-70. Being semi-prepared, I had some bullets with me, and quickly loaded some rounds for the new rifle so I could fire it on the range at Quigley. Those few rounds were burned up pretty fast at various Quigley targets during one of the sighting-in days. Some hasty sight settings were noted, but the real shooting with this rifle would wait until I got back home. The shots fired at Quigley left me with a lasting impression; I quickly formed an appreciation for this rifle.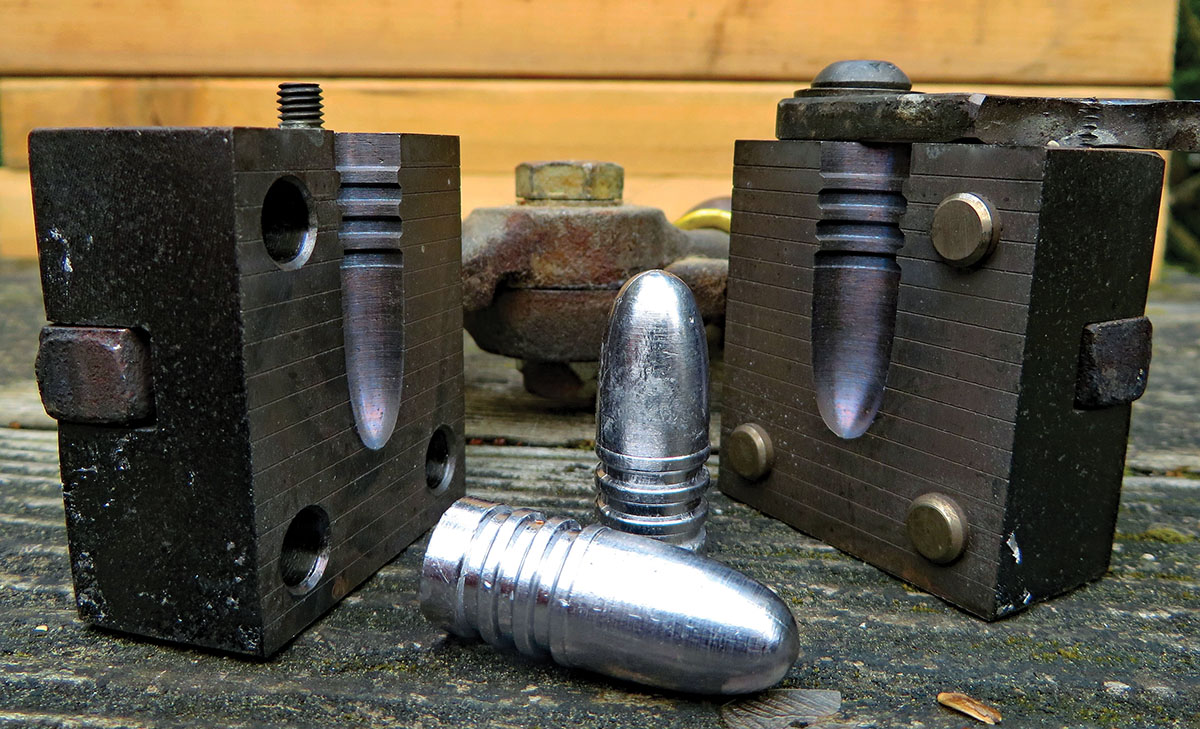 Because there are .45-70s in the family, I wanted my .44-70 brass to be easily and instantly recognized, so I'm using Starline's nickel-plated cases. The .44-70 cases are very easy to tell from the .45-70s and the nickel-plated brass is easier to keep clean. Sizing down the nickel cases has been no problem, just be sure to use plenty of lube.
Cases for the .44-70 occasionally need to be trimmed for length. My "gauge" for this is simply the rifle itself and if my ammunition begins to be slightly difficult to chamber, it usually means the cases have stretched slightly. Without sizing the brass beforehand, those cases are then run through a .45-70 file trim die. Unsized, the cases fit the .45-70 file trim die very well. After trimming, they are sized and the regular reloading procedure is followed.
The load that I wanted for the .44-70 would be used mostly at short-range targets – 100 and 200 yards. Some midrange shooting might follow, of course, but not until the loading had proven itself for targets within 200 yards. In addition, I wanted a low-recoiling load for this rifle, something that would be easy and comfortable to use. After all, if I wanted to get a kick out of something, my .44-90 is available and waiting. So, power and long range were not necessary requirements for the .44-70 loads.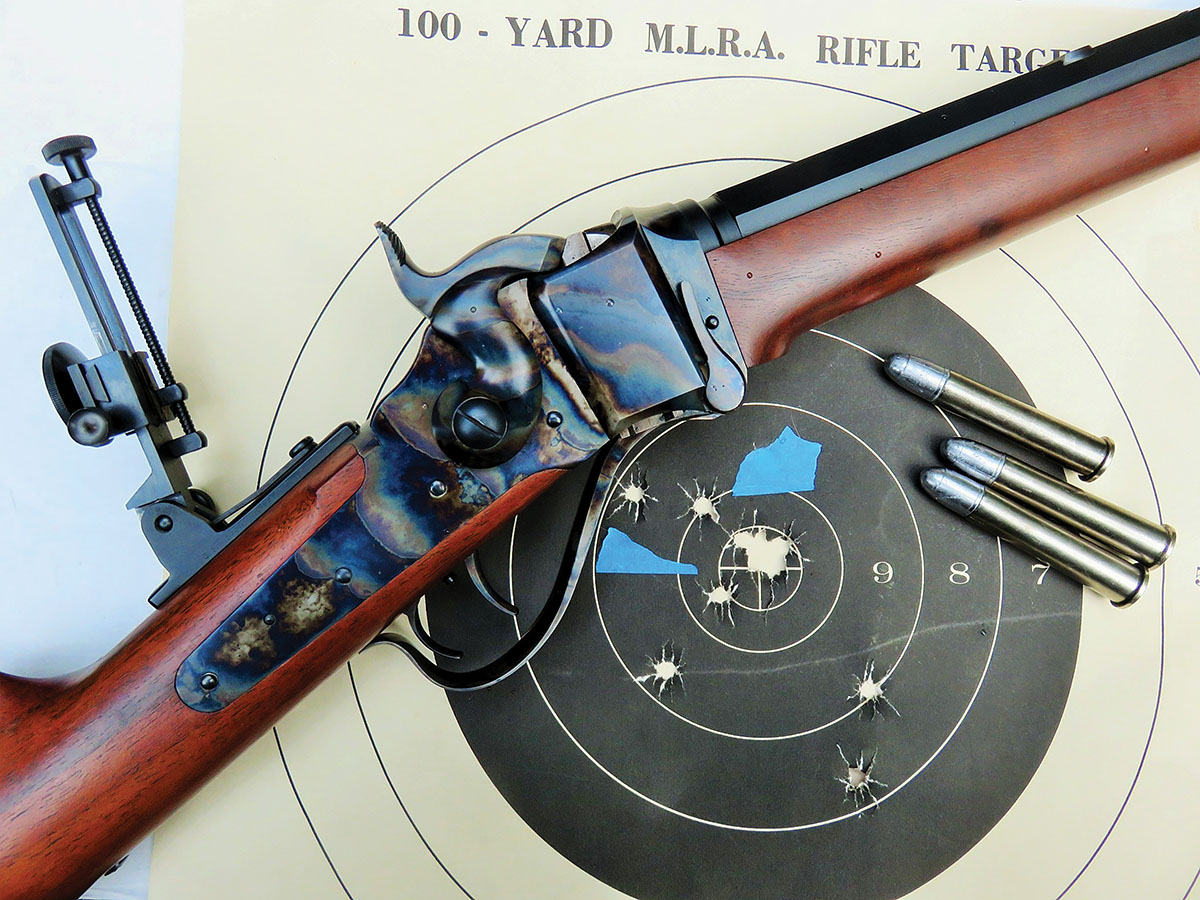 The method I used for seating the bullets should be mentioned because I do have other rifles/cartridges that prefer being loaded differently. First, all of the .44-70 cases are full-length resized and then expanded. Then the cases are primed and the expander die is backed off to become the compression die. With the cases charged with powder, a card wad (punched out of table backing) goes over the powder and the powder is compressed. The depth of compression is measured to be almost the same length as the portion of the bullet that will be seated within the case. I often seat the bullets a touch deeper just to make sure the base of the bullet is down on top of the card wad with no space between. Following the compression step, the bullets are seated into the charged cases with the standard seating die.
My first attempt at finding a good load turned out very well, or so I thought. That load used a 415-grain original Postell-style bullet from a Steve Brooks mould with over 60 grains of Olde Eynsford 1½ Fg powder, while using standard Large Rifle primers for ignition. At first, that load performed quite well, at least until I tried using it in a short-range match and my targets were simply disappointing. Something went wrong. For the most part, that load had everything I was looking for – a soft recoil and was pleasant to shoot – but it wasn't grouping.
So, I tried simply increasing the powder charge one grain at a time, loading maybe a dozen cartridges with 61 grains of Olde Eynsford 1½ Fg. Maybe that grouped slightly better, but it was still on the poor side for consistency. Next came a dozen loads with 62 grains of the same powder. Again, any improvement was rather slight. The next natural step was to shoot some loads with 63 grains of the Olde Eynsford powder and that caught my attention.
The five-shot group at 100 yards with the 63-grain load was really a step in the right direction. Center to center, it measured just over 2¼ inches. This loading with the 63 grains of powder pleased me, almost enough to just use it. I felt that it gave me "minute of moose, elevation for elk, and adjustments for antelope" accuracy.
However, there were other possibilities to consider. Readers will notice that I was changing only one thing at a time in trying to develop a load that my .44-70 rifle really liked. So far, only the powder charge had been "jiggled" to find that magic bullet speed, pressure and performance which were favorable to the rifle. The bullets were cast from BACO's 25:1 lead and there was one factor about those bullets that formed a question in my mind. The mould from Steve Brooks was just what I had ordered and it was to drop bullets with a .446-.447-inch diameter. When cast with the BACO 25:1 alloy, some of those bullets would go into the .446-inch bullet sizing die with no feeling, which made me wonder if, perhaps, the shrink rate of the 25:1 lead was enough that those bullets were actually a tiny bit undersized.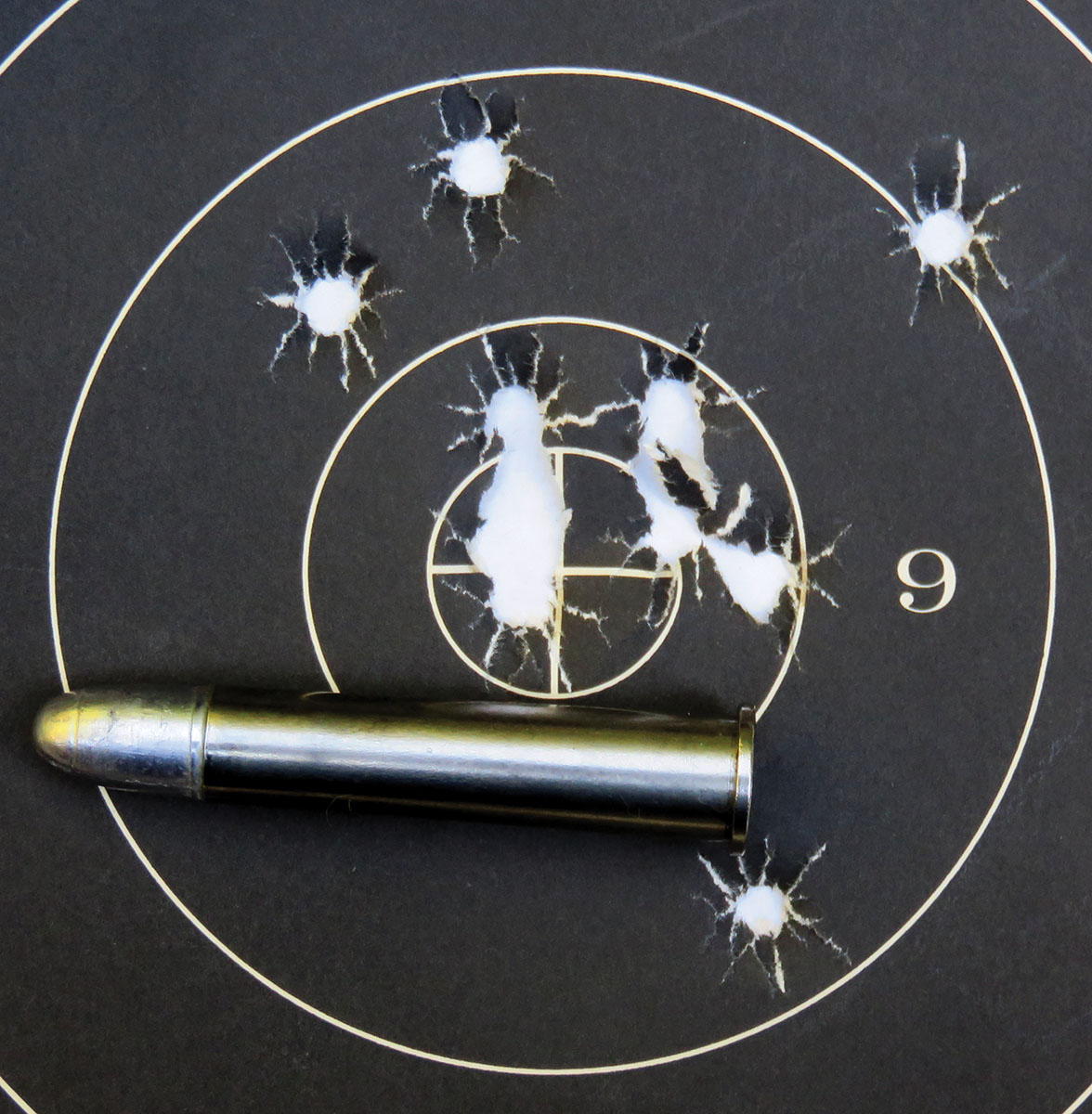 To follow-up on that idea, a small batch of bullets were cast using Walters' 16:1 lead and those were certainly different. One of the bullets was weighed and it balanced the scale at 408 grains. While sizing and lubricating the bullets, each bearing band could be slightly "felt" as it entered the sizing die, which told me that these 16:1 bullets were not undersized. Allow me to add that while sizing those bullets, the "feeling" I got with the sizer/luber's handle as the bullets were forced into the sizing die was very consistent. It was a good feeling. In fact, I was "buzzed" enough about the prospects of using these 16:1 bullets that I sent a note to John Walters about getting more of that lead along with a thousand .060-inch wads in .446-inch diameter. Of course, no real conclusions should or could be made until the loads with those bullets were fired.
A batch of only six cartridges was loaded using the 16:1 bullets, seating them over 63 grains of Olde Eynsford 1½ Fg powder. Unfortunately, the day I had allocated for shooting was simply terrible; very dark with wind and at times, heavy rain. Even so, I put a target out at 100 yards, fired a fouling shot, then began shooting to get a group with five of the new loads. My shots weren't spotted as the shooting progressed as I only wanted to see if they would group. Frustratingly, after only two shots, the wet target fell down so it was reposted. During the reposting I saw that I had one 10X and a nearby 9. That was a pretty good start.
The five-shot group was a good one but, it did have a flier landing out in the 7-ring at 3 o'clock. The four shots that made what I'll call the center of the group were all within 1¾-inch and I will take full blame for the flier because on at least one shot, I had a lot of trouble seeing the target. So, I'll call this part of the load development very positive even though it must be done again, on a better day.
While preparing for that "better day," I noticed how the shooting seemed to improve with each added grain of powder, so a batch was prepared using the 16:1 bullets over 64 grains of Olde Eynsford 1½ Fg. Those were simply good; they shot the best! It took only one test firing with that load to decide that's what would be used with the .44-70 in the next Old West Centerfires Match, which was being put on by the Black River Buffalo Runners at the Capitol City Rifle & Pistol Club near Olympia, Washington.
Those are short-range matches and are a lot of fun. The course of fire includes one bullseye target at 100 yards, plus a second bullseye target at 200 yards. With 10 shots at each target, that's 20 shots for the match with a possible score of 200 points. My personal goal is to get 90 points on each target or 180 points for the match. Shooting was done from the sitting position while using cross sticks and my 100-yard target did not reach my goal. I got a score of 87. The gun and the load were working fine and I apparently put enough of the human element into the mix to throw a couple of shots into the next scoring ring but all shots were in the black.
After the 200-yard targets were posted and my sight was reset for that distance, shooting resumed. Tom Witt was spotting my shots for me and he was reporting encouraging things after every shot. He'd say things like, "Remember that X in the middle of the target? It's gone!" After nine shots I had seven in the X and 10 rings, plus two more just a little high in the 9-ring. So, I fairly bristled with confidence as my tenth shot was taken at this target. When I fired, Tom's encouragement disappeared and he asked, "What happened?" I replied, "Alright, what did happen?" Tom told me that last shot scored an 8, at 2 o'clock, my only hit out of the black. I had added some human element to that last shot. Even so, my 200-yard score was a 96-2X, which gave me a 183-2X for the match. To say the least, I was very pleased.
Consequently, that gave me third place in the match out of 13 shooters. Ken Kurfurst won the match using a Remington Rolling Block rebuilt to .45-90 with a score of 189-3X. In second place was "Loco Jeff" Ritter using another Rolling Block in .45-90 and shooting a score of 187-3X. My score of 183-2X was certainly in some good company. I'll be staying with the 64-grain loading while I work on that human element that bothers so many of us; the trail of trials and errors isn't completely over yet.
It is very good that I like shooting this .44-70 rifle so much because now, as most all of us know, I get to make these experiments all over again while using Swiss powder. My first try will be with 64 grains of Swiss 1½ Fg under the same Brooks bullet. That might give me instant success. On the other hand, it might lead me into a whole new story and, if so, you'll be hearing about it.