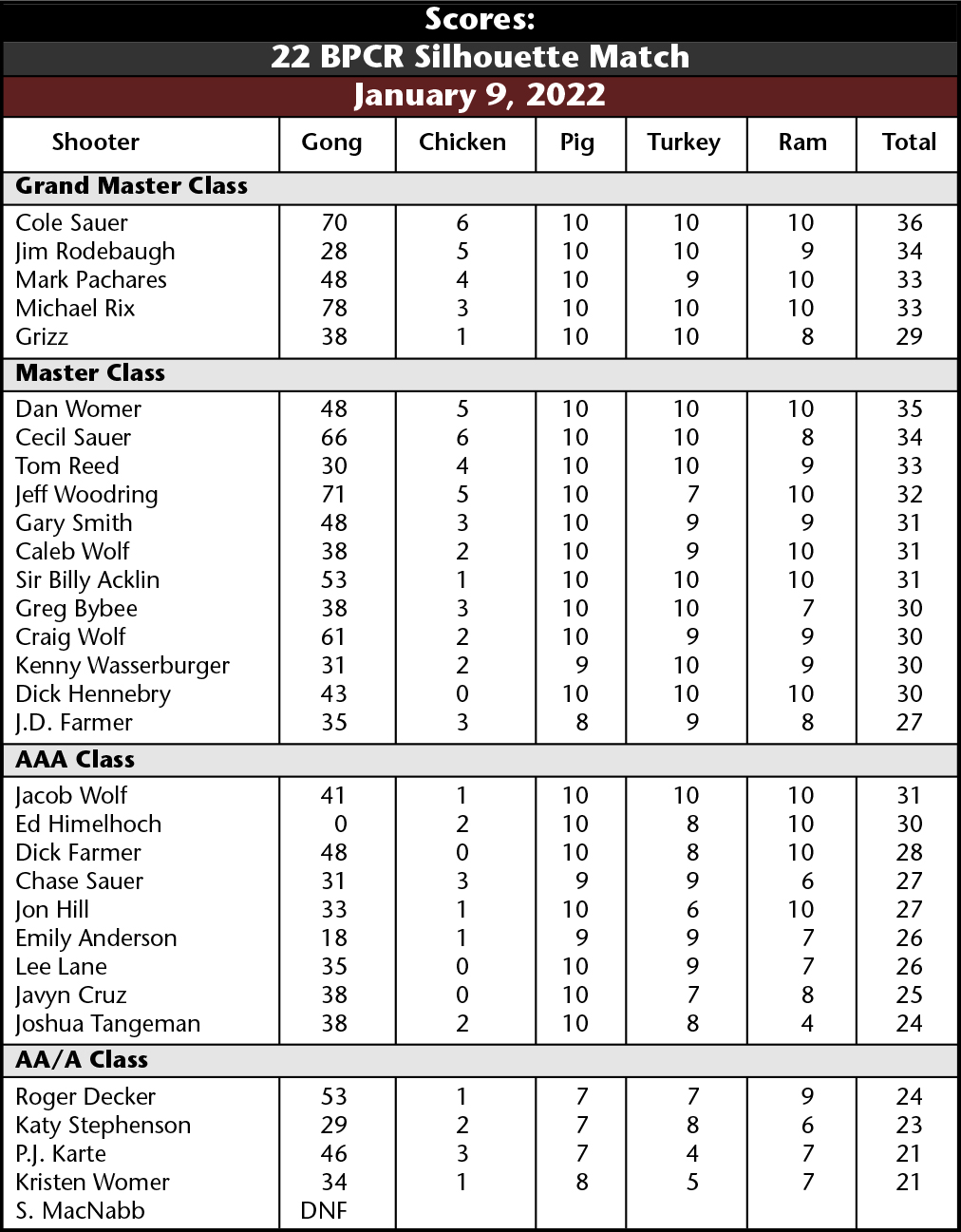 What a match! We had a full house of top-notch shooters, decent conditions, fantastic facilities and super food! I don't think it could have gotten any better. This is actually the first match where we have had to turn competitors away, as we cannot accommodate more than 30 shooters. I hated having to turn folks away, but we can only do what we can do. I hope everyone that couldn't get entered in the match understands why.
The weather turned out better than most of us were expecting. A stiff breeze came and went throughout the day and temperatures rose into the high 30s. Later in the afternoon the wind picked up and the temperature dropped, making it fairly cool. However, for a January day in Wyoming, it was pretty darned good. Of course, we all shot from the shooting shed and the wood stove kept us comfortable.
Coralee made a giant roaster full of beef, barley, and vegetable soup along with fresh, warm Italian bread. Grace whipped up a couple pans of apple crisp and some generous soul brought a big bowl of cookies. We had lots of good donuts from Dan Womer, Dick Hennebry and Mark Pachares for a morning snack as well. Hot dog, was it ever good!
The KYL (Know Your Limits) gong match proved a challenge again this month. SPG Sales and Wyoming Sight Drifter have partnered up and offered a crisp $100 dollar bill to the first shooter that shoots a perfect score of 100 on them. Larry and Steve can rest easy as their money is safe again this month. It just doesn't look like it should be that hard, but it is proving to be quite the trick to shoot well on this stage. The three gongs are 2, 6 and 10 inches, and they are worth 10, five and three points respectively. This month, the gongs were past the pig line a bit, probably around 120 yards. You only get 10 shots and you can shoot whichever gong you want. Adding to the fun, we offer a mulligan token for 10 bucks. The $10 goes into the range improvement fund, and the token can be turned in for one "redo" shot on the gongs. It has to be used right after the shot that the shooter would like to redo. Dan Womer generously donated the prizes for the gongs this month. Michael Rix shot a super 78 to be high gong shooter and took home a fifth of Jameson Irish Whiskey. I'm not sure Michael even likes Irish whiskey, but it'll make for a good story! The High Gong score in the GM/Master class was Jeff Woodring with a super 71. Jeff took home a beautiful (handmade by Dan Womer) walnut mould mallet. A very pleased Roger Decker shot a solid 53 to be first in AAA/AA/A class and took home a handmade (also by Dan) walnut scorecard clipboard. Thank you, Dan, for the super prizes!
We had some fantastic shooting in the silhouettes, too. Last month, we had a record number of six clean prone scores and I thought that would be hard to top, but we actually did it again this month. Six clean prone scores were shot again and Michael Rix, Cole Sauer, Sir Billy Acklin, Dick Hennebry, Jacob Wolf and Dan Womer all took home a coveted Smithmoor Clean Prone Pin. Great shooting, fellas! In AA/A class Roger Decker shot a very good 24 to be first. I thought Roger's buttons on his shirt were going to pop off he was so happy. It is fun to watch shooters improve and be proud of their accomplishments. In AAA class, Junior shooter Jacob Wolf shot a very good clean prone 31 to be first. That Master score is just one more step to be becoming a Master Class shooter and I bet it won't be long. Master Class saw a very pleased Dan Womer shoot five chickens and a clean prone score to make a Grand Master score and be 1st Master. This was Dan's second Grand Master score, so only one more to will move him into the Grand Master class. Jim Rodebaugh was pleased to shoot a 34 and be 1st Grand Master Class, while our current 22 BPCRA National Champion, Cole Sauer shot a fantastic six chickens and a clean prone score to be the Match Winner. Wow, that is some super shooting! Kenny Wasserburger said it best when he said, "Come on out to Wyoming, our women and kids will kick your butt!" Great shooting, Cole, and thank you, Kenny, for the colorful description of how proud we are of our Junior and Women shooters.
The match flyers and entry forms can be located on the smithmoorrange.com site for this summer's matches here in Laramie County. Dick Hennebry has some good stuff brewing for us, and we are again planning the Smithmoor Cup and Rocky Mountain Regional Matches in August.
New Year's Day Target Rifle Match 2022 Smithmoor Range
Carpenter, Wyoming
(100 Yards, Offhand and Bench, German Ring Target, WSU Rules)
I have always thought the best way to spend the first day of a new year is doing something you love with your friends and I can't think of any better way to spend a winter day than at the range shooting. We had nine dedicated riflemen make it out to shoot a combination offhand and bench match at Smithmoor Range. It was about minus 3-degrees Fahrenheit in the morning, but warmed up into the 20s by the end of the match.
We shot from the comfort of the shooting shed with the wood stove burning hot and two propane patio heaters going wide open. With all this, we all stayed fairly comfortable. The wind was the big story as it barely blew. Slight wisps of a breeze would come and go, but it was very minor. There was also a couple of inches of fresh snow everywhere and it made for a pretty day.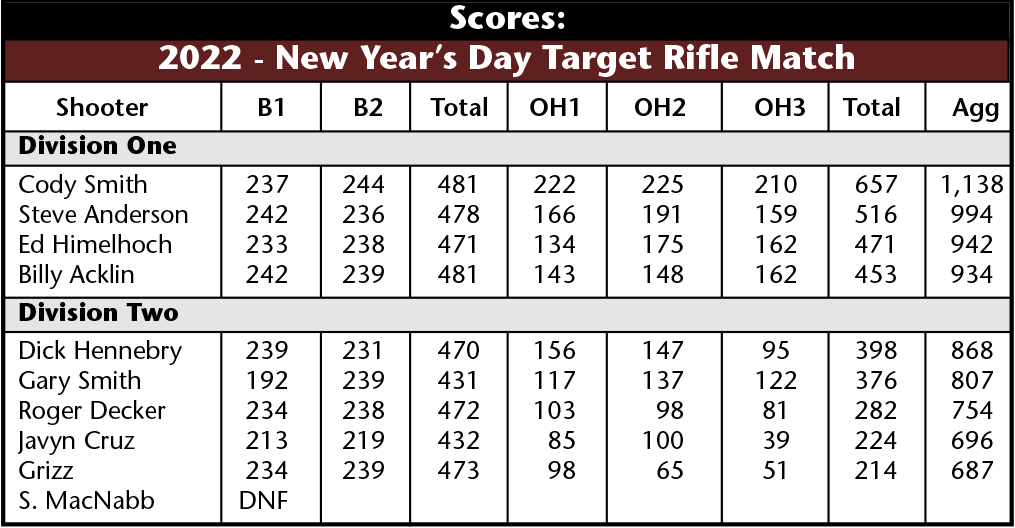 First, we shot two targets (20 shots for score along with sighters) from the bench. Although most of you know my love for offhand shooting, I have to admit shooting from the bench is a kick in the pants as well. I am sure you are assuming everybody shot a perfect score? Yeah, right. It is much harder than one would think to put 10 shots inside the ¾-inch 25 ring at 100 yards. Division One, saw "Sir Billy" and I tie for first place in the bench match with 481s, while in Division Two, it was neck and neck between "Grizz," Roger Decker and Dick Hennebry with a 473/500, 472/500 and a 470/500, respectively. I think everyone enjoyed the bench match more than they thought they would. I know I sure did.
After everyone had shot their two bench targets, we posted three targets and shot them offhand. We used the 12-inch round gongs for sighters and then put 30 shots on the paper targets. As always, we used Wyoming Schuetzen Union rules. In Division Two, Dick Hennebry shot well and put up a score of 398/750 for first place, while "Dad" Gary was second with a 376/750. In Division One, Steve Anderson shot a 516/750 for second place, while I was pleased to shoot well with a 657/750 for first place.
Just for fun, I added the bench and the offhand scores together to find aggregate winners. In Division Two, "Dad" Gary was second, while Dick Hennebry ended up first. In Division One, Ed Himelhoch ended up second, with Steve Anderson in first. I was pleased to be the overall Match Winner.
As usual, we ate extremely well. Dick brought a box of fresh donuts for a morning snack and Momma Lorraine made a super pecan-crusted pork loin along with macaroni and cheese with bread pudding for dessert. She was chuckling as she made enough for 20 normal people, but nine shooters cleaned it up. Gosh, it was good!

.22 Offhand Target Rifle Match Smithmoor Range Carpenter, Wyoming – November, 2021
I was quite pleased to have 15 shooters come out to shoot at our November 2021, .22 Offhand Match at Cody's Shooting Shed. We have held this match the Saturday after Thanksgiving for the last several years and it grows each year. Some (not me, of course) have referred to it as the "Escape from The In-Laws Match." Everything went quite well. We had great weather, great food and stiff competition.
Dick Hennebry and Dan Womer brought some super donuts for a morning snack and Coralee whipped up a great lunch for us. We had genuine homemade German sausages in fresh sauerkraut, along with beans and some fantastic cream cheese/coconut brownies made by Grace. We ate well, for sure.
We shot the 100-yard WSU German Ring targets, offhand at 100 yards, according to Wyoming Schuetzen Union rules. Ten shots were fired at five different targets, three targets in the first round, and two in the second. A 12-inch round gong was used as a sighter target. It is challenging shooting as the 25-point bullseye is only ¾-inch. Anybody who can break 200 out of the 250 points for each target is pretty handy. We break the shooters in to two divisions. Division One, is for those that are often shooting above 875, and Division Two, is for those that are shooting below that mark. The match is shot "any sight" and we saw a mixture of scopes and irons used, as well as full-blown Schuetzen rifles and silhouette rifles.
We saw some exciting things in Division Two, in this match. First, we had several new shooters, which is always awesome, and we also saw the return of Weston Rix to Smithmoor. Weston is in college, quite grown up and we enjoyed him shooting with us. Everyone was sure pleased to see him. Grizz also brought his daughter, Katy, to the match and she did very well for her first time here. Roger Decker is a family friend that is just getting started and hopefully we have him hooked. The best news, however, was we got Coralee to shoot an offhand paper match! This was her first one, and in addition to worrying about lunch, she was able to come out on top of Division Two, with a 786. Great job, sweetheart, we are all proud of you!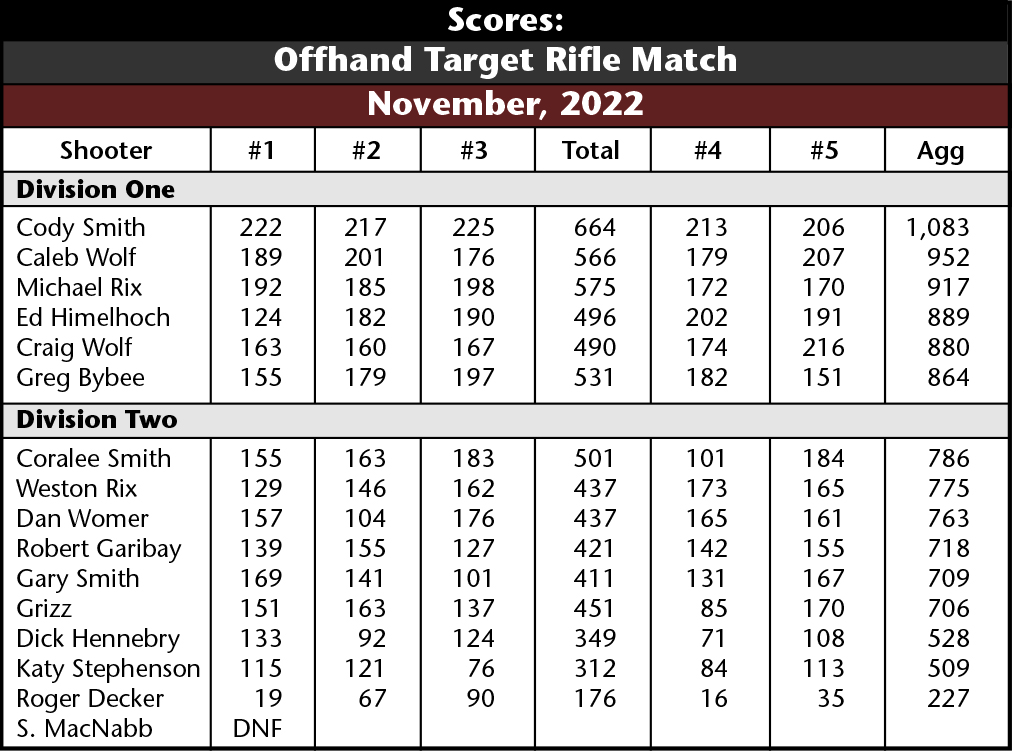 Division One, saw some "hard-holders" vying for the win. We were all pleased to see Ed Himelhoch break into Division One this match. He has really been working hard and we have seen his shooting skill level steadily improve. He was even able to break that magical 200-point level on one target. Caleb Wolf is a freshman in college this year and is one tough competitor. He is the current holder of the "Buckaroo Buffalo" for winning the Rocky Mountain Regional 22 BPCRA Championship and is quite a hand in the offhand game as well. Caleb managed a super 952 to be first in Division One. I was quite pleased to shoot well and end up the Overall Match Winner. This was the first match I have shot with my rifle since Dan Zimmerman of DZ Arms rebarreled it for me. Let me tell you, as usual he got it perfect and it is really a shooter. It has a 28-inch Bartlein #4 octagon barrel and I used Lapua Midas ammunition. Thanks a bunch, Dan, for such quality work. Dan can be reached at dzhepburn.com. He offers a variety of high-quality gun parts, scopes and targets, as well as his top-notch gunsmithing.

Rifle Clubs