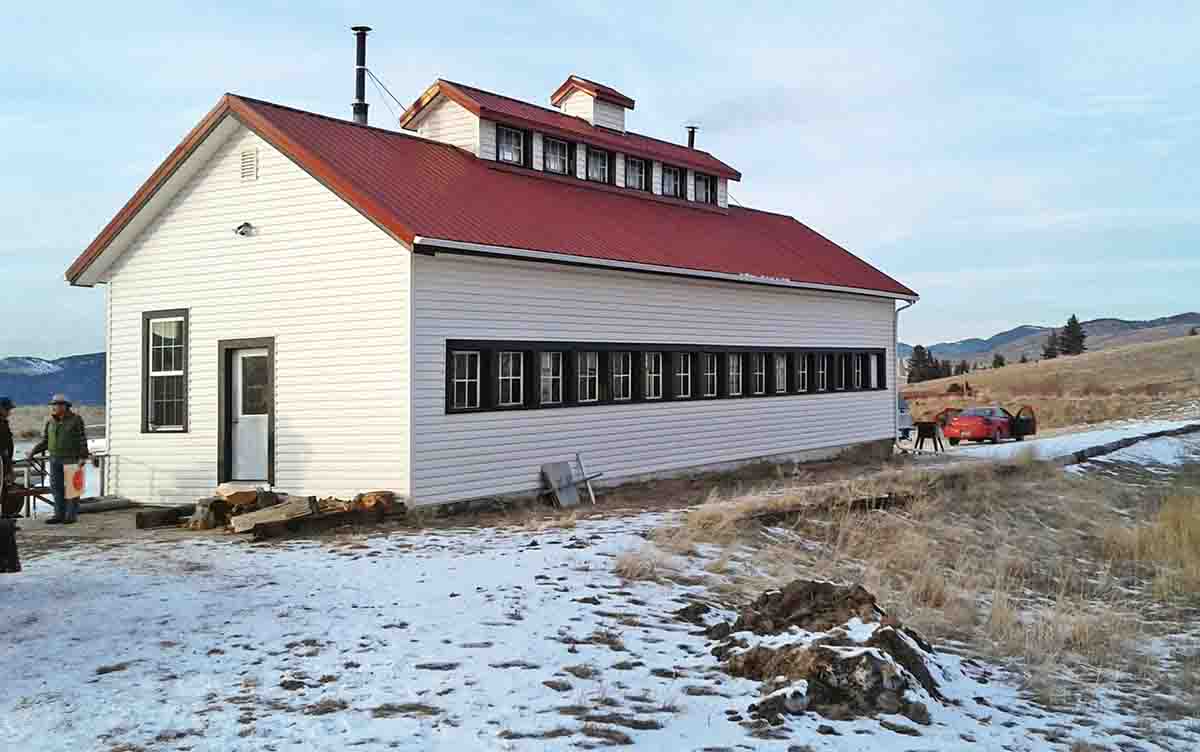 In 1895, the riflemen of Butte, Montana, created the Rocky Mountain Rifle Club and spawned the beginning of a proud heritage of excellent shooting in that area. As followers of BPCN know, the time period from the mid-1880s through the Great War saw an intense growth of interest across the country in the offhand, 200-yard shooting that we know today as Schuetzen. Back then, "free rifles" are what they were often called, which basically meant there were no rules restricting ideas on how to best make them perform. They only had to be fired from the shoulder while standing on your "hind two legs," as Harry Pope famously put it. As rifles improved and the skill level grew, rifle clubs sprang up all over the country.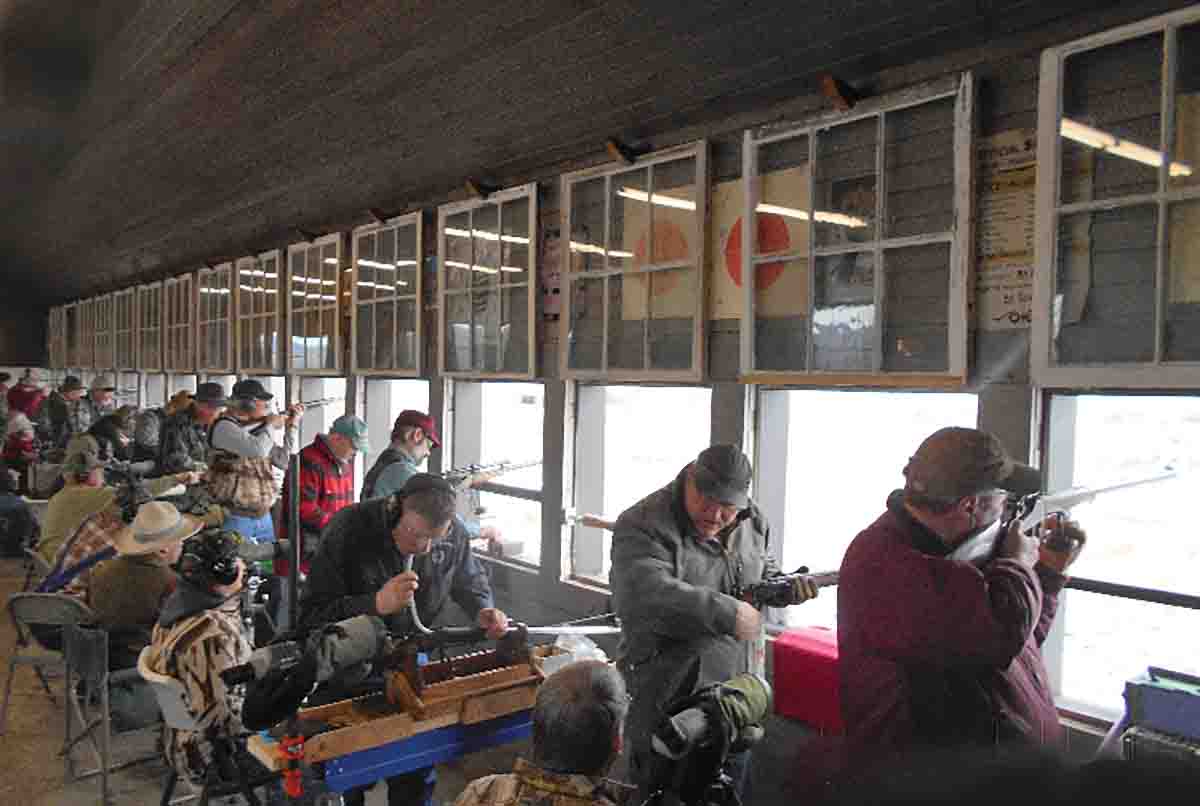 The convenience of travel on the railroad created the opportunity for shooters to easily go between cities and clubs to test their skills against other great marksmen. Rivalries began to build between shooters and even entire clubs. The rivalries were not always friendly, and oftentimes, tens of thousands were wagered in today's dollars on one's shooting ability. Although there were rifle clubs in nearly every city in the West where there was any amount of wealth, three of the more notable ones were the Denver Rifle Club, the Cheyenne Rifle Club, and of course, the Rocky Mountain Rifle Club.
The Rocky Mountain Rifle Club had one of the best ranges in the country with the elaborate and stately Schuetzen house at its center. It had sixteen drop-down windows, very nice architecture, and two giant stoves to keep the place comfortably warm during the often miserable Montana winters. Shooters in Denver or Cheyenne frequently boarded a train with their rifles and equipment to make a relatively quick trip to Butte to test their skills against some of the best riflemen in the country.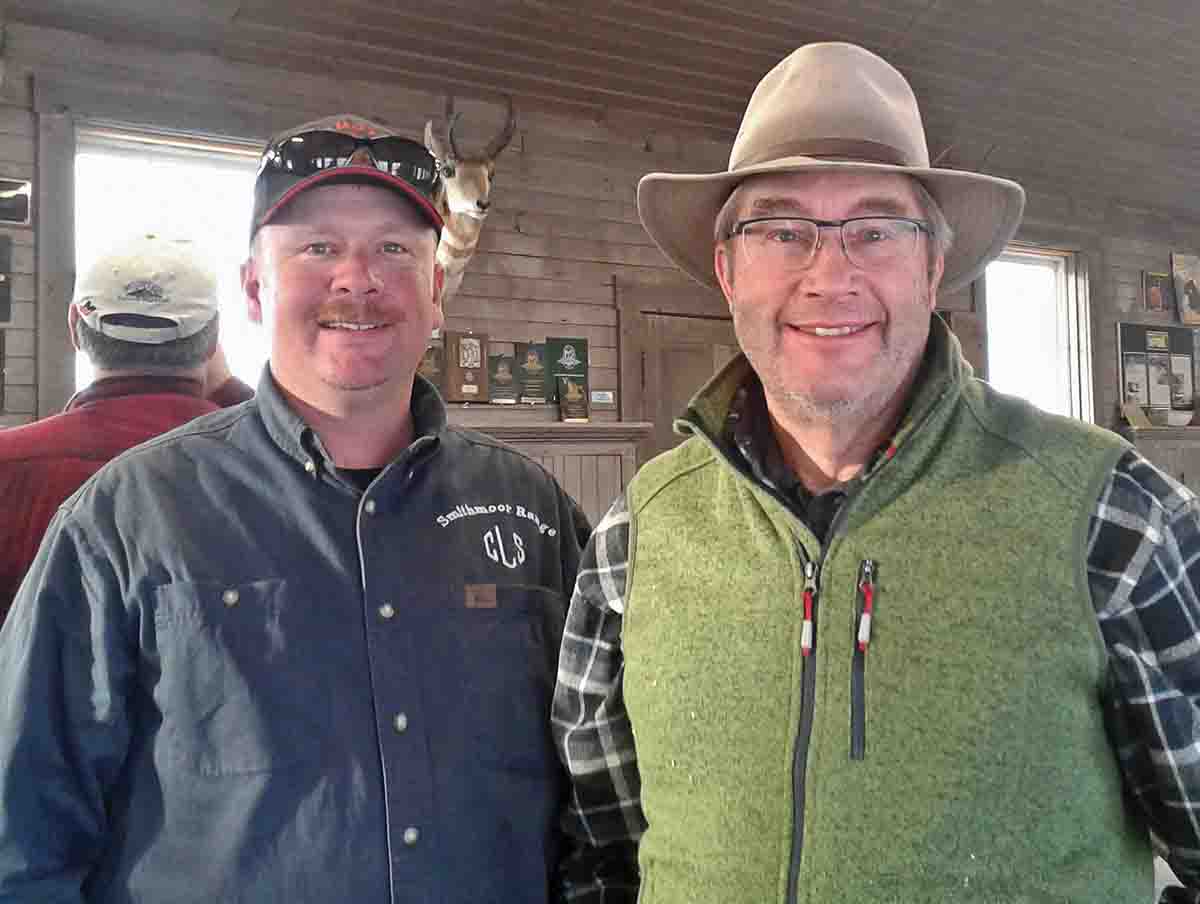 Through the efforts of the Butte Gun Club, Schuetzenmeister Butch Ulsher, and a series of volunteers and donors, the proud heritage of the Rocky Mountain Rifle Club lives on. The beautiful Schuetzen house has been restored with a new foundation, windows, siding, and roof. The interior remains very close to what it was over a hundred years ago. The club hosts monthly matches through the winter as well as two prestigious, invitational two-day matches in December and April.
I was honored and proud to be invited along with my friend, Michael Rix, to shoot at this year's two-day Jim Gier Memorial Schuetzen match at the Butte Gun Club. Just as they often did over a century ago, a rifleman from the Denver area and one from Cheyenne made the trip to Butte to test their skills against some of the best riflemen in the West.
We did not take the railroad, but as we crossed the tracks at Rocker, Montana, I thought about all of the shooters that stepped off the train there in the past. I wondered if they felt the anticipation and nervous tick in their stomach that I did. We drove the mile or so of dirt road back into the range and a smile grew on our faces as the Schuetzen house came into view. We were not disappointed, as it was even neater and more nostalgic than we expected. We left our gear in the car and stepped in to introduce ourselves and check it out. Upon entering the south door and walking in, I was speechless. I could almost feel the presence of so many great riflemen that have competed here over the last 120 years. Several men were visiting at tables covered with rifles while others were practicing, firing their rifles out the folded-up windows of the building. The walls were lined with past King targets, pictures and big-game mounts that may have been nearly as old as the building. To say the least, the building and the experience of shooting there was magnificent.
In an effort to curb the use of modern technology, the match has a few more rules than it did in the early 1900s. Single shot rifles with period accessories are expected and required. The hurdle that contributes to making this match so interesting is the fact that only straight black powder loads with no plastic wads are allowed. Although I have fired many thousands of rounds of smokeless loads through my .32-40 High Wall Schuetzen rifle, I made the mistake of assuming that development of a straight black-powder load would be easy. It took quite a bit of tinkering, but I finally came up with a load that would work. The time limits and tight quarters of the shooting line at Butte leave a serious advantage to having a fixed-cartridge, blow-tube load. I ran out of time trying to find such a load that worked in my rifle and ended up both wiping and breech-seating at Butte. It worked out, but I really had to keep moving in order to get my record shots fired without holding up the match.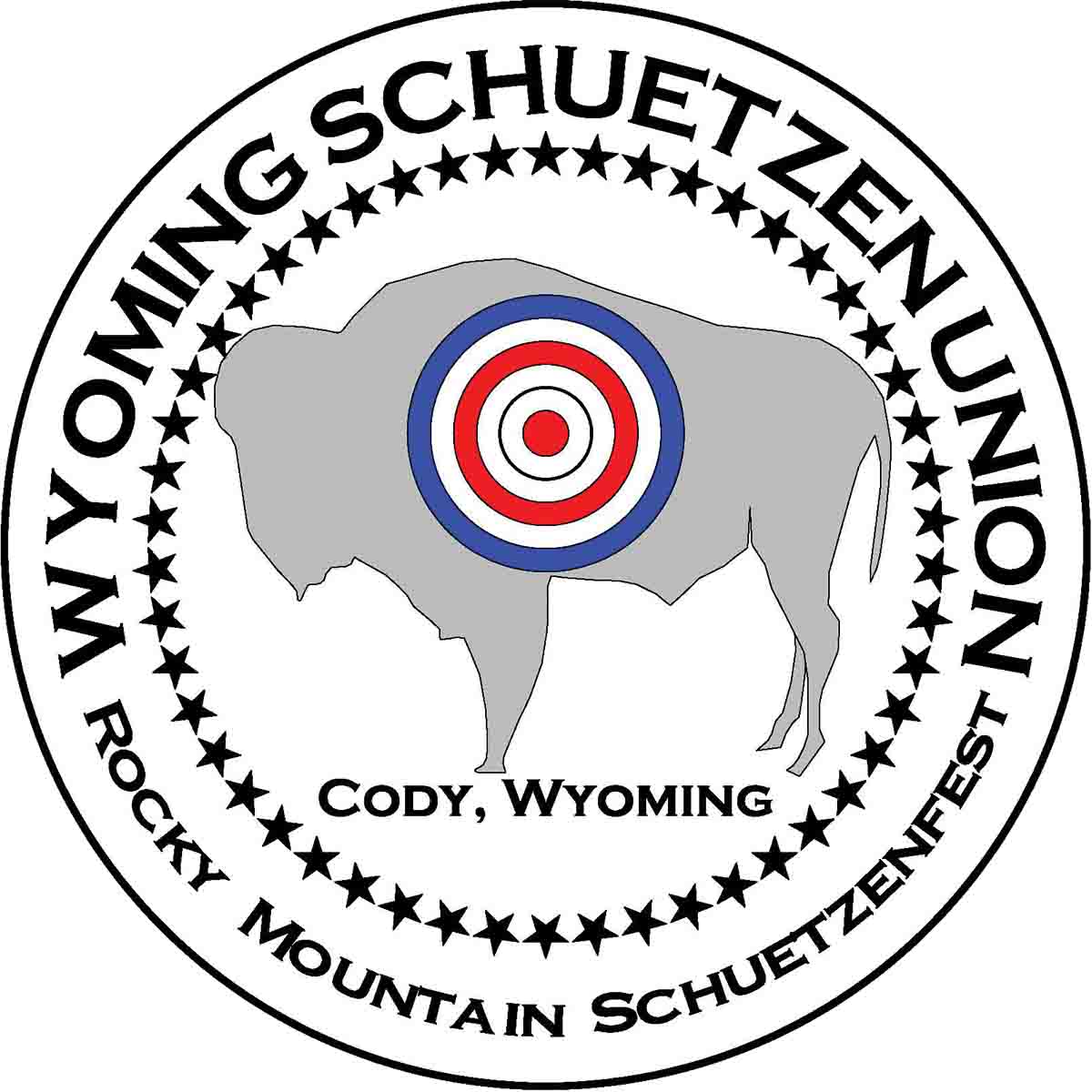 Butch runs the match with an iron fist, and it was enjoyable to compete at a match where marksmanship is paramount, with no sympathy for whiners or poor shooting. There were three relays with each shooter shooting twice each Saturday and Sunday. One German Ring target was posted, into which 25 record shots were fired. Only 25 shots are allowed to be fired at the target, with missed shots counting for a big, fat zero. Just keeping all of your shots on target is a challenge. A steel gong that is shared with a couple of neighbors is provided to sight in on. Approximately 45 minutes is allowed to fire sighters and 25 record shots. Butch wanted to give everyone ample time to get their record shots off but if you were, in his words, "screwing around" and took too long, he would cut you off.
If you are the type of shooter that needs quiet and no commotion in order to concentrate, you are going to suffer at Butte. Sixteen riflemen all firing black powder, shoulder to shoulder, while conversing with their spotter is busy and loud! Adding to the din is the tradition that any time someone breaks the "25" ring, the spotter shouts, "25!" The first shooter in each relay to break a 25 also wins $20 at the awards ceremony. I did not find the commotion distracting but rather enjoyable. It was just plain fun to be a part of such a historic and challenging event. I can't help but feel this was a real Schuetzen match and must have been quite similar to what it was like to shoot there 100 years ago.
The match was blessed with absolutely beautiful weather. The wind flags were nearly dead the entire weekend and I only made one small wind correction the whole time. Temperatures rose into the mid-30s during the day and the giant Civil War-era woodstoves kept the Schuetzen house comfortable, even with all the windows open. In the nineteen years that the Jim Gier Memorial has been held, it was thought by many shooters that this was the best weather ever.
The Butte Gun Club donates locally made cheddar and jalapeño sausages that Butch cooks on tinfoil on top of the stoves during the match. They are cut into bite-size pieces when done and enjoyed throughout the day. Saturday after the match, we also enjoyed a King Match and pizza. Howard Smith won the King Match and will be responsible for supplying the King Target for next year.
The shooters are divided into two groups for awards, one group for those who use scopes and the other for those who shoot with iron sights. It is "winner take all" in that only the high score in each class is recognized. The winner receives a trophy made from an original glass pane in the Schuetzen house, and it's etched with an image of the house as well as the shooter's name and score. It is truly an iconic award that would be the center of any rifleman's trophy room. Howard Smith is a fantastic rifleman and fired a solid score of 2,017 to earn the Scope Sight trophy this year. Your humble scribe, Cody Smith, was honored to shoot well enough to earn the Iron Sight trophy with a 1,975. They did not receive any awards, but I wanted to mention Chip Mate was hot on my heels with a 1,966 for second place and Ted Tompkins was third with a 1,836. Second place Scope Sight was Pat Bowland with a 1,891 and third was Lee Lewis with a 1,844.
A big "thank you" is indeed in order for Butch Ulsher and all of those that have worked so hard to keep the Butte Schuetzen house and its traditions alive. For those interested in attending, contact Butch and ask to be put on the waiting list. If there is room left, he will allow new shooters to participate. Just remember there is no whining allowed, and make sure to bring black powder loads and a thick skin. Thank you, Butch, for inviting Michael and I; we are already working on plans to attend next year.
2017 Jim Gier Memorial Schuetzen Match Rocker Range, Butte, Montana
December 9 -10, 2017
200 yards, Offhand, German Ring target, 2,500 possible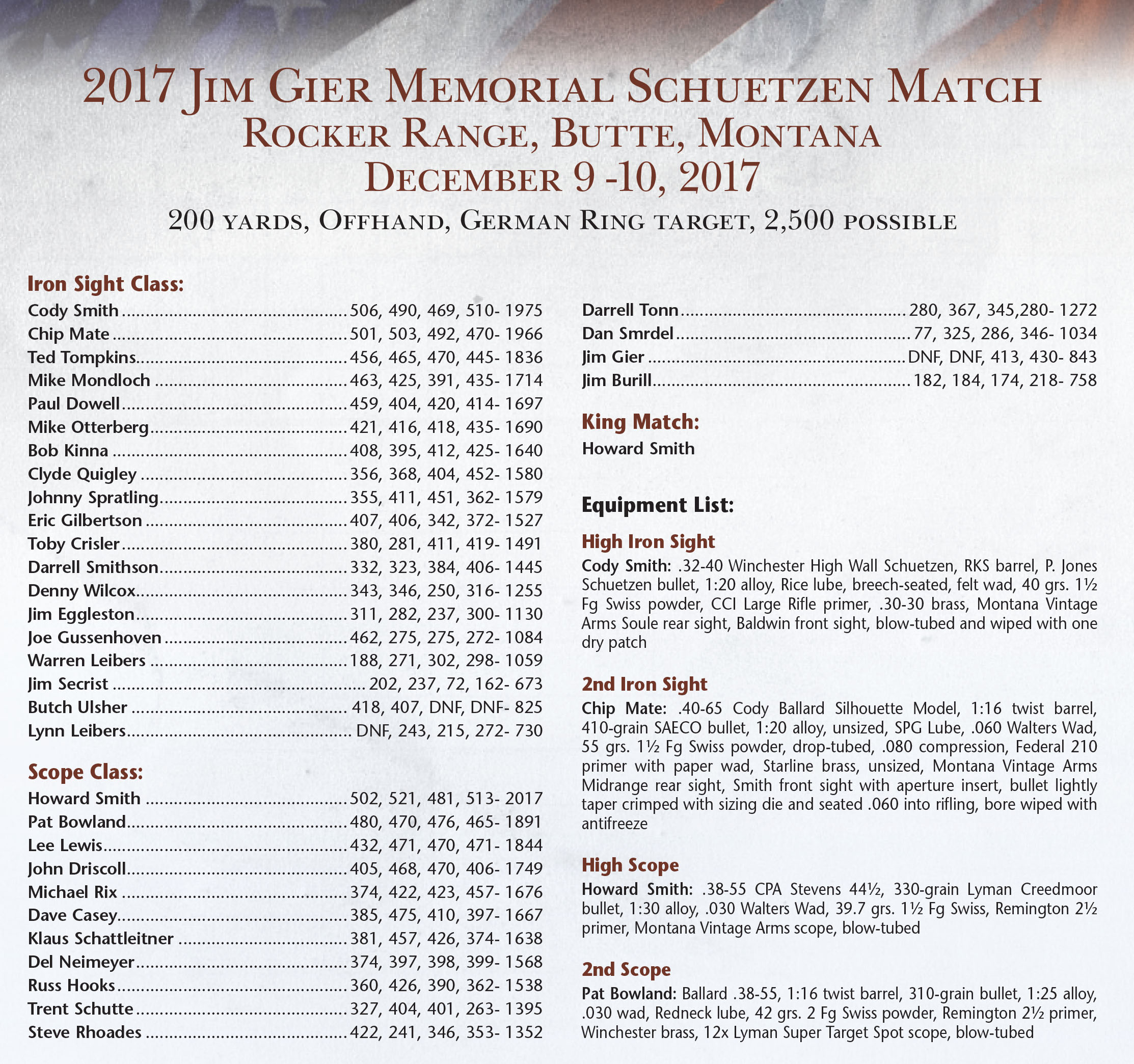 44th Annual Southwestern Single Shot Rifle Schuetzenfest
Phoenix, Arizona - November 24-26, 2017
Throughout 2017 there has been an increase in single shot rifle activity in Phoenix, Arizona. We have experienced growth in the number of participants and in opportunities to participate in Schuetzen events as well as .22 BPCR matches. On weekends when there are no matches, practice sessions and clinics are held for individuals who may be interested in shooting single shot rifles. For folks who are interested but do not have a single shot rifle, "loaner" rifles and equipment are available. This has been a helpful tool in recruitment efforts. The Arizona Schuetzenverein Facebook page has also been effective. Social media has brought new participants to our events and has solidified sponsors as well.
The 44th Annual Schuetzenfest was held at the Ben Avery Range in Phoenix, Arizona. It was well attended and attracted more participants than events in recent years. The increased popularity of rimfire shooting is evident, based on the number of participants in this match. American Single Shot Rifle Association rules and targets were utilized to conduct our Schuetzenfest. On November 26, 2017, we conducted the inaugural Rimfire Cross Stick Match now offered by the American Single Shot Rifle Association.
The increased number of participants also brought some really great scores. Donn Hanks' four perfect 250s in the Centerfire Benchrest event immediately come to mind. Jim Eckard shooting a 1095-3c in the Rimfire Offhand event was most impressive. Ken Gose had a great outing with a 1229-28c and Russ Hooks drove over from San Diego and scored a 2047-3c in the 100-shot Centerfire Offhand match.
This event was a group effort by our Schuetzenverein. Our members pitched in to make it happen and keep it running. We also received generous support from these companies: C. Sharps Arms, Eley Americas, Green Mountain Barrels, Lapua, Lyman Products, Montana Extreme Bore Cleaner, Montana Vintage Arms, RWS Ammunition (Walther USA), Schuetzen Black Powder, Treebone Carving, Vortex Optics, Western Powders and Wolfe Publishing. For their generosity, we are most grateful.
We hope to see you at one of our events. - Scott Elliott