Mike Venturino and I wrote the first edition of the Primer "way back when" and now it is in its ninth iteration. We've steadily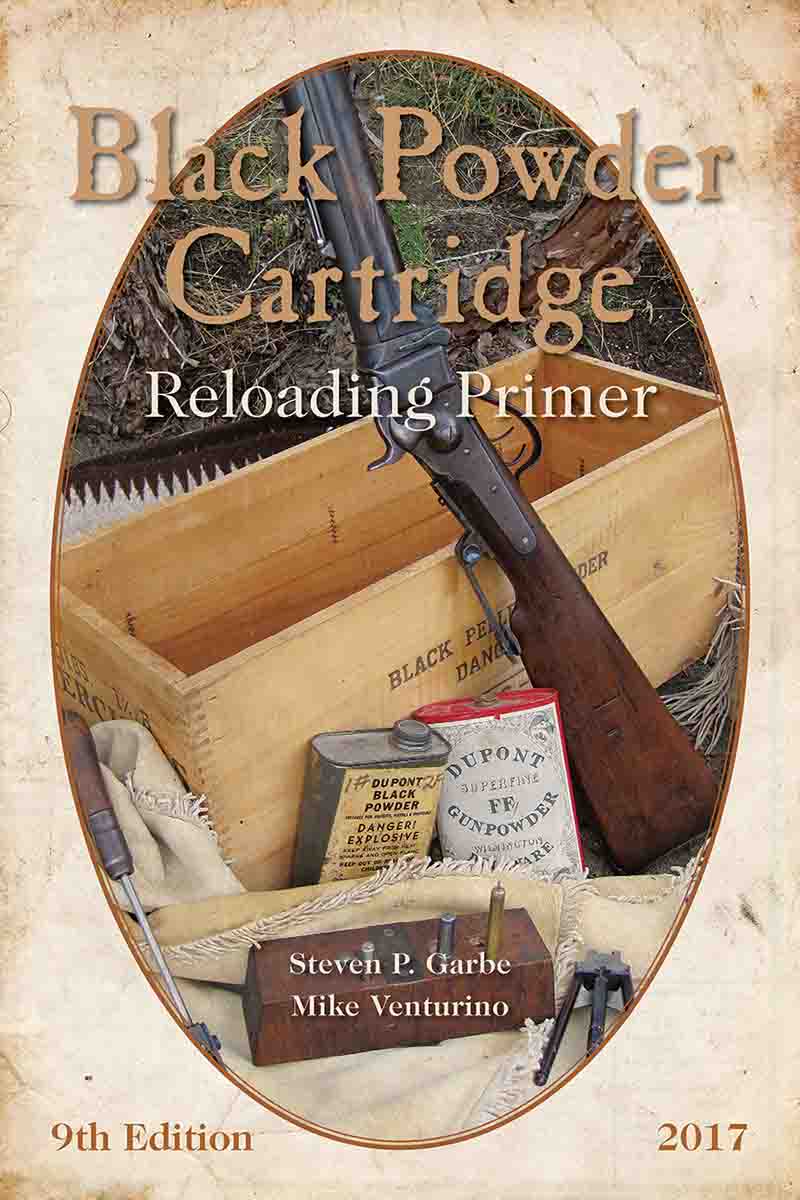 added to it over the years with additional information that was pertinent to the topic and so far, I'm proud to say, no one has been unsatisfied with it.
The ninth edition has some added information as well; specifications and sample loads for the .25-20 single shot cartridge (a favorite of mine), a chapter on "Sorting Out That New Rifle" and another titled "Match Strategy." There's also a specific chapter on reloading the .32-40 and .38-55, two cartridges that take a bit more thought in reloading than the bigger black powder cartridges. The "Equipment Listing" and "General Reloading Equipment & Accessories" chapters have also been updated with new suppliers and addresses.
I'm often asked if I'm going to write a new reloading manual on black powder cartridges. My response has always been the same – the Primer has been out there a good long while, but the information is still solid and necessary for those who are new to the world of black powder reloading. In other words: if it ain't broke, don't fix it. The Primer has stood the test of time and is still regarded as the basic reference work on black powder cartridge reloading. When Mike and I wrote the first edition, we put down on paper what we knew, and what had been proven to work from our own experience in actual hunting and competition – no "armchair" shooting or speculation went into the text. As new techniques and information come our way, we will continue to add to the Primer. If you are new to black powder cartridge shooting or simply want to have an excellent reference work in your shooting library, the Black Powder Cartridge Reloading Primer, 9th Edition is for you.
To order contact Wolfe Publishing Company, 2180 Gulfstream, Suite A, Prescott, AZ 86301 or online at www.wolfeoutdoorsports.com or call 800-899-7810. The primer can be ordered for $24.99. While on the company's website, take a look at their other great magazines: Rifle, Handloader, Successful Hunter and The Upland Almanac. Wolfe Publishing also sells excellent shooting and sporting books. I'm sure there is something else there that will be in the "Got to Have" category.
Montana Vintage Arms "A" Model Scope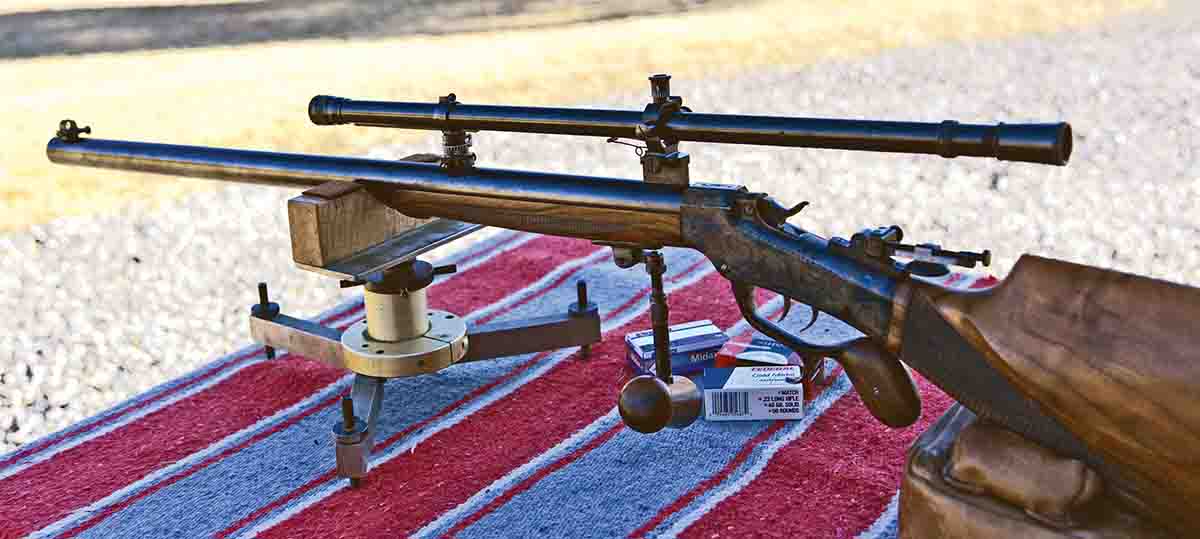 We got a break in the weather here in Montana and I capitalized on it to put the new Montana Vintage Arms "A" Model scope to a good trial. I mounted it on my favorite Ballard .22 Schuetzen rifle and determined that I would test the repeatability of the mounts as well as parallax adjustment.
Some riflemen who are used to click-adjustable scopes of the Lyman or Unertl style, have expressed doubts about the reliability of mounts that don't use clicks. Even with click mounts, the best technique of adjustment has always been to go past a setting and then click back to negate any backlash that may be present. I was curious to see if the MVA mounts needed to be handled in the same fashion.
I set up at 50 yards with a benchrest and adjusted for parallax. The new A Model scope uses an objective adjustment that will be familiar to anyone already using a Lyman Target Spot or Unertl. I was impressed with the clarity of the lenses when the scope was adjusted to remove parallax. It's quite common to necessarily strike a compromise on clarity and parallax; many of the Lyman Target Spot scopes I use are parallax-free when they are slightly out of focus. The MVA A Model was crisp and sharp when the parallax was adjusted out.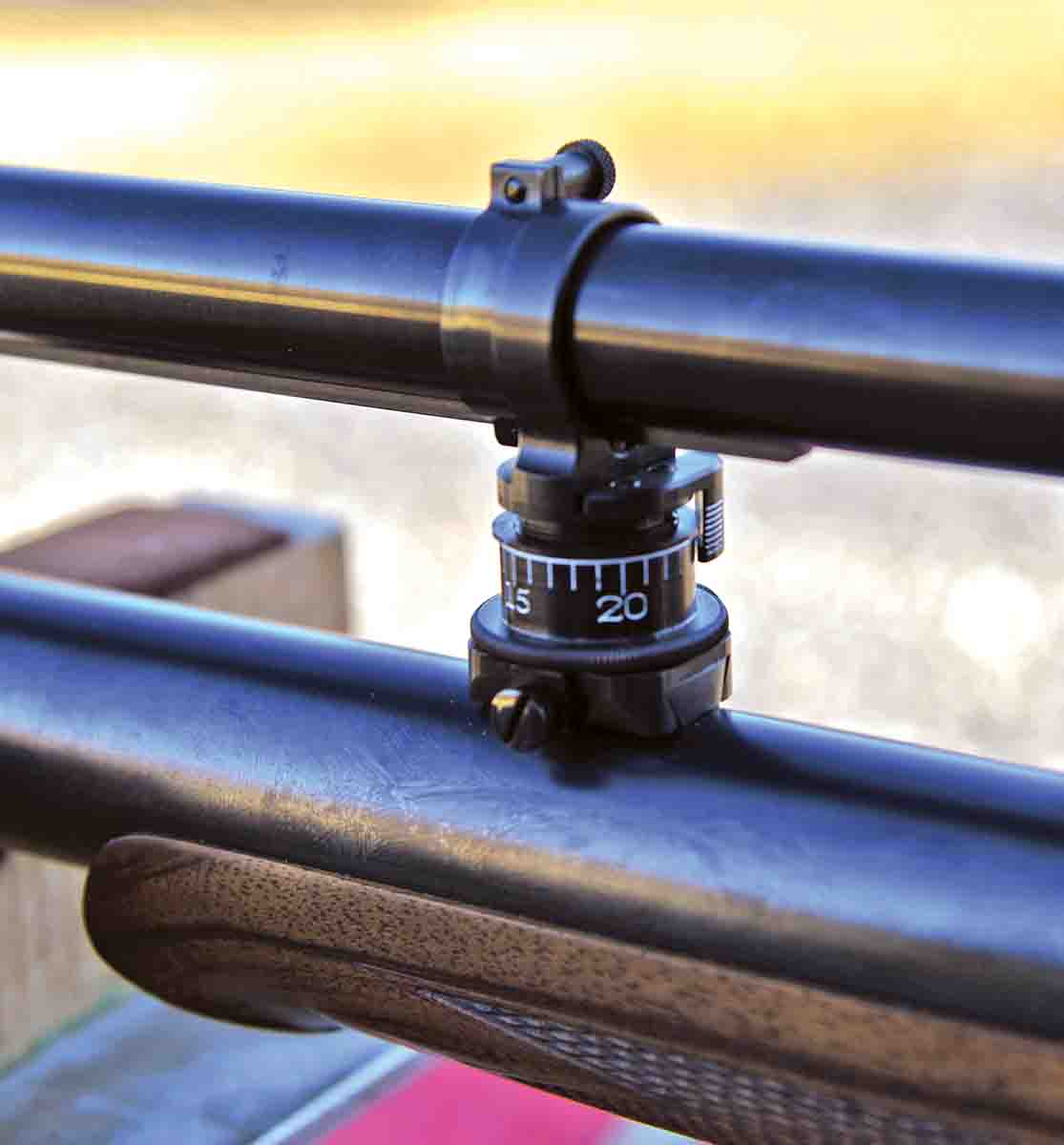 To test repeatability, I shot a five-shot group and then adjusted the scope up 20 points. After shooting another five-shot group at the new setting, I went back to the previous setting. No worries, the next five shots went right into the group. I made no attempt to "click down" to the setting, just cranked the knobs up and down.
I also split the setting into 10 points and the five-shot group was perfectly centered between the two 20-point groups. This shows how close the tolerances are held during the manufacturing process as well as the attention paid to the fitting of parts during final assembly. I performed the test several times using both the rear mount and the new patented front mount. I was quite satisfied that repeatability was not a problem with the A Model scope. I also tightened the adjustment lock screw and noted that it did indeed lock both windage and elevation. Locking the mounts is an important feature for a scope that may be used in the field.
The new front mount on the A Model is probably the biggest news about this scope. It is adjustable for elevation, which will really help those in the BPCR Silhouette game maintain a proper cheek-weld when adjusting between 200 meters and 500 meters.
I'm impressed with MVA's A Model scope. The company has held to a traditional design while making it quite effective for both the target range and the hunting fields. The new magnifications of 8x and 10x are also very practical for the rifleman wanting one scope to serve both benchrest and offhand duties. Also, MVA's selection of reticles is second to none; I especially like the windage dots available as I'm a "holder" when it comes to dealing with fast-changing wind.
The A Model scope from MVA is also available with the standard Winchester-style front mount for those trying to meet the requirements of vintage-style sighting equipment such as the CMP Vintage Sniper matches. Currently, as I understand the CMP rules on allowable equipment, the MVA Winchester-style scope could be used on the Springfield 1941A1, the SMLE Mk III and the Enfield No. 3 Mk I, Pattern 1914, or P14 rifle. Check the current rules, however, before going to a match as sometimes there are changes from year to year.
As I've said before, if you are in the market for a traditional-style scope and don't want to run the risk of having a big repair bill with an original, the Montana Vintage Arms riflescopes are for you. As with all its products, MVA stands behind their scopes with a great warranty and customer service program. Contact them at Montana Vintage Arms, 61 Andrea Drive, Belgrade, MT 59714-8918 or phone 406-388-4027. The company's website is www.montanavintagearms.com and is full of quality sights and accoutrements for the black powder rifleman.
Ron Heilman Sights
I certainly enjoyed the article "Spence Wolf and The Old Warrior" by Kenny Durham in the Winter issue of BPCN No. 100. For those of you who wish to take shooting a Trapdoor Springfield rifle to the next level, let me introduce you to Ron Heilman's excellent offering of sights.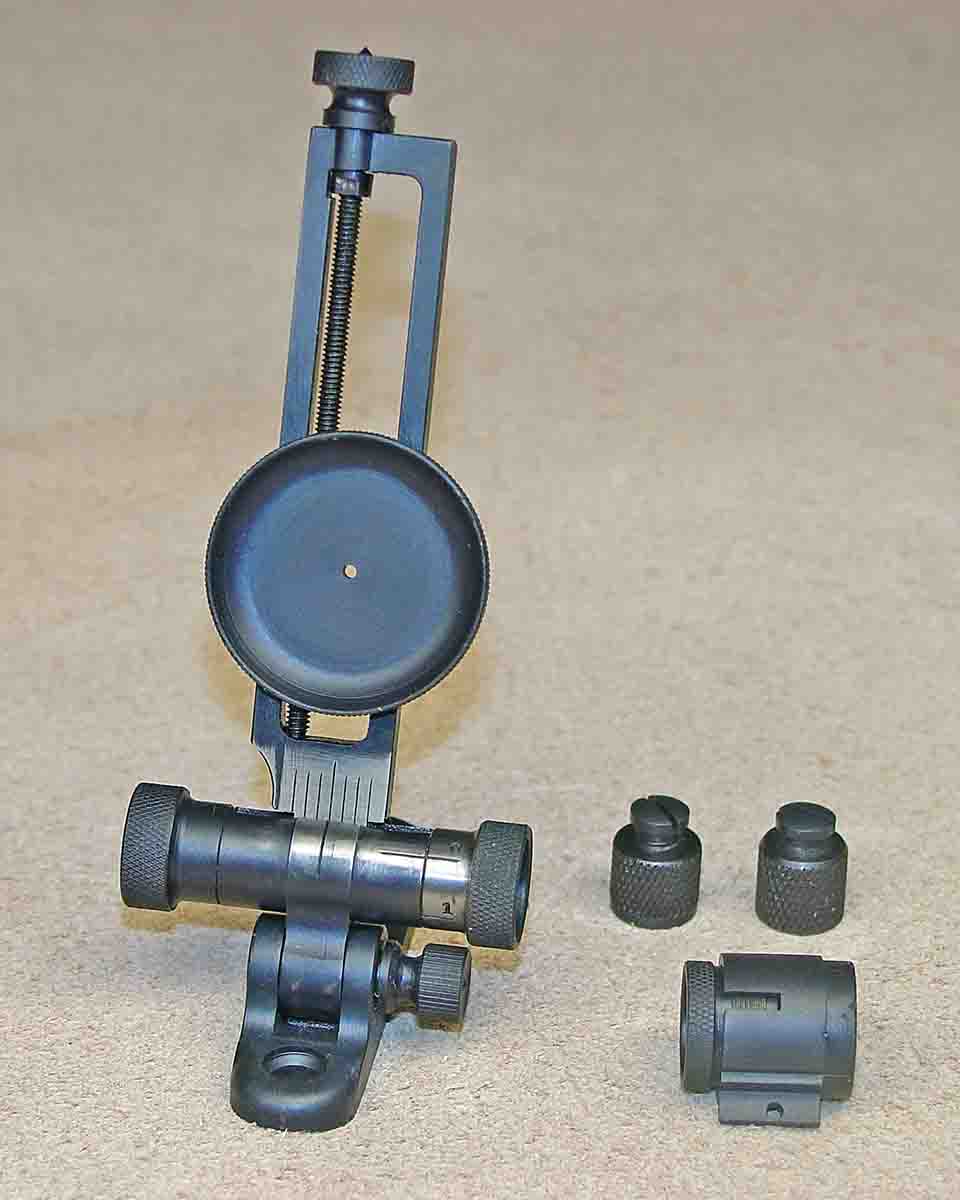 I found out about Ron Heilman sights while talking Trapdoors with Pat Dulin. Pat sent me a set of Ron's sights, so I contacted Ron and asked if it was still available. Unfortunately, the style of sight that Pat sent me was discontinued. The set was replaced by the sights in this product review.
When ordered sights are received, they come in a complete package. I not only received the tang sight, mounting bushings, front sight and a card of sight inserts, but also detailed instructions on how to use a Vernier scale, how to mount the base of the tang sight to the stock and a card describing windage adjustment.
The tang sight shown (right) is a Soule-style sight. I requested a staff long enough for Mid-Range matches as Ron offers staffs of different lengths. My staff is 4.25 inches tall. Mounting holes in the base are 1.765 inches center-to-center, and the base is 2.268 inches long. The base can be mounted to the stock in several different ways – I will follow Ron's preferred method.
The windage adjustment card included in the package specifies that the numbered lines on the windage drum scale represent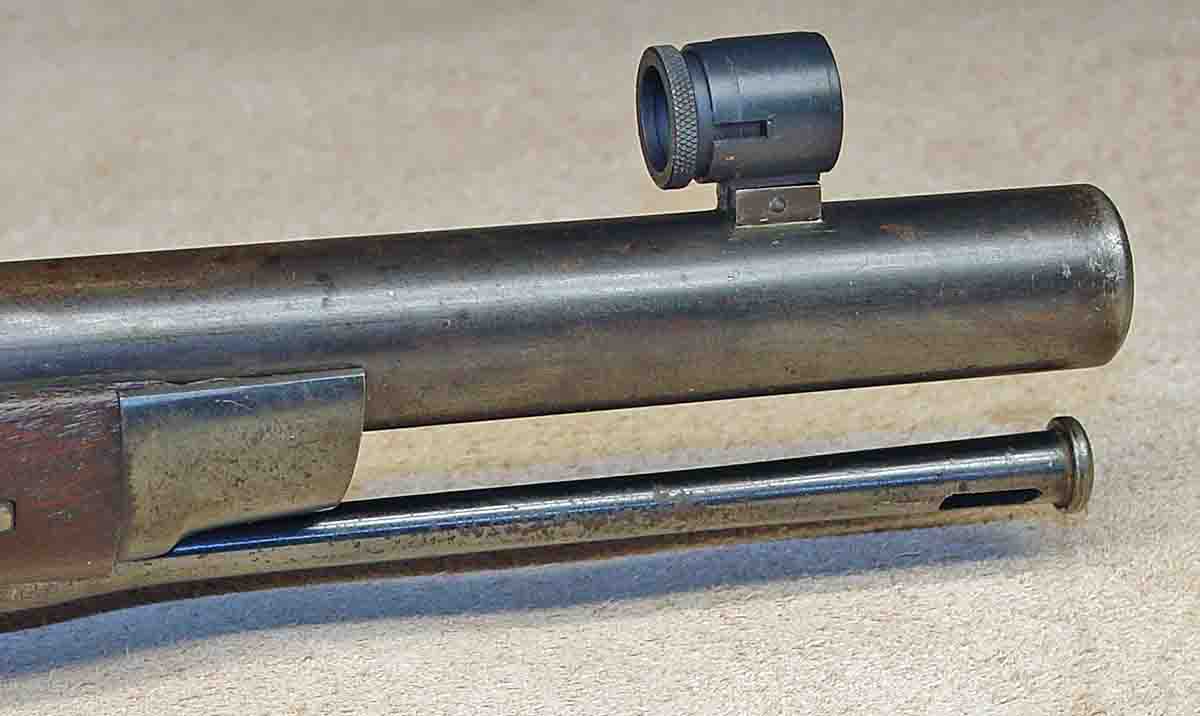 .005-inch movements; equivalent to .5 inch at 100 yards with a 36-inch sight radius. To move bullet impact to the right, turn the right knob clockwise, to move it to the left, turn the left knob clockwise – it can't get much easier than that.
I bought the tang sight with the standard eyecup and also picked up the Brownell Merit #3LS Master Disc with Neoprene Shield from Ron, as opposed to a Hadley-style eye cup with assorted variety of apertures.
The front sight can use standard Lyman 17A sight inserts or Lee Shaver's Sight Inserts. As seen in the photo, the front sight is mounted in the existing sight block after removing the blade front sight.
My 1884 Trapdoor Infantry Rifle is already an excellent shooter, with these sights I can now obtain the full potential from this rifle. As a side note: Ron also makes replica diopters for German-style Schuetzen rifles. Contact Ron Heilman, r.a.heilman@att.net or call 253-840-2623. - Leo Remiger
Customer Service From RCBS
In this day and age, many businesses have let the idea of customer service fall far short of what you hoped it would be. Many times, one is simply grateful when the customer service representative can be understood. And, you always expect a bit a of an argument when it comes to convincing a company that its product did not perform up to even a portion of your expectations.
A couple of weeks ago, I came into the possession of a hard-used RCBS Lube-A-Matic Model 2. The previous owner had not treated it kindly and in the process of cleaning it up, the die locking nut and the rubber washer on the lube plunger washer were missing. I checked the RCBS website and was surprised to find a very clear parts schematic on the Model 2 Lube-A-Matic, complete with part numbers for easy reference and ordering. Slightly apprehensive, I gave RCBS in Oroville, California, a call after looking up the number designation of the parts I needed.
My call was answered immediately by a very polite lady who apologized for the wait I may be facing when contacting the Customer Service department. After being on hold for less than a minute, another polite lady answered and informed me that, yes, the parts I needed were in stock and could be delivered immediately. I was reaching for my credit card when she said the words "no charge." I was very surprised and explained to her that the Lube-A-Matic in question was second-hand to me and had obviously been abused by the former owner. She said that this wasn't a problem as RCBS stood by its products. In short order the parts arrived via UPS and I soon had the Lube-A-Matic up and running.
Do I need to say that I will definitely continue to do business with RCBS? Many of the businesses in the Black Powder World have similar customer service policies, but it was really impressive to see a company as large as RCBS treat its customers with this sort of personal, no-nonsense approach. I have used many RCBS products over the years and can safely say that I will continue to do so.
Take a look at the company's website (www.rcbs.com) and see if there isn't something you need in the extensive reloading product line. Contact them at RCBS, 605 Oro Dam Boulevard East, Oroville, CA 95965 or call 800-379-1732. - Steve Garbe