On the 150th anniversary of Canadian Confederation and the 149th anniversary of the Dominion of Canada Rifle Association, the "Black Powder Gang/Motley Crew" met for the annual big bust. We are a relatively small group of dedicated shooters, numbering 23 this year on the mound, using 140-year-old technology in an effort to hit the center of a target as far away as 900 meters. The DCRA hosted the World Championship F-Class Competition to celebrate the Sesquicentennial of Canada, resulting in hundreds of shooters enjoying the beautiful conditions at Connaught Ranges and Training Centre. The place was sort of busy, as one might assume. We arrived in time for check-in and a wonderful trout dinner in the mess hall, unpacked what we needed, then set off in search of adventure. Renewal of past acquaintances was the second order of business. The Motley Crew, pictured below, are all very close-knit, having competed together for a number of years; a lot of renewing was called for.
I would like to begin this epistle by thanking all those who assisted me in my first year as Program Director for Black Powder. The following people are a major part of my advisory team and all played a role in keeping me on track: Chris Jones, Gerald Bergeron, Frank Monikowski, and my shooting partner for many years, Brian Ardiel from Wharncliffe. Each contributed many ideas to make this event come to pass. I would also like to thank our sponsors, Dave Gullo of Buffalo Arms, Jim Kelley of Kelley Sights, and Leo Bumphrey of Boomer's Moulds for their continued support and donations, and to two new sponsors, Larry Baker Jr. of SPG Sales, LLC and Chris Hodgdon of Hodgdon Powders. These folks make our awards ceremony very interesting, rewarding the lucky recipients with great gifts. I also wish to thank the entire DCRA staff, range crews and target pullers for their contribution to our annual event. Without their support and hard work our competition would not have taken place.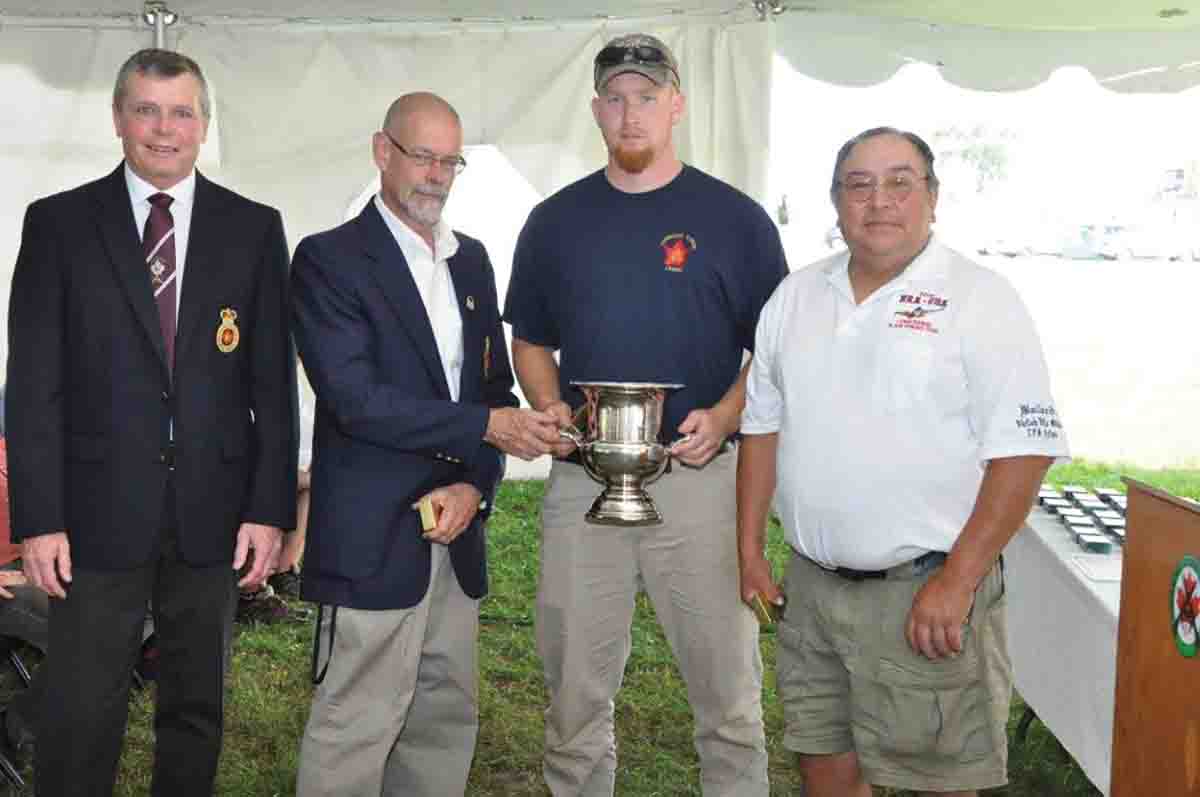 The first day on the range started out overcast, and in the past couple of years this appeared to be the norm. Last year for example, we shot in a downpour of such proportions that several of us kept a close eye out for a bearded chap in long robes carrying lumber, followed by two of every species. This year was more amenable. There were some very impressive scores on that first day. During the first event, Cody Hicks shot the 200-meter Wilf Black Match and pulled off a score of 47/50 with two V-bulls. He was shooting a '73 Springfield .45-70. Two Canadians managed to take second and third place with Ken Pearcey shooting 46-2V and Len Ciphery 39-2V. This event is shot with original unaltered military or sporting rifles of the 1800s. When I say, "as issued," it includes original parts with no reproductions, nor replica additions in an attempt to bring a firearm up to standards to qualify for a prize. The scores do not add to the Grand Aggregate.
The first event for score in the overall Grand Aggregate is shot on the 300-yard or 300-meter range, whichever range happens to be available. Cody again took gold, Ted Rosene took silver, and Gerald Bergeron won the bronze. In the Muzzle Loading Class, Ray Hopkins took gold, David Munch the silver (by count-back), and Kenn Heismann the bronze. The Creedmoor Match follows at 500 yards. This young man Hicks is something to contend with. He again pulled off the gold medal with a score of 49-1V and was closely followed by Rich Pauquette with 45-4V. Hot on Rich's tail was son Jordan Pauquette with 45-2V. The Pauquette duo took silver and bronze medals. Jordan's entry was his first time at Connaught as a shooter. He was using a Rolling Block he just received from his father prior to attending the competition. In the Muzzle Loading Class, Ray Hopkins again took gold with a score of 41-1V, David Munch won the silver with 40, and Frank Monikowski secured the bronze scoring a 38-1V. Watching these guys getting up and down for every shot fatigued me, so I just gave up and continued shooting.
After a hearty lunch, we took to the range for the double relay at 600 yards. If you noticed, we shot some relays at Anglo-Saxon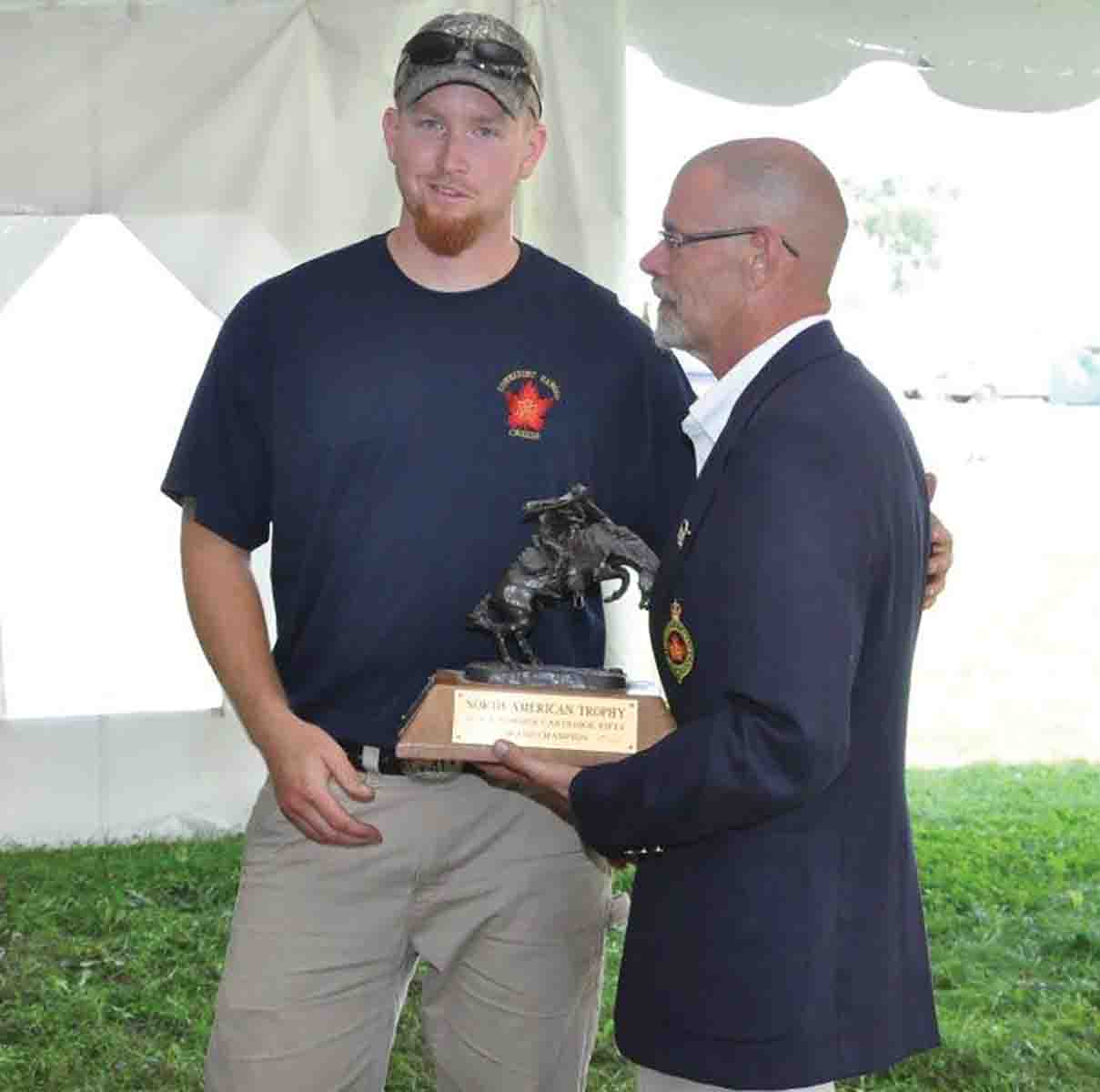 ranges and then some at metric distances due to the usage of other F-Class events taking place at the same time. Cody decided there was only one acceptable color to take home, so he took the gold again, leaving the silver for Len Ciphery and bronze for Ken Pearcey. Their scores were in order, 43-2V, 41-2V, and 40-1V. In Muzzle Loader Class, Frank Monikowski scored well with a solid 44-2V taking the gold, Ray Hopkins got the silver with 41, and David Munch secured the bronze with a score of 40. This year the rain held off until the afternoon for the 600-yard double relay. My first sighter shot scored a four, which looked promising until the Big Guy upstairs dropped a lake on us. Since it took nearly two weeks to dry out last year, a few of us decamped for cover and let the competition drown. By the time the first relay was over and sunshine returned, those of us less-brave souls had downed a couple at the clubhouse. In other words, we traded a chance of high scores for a less tense moment drying out our gear for the morrow.
On Saturday morning, we began at 9:00 a.m. Apparently, some retired admiral across the river couldn't get enough sack time if we started shooting at the usual 8:00 a.m., so weekends on the mound began an hour later. We set off the morning with a cloud of smoke and loud noises at 9 o'clock sharp. 700 meters is supposedly the most generous target to shoot. It is still a long way downrange. Somehow Cody was not up to par that morning, letting Clay Grove take gold with a 44-2V, Ken Pearcey took silver with 44-1V and John Stamp the bronze with 43-3V. In Muzzle Loader Class, Ray Hopkins decided he liked the gold and popped off a very nice 45-2V, David Munch stayed with silver with a score of 43-1V and Frank Monikowski grabbed bronze scoring 41-3V.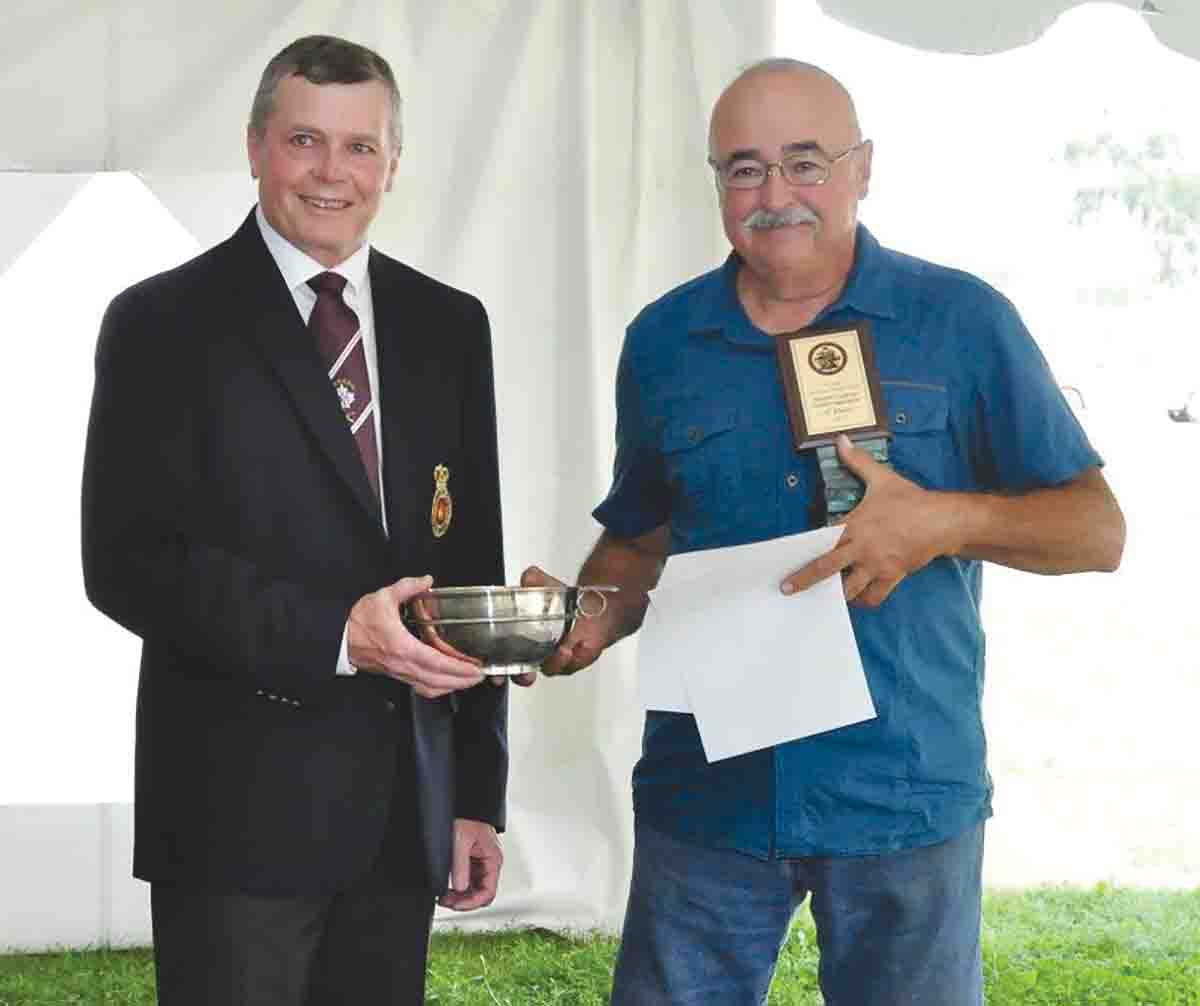 The next event was the Black Powder 800, a double relay competition. The high-scoring shooter of the two relays is the one that takes the medals. The wind began kicking up subtle changes, such that many had trouble getting on paper, but overall the winning scores were quite high. Ken Pearcey took gold with 46-2V. Jordan Pauquette again trimmed his father with 46-1V (although he didn't publicly ridicule him) winning silver. Cody decided he needed another "gong" to take home so he settled for the bronze with a score of 44-1V. The muzzle loading gang managed some impressive results as well. Frank Monikowski's score of 45-2V resulted in gold, Ray Hopkins took silver, and David Munch with 43-2V won the bronze medal.
After lunch, we gathered once again for what we all felt was the real test of skill, or luck, or endurance, or whatever causes us to compete. This is not to say the rest of the show is a patty-cake, but once the range gets out to nearly the 1,000-yard mark, things begin to change. Subtle winds cause all sorts of things to go wrong. Small changes have an effect. High sight elevations alter facial contact with stocks. Then, too, recoil may feel harder due to shooting position. By the time we all shot off about 150 shots, the cumulative pounding caused some not-so-small changes in physical discomfort and may have resulted in a bit of flinching. The wind wreaked havoc, to say the least, and even those more experienced shooters really were put to the test to stay on paper. The wind varied from a slight tailwind one moment to a slight headwind the next. Vertical strings were the big thing, and a few right-to-left hits started to appear on targets as well. Cody was the big winner at this range, taking gold once again with a score of 43. Clay Grove scored 37-2V for silver, and a character from Kynoch managed to pop enough hits to score 37-1V for the bronze medal – luck plays a big role. Ray Hopkins figured the muzzle loaders should have some glory, too, so he nabbed gold again with a score of 38. Frank Monikowski was not to be ignored, so he took silver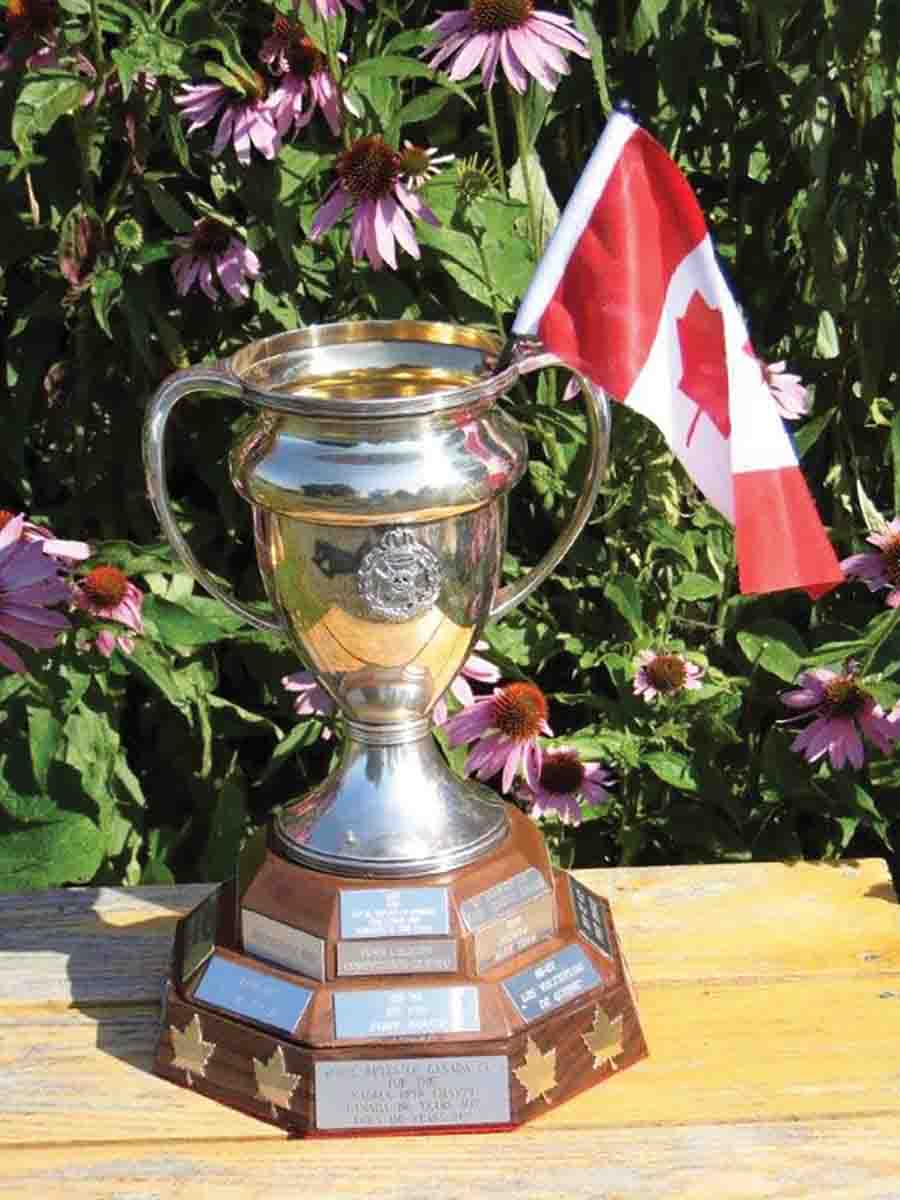 with 37-1V, and David Munch again took bronze with 37 even.
Aggregate awards are given to individuals as well as teams. Accumulated scores from each of the three short- and long-range events. Gold, silver and bronze certificates are awarded for high scores for the Short and Long Range Aggregates. The Short Range Aggregate consists of high-score totals for 300, 500 and 600 yards, (or meters, depending on ranges in use). Team winners are awarded the Loyalist Cup and each receive a plaque. The team winners were the "Director's Cut," consisting of Chris Jones, Frank Monikowski and Cody Hicks in first place; "Bull's-Eye Buckeyes"came in second place, receiving three silver team plaques; third place went to Ken, Len and Ted who received three bronze team plaques.
The Long Range Aggregate consists of high-score totals at 700, 800, and 900 meters. Winners again receive certificates for individuals and teams compete for the Ranger Cup with each member receiving a plaque. The individual winners of the Short Range Aggregate were Cody Hicks in first place with a total of 137-6V; second place went to Dr. Gerald Bergeron with a total of 121-3V; third place went to Len Ciphery with a total of 120-3V. The Muzzle Loader winners were Ray Hopkins in first place, David Munch in second, and Frank Monikowski in third. The Long Range Aggregate winners are as follows: Ken Pearcey won the first place certificate, Cody Hicks earned the second place certificate, and Clayton Grove won the third place certificate. Identical awards go to the muzzle loaders as follows; Ray Hopkins, first place; Frank Monikowski, second place; David Munch, third place.
The team winners of the Ranger Cup were "Directors Cut" including Chris Jones, Frank Monikowski and Cody Hicks, each receiving three gold team plaques, the "Bull's Eye Buckeyes" consisting of David Munch, Ray Hopkins, and Kenn Heismann taking silver team plaques, and "Team PPG" consisting of Clayton Grove, Richard Pauquette, and Jordan Pauquette receiving three bronze plaques.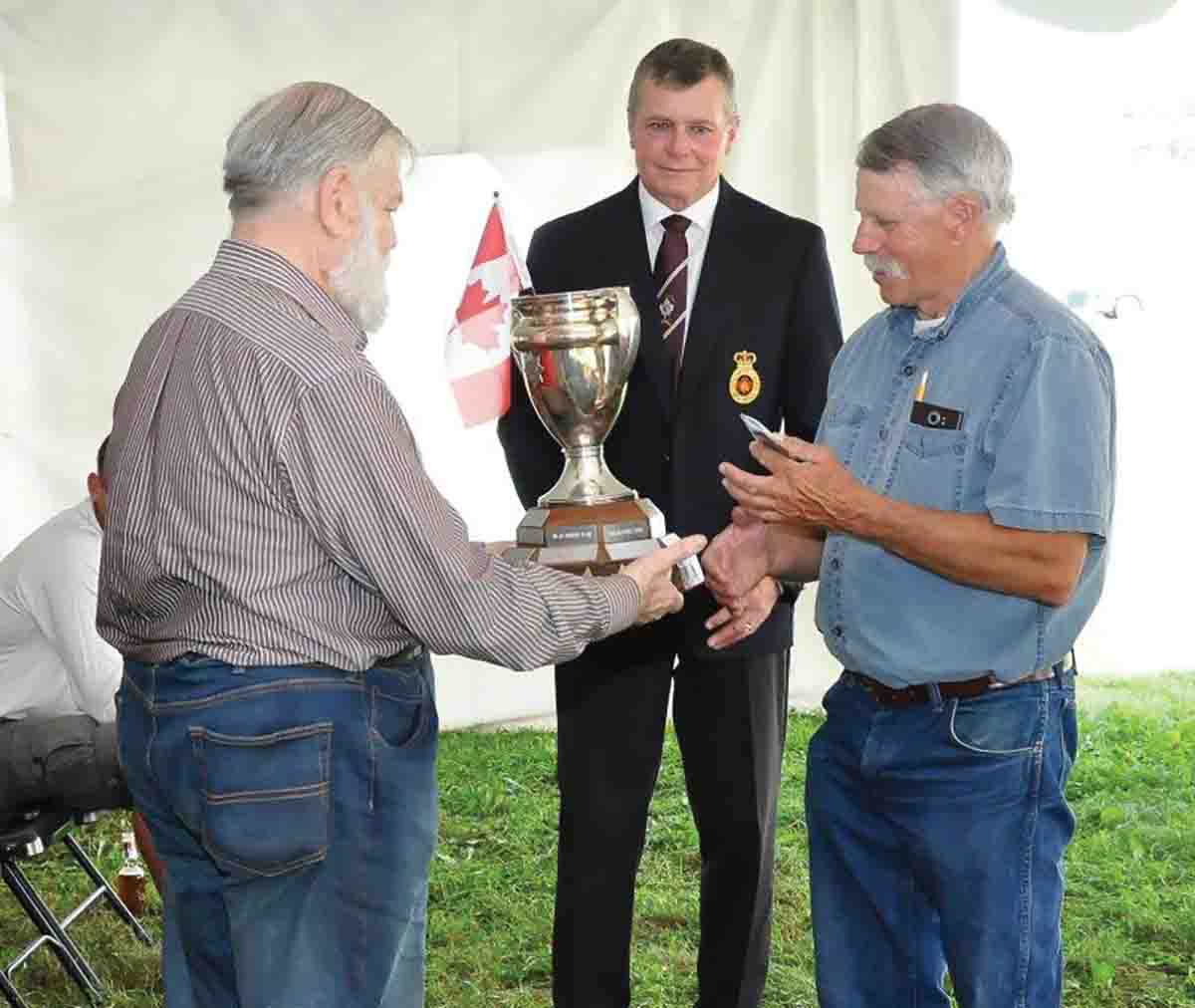 The Overall Grand Aggregate winners were Cody Hicks in Cartridge Rifle Class, and Ray Hopkins in Muzzle Loader Class. This was a very good showing for both shooters. The third day on the mound saw us divided into three approximately equal teams to shoot for the "International Team Match." This is an event shot entirely at 900 meters with all three teams taking home a medal. Although sight settings from the previous day remain basically the same, there are differences needed to score. The wind was very tricky – jumping from one direction to another with very subtle and barely noticeable warning. The shooters to our immediate left kept hitting our target, or coming close enough to cause the target pullers to lower our target, generally just before one of our squad was about to shoot.
It got so bad for a while that we hollered at them to stop shooting at our target or at least have the courtesy to give us some V-bulls. It seemed like one shooter was moving his rear sight in the same direction that the wind blew, placing his shots farther and farther towards our target. We still managed enough points to win the silver medal for our gang – it's all in fun anyway.
It was very unusual to see three chaps in Muzzle Loader Class arrive with three original rifles from the time of the famous Creedmoor shoot in 1874. One was a Rigby, one a George Gibbs and the third a Charles Ingram. Beautiful rifles, all. It was astounding to see vintage firearms shoot as well as many modern guns. Perhaps we enjoy the opportunity to shoot old-style rifles more than modern smokeless rifles, or it is the challenge of reliving days gone past. Very possibly it is something else totally inexplicable that only those involved can understand. Whatever the case, our group members have their own personal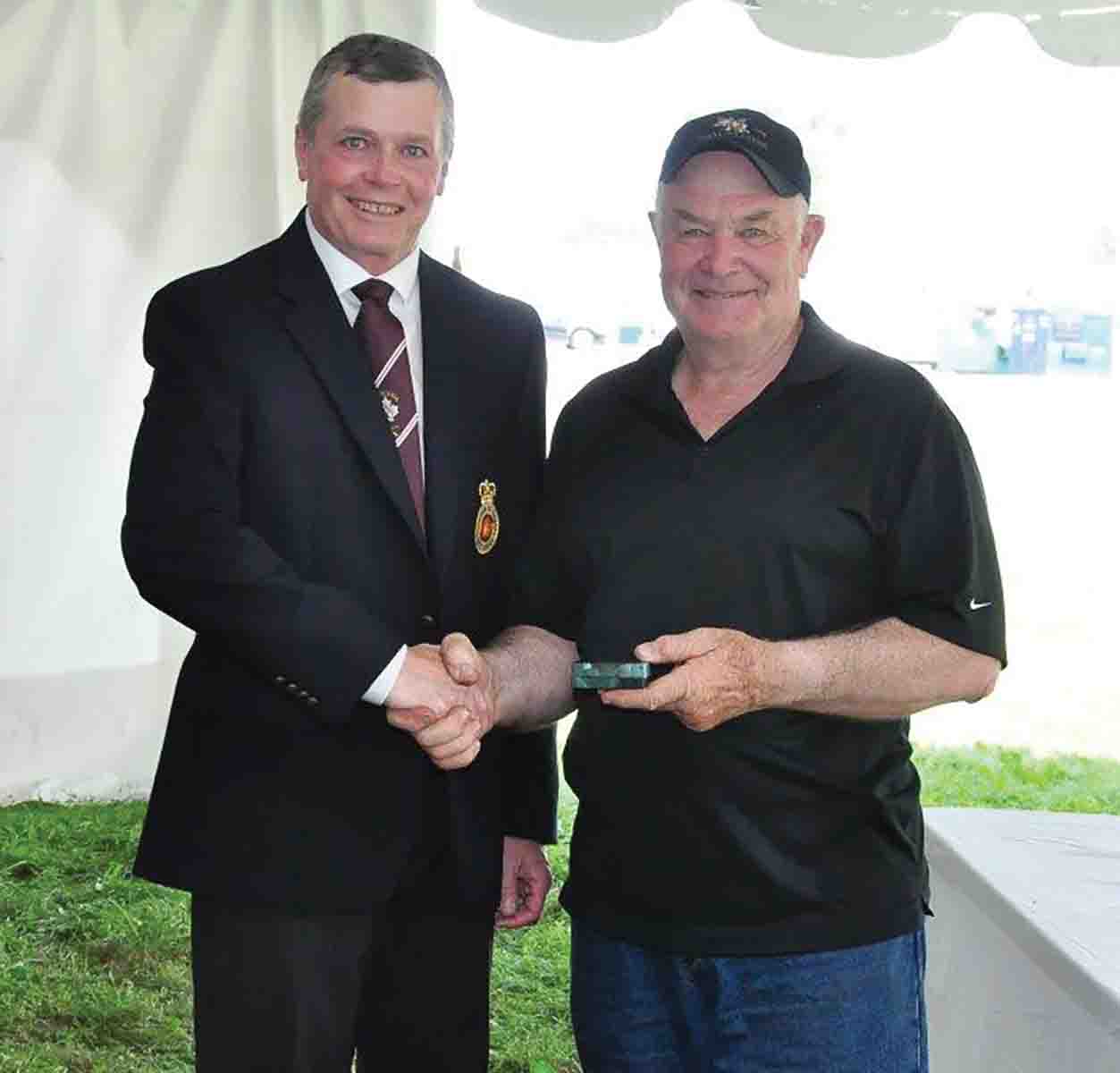 reasons for getting together, reasons that may not involve medals.
Since past history proves most medals and trophies have been won by American competitors, our group of Canadians decided to introduce a special grand prize for resident shooters. Last winter my friend, Gerald Bergeron, M.D., from the Province of Quebec, informed me there were a number of trophies being put up for sale. Among them was one that screamed out to be purchased. It was called "The Royal Rifles of Canada Challenge Cup."
It was festooned with history, specifically the names of all the past winning teams. There were such names as Les Voltigeurs, Le Pont Rouge, the Royal 22nd or "Vandoos," and even one from Connaught – the NCRRA Blue Team. In short, I purchased it, deciding to leave all those names attached for posterity. I was informed that any trophies not sold would end up on Ebay and eventually in someone's private collection – not this time! It now permanently resides at the DCRA. A fourth tier of black walnut was added to match the three layers making up the original base. To this base, 12 gold maple leafs were attached to represent the 10 provinces and two territories of Canada. Two new name plates in both official languages describe what the trophy now represents, the "Canadian Black Powder Target Rifle Champion." A special crest similar to the "Governor General's Prize" for smokeless powder shooters was commissioned for the top three Canadians. A further step was taken to invite a special gentleman to award the trophy. I speak of one of the men who reintroduced the black powder program to the DCRA during the Centennial of Canada in 1967, Major Don Holmes, retired. For personal reasons, I was honored to have the opportunity to donate this trophy as my own contribution to our 150th birthday of Canada. The trophy will retain the original title, but is given in memory of another of the first gentlemen back in 1967, now unfortunately gone to a higher range, John Cooper Adams, whom I met in 2010 during my first of eight years attending the Connaught Range. John assisted my son in scoring 39/50 unofficially at the Wilf Black relay using a rifle with no adjustable sights.
What has also been happening is the increase in medals being won by Canadians. There is no question when the world-class shooters from the United States arrive "en mob," most of the hardware heads south with them. This is deservedly so, but there has been a gradual improvement in the skill shown by the Canadian shooters.
Reading the wind has been the biggest challenge, and with only one long-range event per year it has been a difficult road to follow. I was told by one very good shooter from the U.S. that he and a couple of his cohorts shot off 350 pounds of lead this year. We Canucks are lucky to manage 25 pounds once a year. We hardly manage enough time to cast 350 bullets let alone 350 pounds of them. Thus, it has been a welcome change to see some medals stay in this country.