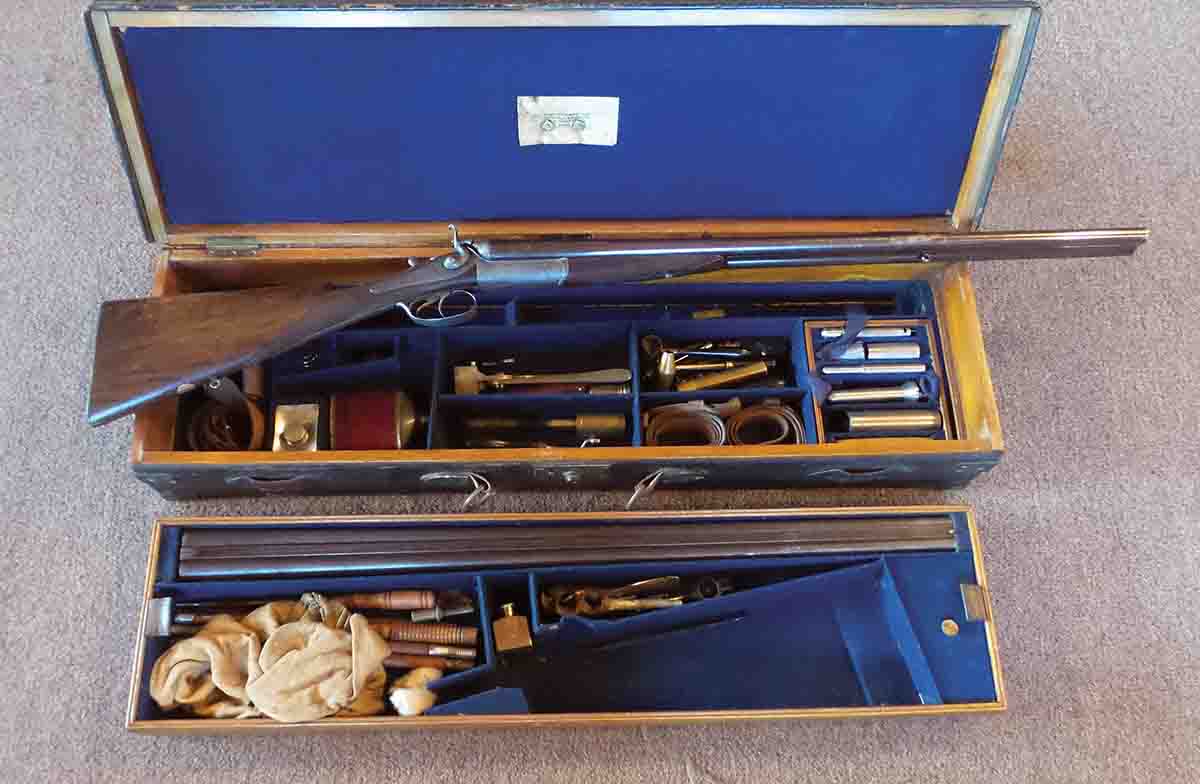 I absolutely love vintage double rifles from the U.K. (England and Scotland). It's even better when I find a vintage double (pre-World War II) with the original case and accessories. The absolute best is the added plus of a rifle with a strong history behind it. The rifle herein has all three attributes.
Born in 1836 to a wealthy, influential and politically connected family in Maryland, Joseph Campbell Shorb graduated from medical school in 1860 to follow his father into medicine. He became a surgeon and served the Union during the early years of the Civil War. In 1863 his commission expired and after resigning from the Army, he along with his younger brother, James Debarth Shorb (1842-1896), traveled to California. Only a state for 13 years, California was the "promised land" for a pair of young men with drive and sound financial backing. James was an attorney and civil engineer who married Maria Wilson in 1867, the daughter of Benjamin Davis Wilson (1811-1878). He was a mountain man during the fur-trading era and a prosperous land owner. James purchased thousands of acres of land to add to his in-law's property and developed San Gabriel Winery, which at the time was the largest winery in the world. It was capable of pressing 250 tons of grapes per day and used storage vats that could hold 1.5 million gallons! He owned or controlled several other businesses, including a railroad to bring his wine to market. Shorb Street in Alhambra is named after the family. (Benjamin Wilson's first wife died and he remarried. One of his four children, Ruth, married a gentleman named George Patton. Their oldest son was to be the famous World War II general.)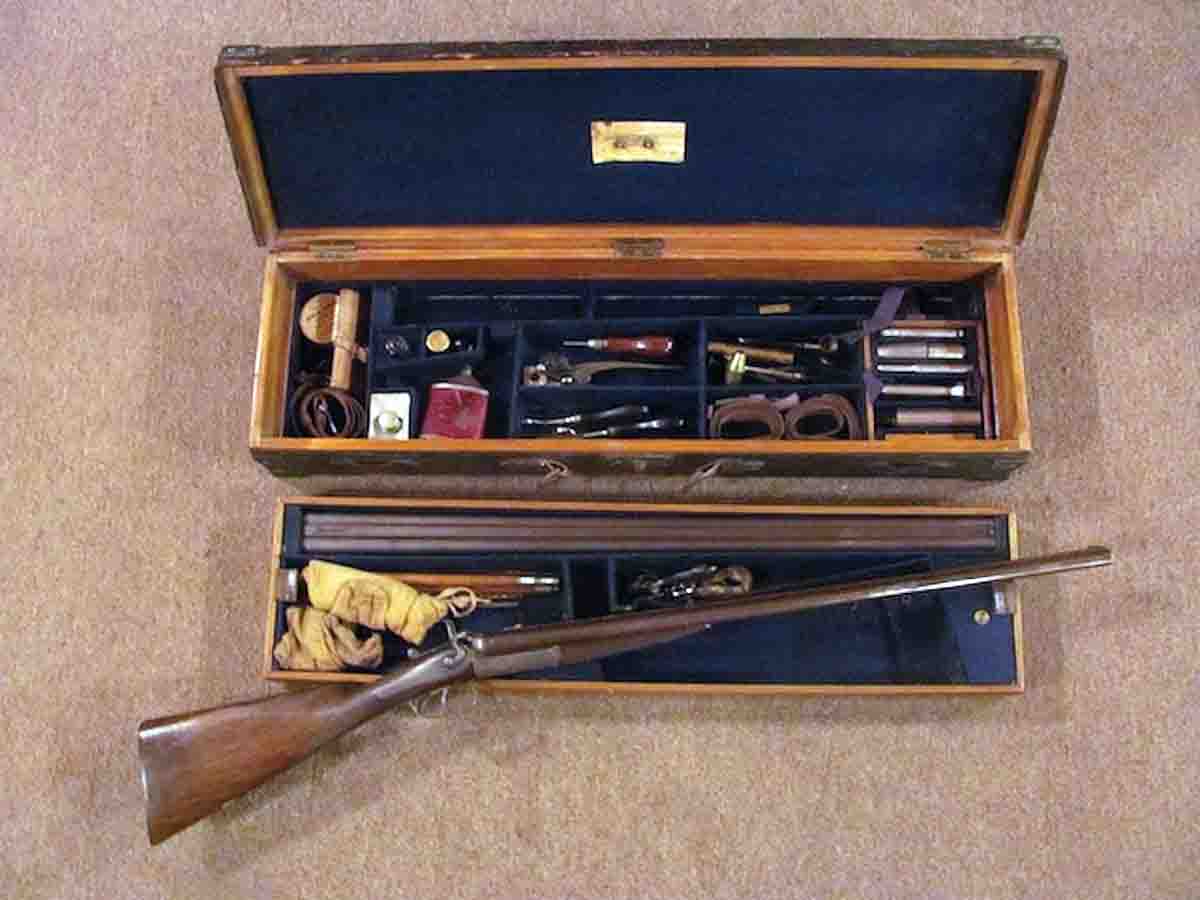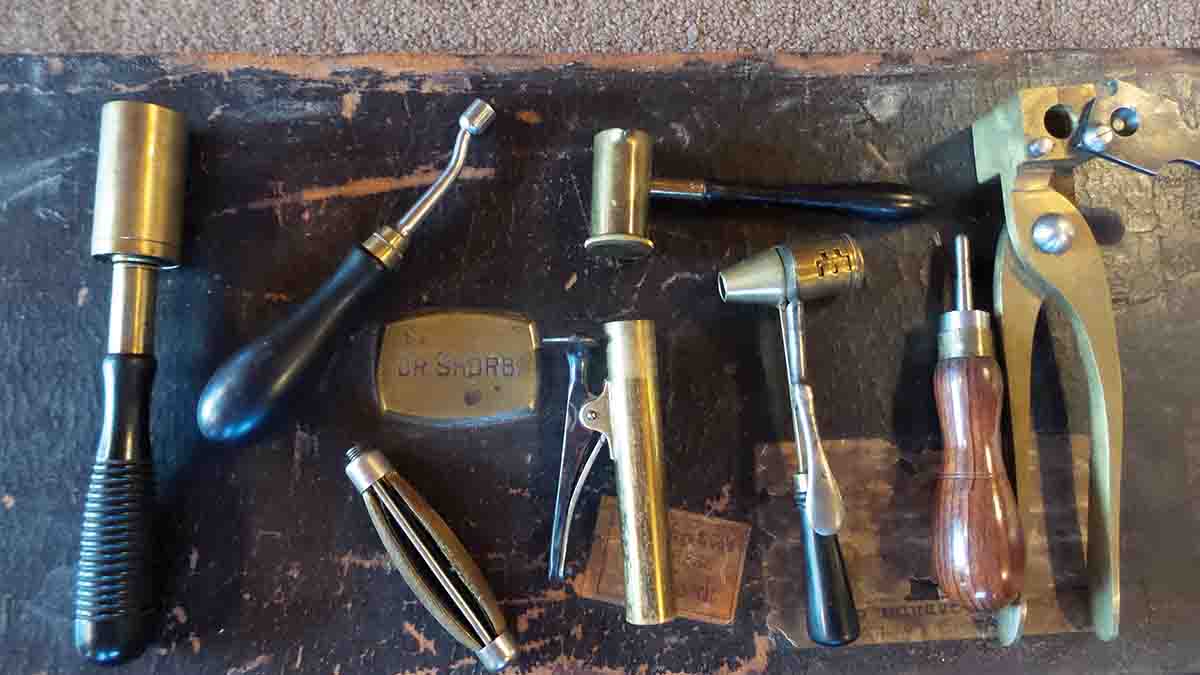 J. Campbell continued in his profession as a surgeon and was known as one of the most in-demand doctors in southern California. He unsuccessfully ran for the Senate and was married to Sophia Dallas, daughter of the U.S. Senator from Philadelphia. Their marriage was not a happy one and they lived apart for several years. Unfortunately, the doctor suffered from a nervous disorder making it difficult, if not impossible, to sleep. He used morphine to induce sleep, becoming tolerant to the drug. Then he used chloroform. On October 1, 1889, after five sleepless nights, he fell asleep with a chloroform-soaked cloth still on his face and died. The first reports suggested suicide, but a subsequent investigation showed his death was accidental. Newspapers in southern California wrote lengthy obituaries to honor the doctor.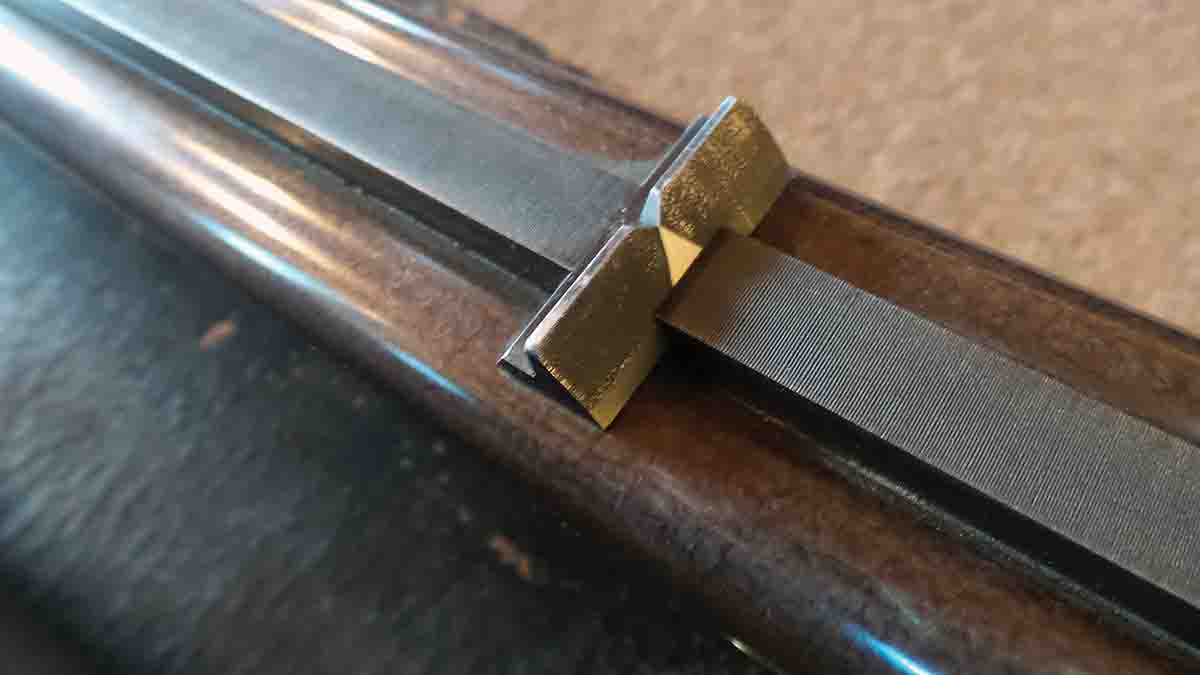 Dr. Shorb ordered a rifle and shotgun combination around 1878, the subject of this article, from a relatively new company in London: Gye & Moncrieff (G&M). Why he didn't order from a more established firm, such as Holland & Holland or Purdey, will remain a mystery.
Lynedoch Needham Moncrieff was born in 1841 in Scotland, and when he was 15 he joined the Royal Navy. In 1863 he was a sub-lieutenant and was awarded a bronze medal for saving a seaman who fell overboard that year. After he was discharged he went into business with Lionel Gye and opened a firearms shop at 60 St. James Street, Piccadilly, London in 1874. Gye was a former Lieutenant in the Royal Artillery. Their business thrived for approximately five years and was dissolved in 1879 when Moncrieff volunteered for service in South Africa. He was killed in battle on November 5, 1883.
The highest G&M serial number I have found is No. 1698, for an approximate average of 340 guns and rifles sold per year for the five years the company was in business. Of the G&M firearms seen by the author, all double barrel rifles and shotguns were exposed hammer and top-lever styles. Two .455 revolvers were found, a few double rifles in caliber .577-500 No. 2, one in .360, several double shotguns in 12-bore, and one single shot rifle in .577 (3) have been documented. All firearms were for black powder cartridges. The doubles, rather than having an extension of the top rib (as a common fastening method), had the extension of the lower rib for a third fastener. The quality of Gye & Moncrieff firearms is equal to the best London or Birmingham rifles and shotguns of the era.
This unique set was made in late 1877 or early 1878. Gye & Moncrieff was not a maker of firearms, but rather retailed arms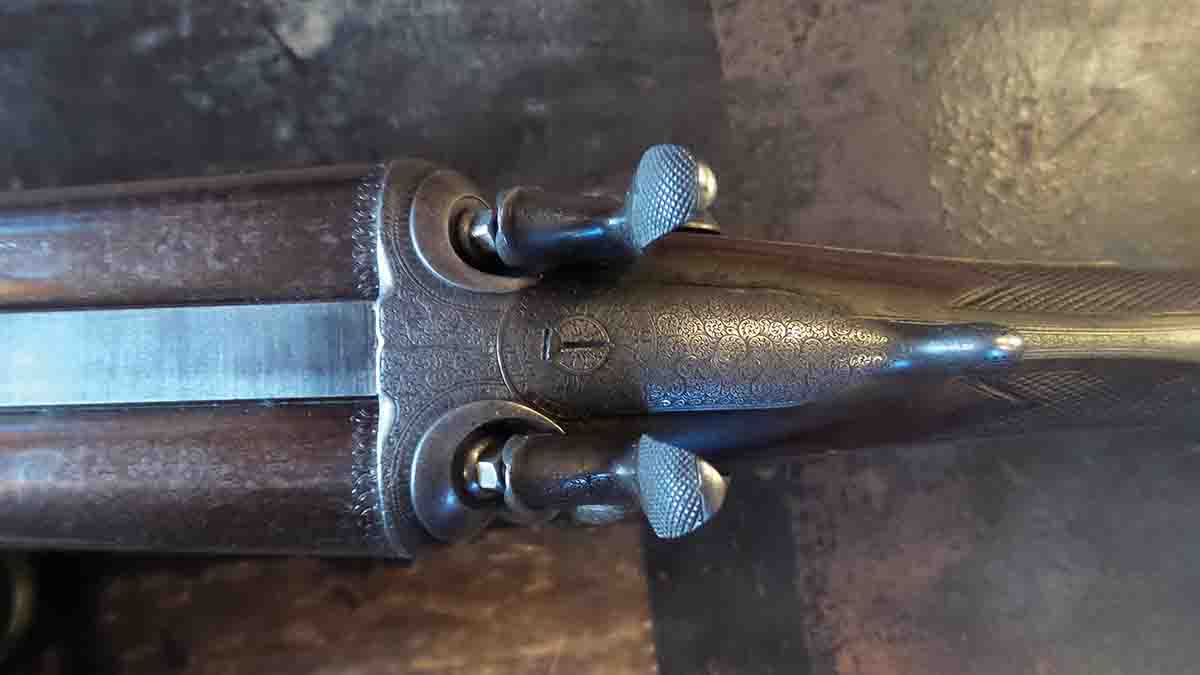 made by others with their name, address and serial number on them, or purchased "in the white" and finished at their premises. Number 1250, as purchased by J. Campbell Shorb, is a top-lever, exposed hammer of the rebounding style, one set of barrels is in caliber .577-500 No. 2 Black Powder Express and 26 inches in length, fitted with a single rear sight.
The additional pair of shotgun barrels is 32 inches in length, choked Cylinder and Cylinder. With the shotgun barrels, the balance point is on the hinge pin. With the rifle barrels the balance point is several inches ahead of that. The rifle barrels are the heaviest I've seen for a black powder express rifle – almost heavy enough for a full nitro proof. The weight with the shotgun barrels is a comfortable 7.75 pounds, but with the rifle barrels, the weight is very heavy for a black powder express at 11 pounds. The rifle barrels alone weighed 7.25 pounds.
The action is 90 percent coverage in fine rose and scroll engraving of the period, and two triggers plus two forends with a Deeley patented latch. The buttstock has a vacant oval escutcheon, sling eye, hard rubber buttplate, and a plaque inset in the left side of the stock, which is now missing. The bores of both barrels are nearly in mint condition, showing very little use or at least, immaculate cleaning after use.
This rifle/shotgun combination fits in a two-tiered oak and leather case with a complete set of cleaning and reloading implements for both rifle and shotgun barrels. Included are a paper patch 300-grain bullet mould and the hollow point pin, adjustable powder and shot measures (3 drams of powder for the shotgun and 5 drams for the rifle and one ounce of shot), and a trim tool for paper shotshells. Also included are a striker key, chamber brush, turn screws, reloading dies for the rifle cartridges and two cleaning rods, tips, jags, brushes, oil
bottle, striker pot, a sling, two leather sleeves for each set of barrels and two forends. The case's exterior has two Wells Fargo shipping labels intact, and a brass plaque engraved with "Dr. Shorb." All in all, it's a very complete and historical firearm.
Shooting this new treasure was paramount, as was finding the history. Having some experience with double rifles, I knew where to begin. The shotgun was easy; two ½-inch paper or brass cartridges, three drams of FFFg GOEX (82 grains), a 1⁄8-inch over-powder wad set to 100 pounds of pressure, a felt spacer wad, one ounce of shot (No. 8 for grouse this season), an over-shot wad and roll crimp. Recoil is mild and the smoke a bit of fun and nostalgic.
The rifle was somewhat of a challenge, and rarely is an accurate load developed the first go-round. Brass cases from Bertram and Large Rifle Magnum primers are the starting point. (Yes, black powder will ignite well with any primer, but I keep my reloading bench simple and shoot the magnum primers in all of my double rifles, except the bore rifles.) Five drams (136 grains) of FFg is a bit too slow and the same amount of FFFg is a bit too fast. Curtis & Harvey (C&H) original No. 6 would be equal to today's GOEX at approximately 21⁄2 Fg to 23⁄4 Fg, based on my experience of shooting doubles for 25 years.
The vast majority of black powder express rifles with a 3-inch case length in .500 caliber shot 340-grain bullets, and a few used 380-grain bullets, as did most .577-500 No. 2 cartridges. The longer .500 (3¼) used 440- and 480-grain bullets, as did the .577-500 (31⁄8) Magnum cartridges. This rifle, however, came with a paper patch mould of 300 grains. Having no experience in paper patching, I used a 340-grain bullet made for the more common black powder express rifles in .500 caliber. I guessed 125 grains of FFFg would approximate the 136-grain charge of C&H No. 6 black powder. The bullets were lubed and sized to .510 inch in an RCBS lube-size machine and placed directly over the powder. Very little, if any, space remained between the powder charge and the bullet's base.
Velocity averaged just under 1,700 fps and accuracy was acceptable for an old double rifle but can be improved upon with time and experimentation. I don't know if I will hunt with this rifle, as there is not enough time in the limited season. However, the shotgun barrels will definitely be used beginning August 10 when grouse season opens in Alaska. When I walk my black Lab down the railway clearing at the edge of the woods, spruce grouse spring up often and Blackie loves to give chase. Hunting with the old rifles and shotguns add much to the experience. Far more than hunting with a modern store-bought firearm of any kind, in my humble opinion, of course!