Corrections to Two Clever Cartridge Conversions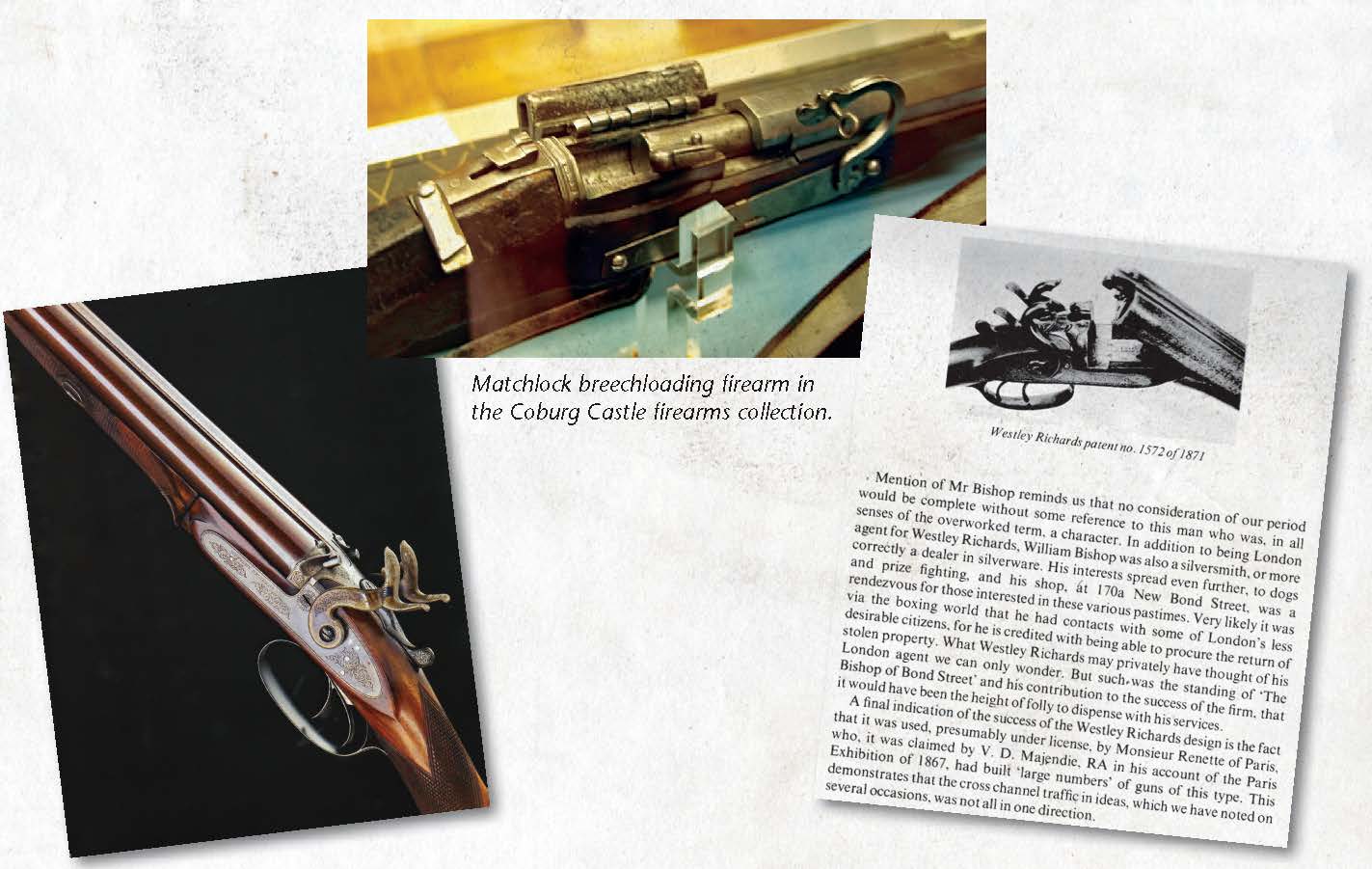 Dear Editor,
Mr. Gilbert wrote in his article, "Two Clever Cartridge Conversions," in Issue #113, "When the breechloader was first invented by Johannes Samuel Pauly in 1812, ..."
Breechloading actions using metallic cartridges were available as matchlocks, wheellocks and flintlocks – thus, the design proceeded Pauly by centuries. Attached is an image of a matchlock in the Coburg Castle (Germany) collection. It is a breechloading matchlock with an "Eisenpatrone" (iron cartridge).
Gilbert again wrote, "They are now fit to Westley Richards' famous top opening, "dolls head" action, patented October 10, 1865, ..." According to David Baker and Ian Crudgington in The British Shotgun Volume One 1850 to 1870, the action pictured is Westley Richard's patent (number 1572) of 1871.
Westley Richards marketed that style of arm in a dual-ignition (pinfire/centerfire) form. I don't believe the style of hammer pictured in the article was designed to operate with the nipple percussion cap of a muzzleloading gun.
Regards,
Steve Helsley​
First Time at Quigley
Dear Editor,
As captain of the U.S. International Muzzleloading Team, I was proud to serve with two of the most talented black powder shooters I have ever known, both of them accomplished with muzzleloader and cartridge rifles, both World Champions. Again, they proved their abilities, as Dave Gullo won the 2021 Matthew Quigley Buffalo Rifle Match in June 2021, with a cartridge rifle, and Ray Hanson won the 2021 NMLRA Spring Nationals/Steve Swallow-Pete Terpstra Memorial Long-Range Match in June with a muzzleloader.
I watch the movie "Quigley Down Under" at least two times a year. The Quigley match has always been on my bucket list for years and I finally went this year. I had never fired a cartridge rifle until two days before the Quigley match. At age 82, in 98 degree Fahrenheit temperatures, wind and dust, I was able to get 28 hits with six out of eight on the Buffalo at 805 yards, with a borrowed rifle. I got bit and I can't wait to come back next year. I was so taken that I found a copy of Steve Garbe's book on Trader's Row, got a Quigley shirt, and purchased a Sharps rifle on the way home. My muzzleloader friends will say I've gone to the "Dark Side," but not having to get up and down while shooting a match is fun!
It was an amazingly well run match. Imagine organizing over 600 shooters to get eight shots on six different targets in a day and a half! Even shooting with 24 minutes of right windage (and still shading to the right) on my rifle was fun. I must be a little crazy but in the early morning, sitting outside my camper watching the sun come up and looking at the ridge in front of me, I could have sworn I saw Aborigines standing on top, then disappearing. And who drives 4,000 miles to shoot 48 shots and then wants to go back
Ed Decker