This Model 1865 Spencer carbine was found in a small cave in southeastern Arizona and it gives a chilling insight into the life and death struggles in Apache country. In this article, we will explore the restoration and accuracy of the gun, as well as some myths about the .56-50 cartridge. Then, we will discuss a hunting trip and the effectiveness of the cartridge on big game. We will not dwell on the earlier Spencer Model 1860 of Civil War fame, but rather on this Indian War model.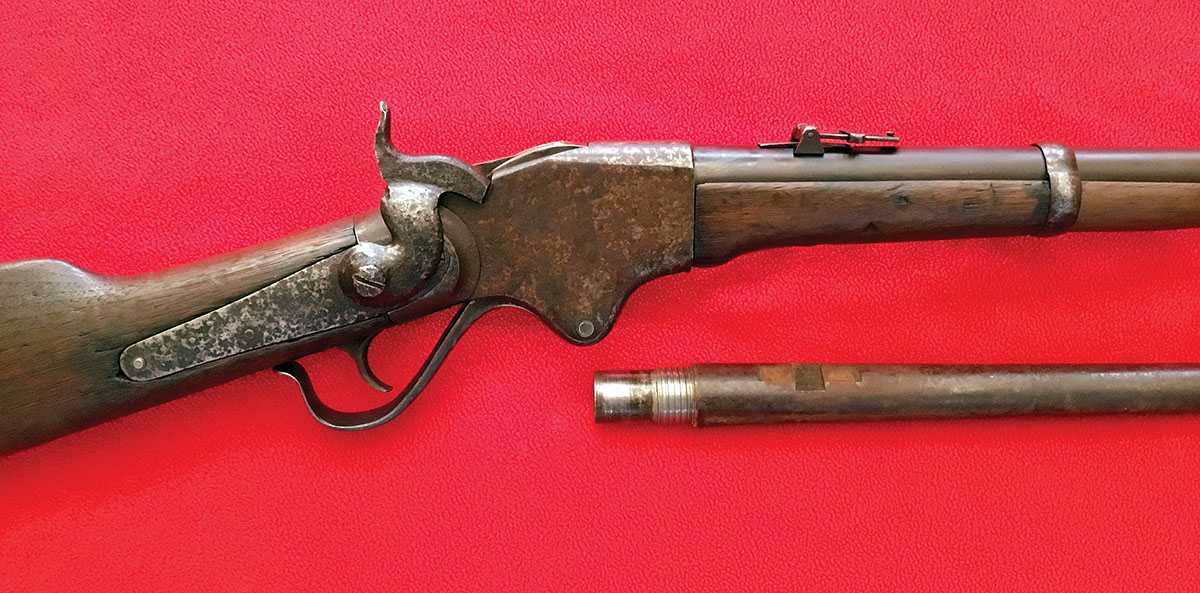 After the Civil War, Arizona was undoubtedly the most dangerous place to live in the entire country. In southern Arizona and northern Mexico, thousands of people were killed by Apaches, Mexican bandits, and American outlaws. Ranches, farms and mines on both sides of the border were reduced to burned-out wastelands. In this chaotic backdrop, someone abandoned this perfectly good Spencer carbine for reasons we can only imagine. Perhaps some soldiers were ambushed, or a wounded and dying cowboy was holed-up there. In any case, the lock was removed and the buttstock was broken over a boulder to render it unusable by hostiles. Black powder cartridge residue in the bore, which had turned into black rust, showed that it had been fired a lot before being destroyed, likely meaning a gunfight. Fortunately for us, the cave was very dry and dusty with low humidity, so the carbine was relatively well preserved.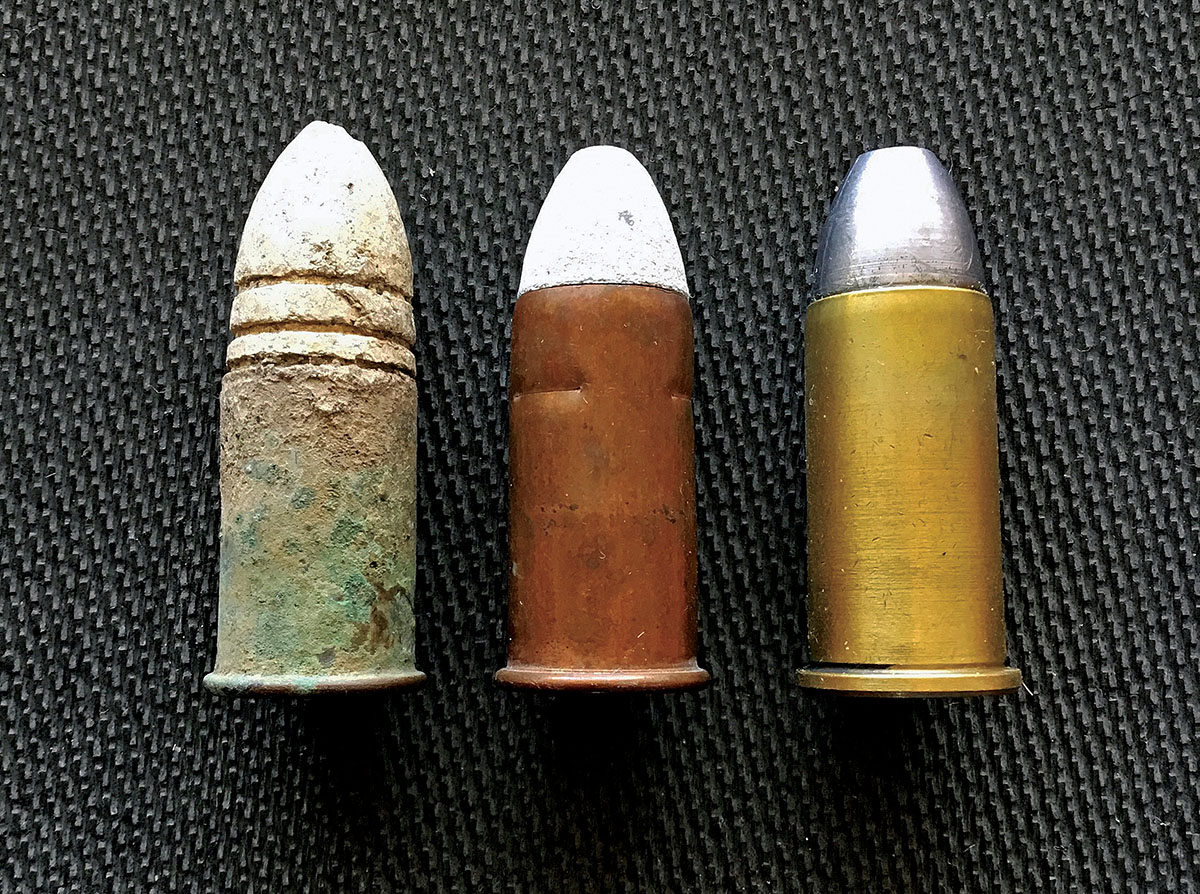 The closest military installation where these Model 1865 Spencers were issued was Fort Crittenden, near the Mexican border, which was in operation from 1867-1873. This fort was built during the war with Cochise, of the Chiricahua Apache and some people claim that this was the longest officially declared war in U.S. history (1861-1872). However, even after a treaty was signed, wars with other Apaches, like Geronimo, continued in this border region for many years to come. Interestingly, Geronimo himself was a proud owner of a Spencer.
We are all familiar with the Model 1860 Spencer used in the Civil War, which was hailed as the best carbine of the war, so we won't talk much about that model here. Instead, we will focus on the improved Model 1865, which first arrived from the factories in April 1865, shortly after the last major battle of the war (Sailor's Creek, Virginia). With the Civil War over, and many thousands of these brand-new carbines on hand, the Army started shipping them West for use on the frontier. In all, there were about 49,500 of this model made in the Spencer and Burnside factories until January 1866, when the big government contracts ended. Approximately half were equipped with the Stabler magazine adapter. Starting about 1870, the government also began issuing this model to Arizona militia units, among others, as well as to some settlers and teamsters. The Model 1865 Spencer was eventually replaced by the converted Sharps .50-70 carbine and the .45-70 Trapdoor carbine in the regular U.S. Cavalry, but this was not completed until about 1874. This was also the year that the Springfield Armory stopped repairing and rebuilding Spencers. Understandably, cavalry troopers were reluctant to turn in their repeaters for single shots (Viz: the Custer battlefield). Later in the century, as military surplus arms, Spencers were popular as a thrifty man's saddle carbine up to about 1900, and ammunition was still being made commercially until 1920.
THE CARTRIDGE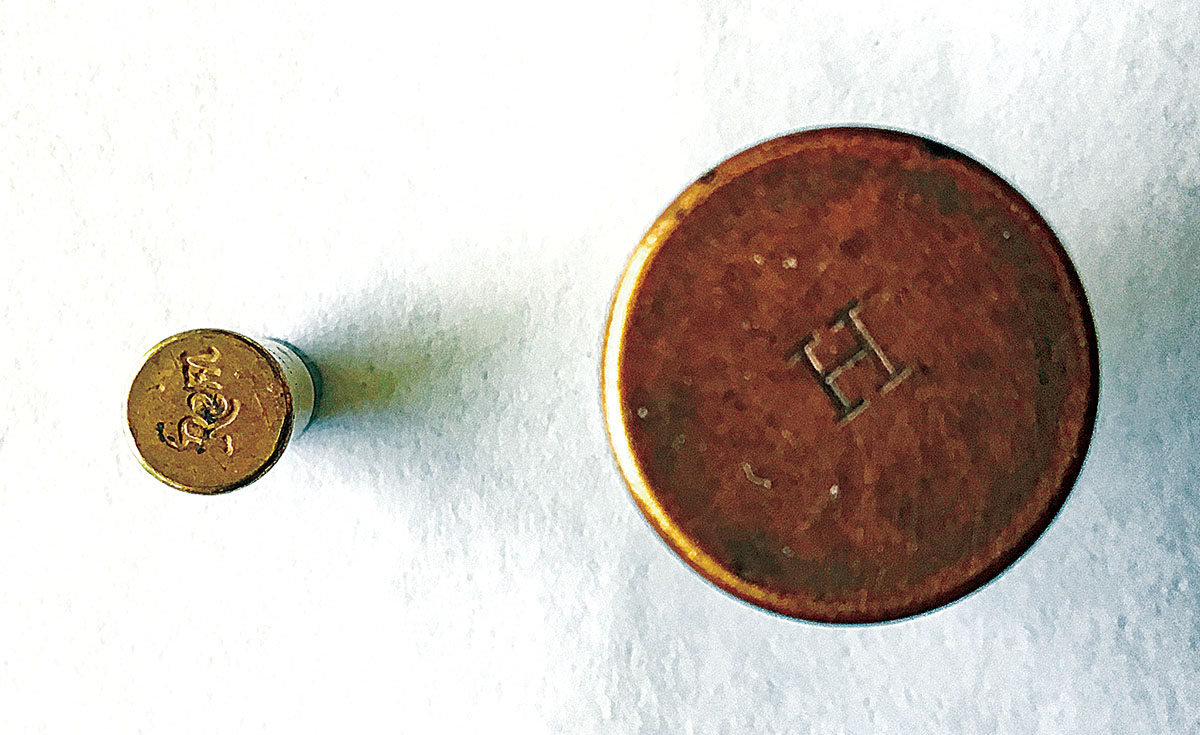 The older .56-56 was a copper rimfire cartridge for the Model 1860 that had exposed grease grooves. During the Civil War, it was typically loaded with a 410- to 440-grain bullet at a velocity of about 820 to 850 fps, depending on the manufacturer. The groove-to-groove diameter for the Model 1860 was approximately .535 inch. However, the Model 1865 used an improved cartridge developed by Springfield Armory from 1863 to 1864; namely the .56-50, and it was reduced to .50 caliber, with a much lighter 350-grain bullet for a higher velocity and a flatter trajectory. The grease grooves were also completely covered inside the cartridge case, which was a first for the U.S. military. The base diameter of each of these cartridges was .56 inch, hence the unusual naming convention for the two cartridges.
It seems like every article ever written about the .56-50 Spencer has said that the cartridge was too weak and ineffective for man or beast, especially "Out West." They say that this was the reason the Spencer was replaced. This is a myth, as I will demonstrate, and it is doubtful that any of these authors have ever used one on game animals to test this opinion. The myth just keeps getting repeated over and over. In addition, one would think that the untold thousands of men killed with the Spencer would vouch for the ammunition's effectiveness. The improved .56-50 cartridge held 45 grains of powder under a 350-grain bullet, at a velocity of 1,200 feet per second (fps) in the rifle. A subsequent Springfield Armory test of its own three-groove Spencer barrel liners gave a velocity of 1,032 fps for the rifle and 996 fps for the carbine, no doubt using weaker government-issued Fg musket powder. The bottom line is that a .50 caliber bullet of 350 grains going 1,000-1,200 feet per second is certainly nothing to sneeze at. Tests showed that it could penetrate almost a foot of soft pine at 15 feet!
Forty-five grains of powder does not sound like much to our modern minds, but something most authors fail to consider is that the case also contained a huge amount of priming compound, which added to the velocity. Back then, they used a lot more priming in a rimfire than we would today. If you take a .56-50 apart, you will see more priming compound than you have ever seen in any other cartridge, and I estimate that it adds the equivalent strength of perhaps five to seven grains of government-issued musket powder. Could this possibly have acted a bit like a duplex load, or did it just make the bore dirtier?
Let's take a look at other metallic carbine cartridges of the day. For example, the .44 Henry used about 23 to 28 grains of powder behind a 200-grain bullet. The venerable .44-40 used 40 grains of powder and a 200-grain bullet for 1,190 feet per second (fps), and it was declared a wonderful cartridge for whitetail deer and even sufficient for bear. Then there was the Burnside carbine with 45 grains of powder and a 390-grain bullet at 875 fps. Or how about the .50 caliber Maynard, also issued by the Army in the post-war era, which held 40 grains of powder and a 350-grain bullet for 880 fps. None of these could match the .56-50 Spencer.
Reduced loads were developed by the Ordnance Department for carbines chambered in .50-70 and .45-70, because the regular full-power rifle loads produced too much recoil in the lightweight carbines. Many cavalry troopers complained bitterly about excessive bruising, and the flinching severely impacted accuracy. Therefore, the Army experimented with lighter .50-70 loads, and the ballistics were only a touch hotter than the Spencer ammunition. The reduced .45-70 Trapdoor carbine load was 55 grains of Fg powder, with a 380-to 405-grain bullet, again with terminal ballistics very similar to the Spencer. A shooter probably would not notice a difference in the effect on a deer between the .56-50 cartridge and these other military carbine loads at most distances. Additionally, all of these bullets have a high trajectory curve and start dropping very fast past about 150 yards, making clean kills risky with open sights.
So, what happened? The Ordnance Department ended the Spencer program in 1866, and the company went bankrupt in 1868. Many soldiers were keen on the new centerfire "magnum" loads being developed by the Army (.50-70 and .45-70), until they personally experienced the recoil in a very light carbine. By this time, the government was simply too far down the road with the Trapdoor program, and single-shots were preferred by the Ordnance Department anyway, instead of repeaters. Additionally, most of the other great world powers were
adopting breechloading single-shot weapons (e.g., Snyder, Rolling-block, Werndl, Peabody and the 1871 Mauser). Several serious complaints against the Spencer did not help either, like faulty ammunition produced by shifty civilian contractors. Millions of rounds had to be recalled from the field and destroyed. For example, one company commander reported that one-eighth of their new Spencer cartridges would not fire. About one-third of one percent would burst in the rim. In fact, Colonel Hiram Berdan, of Berdan's Sharpshooters fame, once had a case-head separation while trying a Spencer, and it temporarily blinded him in one eye for over a month. There was also a fear, highly exaggerated, of rimfires being bumped on the rim and detonated while being transported. Not so with a centerfire.
A DEER HUNT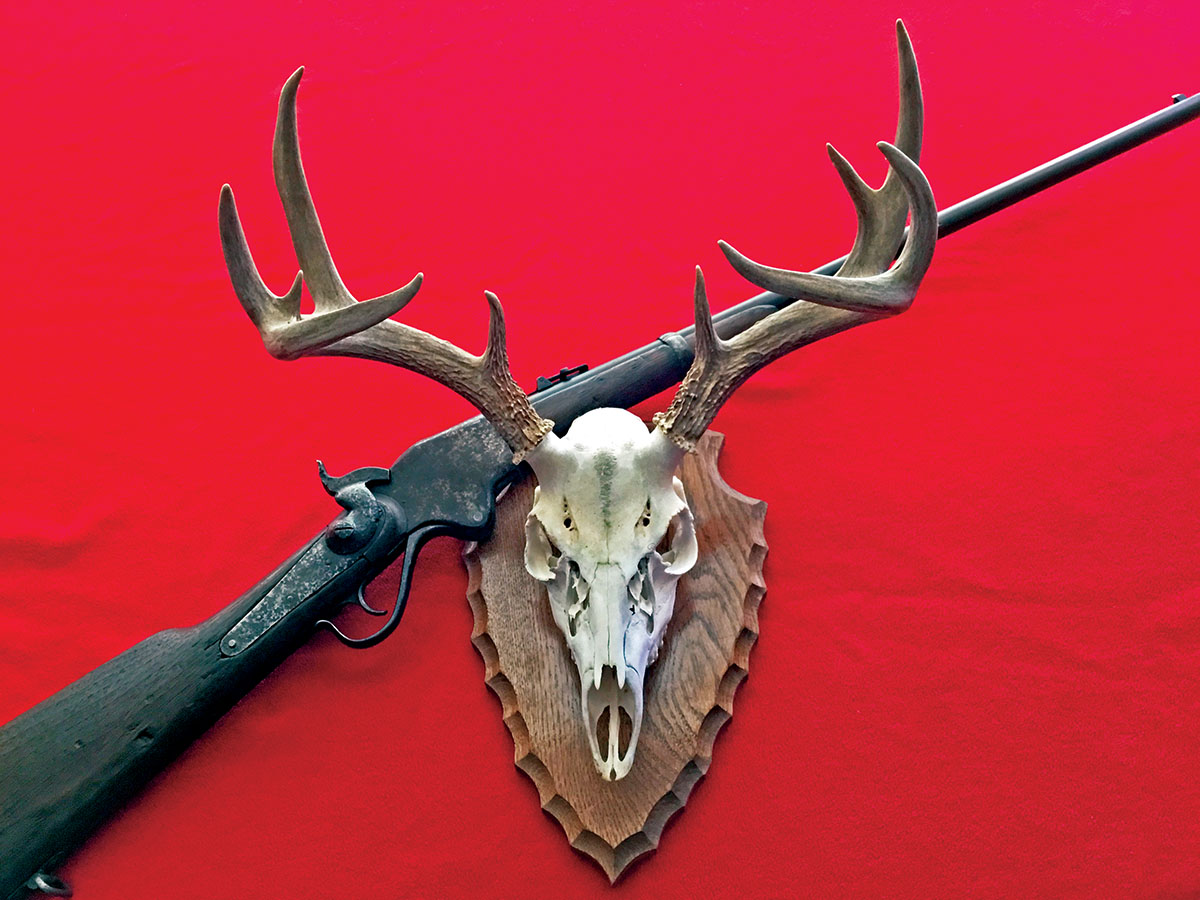 Soldiers in the West reported that their Spencer Model 1865 cartridges worked just fine on deer and antelope and it is logical to assume that some were used on elk. In addition, some Western gunsmiths even re-barreled Spencers into what some people called "buffalo rifles," with extra-heavy octagon barrels. We have seen historical drawings and read accounts of people killing buffalo on horseback with revolvers, so why not with a much more powerful Spencer? I like experimental archaeology; therefore, I decided to try one out on deer to see for myself.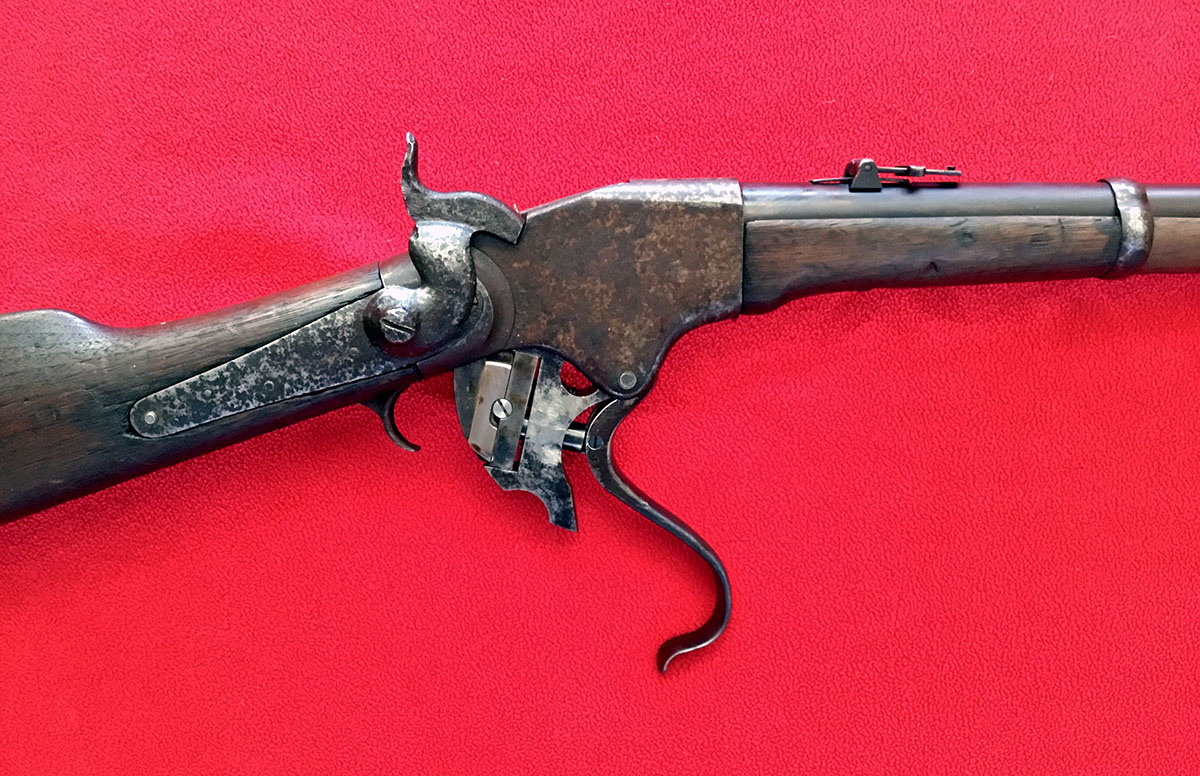 Just about every year, I shoot whitetail bucks and I like to use different guns to compare the ballistic effects of different cartridges. It's a "thing" with me that started when I worked in a state crime lab in my earlier years. I do a careful "layman's autopsy" on the tissue and bone damage to reach my own conclusions about cartridge performance. The first deer I shot with a .56-50 was a Coues' 10-point buck quartering-away slightly at 115 yards; the bullet entering the rib cage on the right side, and coming out of the left shoulder. I then heard it ricochet way off into the distance. Upon gutting and skinning the animal, I noticed that the ballistic damage was much greater than I had anticipated – very comparable to another deer I had previously shot with a .45-60 lever-action rifle (300-grain slug at 1,270 fps). I measured the total penetration through the animal, and it was 16 inches. In contrast, I once read an article in this magazine by Ed Wojnarowski, where he did not get total penetration on an antelope with his .56-50 load at 1,079 fps. Then, sometime thereafter, a friend of mine shot through-and-through a nice black bear with my identical charge and the identical bullet. Go figure…penetration is sometimes fickle. I personally like to have a broadside double-lung shot and an exit wound on every animal, just in case I need to blood trail it in the brush, since most of the blood comes out of the far side.
The bottom line is that I would definitely recommend the .56-50 for whitetail deer hunting, but only within the distance where you can consistently hit a deer in the chest humanely with the open sights — about 150 yards. Most deer (and most enemy combatants for that matter) are shot at 150 yards or less anyway. I think a large mule deer buck would be pushing the limit of the cartridge's effectiveness. Every few years, I get an elk tag, so would I shoot an elk with it? Well, the slug would probably bust both lungs in a broadside shot on a small-to-medium cow elk, and perhaps even on a larger elk. I don't think a hungry pilgrim in the 1800s, would have hesitated to shoot an elk with his Spencer. However, with modern hunting sensitivities, and my belief in one-shot kills and exit wounds, I would never recommend any of the carbine cartridges mentioned in this article for elk or buffalo, to include the reduced Trapdoor carbine load, because there are much better historic cartridge options available.
THE RESTORATION
My son, Garett, took on the restoration and this was his first gun-building project. He was very intrigued by the fact that one of our ancestors was wounded in the shoulder by a Spencer bullet at the battle of Olustee, Florida, in 1864. His first effort was to "free up" the action, which was frozen shut with light rust. After a week or two of soaking the action in oil and tapping it with a rubber hammer, he finally succeeded. Next, he traded for a relic Model 1860, also from the desert, to use the lock and buttstock to rebuild the Model 1865. The barrel of the 1865 looked like a sewer pipe on the inside, so we sent the gun to Larry Romano, master gunsmith, for a new barrel that was made a bit longer, in order to improve the sight radius over the short 20-inch original barrel. Once the buttstock was cobbled together, and a centerfire upper breechblock was installed, Larry pronounced it shootable. Many old Spencers are simply worn out, so always have yours checked by a competent black powder gunsmith before shooting it. By the way, if you ever need some small Spencer parts, many are interchangeable with Sharps parts.
ACCURACY TEST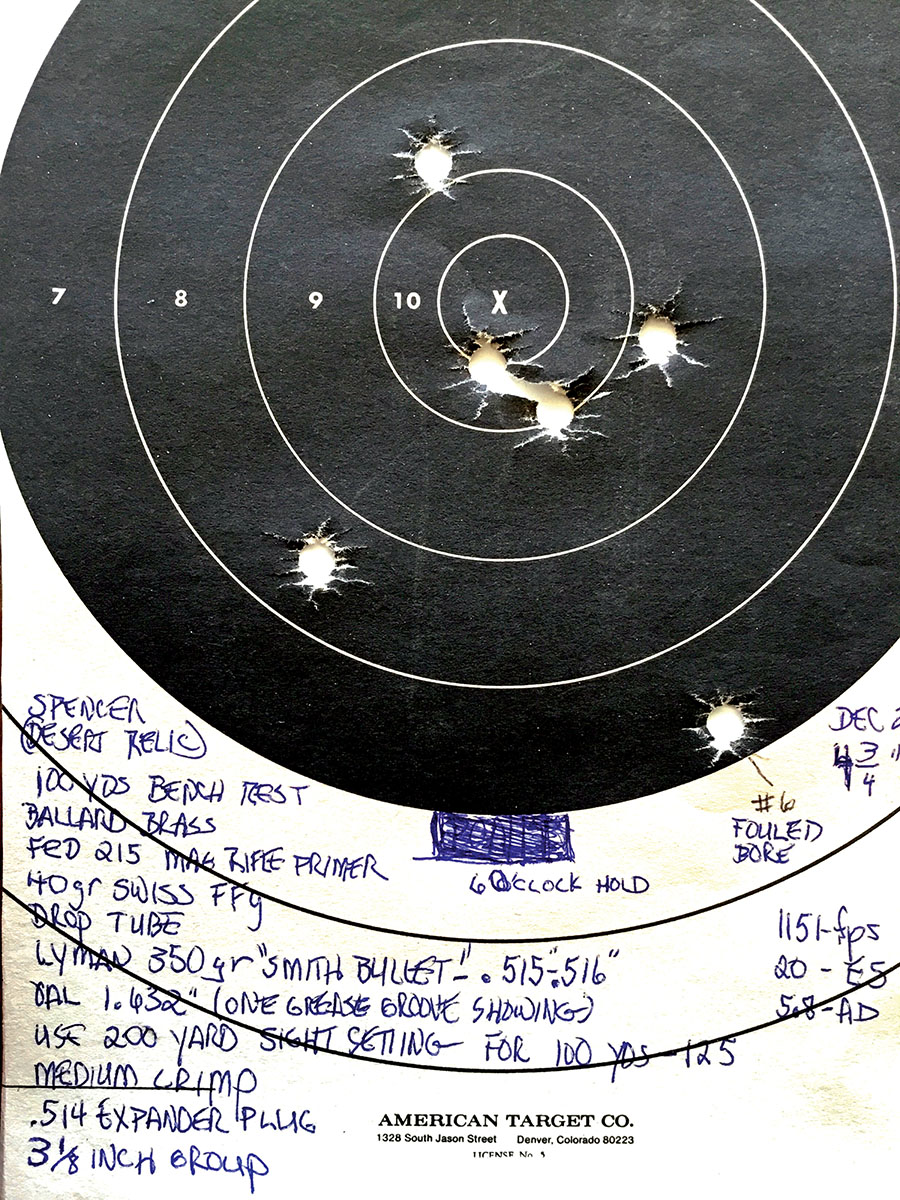 With the introduction of the improved .56-50 cartridge, it appears that the Springfield Armory also specified a new, faster twist rate for the barrel of one turn in 38 inches, and this improved the accuracy dramatically. (The older Model 1860 with the .56-56 cartridge had a twist rate of about 1 in 50.) The model 1865s made in the Spencer factory had six-groove rifling, with the lands and grooves of about equal width, while those made under contract in the Burnside Rifle Factory had three-groove barrels. Whenever the Springfield Armory relined or replaced barrels, they also used three grooves.
The point of my test was to approximate historic ballistic results. I used lathe-turned brass made by the Ballard Rifle and Cartridge Company, with Federal 215 Magnum Rifle primers to boost the ignition, somewhat similar to the big mass of priming compound in the original rimfire case. The centerfire case, holding less powder than a rimfire due to the thick web, limits the amount of powder that can fit into the case. For this reason, I used Swiss FFg to get closer to the historic maximum recorded velocity of 1,200 fps, along with a 36-inch drop tube. Be advised that brass made for reproduction Spencers has a smaller rim diameter and often will not work in an original.
I have tried many different bullets in the Spencers, and I keep coming back to the flatnose Lyman 515139, which is .515-inch in diameter and weighs 350 grains; right on the money. It is also known as "the Smith carbine bullet." Some Spencers need a .518-inch bullet of similar design and those moulds are available from Lodgewood Manufacturing. Custom expander plugs for the larger diameters are available from Buffalo Arms Company and they really help to dial-in the accuracy; mine is .514 inch. The lube used for the test was SPG.
Given that we are using a centerfire conversion breechblock, we cannot use a pointed bullet, like the original historic design, for fear of igniting a primer in the magazine. A flatnose magazine follower is therefore required for this same reason. While you are at it, get a new coil magazine spring and a new coil upper block spring, because the originals will be very tired. The flatnose bullet makes feeding the round from the magazine into the chamber a bit trickier than with the original spitzer bullets, sometimes resulting in a jam. The solution is to work the action briskly and deliberately. However, the single most important factor for jam-free fun is to find the correct overall length of the assembled cartridge, and I have settled on 1.63 inches for my guns with the Lyman bullet. This can vary slightly depending on the nose profile of different bullets, so the shooter just has to experiment with this. Anything over 1.7 inches usually won't work. A medium crimp also helps to prevent glitches. Once you get the hang of it with some practice and the correct ammunition, the Spencer is as reliable as a Henry. I have even done extremely well in long-range Cowboy Action matches with one.
I shot eight, 10-shot groups using several different powders and several different powder charges and the groups ran from 2.4 to 5 inches at 100 yards. The average for all was 3.7 inches. Groups were measured center-to-center of the two widest shots. I noticed that the average deviations were surprisingly low, sometimes in the neighborhood of 4 to 6 fps, which indicates good accuracy potential. Front and rear sandbags were used. The bore was cleaned after every five shots with one wet and one dry patch because accuracy started to diminish after about five shots. Here are examples of a maximum load, a hunting load, and a good target load: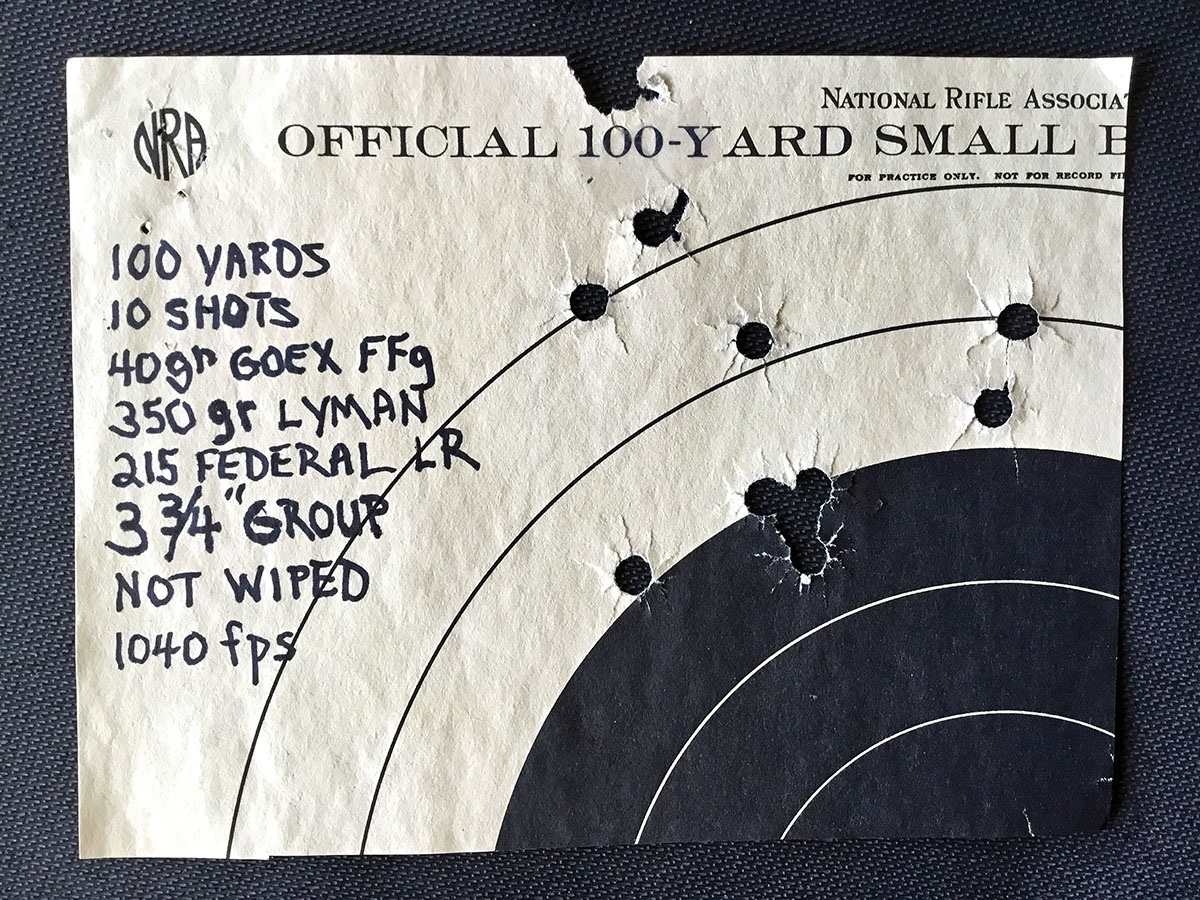 • 43 grains of Swiss FFg at 1,197 fps average velocity. Extreme spread was 46 fps, and the average deviation was 13.8. This duplicates the original maximum velocity listed for this cartridge, but the chronograph readings were bad, as was the accuracy. Therefore, I stepped it down a bit.
• 40 grains of Swiss FFg at 1,151 fps average velocity. Extreme spread was 20 fps, and the average deviation was 5.8 fps. A few grains less powder made a big difference, giving much better chronograph numbers and much better accuracy. I recommend it for whitetail deer, javelina and coyotes.
• 40 grains of GOEX FFg at an average velocity of 1,040 fps. This is a comfortable target load that basically duplicates the old Springfield Armory rifle load. In a 20-inch carbine barrel, it travels at 1,000 fps.
CONCLUSION
Most early carbine ammunition was somewhat slow by today's velocity standards, but the large heavy bullets, travelling at moderate velocities, gave sufficient penetration and were proven killers in actual combat. Right after the Civil War, the improved .56-50 was one of the most powerful carbine cartridges on the market, contrary to what some people think. Many cavalry troopers were recoil-sensitive and a balance had to be struck between power and good marksmanship. As a result, many carbine manufacturers during and after the Civil War had to develop reduced loads. This recoil issue is still alive with us today with the .45 ACP and the 9mm, for example, or the .308 versus the .223. After I experienced the accuracy of the .56-50, which was much better than my Model 1860 .56-56 rifle, and I saw the effectiveness of the cartridge on deer, it quickly became one of my favorites. Several of my friends and I like to use the ladder sights on steel targets out to 400 yards, and even at that range, the accuracy will surprise you. It is a very underrated round as I have shown.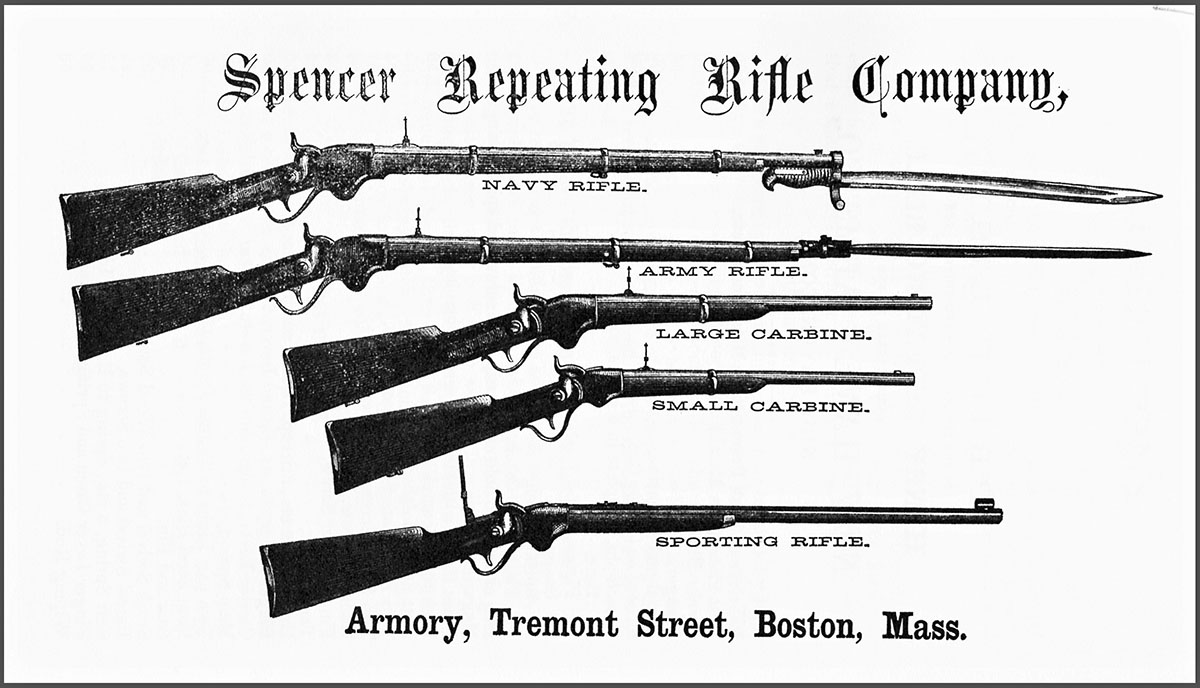 Christopher Spencer went on to invent other guns with other gun companies, and he never stopped inventing mechanical devices of all sorts. As early as 1862, he used a steam-driven wagon to get back and forth to work. In 1873, he patented the world's first automatic screw-making machine, which made him a fortune. In the early 1880s, he invented a pump-action shotgun, which was given his name and was produced by several companies until 1902. Even the U.S. Ordnance Department purchased some of these 12-gauge beauties. He went on to build several steam-powered boats and a kerosene-powered steam touring car for his own personal use. Christopher Spencer took a keen interest in the development of airplanes during the last years of his life and he made more than 20 flights in his son's biplane before his death in 1922. He was a true Renaissance man who started his life in the "Industrial Age" and flew right into the dawn of the "Aviation Age." What a character! S
REFERENCES
Marcot, Roy M., "Spencer Repeating Firearms," Rowe Publications, Rochester, New York, 1990. This is a wonderful book and should be owned by everyone who likes Spencers.
Barnes, Frank C., "Cartridges of the World," 6th Edition, DBI Books, Northbrook, IL, 1989.
Winchester Rifle and Cartridge Catalogue of 1899.