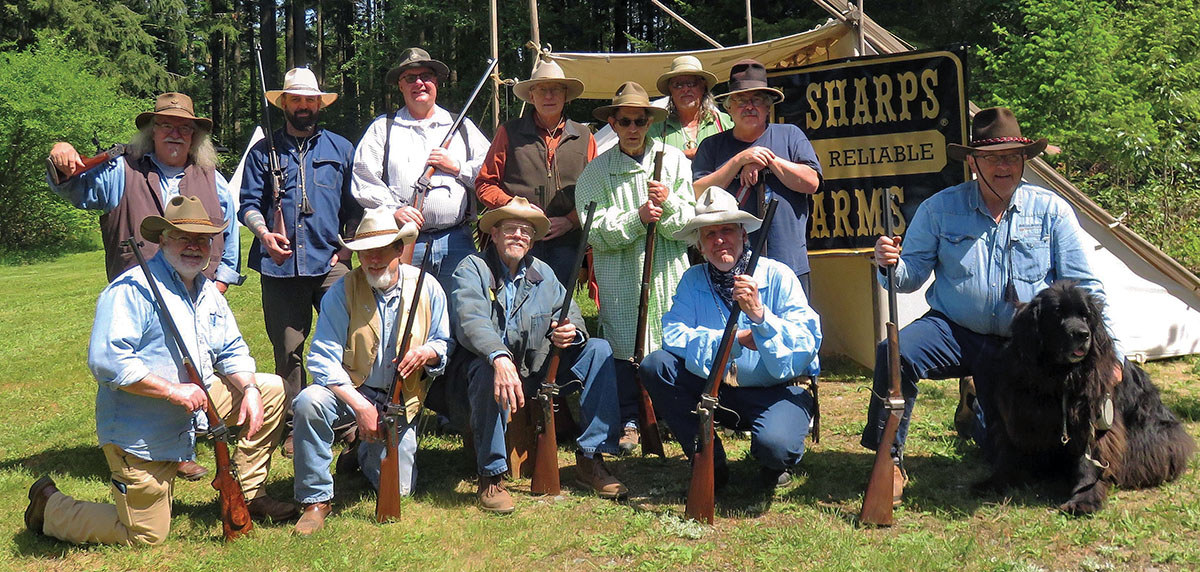 A few years ago, some of the boys and I started a new doin's called "Buffalo Camp." This particular sport is a take-off of the modern-day rendezvous held by the buckskinners, modeled somewhat after the great fur trade rendezvous that ran approximately from 1825 to 1840. Those old rendezvous were where the trappers could sell their furs, get resupplied, and in general get "loose" and have a good time. Today's black powder rendezvous are mostly shooting events, where the shooters can also have a good time. The Buffalo Camps are much like that, but our shooting is mainly done with black-powder cartridge guns and in between the matches we do have a good time!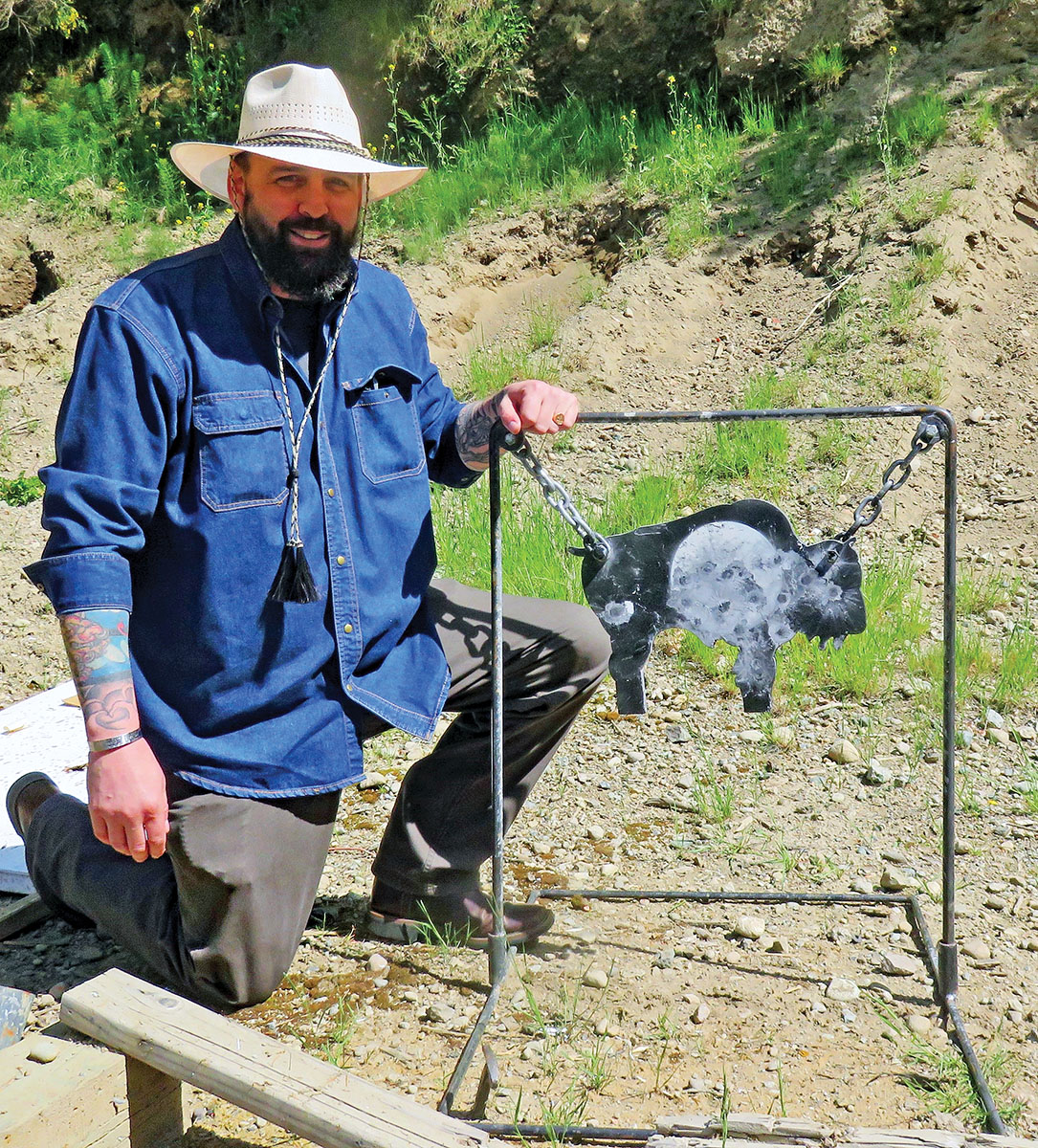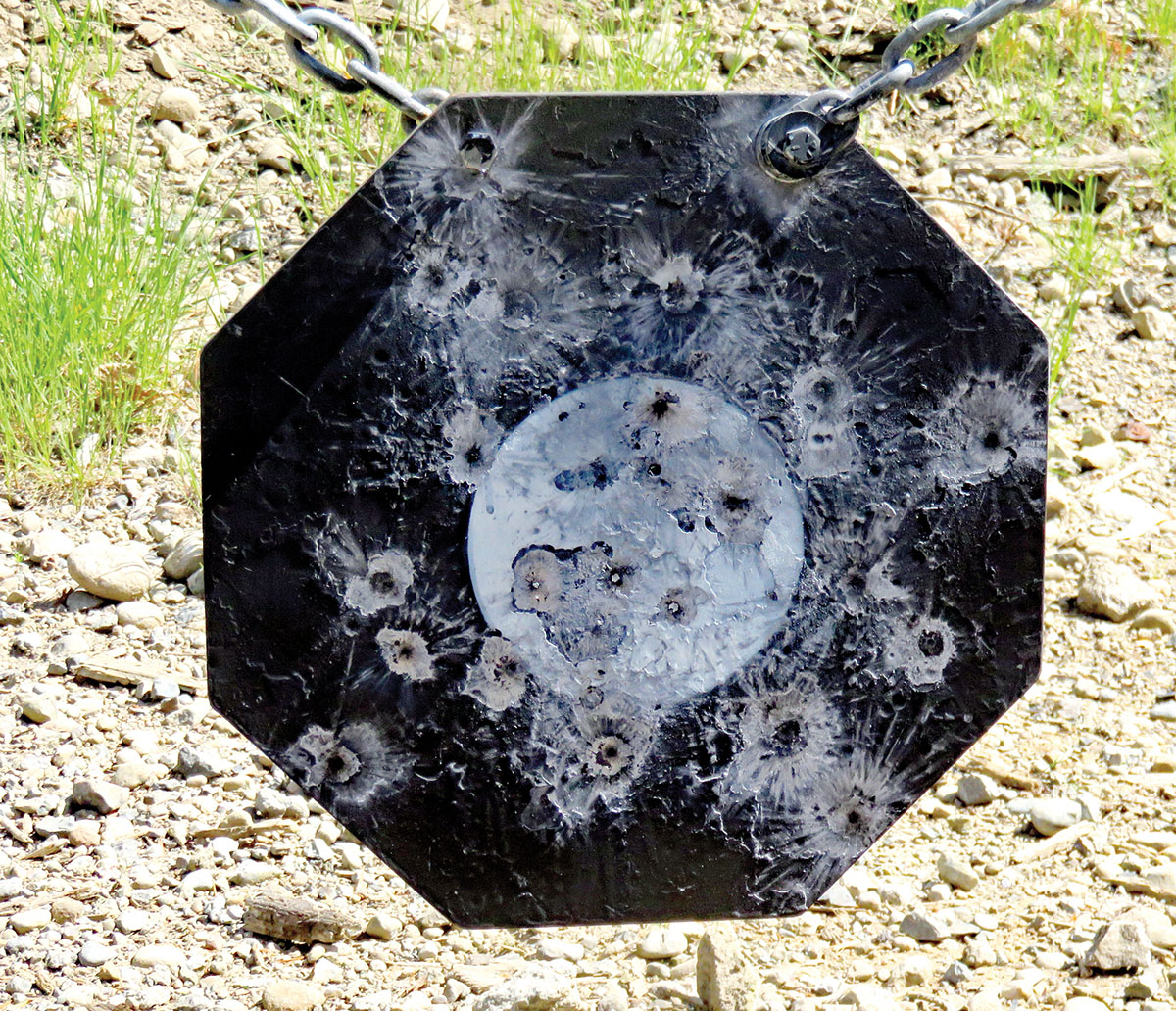 Now the echoes from the shots fired at our recent Buffalo Camp can still be heard and the first shooting we do is in the "Little Quigley Match." This follows the world-famous Matthew Quigley Buffalo Rifle Match in everything except size. We use four targets instead of six and they are fired at five times each instead of eight. Our targets are much smaller in size because they are posted at 200 and 100 yards. Like the big Quigley Match, our shooting is done from the sitting position while using X-sticks. The shooting is certainly a real challenge.
Our first target, again following the Quigley example, is the buffalo. At Montana's Quigley, that buffalo is out at 805 yards, but ours is much reduced in size, scaled down to a quarter of the size or less and is posted at 200 yards. Next comes the octagon. At the big Quigley doin's, that target is 48 inches across and out at 600 yards. Our version of that target is only 16 inches across and posted at 200 yards. Our third target is the diamond, which is just half the size of the 24-inch diamond at Quigley. Ours is posted at just half of the distance, again being at 200 yards. Our 12-inch diamond could be called our toughest target of those three.
Finally, our last target is the "bucket" which is reduced in size to make it comparable to the larger "bucket" at Quigley. Our small bucket is posted at just 100 yards, but it is still our most difficult target because our shots at that target are fired offhand. For our Little Quigley Match, the bucket is used as a tiebreaker. If two shooters have the same number of hits, the higher number of hits on the bucket will prevail.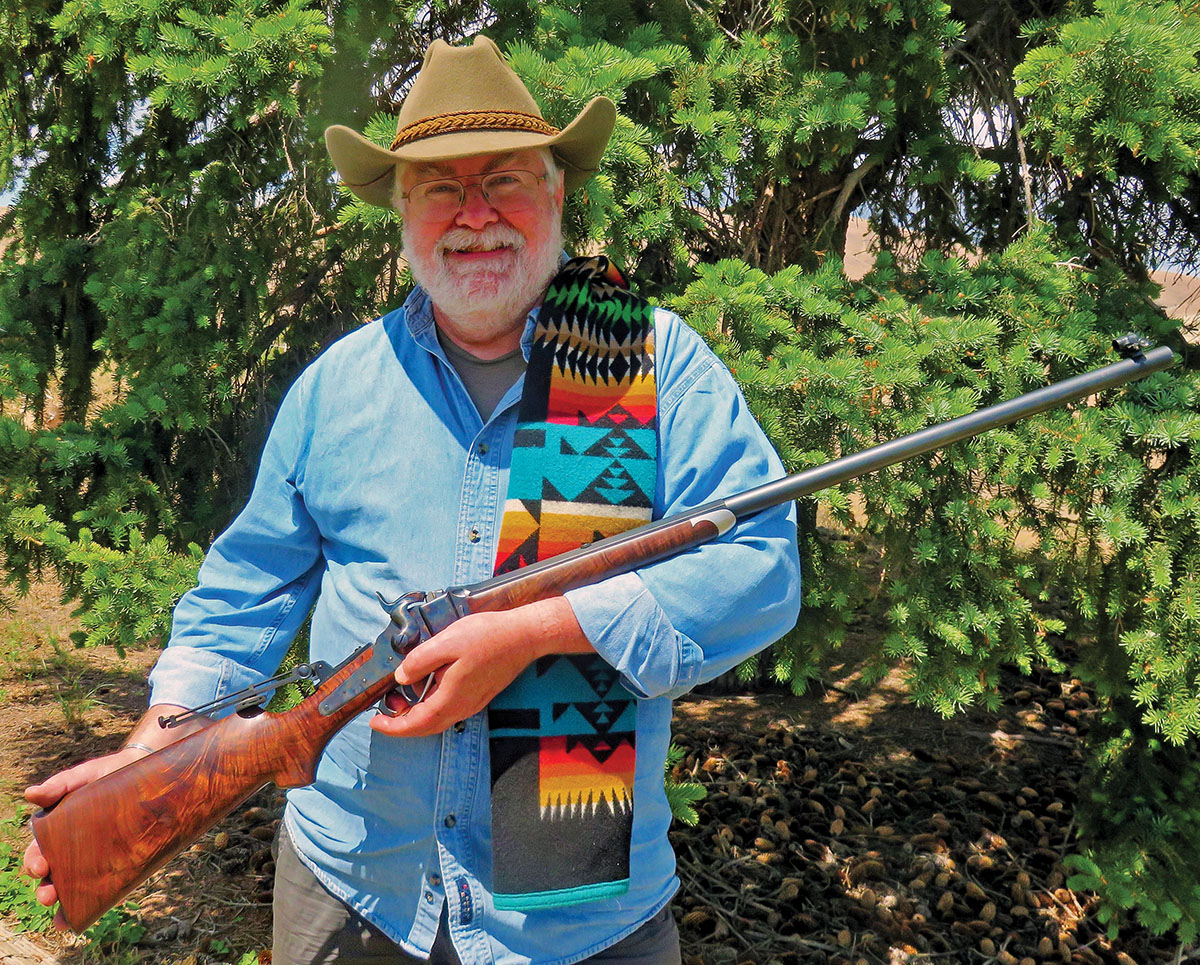 Those targets were all made by Young's Point Manufacturing in Billings, Montana. For guns larger than .22s, the targets are made out of AR500 or AR400 steel, either 3/8 or ½-inch thick. Those are hard targets! Our targets by now have been hit many times and they are not even dented. Each target comes with its own freestanding base and they are priced quite reasonably, in my opinion. For information, contact John Schmitz at (406) 860-9116 or centsmt@msn.com. A variety of other target shapes are available as well.
When the RSO/scorekeeper (Tom Brown for this match) calls, "Shooters to the line," the first squad takes their positions. Like it is done at Quigley, shooters take their shot, just one at a time, after the scorekeeper calls their name. The scorekeeper calls the names of the shooters in line, five times, which finishes the relay. Then, the next relay or squad, takes to the line and it is all done again until all shooters have fired their five shots at the first target. Next, the same thing is done for the second target and that cycle is repeated for each of the targets until the match is done.

To provide some highlights of the Little Quigley Match, here's some data and the scores for the top five shooters.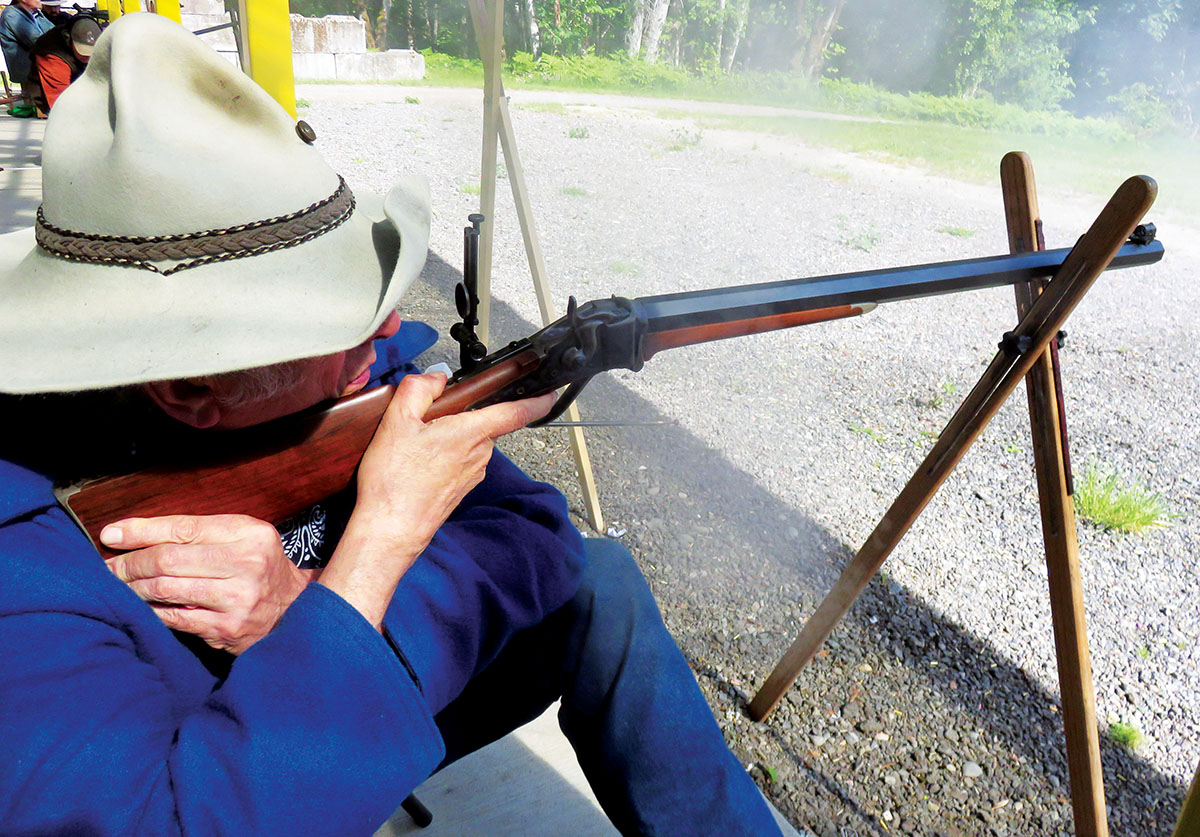 Our top shooter this year was Allen Cunniff using his beautiful C. Sharps Arms '74 in .45/70 caliber with a 30-inch half-round, standard-weight Badger barrel. For sights, he used a long-range Soule at the back and a windage adjustable globe aperture sight on the front, both by C. Sharps Arms. His load featured a 525-grain, paper patched bullet cast from a Ballard mould, wrapped in 9-pound onion skin and seated over a .060 wad on top of 73 grains of Swiss 2Fg powder, with no lubrication and loaded in Remington cases. For fouling control, he wiped his rifle's bore between shots. Primers were Federal Large Rifle. Allen hit with his first 14 consecutive shots but then missed with his last shot on the diamond. Then, while shooting offhand at the bucket, he missed with two more shots which gave him the admirable total of 17 solid hits.
Next was "Loco Jeff" Ritter shooting a C. Sharps Arms Bridgeport in .45/90 with a Number 1½ Heavy barrel, 30 inches long. His sights were also by C. Sharps Arms, a deluxe midrange at the rear and a globe aperture sight on the muzzle. "Loco" used Starline brass loaded with a 500-grain, grease-groove bullet cast from an RCBS mould and lubricated with SPG Lube. He favors GOEX 1Fg powder (75 grains of it) and seats his bullets over a single wad cut from a milk carton. With that combination, he got 15 solid hits and three of those were on the bucket, offhand.
Third was "Rapid Robert" DeLisle with another C. Sharps Arms rifle, one of the Hunter's Rifles in .50/70 caliber with a 26-inch barrel. The rear sight on Bob's rifle was a sporting tang sight that was made by Distant Thunder and his front sight was simply the silver blade, what we would call "hunter's sights." He did good hunting in this match while shooting a 512-grain, paper patched bullet cast from a Ballard mould. He also used GOEX 1Fg powder, 60 grains, with approximately ¼-inch of compression. Under his bullets, he had one milk carton wad, then 1⁄8 inch of BPC lube, then another milk carton wad. In addition to having lube in his load, Bob also wiped his rifle's bore between shots. Priming was done with Winchester Large Rifle primers. Bob got 15 solid hits as well, but he hit the bucket twice where "Loco Jeff" hit it three times.

Shooting my "Hefty Hannah," I managed to place fourth; that's my sweet, 15-plus pound '74 Hartford by C. Sharps Arms with the No. 2 Heavy Badger barrel, 30 inches long, in .44/77 caliber. My sights were a Soule midrange at the back and a globe with spirit level and apertures at the front. Jamison brass held the 480-grain, roundnose bullet, cast from Accurate Molds' #44-470N, which is a grease-groove style, lubed with BPC. The load used 75 grains of GOEX Cartridge powder, which was compressed under a .060-inch Walters wad as the bullets were seated with no lube groove exposed beyond the case. For ignition, I was using Federal Standard Large Rifle primers. My score was 14 hits with three of them offhand on the bucket.

Claiming fifth place was a new shooter, Tom Witt. He was using a borrowed rifle; a Hartford '74 by C. Sharps Arms in .50/70 caliber with a No. 1½ Heavy barrel, 32 inches long. That rifle carries a C. Sharps Arms deluxe midrange tang sight plus a globe aperture with spirit level at the front. Starline cases held the load of 65 grains of Olde Eynsford 2Fg powder, which was compressed under .030 Walters wads before the 445-grain, grease-groove bullets from Accurate Molds' #52-450L2 were seated, lubed with BPC. Winchester standard Large Rifle primers were used. Tom got 12 solid hits and four of those hits were made while shooting offhand at the "bucket." (That's really an impressive start.)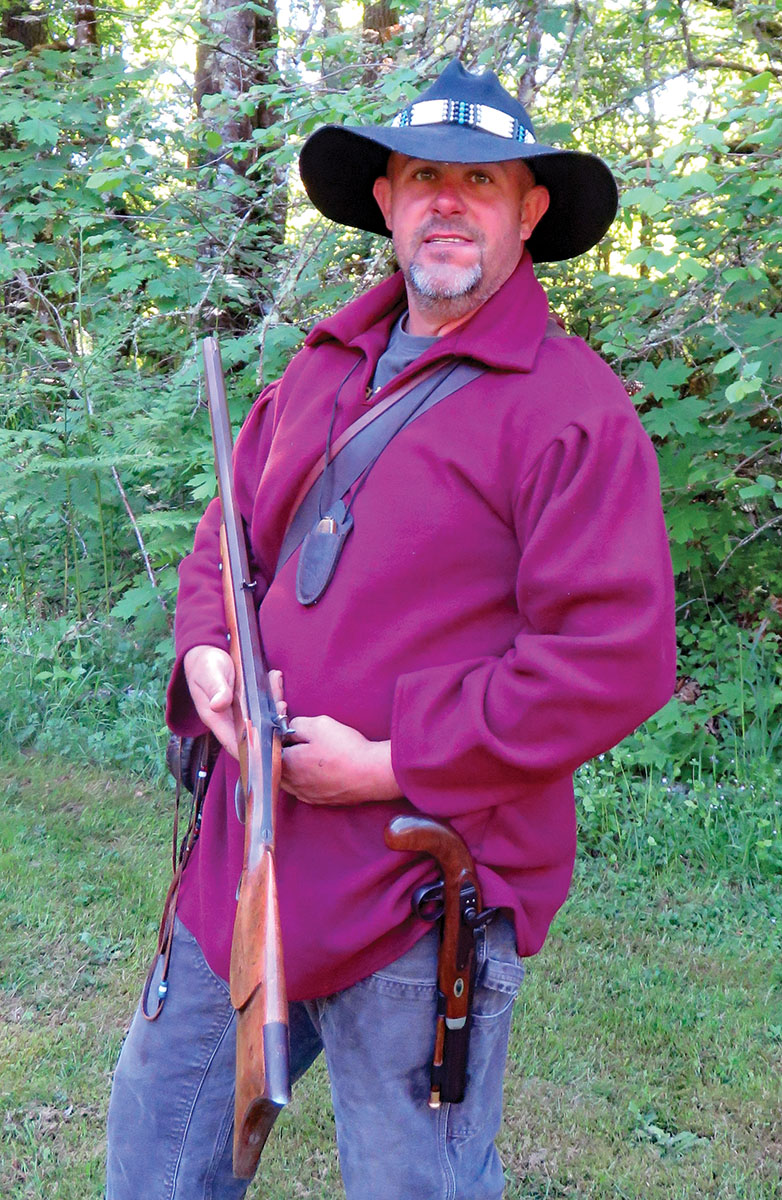 Our Little Quigley Match has never been "aced," no one has made a hit with every shot. In fact, Allen Cunniff came the closest, but that record of 17 hits is also shared with Jerry Mayo who was the first to get that score a year or two ago. Of course, the challenge of trying is all part of the fun.
Next for shooting at Buffalo Camp is the "Meat Hunt." The scenario for this doin's is, after hunting buffalo, our hunters and skinners might enjoy something other than buffalo meat for dinner. So, our objective is to leave the heavy Sharps or Rolling Block in camp and take our "camp gun" out looking for a little meat. That camp gun can be almost anything, but this is part of our black-powder match, so all ammunition must be loaded with black powder. The most popular camp gun with us (and maybe the old buffalo hunters, too) is the .44/40, usually in one of the new replicas of either the Winchester '73 or the '66. Early-style .22 rimfires, such as the Stevens Favorite or the Hopkins & Allen, can be used as well as traditionally-styled muzzle-loading rifles.
The Meat Hunt itself is shot along our club's muzzleloading trail walk using steel targets in animal shapes, at ranges from "very close" to almost 100 yards. All shots are fired offhand and there is a tiebreaker as well. The tiebreaker is a very small target right on the shooters' scorecards, which receives one shot from about 10 yards. We require the rifles to be carried empty between targets and loaded, like single shots, only at the shooting station. Hunters on the Meat Hunt must do their shooting with a partner, or perhaps a larger group, so all hits are witnessed. Targets include raccoon, crow, pigs, bears, antelope, one buffalo, and even a big tom turkey (at about 100 yards) and a tough-to-hit chicken. Fifteen shots are required at the animals, plus one more for the tiebreaker.
This year, the Meat Hunt was won by Cody Mehr, a beginning 'skinner who had nothing to bag his meat with other than his .54 caliber percussion Hawken. No one can complain about that, Cody "aced" the trail on the hunt and got a perfect score. He didn't need any tiebreaker!
Second on the Meat Hunt was DeLisle, and he did his shooting with an original Winchester Model 1892 Short Rifle in .32/20. Bob finished the trail with only one miss and that was the "ram," which is rather hard to see. His tiebreaker was almost perfectly centered and on this Meat Hunt, he needed it.
Third place was taken by Jerry Mayo, who got the same score as Bob did, but his tiebreaker couldn't compete with DeLisle's center hit. Jerry hunted his meat with an Uberti Model 1866 in .44/40 WCF.
Taking fourth and fifth places were Allen Cunniff and I, with Allen beating me with his tiebreaker. We both made twelve hits with our .44/40s. His is a copy of an iron-framed Henry by Uberti and my camp gun is one of the Cimarron versions of the 1873 Winchester by Uberti with the 30-inch barrel. My .44/40 load consumes 34½ grains of Olde Eynsford 2Fg powder under a bullet cast from Accurate Molds' #43-205C lubed with BPC.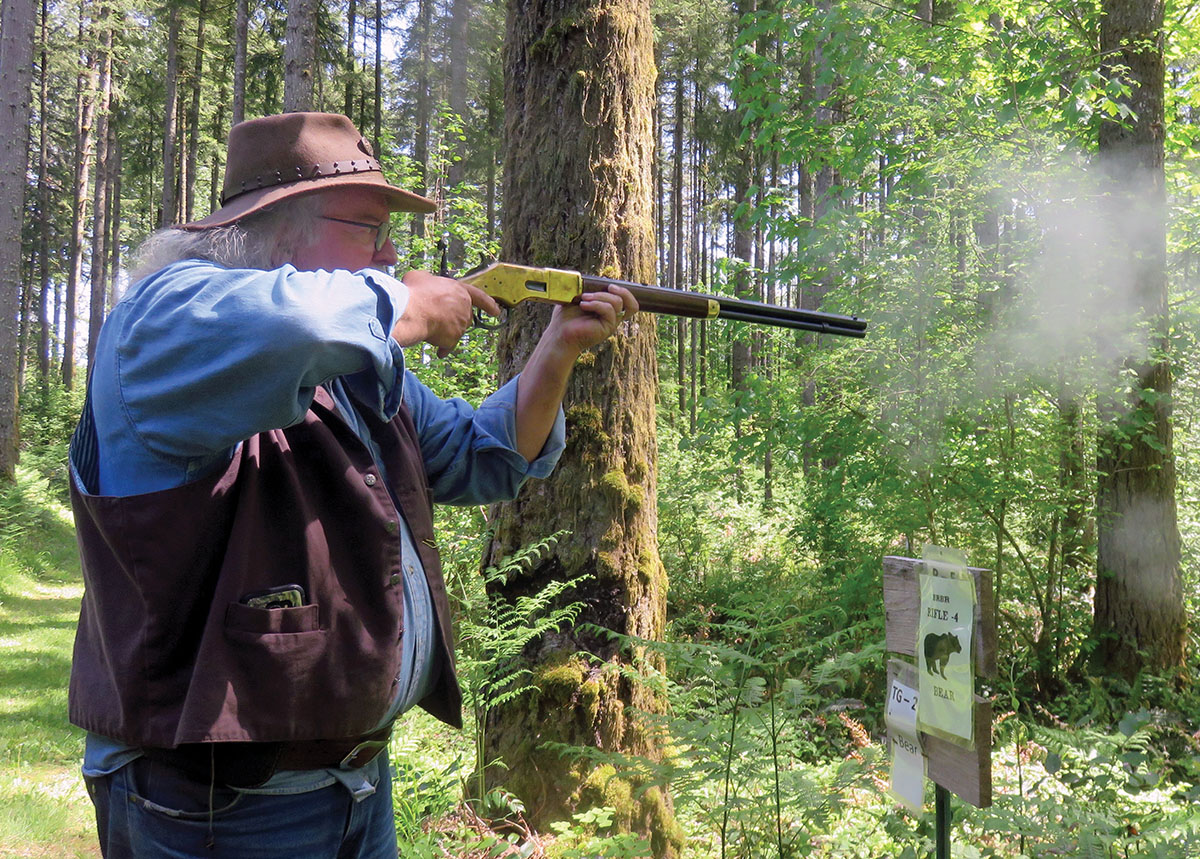 Following the Meat Hunt, there is still more shooting to be done. We had a "Black Powder Revolver Match," for those who enjoy shooting the sixguns. This is somewhat of an added match and it is not part of our Buffalo Camp aggregate, which is simply the added scores from the Little Quigley Match and the Meat Hunt. Like our rifle matches, the Revolver Match must be shot with black powder loads. Not everyone in camp participates in the Revolver Match, (probably because not every shooter has a revolver) but for those who do shoot in this match, it's a lot of fun.
Only 10 shots are fired in the Revolver Match, all along the trail and some of the targets are certainly challenging. Two of the targets require one-handed shooting, while the gun can be held with both hands for the other shots. Four of the revolver targets are also rifle targets and those include a rabbit at 35 yards, an antelope at 40 yards and a black bear at 75 yards. Without going into more details, let me simply say, the Black Powder Revolver Match is too much fun to miss.
The winner of the Revolver Match was Cody Mehr again, shooting his .54 caliber percussion pistol. (We've need to get him some repeating guns, something he can miss with!) Actually, Cody did miss two of the targets, but finished with eight solid hits.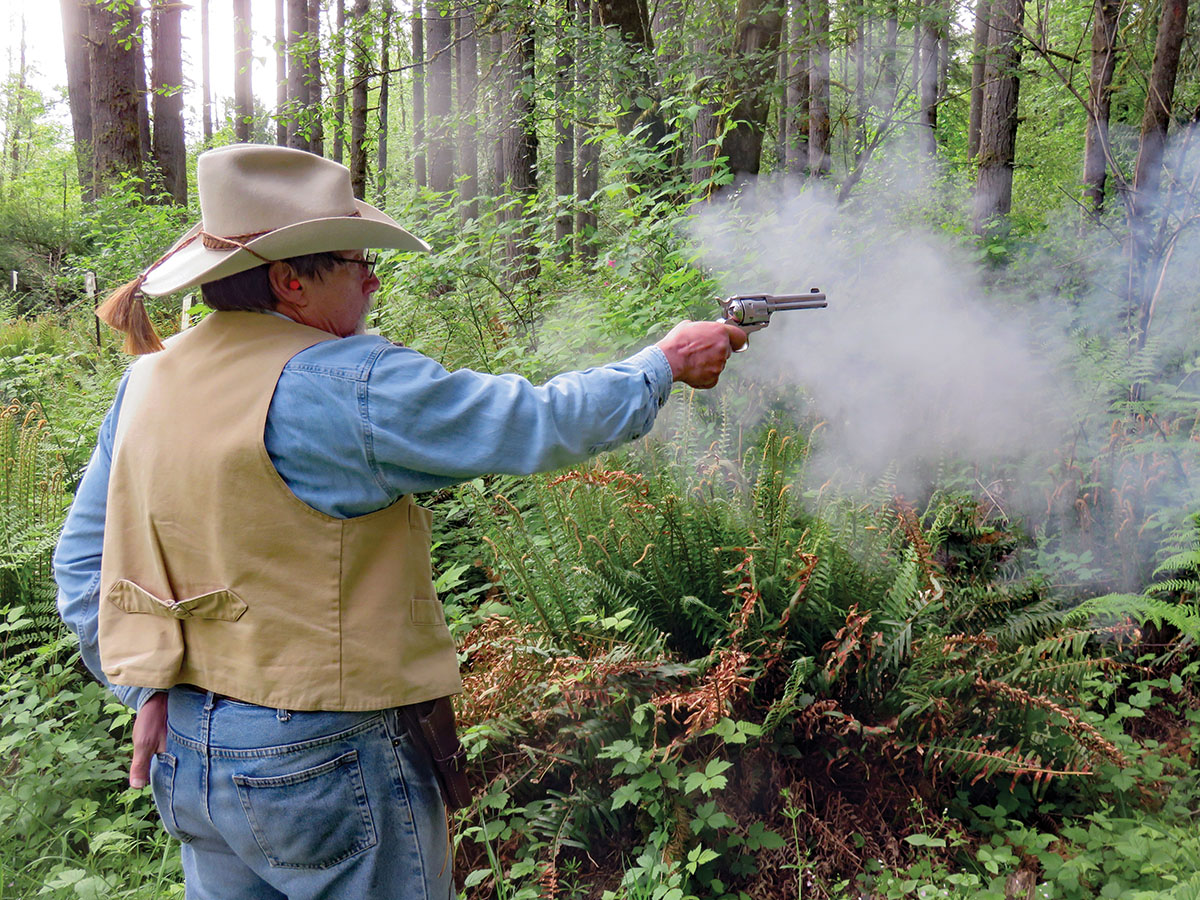 Second place was taken by Will Ulry using a 5½-inch Colt Single Action in .44/40 caliber using black powder ammunition bought from Buffalo Arms Company. Tom Witt claimed third using his copy of a Colt Richards-Mason with an 8-inch barrel in .44 Colt caliber. Tom's ammunition used new Starline cases filled with 21 grains of Olde Eynsford 2Fg under a bullet cast from Accurate Molds' 43-220N. I shot in the Revolver Match, making some good hits with my .44 Russian, but not enough of them as I was simply outshot by those other boys.
That wraps up the shooting done at Buffalo Camp, so let me tell you about our awards. Rather than presenting our winners with plaques or trophies, we reward our good shooters with donated mercantile items. For instance, the top three shooters in the Little Quigley Match were awarded a pound of Olde Eynsford powder, a large bottle of Snake Oil and a subscription to The Black Powder Cartridge News. The same three choices awaited the top hunters in the Meat Hunt. Then, the top pistol shooters got their choice of the powder, Snake Oil, or a subscription to The Single Shot Exchange. After the top three in each of the matches are awarded, we simply go through the whole list of shooters for the aggregate prizes, from the top to the bottom.
Our list of contributors, in my opinion, is rather impressive. The list includes C. Sharps Arms, Wolfe Publishing Company, SPG Products, The Single Shot Exchange, John Walters, Accurate Molds, Tommymaker, Ironhorse Industries, Bear River Powder, Bob DeLisle, Will Ulry, and Wes Davis, plus the late Don Kerr. We were all grateful for their donations, which go a long way to make our Buffalo Camp and its shooting matches enjoyable and memorable.
So that's what Buffalo Camp is all about; shooting our buffalo rifles and our camp guns in ways that turn black-powder cartridge shooting into more fun. We encourage camping as well, with our camps for canvas or tents separated from the "tin teepees." In-camp activities can include a "burger feed" dinner plus an appropriate movie shown in the clubhouse. We have other activities planned, such as a paper patch bullet workshop. All of these things make our next Buffalo Camp something to really look forward to.