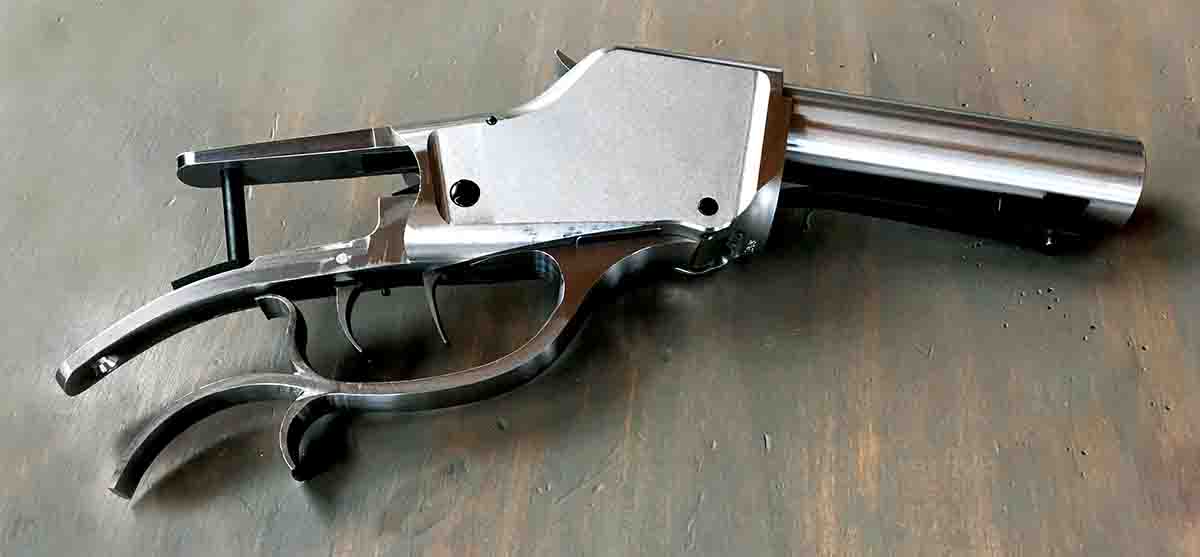 Model 1885 High Wall Action from Montana Vintage Arms
Since beginning to manufacture instrument-grade sights back in 1992, Montana Vintage Arms (MVA) has set the standard in the industry for traditional, best-quality iron sights as well as telescopic sights. Serious riflemen know that MVA products leave nothing to be desired and are backed up by the best warranty and customer service in the business.
With all that to their credit, I was not surprised when I examined their latest endeavor, a copy of the Winchester Model 1885 single-shot rifle action. Simply put, the quality, fit and finish of this single-shot action is flawless. I do think that I know of what I speak, having been involved in the production of the Ballard and Winchester Model 1885 rifles when working at Ballard Rifle and Cartridge Company in Cody, Wyoming. I know what it takes to produce a top-flight rifle and the basis for one is now the new Model 1885 action by MVA.
The MVA 1885, is machined from solid HR 8620 steel; no castings are used. HR 8620 is a tough "case hardening-friendly" steel and has been the industry standard for many years. The outside of the action is in the white and is very slightly oversized to allow for fitting to wood and final finish; all parts of the MVA 1885 interchange with original Winchester Model 1885 production. After the wood has been fit, one needs to simply send the action to one of several gunsmithing shops for heat treatment. Two businesses that come immediately to mind as doing great work in this regard are Wyoming Armory in Cody, Wyoming. To contact them, call 307-527-4570 or email at WyomingArmory@Outlook.com. The other is Turnbull Restoration and their contact information is: 585-412-2931 or turnbullrestoration.com.

Quite simply, if one is going to build the best and most efficient single-shot rifle for serious competition, basing the project on an MVA Model 1885 action is the right way to go. Restoring an old, original action may have some charm, but for serious work, a new MVA action with all parts new and fit properly (especially a correctly fit breechblock) is ultimately going to save both time and money.
It's my personal opinion that the Winchester Model 1885, in both High and Low Wall configuration, is the best of our American single-shot actions. There are many who would argue with that statement, but I stand by it. From the standpoint of strength, lock time, ease of operation, durability, inherent accuracy and simplicity of design, the Model 1885 ticks all the right boxes. It's pretty hard to argue with any John Browning design, the Model 1885 in particular.
The MVA Model 1885 can be had in single trigger, single-set and double-set trigger versions and most importantly, parts are done to original specs. Winchester designed the High Wall to have interchangeability of parts and MVA has continued that tradition. One can also order either the flat-spring version or the later coil spring action in both straight grip or pistol-grip designs. Currently, prices start at $1,250 for the single-trigger version, $1,350 for the single-set model or $1,450 for the double-set trigger action. Take-down actions are also available on special order.
Speaking of coil spring actions, if you have an original production Winchester High Wall coil spring action with a weak spring, the MVA coil main spring fits and is very robust. I tested one in a High Wall action that had been speed-locked and even with the shortened hammer fall, the new coil spring provided plenty of powder to reliably fire even the hard-cup, magnum rifle primers.
A new project of mine is building up a classic High Wall target rifle, suitable for both Schuetzen matches and BPCR Silhouette, utilizing the best of components available today. This new High Wall action from Montana Vintage Arms is going to be the heart of this build. I know I won't be sorry.
Contact Montana Vintage Arms at 406-388-4027 or montanavintagearms.com.
Chambering Cam from Double E Engineering
This chambering cam was introduced to me by Jon Viebrock when we were partnered in a silhouette match. Jon is the producer of the Recoil Therapy Channel with videos that are frequently seen on YouTube. He was using this good-looking tool to chamber every cartridge in his .45-70 Shiloh Sharps, and his loads featured bullets that had a couple of lube grooves exposed beyond the mouth of the case. Those bullets had to be pushed into the bore's rifling before the action could be closed. Jon kept that tool rather busy, but I did sneak it away from him long enough to get a good look at it, which made me decide I wanted one for myself.
The Double E Engineering chambering cam is basically shaped like other chambering cams. Of course, they all need to work within the limited space of the rifle's action and do the same thing, but similarity ends there. This chambering cam is primarily made of brass, as some others are, but the pins that bear against the block's grooves in the receiver freely rotate, which I hadn't seen before.
Also, the cam portion of this tool is grooved or relieved so the cam never contacts the cartridge's primer. Pressure or force from the cam is only applied to the head of the cartridge case, on either side of the primer, just in case the cartridge has a high primer.

Connected to the brass cam is a 2.5-inch shaft of steel which, with its black knob at the end, is the handle. That's the "long-handle" version because a short-handle version is also made, with a very short handle. The long-handle version has an overall length of 4 inches, from the bearing part of the cam to the end of the knob on the handle. In my opinion, the long-handle version is a very good size, nice and compact, hardly noticed when riding in a shooting jacket or shirt pocket.
After contacting Double E Engineering, I soon had my own chambering cam just like Jon's. Almost just as fast, I needed it. That was when I was shooting my .50-70 with some cartridges that had been fireformed in another rifle, then full-length resized when reloaded. Those should have fit my rifle's chamber and they did, almost. Those cartridges chambered just fine, all except for about one-half of the rim's thickness, but that was enough to prevent the rifle's action from closing. To the rescue came this new chambering cam.
I'll admit that on a couple of those cartridges (there were only four of them), I used this chambering cam upside down. No problem, just push down to apply the pressure instead of lifting up. In fact, that technique worked very well.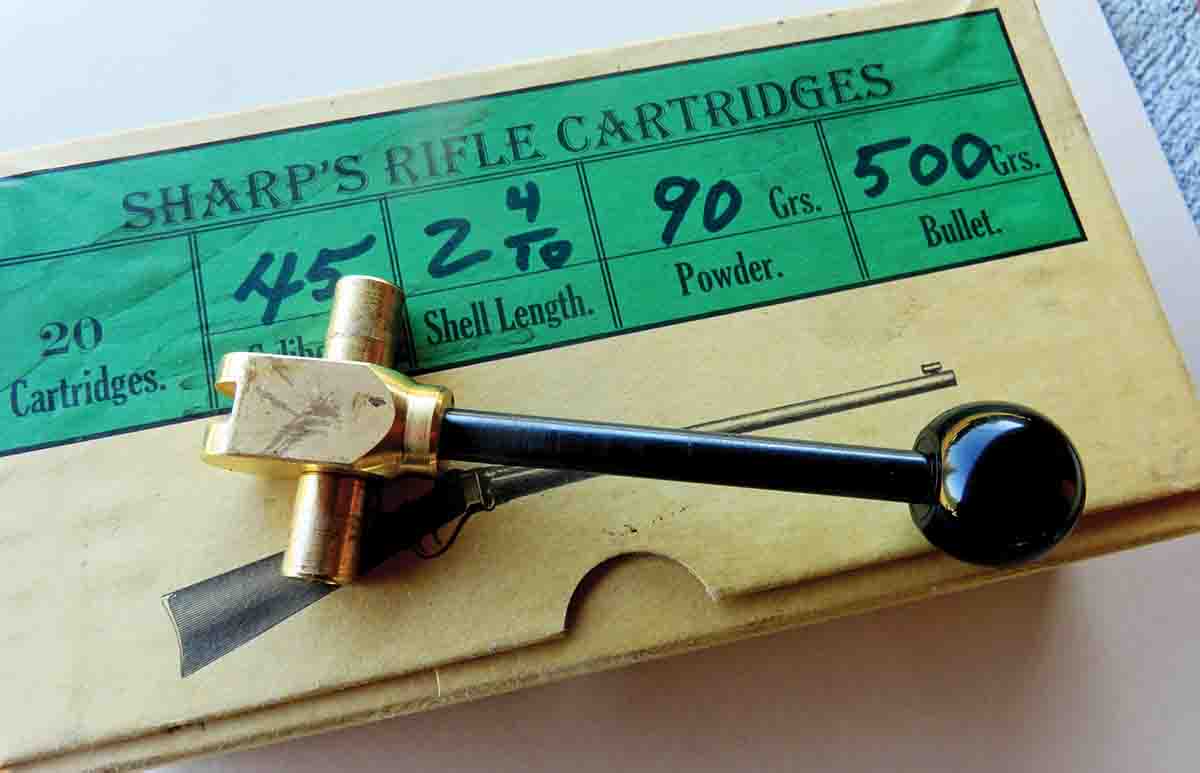 When I contacted Eric Egasse, owner of Double E Engineering and asked about details of his chambering cams, he answered like a true engineer. (If you ask an engineer what time it is, you get instructions for building a clock.) Eric told me his chambering cams "
are machined out of 485 alloy brass (sometimes referred to as "naval brass") which is harder than 260 cartridge brass - the shaft that holds the little round brass bearings is a 3/16-inch shoulder screw that has the head turned down; the head is also faced off on a lathe for the Highwall version. The brass bearing surfaces that ride on the back of the breech mortise, protect the mortise from damage. I have seen photos of other rifles that the owner exclusively used camming tools that had a fixed hardened steel dowel pin and to me it looked like that rear mortise face was taking a beating. When time permits, I'd like to machine one with a body made from say, A36 hot rolled steel (I've color cased this steel and it turns out beautiful) and make the little bearings out of some bearing bronze which is harder than brass but still softer than steel. We would have to charge more for this as steel takes more time to machine and the color case process is time consuming
."
"Currently I have a Sharps version and 1885 Highwall version. I'm working on the Hepburn version - I just got a set of drawings for the Hepburn - I need to make cad models of at least the receiver, breechblock, and the lever and mechanism that lowers and raises the breechblock- that way it's not so much trial and error to develop it. That's what I did for the Sharps as well - I completely cad modeled the whole rifle from prints and taking measurements on my Quigley Sharps - same for the 1885 only I only cad-modeled the receiver and breech block and another single shot shooter gave me the approximate depth to the top of the breechblock to the top of the receiver edge. I have sold one of the Highwall versions and the report back was that it works very well."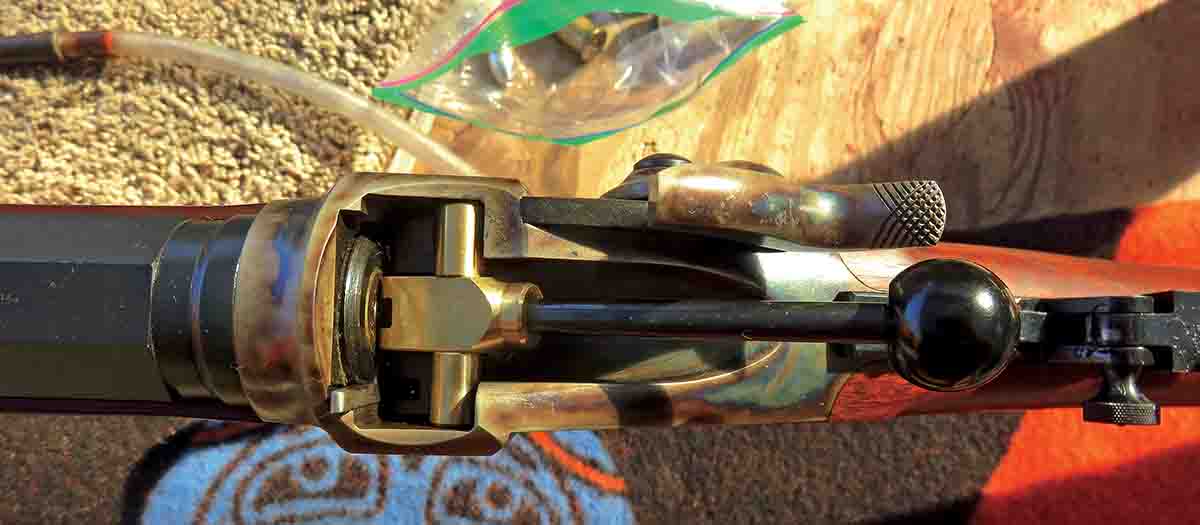 At present, Double E only has chambering cams with straight handles but versions with bent handles, for use with scoped rifles, are being planned. Because I have both a Sharps and a High Wall that are equipped with scopes, I've offered to help with the dimensions for those versions and perhaps I can report on them when they are available.
The current price for a Double E Engineering chambering cam is $50 plus shipping, which is roughly $7 if sent via by USPS. Having one of these tools has a very practical value because when you need one, you really need one. Contact Eric at Double E Engineering either by phone at 909-762-0540 or email: ericegasse@gmail.com.