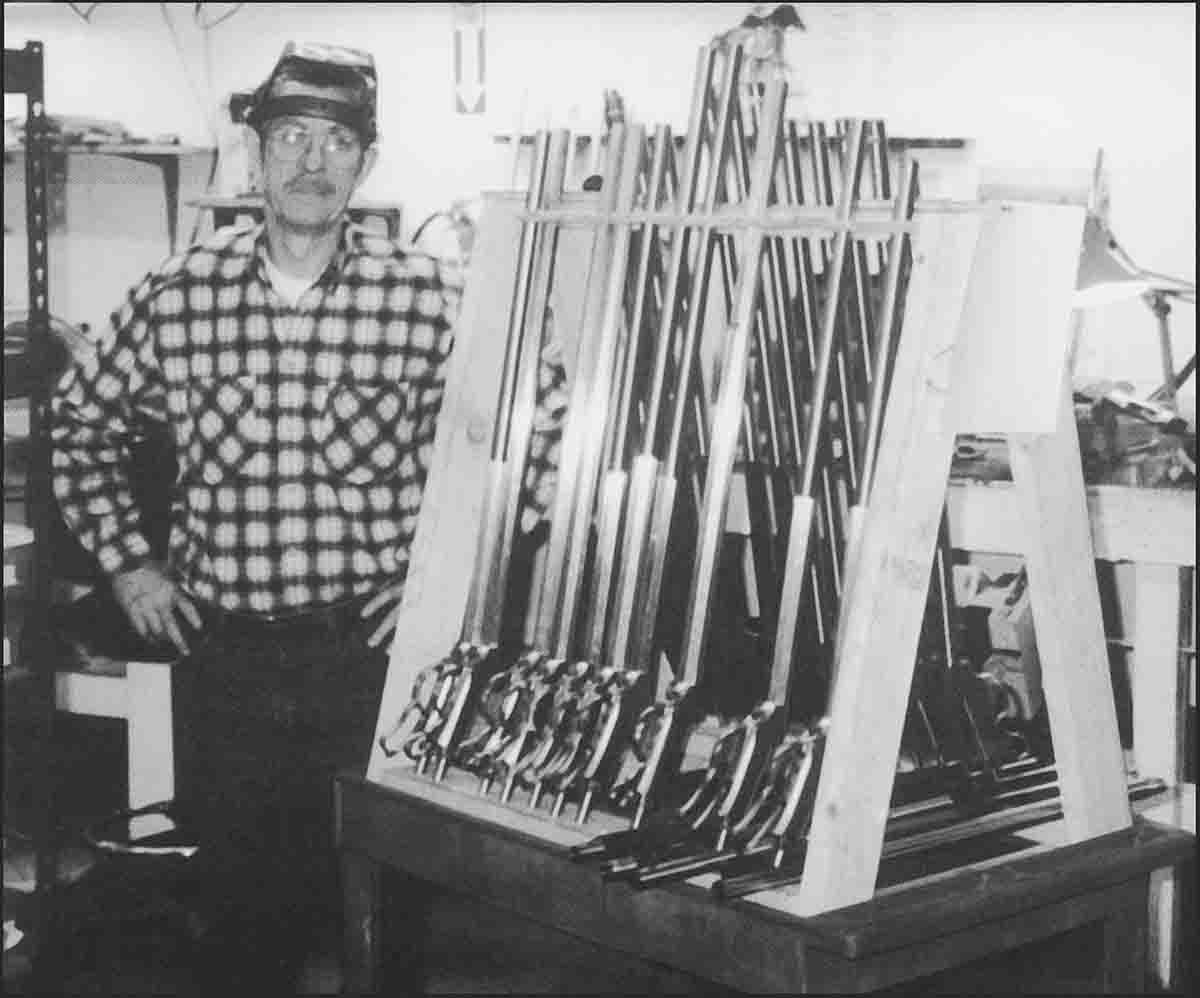 Sadly, on April 14, 2022, the single-shot world lost one of its most talented gunsmiths and expert riflemen, Ron Long. Ron was a major influence in the black-powder shooting sports, both muzzleloading and breechloading, as well as being recognized as one of its master gunsmiths. His shoes will not be filled.
My own acquaintance with Ron really began in 1980, when I ordered one of his finely-made barrels for a rifle project I was engaged in. After that, Ron and I would see each other at various single shot and muzzleloading competitions in the Rocky Mountain region. Ron always provided tough competition and friendly camaraderie whenever he was at a rifle match; he was one of the rare gunsmiths who could shoot rifles as well as he could build them. If one was determined to win a shooting competition that Ron was at, he had to first deal with Mr. Long. I can tell you from personal experience, getting that accomplished was no easy thing.
Ron and Polly's home in Denver, Colorado, was always a gathering place for single-shot enthusiasts from around the country, especially during the Denver gun show. "Long's Locks" was a well-known enterprise amongst serious muzzleloading enthusiasts and the Longs managed a successful business out of their home and shop, with Ron doing "best quality" building and restoration of all antique firearms, but especially single-shot rifles.
In 1999, while managing Ballard Rifle and Cartridge Company, I talked to Ron and Polly about the possibility of moving to Cody and joining the team of talented craftsmen producing the Ballard single-shot rifle. After some negotiation, the company bought the Long's shop tooling for producing the Winchester High Wall single-shot action that they had been marketing. Thus started an extremely enjoyable personal relationship that saw the Longs contribute greatly to the success of the Ballard Rifle Company. I personally will always treasure the opportunity to work with Ron in the production of both the Ballard and High Wall rifles as well as the numerous custom and restoration projects that we were involved in.
Ron's experience with firearms in general and his almost uncanny ability to reproduce the finest of them was something that is extremely rare in this day and age. Ron was a master gunsmith in every sense of the word. He could expertly fabricate all the required components including actions, barrels, sights and tooling; fit and stock them flawlessly, and then take the completed rifle to a match and make it perform to the highest level. This is something that very few gunsmiths have ever accomplished.
I have to say, in my own personal experience with Ron, his unique sense of humor and positive mindset on tackling any problem was a huge asset to our work while at Ballard. Ron and I shot together as a team representing the business and those were some of my most enjoyable rifle matches. One never failed to learn something new while spending time with Ron, whether it was shooting, doing gunsmithing or simply "talking single shots." He had vast knowledge of the old-time shooters and gunsmiths, and freely shared it with anyone who was smart enough to listen.
Ron's passing leaves a tremendous hole in the single-shot rifle world as well with his many friends and acquaintances. We will all sorely miss his good friendship, sense of humor and expert abilities.
We Are Diminished.
---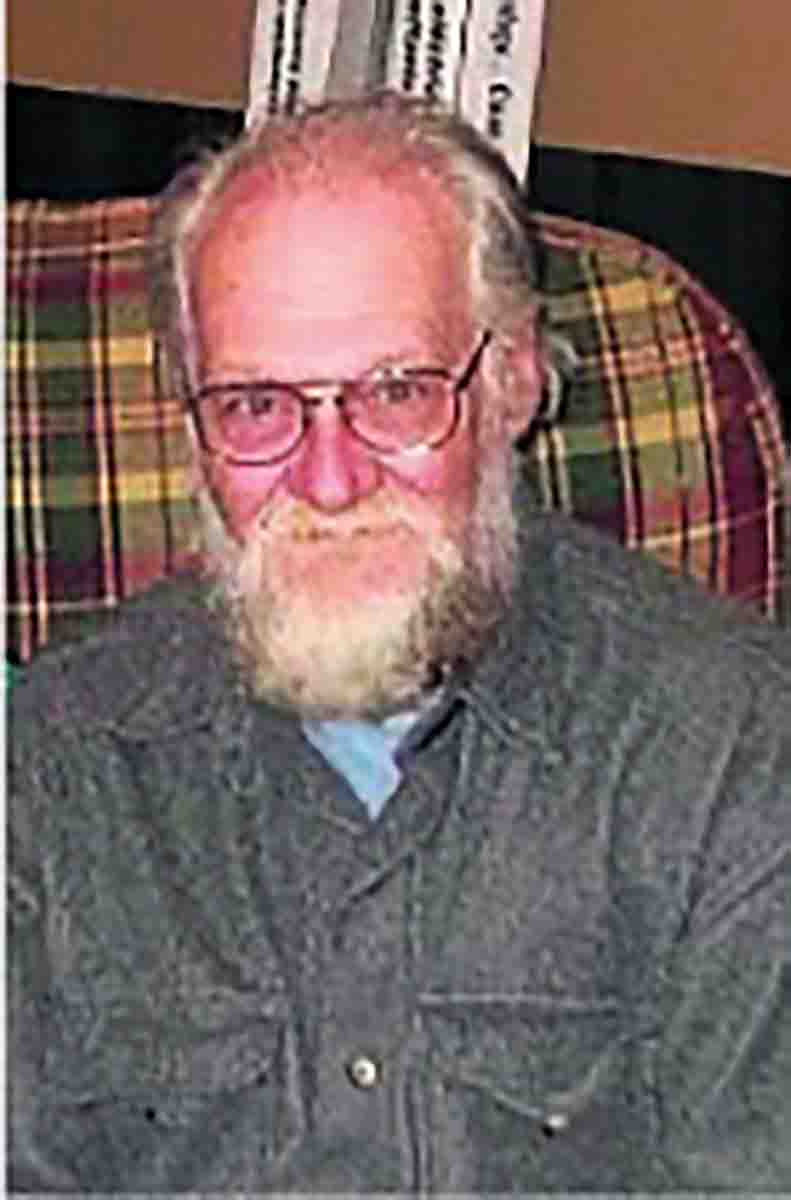 William A. Knight, aka "The Mad Monk"
William Knight, known by many as "The Mad Monk" for his alleged crazy rantings about the science of black powder and muzzleloading, introduced himself to my boss, Oscar, back around 1990, when Petro-Explo, Inc. started importing the Elephant black powder from Brazil. Oscar didn't know what to do with Bill's letter that explains the strengths and weaknesses of a black-powder propellant. So, he passed it off onto me. Maybe I was lucky to still be in college and had an open mind to learning new stuff, because he quickly became my mentor in anything and everything black powder-related. So, this started a 30-year friendship/mentorship that I firmly believe benefitted the American muzzleloading shooter in ways they'll never comprehend.
Most of you reading this obituary have no idea how this quiet, yet opinionated man from Reading, Pennsylvania, affected our understanding of what makes a quality black powder. The Pernambuco factory in Brazil told me that when they made black powder, they followed the steps in the manual. However, they did not know the "whys." Bill provided the whys, and over nine years, he helped me assist the Brazilians in improving the product to its apex. When I met Bill, he was a retired lab technician and used that experience to tear black powder apart to its core. I learned about potassium nitrate purities, the importance of carbon content of charcoal, and the fact that water – used in the grinding process – can be contaminated with sulfur-eating bacteria. Everything that Bill taught was implemented to improve black-powder products and the education of others.
The "Mad Monk" moniker – that he wore with pride – derived from people on the internet claiming that his ideas were indeed mad and shunned him. Our work together raised American awareness on what a quality black powder should be at a time when GOEX was the only game in town, and Bill was told to "sit down and shut up."
Bill may have been The Mad Monk, but few appreciate the geniuses in their time. Words do not express the gratitude of what Bill provided to me when I started selling black powder and had no idea how to load a muzzleloader. Bill is my friend and he will be missed.
Bill is survived by his wife of 61 years, Beverly J. Knight, a true angel to put up with Bill for all of those years.
James E. Kirkland
General Manager, Schuetzen Powder Energetics, Inc.
I can only second what my good friend, James Kirkland, has said about our mutual friend, Bill Knight. Not only did The Mad Monk and I converse about black powder, but we also discussed bullet lubricant and its desired properties many times over the phone. I never met Bill in person, but I valued his conversation and wise counsel more than he probably knew. In his passing, the black powder community has lost a very knowlegable and valuable resource that will be impossible to replace. We Are Diminished.

Steve Garbe
Editor, Black Powder Cartridge News