Our favorite gun collector/dealer, Ron Peterson of Albuquerque, New Mexico, has been in business for 57 years now and he has been blessed to purchase some dandy historical firearms. The subject of this article is a Sharps rifle (SN 161917) made in Bridgeport, Connecticut, chambered for the .45-27⁄8 cartridge and weighing 14 pounds, 10 ounces. The rifle has a 30-inch full octagonal barrel, double-set triggers and was shipped to Benjamin Kittredge on October 15, 1877. The original cost was $45. The wrist wrapping shows the mark "4 MAN," indicating ownership by the Forman family, but it reportedly has a connection with John William Poe.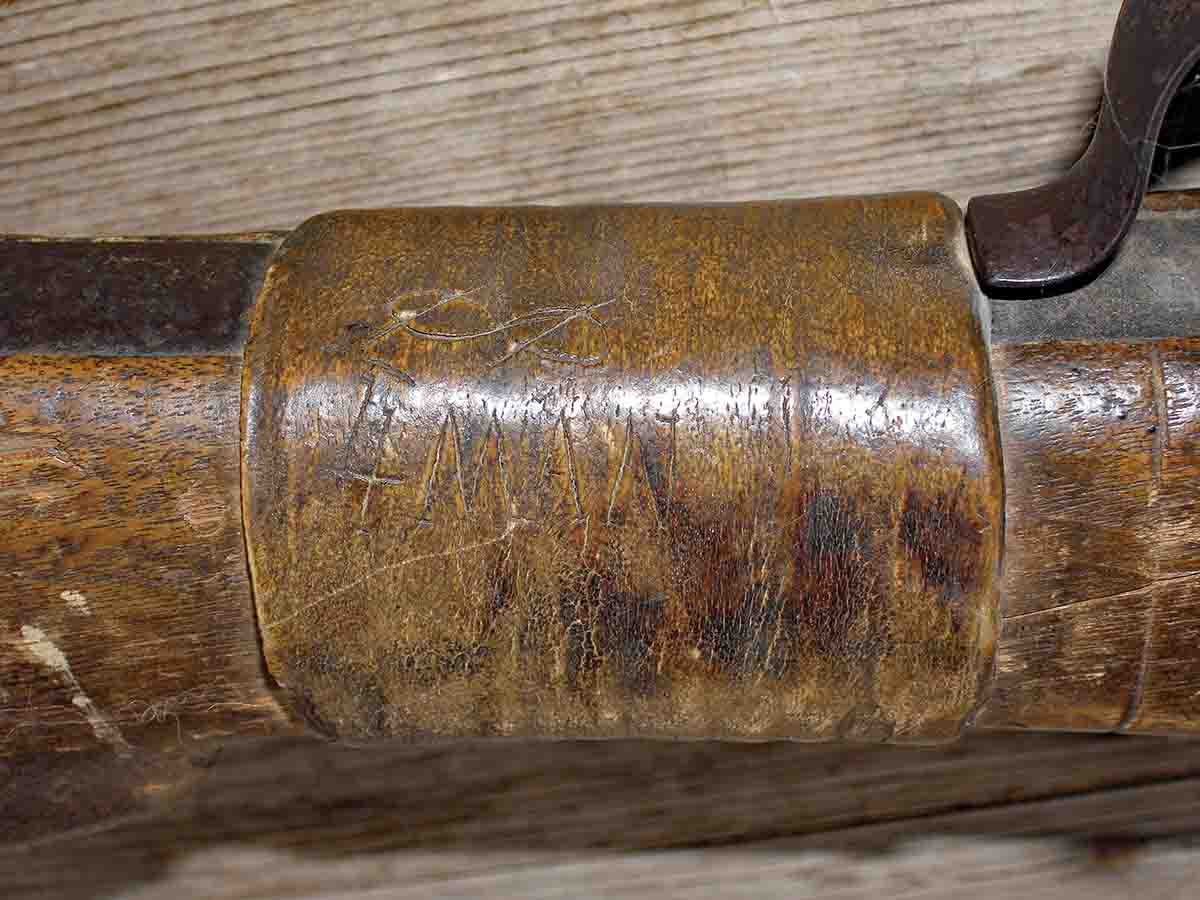 The rifle is currently on display at Jim Gordon's excellent Museum of the Old West, which covers the period from the Spanish Entrada in 1538 up to historic ranching. Named "La Casa Escuela," it is located in Glorieta Pass, New Mexico. Visitation is by appointment only, so please call ahead at 505-982-9667.
In the spring of 1872, John William Poe arrived at Fort Griffin, Texas. After a short stay, he continued westward. A two-day ride brought him to Sweetwater Creek where he hired on with the Barton ranch's owner, Jim Barton. During their conversation, Poe learned of a man living on Clear Fork who was also a Kentuckian.
He rode over for a visit and met John Cloud Jacobs. The two men formed a partnership and friendship that was to last the rest of their lives. They commenced their partnership on equal terms; Jacobs had land and an ox team, while Poe had a horse and $80 to invest in the farm. One afternoon, toward the end of the growing season, their entire season's harvest was destroyed by grasshoppers. The men decided to sell the oxen and bought a pony for Jacobs with the proceeds. They spent the fall hunting wolves.
By October, they had accumulated 489 wolf hides. Charlie Fowler was hired to freight them to Fort Griffin where they were sold at the government commissary for $489. The partners deposited their money with Frank Conrad, owner of the only safe in Fort Griffin.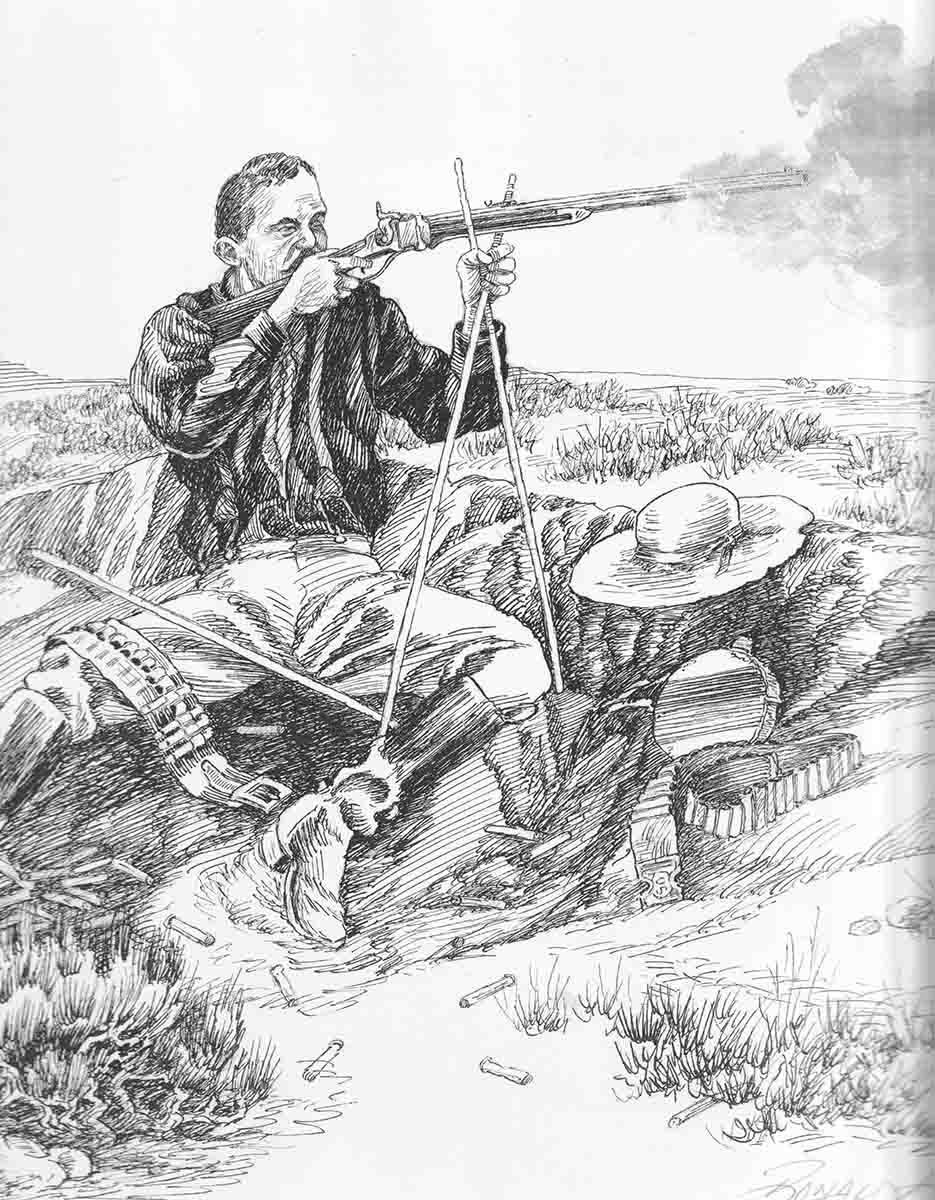 Poe and Jacobs contracted with the government commissary to furnish 1,600 cords of wood for $1 a cord. They then hired Charlie Fowler to haul their camp outfit 30 miles south of Fort Griffin. Several weeks later, Poe was bitten by a centipede. A reaction to the bite caused him to be severely ill for several days. Jacobs made a soda poultice, applied it to the bite and proceeded to keep a vigil for the remainder of the time Poe was ill.
The nearest water to their camp was three miles away. When Fowler would arrive for a load of wood, he also brought a barrel of water. Several months later they finished cutting the required amount of wood, packed their outfit and returned to Fort Griffin.
In 1872, Joe S. McCombs ran the government wood yard. In the fall of 1872, he accompanied a surveying party and traveled from Fort Belknap south to the mouth of the main Concho River. They traveled among buffalo herds the entire journey. At Kiowa Peak on the Salt Fork of the Brazos (northeast of Haskell, Texas,) they estimated that there were 50,000 buffalo in the vast herds that were moving south.
The three men became well acquainted and McCombs described the buffalo herds he had seen. Around Fort Griffin, news of the hide-hunting going on in Kansas, Colorado and the Texas Panhandle was on everyone's mind. The three men decided to form a partnership and on Christmas day 1874, they left Fort Griffin for the buffalo range. Theirs was the first outfit to leave Fort Griffin on a hunt for hides (Gilbert 1986: 65-69).
They traveled 65 miles to Paint Creek, up the creek another six or seven miles to Mocking Bird Springs and commenced to hunt buffalo. McCombs did the killing and the other two did the skinning. According to McCombs, they killed 700 buffalo in two months (Webb unpublished manuscript); according to Sophie Poe they killed 400 buffalo in two months (Poe 1936).

All accounts agree that Poe and McCombs took a team of horses, a wagon, and camp outfit and pulled for new hunting grounds while Jacobs took the ox team and wagon, loaded with hides, and pulled for Fort Griffin. Poe and McCombs intended to head toward old Fort Phantom Hill and up the Clear Fork of the Brazos River, locating a camp in the vicinity of present-day Rotan.
Jacobs was to follow their trail by a mutually agreed on procedure. When Poe and McCombs had travelled 50 miles or encountered a fork in the road, they would drive a stake into the ground, step off 30 paces to the right, dig a hole, and bury a can containing instructions for Jacobs. When they arrived at the proposed campsite, they were to bury a little board, two feet long and four inches wide, and next to it, a primer box containing a note telling the direction and distance to the camp.
When Jacobs arrived at their camp, Poe and McCombs had been out of bread for 10 days. One of their horses had slipped a shoulder and was unable to pull a wagon. The two men had made a good killing and simply stretched and pegged the hides on the range. With the arrival of Jacobs, they were able to haul the hides back to their main camp.
Poe had a close call with a buffalo, according to McCombs:
"I had downed several bulls right together. Poe, being only a short distance away, came over and we approached the kill. When about fifteen feet from the downed bull, up he got and charged straight at Poe. I was behind Poe and shot by him and dropped the bull at his feet, Poe shooting with his pistol as he [the bull] fell."
They remained in this camp until May 1875. According to McCombs they hauled 2,000 hides to Fort Griffin and sold them to Frank Conrad, who paid them $2 for "robe quality" hides and $1.50 for the others. According to Sophie Poe they sold 1,100 hides for $1 each (OP Cits).
The season of 1876 to 1877 found the Poe/Jacobs outfit relocated to their camp on Sulphur Springs. They discovered a location where water came out of the bank of a draw, flowed about a half- or three-quarters of a mile and then sank back into the earth. The wolves, antelope and buffalo drank from this sole source of water at all hours of the day. With fond remembrance, the hunters would recall throwing stones at the wolves and like little puppies, they would run after the rolling stones and paw at them with their feet. When they needed water, they had to chuck stones at the buffalo to clear an area large enough and long enough to get suitable drinking water for themselves and their stock.
With buffalo so numerous, the hunters camped approximately five miles from the springs. In the morning they would ride over and select a herd of the appropriate size to kill; experience told them that small herds of from 20 to 70 animals were much easier to handle than larger herds. Three to four miles of ground, in every direction from the springs, was literally covered with buffalo. When spring arrived, the hunting season ended and they sold 6,200 hides at $1 a hide.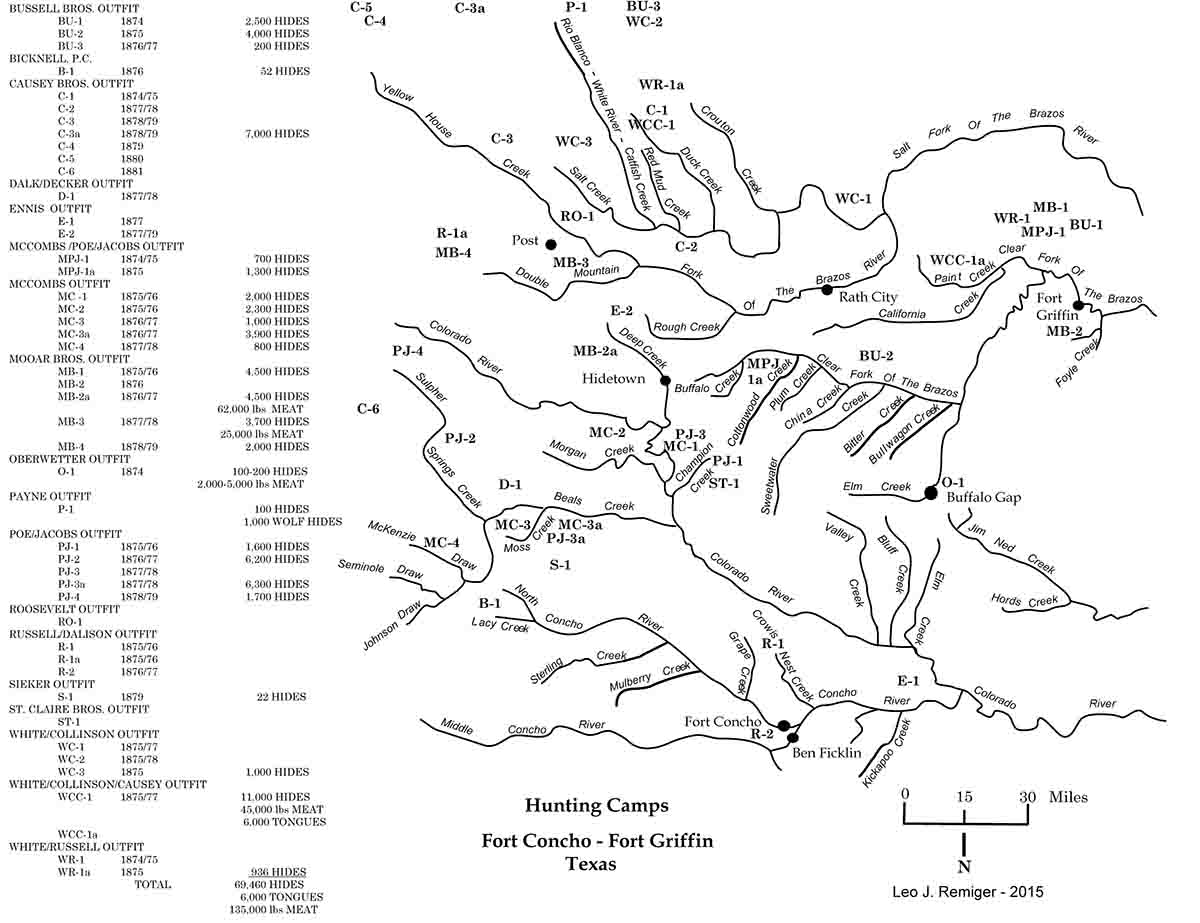 In September 1877, the Poe/Jacobs outfit had:
• 1,600 pounds of lead
• 400 pounds of 1Fg powder
• Four skinners
• Two men to peg and carry hides
• Two wagons
• Two two-horse teams
• One ox team of four oxen
Rifles, cartridges, primers, patching paper, bedding, ripping and skinning knives, a grindstone, and provisions to preclude frequent trips to the trading posts for supplies.
They hunted in the vicinity of Clearwater Creek, but by the end of September, they moved further west to a spot called "Lone Wolf," which later became the site of Colorado City. Because of bad water, they moved further west to the vicinity of Signal Peak.
The Poe/Jacobs outfit remained at Signal Peak until after Christmas and then decided to move to the head of Sulphur Draw near the present site of Lamesa. By the end of the season, they arrived in Fort Griffin with 1,700 hides that were sold for $1 a hide to the firm of Conrad & Rath.
Life in the Poe/Jacobs camp meant breakfast was to be eaten before daylight and the skinners were out on the range by break of day. Normally, there were unskinned buffalo (called "stinkers") that were left over from the previous day. Time was not taken out for dinner, and supper was eaten well after dark. They were paid between $35 and $40 per month.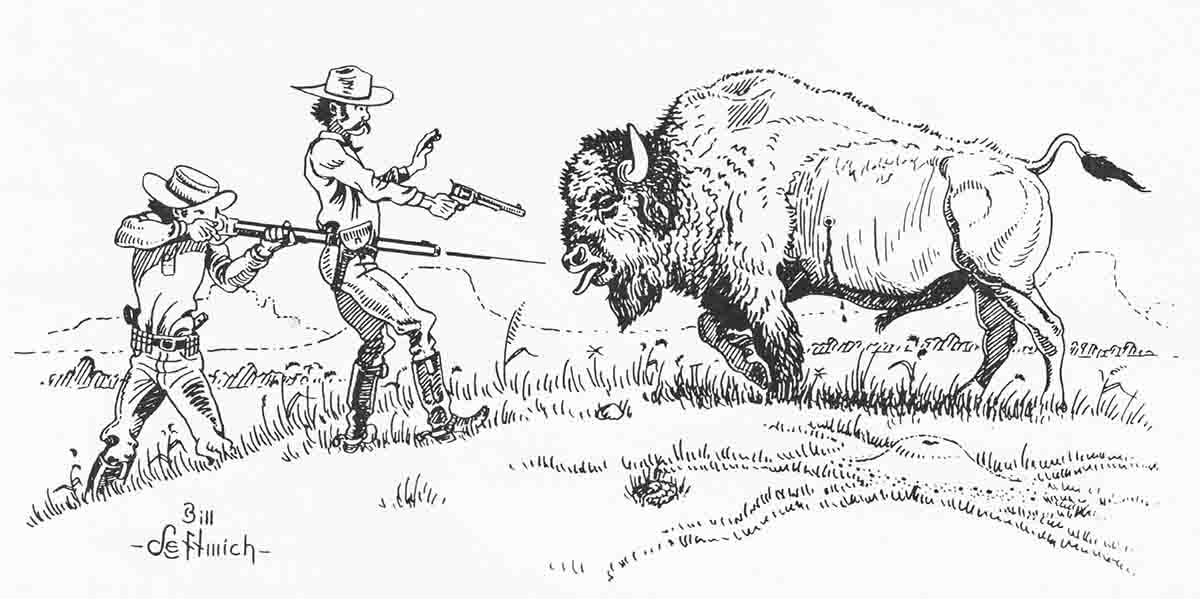 Poe and Jacobs were the shooters who did the hunting for the outfit. Poe would do most of it and when they had a surplus of dead buffalo, Jacobs would help with the skinning. The two men hunted from horseback and on foot. They would hunt separately, not in pairs. They would ride to the vicinity of the buffalo, dismount and crawl to within shooting distance. In the later years, they often took a wagon and two skinners with them. These men waited until they were signaled, then they approached the "stand" to begin skinning.
The skinners would make an incision under the jaw, rip to the tail, then down each leg to the earlier cut. The buffalo would be skinned down to the backbone, the hide tucked as closed as possible to the backbone and then the buffalo rolled over and the other side skinned.
In the later years, the incision and ripping were the same, but the skinners used the "pritchel" or "pritch stick." This was a length of pole approximately three feet long with a nail in one end. It was stuck in the ground and the nail end inserted into the buffalo, just behind the front shoulder. This would keep the buffalo balanced on its back so each side could be skinned at the same time.
Skinning buffalo was not easy work, especially carcasses that were not freshly killed. They would become bloated; the hide would be as tight as the head of a drum and this in turn meant each inch had to be cut free. Knives dulled fast in this work. Henry Herron was able to skin only nine buffalo on his first day. He was so discouraged at having to work so hard and accomplish so little that he threatened to quit. Poe told him it was good for a beginner and persuaded him to stay on. Eventually, he was able to skin 20 to 25 buffalo a day; his biggest day was 35 buffalo, all were cows. Tom Kilpatrick, another Poe/Jacobs skinner, did not consider 50 hides a day as an extra heavy day's work.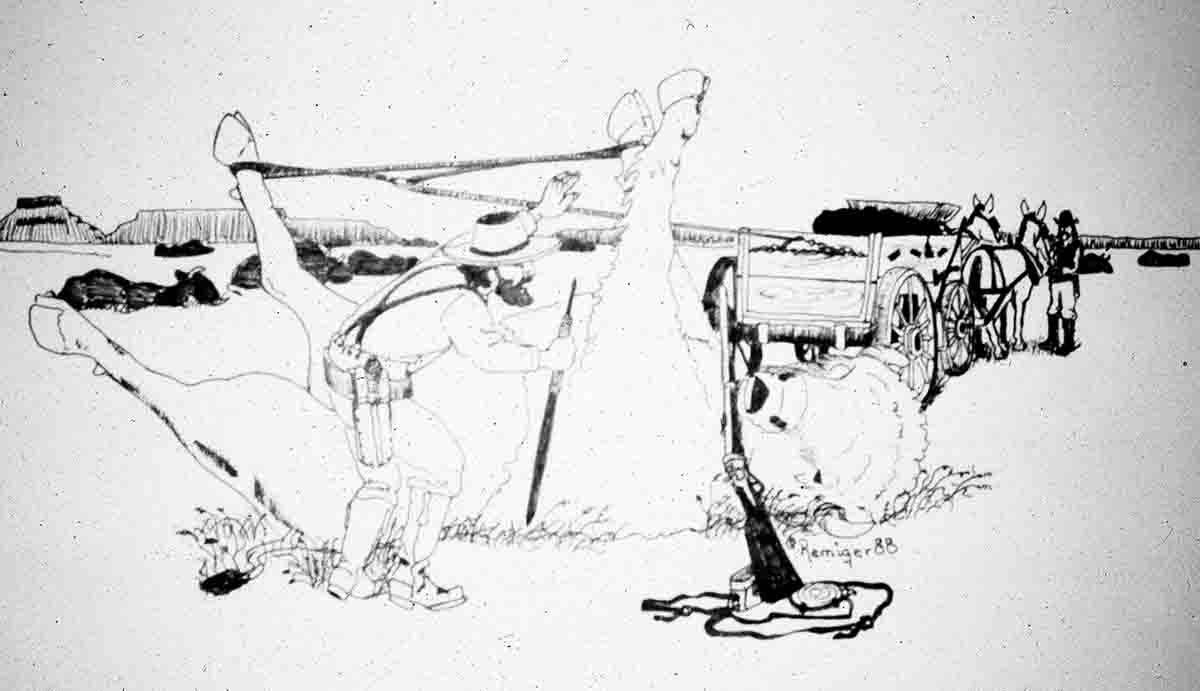 Once peeled from the carcass, the Poe/Jacobs skinners then spread them on the ground. They folded the legs inward and rolled the hides from neck to tail, making a bundle three feet wide. These were tossed into the wagon bed and hauled to camp. Once in camp, the hides were pegged out flat on the ground. Pegs an inch in diameter and up to 12 inches long, were then inserted through the hide and into the ground. The hides were fleshed and allowed to dry or "case over" in the wind and sun. They were also sprinkled with hide poison. A week to 10 days was sufficient to cure the hides if the weather was right. After being pegged out for the recommended amount of time, one of the camp men would walk on the hides and if he heard the right "rattle" they were ready for "ricking."
First, a layer of brush was spread on the ground so no hides came in contact with it. Ground wet by rain would ruin the dried hides. The hides were then doubled down the middle with the hair inside. Upon the brush foundation, the hides would then be "ricked" as high as a man could reach. An old bull hide, or damaged hide of little value would then be placed on top as a cover, the ends being cut and rawhide thong laced through these cuts and tied down. Rocks were also used to hold the cover in place.
During the season, a couple of small loads might be hauled into Fort Griffin for sale in order to obtain provisions, replace stolen stock, or pay a man's wages who had decided to quit, but normally a freighter was contracted to haul the hides to market. Joe McCombs hired five or six ox wagons to go after his hides in 1876. Each wagon had a trailer and was pulled by six yokes of oxen. John W. Mooar's ledgers (Remiger unpublished manuscript) contain entries that show the loads of both the lead wagon and the trail wagon. Lead wagon: 110 bull hides or 200 cow hides, trail wagon: 110 bull hides or 200 cow hides. Another entry shows 343 bull hides weighing 15,993 pounds or 47 pounds a hide, so a normal load for these freight wagons would have been in the vicinity of 5,170 pounds.
Shooting those immense quantities of buffalo entailed a lot of time being spent reloading cartridges. Typically, 50 to 80 pounds of lead would be heated until it had a "good blue on it" and then was ladled into the bullet moulds. At 14 or 15 bullets to a pound of lead, it is easy to understand the immense quantities of lead that were required by the hunters. Any bullet with the slightest imperfection would be put back into the pot. Cartridge cases had to be cleaned, reprimed, and charged with the appropriate amount of powder. The bullets had to be patched or lubed and then seated on the charge.
In 1878, Poe used a "Big Fifty" Sharps rifle weighing 14 pounds according to Henry Herron (16 pounds according to Sophie Poe), while John Jacobs, early in the season, used a Sharps "Big Fifty" that he converted to a "Forty-Five" toward the end of the hunt. Henry Herron mentions seeing Poe get as many as 40 to 50 buffalo from one herd while on a favorable stand. His largest "stand" was 80 buffalo killed on an acre of ground.
Poe also used a shotgun to good effect at their camp on the Clearwater. The area contained numerous groves of pecan trees and in those groves could be found wild turkey. Poe found not one, but several trees filled with roosting wild turkeys. A single discharge of the shotgun would bring down up to a half dozen birds.
Poe had a potentially fatal accident while on the range. He was skinning an old buffalo and the knife slipped, cut him in the thigh, and forced him to tear his shirt into strips and make a bandage. He suffered from considerable loss of blood and when six or seven days had passed, the seriousness of his situation began to wear on him. The cut had not become infected but he was virtually incapacitated.
With the proceeds of their last hunt, the Poe/Jacobs partners invested in 1,400 sheep. This venture failed when the winter of 1878 through 1879 killed the vast majority of their "woolly-backs." Poe went back to Fort Griffin and became a deputy under U.S. Marshal Fleming. His exciting life story continued due to his association with Pat Garrett and the death of "Billy the Kid" in 1881; a trip to Argentina to determine the prospects of cattle ranching in 1887; and in 1893, he became president of the Bank of Roswell, New Mexico. He died in July 1923.
References:
1. Gilbert, Miles
1986 Getting A Stand. Pioneer Press, Union City, Tennessee
2. Poe, Sophie
1936 Buckboard Days. The Caxton Printers, Caldwell, Id.
3. Remiger, Leo
ND John W. Poe, MS
4. Webb, J R
ND John W. Poe, MS at Panhandle Plains Museum, Canyon, Texas