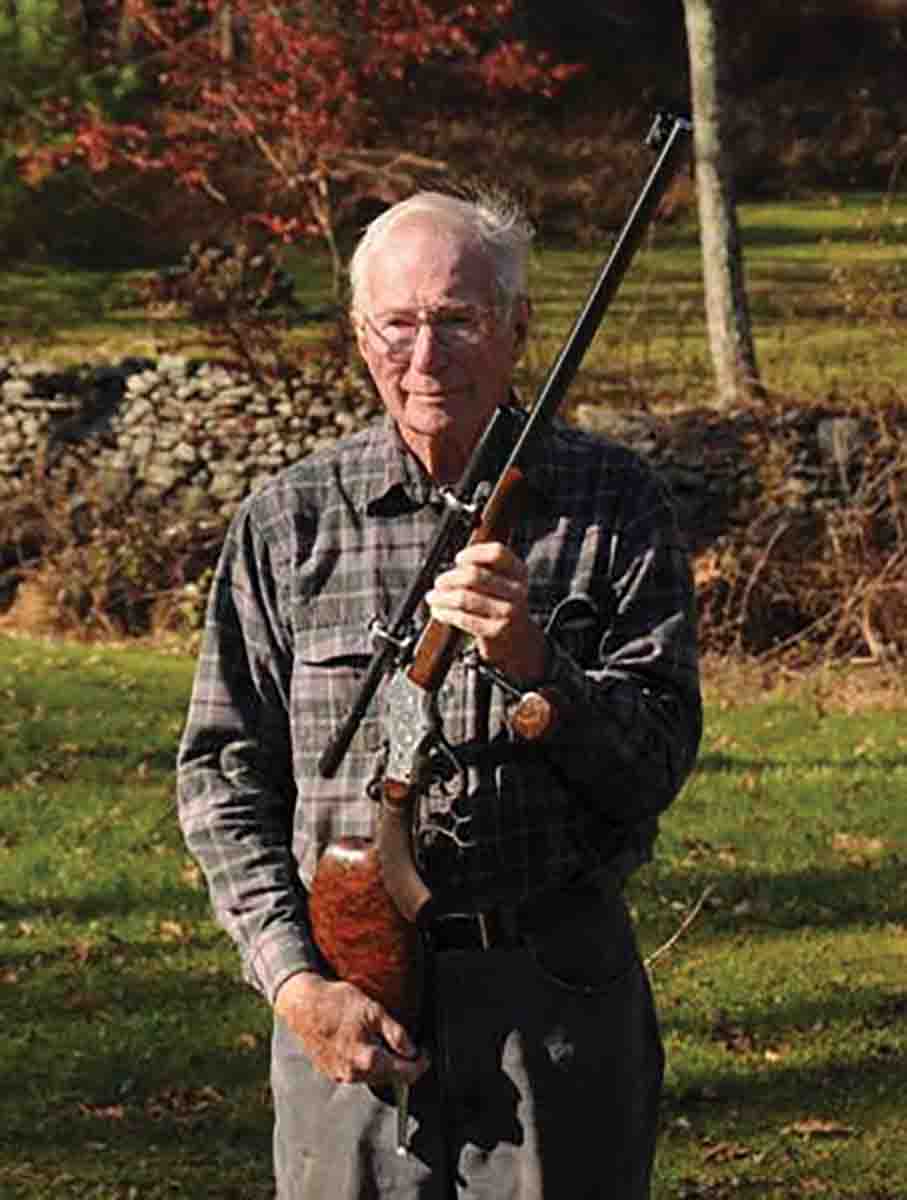 Paul Shuttleworth, 93, of Dingmans Ferry, Pennsylvania, and Gulf Breeze, Florida, passed away on May 13, 2022, after a short illness. The son of William E. and Esther (Gustafson) Shuttleworth, Paul was raised in Chestnut Hill, Pennsylvania, and spent summers on Valcour Island, near Plattsburgh, New York. At Harvard, he studied history and was the high-scorer on the rifle team. During the Korean War, Paul served in the Air Force as a weapons mechanic, where he serviced everything from pistols to nuclear bombs.
Returning to Pennsylvania, Paul had a successful career as a manufacturing engineer working for companies including SPS and Knoll. Target shooting continued to be an important part of his life and he was a regular match winner in the Philadelphia Marksman's League and in Schuetzen competitions throughout the region. In 1988, he founded CPA Rifles which continues to produce single-shot rifles of the highest quality; and Paul's rifles and opinions have been sought after across the country and around the world.
Paul is survived by his beloved wife Carolyn, their daughters and their husbands, Faith and Alex Carter of Woodland Park, Colorado, Gail and Jeff Rosalsky of Dingmans Ferry, Pennsylvania, and Kristin and Scott Amberson of Pensacola Beach, Florida, as well as his wonderful grandchildren Alexa, Jacob, Henry, Jace, Blair and Carlee.
---
Paul Shuttleworth was among those few who I regarded as a good friend, and as such I would like to add a few of my own comments.
I shot with Paul at many of the International Single Shot Association matches that were held in Raton, New Mexico, as well as the BPCR Silhouette matches in that same place. If there is one word that I would use to describe Paul it would be "gentleman." Paul always had a smile on his face and a kind word for everyone he talked to. He was very knowledgeable about all single-shot rifles, especially the Stevens Model 44½ that his company reproduced, and we had many "after-match" discussions about rifles, loading techniques and old-time Schuetzen competitions. I valued Paul's opinion on many topics and fortunately for me, I was smart enough to listen.
To say that Paul will be missed is a huge understatement. Not only will I miss the good times spent in his company, but the single-shot shooting sports will also miss him and find it impossible to replace his warm personality, extensive knowledge and positive support. People like Paul do not come along very often in this life, and his shoes will not be filled.
We are diminished.
– Steve Garbe
Editor, Black Powder Cartridge News