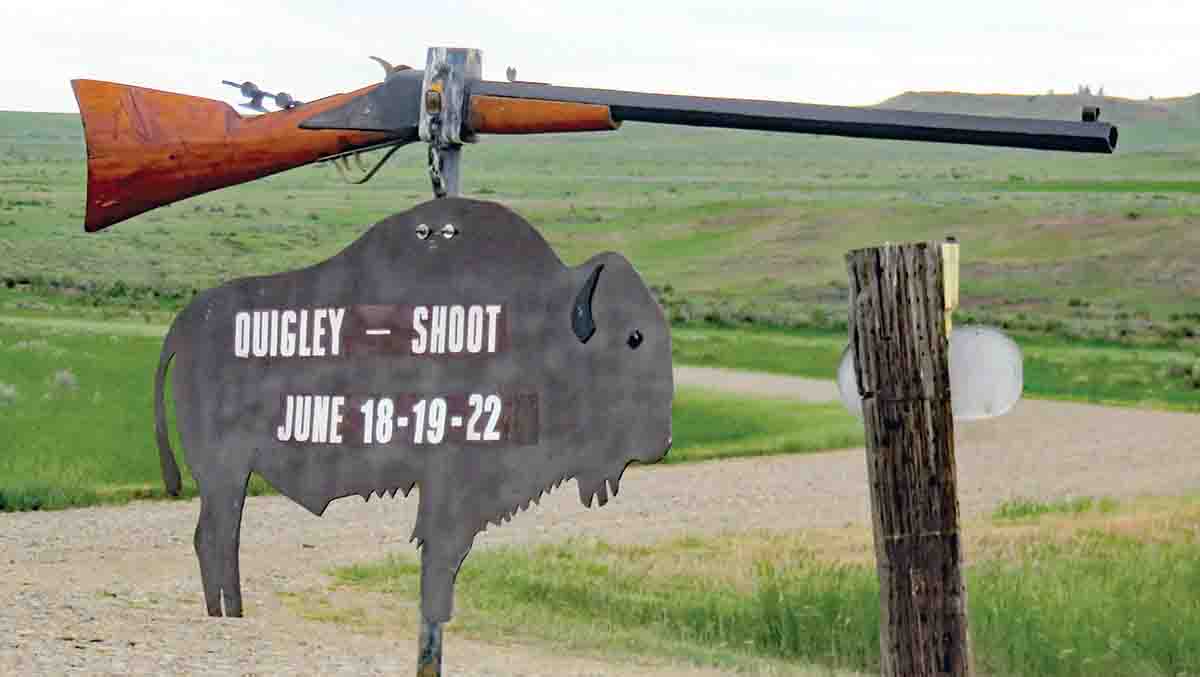 For us, the list of memorable adventures to be enjoyed this year at the 30th Matthew Quigley Buffalo Rifle Match included high winds and rain. Our little caravan arrived at "Quigleyville" on Tuesday afternoon, in the rain. The first endeavors were to get our tents up, while being slightly envious of our neighbors in camp who were enjoying their trailers or motor homes. Once our camps were up and comfortable, we could relax (just slightly) and think more about our shooting.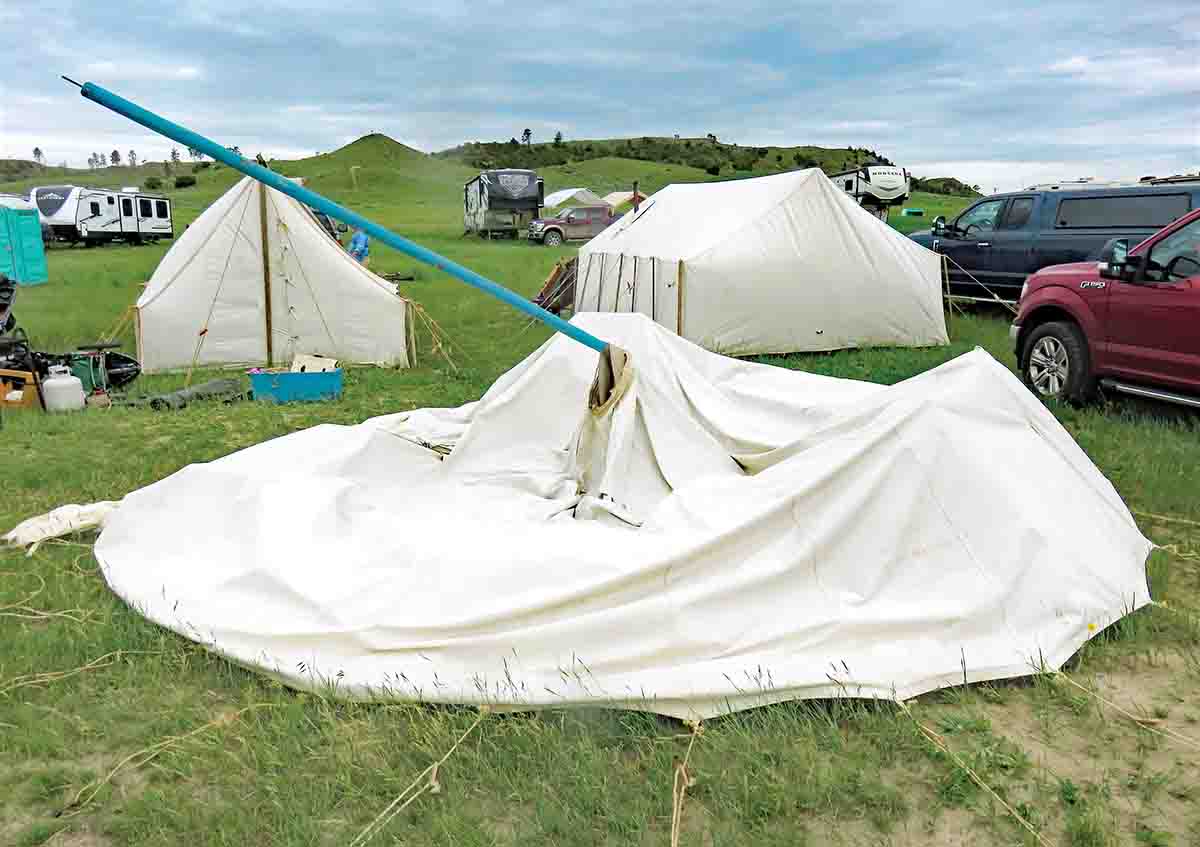 But we couldn't completely relax. Scott Sibley's "Sibley tent," was blown down four times by those winds. My wall tent had trouble keeping the ridge-pole where it should be and was also blown down, getting a four-foot-long tear in the canvas as it went. Mike Moran was well equipped with a canvas repair kit and he was kind enough to sew the tear back together again, using beeswax-coated thread. That was some added excitement in tent camping.
We had arrived there early to take advantage of getting some practice on the range. At Quigley, one must register for the match, which is only fair, before you can do any practice shooting. In our group was one "first timer," and that was Mike Moran, shooting a C. Sharps Arms Model '74 Bridgeport in .45-70 caliber. Mike had never fired his Sharps at any distances of more than 200 yards before getting to Quigley and he was certainly eager. You'll be hearing more about him.
Another reason for getting to Quigleyville a couple of days early was to do some good shopping along Vendors' Row. The weather reports and the flooding of the Yellowstone River did cause a few of the vendors to cancel their trips, but the traders and shooters who did attend found several reasons to be glad for being there. One of the vendors we were anxious to see was "Bear" with his Buffalo Hat Company. He makes superb custom cowboy hats while you wait and three of us were some of his earliest customers. Ken can be reached at buffalohats@hotmail.com. His business is unique as there is no store front and you have to be present in front of him when he builds your hat. Some of us also got our annual new Quigley shirts, from both Sagebrush Outfitters (Sagebrush, P.O. Box 148, Gurley, NE 69141. Phone: 308-250-1388 or info@sageoutfitters.com) and from Caroline's Embroidery, where she can be found selling her wares mainly at Quigley. These are Quigley necessities!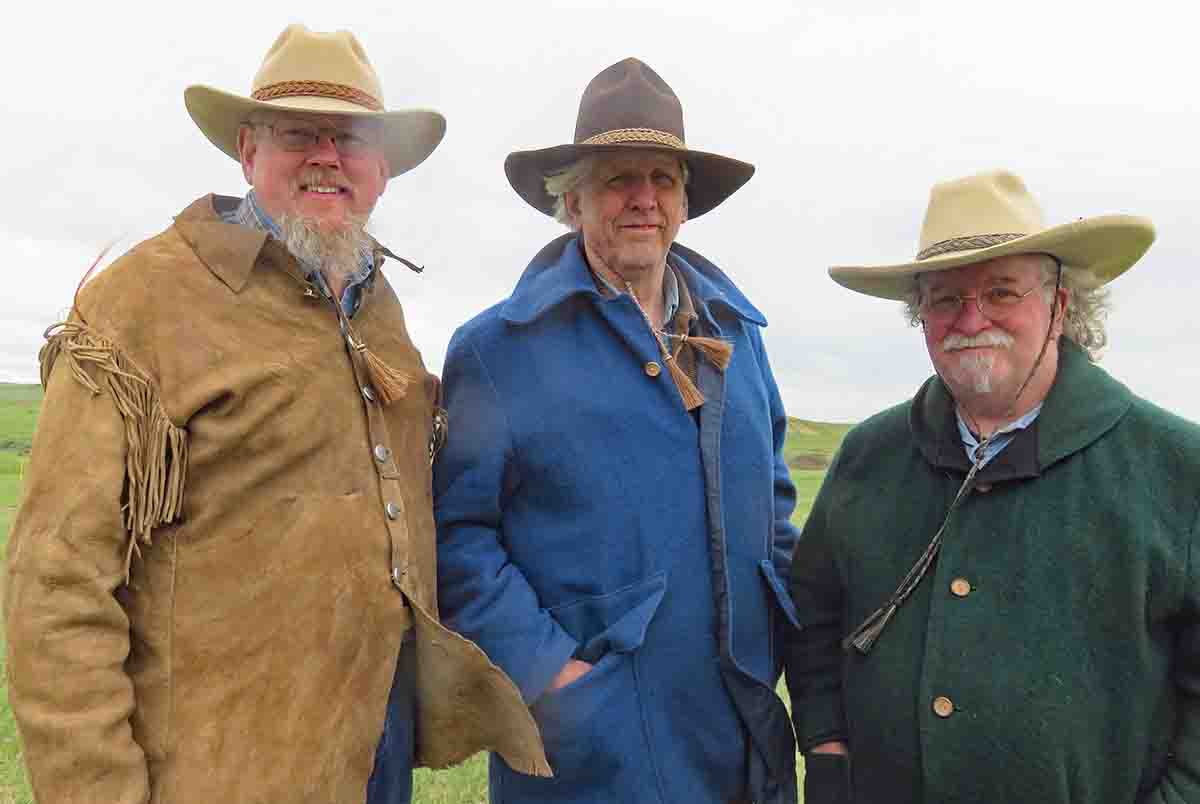 For this trip to Quigley, I was actually travelling a little light and my packs included only two rifles. Of course, I had to pick one of the two because only one rifle can be used at Quigley. Participants must use the same gun for the entire match and they also specify in detail how that rifle must be used with the same barrel through the match. The reason for that is because most targets are shot from the sitting position, but one target must be fired at from the offhand position. It would be considered unfair for a shooter to switch to a more suitable rifle for those offhand shots. The two rifles I had with me were my heavy Hartford in .44-77, named "Hannah," and my scope-sighted '74 Bridgeport in .45-90, both made by C. Sharps Arms.
"Hefty Hannah" was my selection and that decision might have cost me some hits. The reason for that wouldn't become apparent until Saturday morning, when the shooting for score began. What happened was that on Thursday and Friday, the days we did most of our practicing, the sun was shining viciously and it was hot! Luckily, on the days of the match, the skies were overcast and all of the targets were basically in shadows. For my poor eyes, that was too much and I had real difficulty in seeing the targets. I know, listen to me whine…

My load for the .44-77 consisted of a Federal Large Rifle Magnum primer, then a newsprint over-primer wad, 75 grains of GOEX "Cartridge" powder (I have just a pound and a half of that left, and when that's all gone, I'll be using Swiss 1½ Fg powder), an .060-inch Walters .446-inch wad topped with a 480-grain bullet cast from Accurate Molds' No. 44-470N. All that is held in a Jamison case and the 15¼ pound rifle has a Badger barrel.
Allen Cunniff, my regular Quigley partner, also had two rifles to pick from. One was a Shiloh in .45-90 and the other a C. Sharps Arms '74 Bridgeport in .45-110. He found, for one reason or another, that he was making more hits at the long-distance targets with the .45-90 so that was the rifle he chose to shoot in the match.
Because Allen had those two rifles to get sight-settings for, he did at least twice the shooting during the practice days than the rest of us. He said he was fine shooting alone, using the visible dust to tell where his missed shots were going. That left us free to do other things and there is always plenty to do at Quigley. While shooting is the priority, of course, roaming Vendors' Row is high on the list too.
It was during one of those "shopping sprees" that I ran into Jon Viebrock, the camera man and producer of The Recoil Therapy Channel. By now, he already has a good collection of short videos on YouTube about this year's Quigley Match, almost giving each target a video of its own. Later that week Jon asked me to say a few words about the Quigley Match in his tribute to Al Lee, the owner of the ranch where the Quigley Match is held. That was easy to do, no rehearsal needed.
Suddenly, because we were having such a good time, it was Friday. That afternoon I found myself in line behind Dick Savage to do the "squadding" for our group. Squadding, for those who haven't been there, is important because that's where you select which shooting squads you and your spotter will be in and which shooting number within that squad. Each squad has up to six shooters. For our group, we listed Jerry Mayo, myself, and Allen Cunniff in Squad Two, then Bob DeLisle, Scott Sibley and Mike Moran in Squad Four.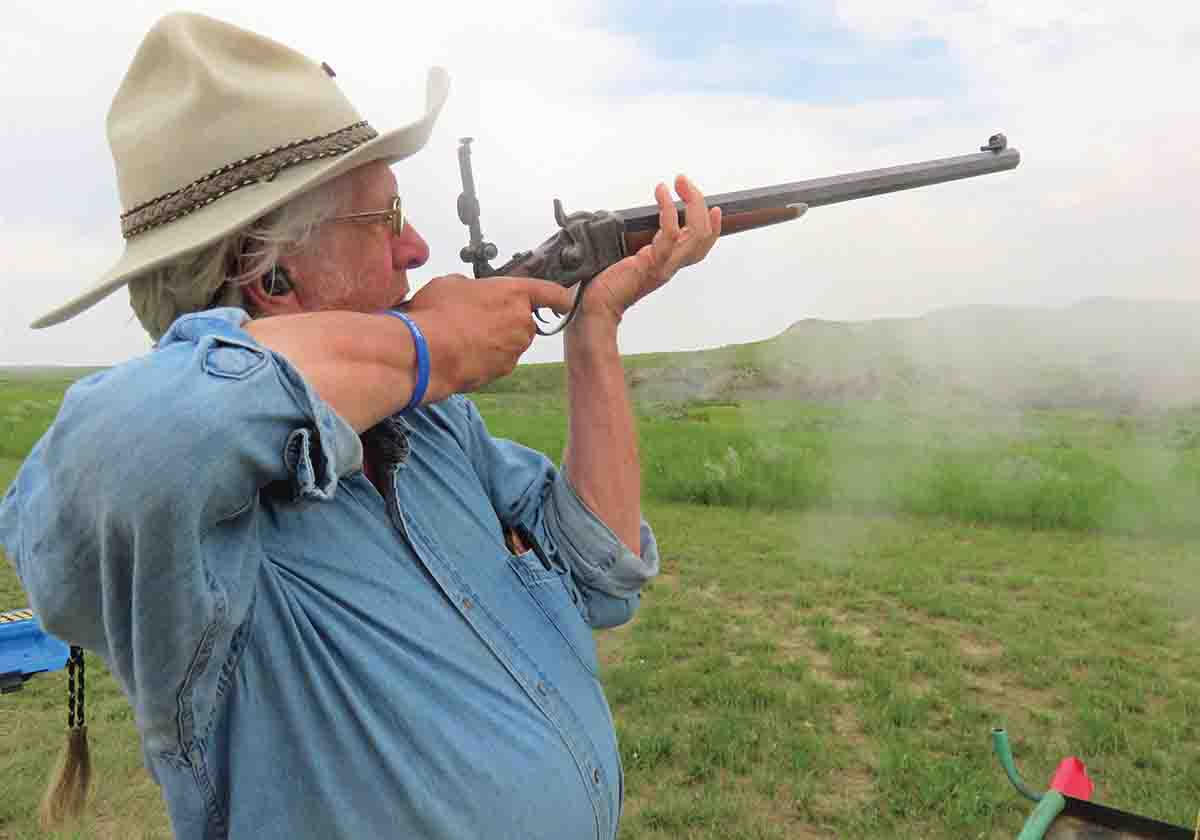 While Squad One is shooting on the left, Squad Two is setting up to their right. Then while Squad Two is shooting, Squad Three replaces Squad One. While Squad Three is shooting, Squad Four replaces squad Two, and so on. Because our second set of three shooters occupied the same shooting numbers as the first three, we didn't need to replace any of our spotting scopes as they were already set up from when Squad Two had shot. That system worked out very well.
Then on Saturday morning we found out where our group, "Red F," would begin in the match. The two F groups, "Red" and "Yellow," would start on target six, the Bucket at 350 yards. That was good news in my opinion. Shoot the offhand shots first, before you're tired from other shooting. Maybe that sounds like a good idea, but being fresh didn't help me, as I managed no hits on the Bucket.
My other targets, which were shot on Saturday, all yielded hits for me, so my score for this year was building, however slowly. Those other targets included target one, the Buffalo at 805 yards, target two, the Octagon at 600 yards, and target three, the Postage Stamp at 530 yards. All shooting groups shot at four targets on Saturday, leaving only two targets to complete the match on Sunday morning.
At nine o'clock the next morning, the match started again. Once more, the skies were dark and overcast. That made me run to the Montana Vintage Arms tent where Jim Gier was on duty and I bought a front sight insert index, that included a bigger aperture, which would pass the best light. That didn't help me on target four, the Diamond at 405 yards, but it did help me on target five, the Rectangle at 417 yards, giving me five hits on my last target.
Also on Sunday, the scorekeepers reversed the scorecards so those who shot first on Saturday would shoot last on Sunday. Our group was the largest, I believe, and we could hear the firing line getting a bit quieter as we proceeded to shoot for score. As it turned out, our fourth squad was the last to shoot and Mike Moran fired the last shot in the match, which was a hit.
The Matthew Quigley Buffalo Rifle Match is simply enormous. This year, there were 475 shooters and it takes some real organization to funnel all of those shooters through the six-target course, firing eight shots at each target in approximately a day and a half. That amounts to 3,800 shots counting only the shots fired in competition, not counting the shooting done in practice. I most certainly compliment Claudia Kajin, the Quigley Match director, as well as her husband Al, and all of their staff, including all of the RSOs and the scorekeepers. They do a tremendous job and, to put it mildly, they're very busy. Even so, Al and Claudia both found time to shoot in the match as well.
This year, there were 55 first-time shooters and at least a few shooters came from two other countries, Australia and Canada.

The Quigley Match is a tough one. It has never been "aced." No one has gotten a perfect score of 48 hits. This year, Dave Gullo certainly tried, he won (for his third win and he also won last year!) by getting 44 hits. The rifle Dave used was the same gun he used last year as there's no point in quitting on a winner. That rifle is a rebuilt antique Ballard Number 7 A-1 Extra Long Range action, rebarreled and chambered for the .44-90 Remington Straight cartridge. His load featured bullets from a BACO mould (JIM447525C2) at .447-inch diameter, weighing 525 grains when cast from 20:1 alloy and powered by 74 grains of Swiss 1½ Fg. Other ingredients for his loads included a .030-inch poly wad, Federal's GM210M primer and SPG Tropical bullet lube. The .44-caliber barrel, which was made by Krieger has a 1:17-inch twist. A Kelley Soule tang sight is on the rifle and at the front rides an MVA #118 sight with a .105-inch aperture. That sounds like top equipment for a top shooter. Hats off to Dave!
Let me mention that the other shooters who fill out the top 10 as well as their standing in the various shooting classes. In second place was Danica Gamble (the top Junior shooter) with a total of 43 hits, six on the offhand target. Third was John Fuller (the top White Buffalo) with 43 hits and five on the Bucket. Fourth was Brian Youngberg (top Senior men) with 43 hits and four on the Bucket. Fifth was Shane Kraft (a previous winner and this year's top man in the Men's category) with 42 hits and seven on the Bucket. Sixth was Vaughn Rasmusson (second place Senior men) with 42 hits and six on the Bucket. In seventh place was Colton Derenburger (second place Men) with 42 hits and four on the offhand target. Eighth was Ed Tilton (another previous winner, third place Men) with 41 hits and seven hits on the Bucket. Ninth was Steve Martin (third place senior men) with 41 hits and six on the offhand target. In 10th place was Kyle VandenBrink (fourth place Men) with 41 hits and five on the Bucket. That is really outstanding, all 10 of the top shooters and maybe more, finished with more than 40 hits!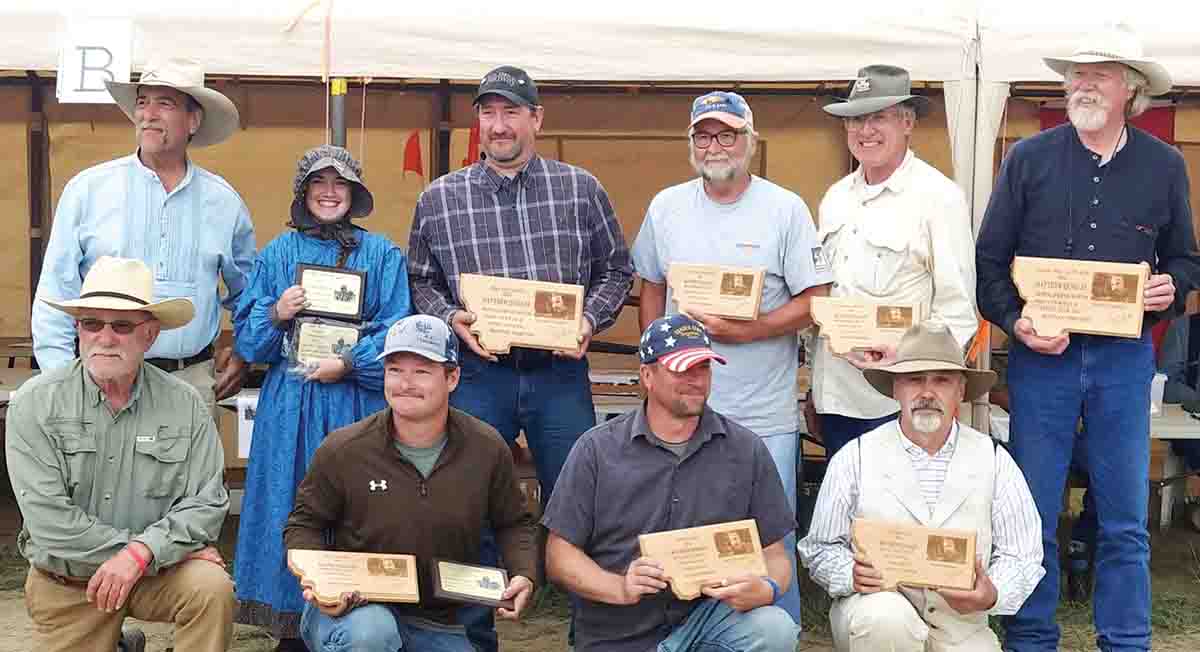 All of those shooters, and a few more in various classes, received plaques as trophies for their wins. In addition to those awards, there were several donations from various groups, companies, and individuals that were awarded by drawing or at random to the gathered shooters. Space does not allow me to include a complete listing of the donors here and I don't have that list anyway, but I can say that Schuetzen Powder Company donated powder and Buffalo Arms Company was mentioned as a donor several times.
The entire list of shooters' scores was not available when this was written, but those who are interested, can visit the website for the Matthew Quigley Buffalo Rifle Match, at quigleymatch.com, where all of the details will be listed. I'll have to look at that myself to see if I finished in the top 400 or not.
So, that was Quigley for 2022, located on the Al Lee Ranch just northwest of Forsyth, Montana. I want to conclude by saying three things in general about the Quigley Match. It's the targets at sometimes oddball distances that make it unique. It's the eastern Montana weather that can sometimes make it an ordeal. But it is really the people, both in the administration and the match participants, who make it great!