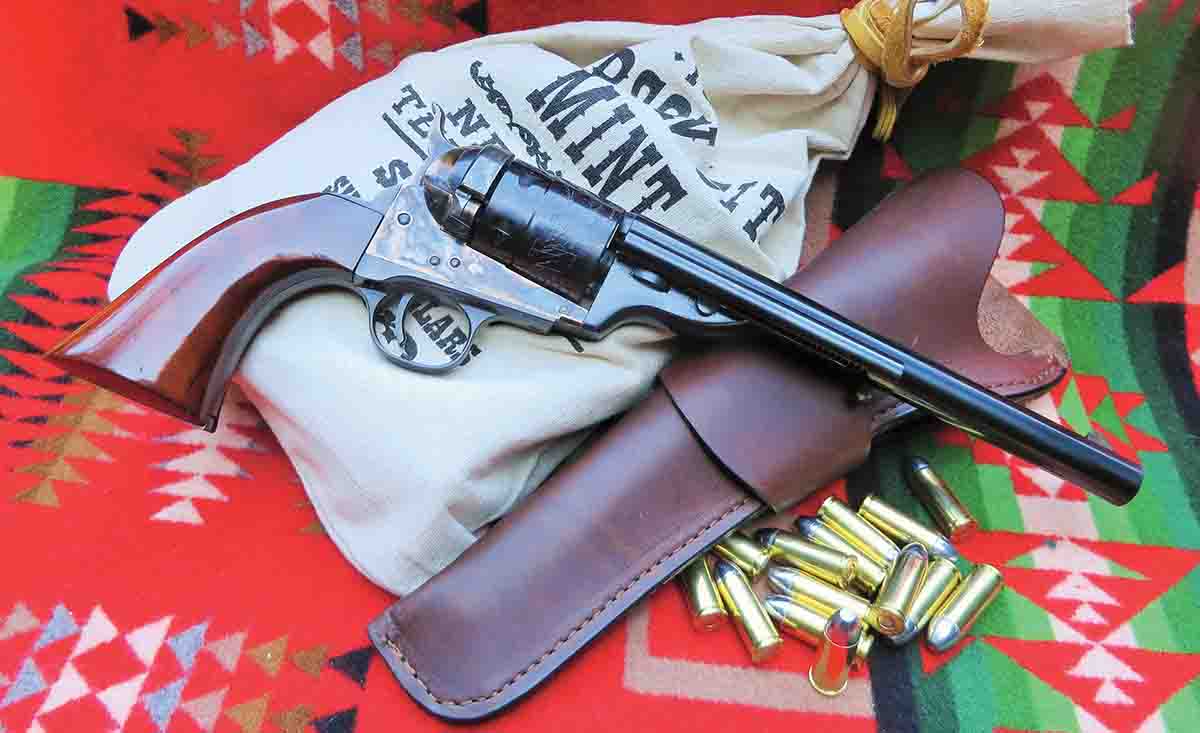 Let me step right out and say it; if the old .44 Colt from 1871 had the benefits of Starline Brass plus this bullet from the new Accurate Mold, it would have never died away. That's actually a very true statement because the .44 Colt is quite alive today, but most of the credit for that must go to the cowboy action shooters. Regardless of who gets the credit for putting the .44 Colt back on the active list, or keeping it there, this new bullet might add to the old cartridge's popularity.

The .44 Colt was introduced in 1871 as one of our army's first centerfire revolver cartridges. The army, however, wanted a more powerful cartridge, so this .44 became a stepping-stone to the Colt .45. That overshadowed the .44 Colt, and to my knowledge it was never used in any sixguns other than the conversion revolvers using the 1860 Colt frames.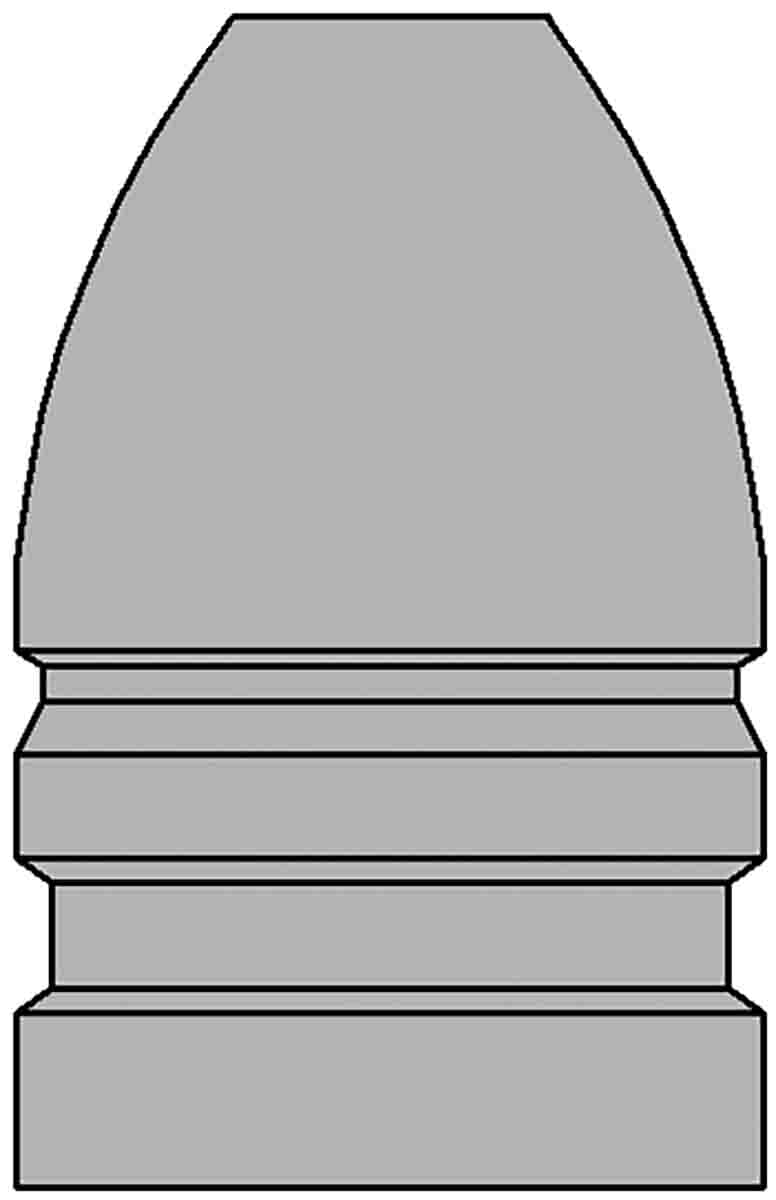 My involvement with the .44 Colt came in the form of a copy of the Richards-Mason conversion from Cimarron Firearms. That gun is superbly accurate at general, or short, revolver distances, and I do appreciate the authenticity of this sixgun and its cartridges. Those cartridges, however, begged for a more authentic looking bullet.
That's when Tom Ellis at Accurate Molds was contacted. He took my description of the bullet I wanted and turned it into his #43-220N. (Would you suppose that "N" stands for Nesbitt?) This, in my opinion, has the look of a slug Colt might have used if its old .44 had been updated, back in those early years, to be used with an inside lubricated bullet. This new bullet weighs 220 grains, which is in the ballpark for the old .44, when cast with a 30-1 alloy.
The new bullet looks rather 'Colt-ish' if you will allow me to put it that way. It has a fairly long, rounding nose that ends with a .018-inch flatpoint. And its design lends itself to black-powder shooting quite well.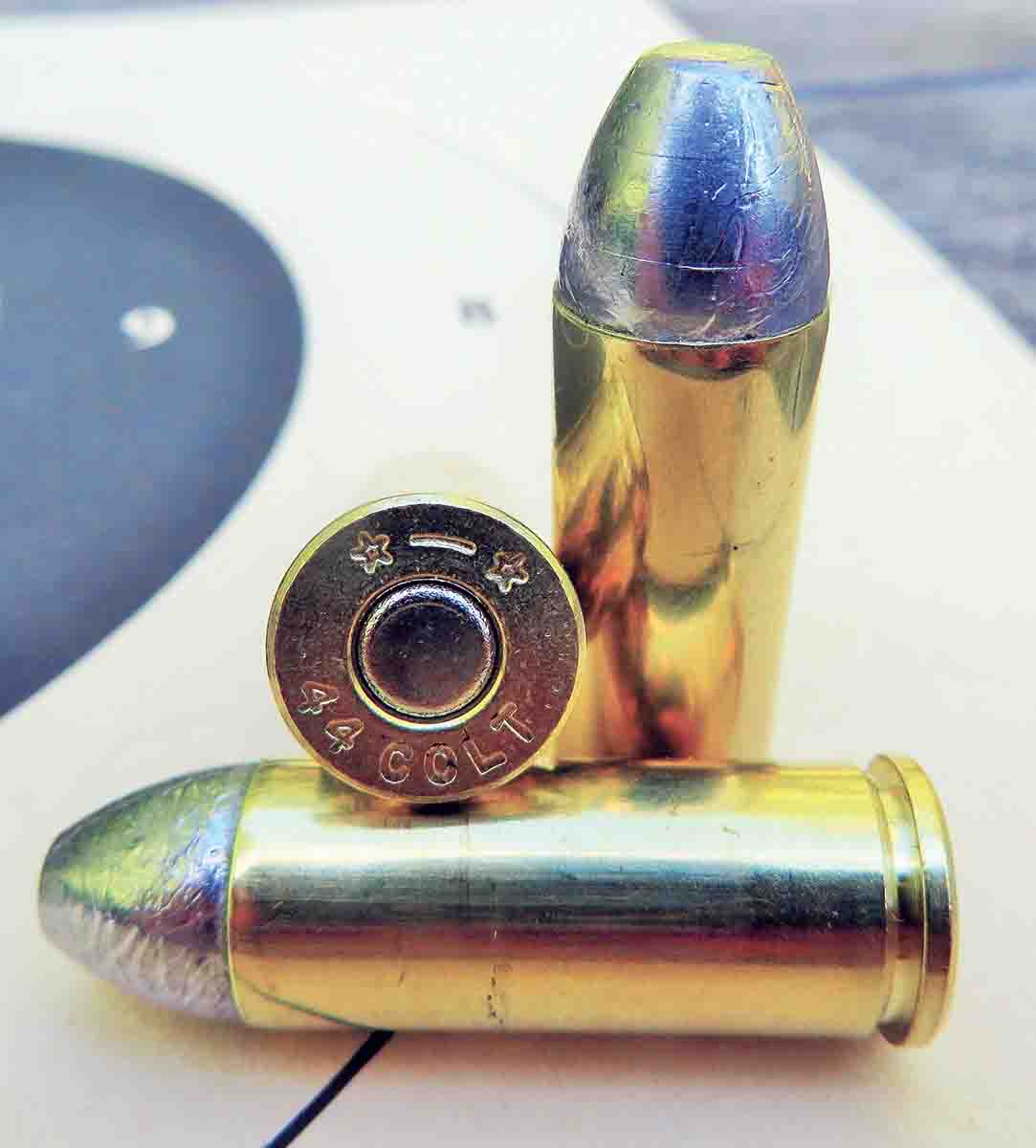 There is one fairly generous lube groove. Above that is a wide crimp groove, and I fill it with lube too, then simply crimp into the top of the groove. A little extra lube never hurt a black-powder shooter. This bullet drops from the mould at .430 inch diameter, and for my shooting they were sized to .429 inch.
The overall length of this bullet is .675 inch and more than half of that length, .375 inch, is ahead of the crimp groove. That leaves only .300 inch below the crimp groove, which gets seated into the cartridge case. This means the rather shallow seating of the bullet will not require very much compression with black-powder loads. My use of 25 grains of powder, usually GOEX's Olde Eynsford, fills the case to about .20 inch below the mouth of the case and that gives .10 inch of compression when the bullet is seated. No other steps for compression are taken, just the seating of the bullets over the powder with no wads.
Some general handloading comments might be of value. To load the .44 Colt cartridges, a set of Lee dies was obtained for the .44 Russian cartridge and then simply adjusted for the somewhat longer .44 Colt cartridge. Brass by Starline is generally available, and a good quantity of that was bought from Buffalo Arms Company. A special shellholder is not needed, because the Starline .44 Colt brass fits the RCBS No.2 shellholder, the good old .30-30 size, just perfectly. You might say that nothing special was needed to reload these historic cartridges.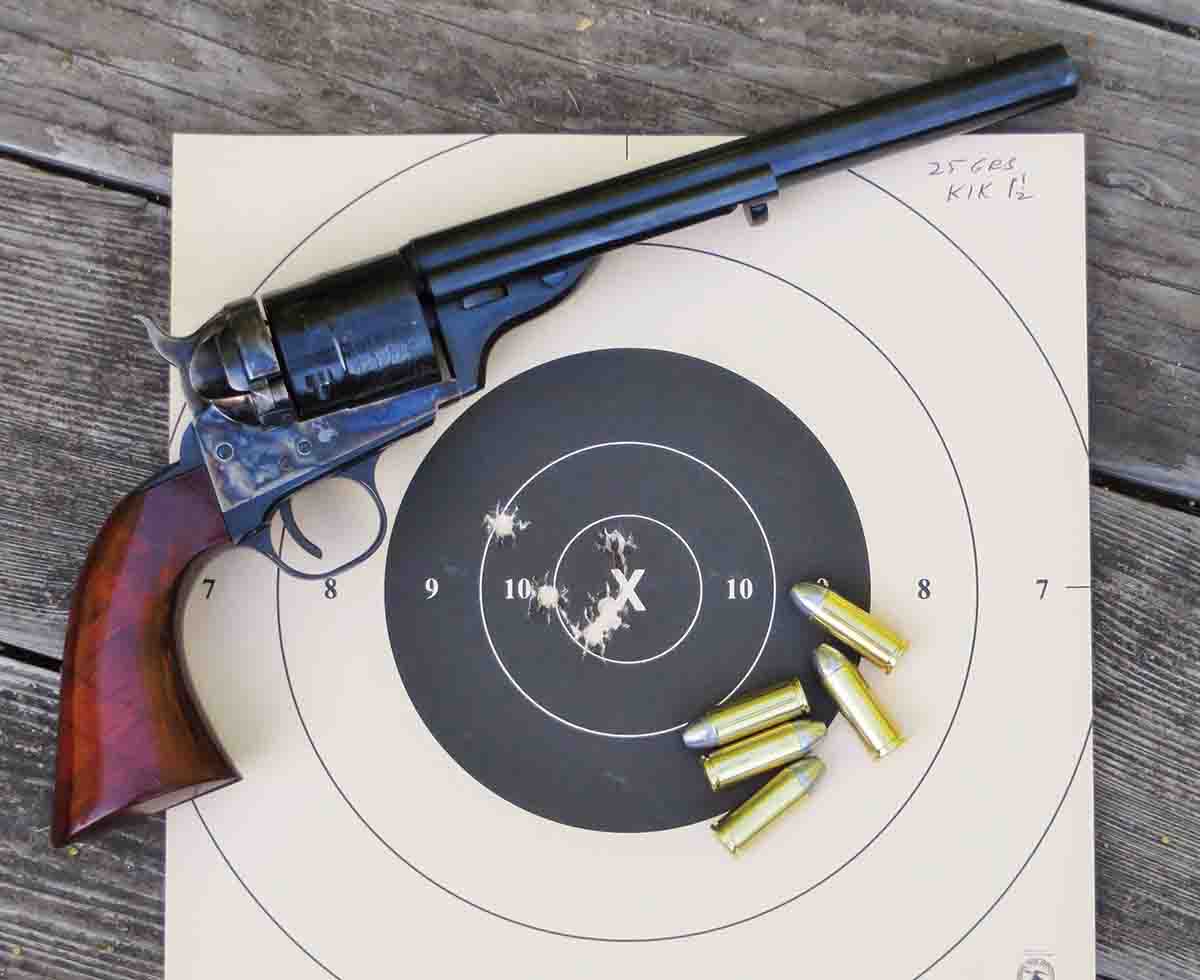 The real unique thing about the .44 Colt with these bullets, in my opinion, is the shooting. They simply shoot very well. With 25 grains of black powder, the gun barks with authority while still being rather easy to handle. Most of my shooting is done at just 15 yards or less, and I've come to expect 10-ring accuracy at this short distance.
My favorite loading uses 25 grains of Olde Eynsford 11⁄2 Fg powder for an average velocity of about 768 fps out of the .44's eight-inch barrel. That isn't the most powerful loading, but power isn't my main concern. Other factors in good performance outweigh power, and if I find a need for more power, I'll probably grab a different gun.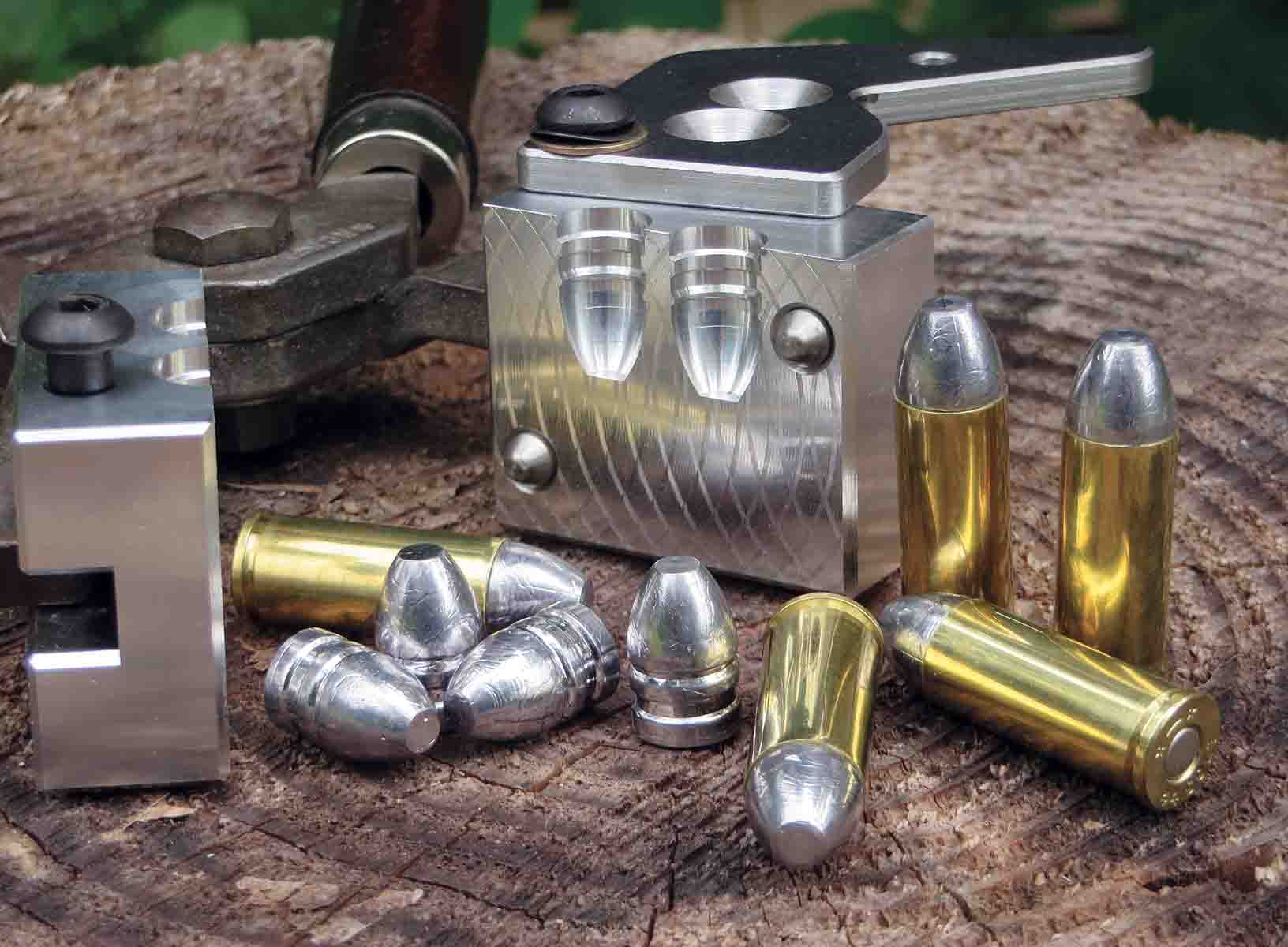 A smokeless loading was also tried with good results, using 5.8 grains of Unique. That load gives a velocity of 600 fps and pressures are light enough that the empties just fall out of the chambers. In order to tell my loads apart, I "paint" the primers black on my black-powder loads with a marking pen.
Colt .44 Black Powder Loads:
(with bullet 43-220N, 8-inch barrel)
• 25.0 grains of KIK 11⁄2 Fg (by volume) 618 fps
• 25.0 grains of Olde Eynsford 11⁄2 F (by weight) 768 fps
• 25.0 grains of Olde Eynsford 2 F (by weight) 815 fps
Good shooting combined with an authentic-like appearance is how I'll describe this new bullet for the old .44 Colt. If this bullet interests you, or any of the long list of available bullet styles, visit the website of Accurate Molds at www.accuratemolds.com and take a good look. This bullet, again, is #43-220N and Accurate Molds does have several bullet designs made especially for black powder.