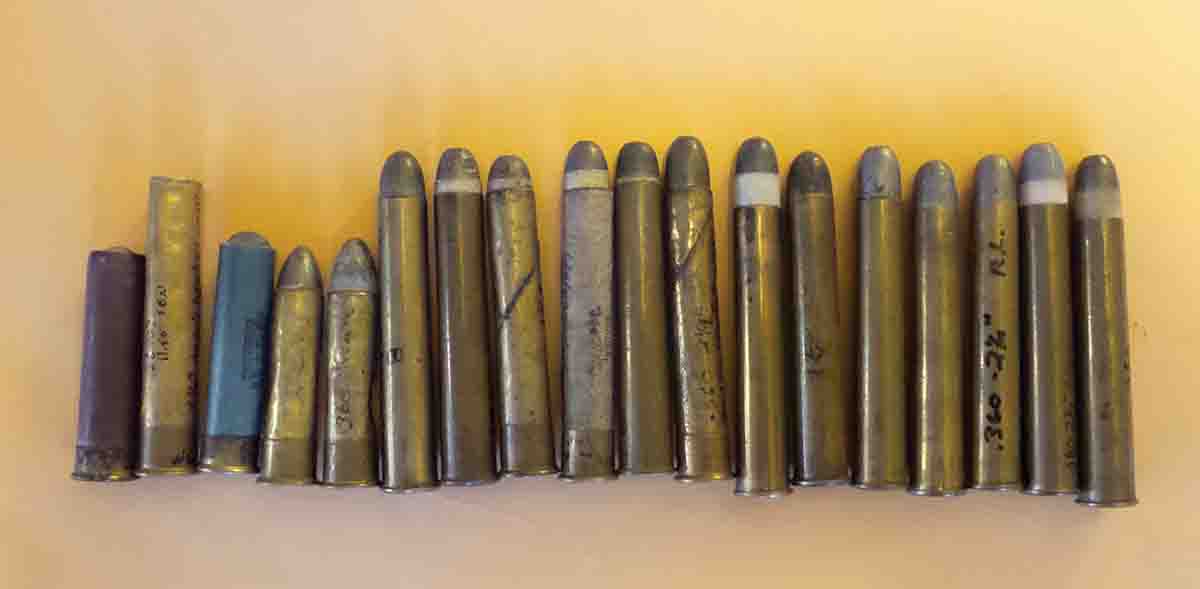 In the Victorian Era (1837-1901), it can be arguably stated that gunsmithing reached its zenith. After all, it was the English, along with the Scots, who really invented quality firearms both in construction and embellishments, as well as big-game hunting in India and Africa. This was at the same time that muzzleloading percussion rifles and shotguns, then of pinfire ignition, gave way to rimfire and centerfire cartridge rifles. Black powder ruled the roost in those days, and sporting rifle cartridges were given two basic categories: "express" rifles (.360 to .577 caliber) and "bore" rifles (20-gauge/.620 inch) to 4-gauge (1.052 inch). To get technical, "gauge" is the number of lead balls that fit the diameter of the bore to equal one pound. Bore is a dimension in decimals of the barrel's bore diameter (before the rifling is cut). As time progressed, those manufacturers in the U.K. held to the term "bore," whilst those on the western shore of the Pond used "gauge," both being used to refer to shotguns or bore rifles. A 12-gauge shotgun in the U.S. is the same as a 12-bore shotgun in the U.K.
The Victorian era saw the transition from flintlock to rimfire and centerfire black powder cartridges as well as the early years of nitro propellant. The Edwardian era followed, and while used to denote the United Kingdom firearm trade from 1901 to World War II, it was actually just the years of Edward's rule, 1901-1910. While the Edwardian Era was totally in the nitro-express period, many hunters used and ordered new rifles made for black powder well into the first decade of the new century. A few reasons account for this: Old habits die hard, black powder had proven itself for centuries, black powder was more reliable and stable than nitro in the early days, and black powder was not affected by the heat of the tropics. If jacketed bullets, both softnose and solids, had been present with black-powder cartridges, perhaps the popularity of black powder charged cartridges would have lasted much longer into the nitro era than it did. After all, lead bullets do limit penetration.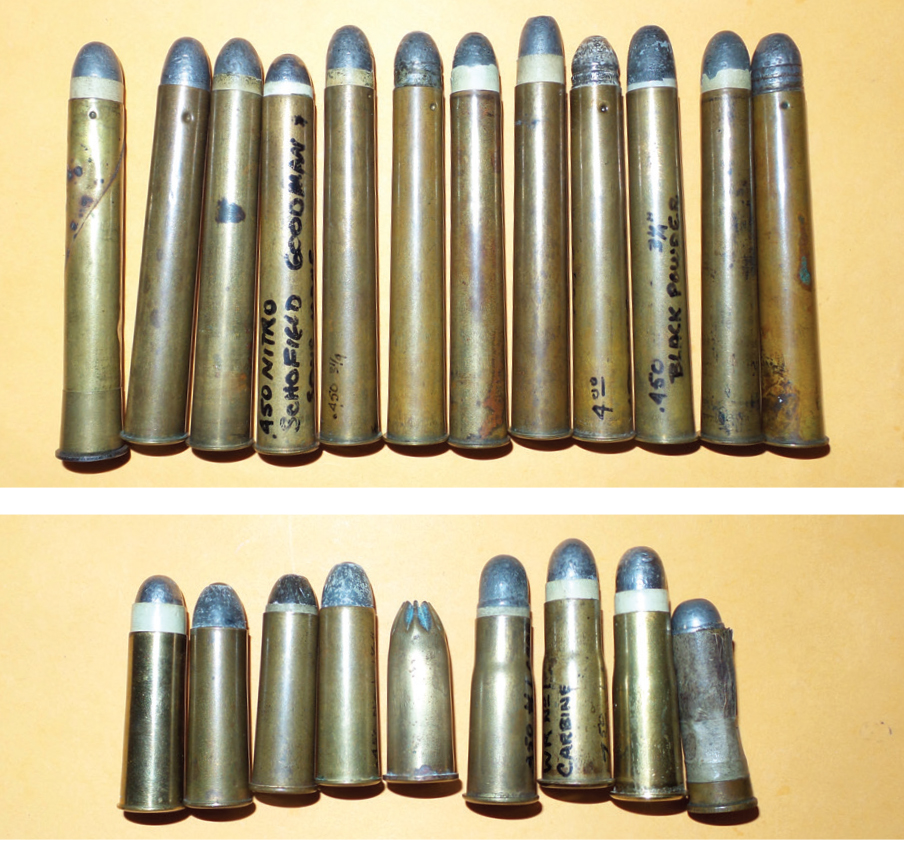 Let's take a look at the most popular cartridges of the day as to history and ballistics. To begin, the "express rifles" were initially named by James Purdey who, approximately in 1856, coined the term "express train rifles" as a marketing tool to separate his rifles using a larger than standard charge of powder with a lighter than standard bullet to attain a higher than standard velocity. At the time, railroads were traveling faster and faster, and it could be seen the 100-mile-per-hour mark was fast approaching. He attached "train" to his express rifles to equate them to the power and speed of the railroad trains. As the years passed, "train" was dropped and "express rifle" was the term of the day. Only when smokeless powder (nitro cellulose) came into the picture were the rifles divided into "black powder express" and "nitro express." In our modern times, both "nitro" and "express" are used in television shows for a "wow" factor but in the vintage years they had definite meanings.
Below are the five basic bore diameters common in the express rifles and the six most common bore rifle sizes. Cartridge books will list well over 250 different examples of express and bore rifle cartridges – those being separated by case length, case type, case shape, powder charge, bullet weight, bullet style, bullet diameter, headstamp and maker. The stats listed below are only for the cartridges and calibers charged with black powder. Their nitro cousins are not included therein.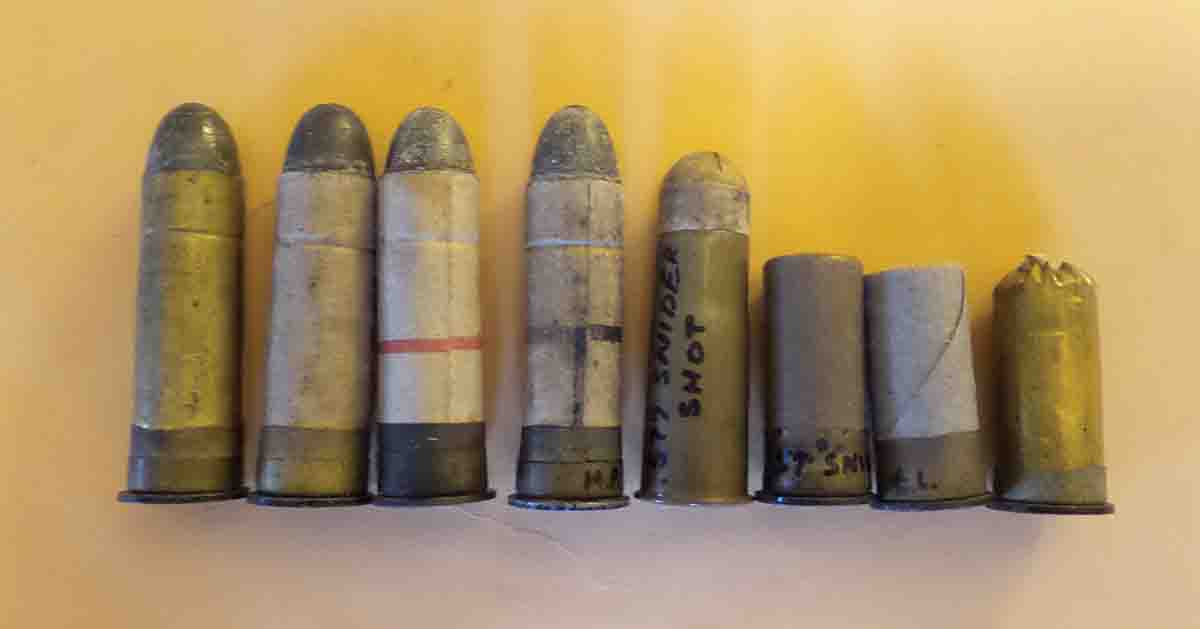 Please note the cartridges below are not meant to be a comprehensive list, just a general listing of the most popular calibers and bore sizes. Small "rook and rabbit" rifles, unpopular calibers between the larger groupings and rare bore rifles (14- and 24-bore, for example) are not included. The variations, case lengths and powder charge stats were taken from compilations of dozens of magazine articles, cartridge collectors and several books; additional samples may surface. The most popular combinations are taken from my extensive records of known rifles.
.360
Variations: 20+
Case length from: 1.05 to 27⁄16 inches
Powder charge: 14 to 55 grains
Bullet weights from: 72 to 215 grains
Most common: 21⁄4 inches, 55 grains powder, 215 grains lead
The most popular was the .360 21⁄4 inch, about on par with famous American cartridge, the .38-55. Fifty-five grains is the same charge as two drams (27.5 grains per dram) and the .360 was charged with two drams making it an ideal small-game cartridge for single shots and a few double rifles. With recoil being about nil, it was popular with youngsters and women. In 2008 I handled a W.W. Greener boxlock top lever in .360 21⁄4 inch on a ranch in Zimbabwe. The rifle had zero finish remaining, off face, rough bores, and the checkering was worn flat. It had been used on a Zimbabwean ranch since the earliest colonial days. If rifles could talk!
.400
Variations: 33+
Case length from: 2 to 31⁄4 inches
Powder charge: 75 to 110 grains
Bullet weights from: 210 to 374 grains
Most popular: 23⁄8 inches, 83 grains powder, 230 grains lead
Of all the variations in the .40 caliber, two stand out as the most common, those with case lengths of 23⁄8 inches (a small game and deer cartridge) and the 31⁄4-inch case (for medium game).
.450
Variations: 68+
Case length from: .85 to 31⁄2 inches
Powder charge: 25 to 142 grains
Bullet weights from: 214 to 530 grains
Most popular: 31⁄4 inches, 110 grains powder, 270 grains lead
The most popular bore size in the U.K. and far more popular than the .500 in Africa, there is no doubt the 31⁄4-inch case ruled the roost of the .45 calibers.
.500
Variations: 32+
Case length from: 11⁄2 to 31⁄4 inches
Powder charge: 45 to 164 grains
Bullet weights from: 340 to 570 grains
Most popular: 3 inches, 136 grains powder, 340 grains lead
More popular in India than any other cartridge (except perhaps the .303), India had far more sportsmen there than ever trod the veldt in Africa. This was due to the fact that Africa was populated with white farmers and a few hunters, whilst India had a large military presence containing officers (with highly embellished rifles) and enlisted men (with plain finished rifles) longing for hunting activities when off duty. The .500 BPE double rifles seem to outnumber all other calibers. The .500 was a deer cartridge in its 3-inch case with 340-grain bullets and a fine buffalo and tiger cartridge with the heavier 440-grain bullets.
.577
Variations: 25+
Case length from: 11⁄4 to 31⁄4 inches
Powder charge: 50 to 192 grains
Bullet weights from: 480 to 713 grains
Most popular: 23⁄4 inches, 165 grains powder, 570 grains lead
The .577 was the heavy weight of the black powder express cartridges. The 3-inch version was the most popular for sporting purposes (not including the military Snider round) and was a true big game express rifle. The 620- and 650-grain bullets were used against buffalo, gaur, lion, tiger and bear. Elephant, rhino and hippo were stretching its capabilities a bit with lead bullets, but the largest of game certainly did fall to the mighty .577. However, the larger bores were not infallible. One hunter in India fired 11 shots into a gaur, the largest of wild oxen at 3,000+ pounds. At the end of the battle, the quarry killed him.
Now, to the bore rifles. As time progressed in the latter decades of the 1800s, the bore rifles became more powerful, and the rifles added weight. For example, an 8-bore in the 1870s had the power of a 10-bore in the 1890s. A 4-bore in the 1870s had the power of an 8-bore in the 1890s.
20-bore (.620 Inch)
Variations: 18+
Case lengths from: 2 to 23⁄4 inches
Powder charge: 83 to 110 grains
Bullet weights from: 350 to 400 grains
Most popular: 21⁄2 inches, 83 grains powder, 350 grains lead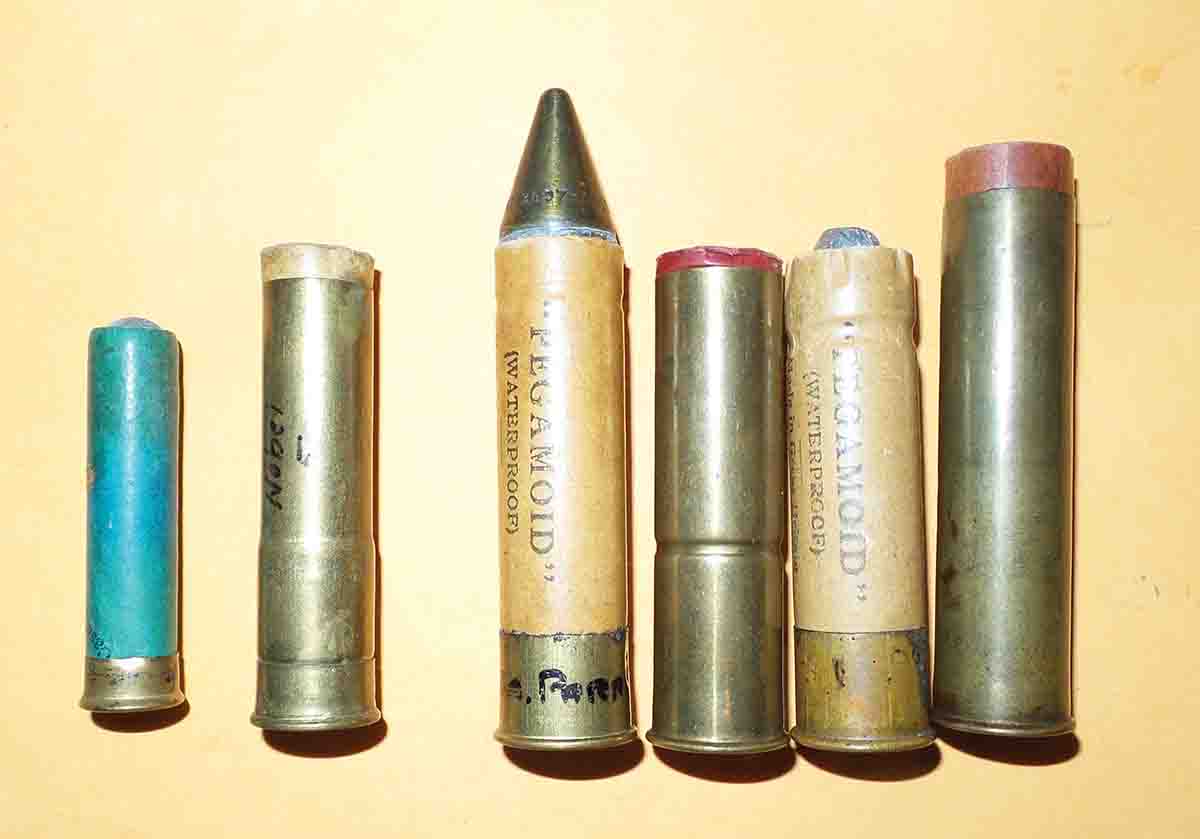 The 20-bore is a smaller game rifle, including deer. A light charge of 3 drams or 82 grains equated to very light recoil, even in a light rifle.
16-bore (.665 Inch)
Variations: 12+
Case lengths from: 2 to 23⁄4 inches
Powder charge: 110 to 136 grains
Bullet weights from: 437 to 500 grains
Most popular: 21⁄2 inches, 110 grains powder, 437 grains lead
As with the 20s, the 16-bore with a 1-ounce bullet (ball) and 3 to 4 drams of powder was still a light, small-game rifle.
12-bore (.729 Inch)
Variations: 46+
Case lengths from: 21⁄2 to 3 inches
Powder charge: 136 to 192 grains
Bullet weights from: 593 to 700 grains
Most popular: 21⁄2 inches, 136 grains powder, 593 grains lead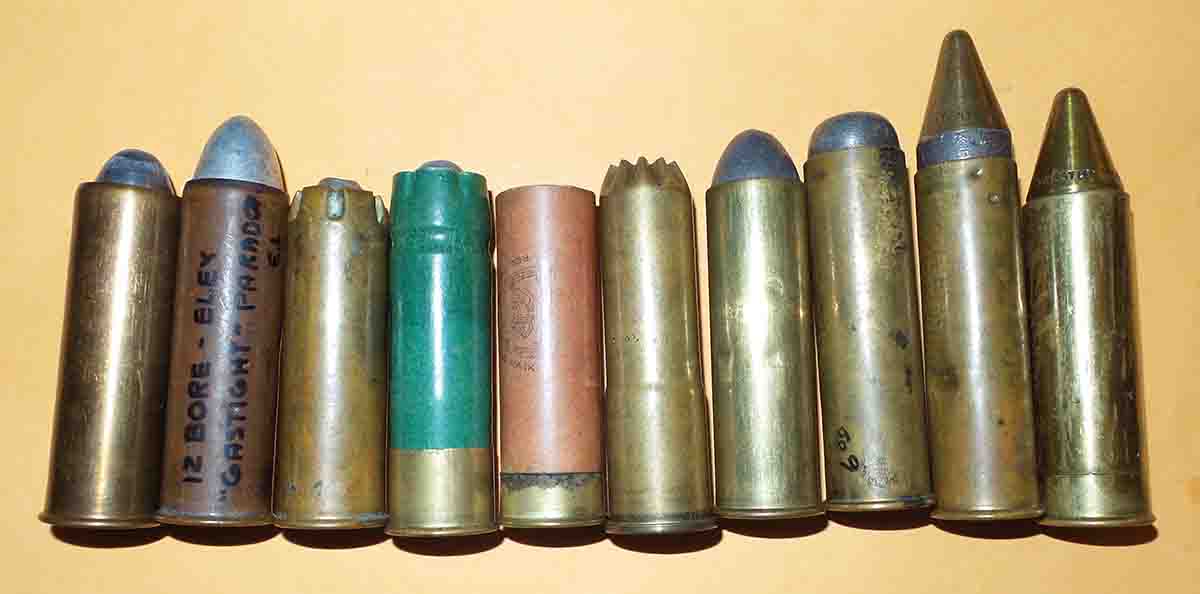 Most 12s were deer rifles, but in a heavier rifle, a heavy powder charge of 5 to 6 drams could be used to drive a ball of 593 grains or a heavier conical to shoot deer, bear, stag and the big cats – lion (in Africa) and tiger (in India). Smoothbore ball and shotguns in 12 bore were common for those hunting birds while having the capability to slip in a ball cartridge should a boar or deer come into sight.
10-bore (.775 Inch)
Variations: 15+
Case lengths from: 25⁄8 to 3 inches
Powder charge: 165 to 220 grains
Bullet weights from: 700 to 1,000 grains
Most popular: 27⁄8 inches, 165 grains, 700 grains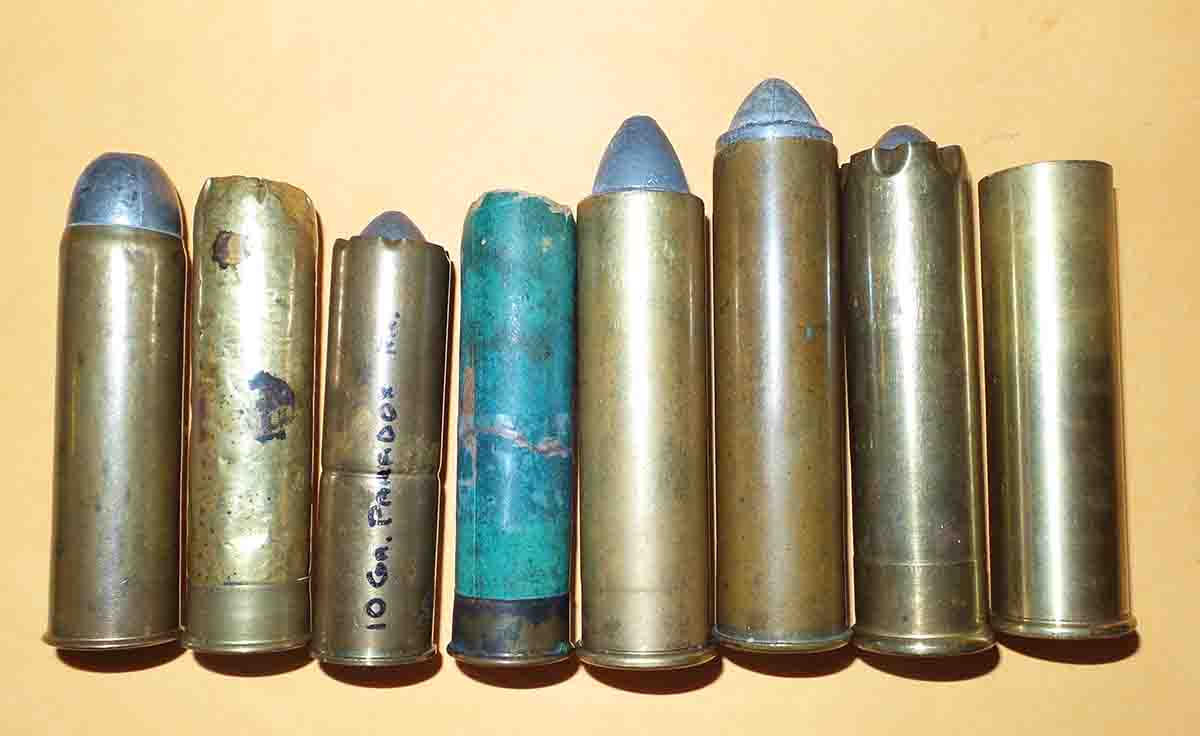 The big-game, bore rifles begin with the 10-bore. Most 10s were charged with a light charge of powder at 5 drams and a ball of 700 grains. The heavier 10s fired conical bullets of 2 ounces or 875 grains and 8 drams of powder (220 grains). If a double is not marked as to the charge, the weight of the rifle will give you the answer: 9 pounds is a light-charged rifle and 12 to 13 pounds is for a heavier charge.
8-bore (.835 to .875 Inch)
Variations: 38+
Case lengths from: 27⁄8 to 33⁄4 inches
Powder charge: 275 to 390 grains
Bullet weights from: 875 to 1,620 grains
Most popular: 31⁄4 inches, 275 grains powder, 875 grains lead
While the 10-bores begin the big-game, bore rifles, it is the 8-bore that really shines as the most popular big-game, double rifle in the bore designation. While early 8s were relatively light, it is the 8-bore in its 16 to 17 pound weight that speaks elephant and rhino. With common bore diameters between .835 and .875 inch, the author has personally seen 8s from .818 up to .888 inch. A true 8-bore spherical ball (.845 inch bore diameter) weighs 1⁄8 of a pound or 875 grains; the .875-inch ball of a large 8-bore weighs 1,000 grains (a 7-bore in actual size). Conical bullets begin in the 1,100-grain range up to 1,620 grains and more.
4-bore (.970 to 1.052 Inches)
Variations: 17+
Case lengths from: 31⁄2 to 41⁄4 inches
Powder charge: 330 to 440 grains
Bullet weights from: 1,400 to 2,100 grains
Most popular: 4 inches, 390 grains, 1,400 grains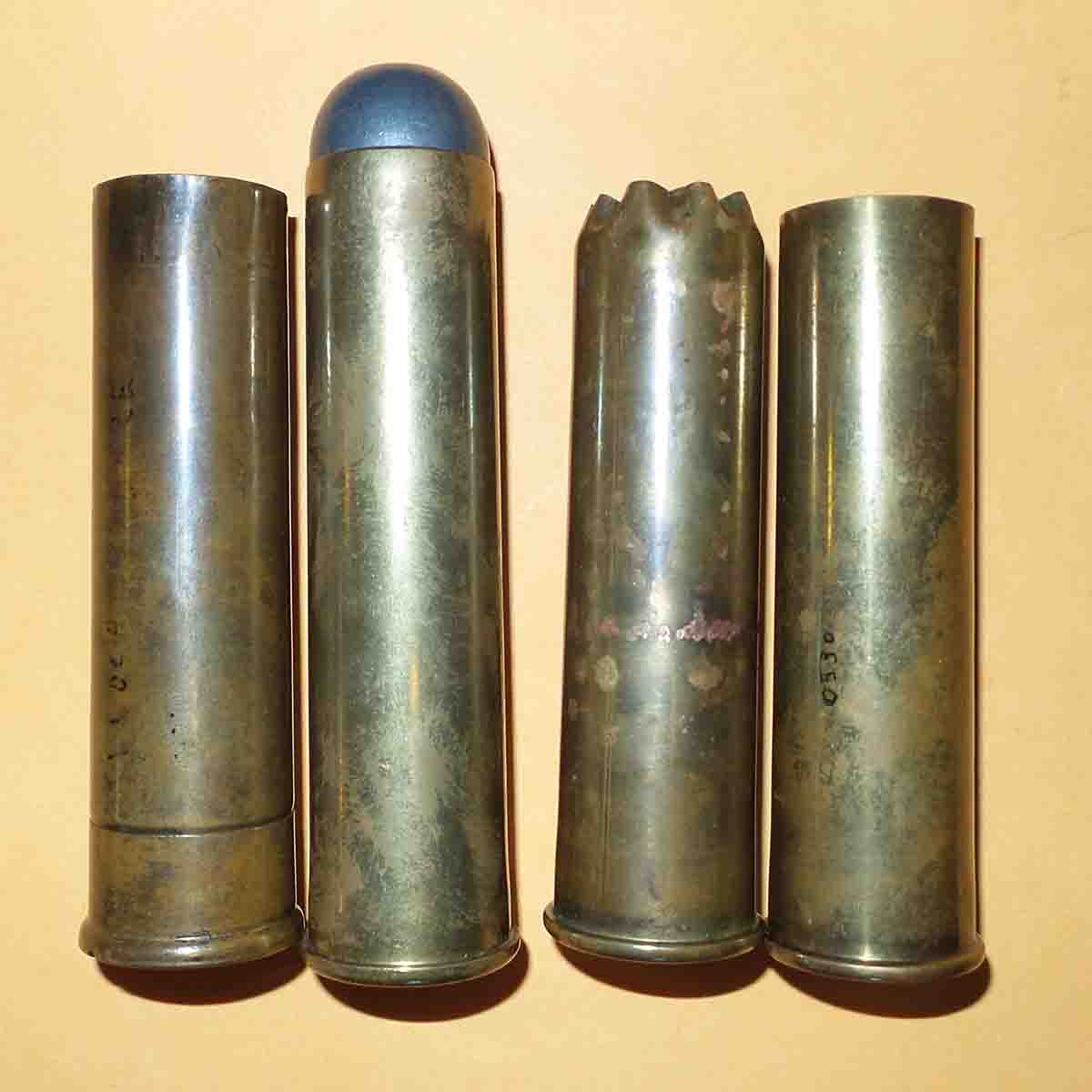 Extremely rare is the 4-bore. In the vintage years, an 8-bore could get the job done and, while a 4-bore certainly had more horsepower, the increase in weight to 21 to 24 pounds really made the 4 not practical for any hunting. It is nearly impossible to shoulder such a heavy rifle during a day's hunting.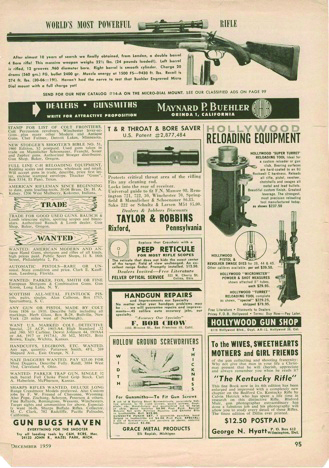 As with the 8-bore, there are a variety of diameters to the 4s with .970 inch the most common size. This is actually a 5-bore in bullet diameter, but the exterior case dimensions are the same so the variations are known as 4-bores, regardless of bullet diameter. A .970-inch ball weighs 1,400 grains, and a true 4-bore of 1.052 inches weighs 1,750 grains for 1⁄4 of a pound. Conical bullets generally are 41⁄4 ounces or 1,882 grains but surpass that weight up to 2,150 grains.
Charged with 14 drams and sometimes a full ounce or 16 drams (440 grains), the recoil is devastating – even in a 24-pound rifle! That said, gun writers and gun owners have a strong tendency to exaggerate, and reports of a 20-dram 4-bore charge of 550 grains and a 2,400-grain conical bullets are doubtful. No one will ever know the total of 4- and 8-bore variations, as many customers would order a diameter and bullet weight combination and have a single rifle made to their requests. This makes collecting and researching so much fun!
To compare vintage rifles, it is my opinion the finest workmanship came from rifles in the Victorian Era as compared to those of the later years. This is not to state the latter quality was inferior, but over time engraving styles changed from the fine and tight scrolls to a more elaborate work. Even later, after World War II, the style and quality diminished, as James Watts (.450 Watts fame) told me, many (if not most) of the gunsmiths died during the war. Others were elderly and retired, quality materials were in shortage, factories and the tools were destroyed and tastes among the buying public changed. In other words, a 1950's Holland Royal did not have the quality of a 1920's Holland, and the 1920 Holland, while of equal quality to older rifles, did not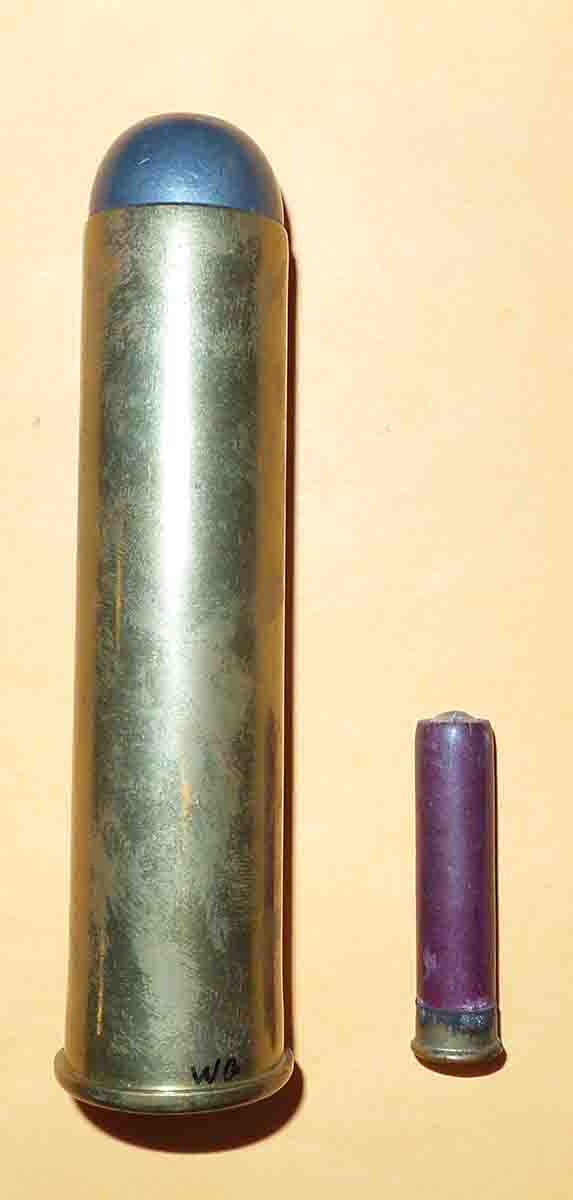 have the fineness of engraving as an1890 Holland.
I would like to thank cartridge collector extraordinaire, Dennis Bromley of Anchorage, Alaska, for opening only a fraction of his collection to me. Dennis probably has an example of 99.9 percent of the sporting and military, black-powder and smokeless, vintage and modern cartridges known to man! He actively buys, sells and trades his passion and has an amazing collection of American black-powder cartridges from Sharps, Winchester, Remington, etc. If you have the same passion as Dennis, you can reach him at: dennisbromley@yahoo.com.
Please note: For the table I chose a common bullet weight and an average charge of powder. Velocity figures are taken from a combination of pub-lished ballistics, my own chronograph numbers and maker's numbers (taken from long test barrels). Also in the table is a column headed as Taylor's knockout value. John Taylor was, perhaps, the best-known authority on double rifles and their use in Africa. Knowing the calculation for muzzle energy that is the result of squaring the muzzle velocity, Taylor developed his knockout value. The KO value added into the calculation of the bullet's diameter and relied less on the velocity. Bullet diameter times bullet weight times velocity divided by 7,000 is his KO value. It basically gives larger and slower velocity cartridges a means to compare one to another. Example of two KO values of a modern and black-powder cartridge to compare with the list: .30-06 180-grain bullet is 21.3 and a .45-90 Winchester, 300-grain bullet is 27.4.