Have you ever seen a sequel movie that was as good as, or maybe even better than, the original? Well, I am not sure I had until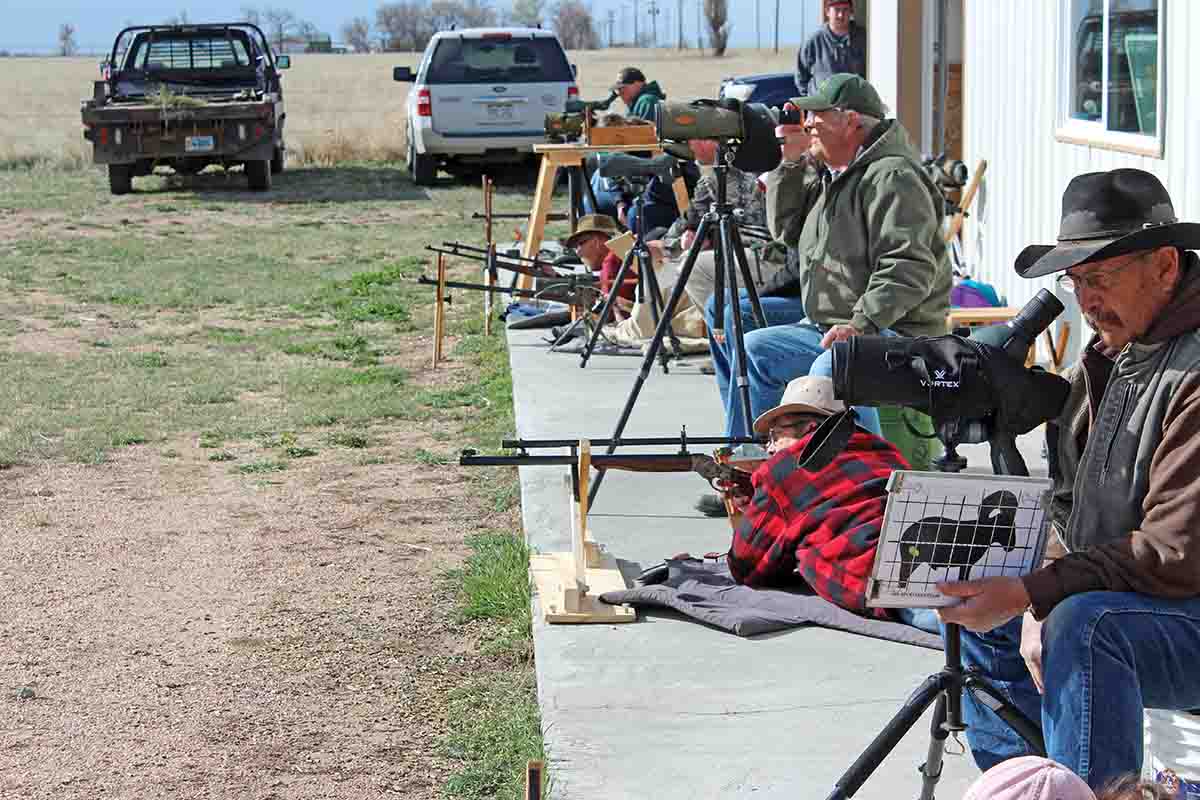 now. What started as an attempt to find a cheaper and easier way to practice regular NRA Black Powder Cartridge Rifle Silhouette has evolved into a popular sport with its own governing association and many dedicated, enthusiastic competitors. A discussion of the status of the sport and description of the equipment in use might encourage shooters to get involved in this sport.
As a relatively young shooter involved only with BPCR competitions for about five years, I was not around for the early days of the sport. I had heard of different groups being involved early on with the idea of using barrel liners to shoot .22 ammunition through their .45-70, .40-65 and other large-bore BPCR rifles. Dave and Pam Crossno selected which target size to use and then organized re-entry matches at the NRA National BPCR Silhouette Championships in Raton for several years. The generated revenue from the matches was donated to the NRA Whittington Center with a total collection of around $20,000 that was used to help build the firing-line cover on the Small-Bore Silhouette range. It was there that many shooters were first made aware of how challenging and fun this competition can be.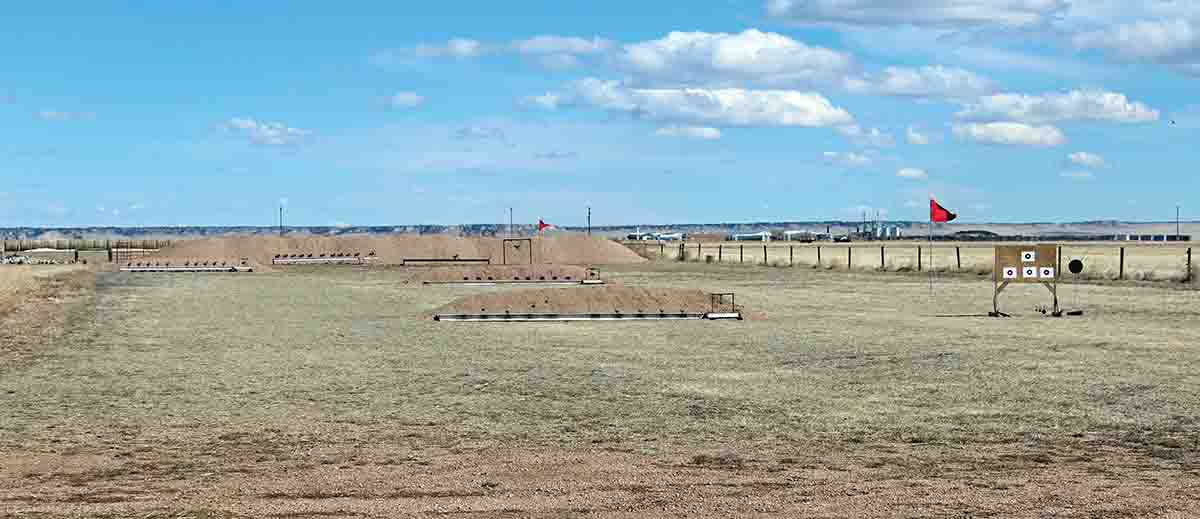 Starting in 2001 and through the next 10 years or so, word spread around the shooting circles about .22 BPCR Silhouette. The NRA approached several folks involved with running the re-entry match and suggested that the NRA adopt the sport and begin running the matches. They were politely told "no thanks." People were dissatisfied with how the NRA ran the BPCR Silhouette Nationals, so the competitors figured they could do a better job of running things and the .22 BPCR Association was born. Kelly McNitt did a lot of the legwork with the support of several dedicated competitors, and the .22 Black Powder Cartridge Rifle Association was set up in 2012. David Barnes was elected president and the association hosted its first National Championship that year.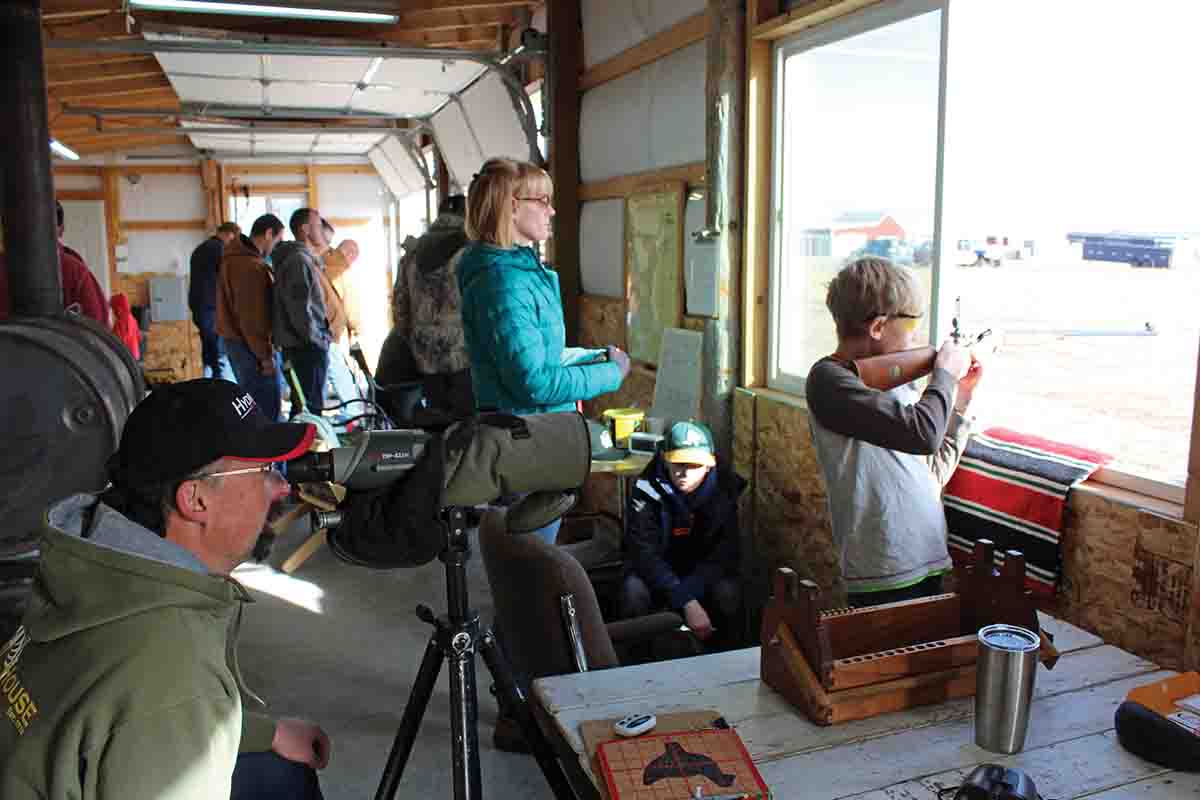 Today, a board of directors helps the current president, John Gauge, secretary, Larry Hall, and treasurer, Kevin Griggs, manage the affairs of the association. Fifteen clubs hold regular matches and there are around 300 official members. The association financially sponsors various regional and state matches, as well as putting on the National Championship each year in Raton, New Mexico. There continues to be an increasing interest in the sport and substantial growth over the next few years is anticipated. For more information, visit the .22 BPCR at 22bpcra.com.
Like most shooting competitions, there has been some evolution with equipment. The association's rules mirror the NRA's BPCR rifle requirements, and it has done a good job in preventing an "arms race." One of the best parts of .22 BPCR is that the shooter who has the fanciest, most expensive rifle does not necessarily win. We have, however, figured out quite a few things that seem to work better than others. In the beginning, liners made by Lee Shaver and Dave Crossno dominated matches. Liners are great because they are very accurate and allow more trigger time with your favorite rifle. They are also very affordable, allowing entry into .22 Silhouette without having to spend an arm and a leg. Today there are still quite a few shooters that use them, but most serious competitors have moved on to a dedicated .22 target rifle. CPA Rifles, C. Sharps Arms, and Wyoming Armory all offer rifles that are capable of winning the Nationals right out of the box. There are also quite a few custom gunsmiths that will either build or convert a rifle into something that can be used. We see many 1885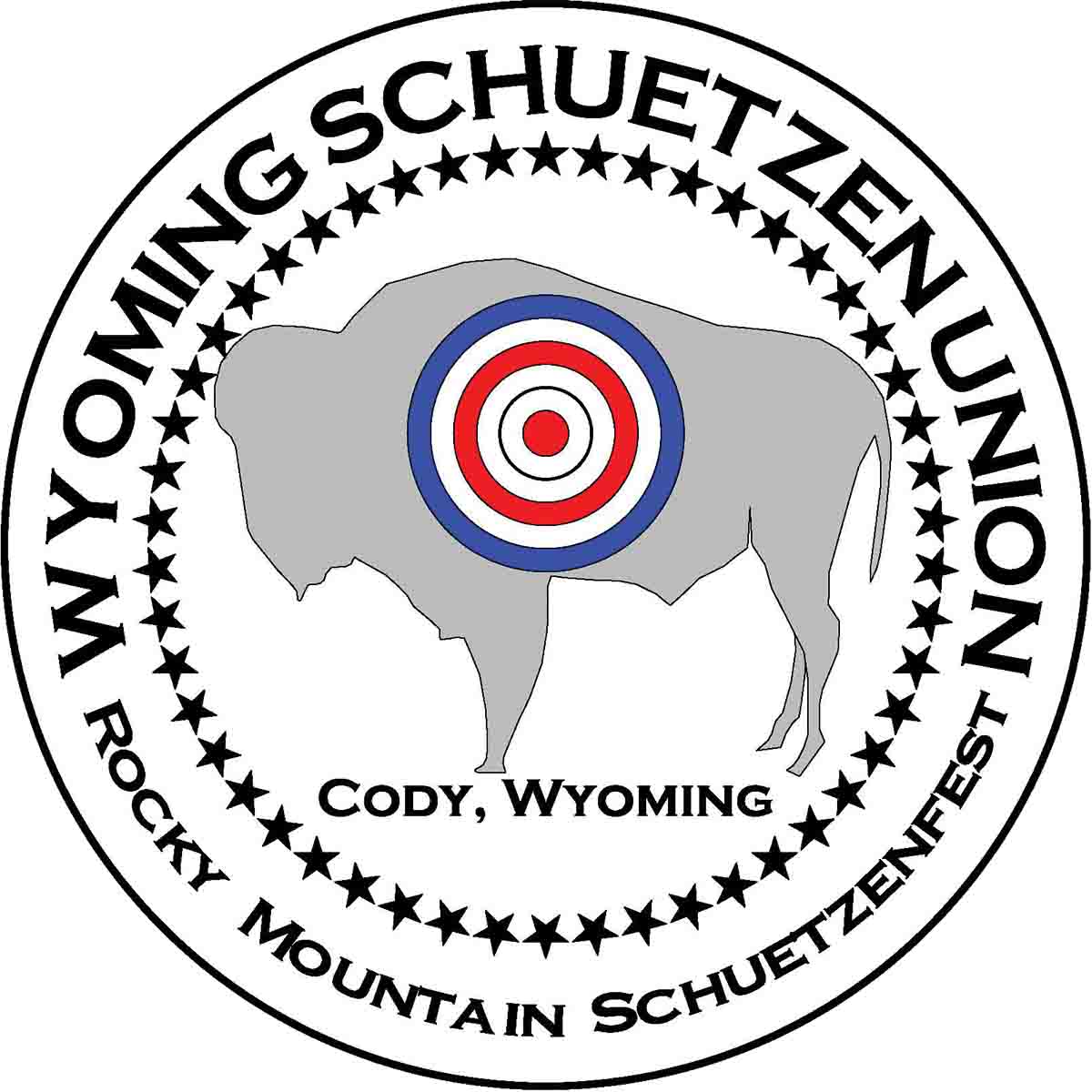 Winchesters, original and reproduction Stevens, as well as a scattering of Ballards, Sharps, Rolling Blocks and other various actions.
Premium quality barrels appear to be a must if one is interested in winning very often. Everyone has their favorite, but Shilen, Douglas XX, and Lilja barrels are commonly found in the winner's circle. It appears to me that a match chamber may be more important than which brand of premium barrel you choose. If a shooter has a gunsmith install a new rifle barrel, make sure he has a match-grade reamer and knows how to use it.
I have been asked several times, "Where do I get black powder .22 ammunition?" That's a good question, and I don't know where one would get some! We use regular .22 Long Rifle shells at our matches. Although it can be confusing for some shooters, remember that .22 BPCR means a .22 version of our BPCR rifles is used, not .22 black powder cartridges.
For myself and a few friends, learning about ammunition has probably required the most research. Be sure and leave those boxes of cheap ammunition at home. Although you will likely hit some chickens and pigs, inexpensive ammunition just goes all over the place when the distance is stretched out to shoot turkeys and rams. There are several brands of $4 to $7 per box target ammunition that will shoot much better and give a shooter a lot more satisfaction out of their day at the range. Norma, Wolf, SKS, and RWS all offer subsonic target rounds that work well and are competitively priced. One suggestion is to acquire a box of several different brands and try them out on rams. It is amazing how many different kinds of cartridges will shoot accurately at turkeys and then fall completely apart at rams.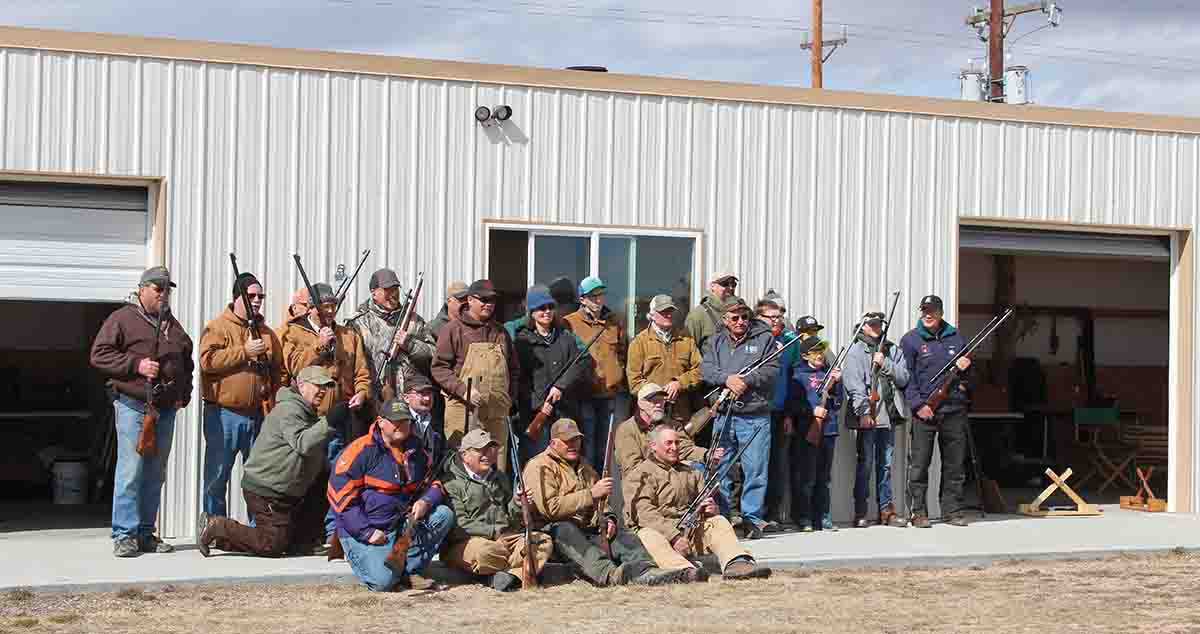 The biggest matches are almost always won with premium lines of subsonic target ammunition. Lapua Center X and Midas Plus, as well as premium RWS and Eley brands are the most common. Some of this ammunition can cost well over $15 per box! It is a bit of "sticker shock" to some new shooters who have a hard time spending this much money for .22 ammunition. When all of the cash spent on other equipment is considered, realizing that entering and getting to the match, and only 60 or 70 cartridges will be used during a 40-shot match, 15 or 20 bucks for ammunition doesn't seem so bad. For me, it's the price to pay to have absolute confidence in my ammunition. One bit of advice is to spend some range time trying out several different kinds of ammunition and select a particular brand that not only shoots well in your gun but also fits your budget. People often ask where .22 cartridges can be purchased as their normal outlets have been all out of stock during the last couple of years. I purchase all of mine online from various websites including Bullets.com, Creedmoor Sports, Champion Shooters Supply, Brownells, and Mid-South Shooters Supply. Although it sometimes takes a bit of looking, I am always able to find enough ammunition to practice and use at matches.
Sighting systems have come a long way since the 1980s when BPCR started. Today a variety of products are being used in the Iron Sight division. Companies such as Baldwin, Montana Vintage Arms, Kelly, Shaver, and Hoke all make great sights. I would suggest a Soule-type sight, as you will have to quickly make wind corrections – sometimes one for each shot of your relay. One word of caution to shooters; make sure the sight that is purchased can be lowered enough on your rifle. On my Shiloh Sharps with a Crossno liner, the MVA mid-range sight would not go low enough to shoot chickens. I purchased a Schuetzen Model sight from MVA and it would allow the eye cup to drop down enough to easily sight in on chickens. As anyone that has competed in regular BPCR silhouette knows, actually hitting chickens is another matter! I also could have used a taller front sight, and that may be necessary on some rifles that have a high comb. I know of one shooter that had to go to a taller front sight, as he could not get his head far enough down on the stock to see the sights comfortably when using his .22 liner. He did not have that problem when shooting his normal big-bore ammunition through the rifle.
Front sights and inserts are also a matter of preference. Again, Baldwin, MVA, Kelly, Shaver, Hoke, and others all make great sights that will work well. Although it is not absolutely necessary, consider one that has a bubble level built into it. The level helps eliminate yet one more variable to give the shooter more confidence. As far as front sight inserts go, there is a plethora available, and it can be a bit daunting trying to pick one to start with. There are crosshairs, pins of various thicknesses and shapes, plus apertures of every size, shape and thickness. One suggestion is to start with an aperture that works, and then get another one a little bigger. Steve Garbe prefers a fine crosshair for competition, but don't ask me how he makes that work! I use a single relatively large aperture all the time. There are other good shooters that use different inserts for each animal, as well as pinheads, centerless crosshairs, and even apertures that are shaped like each particular animal. Once again ­– range time is the only way to find what works best.
Scoped rifles are getting to be a very popular option that many shooters are enjoying. If you are struggling to see your iron sights and are frustrated with your scores, quit fighting it and buy a scope. I know a couple of shooters who enjoy shooting much more after they bought a scope for their rifles. A shooter doesn't have to have less-than-perfect eyesight to enjoy a scope, either. There are a variety of younger shooters using them, as well as a group of shooters that will enter matches twice so they can shoot both iron-sighted and scoped rifles. There are two companies that make excellent scopes that fit our rule requirements. Montana Vintage Arms and DZ Arms each make super products and have been very generous in supporting our organization and matches. Check out montanavintagearms.com and dzhepburn.com for more information. Foreign-made scopes are also available, while some shooters use vintage scopes.
Don't make the mistake of thinking that .22 BPCR is going to be easy. I continue to be amazed at how closely it approximates the regular BPCR Silhouette matches. A shooter's spotter has to be able to see bullet impacts while helping to adjust for wind changes, plus competitors must learn to deal with mirage and light conditions. Marksmanship requirements are similar to BPCR Silhouette as you must have an excellent sight picture and clean trigger pull to reliably hit the target. Learning to consistently grip the rifle, adjust sights, achieve a comfortable, stable shooting position and getting used to shooting on the clock are all skills that must be acquired, just like centerfire BPCR Silhouette.
One has to attend a .22 BPCR match to fully understand and appreciate the atmosphere surrounding it. It is absolutely the best combination of fun, relaxation and competition I have ever experienced. Most shooters are using subsonic ammunition and many barrels are relatively long, measuring 26 to 30 inches. This makes rifles surprisingly quiet and allows for endless conversation between competitors who are not on the firing line. The rifles do not recoil and are generally cheaper to acquire and shoot; these factors have opened the door for a lot of shooters that otherwise would not compete. Kids and grandparents are now comfortable coming to the matches and competing. It is common see three generations of shooters, all competing and enjoying themselves. I can't imagine a better way to spend a Saturday than shooting with my family.
If all of this sounds like something that might be of interest, don't hesitate to get started. Check out the .22 BPCRA website forums, or my family range's Facebook page under "Smithmoor Range." I am sure you will find any of the officers, board members, or match directors very friendly and helpful. If your local range is not currently holding matches, consider setting them up yourself. A set of targets is only a few hundred dollars and all that is needed is a small 50-, 100-, 150-, and 200-yard berm. A simple range can be set up in most any field with a safe backstop for a minimal investment. I can just about guarantee that as soon as you get started in .22 BPCR, you will wish you had started sooner. C
International Single Shot Association Southwest Regional
Ben Avery Shooting Facility, Phoenix, Arizona
March 16-18, 2018
The Arizona Schuetzenverein hosted the International Single Shot Rifle Association's Southwest Regional Match at the Ben Avery Shooting Facility in Phoenix, Arizona. Range Master and organizer for the event was ISSA Vice President, Randy Wright. This well-attended event received generous support from Bruno Shooter's Supply, Lapua, Leupold Optics, Montana Extreme Cleaning Products, RWS/Walther USA, Vortex Optics, Wolfe Publishing and the ISSA.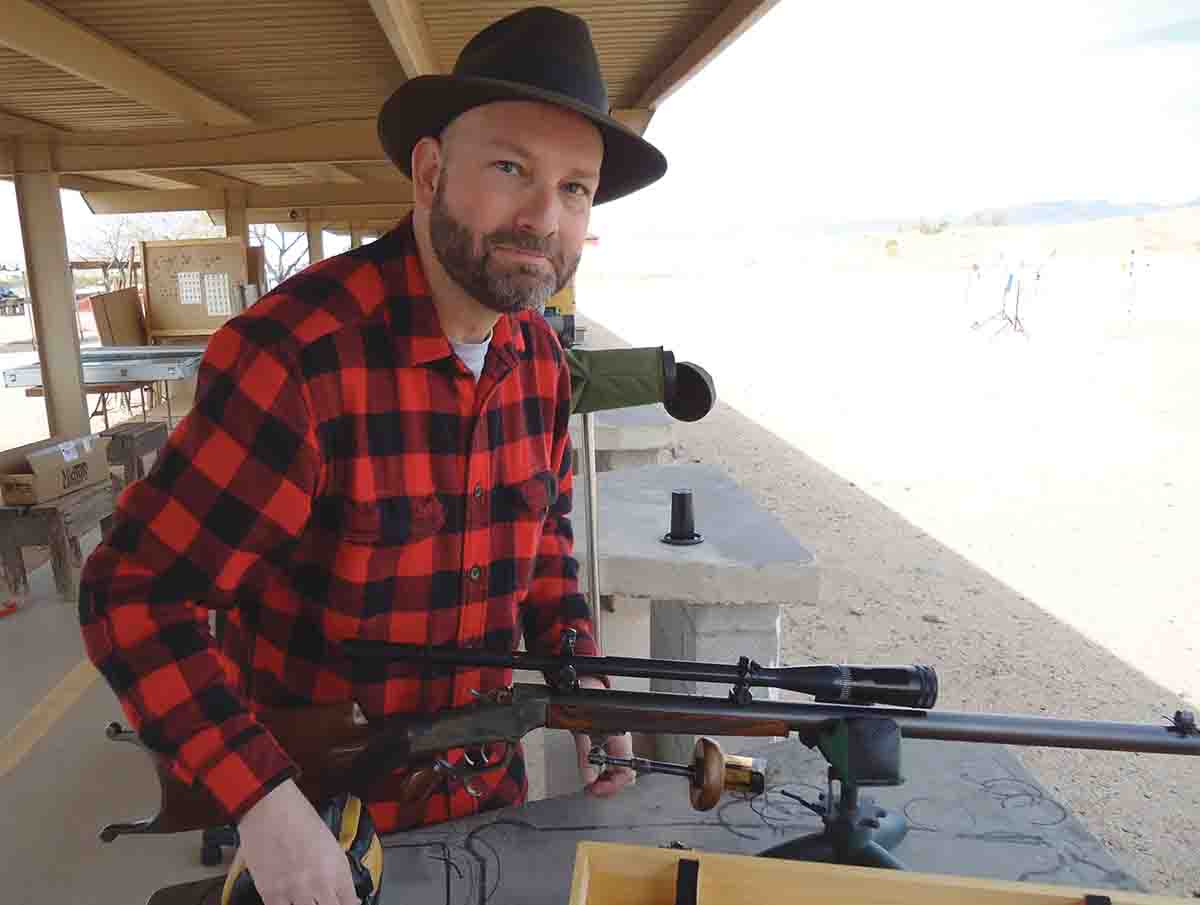 The International Single Shot Rifle Association was established in 1993 after Coors Brewing Company no longer hosted Schuetzen matches in Golden, Colorado. With financial contributions from ISSA members and Coors, the "Coors Range" was constructed at the NRA Whittington Center in Raton, New Mexico. The International Schuetzenfest has been held there every year since construction in 1995. I've attended this match and look forward to attending again one day. This event is a must for every Schuetzen shooter's bucket list. Please visit issa-schuetzen.org for more information on the ISSA and its events.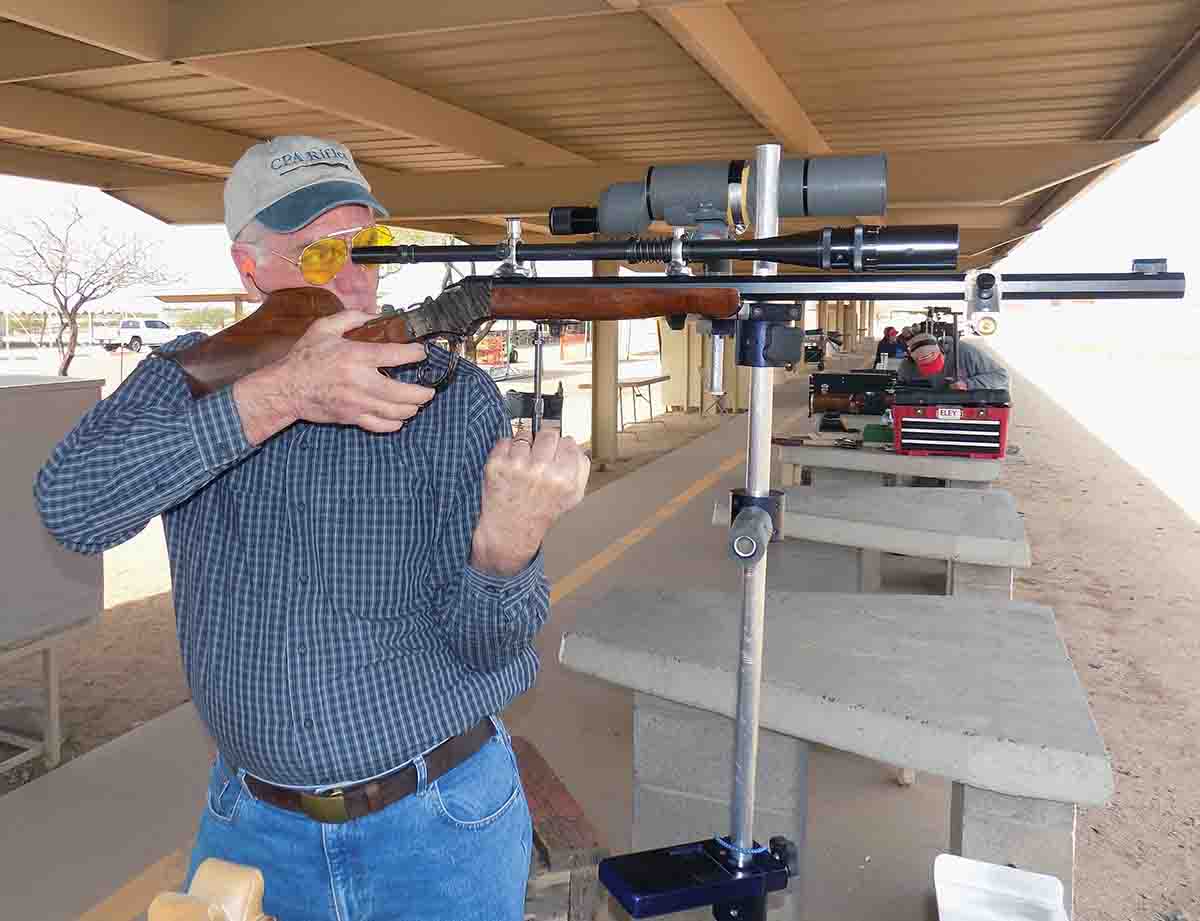 Match conditions on Friday and Sunday were close to ideal for the match. There was just enough wind to make things interesting and to keep shooters honest. Saturday was another story with gusting, irregular winds. All factors aside, there was some really good shooting over the course of three days.