We stopped by Steven Dodd Hughes' shop the other day to catch up and see what he had been doing in the way of gun work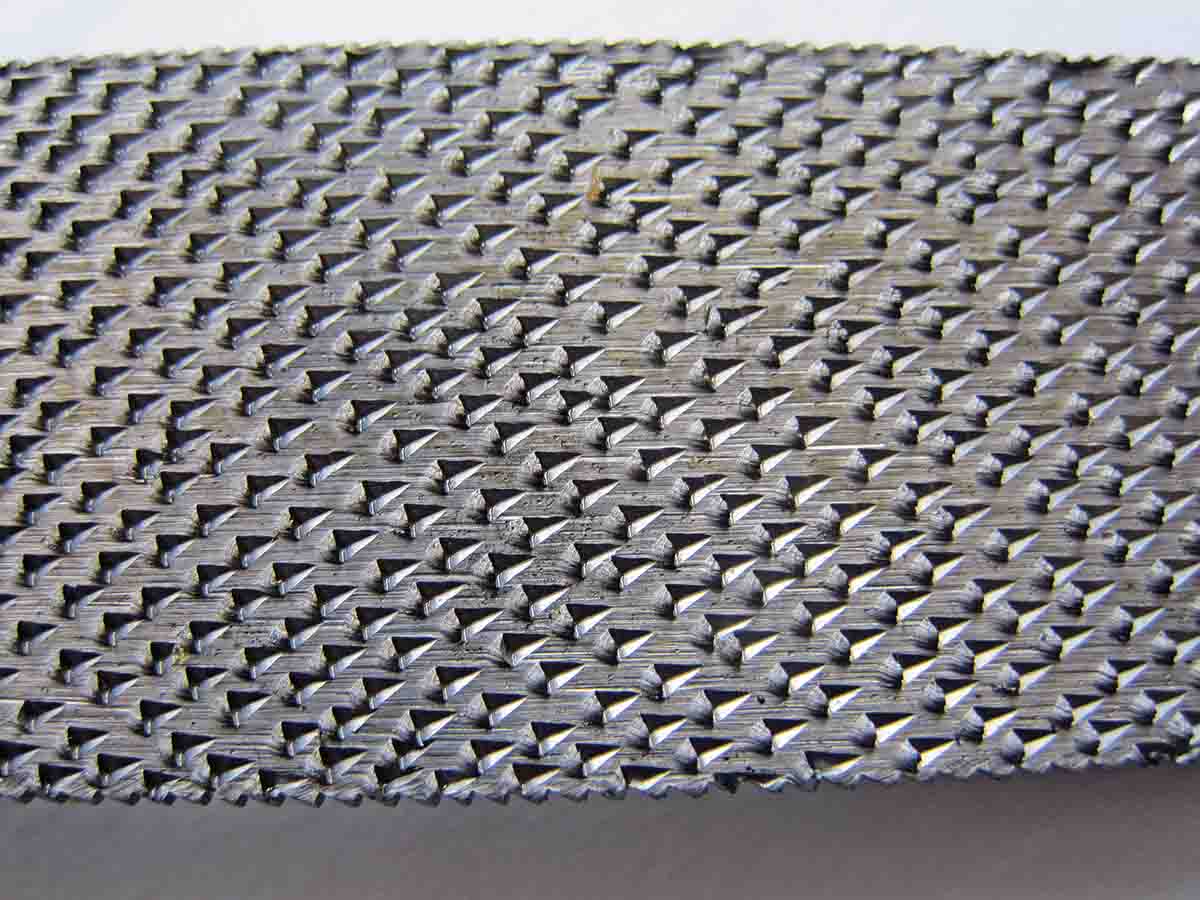 . Steven is a friend of ours and long-time member of the Custom Gunmakers Guild who always has an interesting project on his bench. In the course of an enjoyable conversation, he mentioned that he was now a distributor for top-quality woodworking rasps made by Liogier, which are handmade in France. I had only heard of these rasps before actually seeing some in his shop.
Steven has gone to great trouble to import these woodworking rasps into the U.S. The quality was so good that I naturally had to take one home to try it out on a current stocking job – that was a mistake! These rasps work so much better than the standard offerings available in the hardware store that I fear I'm ruined for using anything else. I tested a No. 50 (a medium-fine cut) on a piece of very hard American walnut, and it was pure joy feeling the clean way that the Liogier rasp bit into the wood.
One unique thing that I noticed about the cut that the Liogier rasp took was that it did not make a "track" like mass-produced rasps do. Attributing this to the hand-cut or "stitched" teeth being not in uniform rows, Steven assured me of this in a later conversation. The hand-stitched teeth were also much sharper than any wood rasp I have ever used and really moved a lot of wood with minimal effort. The shape and length of the No. 50 was such that I felt I could completely shape out a stock with this rasp alone.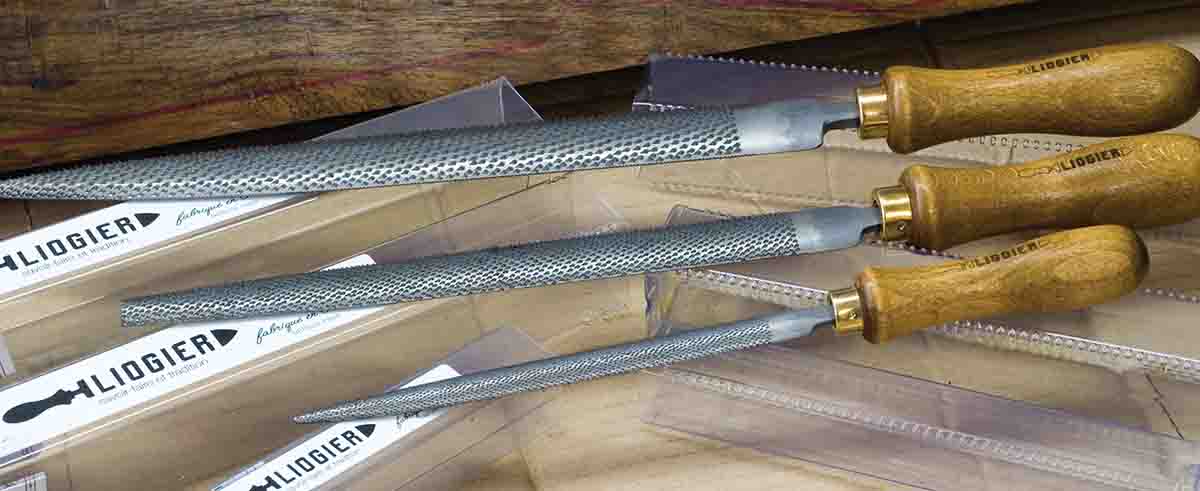 Liogier rasps are excellent tools. They are not cheap, however, if the definition of "cheap" is minimal initial cost. A No. 50, 10-inch Liogier half-round rasp will cost $130. Considering that the current retail price for a No. 50 Nicholson cabinet rasp is $73, the Liogier rasp that also comes with a wood handle is a bargain.
If you seriously work with wood then I can wholeheartedly recommend the Liogier rasps. There is a wide variety available from the very coarse No. 4 12-inch model to the No. 12 Model half-round fine, as well as a proper brass-bristled cleaning brush that is also recommended to keep rasps clean and sharp. The rasps come in right- and left-hand versions, so mention that to Steven when ordering. Look at his very complete inventory list and get your rasps on the way. Contact Steven Dodd Hughes, P.O. Box 545, Livingston, Montana 59047. Phone: 406-222-9377 or sdh@montana.net. I guarantee they will find a special place on your gunsmithing bench.
SPG Case Lubricant
Larry Baker of SPG Sales has developed a new product that is surely to be of interest to all riflemen. SPG Case Lube is specially

formulated to provide superior case lubrication for re-forming or re-sizing cartridge cases. It dispenses from a convenient spray bottle onto the cases, which is not nearly as messy as the old technique of smearing case lube onto a foam pad and then rolling the cases on the greased foam. Needless to say, the exposed greasy foam pad can pick up dirt and grit that will eventually find its way to reloading dies.
Properly lubing cases for re-sizing is not something to be done helter-skelter. If too much lube is used, divots will form in the cases when re-sizing. If not enough is used, you run the risk of sticking a case in the sizing die. I can tell you from experience that a stuck case is a real pain and extremely hard to remove.
We tested the new SPG Case Lube on some brand-new cases that were being formed into a custom wildcat version. This required that the neck be sized into a smaller caliber and the shoulder set back; not the easiest of reforming tasks.
The provided directions said to place the brass in an appropriate container, spray four times, tumble the brass and then spray four more times, after which the brass sits for five minutes. We followed the directions and then proceeded to re-form the brass.
I'd have to say the product works very well. No sticky or tight cases were experienced when full-length re-sizing. Cases were wiped off after re-sizing and they easily came clean. This is something that I can't say about many of the other case lubes on the market. Residual case lube on a cartridge case will promote stretching because the case is unable to set up on the chamber walls when fired. Obviously, this is an undesirable situation.
I liked the new SPG Case Lube and will continue to use it. Give it a try on your next batch of cases and I'm sure you will agree. Reasonably priced at $8.35 plus shipping and handling, place your order by contacting SPG Sales at P.O. Box 745, Kirksville, Missouri 63501. Call 660-988-4099 or visit blackpowderspg.com. Have a look around their website, which is full of quality merchandise for the blackpowder rifleman.
Custom Gunmakers of the 20th Century, Volume Two
A while back we reviewed Michael Petrov's book, Custom Gunmakers of the 20th Century, published by Precision Shooting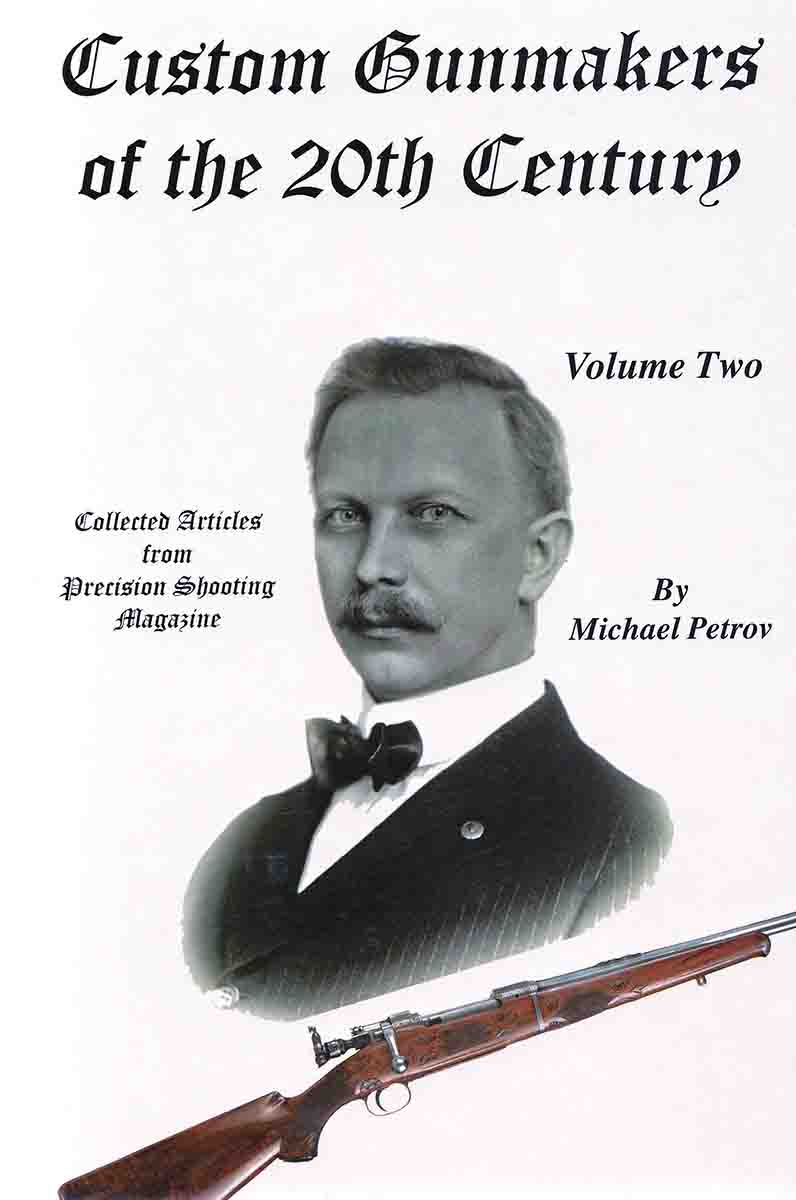 Magazine. We very much liked the book from many standpoints, not the least of which is that "knowledge is power" particularly when cruising a gunshow and examining an obviously well made, but unmarked firearm. It certainly can pay to recognize the style of the old master gunsmiths. Michael Petrov spent many years researching and identifying examples of master gunsmiths like Wundhammer, Niedner, Owen and Sedgley – to mention a few. Without Michael's research, many of these great old gunsmiths would be condemned to obscurity. Lovers of custom vintage firearms certainly owe Michael Petrov a huge debt for his work on this topic, as prior to his efforts, information was scattered and often confusing.
In 2013, Michael finished Custom Gunmakers of the 20th Century, Volume Two. His additional information on vintage custom rifles and the men who built them is invaluable and continues to piece together the puzzle of these craftsmen, their lives and their work. The new information on Griffin and Howe, Hoffman Arms, Paul Jaeger and R.G. Owen, as well as many others, is extremely welcome to those of us who appreciate their fine firearms. Needless to say, if you enjoyed Volume One you will really like Volume Two. The new work features 167 pages filled with photographs and Michael's personal experiments with the .400 Whelen cartridge that I found fascinating.
The classic, turn-of-the-century single shots and bolt guns are becoming increasingly collectible as people begin to realize their quality as well as their role in our collective firearms history. A.O. Niedner, a personal favorite of Michael's, was one of the master gunsmiths that started in the Schuetzen era and whose production ran well up into the high-power, bolt-rifle days. Knowing and recognizing his work will be much simpler once you are armed with Mr. Petrov's extensive research.
Sadly, early in 2014 Michael Petrov passed away rather suddenly. The newest volume was hard to acquire, but is now available from Steven Dodd Hughes. Steven and Michael were close friends and because of that, Steven wrote the foreword to Volume Two that contains personal observations about the author and his efforts to uncover and preserve the information about these great gunsmiths. Quantities of Custom Gunmakers of the 20th Century, Volume Two are very limited, so if you wish to acquire this excellent companion book with a foreword by Steven, contact him at Steven Dodd Hughes, P.O. Box 545, Livingston, Montana 59047. Call 406-222-9377 or sdh@montana.net. Price is $70 plus $5 Priority Mail shipping and as mentioned, quantities are limited, so don't delay ordering this great reference work.
The History of The National Muzzle Loading Rifle Association
Before getting too far into this review about the latest book from Tom Schiffer, let me explain the subtitle, which is, "Or: don't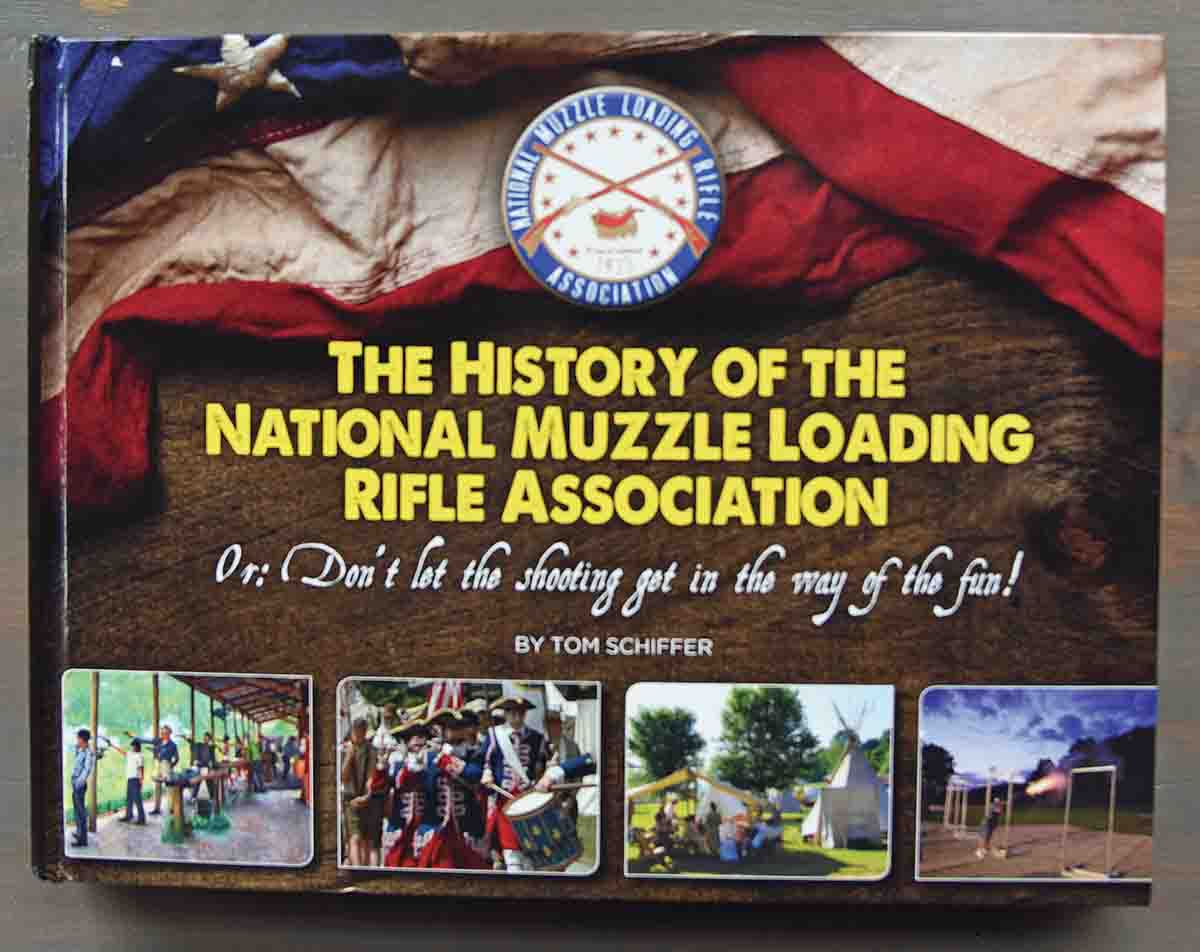 let the shooting get in the way of the fun!" This subtitle is really striking when reading the history of the NMLRA. That is, folks have simply been having fun at Friendship, Indiana (home of the NMLRA) since the Association was formed in 1933.
Tom was the perfect choice to write a book covering the long history and many characters associated with the NMLRA. As one would expect, an organization dedicated to preserving the use and history of the muzzle loading firearm would never be short of colorful personalities, both in its membership and leadership. That has certainly been true for the NMLRA.
Tom takes the reader back to the very beginnings of the National Muzzle Loading Rifle Association and the original movers and shakers like Walter Cline, Boss Johnson, Red Farris plus a host of others. The thread that bound all of the early-day organizers together was a love of history and the muzzle loading rifle; they would have fun at their gatherings over the years goes without saying.
Muzzle loaders have been a part of life since I was loaned a cap and ball 1860 Army revolver at the tender age of 14. Having visited Friendship several times and knowing many of the "regulars" there, I can say with some credibility that if you are into muzzle loaders or have been a part of that scene, this well-written book will be extremely interesting and entertaining. I had many laughs and rekindled some very good memories reading its pages.
Besides being entertaining, Tom has done us all a great service by gathering the history of the NMLRA and presenting it in one volume. As an editor, I can only imagine how closely this endeavor would be to herding cats.
The NMLRA has changed over the years and I expect it will keep on changing while evolving to meet the demands of its membership. It is a vibrant organization that "doesn't let the shooting get in the way of having fun," and thanks to Tom Schiffer, we can all share in its rich history.
The 340-page book is filled with photographs, a very complete index and is presented in a quality, hardcover binding for the price of $69.95. This is an extremely good value in my opinion. Get your copy from the National Muzzle Loading Rifle Association and I'll bet you'll agree. They can be reached at P.O. Box 67, Friendship, Indiana. Call 812-667-5131 or visit nmlra.org. Take a good look at their extensive website, which has much to interest any black powder enthusiast.
Lyman Powder Funnels and Bench Block
Two new products from Lyman were delivered recently, both of which probably have a place on a serious shooter's bench. The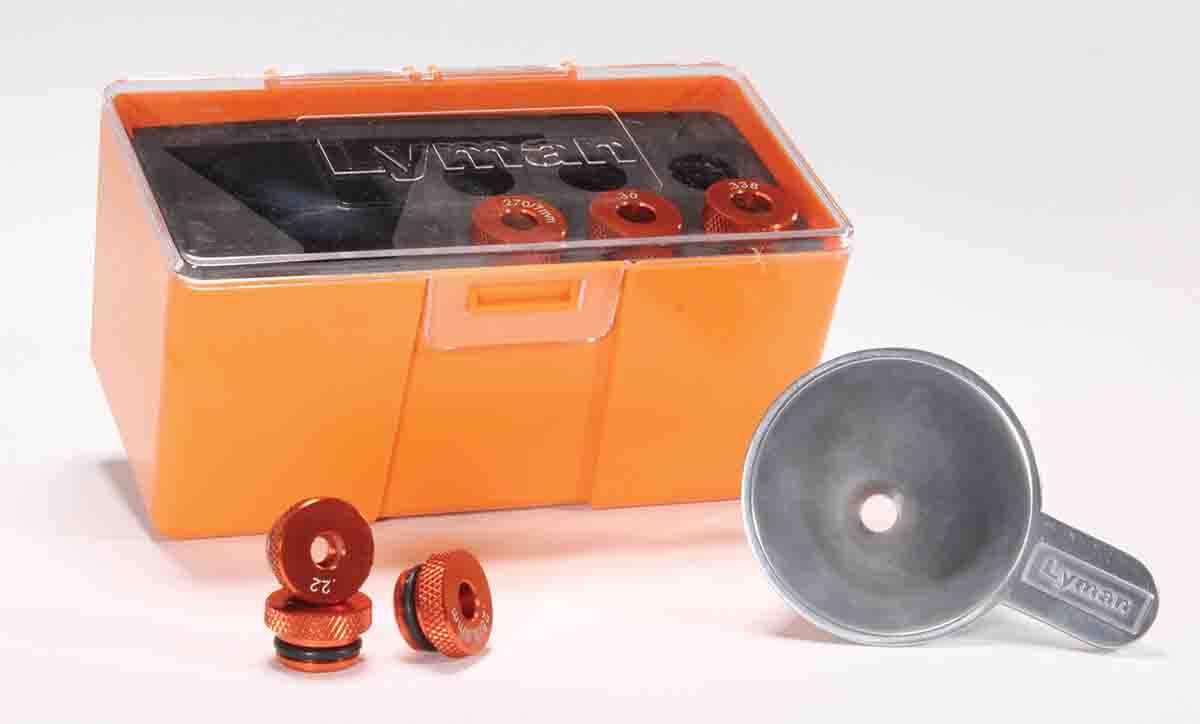 first is a set of precision powder funnels that are engineered to be completely free of static. If one is using some of the fine-grained smokeless powders, static can be a real pain and affect accurate case charging. It's also a good idea to keep static away from black powder, as a general rule. Lyman's new powder funnel does exactly that.
If you are like most shooters, you've been using a "one size fits all" powder funnel for years. The truth is that one size fits one size and sort-of fits the others. The new Lyman funnel comes with a complete set of inserts adapting it to calibers from .22 to .338. This makes it particularly attractive to those in the Schuetzen game. The machined and knurled aluminum inserts are a tight friction-fit thanks to an O-ring in the insert itself, and this assures that the inserts will not be falling out during the case-charging operation. The funnel itself is made from a heavy aluminum die casting and nicely finished that is not going to get bent when dropped on the floor.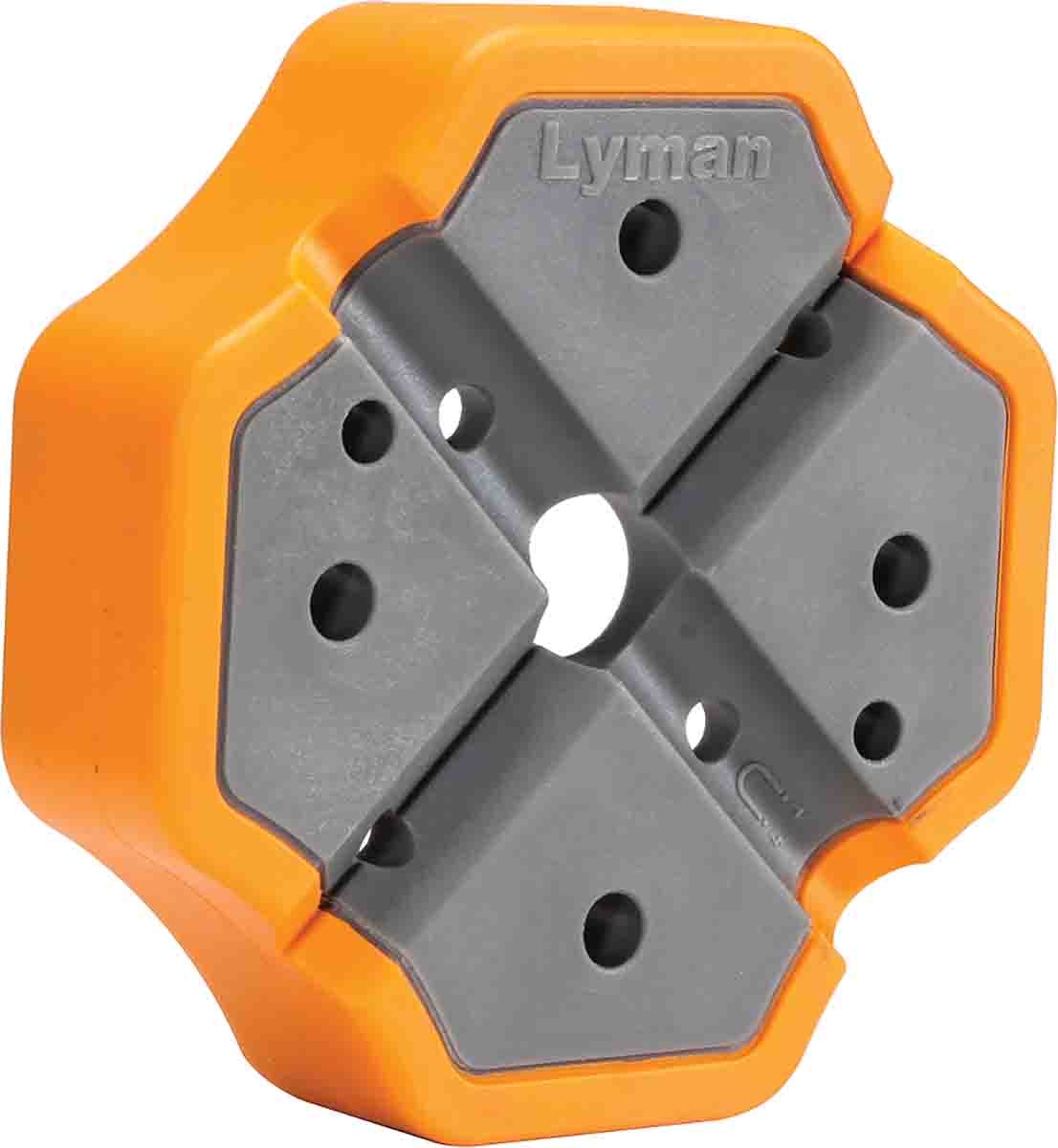 The quality of Lyman's Precision Funnel set is very impressive. Quality reloading tools ensure accurate reloads, and are always a wise investment. The powder funnel with inserts sells for $29.95 and that's an extremely good value.
The second new piece of kit is bound to be of interest to gunsmiths. Lyman has taken the basic bench block, a necessary tool for a myriad of gun repairs, and given it some long-needed features. Like any good block, it is five inches wide and made from a no-mar polymer material with a wide selection of holes for driving out pins, as well as having the necessary V-slot and round slot for holding differently shaped parts. The great new feature is that the Lyman block has a magnet incorporated into the base that captures all those small pins that used to get lost or roll under the bench, never to be seen again.
A good bench block should always in a shooting outfit and it is surprising how often one uses it. Trying to perform repairs at a match without basic tools is a good way to put more "shooting rash" on a fine rifle. The Lyman block is going to be a first choice from here on out. It is very reasonably priced at $15.95, meaning that one will be living in my shooting kit as well as on my shop bench.
To order a funnel set and bench block, contact Lyman at 860-632-2020 or visit lymanproducts.com.