Shooting black powder cartridge double rifles is a splendid thing. The "express" rifles chambered in .360, .400, .450, .500 and .577 are accurate, have fairly mild recoil and even the rather plain rifles are truly works of art. The 8- and 4-bore large-bore rifles are only fun at reduced loads, as full-house charges of black powder and bullets from 875 grains to over 2,000 grains can produce frightful recoil. The lighter bore rifles in 28-, 24-, 20- and 16-bore are pleasant to shoot but are as rare as hen's teeth, and finding one is akin to being knighted. However, a balance is found with medium-bore rifles, namely 12- and 10-bores.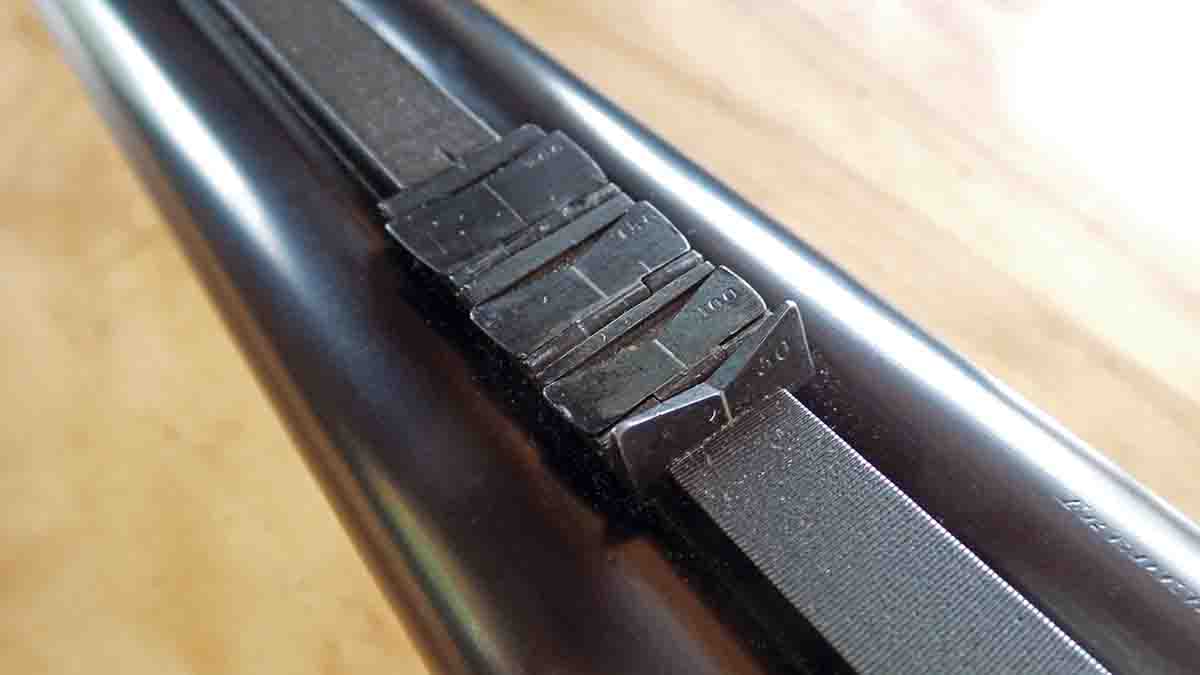 It has only been in the past few years that I have been enamored with the 12s and 10s. The large 4s and 8s have been a part of my life for 20 years now, but in my 60s, heavy recoil is not as fun as it was when I was younger. As the years have increased, my tolerance for recoil has decreased, and purchasing both 12- and 10-bore double rifles added to my shooting pleasure.
The 12-bore featured here was made by the English firm of F.T. Baker and dates to approximately 1890. Yes, it has been refinished as the case colors are fairly new. The bores are excellent, as is the metal blacking and wood finish. The checkering is sharp.
The rifle has 28-inch barrels, weighs 10 pounds and the fully rifled bores are in excellent, shiny condition with a slow 1:100 rifling twist, which equates to shooting a round ball of 593 grains (12 to the pound). The front sight is a fine bead and the rear sight has one standing and three folding leaves for 50, 100, 150 and 200 yards. The rifle was featured in my book, The British Bore Rifle. Several years after its publication, I was contacted by the son of the owner. His father had passed away and he wished to sell the rifle. His quoted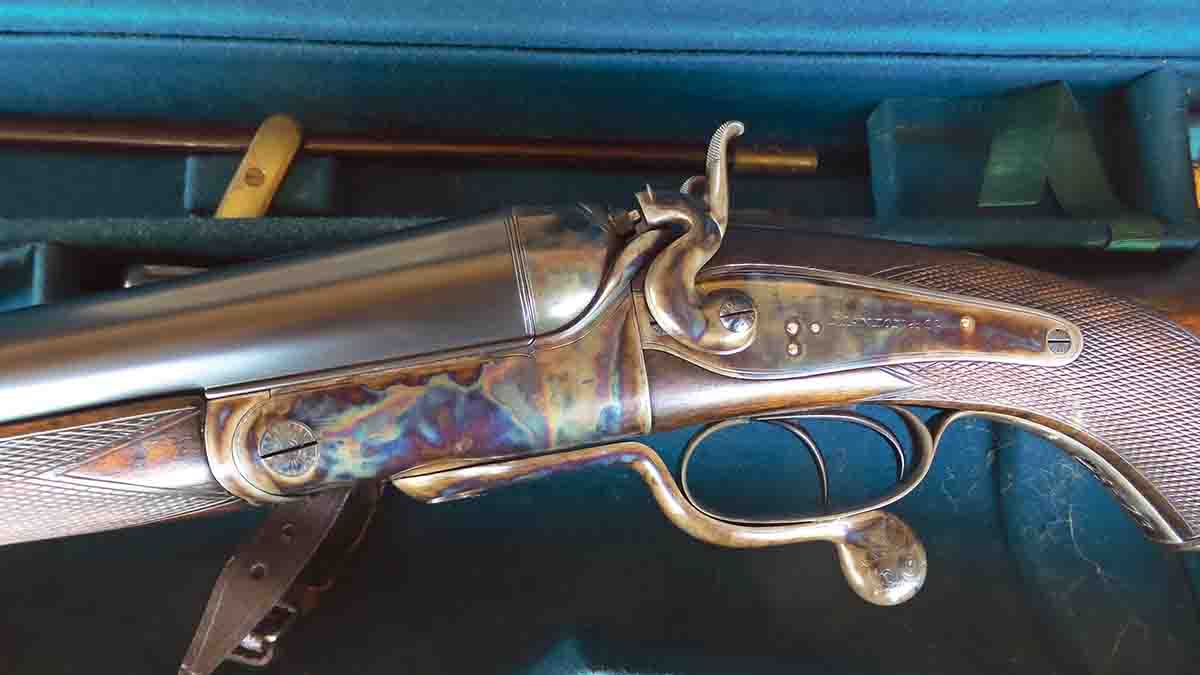 price was accepted and the rifle was posted to me.
While the Baker rifle came with a few cases, several more were ordered, as well as 12-bore plastic shotshell cases trimmed to 2½ inches. An MEC press and dies from CH Tool were used for reloading. A bullet mould was purchased from Jeff Tanner in the U.K. (ballmoulds.com) after making a bore and chamber cast to determine the correct diameter of .738 inch.
Knowing vintage 12-bores were charged with 4 drams (110 grains) to 7 drams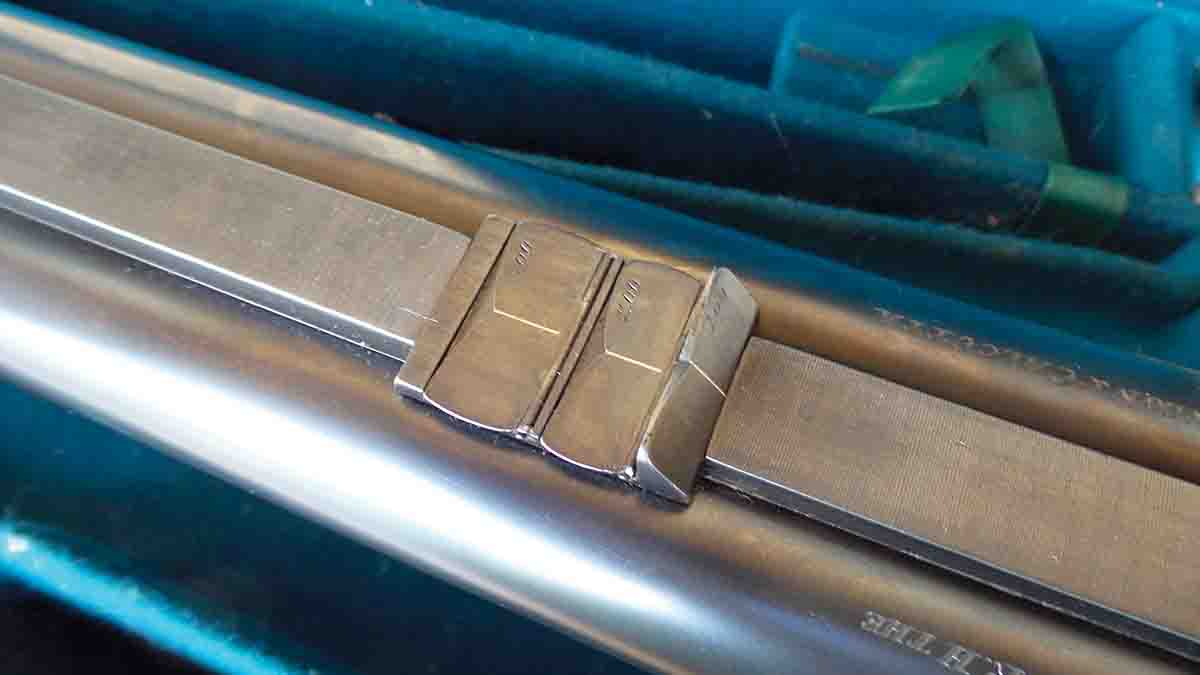 (192 grains) of Curtis and Harvey's No. 6 black powder, it was determined that this rifle would be comfortable with 5 to 6 drams (136 to 165 grains) and the spherical ball. Part of the decision to use a medium charge was due to the rifle not having a recoil pad or "anti-recoil heel plate," as they say across the pond. This factor, combined with the slow rifling twist, indicated this was not a "heavy" 12. Rather, it would be ideal for deer- and hog-sized game, especially for the eastern states that restrict big-game hunting to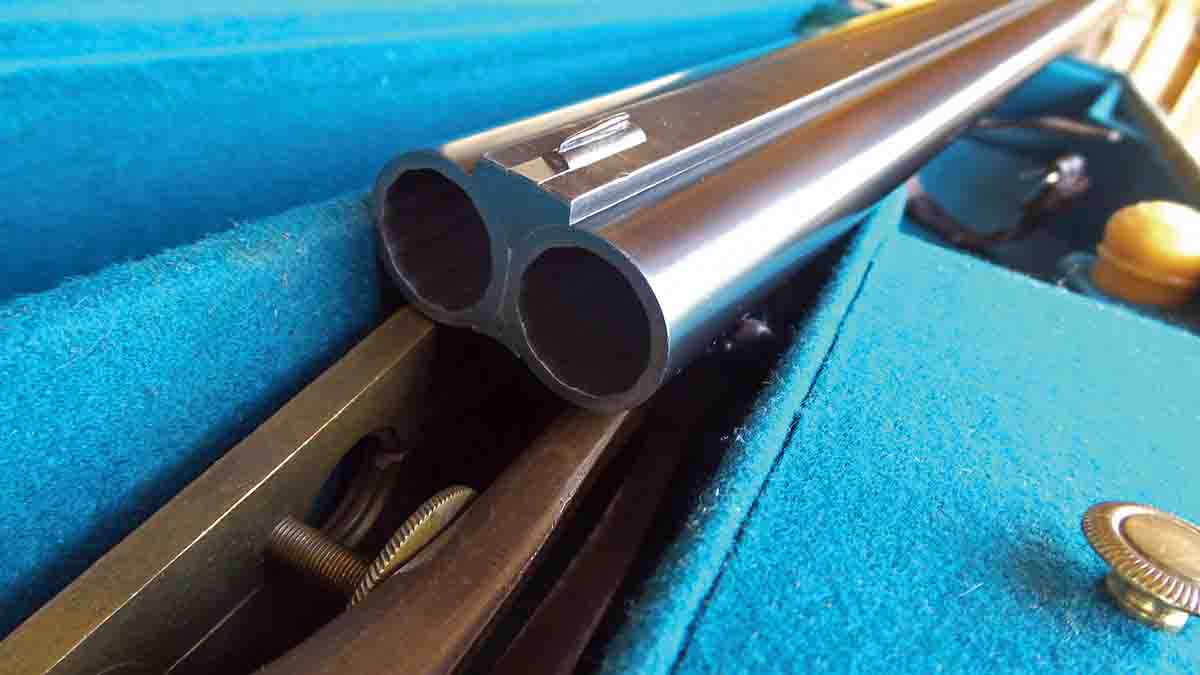 shotguns, yet allow rifled barrels.
The 10-bore by Joseph Manton, on the other hand, is a "heavy" 10. Weighing 14.5 pounds, this beefy double rifle's weight absorbs much of the recoil. The 27-inch barrels have excellent bores, a sling eye, and the same sights as the Baker that are similar to 95 percent of English doubles from the Victorian and Edwardian eras. Case colors have also been added and is similarly fitted with a Jones-patent underlever and exposed, rebounding-style hammers.
Most importantly, the 10-bore Manton arrived in the original case with the following selection of tools and accessories: primer decapper, primer seater, bullet seater, mould for spherical balls, cleaning rod and tips, powder measure, turn screws, bullet fixer (crimper) and striker key (to remove firing pins), oil bottle, ruptured case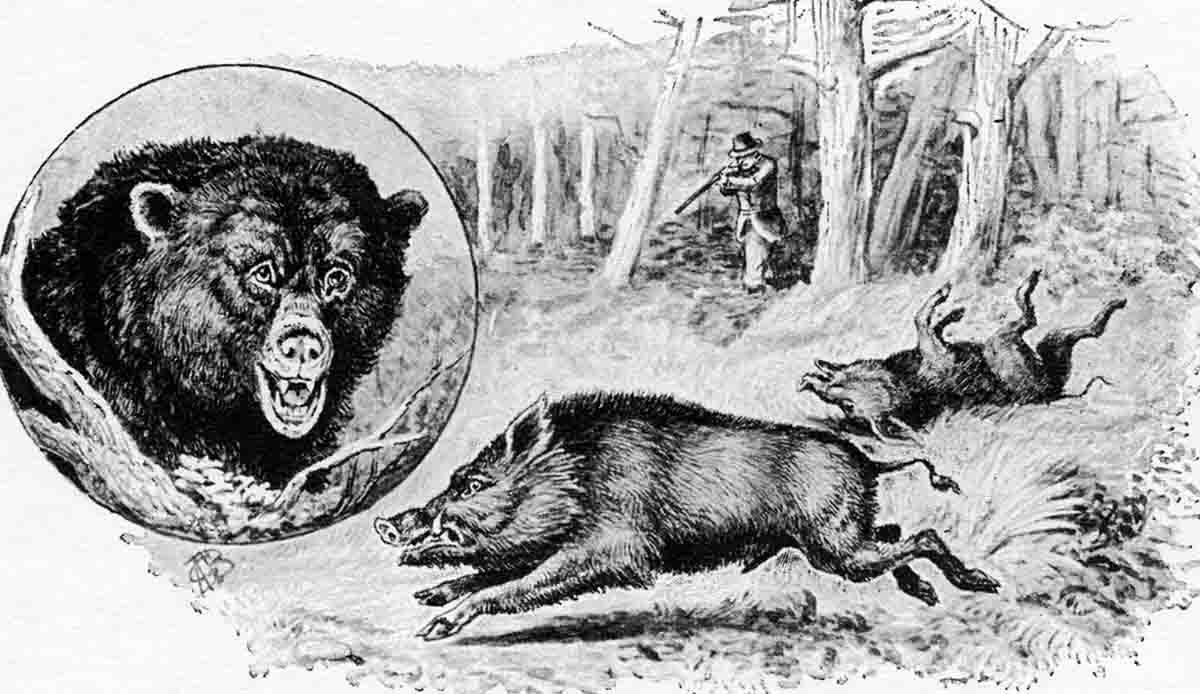 remover, and an ivory container with extra firing pins and springs.
As a "heavy" 10, the rifle was charged with a minimum of 8 drams (220 grains) of powder and could be used with as much as 10 drams (275 grains). The rifle had a slow rifling twist, so a spherical ball was called for. The chamber and bore cast showed a diameter of .788 inch. A ball mould was ordered, also from Jeff Tanner, as were several brass cases and a quantity of plastic, 10-gauge shotshell hulls trimmed to a length of 27⁄8 inches.
Joseph Manton didn't make his own firearms. Rather, he purchased them from other firms that added his name and serial number, or he bought arms "in the white," then finished and numbered them. Manton had a home base in both London and Birmingham, as well as many retail outlets in India. India, it seems, had far more sportsmen hunting there than in Africa, due largely to the vast military presence.
Manton maintained extensive showrooms, inventories and repair facilities. He also retailed every imaginable camping and hunting implement, as well as firearms from American companies such as Colt, Winchester, Savage and Marlin. Manton was one of the "Big Five" India firearm importers; the other four were Walter Locke, R.B. Rodda, P. Orr & Sons and Lyon & Lyon.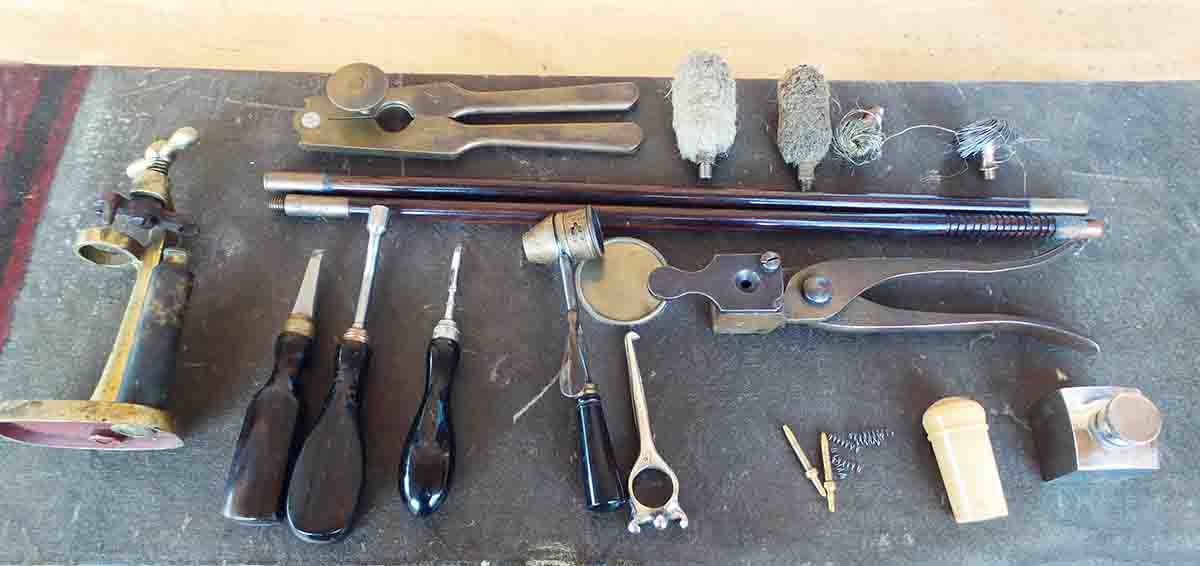 With rifles in hand, components in stock, as well as a supply of powder and shotshell primers, it was now time to shoot!
As today's black powder does not burn as efficiently as the powder in the old days, approximately 15 percent of the powder charge of FFg was added to equal the original velocity. This is possible in the larger cases such as the .577 and the bore rifles, but not so in the smaller express rounds. It would be nice if GOEX made a 2½Fg because FFg is a bit too slow and FFFg is a bit too fast.
For the 12-bore Baker to achieve 1,600 fps, I used 7 drams (192 grains) to roughly equal what 6 drams of the older powders achieved. In the larger 10-bore Manton, 9.5 drams gave the same velocity with a 700-grain spherical ball as it would have achieved with 8 drams 120 years ago. Again, all of my shots used GOEX FFg. [Editor's note: If readers wish to use smokeless loads for black powder, email the author: pappas@mtaonline.net]
As with the doubles, average group sizes were achieved with both rifles between 2 and 3 inches at 50 yards. Recoil is comfortable when looking at the entire spectrum of double rifles, but is more than the common black powder cartridges in the U.S., such as the .45-60 and .40-82. Even the large Winchester express cartridges such as the .50-95 and .50-110 are relatively mild to shoot, comparatively speaking.