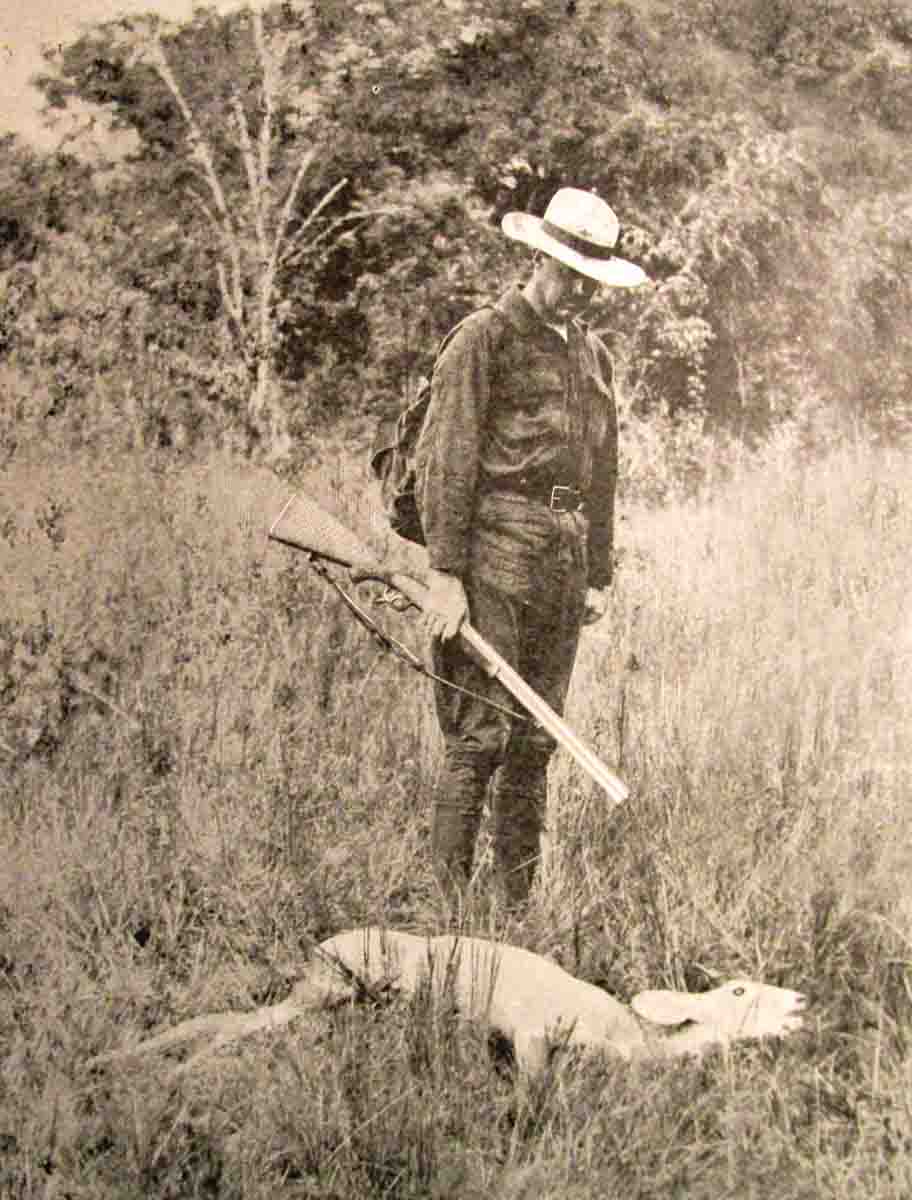 A rifle crank's gun selection for an extended mixed bag hunting trip into parts unknown can be a gamble. We take several guns if transport poses no issues. If it does, one might slip a rifle and a shotgun into a single hard case and cross our fingers that we didn't make a mistake. There was a time when a drilling may have been one answer, but drillings aren't for everyone.
Townsend Whelen, the great American gun writer for half a century, was faced with such a decision in 1915. When Lt. Whelen's Army unit received orders that they were to be stationed indeterminately in the tropics of Panama, his selection of a primary arm was a simple one. He'd already owned a perfectly good and compact shotgun/rifle that answered as an all-around gun suitable for anything in the region that wore feathers, fur or scales. Whelen's gun was a gift from Fred Adolph, a German born gunmaker who had emigrated to the U.S. after a long apprenticeship in Germany, followed by an experience gathering employment in several Prussian gunmaking firms. He landed in Rochester, New York, but soon moved to Genoa, New York. Fred could do anything in the gunmaking line and do it well.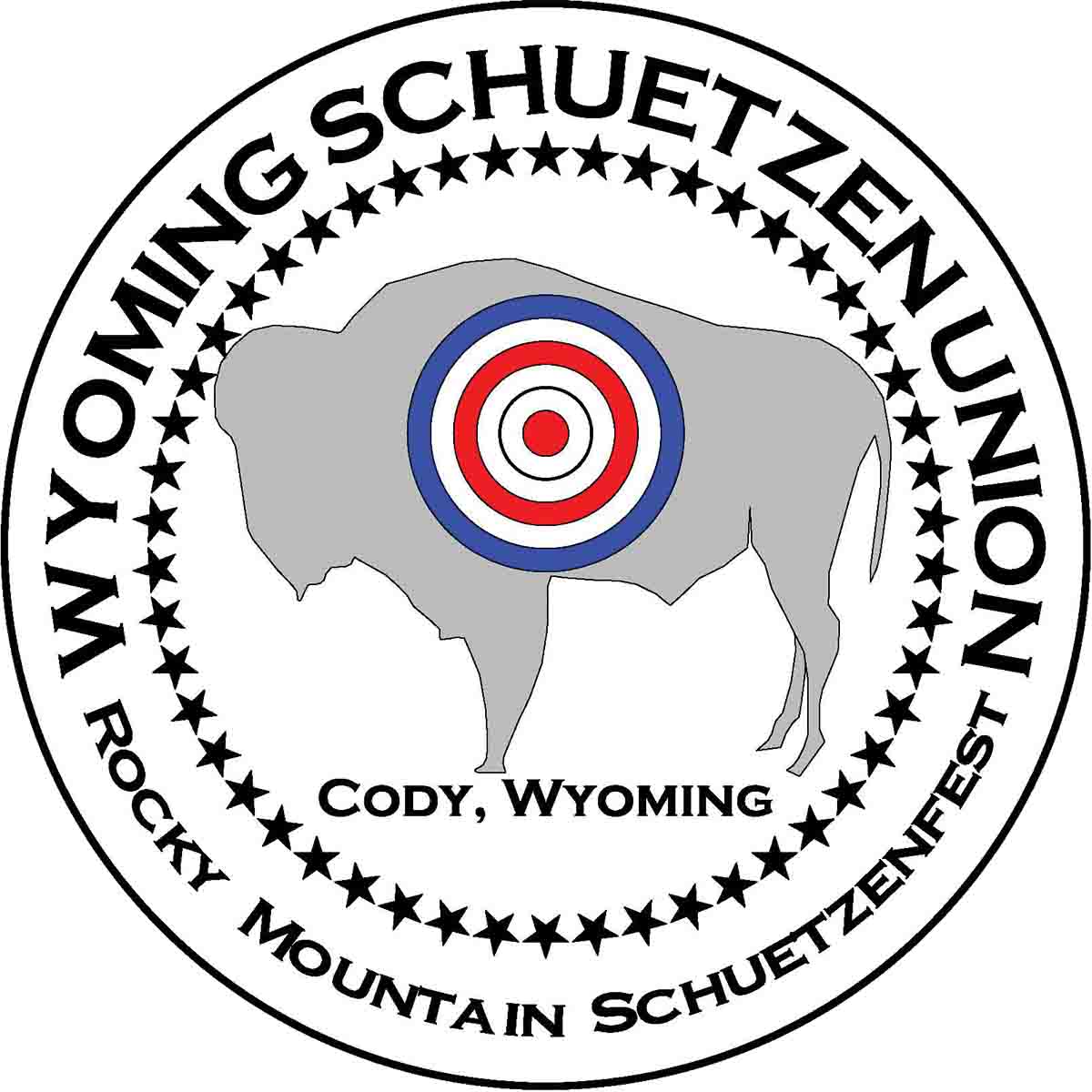 The market for the skills of a lone independent master gunmaker was badly underdeveloped when Adolph started out. Widespread advertising was costly and word of mouth reference transferred poorly. Adolph knew what was needed to become noticed by the moneyed crowd was favorable mention from someone with a recognizable name. Ideally, this name was used as a byline already in popular circulation. This was the obstacle he set out to overcome.
He quite naturally concluded that the small handful of regular contributors to the gun columns of the national outdoor magazines had the necessary clout. Adolph's plan was to approach each discreetly and then to present them with a custom gun in the hopes an evaluation might merit mention in their submissions. By and by, a package arrived at their doors with a Genoa, New York, return address. Just a few selected writers were involved.
The gun department of the Milwaukee-based Outers Book was the most up to date in the trade and was ably conducted by Bob Kane. The ad department section of the magazine was normally skimmed over, making a kind word in Kane's column doubly precious. Kane was presented with a Webber target pistol made over by Adolph with the owner's intertwined initials inlaid in gold on the grip. This seemed to be one of Adolph's signature features. Kane spared no superlatives in his three-page treatment in the November 1912, number of Outers. He closed with the sly disclosure that Adolph was prepared to duplicate the Webber for anyone flush enough to place the order.
The byline of Los Angeles writer E.C. Crossman was a far-flung staple in all of the magazines that he freelanced for. Crossman was an extraordinarily prolific and talented wordsmith. He was the recipient of an ultra-high-grade single-barrel trap gun with a half octagonal barrel. The underside of the trigger guard bore the initials of its new owner. The gunmaker's own mark was also in shaded gold on the barrel flat. Adolph was repaid with a barrage of persuasively kind words in Crossman's write-up in the November 1912, issue of Field and Stream. More mileage was received from Adolph's advertising during the same month.
Charles Askins Sr., another freelancer, and the country's acknowledged authority on shotguns, was shipped a deluxe game scene engraved and gold inlaid three-barrel gun, a 20-gauge side by side with a .25 Krag barrel on the underside. The gold letters C and A appeared on the cartridge trap. The drilling looked good enough to be featured in Adolph's first catalog and merited a full page Outers Book advertisement devoted to it. Major Askins described his Adolph-built firearm in flowery terms for that magazine in 1913.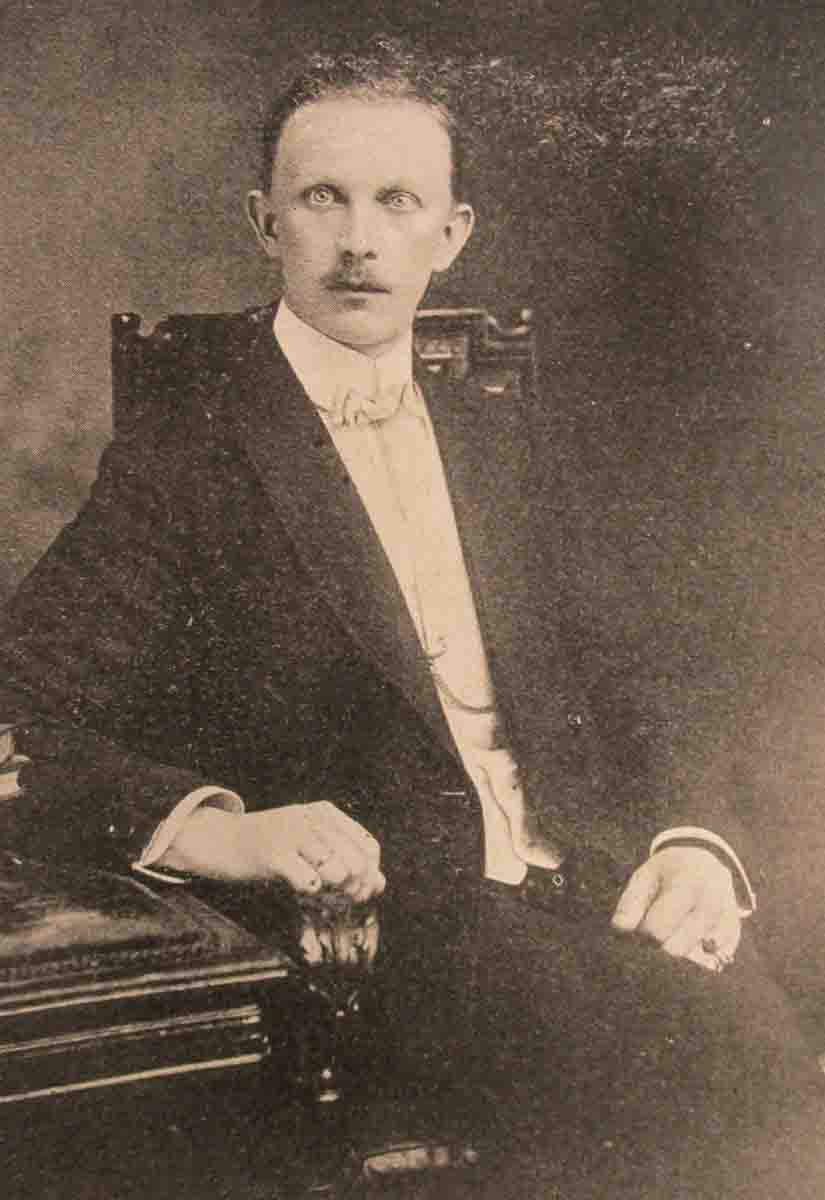 The widely published Columnist Charles Newton was among the "Who's Who" that was worthy of an Adolph drilling of an indefinite description, and Newton was pictured shouldering the gun in a rare photograph of himself. Newton often wrote of Adolph's willingness to accommodate a gun nut's cranky ideas and to put together what the factories refused to provide. Newton was one of Adolph's best promoters.
Perhaps the most ornate Adolph gun handmade for an influential notable was the 20-gauge over .25-35 WCF combination gun bestowed on former President Theodore Roosevelt in the spring of 1912. It was extensively engraved and gold inlaid with Teddy's initials. The stock started as a blank of Circassian walnut ornamented with intricate relief carving on the pistol grip and forearm. Adolph personally hand-delivered and presented the gun to Sagamore Hill where a reporter for the local Tribune was conveniently waiting with pen and paper in hand. His coverage would gush that the Presidential Adolph gun was "without the slightest doubt the most beautiful gun ever built in America, a work of art in the highest sense."
Carrying more significant weight than even a former president, was the opinion and blessing of Lieutenant Townsend Whelen, that era's guiding light on all matters regarding the rifle. A Philadelphia-born son of a doctor and an indifferent student, he was gun-struck at 11, an attraction that never wavered, but instead evolved into a lifelong passion. A stint as a green Second Lieutenant National Guardsman during the Spanish American War period convinced him that an army career was his calling. The more he became exposed to military shooting, his preoccupation for the rifle became more passionate.
Herr Fred got his money's worth from his association with Lieutenant Whelen. The officer's first Adolph project appears to have been the restocking job of a pet Winchester Model 1895 in .40-72, which brought the gunmaker a third-page picture of his handiwork in Outdoor Life magazine along with the dutiful "quid pro quo" barrage of beneficially favorable praise. This project was followed by a restocking job on a pet Krag rifle in 1909, which brought the same Whelen consideration.
There was one, maybe two, Adolph-stocked and adorned Springfield .30-06 sporters that were known to have occupied Whelen's gun cabinet in those days. A lavish Mauser in .30 Adolph Express, a proprietary cartridge of magnum capacity, may have been donated to the Whelen assembly or just sent out on loan for testing to the man that would do the gunmaker's cause the most good. In the July 1913, issue of Outers Book, Whelen stated: "I have had one of these rifles for the past six months and have put it pretty thoroughly through its paces." He went on to say: "For sights, I equipped mine with a Winchester 5A telescope sight." Whelen credited Charles Newton for working up the loads in his own rifle. The expected litany of accolades was possibly editorially omitted from Whelen's abbreviated handling of the Adolph-built Mauser, owing three pages of space had already been taken up with dry ballistic data and pictures. For reasons known but to Whelen and Adolph, not all of the gunmaker's material appreciation was publicly disclosed.
Lieutenant Whelen had provided significant input into the particulars necessary in the proposed rifle scope co-designed by Adolph and Cleveland Oculist F.W. King and released in mid-1912. In his two-part Outers Book contribution for June and July, 1912, "Rifles and Sights for The Sportsman with Defective Vision," Lieutenant Whelen urged those so afflicted to consider the new-to-the-market King-Adolph telescope sight.
Whelen had written in Part I that he had procured an 1899 Savage rifle and sent it to Adolph to have one of the new scopes mounted on the gun. Photographic evidence strongly suggests that the Savage .303 test-rifle illustrated in his article got the full Adolph upgrade treatment and is the same rifle Whelen is later posed with in an undated studio photograph. Oddly, there was no attribution to the gunmaker from Genoa, New York.
The Adolph contribution that seems to have tickled Whelen the most was the opulent 6-pound under lever over/under combination gun to which so much printer's ink was devoted in Whelen's 1912 Field and Stream missive – "A Peach of a Gun."
On top was a full-choke 20-bore shotgun barrel with a full-length matted rib. The under barrel was chambered in .30-30 WCF, had three-leaf sights and regulated for the Winchester loading. The cheekpiece stock was a stick of exhibition Italian walnut. The breech was decorated with the Whelen family coat of arms and the lieutenant's monogrammed initials in gold and platinum, as well as a waterfowl scene and a deer grouping engraved on either side of the frame. In Whelen's Field and Stream piece, this assessment is found: "In my time I have seen many fine guns but never such a dream as this. The work is such to place its maker at once in the ranks of the best gun artisans in the world, for the arm is almost, it might be said, without an equal." High praise, indeed, from a seemingly restrained, conservative man. But he goes on: "This arm was made by Fred Adolph of Genoa, New York, and his work certainly entitles him to rank among the best gunmakers in the world." Lieutenant Whelen's new gun was known by "Peach" thereafter.
Peach wasn't Whelen's only rifle dear enough to merit a pet name. In September 1906, the young army officer was with a small party hunting mule deer and mountain goat on the Bridge River in a 5,000-foot mountain range in British Columbia. Whelen carried a 9½-pound deluxe Winchester Single Shot with a cheekpiece, pistol grip stock and steel buttplate. It was chambered in .30-40 Krag with a bore specified a uniform .308 inch. It wore Lyman sights on the tang and muzzle.
On a buttress bound by two high peaks that looked for all the world like the feathery ear tufts of a horned owl, Whelen shot his goat. The local Chilcotin Indians serving as guides had a name for the location – Salina, meaning owl in their dialect. Whelen's .30-40 High Wall became affectionately known forever by that name.
In 1915, Lieutenant Whelen was with the 29th Infantry and sent to the Canal Zone as part of the garrison charged with protecting the canal during the European War. His bride of 10 years, Mary Louise, went along and tea-partied with the other officer's wives while her husband was in the field. He commanded two companies totaling a hundred troopers charged with gathering the necessary data by exploring and cutting trails so the region could be mapped by the Army Corps of Engineers.
Later he would write: "It was my good fortune to spend the entire dry seasons (December through June) of 1916 and 1917, exploring a part of this country."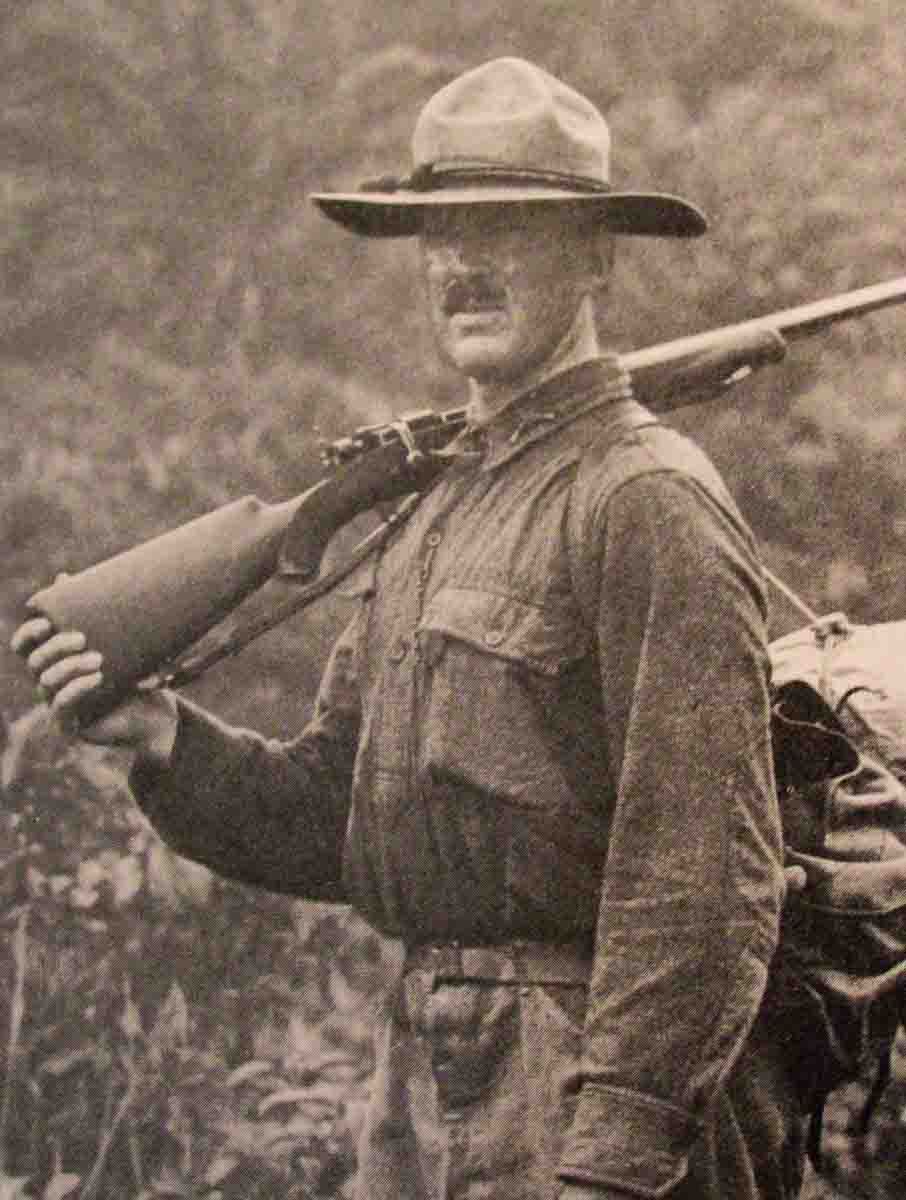 Upon returning, (now) Captain Whelen submitted an article based upon his careful observation and study of the flora and abundant fauna found in the unexplored jungles and grown-up clear cuts bordering the canal. "Unknown Panama" was published in Natural History magazine for March 1919.
While in Panama, Whelen felt he owed it to his faithful readership to periodically apprise them of what he was up to. A letter from him was published here and there, with some regularity. The first of these appeared in Outers Book for August 1915. He described for them the view from his porch, where he could see the tops of the passing vessels, and provided a mental image of the varied terrain, the incessant humidity and its effects on himself and his guns. To that point he had killed but one animal – a "cavy" a close relative of the capybara. In its December 1915, issue, the Outdoor Life editor announced that he had arranged with Whelen for an exclusive five-part series for its readers, to begin with the January 1916, issue. In the initial installment, Whelen introduced his readers to the cornucopia of game available in his Central American "a veritable sportsman's paradise," just a six-day steamer voyage from the U.S.
There were oodles of small game in this wildlife-saturated district. Turkeys, doves, and pigeons were very abundant, as were many species of smaller birds he had yet to become acquainted with. Panama was overrun with reptiles. Its rivers and waterways squirmed with crocodiles (up to 16 feet by Whelen's estimation) along with the smaller caiman species. The landscape crawled with snakes, long and short. The bountiful supply of lizards ranged from finger length to the six-foot iguanas, which fell to his Springfield and reduced loads.
Mammals included the smallish species of whitetail deer, ocelot, jaguar and the occasional puma. There was agouti galore; these were a woodchuck-sized rodent, and the capybara and it are close relatives. Bands of peccaries were commonly encountered as was the odd sloth, which Whelen considered to be the best eating of the local mammals. Five species of monkeys, coatimundis and the occasional tapir rounded out the available mammals.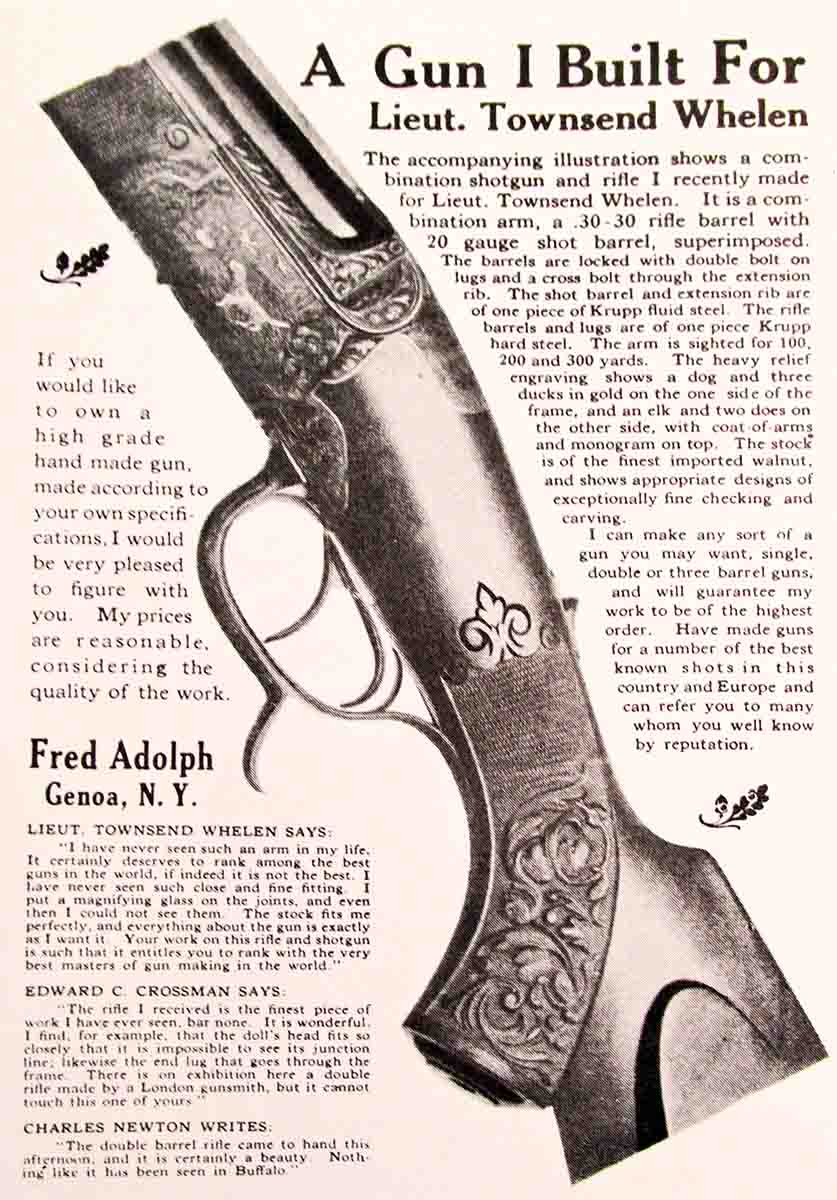 Armed with Peach, he was ready for them all, taken as they come. He took advantage of this versatility and carried it most often. "An excellent choice for South American hunting" is what he had to say about it.
In the February 1916, issue of Outdoor Life, he wrote of a successful deer hunt in the thick jungle. Hunting was all done on the South American side of the canal that had to be crossed by boat. "I always go alone," he emphasized. He didn't want the extra unnecessary noise and scent that came with company. Into the collective mind's eye of his readers he conveyed not only the sensory element, the sights, sounds, and scents of the tall grasses, trees, shrubs and other jungle vegetation, but also gave them a flavor for the heat, the thirst, sapping humidity and the continual sweating. Also palpable were the countless red ants, ticks and other bothersome creatures. Readers were also provoked to taste weariness, discomfort, the real and constant threat of being lost or stepping into an empty crease hidden by a mat of vegetation. He led them to sense the anticipation of game, success and lost opportunity.
Captain Whelen masterfully accomplished these objectives; he was good at it. It was a great service to his followers who looked forward to his letters postmarked Camp Guilliard, Canal Zone.
Whelen was stationed at the Canal Zone in Panama from mid-1915 to late-1917. Just prior to leaving, he sent a solicited testimonial for use in Adolph's 1918 advertising flyer. He wrote of his considerable time with Peach, "I have not been skunked yet when I carried this gun. A .30-30 is plenty good enough for the large game and the 20 gauge just right for doves, etc. … I have had no trouble keeping the locks of this gun in shape. The fitting is so close that dampness does not seem to get in."
We might all envy the man who owns many rifles, especially two guns in a long lifetime special enough to merit a nickname.
---
2022 Summer Heat Schuetzen Match
Glasgow, Montana – August 2022
Valley County Rifle & Pistol Club
German Ring Target, WSU rules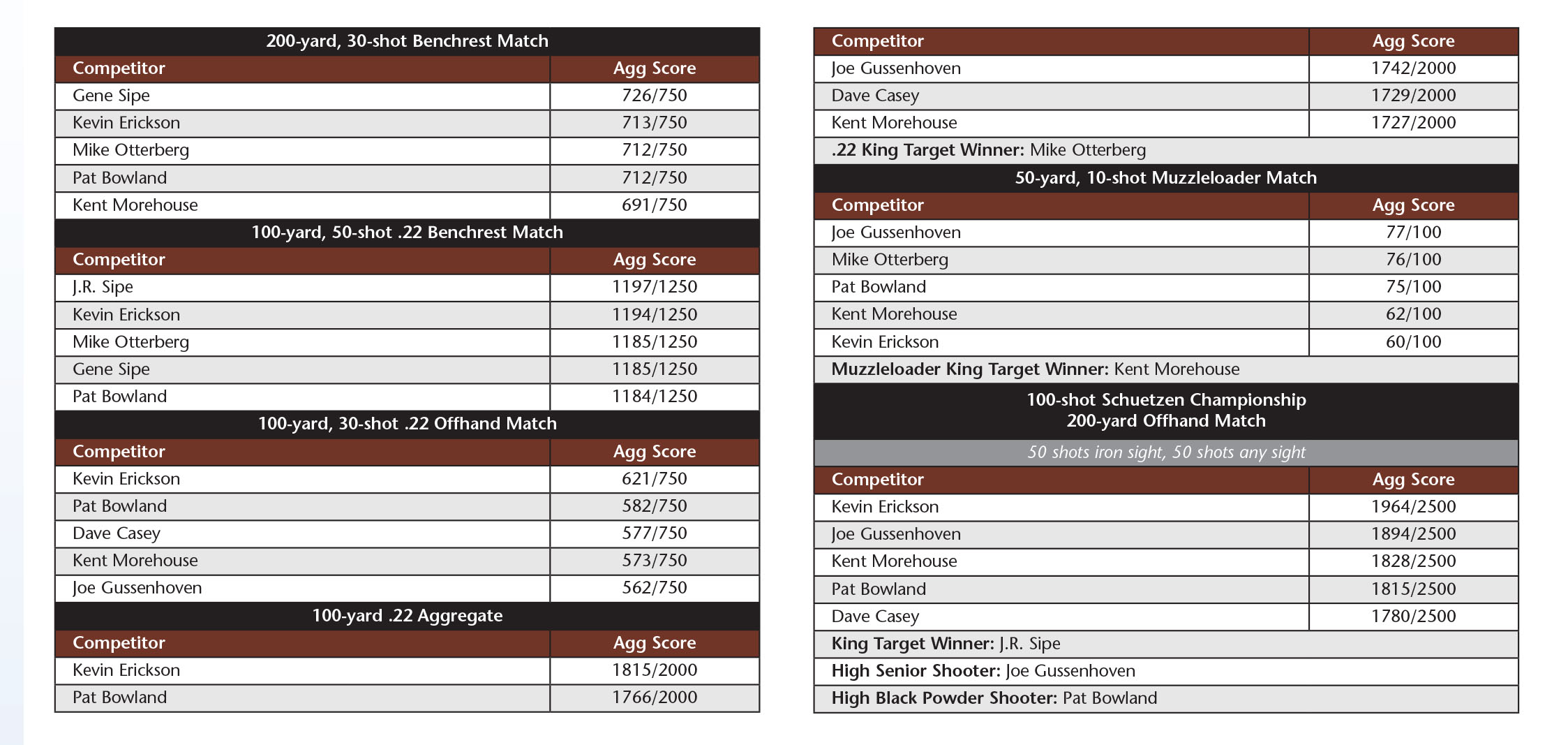 ---
2022 Montana State Schuetzen Championship

Hamilton, Montana – August 27-28, 2022
Whittaker Rifle Rangen
German Ring Target, WSU rules

The 2022 Montana State Schuetzen Championship was held at the Whittaker Rifle Range in Hamilton, Montana. We had 15 shooters show up from Montana, Wyoming and Idaho. The hot shooter for the match was Kevin Erickson of Corvallis, Montana, who had a great two-day match. Second place was won by Johnny Driscoll of Helena, Montana. Third place was won by Mike Otterberg of Fort Peck, Montana, while fourth place was won by Joe Gussehhoven of Arco, Idaho.
A 30-round .22 offhand match was shot at 100 yards and Kevin Erickson came out on top. A rimfire "King Match" was shot on Saturday with Kent Morehouse walking away with that trophy. The Centerfire was shot on Sunday and the "King Match" winner was Pete Berube.
Pat Bowland of the Bitterroot Schuetzen Society Schuetzenmeister, hosted a great meal at his home with some of the best smoked ribs with all the fixin's, this side of the Mississippi River. This was a great match with great people.