The Wyoming Sight Drifter – Improved
We met with Steve Anderson of Wyoming Sight Drifter fame at the Shiloh "Big Whiskey" Silhouette match and he made us aware of improvements done to his now well-known hand tool. For those of you not familiar with a Drifter, this is quite simply the handiest appliance you will have in your shooting kit or on the workshop bench. It makes the moving of dovetailed sights an easy and precise operation, largely preventing the marring of metal surfaces by over-striking. Disfigured dovetails and sights are right up there with damaged screw slots on my list of pet peeves. The Drifter is simplicity itself and is so well-made that I can't see ever wearing one out, and a selection of bits are now available to precisely match the sight being moved.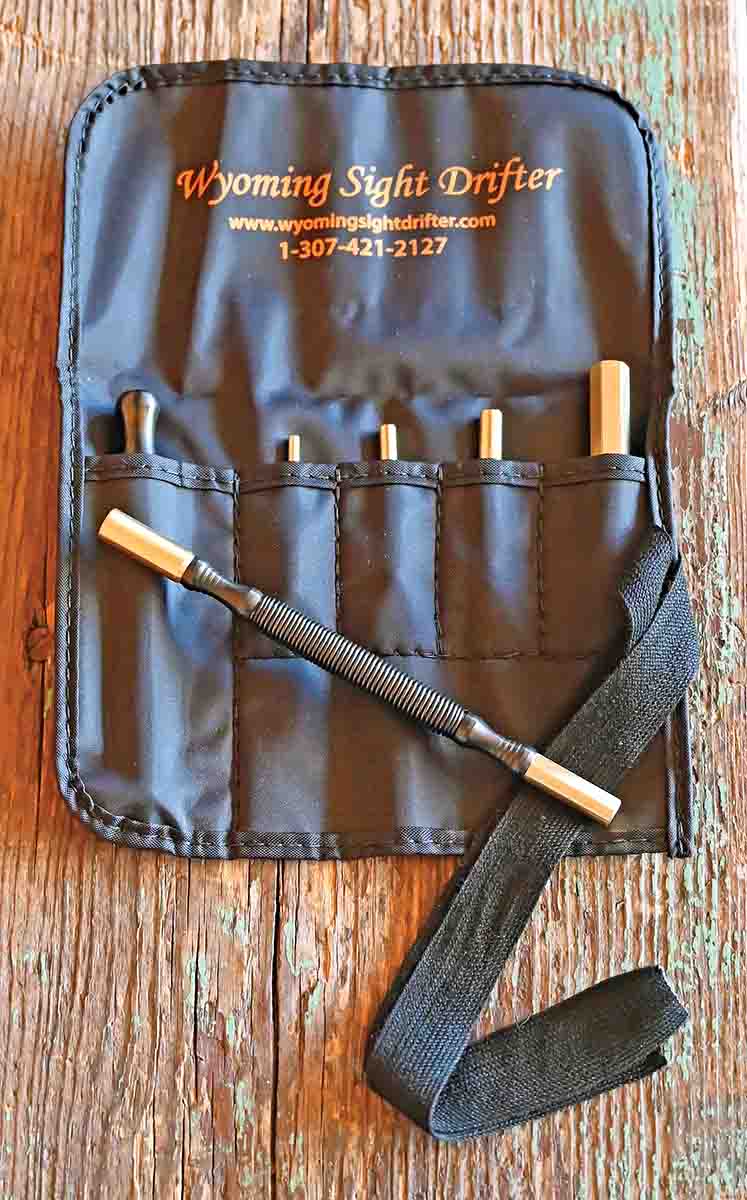 As good as the first production runs of the Drifter were, Steve made some cosmetic improvements that greatly enhance the overall look of the Drifter.
As you'll notice from the photograph, the fit and finish of the new Sight Drifter is much improved, making for a very pleasing and professional looking hand tool. A handy pouch is now also included with a selection of bits, keeping the Drifter well organized. I was especially impressed with the finish on the new Drifter; very well done and it has the look of a high-quality tool.
One of the tasks I regularly use the Drifter for is repairing burred screw heads. I formerly used the old hammer-and-punch technique, which worked okay, but one slip and it is easy to make more of a mess than what you had to begin with. The Sight Drifter makes it very easy to uniformly peen the upraised burrs on a screw slot and move the metal back. A quick wipe with some bluing and the screw looks as good as new.
My wife, Sheryll, who maintains her own tool kit in our home for her various odd jobs, latched on to one of the Sight Drifters after I showed her the new improved version and how it works. I made the comment that, "the Sight Drifter is so simple that even a blonde can use it!" Well, we won't go into what transpired after that remark (Sheryll is blonde), but I will say that after several weeks, I'm nearly back in her good graces again.
Whether you are blonde or not, the Wyoming Sight drifter really needs to be in your tool kit. This is one of those things that you will wonder how you got along without once you've used it. The price is $105 with $7 shipping and handling. Contact information: Steve Anderson, Wyoming Sight Drifter, LLC, 4127 Riata Road, Carpenter, Wyoming, 82054. Phone: 307-421-2127 or visit wyomingsightdrifter.com.
---
SPG Sales – Rifle Restore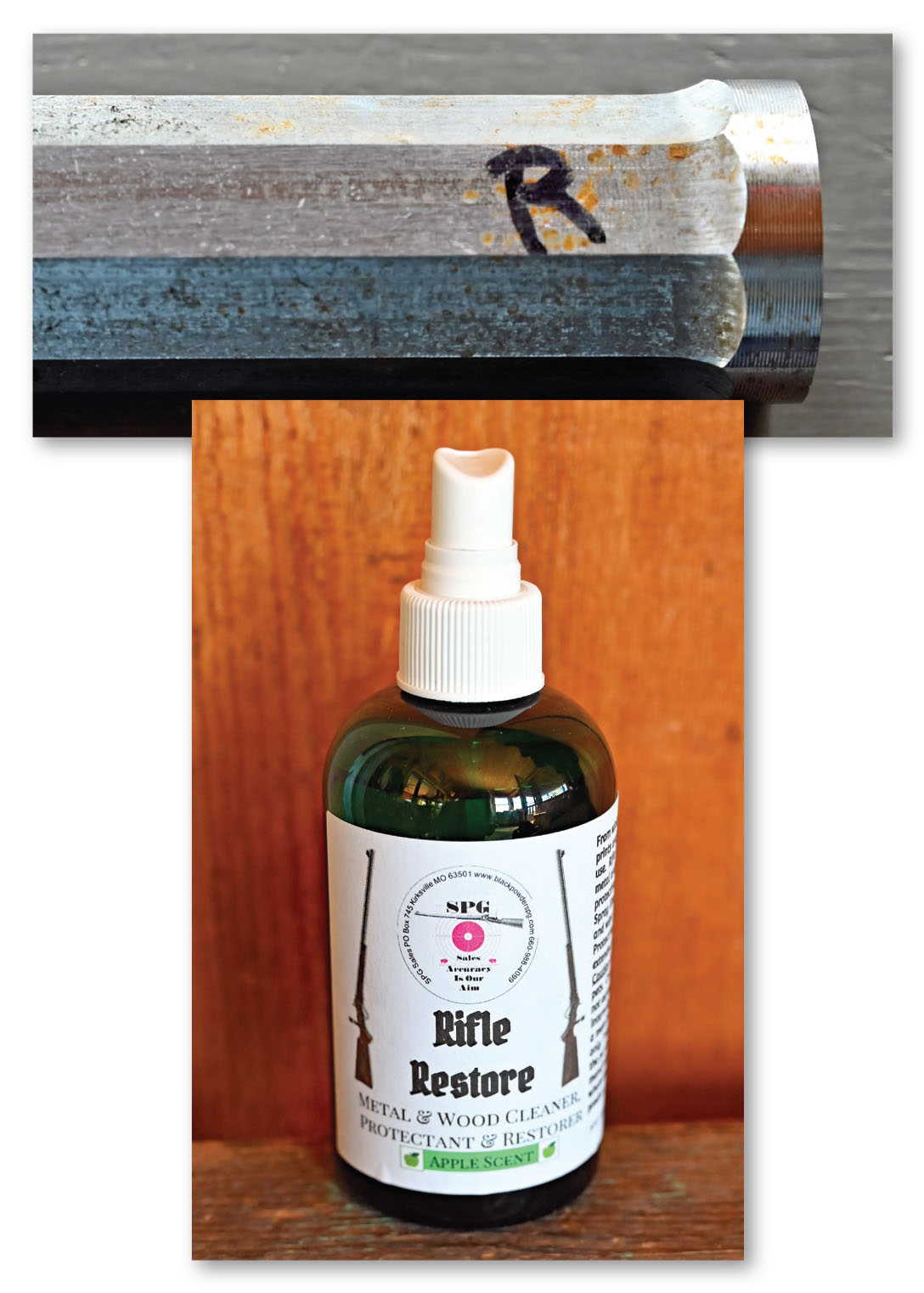 Larry Baker at SPG Sales is not one to rest on his laurels and accordingly, has sent us his newest edition to the SPG lineup. This new product is called "Rifle Restore" and it is billed as a metal and wood cleaner, protectant and restorer. Made to be used after you've had your rifle out in the elements and subjected to all the dust, dirt and sweaty hands that are normal with use in the field or at a match, Rifle Restore is designed to keep a fine rifle looking good in spite of hard use. It provides a protective film against rust and corrosion, as well as removing the fingerprints and smudges from handling that can turn into serious blemishes over time. If you live in a high humidity environment, you know how important this can be.
I did a quick test of the Restore on metal by filing a clean spot on an old barrel stub and applying it to the bare metal. By way of comparison, I used a special rust inhibitor on the opposite flat. After three nights outside with reasonably heavy dew, the Restore flat was not rusted and was comparable to the special preservative. I thought this was a pretty good test for a general-purpose wood and metal preservative.
Rifle Restore did a nice job cleaning up a severely dirty walnut stock on a vintage '03 Springfield that came through the shop, so I would say that for a product to keep on the bench for general usage, Rifle Restore would fill the bill. Contact information: Larry Baker, SPG Sales, P.O. Box 745, Kirksville, Missouri, 63501. Phone: 660-988-4099 or visit blackpowderspg.com. Many excellent products are listed on their website, including of course, SPG All-Purpose Bullet Lubricant.
---
Accurate Molds – New Sharps .45-70 Bullet Mould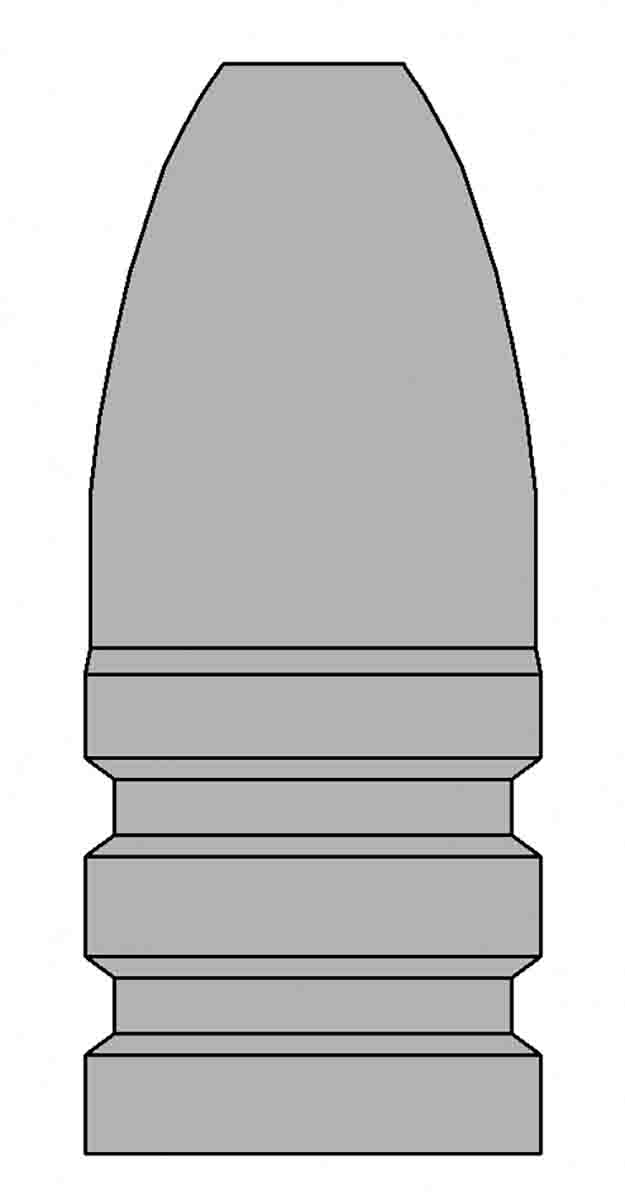 Just before heading out to the Quigley Rifle Match in June, I got a hold of a new bullet mould by Accurate Molds for a 413-grain bullet intended for the .45-70. This bullet was designed by Mike Nesbitt and fashioned after the original Sharps 400-grain "naked" bullet. A mould for that Sharps bullet is shown in Roy Marcot's book on
Sharps Firearms
, Volume III. Dubbed the 46-413N, it features two very deep grease grooves and a long, graceful nose. This new bullet certainly gives the loaded .45-70 rounds a real "Sharps" look.
It drops from the blocks at .460-inch diameter. (With Accurate, you can order the mould to drop the bullets at the diameter you want.) Selecting 10 cast bullets showed an average bullet weight of 410 grains using the 25:1 lead alloy available from Buffalo Arms. My first load used 65 grains of 1½ Fg Swiss powder and one .030-inch vegetable fiber wad. Those deep grooves hold plenty of SPG Lube and after sizing the bullet to .459 inch, the bullets were seated into the Starline cases just deep enough to cover the grease grooves and given a light crimp. The overall loaded length of the finished cartridge was 2.75 inches, which might be too long for some repeating rifles.Test-firing this load from the bench gave me a grouping of 4.5 inches at 100 yards. The bullet also left a nice lube star on the muzzle of the rifle's 34-inch barrel, indicating there was plenty of lube in the grooves to keep the fouling at bay. At Quigley, those rounds served me well, with hits and near misses at targets ranging from 400 to 805 yards, firing while seated and using cross sticks. No unusual fouling was detected when I wiped the bore after each eight shots.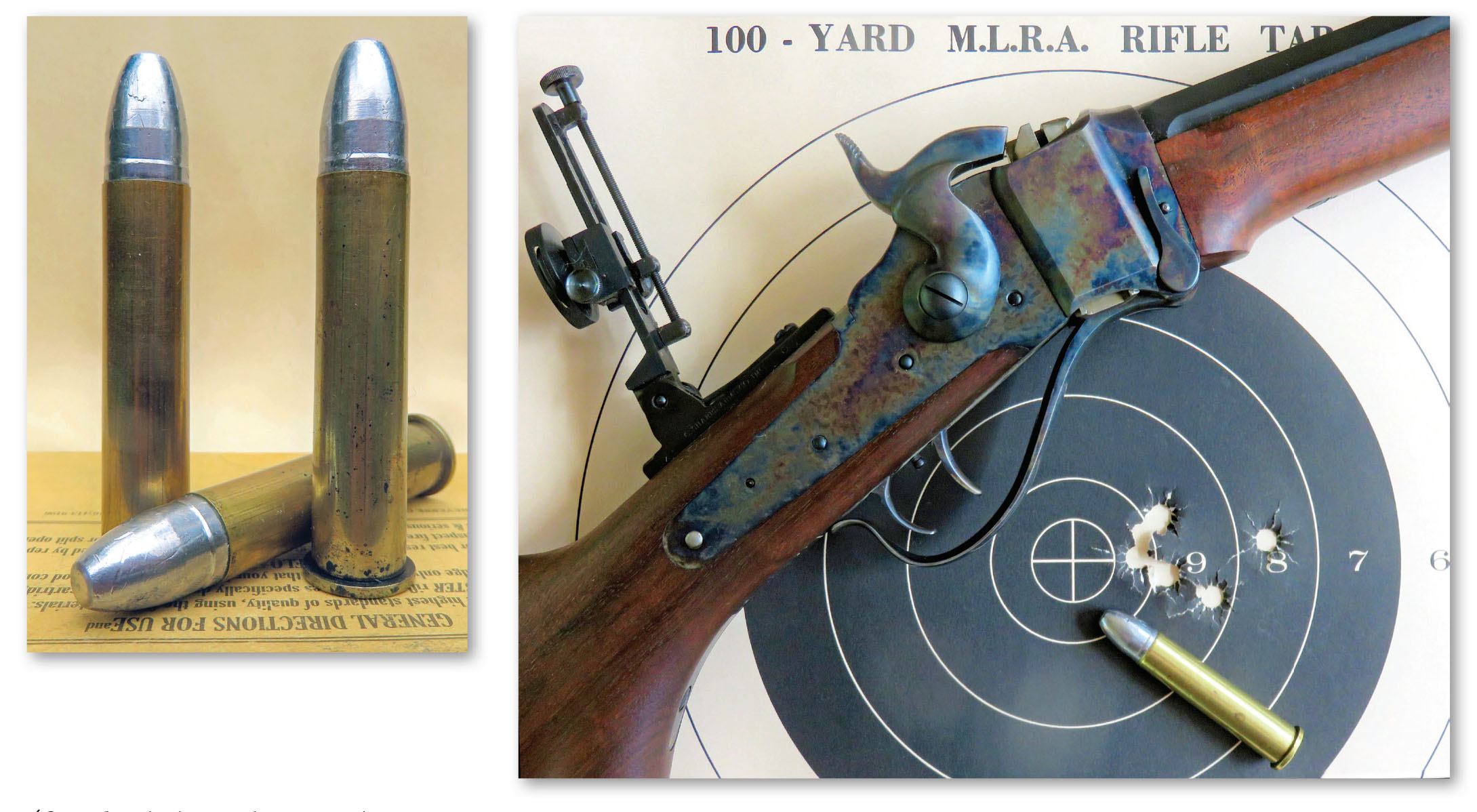 One noticeable characteristic with this bullet profile is how less than a half-inch of the bullet is seated into the case. I hardly needed to compress the 65 grains of powder at all before I had the right depth. With its shallow seating depth, a true 70-grain powder charge is easily loaded. So that's what I tried when I returned from the match.
They say, "Any difference can make a difference" and those bullets sure liked the added 5 grains of powder. My group was better than before, with all five rounds now within a 2-inch circle. With the accuracy I'm getting, I plan to make this my standard bullet and load for my .45-70 for all-around shooting.
The mould itself is certainly well-made, with a machined aluminum body and made to fit RCBS handles. Accurate offers moulds made from steel, brass, or aluminum and the aluminum works just fine. A single-cavity mould with aluminum blocks is now priced at $91 plus shipping. Double-cavity moulds, or with more cavities, are available. Contact information: Accurate Molds, P.O. Box 17, Centerville, Utah, 84014. Email: tom@accuratemolds.com or check out their website: accuratemolds.com.
MVA – Rough and Ready Barrel Sight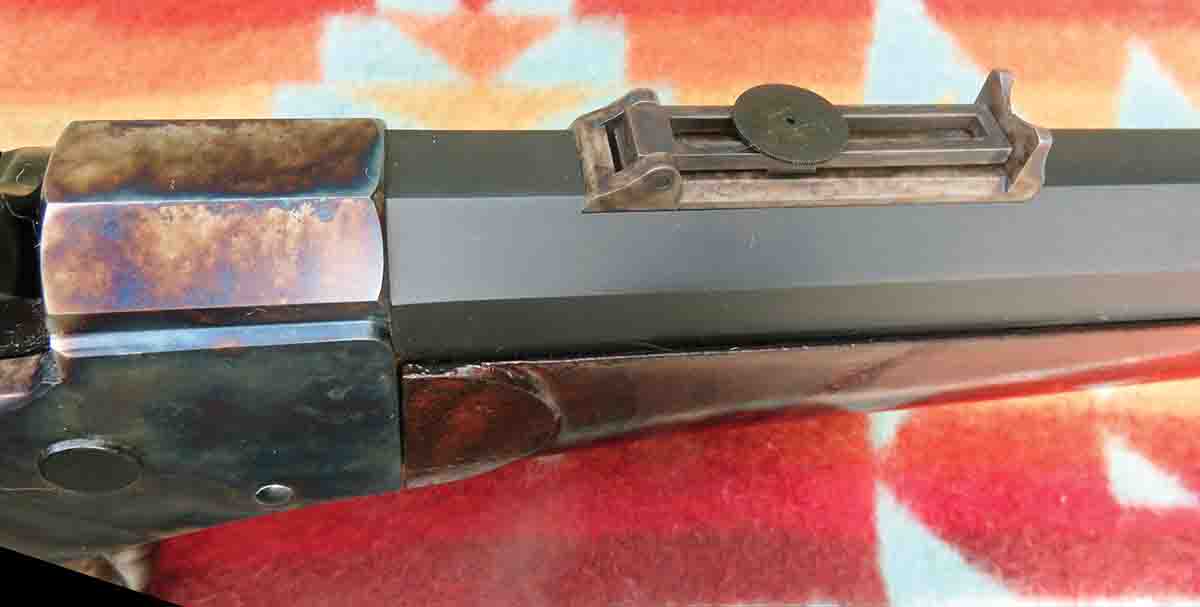 The "Rough and Ready" combination sight by Montana Vintage Arms is a very authentic copy of the old sight made by the Remington Arms Company and was an option on its No. 1 Sporting Rifle. Several of the old Remington sporting rifles were equipped with this sight, including the .50-70 carried by General George Armstrong Custer to the Battle of the Little Big Horn. When "extra" sights were ordered on a Rolling Block, these combination rear sights were often partnered with the Beach combination front sight.
Custer is mentioned specifically because he used his .50-70 with this sight to make some very long-range shots, according to his own diaries. That is stated only to show what can be done with this sight, using the open sight for close shots and the elevated peep sight for those longer shots.

My own use with this sight has been much more limited, mainly to simply try it out on paper targets and not on game. A partner of mine has used this sight, on another .50-70, to take a deer and for him, the sight worked just fine. That illustrates how this new copy of the old Remington sight is just as practical as it was back in Custer's time.

Usually, this sight is mounted on the top of the barrel, just ahead of the receiver ring. That puts the peep sight as close to the shooter's eye as possible. Remington always mounted this sight in a shallow cut-out with the rear part of the sight's base anchored to the barrel by a dovetail. MVA makes that version plus a second version, which is mounted with two screws instead of the dovetail. Using the two-screw version allows mounting to the barrel without making the cut-out, making them probably the best choice for round barrels, although MVA said this sight must be mounted on a flat surface. I've seen photos of round barreled Rolling Blocks with similar sights mounted to the top of the barrel; I don't know if the sight base was contoured or if the top of the barrel was flattened.

MVA uses 8-32 screws for mounting these sights to the barrel. Another option is to select a special .170-32 screw if getting one of these sights to replace a missing one on an original Remington. MVA's sight base matches the old originals and Remington used the .170-32 size screws, which are generally not available other than from MVA.

The open sight is non-adjustable. In other words, if it is to be used, sighting-in must be done (for both windage and elevation) with the front sight. That really isn't hard to do, just move the front sight in the opposite direction that you want your group to move. If the gun is hitting low, lower the front sight blade by cutting it down with a file.

The raised peep sight, of course, is adjustable but only for elevation. The eyecup, or aperture, is tightened to lock the peep sight at the elevation of the shooter's choice. Three eyecups are included with the sight with apertures of .047-inch, .059-inch, and .074-inch diameters. For me, the .074 inch is the one to use because my eyes need a greater amount of light than what passes through the smaller holes.

Spring tension holds the peep sight staff upright and also holds it down when not in use. As a personal tip, keep the peep sight aperture tight or it can vibrate loose, perhaps never to be found again. (Don't ask me how I know that.) However, replacement apertures are available from MVA.

The Rough & Ready Barrel Sight from Montana Vintage Arms is priced at $90. It comes color-case hardened and it is a very attractive sight, intended for general use. The Beach combination front sight, which was mentioned, is also available from MVA. They call it their "MVA Combination Front Sight" and it is priced at $89. Contact information: MVA, 61 Andrea Drive, Belgrade, Montana, 59714. Phone: (406) 388-4027 or montanavintagearms.com.