After keeping it a complete secret for nearly a year, I finally get to tell you about the new remake of the Hopkins & Allen Model 922 being manufactured by C. Sharps Arms. The original Hopkins & Allen 922 falling block rifle was introduced about 1888, soon after the .22 Long Rifle cartridge was developed. That rifle and the .22 Long Rifle cartridge made a natural pair and they worked together very well. Let me tell you about this new version of the old Hopkins & Allen design.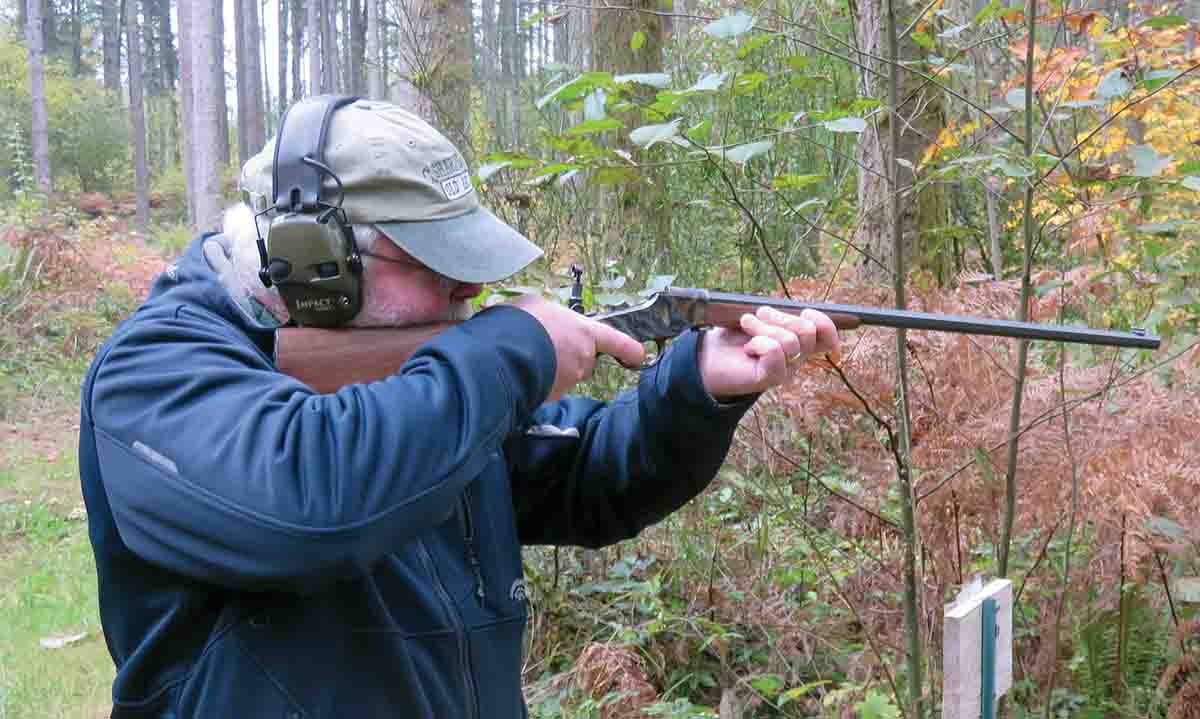 This story began while I and my partner, Allen Cunniff, were on our way to the Quigley Buffalo Rifle Match in 2018. Before heading to "Quigleyville," we made our annual stop at C. Sharps Arms in Big Timber. There, standing in one of the racks near a work bench in the shop were two of the new Hopkins & Allen .22s. Those rifles attracted me like a bee to honey and a moment later I had one of them in my hands. "Are you re-stocking these for someone?" I asked, looking for more information about them. "No," Pat Dulin told me, "we're thinking about making those and those two are our first prototypes."
That was great news in my way of thinking. Basically, there aren't any good, inexpensive single shot .22s being made these days and the Hopkins & Allen-style rifles should quickly make a fine showing on today's market, being a small rimfire rifle much like "Dad's" bigger centerfire Sharps. So, I dug just a little deeper for more, wondering what would stop them from adding the Hopkins & Allen version to the C. Sharps Arms catalog. Pat told me more; they made the two prototypes to see if the guns could be produced and sold within a certain price range. At that time things looked promising, but more checking with jobbers and suppliers was needed.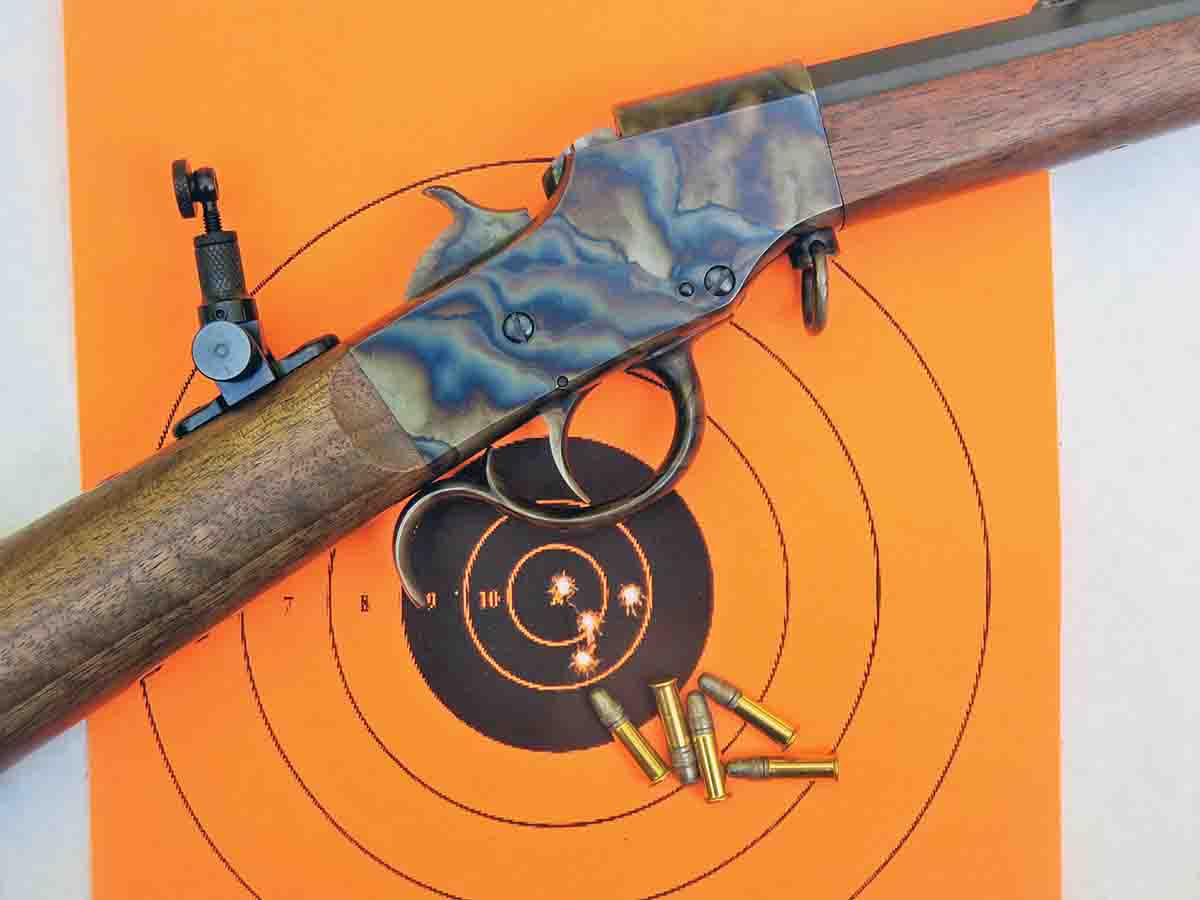 Just a couple of days later, those two pilot models were on display in the C. Sharps Arms tent on the vendor's row at Quigley and they were drawing a lot of interest. The folks at C. Sharps gathered a list of interested shooters and the people who put their names on that list were the first to get a chance at having one of the new guns out of the first fifty rifles to be made. Of course, both Allen and I put our names on that list.
Then, as camp at Quigleyville was being broke down, Pat asked me if I'd enjoy shooting one of the prototype rifles. That was quickly answered with "Yes!" and we headed back to the C. Sharps Arms shop where I could take over responsibility for the rifle and to have a tang sight installed on the little gun.
From there we went shooting and the little Hopkins & Allen copy went with us almost any time we'd go to the range. It didn't matter if we were shooting targets from the bench or gongs on our trail-walk, that .22 was certainly put to the test and it came out shining every time.
Here's a description of this dandy little rifle even though a good picture might tell you more. The standard version will have a barrel by Green Mountain that is from 16 to 22-inches long; the buyer gets to pick any length within that range at no extra charge. The straight-grain stock will have a checkered hard rubber buttplate and the length of pull will be 14 inches. Back when the original Hopkins & Allen 922 was introduced, it was considered a full-sized rifle. The length of pull can be ordered shorter at added cost or simply shortened after purchase. Marbles front and rear sights are standard. The receivers are color casehardened and the octagon barrels are blued. These small rifles are being offered in .22 Long Rifle, .22 Magnum, and in .17 Hornady Magnum Rimfire. That's quite a package with some good choices and the price for the standard rifle is $830.

In addition to that, there are some options available. Those added cost options can include: upgrades to fancier wood, a Marbles folding tang sight ($120), the rifle drilled and tapped for the customer's scope or adding engraving and checkering.
I've already decided how I want mine; it is to be completely standard except that it will not have a dovetail cut for the rear sight on the barrel and it will have the tang sight. That means it will be used with only the peep sight, very much like the way I would order a heavier Sharps rifle.
For some of the shooting that Allen and I did with the prototype, the barrel sight was removed because the peep sight fit our eyes much better than the open sight. While shooting with the peep sight, some very impressive groups were fired using target velocity .22 Long Rifle ammunition.
One of the things Allen did with the prototype Hopkins & Allen was to use it as a camp gun at our first Buffalo Camp. The camp guns are used on the "meat hunt" which takes place on our trail walk, shooting at game or animal-shaped hanging silhouettes. That allowed Allen to do some "hunting" with the little rifle and it performed very well. The only way the single -shot .22 could have had a better field test would to have been taken on a real hunt. I doubt that while actually hunting it would have been fired quite as many times. The Hopkins & Allen copy by C. Sharps Arms makes a very good camp gun.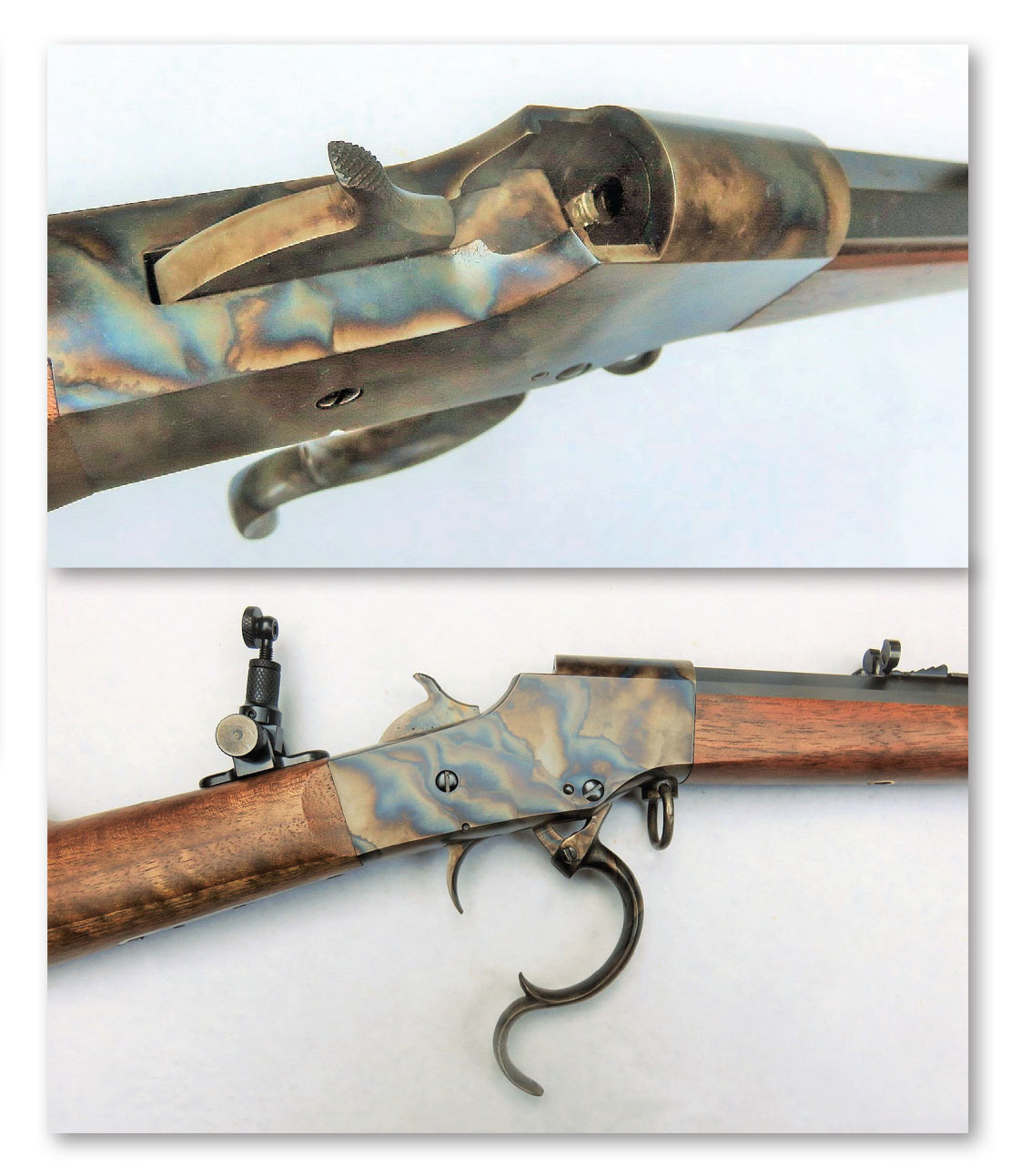 All of our shots on the trail walk for the meat hunt have to be witnessed by a scorekeeper or by another shooter. Watching Allen do his shooting and verifying his hits was very easy because with the subsonic .22 target ammo he was using, the impact of the bullets hitting the steel targets was louder than the reports of the rifle.
Allen didn't get a perfect score on the meat hunt, but he should have. After firing the few times when he'd miss, he'd turn and announce, "That was my fault." We've all been there.
There is one departure from the original Hopkins & Allen rifles that won't be copied by C. Sharps Arms. The original Model 922s were takedown rifles and the new ones by C. Sharps Arms are solid-frame guns. The C. Sharps versions will still have the ring below their receivers, which on the original was the ring through the takedown screw, but on the new rifles it is for appearances and is not operational.
The old Hopkins & Allen company closed their doors in 1915 and, of course, the Model 922 hasn't been made since. Can the new version made by C. Sharps Arms fill the gap of over 100 years by bringing this fine little rifle back to life? I think so. On the stepping stones toward full production, fifty of the rifles are being made for the shooters who signed up last year at Quigley. By the time you read this, those fifty rifles will already be sold but you can place an order for the next batch. A $500 deposit/down payment is required when the order is placed. For more information or to place an order contact C. Sharps Arms, Inc., at info@csharpsarms.com, visit their website at csharpsarms.com or call 406-932-4353. C. Sharps Arms, Inc., P.O. Box 885, Big Timber, Montana 59011.