Percussion Sharps carbines were an evolutionary "work in progress" from the 1840's until the final claim of perfection with the New Model 1859. We are all familiar with the accuracy of the Civil War models, but how accurate were the so-called "slant-breech" versions, especially the early ones? I have never seen a detailed, modern shooting test of these early models, so I found an original Model 1852 with an excellent bore and tight breechblock to establish the ground truth.
Many of these early Sharps carbines went "Out West" for official US border explorations, railroad route surveys, homesteaders, "49ers", and for the two regiments of United States Dragoons. Newspapers advised those persons travelling to California to "carry a Sharps rifle with 100 paper cartridges, and one or two Navy Colt revolvers with two pounds of powder, balls and caps."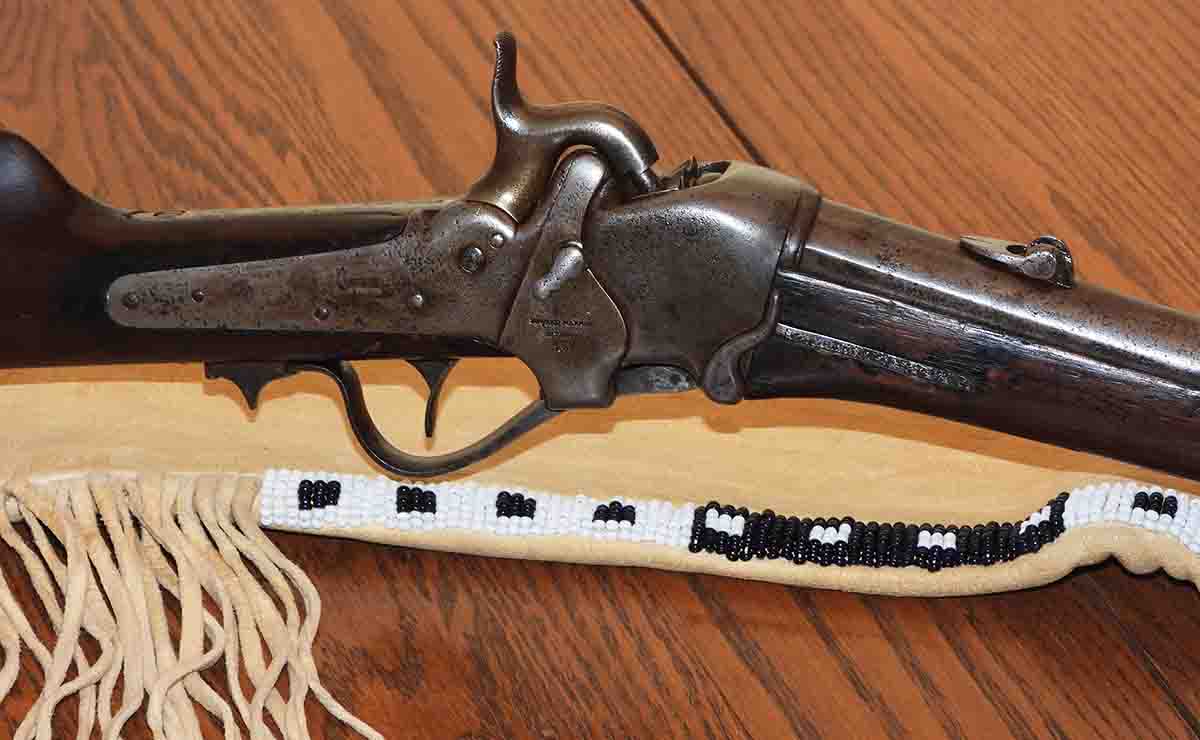 From the 1840s to the late 1850s, there were more than a half-dozen different breechblocks on their various models, and the Sharps Company knew that the key to the success of their product was to minimize the leak of powder gasses at the breech when firing. Their first big commercial success was with the Model 1851 and the Model 1852, both of which were tested and purchased by the US military. These models both had a flat-faced breechblock with a platinum ring inlet into the face of the block in an effort to reduce gas erosion of the block. Platinum was used because it resists heat and gas damage, is much harder than gold and was cheap in the 1800s. Top gunmakers used it for flintlock touch holes and in nipples for high-pressure percussion slug rifles. This Sharps breechblock with the platinum ring is exactly what I wanted to test, because the excellent properties of the later Conant patent gas seal on the New Model 1859 are already well known.
Some gun writers would have you believe that shooting an early "slant breech" Sharps is courting disaster, because the block is leaning back toward the top of the shooters head and they are known to leak gas, right? Well, if your breechblock is worn out, sloppy in the mortice with lots of front-to-rear play, it is definitely a wall hanger. On the other hand, if the carbine is in better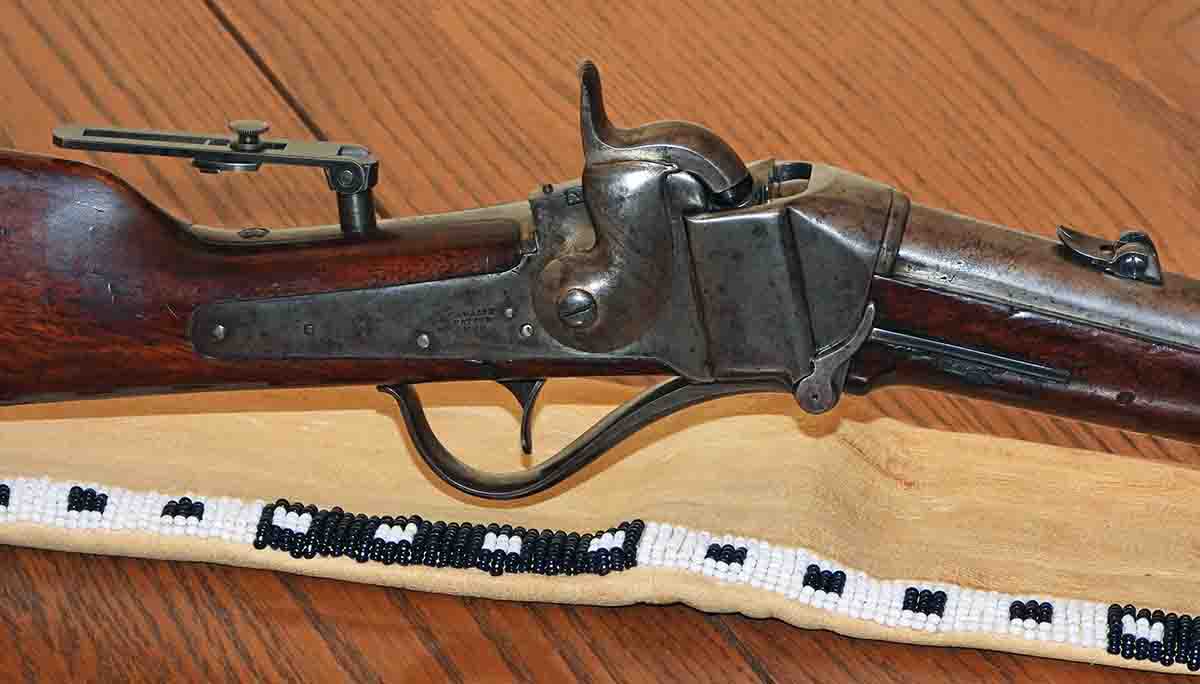 than average condition with an excellent bore and tight block, it might be a good shooter after having it checked by a knowledgeable gunsmith. The test carbine has less than a .001-inch gap between the block and the "bouching" (chamber sleeve) in the rear of the barrel. A .001 feeler gauge would not allow the breech to close, which is probably close to the original factory specification. When I shoot it, there is probably more gas leakage coming out of the nipple than there is around the block, and I don't even notice it. Indeed, if it were so bad, the Sharps Company would not have sold many thousands of them.
An Ordnance Department test was conducted in November 1851 by a brilliant officer named Major Alfred Mordecai, who was in charge of the Washington Arsenal.1 The test resulted in a military procurement order for 150 of the Model 1851 carbines and 50 of the Model 1852. There were several problems with this test, the main one being that the target was 16 feet long and 8 feet high! Another was the fact that Major Mordecai conducted most of the shooting with patched round balls contained inside paper cartridges, which were made for the .54 Model 1841 "Mississippi" muzzleloading rifle. As an interesting aside, Major Mordecai noted that the Model 1841 paper cartridge had the cloth patch tied completely around the round ball, and he found that the cloth patch stayed on the ball even out to 200 yards! This was obviously not good for accuracy, hence the need for a more modern test.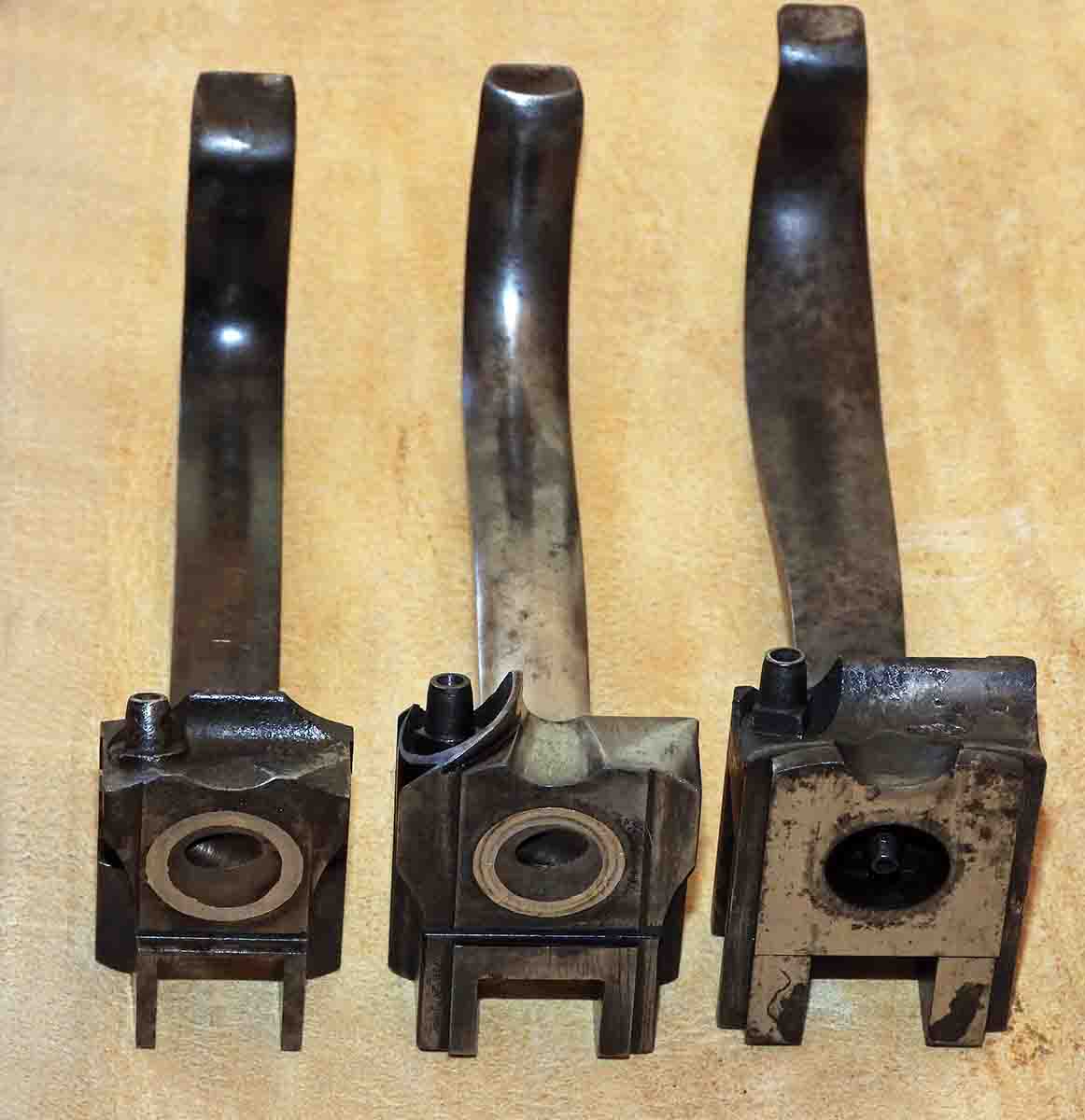 The Test Gun
The test carbine is similar to the official military Model 1852, but it was meant for civilian purchase. The barrel is 21½ inches long, .526-inch land-to-land and .550-inch groove-to-groove. The six lands and grooves are of equal width with the grooves being .012-inch deep, and are much deeper than necessary for good accuracy. The rear sight is an adjustable "squirrel's ear" type, and the tang sight is the early Sharps single-pillar version.2 Typical for its intended use on horseback, the trigger pull is heavy and the sight radius is short. The serial number is 5737, at which time in their production Sharps was still using the platinum ring in the breechblock. They discontinued the use of platinum in April 1855. My gun came with an old nipple that had a small flash hole and it gave quite a few hang-fires, so I replaced it with an original musket nipple with a larger orifice, which gave fast, perfect ignition. This compensated for the long, sharp-angled flash channel inside the breechblock. Most original Sharps rifles I've seen have large flash holes. The gun was not damaged in any way during the test, and in fact, it benefited from a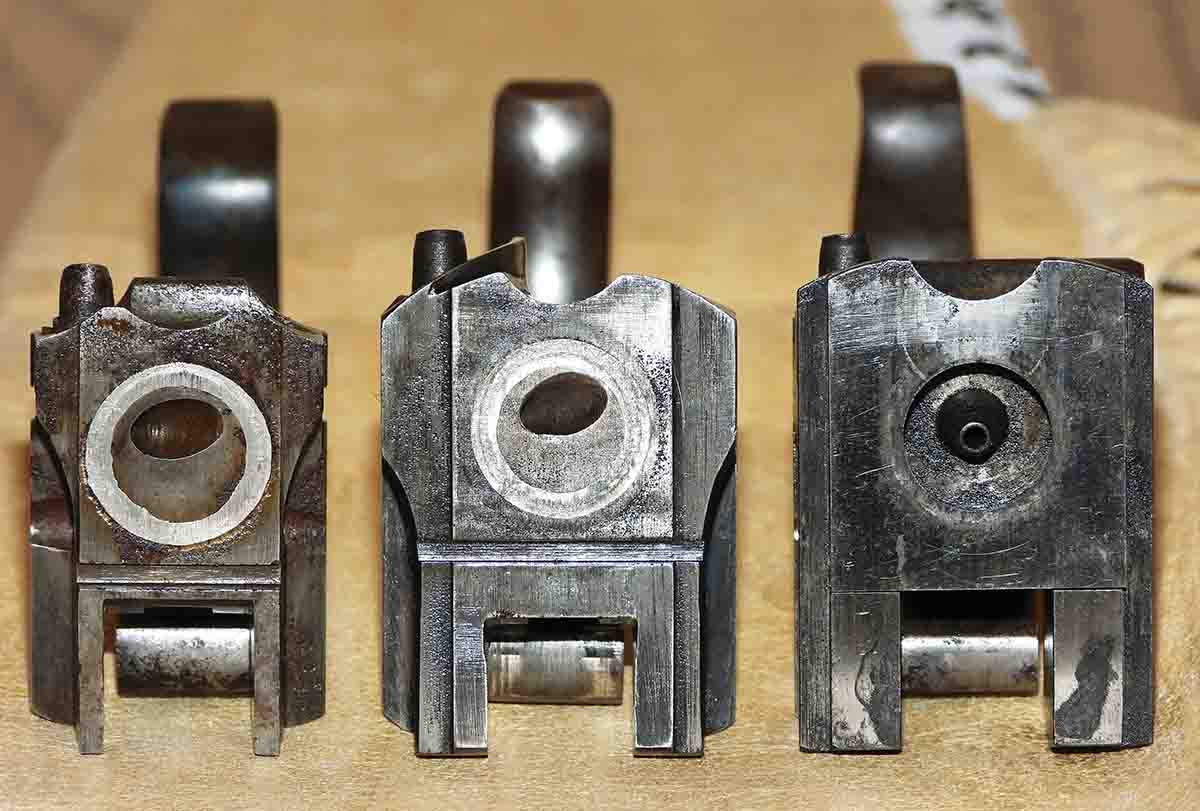 proper cleaning.
The Powder Charge
According to Major Mordecai, Mr. Christian Sharps preferred a slower, coarser powder than the quick, strong Dupont rifle powder contained in the Model 1841 paper cartridges. Therefore, for the first part of this test I selected GOEX FFg, and for the second part, Swiss 1½ Fg. Peter Schiffers, in his chronograph experiments shooting original powder from original Civil War cartridges, has discovered that Swiss 1½ Fg is the closest thing to the "government musket powder" of the mid-1800's. Musket powder was used by many contractors for a wide variety of cartridges, and the Swiss powder has nearly identical velocity characteristics. Certainly, the Sharps Company contractor used a similar grade.3
The Sharps Company specified 60 grains of powder for their early paper cartridges, but government inspectors sometimes found a few grains more or less in them. Also, the ringtail on the bullet took up a lot of space in the paper tube. Sharps cartridges during this era had a paper tail that was cut off, along with some of the powder, when the breechblock was closed. This was as designed and the block had a knife-edge for this purpose. The paper tail and excess powder were shaken off onto the ground. The amount of powder that ends up in the chamber is purely a factor of how far the paper cartridge goes into the chamber. For example, the factory Sharps bullets are tapered to precisely fit into the throat of the barrel, and a different brand of bullet might have a slightly different diameter and taper angle so that they won't go as deep into the throat. Therefore, more powder is cut off when the breech is closed. In addition, excessive fouling in a dirty throat can reduce the depth to which the bullet seats into the throat, thereby cutting off more powder at the rear of the cartridge. Obviously, variations are not good for accuracy. Pressing the cartridge firmly into place and wiggling it a bit in the chamber helps to get a more consistent seat in the throat, which results in better accuracy.
To be as authentic as possible, I used an original powder flask for measuring the 60 grains in my own paper-tail cartridges, and I determined that my gun cut off seven grains when the breechblock was closed, thereby giving a charge of 53 grains in the chamber. Major Mordecai estimated 55 grains for his charge in the chamber, but he was using a shorter, lighter tapered conical bullet of 380 grains, compared to mine of 455 grains. I discovered that the charge volume was very consistent from shot to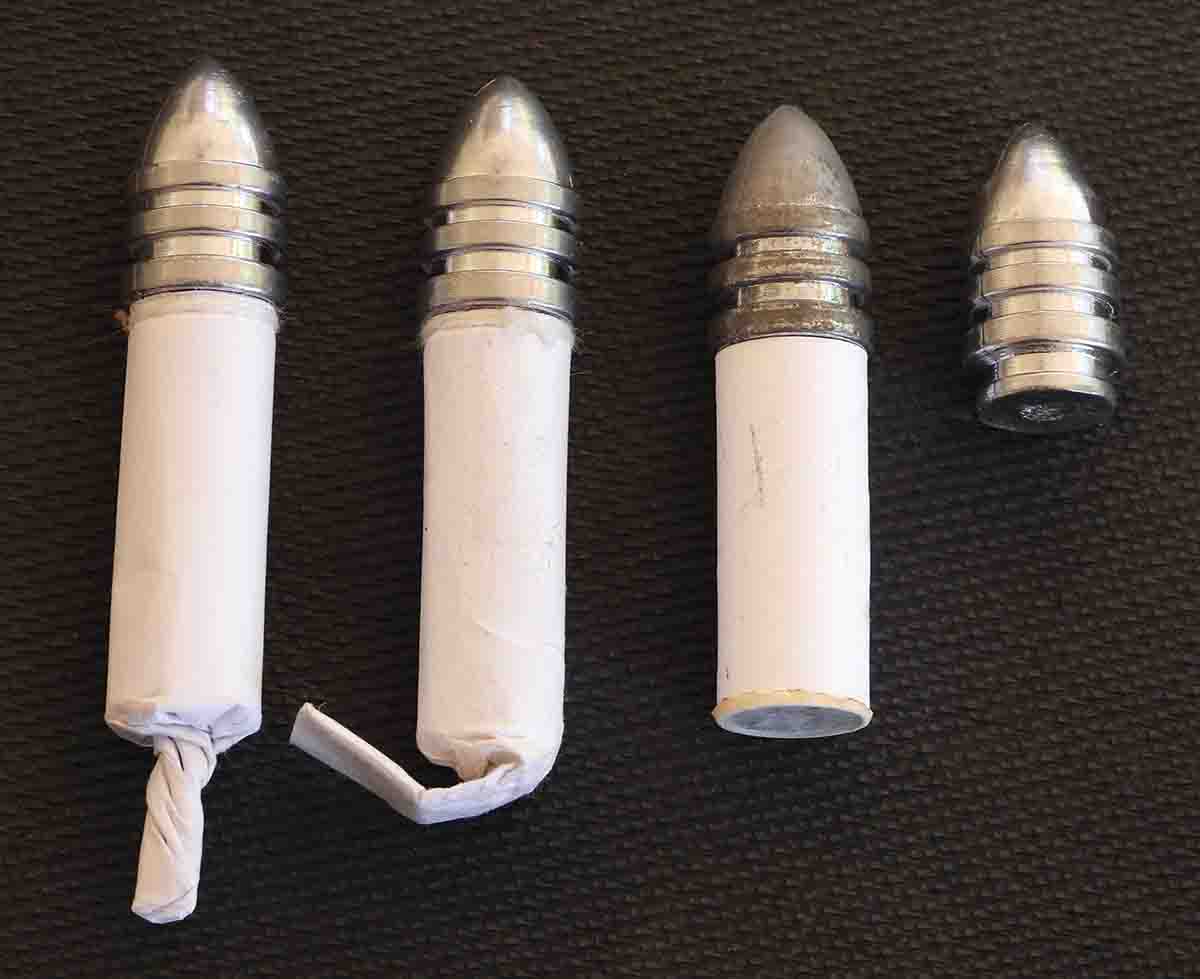 shot if I kept the barrel throat fairly clean. Historically, a rod or pull-through brush with leather thong was carried for cleaning.
From six to 10 shots could be fired in succession, but at that point the lightly-oiled breechblock would start to stick from fouling, and I did not want to take a chance of bending or breaking the lever with more shots. To remedy this, I cleaned the barrel with a wet patch, followed by a dry one, after every five-shot group. I thought this was good because five shots were more than one would fire in an average day of hunting. The test was conducted in southern Arizona during a period of very low humidity, and this certainly had an impact on the sliding and sticking of the block from powder fouling. Interestingly, this added to the realism of this test as many of these guns were originally used in the Southwest, and our ancestors would have had the same problem in a firefight in the 1850s. In some of the earliest Sharps advertising for the Model 1851, they recommended their customers put a few drops of water or saliva on the breechblock, and then work the action up and down a few times to relieve sticking. This works, but you only get a few extra shots before you have to spit again. Sharps also recommended that the gun be cleaned and lubricated often with the best sperm whale oil. I tried sperm oil (which didn't help with the block sticking) but the best results were obtained with thick axle grease on the block.4
GOEX FFg Chronograph results for a 10-shot string using 53 grains (by average flask volume) was as follows; average velocity: 775 feet per second (fps), extreme spread: 24 fps and average deviation: 6.2 fps. After the first five shots, the bore was wiped once. CCI Extra Strength musket caps were used.
Swiss 1½ Fg Chronograph results for a 10-shot string using 53 gains (by average flask volume) was as follows; average velocity: 835 fps, extreme spread: 31.5 fps, and average deviation: 6.5 fps. The bore was also cleaned once after the first five shots. CCI Extra Strength musket caps were again used.
The above spread and deviation numbers for both powders are very good for accuracy, especially considering the flask use and breech design of the gun. The surprising difference in velocity between the two brands of powder is due to the fact that Swiss powder is more powerful, even though the grain size is larger. Fifty-three weighed grains of each powder occupy almost the same volume in the cartridge tube.
The Paper Tube
Hot burning paper left in the chamber was an issue with all percussion Sharps rifles. Who wants to shove another cartridge into the chamber when there is a chance it might explode in your face? At the very least, it can adversely affect accuracy. After shooting original Sharps firearms for over 45 years, I have experienced this problem with both impregnated/nitrated paper and unimpregnated paper, and the effect is probably worse with the combustible type. It burns much hotter. The good news is that back-pressure in the barrel sucks most of the paper residue out of the muzzle, so this doesn't happen very often. Soldiers learned to stick a finger into the chamber to clear it, while Major Mordecai said to push the next cartridge in and out to remove paper residue. This would have been very dangerous!5 It is a good safety habit to look down the bore after every shot to be sure that it is clear.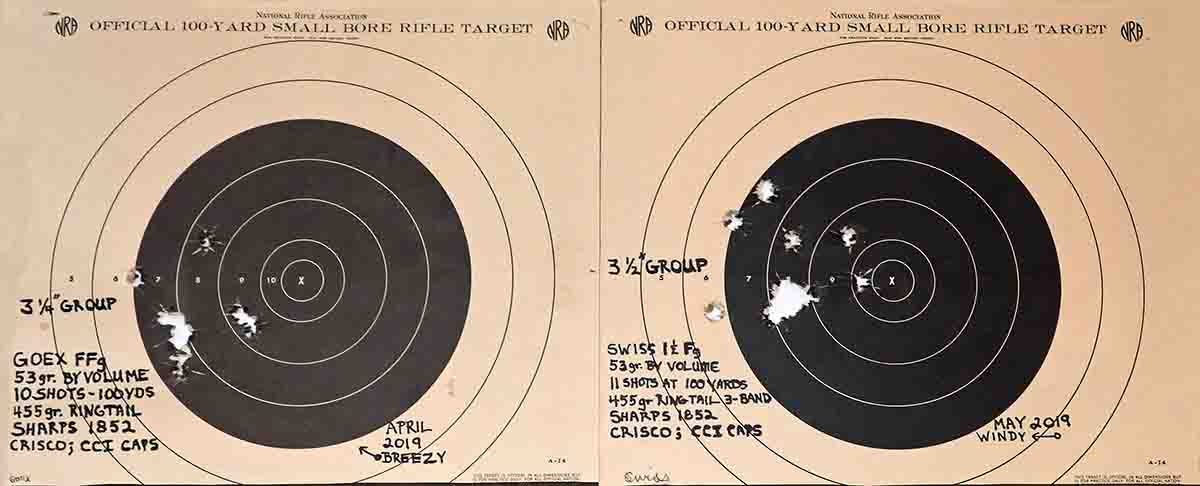 I am not at all certain that most Sharps cartridges of the 1850s were made of combustible paper, and I have never seen a reference to impregnated paper being issued to soldiers in the field so they could roll their own cartridges. They had Sharps bullet molds and cartridge forming mandrels, but what kind of paper did they use on the frontier? Probably anything they could get their hands on.
For all of the above reasons, I decided to use Charlie Hahn's paper tubes, once the proper powder charges, dimensions, bullets, etc., were established through experimentation. They are widely used by shooters in the North/South Skirmish Association, and they had no noticeable effect on my accuracy test. All record strings were shot using them.6
The Correct Bullets
I had access to a museum collection of historic Sharps bullets from the pre-Civil War era, so I studied several hundred of them. These bullets came from a US Dragoon fort where the soldiers were issued some slant-breech model Sharps. Surprisingly, they were very uniform, and about 85% of the three-band Sharps bullets looked like they came from the same manufacturer, while about 15% looked like they were cast locally from Sharps molds with the pincer sprue cutter.
Only about 5 bullets were different variations from this. I weighed 42 dropped (not fired) three-banders, and the average was 447 grains. They had very little oxidation given the climate, and all were in the 440 to 455-grain range. Eight of these dropped bullets were good enough to get accurate band measurements from, because they had not been stepped on, and the results were as follows; top band average diameter: .530-inch, middle band average diameter: .540-inch, bottom band average diameter: .552-inch. The measurements of the ringtail were difficult because all were slightly oval, but .432-inch was about mid-oval. The overall average length of bullets was 1.065 inches.
My Bullet: I tried several different makes of three-band Sharps bullets in my Model 1852, and all shot well. The one that shot the best was the one closest to the original measurements and weights. Top band: .531-inch; middle band: .539-inch; bottom band: .548-inch; ringtail about .460-inch and overall length: 1.016 inches. The bullet weight averaged 455 grains of pure lead. Since Sharps bullets were not typically weighed during this era and bullet/powder scales were few and far between, I performed only a quick visual inspection of each well-cast bullet for the accuracy test. In other words, they were not sorted and fired by weight. This allowed me to better determine how well these carbines performed historically.7
My Lube: Sharps recommended using only tallow in their early advertising. I tried that along with solid Crisco, and they both worked equally well. However, those lubes only work on cool days due to melting. As it was, the testing was completed before the weather got hot, so I did not have to switch to a stiffer tallow and beeswax mixture.
A second, completely different type of Sharps bullet was also found at the Dragoon fort; what most references call the "Gomez & Mills". This bullet has nine tiny grooves and is very rare. By chance I noticed a fired one with the distinct rifling marks of a Model 1851, which has slightly different grooves from the Model 1852. Thirteen dropped (not fired) bullets of this multi-groove design was weighed, and the average was 461 grains, ranging from 455-465 grains. I dropped a couple of these into the throat of a Model 1851 and a Model 1852, and they seated to about the same depth as the three-band variety, even with a much larger base band (.579-inch average). Such is the taper of a Sharps throat or "bullet seat" as it was originally called.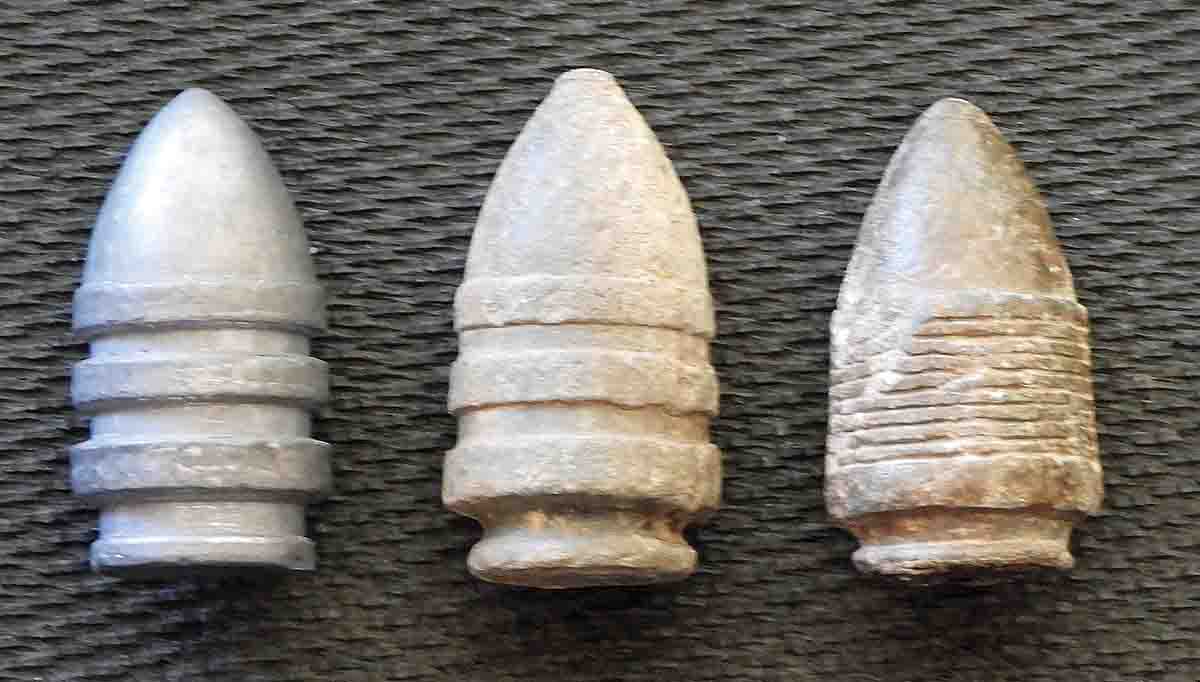 Accuracy Test Results
All groups were fired from the bench rest position, using front and rear bags. One hundred yards was the distance. Wind was my constant enemy and it averaged five to 10 miles an hour for my shooting sessions, but then this is very typical for the Western States. According to my rough calculations, a five mile per hour cross wind deflection on this bullet at this velocity would be 1.5 - 2 inches at 100 yards. To help with eyestrain and target focus, I used the early Sharps peep sight which was not adjusted between shots or groups. This sight also helped to compensate a bit for accuracy lost due to the wind, which amounted to about ½ inch. All groups were measured center-to-center of the two widest shots.
• GOEX FFg Powder at 775 fps
Four, five-shot groups: Smallest group: 2.875 inches. Largest group: 5.5 inches. Average group size: 3.78 inches. One ten-shot group: 3.25 inches. The bore was cleaned once after the first five shots.
• Swiss 11⁄2 Fg Powder at 835 fps
Four, five-shot groups: Smallest group: 3 inches. Largest group: 4.625 inches. Average group size: 3.66 inches. One 11-shot group: 3.5 inches. The bore was wiped once, half-way through the 11-shot string.
The difference in accuracy between these two powders is insignificant, because the wind had a greater influence on all group sizes than did the powder. I guess I would use the more powerful Swiss for hunting and long-range work, and the GOEX for plinking with less recoil. Informal shooting was also done with the GOEX at 200, 220 and 333 yards. The groups were consistent with the minute-of-angle rule in relation to the 100-yard group size. For example, a 200-yard, five-shot group measured 7.25 inches, roughly double the 100-yard group.
Conclusion
Any modern shooter would look at this gun, bullet and cartridge and say, "This won't shoot worth a damn!" Nevertheless, it shoots exceptionally well; better that many modern carbines (viz: a typical .30-30 carbine, M1 carbine or AK47). As a lifelong muzzle-loading shooter, I know that most round ball hunting rifles of the era didn't shoot this good, and that made the accuracy of the Sharps even more amazing to the public. Add the firepower of a breechloader to its effectiveness on horseback, and you can understand the rifle's success. Finally, the platinum ring breechblock worked much better than expected, but of course it was not as gas tight as the later Conant gas seal plate as featured on the New Model 1859. The slight leakage was never felt while shooting. In the 1850s, a good shooter who understood the quirks of his Model 1852 carbine would be very deadly, especially beyond round ball range.
References:
1. Roy Marcot, Edward Marron, Jr., Ron Paxton, et al, "Sharps Firearms, Volume 1, The Percussion Era", Northwood Heritage Press, Tucson, AZ, 2019, pages 55, 75, and 99, Major Mordecai's reports. This is a wonderful new book that every owner of a percussion Sharps should have.
2. Richard Wetnight makes exact reproductions of early Sharps tang and "squirrel's ear" sights that are excellent. You can contact him by writing rhwet@cox.net.
3. Peter Schiffers, "Civil War Carbines . . . Myth vs. Reality", Mowbray Publishing, Woonsocket, RI, 2008, page x. This is a major work about test shooting the primary US cavalry carbines of the Civil War.
4. Earliest Sharps Instruction Sheet/Advertising, "Sharps Firearms, volume 1, The Percussion Era," as in endnote 1, above, page 120. This flyer tells the user how to operate and clean the early models.
5. See endnote 1, page 56, Major Mordecai's Test Report about removing paper from the chamber.
6. Charlie Hahn's paper tubes can be obtained by calling (410) 627-4726 or writing etb9601@gmail.com.
7. Thanks to Pat Kaboskey for providing different Sharps bullets and my mold. He can be reached at cwbulletman@aol.com, or (262) 363-4625. He sells competition grade cast bullets.