How did our ancestors carry, stow and transport their guns?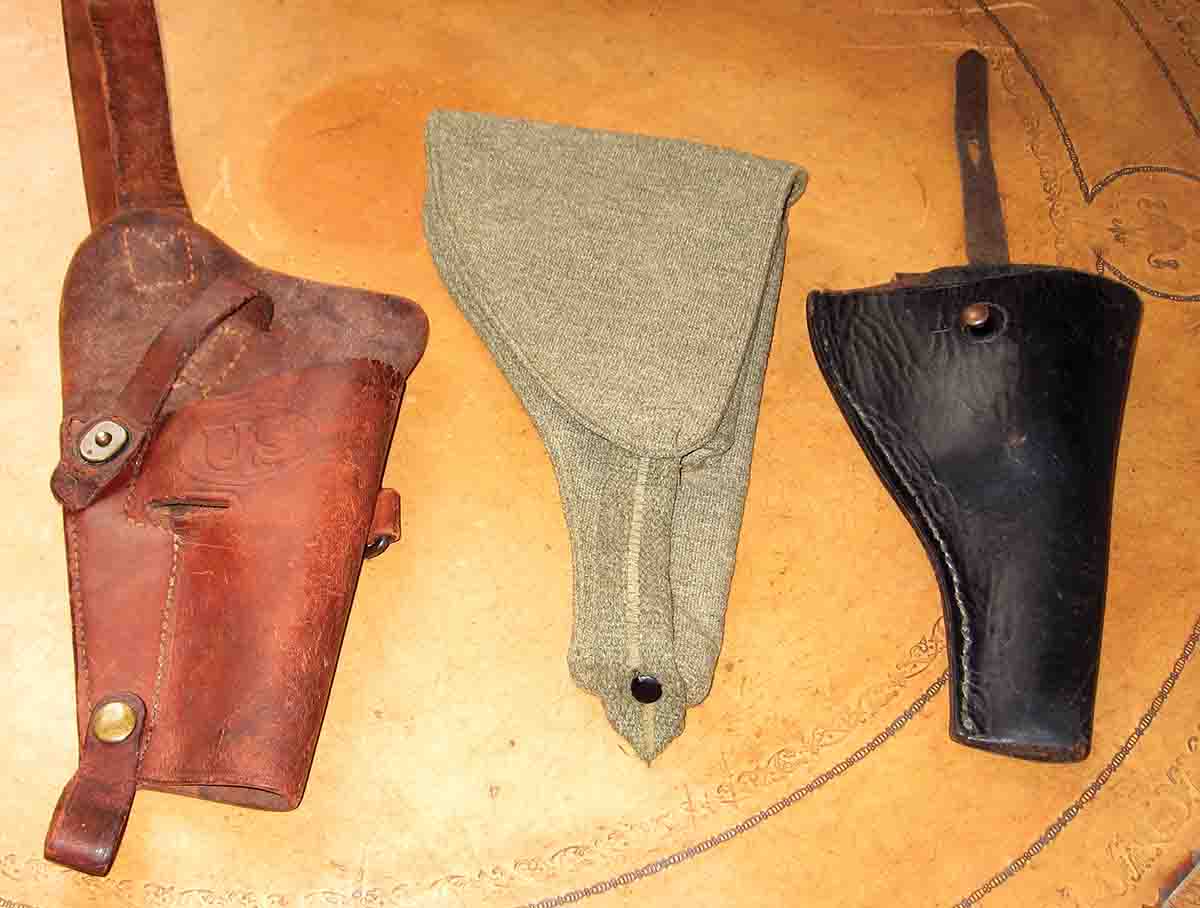 We all know the cowboys carried their revolvers in holsters or stuck them in their belts, while a gambler might keep his concealed, but always at the ready. The Army was fond of saddle holsters for their Dragoon pistols up until around the time of the War of 1861 when smaller belt pistols came into use. The mountain men carried their plains rifles in buckskin sleeves as did some Native Americans. We know this because we've done our homework by studying Fredric Remington paintings, watching Hollywood and Italian westerns and the like. It's always a good idea however, to gather facts from more accurate sources.
Although guns seem to last forever, their accoutrements tend to disappear. Several years ago, while visiting a childhood hunting buddy in Louisiana, I was shown a very old "Slim Jim" holster. The ancient "Slim Jim" was dried out and beginning to fall apart, and looked as though it had been through the wars. I swapped something for it and took it home. There I discovered it was a perfect fit for my 1860 Colt Army. The Colt came from the same small town as the holster.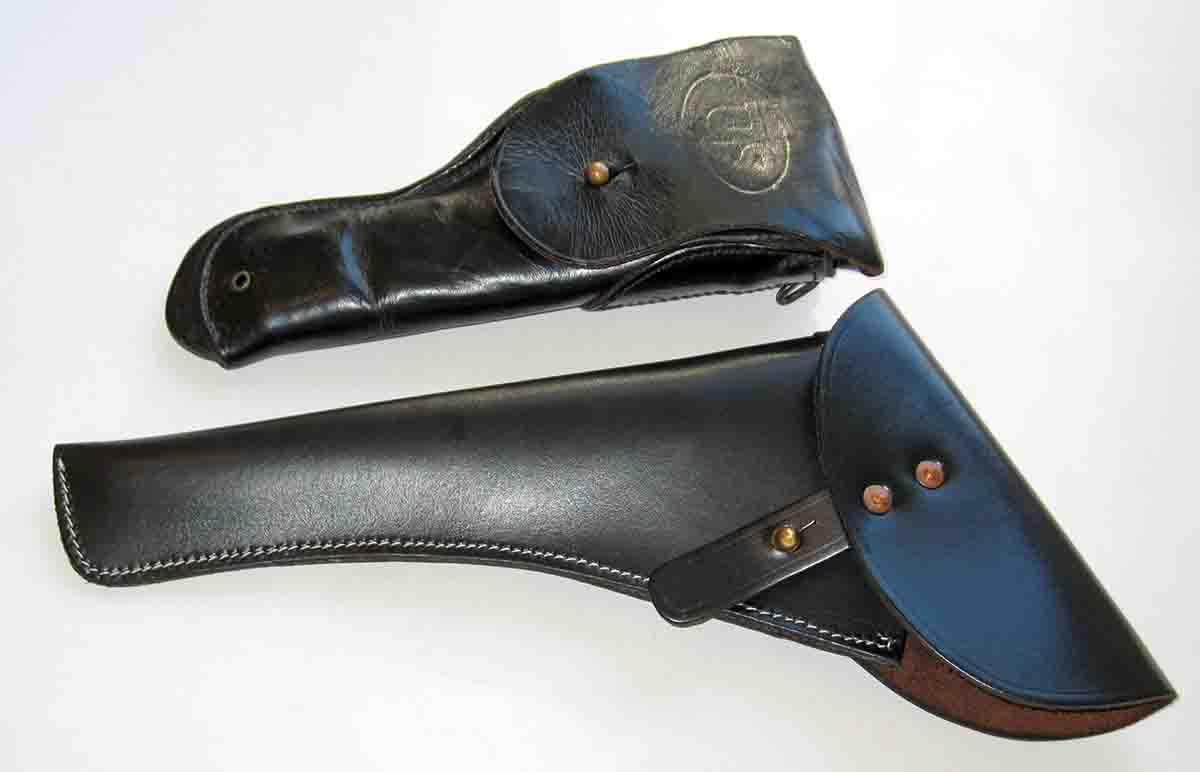 Holsters in use from the mid-19th century into the current era may be roughly divided into military and civilian types. The old saddle holsters used with heavy percussion revolvers featured tight-fitting covers that kept their contents dry. Later belt holsters for Civil War Colts, Remingtons, etc., featured a simple flap that shed water (more or less). The flap continues to this day, and a half century ago I wore one that carried a U.S. Army issue M1911A1.
Military holster requirements differ from their civilian counterparts in that they must be relatively weatherproof, very stout and able to hang on standard military web or leather gear. Another variant is the shoulder holster worn by tank crewmen, aviators and others. I know from personal experience that it's a lot easier getting in and out of a tank hatch with a shoulder holster in lieu of the belt type. As a matter of interest, the relic USMC 1943 dated Boyt single strap shoulder holster shown below bears the users rank and name, "LT B.G. Gibson".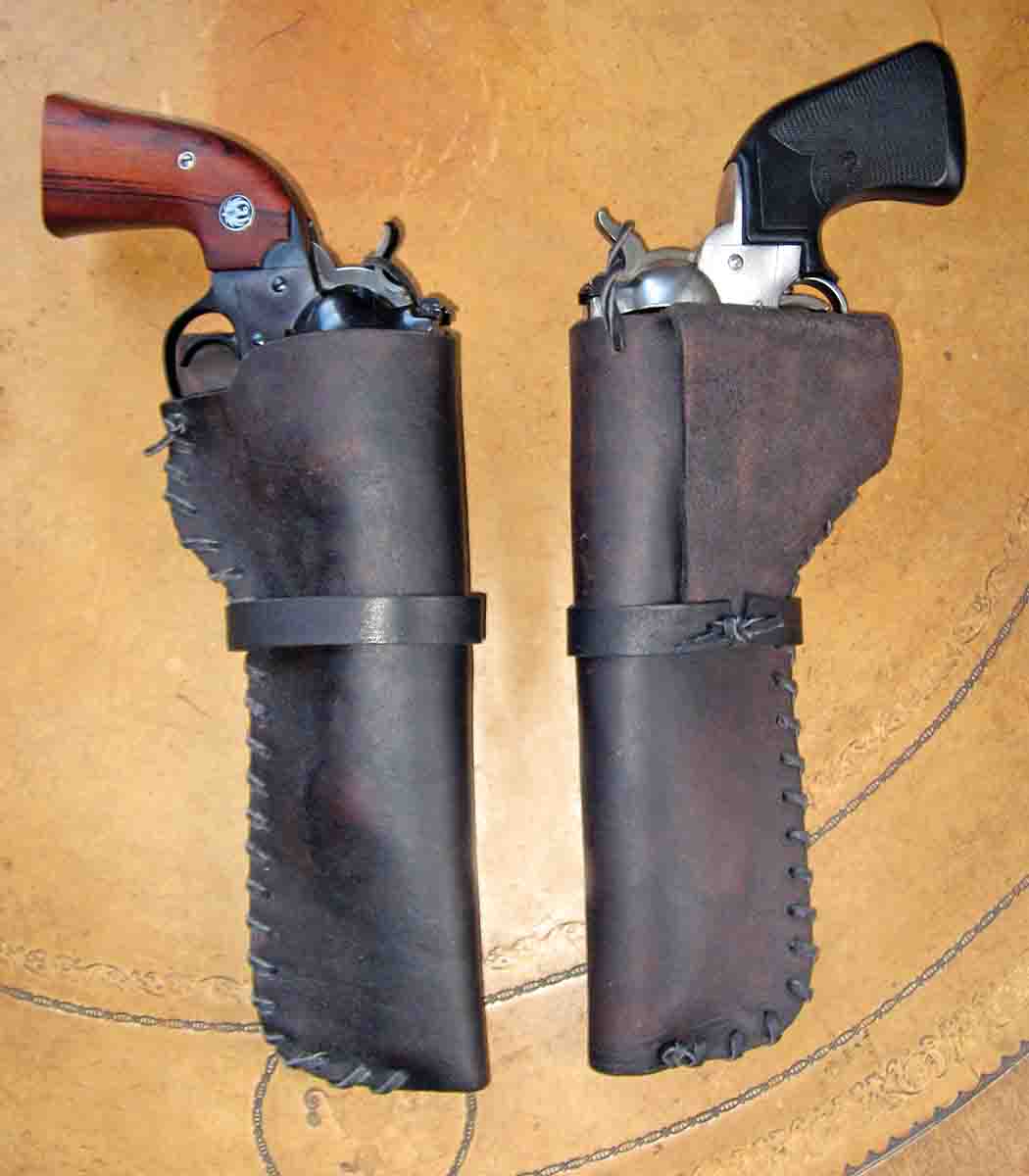 On the civilian side, holster styles have varied greatly since the first were introduced, due to user's tastes and requirements. Because most of my pistol shooting is confined to plinking and hunting, my requirements are few. The first is that the pistol fits the holster like "hand to glove". This fit is guaranteed by wet forming the holster to the pistol. The second is that the pistol is positively retained in the leather, usually by a piece of bootstrap twisted around the hammer spur. The last requirement is a comfortable and safe carry. When walking I use a belt holster, when riding my tractor, a shoulder holster is worn. My latest effort is a shoulder holster for a Browning Buck Mark enabling me to zap copperheads without dismounting my John Deere tractor.
If you don't feel like rolling your own, an excellent reference and source for holsters is the Buffalo Arms catalogue where a myriad of styles are illustrated. Of particular interest is that this offering is mostly designed for packing traditional single action revolvers. Cartridge belts, rifle sleeves, scabbards and other leather goods are offered as well as pistols, rifles and shotguns to stuff in them.
Earlier this week a friend showed me a .38-40 Colt SSA, holster, gun belt and spurs that belonged to Edmund L. "Mikie" Mikulic. Mr. Mikulic born in Praha, Texas, was a U.S. Border Patrolman before and after WWII. Stationed near Del Rio, he patrolled his sector of the Rio Grande alone on horseback from a rough camp next to the river. During WWII, he served in the Air Corps after which he returned to his lonely vigil on the frontier.
While pistols are carried in holsters, military rifles are usually suspended by slings. At the command "Sling Arms!" the soldier loosens the sling and hangs the rifle on his shoulder. In this position both hands are free and one can march in relative comfort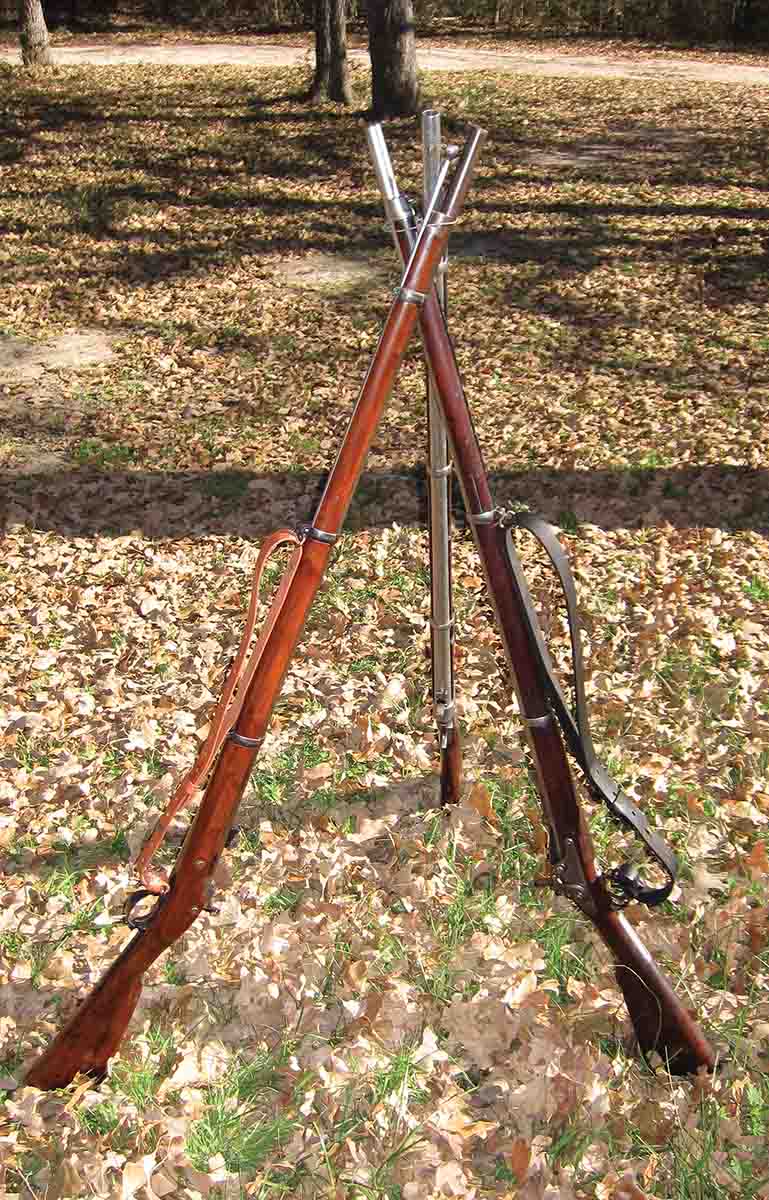 compared to carrying the rifle at right or left "shoulder arms". Slings may be arranged in non-standard ways to suit the soldier. I've seen a tracker-dog handler carry a sawed-off M60 at the ready slung from a sling he devised. My M16 was suspended from one shoulder, action up, muzzle down by looping one end of the sling around the butt and lower sling swivel then running the other end through the front sight. In this position, my hands were free and the rifle was in a ready position.
Back in the day, upon the command "Stack Arms!", three or more rifles were joined by their stacking swivels or bayonets. Muzzle plugs were inserted and the rifles left until the next morning. When hunkering down for the night, covered by my poncho and sitting with my back against a tree, my M16 rested across my lap.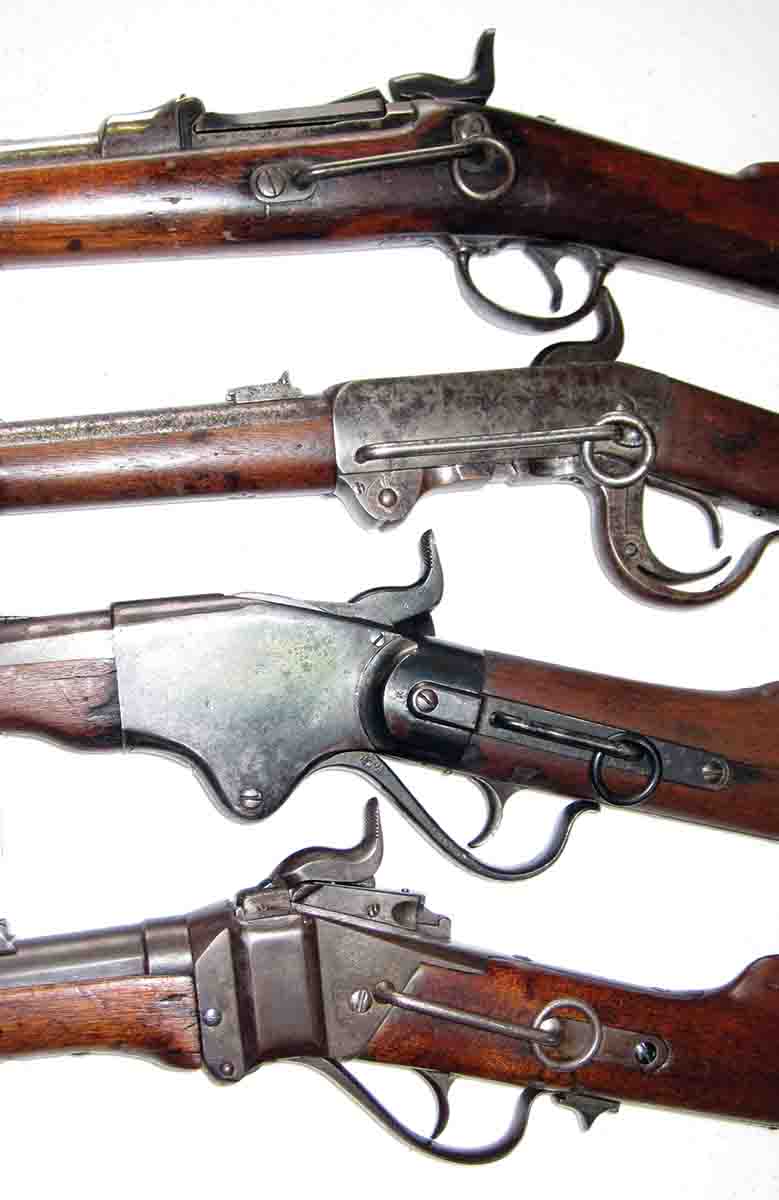 In this position, it was ready and out of the rain. While the preceding is a fair description of how our infantrymen transported their rifles, our cavalry used an entirely different system.
Civil War and later U.S. cavalrymen carried their carbines by means of a leather strap slung over the shoulder and across the body. At the bottom of the strap was a snap that hooked into a ring on the carbine. This arrangement kept the carbine with the horse soldier and allowed instant access. European armies used different systems, including scabbards for their mounted troopers. If you own a horse and carbine, you may buy the strap and snap from Dixie Gun Works.
My first "real gun" was a 16 gauge Iver Johnson Champion single shot that I began shooting at age eleven. It never had a gun case because most of my hunting was close to home. Every now and then my father and I would load up the pirogue, then drive to Bayou Rouge where I would float downstream alone early in the morning looking for ducks. Later, when I hunted away from home, I used a soft case for my double. I bought my first hard case when I acquired my first scope-mounted deer rifle. My hunting buddies followed the same course, and we didn't worry about messing up our expensive toys because they were nestled in foam surrounded by hard plastic.
When I began shooting BPCR Silhouette I soon discovered that all my gun cases were much too short to hold my long-barreled .45-70 and .50-70 match rifles. I found some custom aluminum cases that were long enough but didn't look authentic. I figured that Billy Dixon and other 19th century shooters didn't own any aluminum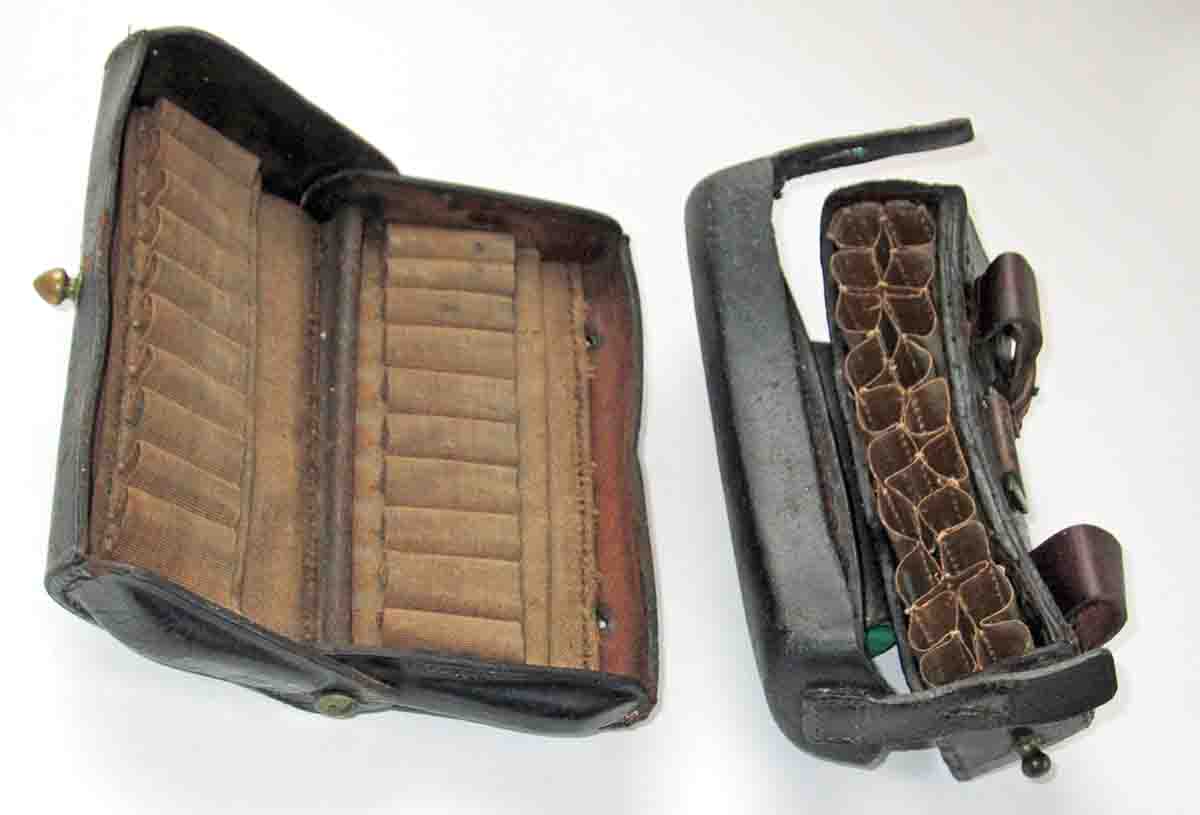 cases.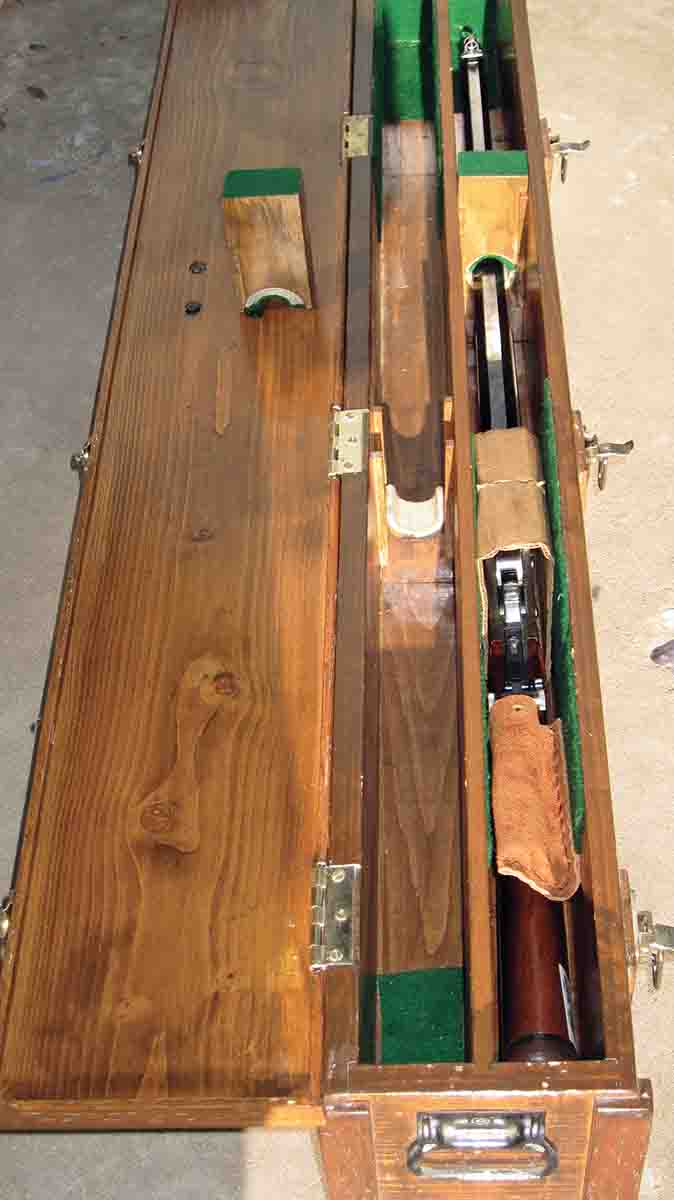 One day while flipping through Guns of the American West by Joseph G. Rosa, I happened upon a photograph of an original Sharps two-gun shipping box with a hinged lid. The box was pretty simple and I had visions of it resting in a buffalo hunter's wagon protecting his rifle and its delicate sights. After measuring my match rifles and several military single shots, I generated plans for a box that would serve for all our match rifles and many of my long-barreled antiques. After building the box, rifles were carried to matches securely encased in weatherproof comfort, riding in the bed of my pickup.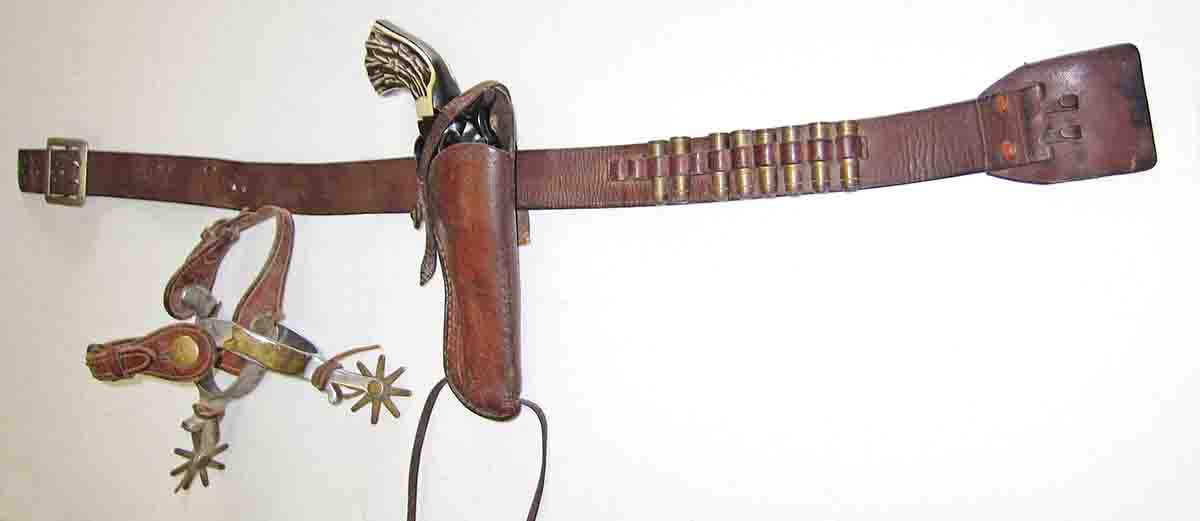 Few leather accoutrements survive the guns with which they were issued. These include cartridge boxes, pistol belts, cap boxes and magazine pouches. Canvas or cloth equipment seems to last almost indefinitely as they require only drying after being wetted in fresh water. Leather, on the other hand, must be carefully dried, then oiled in order to remain serviceable.
Today there are a myriad of reproductions of both civilian and military equipment available. When I hunt with my M1863 Springfield, all necessary ammo, tools and cleaning supplies are carried in a reproduction Civil War cartridge box. Caps are enclosed in a reproduction cap box. Both are proven designs that keep their contents dry and organized. And, they are also "period correct" for my Springfield. If it ain't broke, don't fix it.