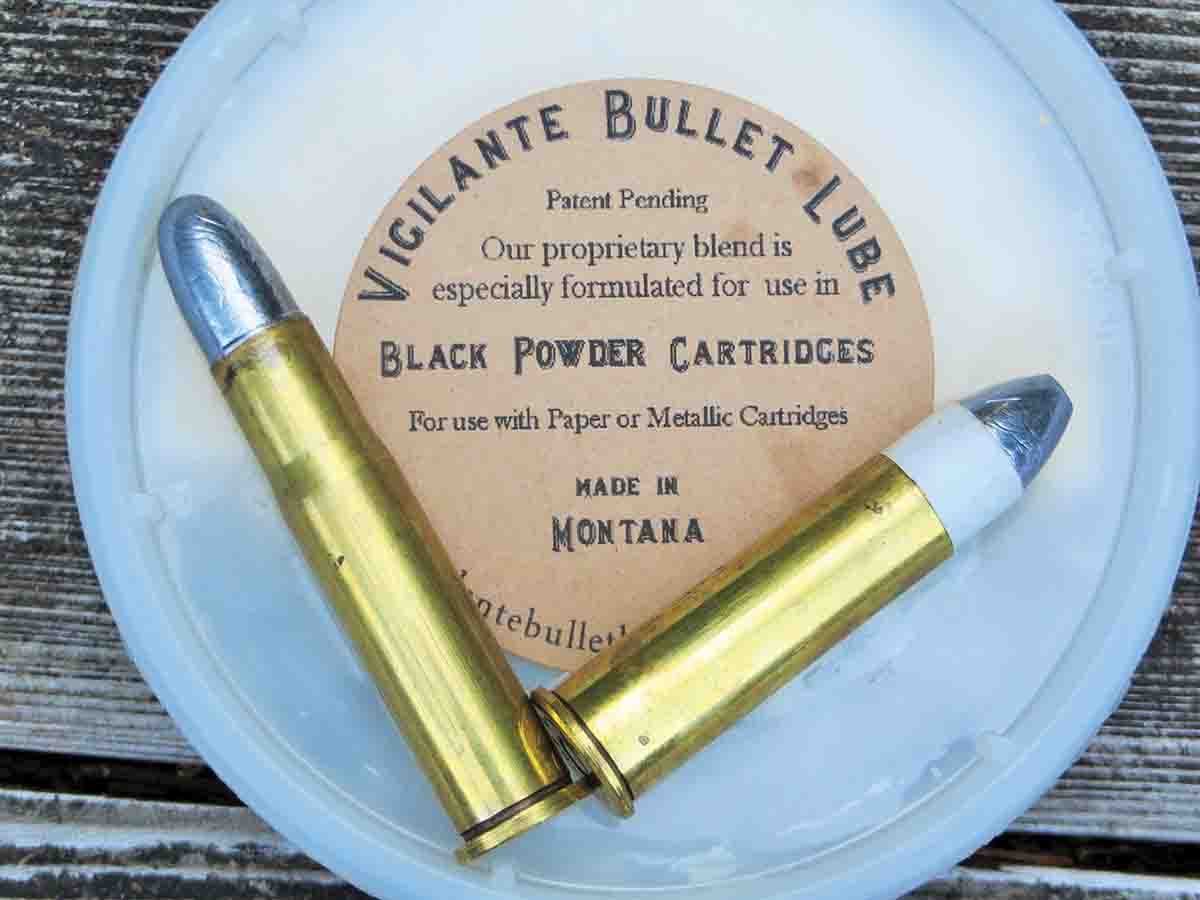 My first introduction to Dan Highley and his Vigilante Bullet Lube was with muzzleloaders. They offer a patch lube and gun grease, both of which work very well and I gave them a good review in
Muzzleloader
magazine in the "Prime Possibles" section. Now it is my pleasure to give them another good product review after using their black powder cartridge lube in several BPC rifles.
Like their label says, this lube is for paper or metallic cartridges. I don't personally know many shooters who are using paper cartridges these days, although I did give them a good try in a .36 Colt revolver. Of course, we all know of the Sharps percussion rifles that use paper cartridges. In the percussion breechloaders and revolvers, the bullets still need lubrication with or without the paper cartridge.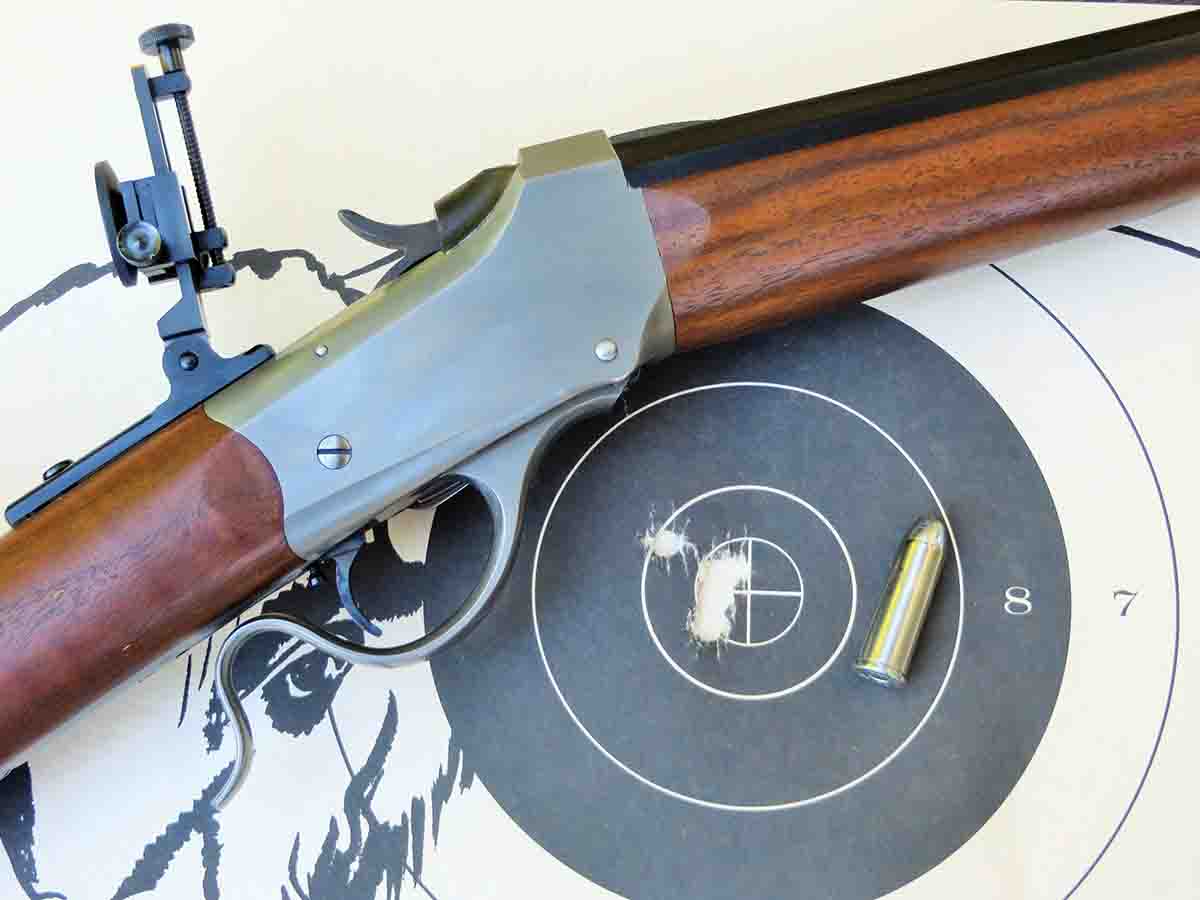 Let me add that when I read that "For use…" recommendation, I misinterpreted it. At first I thought it said for use with paper patched or "naked" grease-groove bullets. The paper cartridge idea didn't sink in until after I had done most of my shooting and was taking the picture of the label on the lid of the container.
Dan introduced this new lube to Allen Cunniff and I while we were cruising traders' row at Quigley back in 2015. Dan made sure we both had a tub of his lube for black-powder cartridges and we promised to give his lube a fair workout.
For me that workout began with a fairly wide list of cartridges, from the .44/40 up to the .50/90. Somewhere in the middle was the .44/77 and that is the cartridge which has given me the most experience, so far.
First tested was the .44/40 and my loads used the standard bullet for the .44/40, Lyman's No.427098, over 35 grains of Olde Eynsford 2F with no wad between the bullet and the powder. Those bullets were lubed with Vigilante and sized to .429-inch before being fired in my new Model 1885 low wall from C. Sharps Arms. That load worked very well, giving tight groups at 50 yards complete with a fine "lube star" on the rifle's muzzle. No leading or evidence thereof could be found during cleaning.
The .44/77 used both paper patched and grease-groove bullets. The paper patched 400-grain bullets were loaded over 75 grains of the Olde Eynsford 2Fg, a thin milk carton wad over the powder, a 3/16" grease cookie of Vigilante Lube and then a Walters' .060" wad under the bullet. Those were fired in two 5-shot groups, back to back, with no cleaning. The last couple of cartridges began to feel "sticky" when they were chambered but not stiff. All ten shots scored nicely. When my .44/77 rolling block rifle was cleaned, it was obvious that the bore was still coated with a layer of Vigilante Bullet Lube and again no evidence of any leading. The .50/70 and .50/90 both had good results with Vigilante Bullet Lube, showing generous lube stars at the muzzle.
Now I will quickly point out, before most of you remind me, most of my shooting with Vigilante Bullet Lube was done during the summer, during some rather hot weather. That means this is a good summertime lube. At the same time, this gives me the opportunity to conduct my testing with this lube all over again this winter and another report is likely to follow.
Very recently Dan told me he is going to bring back his original gun-grease formula but it will be put into plastic waterproof containers with a screw-top lid. That should prevent the grease from "crawling" out of the can. It seemed to work better than the high-temp blend he had been making. Some of the paper-patch target shooters have been requesting it as they were using it for swabbing between shots, using cleaning patches that have been dipped into the melted lube. It was reported back to Dan that one swab through the barrel after every two shots was giving them 6 to 8-inch groups at 600 yards, if the winds held, and they've been able to keep shooting almost all day by using that method.
Vigilante Bullet Lube is priced at $34.99 for one pound. Patch Lube is priced at $11.99 for a 4-ounce tin, and his Gun Grease is sold in a 2-ounce tin for $5.99. Shipping via US Mail in a Flat Rate envelope is $8. On larger orders Dan does try to give a discount and he plans on offering free shipping for orders over $40. For more information contact Dan Highley at Vigilante Bullet Lube. Email him at vigilantebulletlube@gmail.com or visit his Facebook page.
Dave Lloyd Books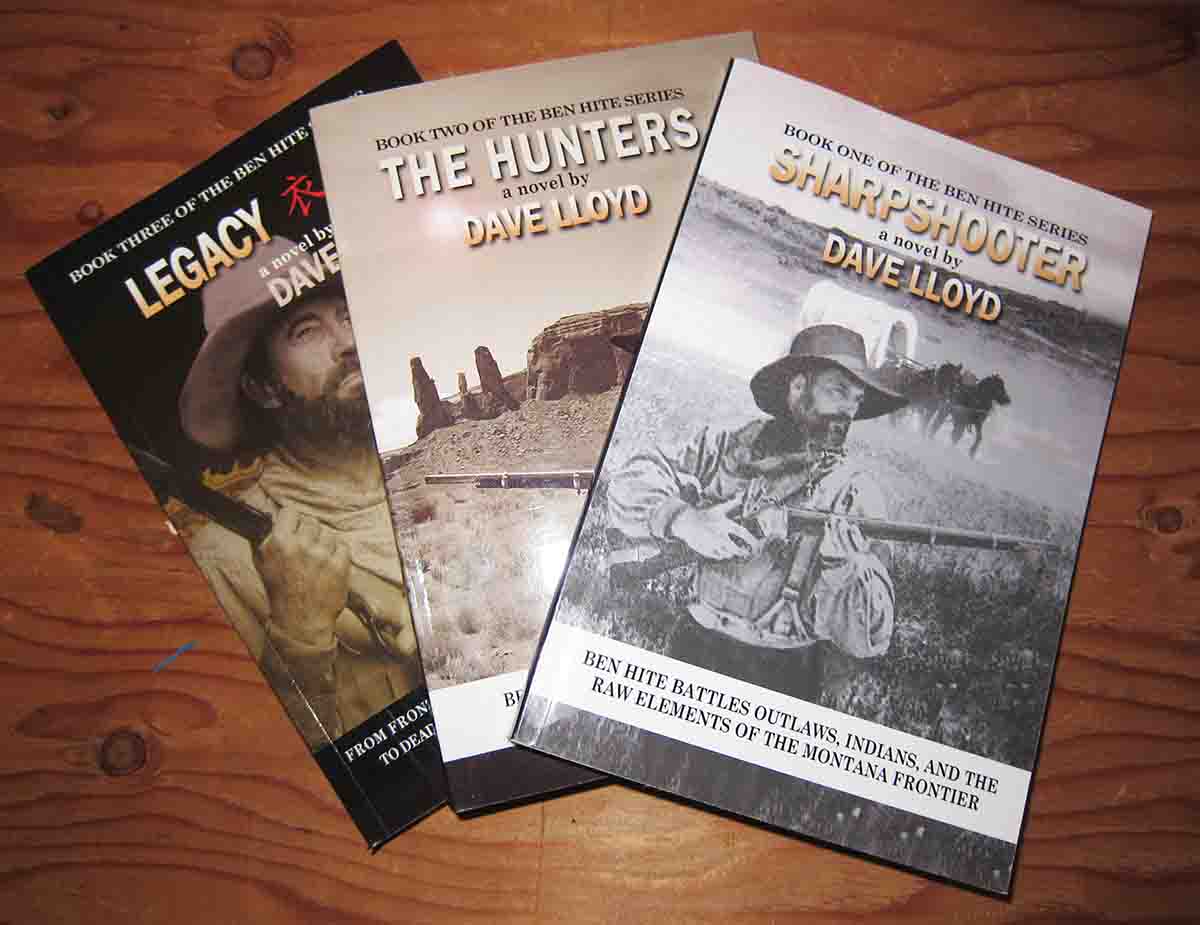 After finding out that I had been "into" Dave Lloyd's books, our editor asked me to do a review on one of them for the magazine. Of course, I accepted, as I am a big fan of Dave's. However, since I have read all three of his series books (ten in total) I figured a review of all the books in general and especially the author's techniques would be more appropriate.
One of my favorite categories of novels is "historical fiction". It's the search key I use when browsing my library's website for a new book to read. I also like to read books on historical figures – biographies and such. While looking through the BPC News, an ad for Dave Lloyd's books caught my eye. The ad indicated that his books are essentially historical fiction. The ad referenced Amazon so that is where I went, and I wound up buying three of his books – two trilogies and a four-book series. The three series are the River Boat series, Montana Saga (four books), and Sharpshooter. I started reading the Sharpshooter series first. I have to say I was hooked immediately after the first few pages; yes, it is that good! As I write this, I have read all three series.
His style is easy to read, flows smoothly and logically, his historical references are very knowledgeable and continuity is perfect. His scene descriptions are very thorough which gives the reader a good sense of the picture he is trying to paint for the background as his characters act out the plot. These techniques are just a few of the many he employs that help immeasurably for a reader to imagine what is happening. His novels use the classic aspect of "Good vs. Evil" with the Good ultimately triumphing, but with some very realistic and unexpected twists of fate. Another subplot I discovered through the three series was the use of foundling children who in desperation cling to their rescuer (the protagonist) with some interesting outcomes. One of my favorite themes in action books is revenge and that is a recurring part of all Dave's books, though most revenge scenes are very justified and carried out with a measure of restraint, not morally vindictive.
One of the things you find out forthwith is the character of the protagonist(s). All his heroes display the more positive characteristics that all humans should strive to achieve. They are for the most part very strong, especially mentally and not necessarily physically, though they all can handle themselves rather well in a fight. They are also moral, compassionate, generous, loyal and intelligent though not necessarily formally educated. There's a pile more positive adjectives that I could list; in other words, people you would like to know, associate with and emulate. All his heroes are Montanans, like the author himself who was born and raised here in Big Sky country.
Lloyd is also a gun person, which really enhances the parts of the novels where firearms are used. His descriptions show a detailed knowledge of weaponry and for people like me it is just icing on an already very good cake. I particularly like the Sharps 1874 rifle that Ben Hite uses in the Sharpshooter series.
All his books can be considered as adventures. Several are epical, covering long periods of time through a given series and are usually mini-biographies of the protagonists and their progeny. To sum up my feelings, I would recommend Lloyd's books to anyone who loves adventure, strong characters, history, firearms and the western United States, not to mention downright excellent writing. With Dave Lloyd's books, you can't go wrong!
Lloyd's books are available on Amazon in both eBook and paperback version (and certain audiobooks) and at Barnes and Noble in paperback upon request. For more information contact Dave Lloyd at suptlloyd@yahoo.com, call 928-302-0468 or visit their website at: lloydsbooks.com. Check out his ad in this issue of the Black Powder Cartridge News. - Tom Oppel

Eras Gone Bullet Mold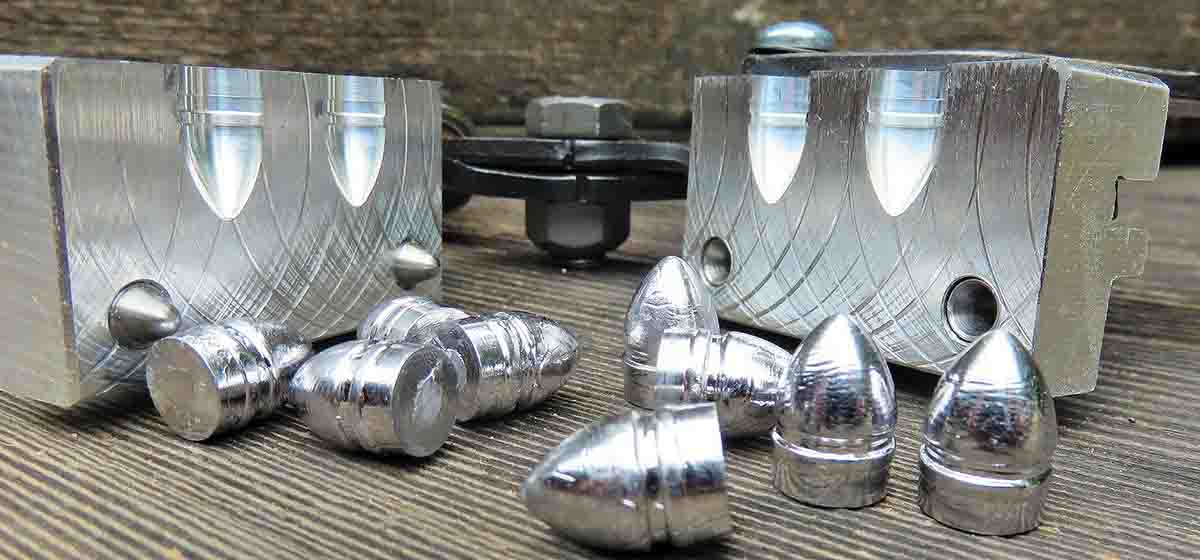 The subject of this review might be considered a little different for the BPC News, as the bullets from these molds are intended for black powder combustible paper cartridges. Specifically, the mold being reviewed is for bullets for the .36 Colt Navy revolver. Using the bullets from this "Eras Gone" mold, paper cartridges can easily be made. For this review, however, we'll be talking just about the mold and the bullets.
Eras Gone Bullet Molds is a rather new outfit but I think they're off to a pretty good start. Their bullets are "heeled" similar to the bullets used in standard .22 rimfires, where the heel of the bullet is the only part that extends into the cartridge. The Eras Gone molds are actually made by Lee Precision but they are made on a proprietary basis, which simply means if you want one you'll have to get it from Eras Gone. There's nothing wrong with that and I'm pleased that molds for these paper cartridge bullets are available.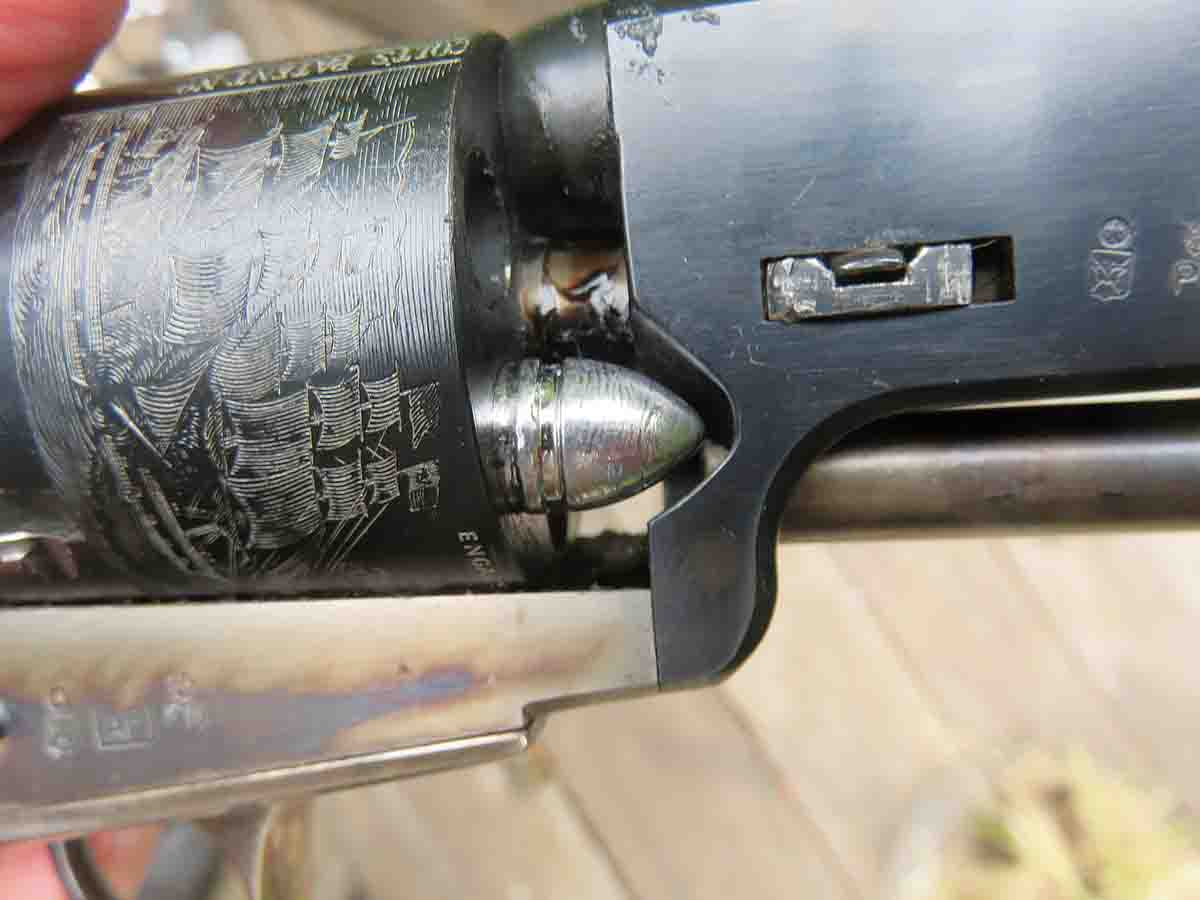 While these conical bullets for the .36 Navy are designed for use in paper cartridges, I grabbed my Colt Navy and went out to do some shooting by loading the bullets without cartridges. The load used was simply 15 grains of GOEX 3Fg powder followed by the 126-grain conical slug with a good covering of Bumblin' Bear Grease (from October Country) smeared over the front of the bullets and chambers.
While loading the gun, some interesting observations were made. These pointed conical bullets are at maximum length for use in the .36 Colt Navy. The loading lever must be "clipped" to the bottom of the barrel in order for the bullet, seated in the chamber mouth, to have the necessary clearance to rotate into the gun's frame so it can be rammed into the chamber. These bullets simply need all the room that they can get.
Shooting those bullets was a real pleasure. My initial shooting was done on the target in the photo and it shows my very first six shots. Those bullets landed on the target just slightly high, so a 6 o'clock hold was held on the bottom of the black. The gun was cradled with a two-hand hold and the distance was about 50 feet.
After that target was shot, the gun was reloaded and taken out on the trail-walk. There it was able to initiate a brand new target, a large gong that was being set out at 100 yards as a rifle target. While walking back from installing that target with Tim Sampson, I stopped at 50 yards and tried a couple of shots with the Colt. My shots didn't hit it, but I surrendered the gun to Tim who also gave it a try. Tim connected with his second shot, ringing the gong quite nicely.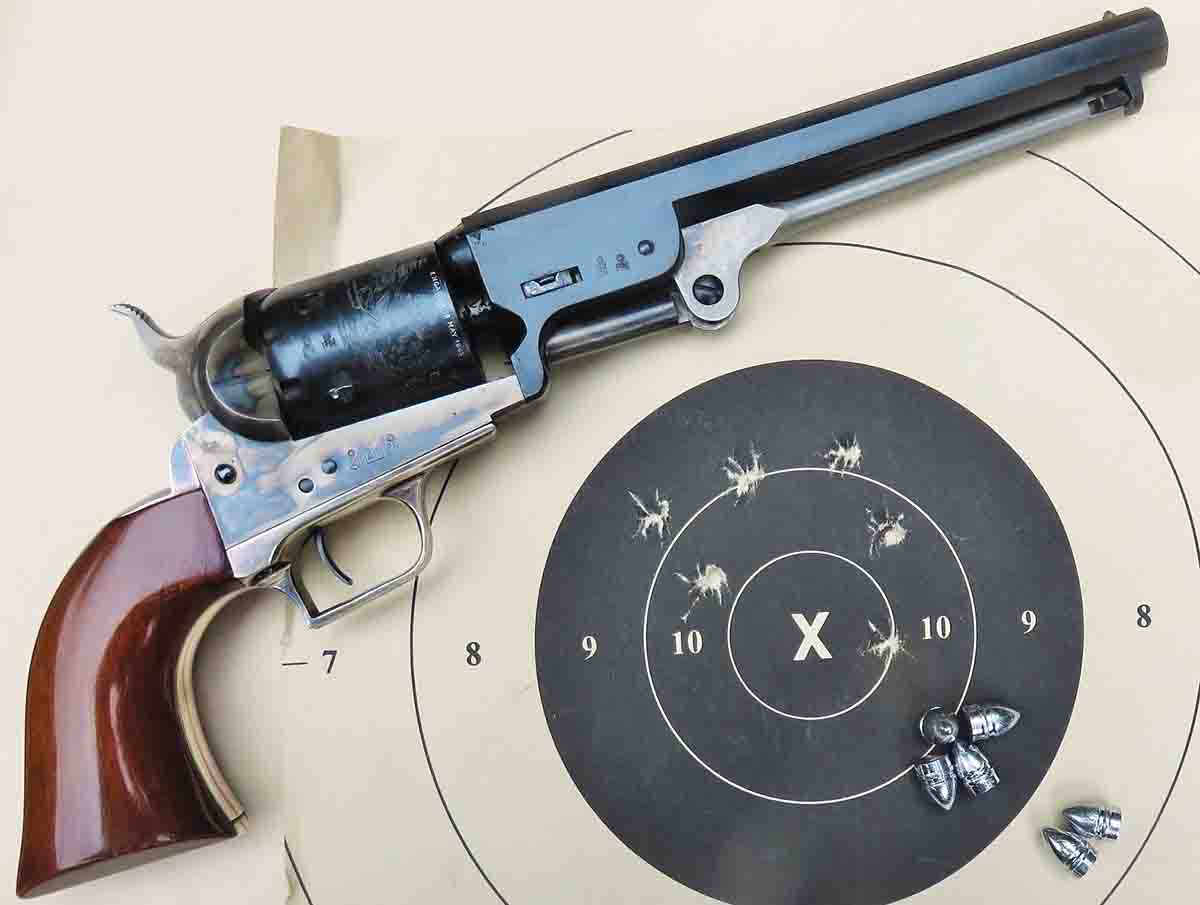 Of course, that is beyond the generally accepted range for a Colt Navy Model but it was still fun to try. If I do go to rolling my own cartridges, it will be done with these bullets. Eras Gone also offers molds to make bullets for the .50 caliber Smith carbine, the .44 Johnson and Dow bullets, and several other early and authentic bullet styles.
All USA sales will be handled through a new sales site called "Bonanza" at: bonanza.com/booths/Eras_Gone_Bullets. This is a new sales venue similar to Ebay. All of their molds are $65 postpaid within the USA. Please contact them directly for international orders for additional pricing. For more information contact Mark Hubbs, owner of Eras Gone, at erasgonebullets@gmail.com or visit their website at: erasgonebullets.webstarts.com. - Mike Nesbitt