Years ago, while in New Zealand, I had the good fortune to read a book on deer stalking in that country by Lieutenant Colonel Montagu Cradock titled, Sport in New Zealand. Published in 1904 after Cradock had spent two years stalking red and fallow deer, it was filled with hunting experiences and tips for the prospective New Zealand hunter. I enjoy reading the old books on hunting anywhere in the world, but especially those dealing with the early-day deer stalking and culling in New Zealand. Although their recommendations on equipment can be dated and sometimes quaint, there is still an abundance of good information that applies to hunting today.

Given that Cradock had spent sometime in the Scottish Highlands after red stag, he had become very familiar with the hiking staff used by the "ghillies" or guides there. Like them, he considered a good staff to be a necessary piece of equipment and says in his book on New Zealand hunting that:
"I would recommend anyone proposing to go stalking, to write to his gillie that is to be, and tell him to have a good manuka, or better still a miki-miki stick, some five feet long, ready for him, and warn him not to shoe the stick with an iron tip."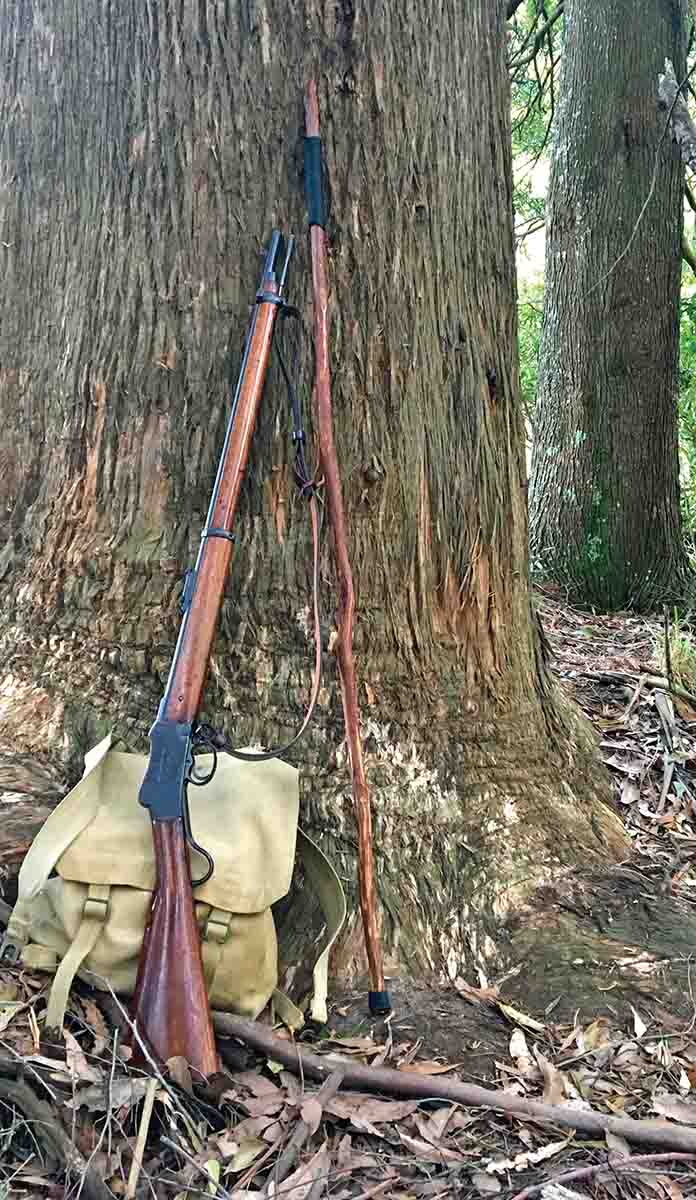 Fast forward to 2019. Early on after arriving in New Zealand, I seriously twisted my left knee. It was quite painful, but by taking it easy for a time, it slowly mended. The timing couldn't have been worse, however, as it was early Fall and time to get out into the hills to look for a stag. The bush and hills around the valley that I hunt can be very treacherous, especially where cattle have grazed during the wet winters and pocked or "pugged" the terrain. Add some wet knee-high grass to the mix and you have a perfect recipe for a sprained ankle or worse.
Remembering Lt. Colonel Cradock's words, I fashioned my own hunting staff or "Ghillie stick" from a seasoned piece of manuka. Manuka is a tree native to New Zealand that is similar to cedar although harder and denser. Very strong and resilient, it makes a great hiking stick. I thought that it would be smart to use the stick to keep my still somewhat sore knee from further damage.
I'd used shooting or cross sticks for many years in the States, and realized their worth in the field, but never considered using a walking staff. I knew of them, to be sure, but always considered a walking staff to be something that was just unnecessary kit to drag along. Even though I actually preferred to hunt on foot as opposed to using a horse or ATV, I hadn't given thought to using a walking staff.
That all changed this year after my first trip out in the New Zealand bush with the ghillie stick. I was amazed at the many uses and how much easier the staff made traversing rough or broken ground, not to mention the strain that the ghillie stick took from my sore knee when going downhill. I really thought, "Why didn't I use one of these things years ago?" I can safely say that whether in the States or New Zealand, a ghillie stick will now be going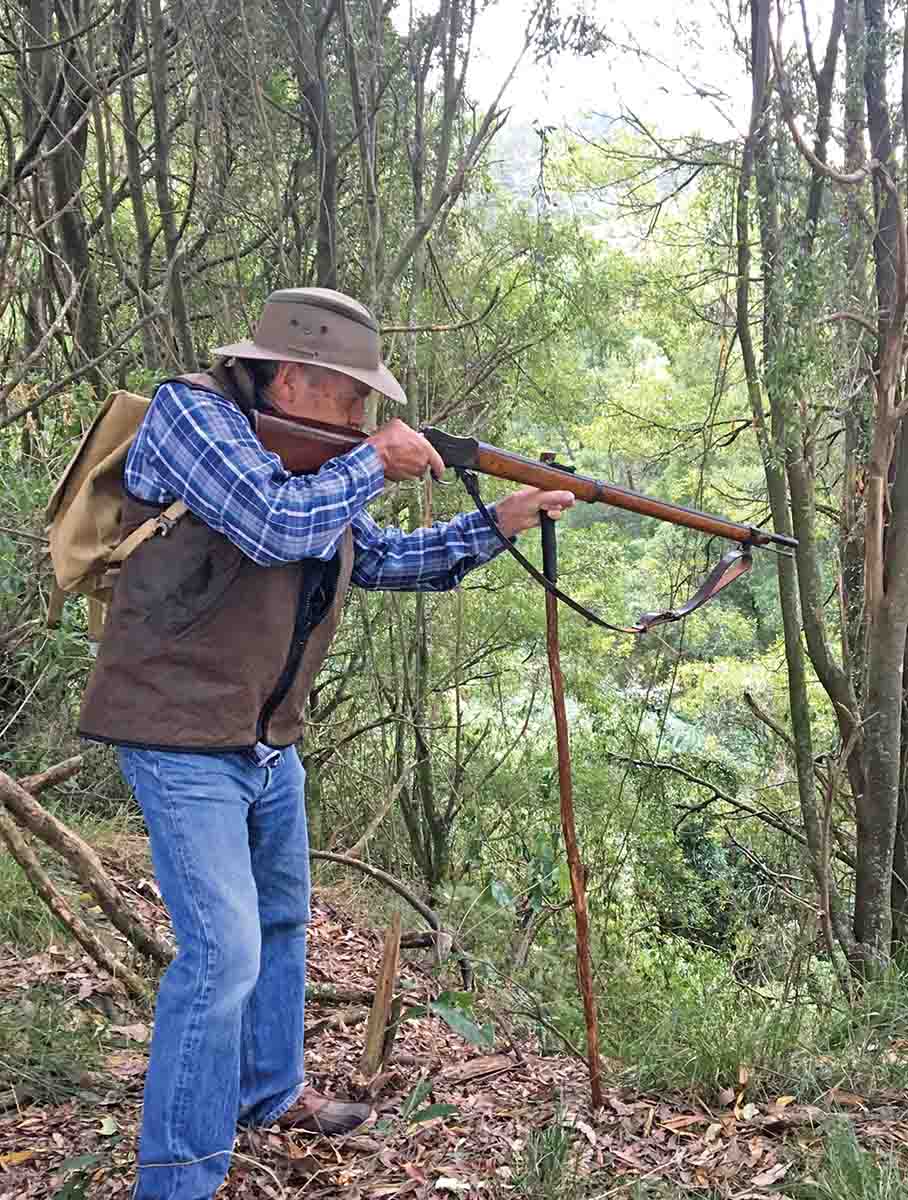 along on my hunting and hiking trips. The stick takes the place of cross-sticks for shooting, not only from the sitting or kneeling position, but from offhand as well. I'll admit that a single staff isn't as stable as two sticks, but it still adequately supports a rifle for difficult shots or when tall grass obscures the target from a prone position. The ghillie stick efficiently steadies a quick shot from the offhand position when hunting through the timber or bush. It is handy when crossing barbed wire fences, for steadying binoculars, and for leaning on when taking a break or scanning new terrain. I've also used it as a quick way to carry quarters of meat, slipping the stick through the leg tendon and resting the stick on my shoulder, meat on my back. Not as comfortable as a dedicated meat-pack, but it gets the job done.
When stalking through dry undergrowth I noticed that I could actually move quieter using the ghillie stick. It was the equivalent of having "another leg" to provide balance and to test the ground before putting my full weight on my foot. Although it's not a consideration in New Zealand, a hunting staff also provides for dealing with the occasional snake, ready in the hand, not lashed to a pack like many shooting sticks are designed to be. Needless to say, one does not want to use a firearm to deal with an aggressive rattlesnake when trying to move as quietly as possible through game country.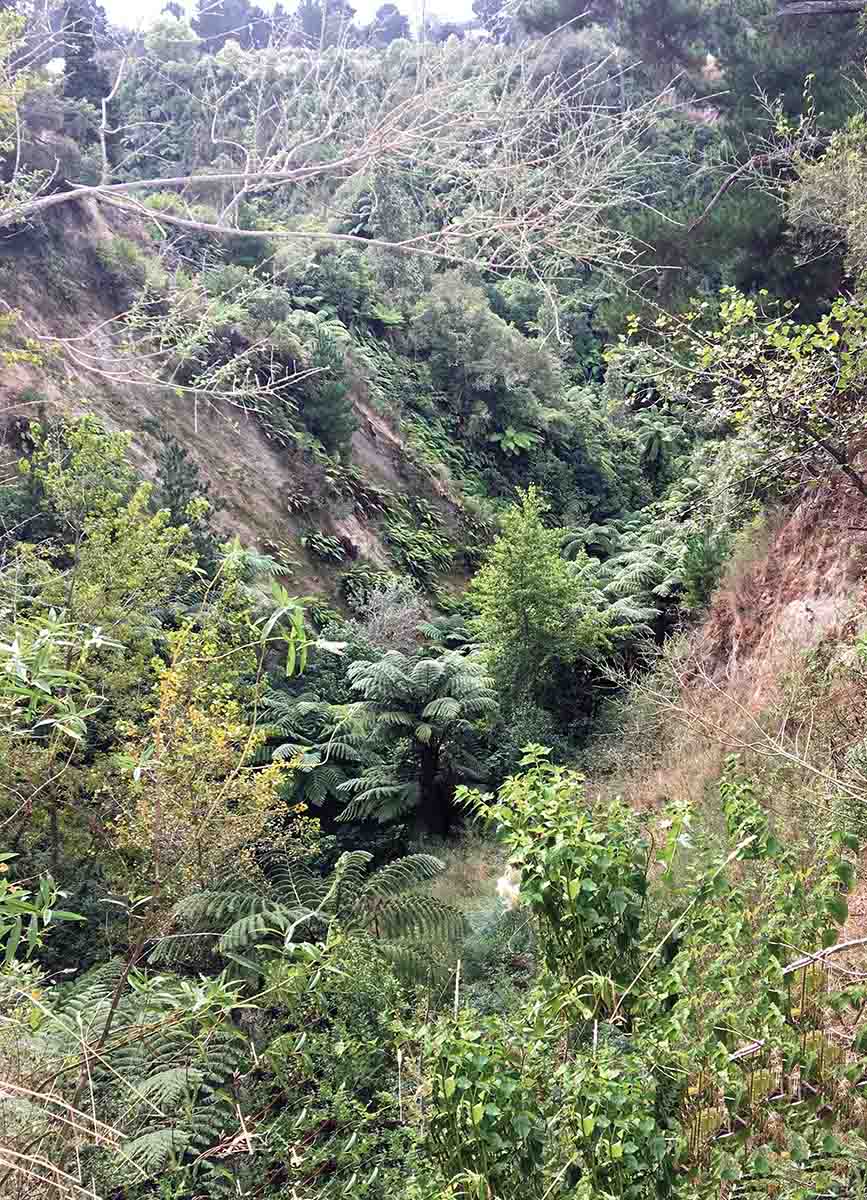 As I said previously, I made my stick from a piece of seasoned manuka. Obviously, any tough, resilient wood such as hickory or ash would work, and for those of us in the western United States, chokecherry is a great alternative. My ghillie stick measures 56 inches long, which is tall enough to shoot from in the offhand position while providing good support when going down steep hills. I smoothed the wood so as to not chafe the hand, sealed it with a good oil finish and wrapped the upper portion with strong cord, both to form a comfortable grip and provide lashing for an emergency. I did not "
shoe the tip with an iron shoe
", as Colonel Cradock warned against, but instead fit it with a tough rubber chair leg pad that actually grips quite well in wet grass. A length of leather thong through the handle allows the ghillie stick to be hung from a branch or nail to be out of the way when in camp or field dressing game. I suppose one could also have a fork at the top of the stick, ostensibly to cradle the rifle with when shooting, but I prefer to keep my kit simple; this just seems like over-working the idea. Resting the rifle in the hand while supported by the ghillie stick does not seem to drastically change bullet impact. I am careful to not rest the rifle directly on the top of the stick when shooting offhand as I'm sure this would result in a high shot.
One should never discount the experiences of others, even if they have taken place years ago. I certainly learned this with the ghillie stick. We tend to think our modern gear and methods are all we need to use, but quite the opposite is true. Old technology is still useful and in many ways preferable to the latest gimmicks. The traditional walking or ghillie stick is a classic example of this. Tough, easy to make and it could quite easily spell the difference between an enjoyable trip or a miserable misadventure. Try one on your next hunting adventure and see if you don't agree.
Thanks, Colonel Cradock, for an extremely useful piece of advice.