Picking Up Where Others Left Off
Scott Elliott
Prior to reading the article Montana Vintage Arms High Wall, The Heart of The Single Shot featured in the May-June, 2022, issue of Rifle magazine by Mike Venturino and Model 1885 High Wall Action from Montana Vintage Arms featured in Product Reviews, Summer, 2022, The Black Powder Cartridge News by Steve Garbe, I had a fun and interesting project in mind. After reading these two articles, it was confirmed that my instincts were right. Therefore, they lead me to contact Steve Garbe to discuss my project and share what was brewing in Cody, Wyoming. Steve had high praise for the Montana Vintage Arms (MVA) High Wall action and assured me I would be more than pleased with it. Following a fun and enlightening conversation, it was decided that I would write up my upcoming experience with MVA and Wyoming Armory.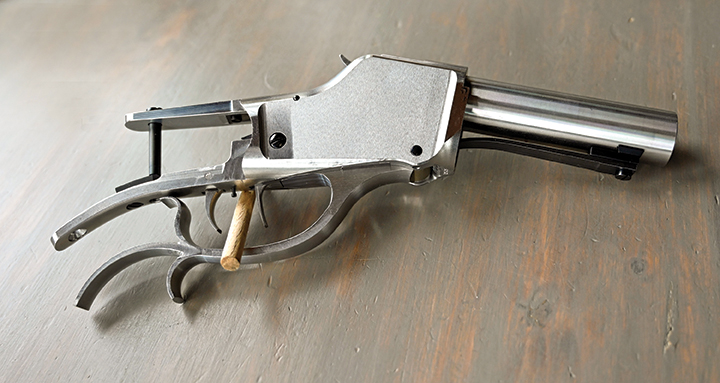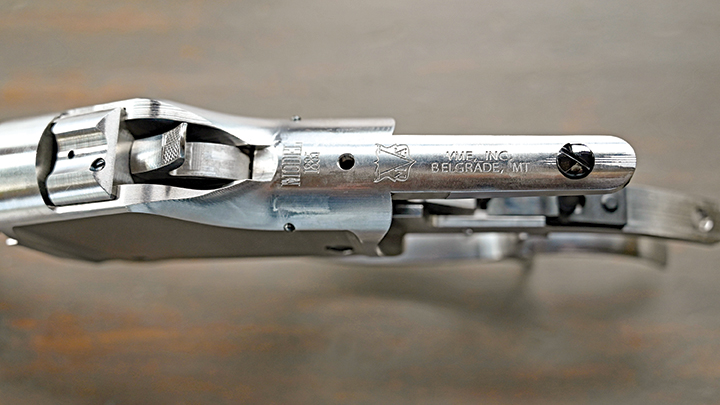 For this project I envisioned a Model 1885 "Target Rifle" chambered in 22 Long Rifle. It needed to be functional from a benchrest, as well as cross sticks. This target rifle would need classic lines, knock-out wood, beautiful metal and most importantly, shoot like a house on fire. I really wasn't asking for much!
Working with the folks at Wyoming Armory was an easy and pleasurable experience. They were very helpful when it came to acquiring the components and providing guidance in making well-informed decisions. Thank you, Wyoming Armory, for making this heirloom quality firearm a reality.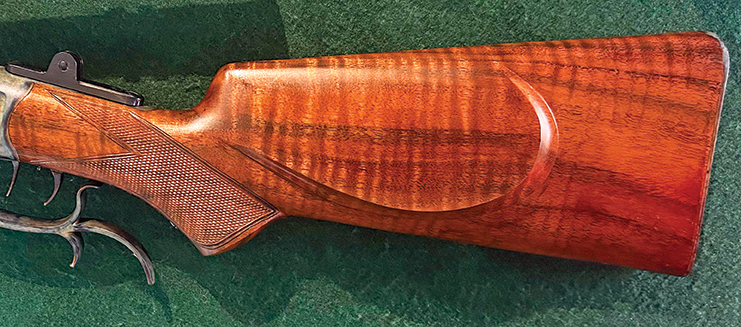 The MVA 1885 receiver is a work of art in itself. For this project I decided upon the pistol grip and double set trigger action options. Keith Kilby then brought it to life with his "top shelf" bone charcoal color case hardening, for which he is well known. The build used a Benchmark barrel with a 1 in 16½-inch rifling twist. Keith and I had an extensive conversation about contour and I decided upon a round #4 contour, which measures nominally 1.12 at the breech and 1.08 at the muzzle. Chambering was completed with a PSG match reamer. The barrel was finished with a deep Black Cerakote finish, a target crown and topped with an MVA #115 front sight.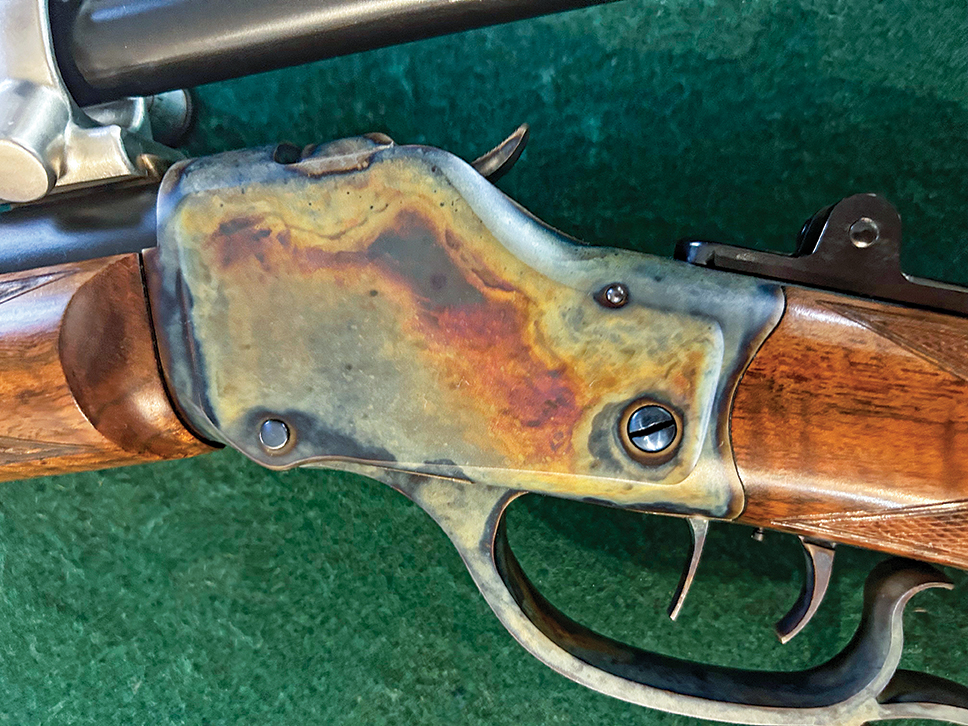 The stock is shaped from a beautifully figured piece of upgraded Claro walnut with an abundance of fiddleback. It is finished with a hand rubbed oil/polyurethane finish. The buttstock has a perfectly fitting shadow-line cheek piece and a case color hardened steel butt plate. The forearm is a rounded two-inch semi-beavertail style. I'd like to mention it fits like a glove in a #2 Protektor leather bag. A rifle is not complete without checkering and Earl Hines finished off this rifle with a very elegant Winchester checkering pattern and accented it with a mullered border.
Following my initial testing, I am convinced this rifle is not just a pretty face. Testing was completed at 100 yards from a concrete shooting bench in 5-10 mph winds in Phoenix, Arizona. I posted Keeney wind flags at five yards and another at 100 yards. The rifle rested on Hart pedestal with a Sinclair windage adjustable top, and a Protektor #2 sand bag. A Protektor Bumblebee solid bottom rear bag finished the setup.
The optic used for testing was a 15X Lyman Super Target Spot scope with a standard crosshair. Because this rifle was built to shoot in matches, I cut to the chase and shot match ammunition (ELEY Tenex and Lapua Midas) for my initial testing. I was pleased to see that this rifle shot both varieties quite well. It's not often we come across a rifle that accurately shoots different brands of ammunition. Following sighting in and fouling the barrel I was able to shoot two five-shot test groups; 0.5 center to center with Lapua Midas and 0.45 center to center with ELEY Tenex.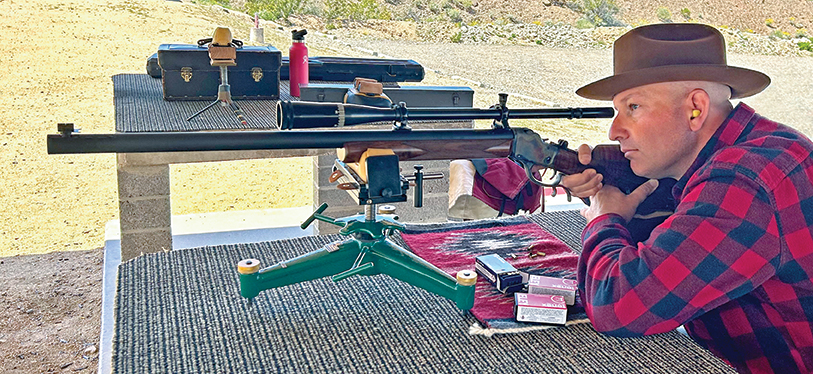 In conclusion, I am very pleased with how the project turned out. I have an heirloom-quality piece that is also a match-grade performer. The folks at Wyoming Armory and Montana Vintage Arms are a class act and a pleasure to work with. I look forward to future projects with both of them. In the meantime, I'm anticipating spending time with this rifle and getting to know it. Future outings include testing off cross sticks and experimenting with some new offerings from the various producers of match grade ammunition. This is going to be fun! Contact information: Montana Vintage Arms, 61 Andrea Dr., Belgrade, Montana 59714-8918. Phone: (406) 388-4027 or visit their website at
montanavintagearms.com
. Wyoming Armory, 553 14th St., Cody, Wyoming 82414. Phone: 307-527-4570 or visit their website at
wyomingarmory.com
.
---
Cash Manufacturing's Adjustable Shot and Powder Dippers
Mike Nesbitt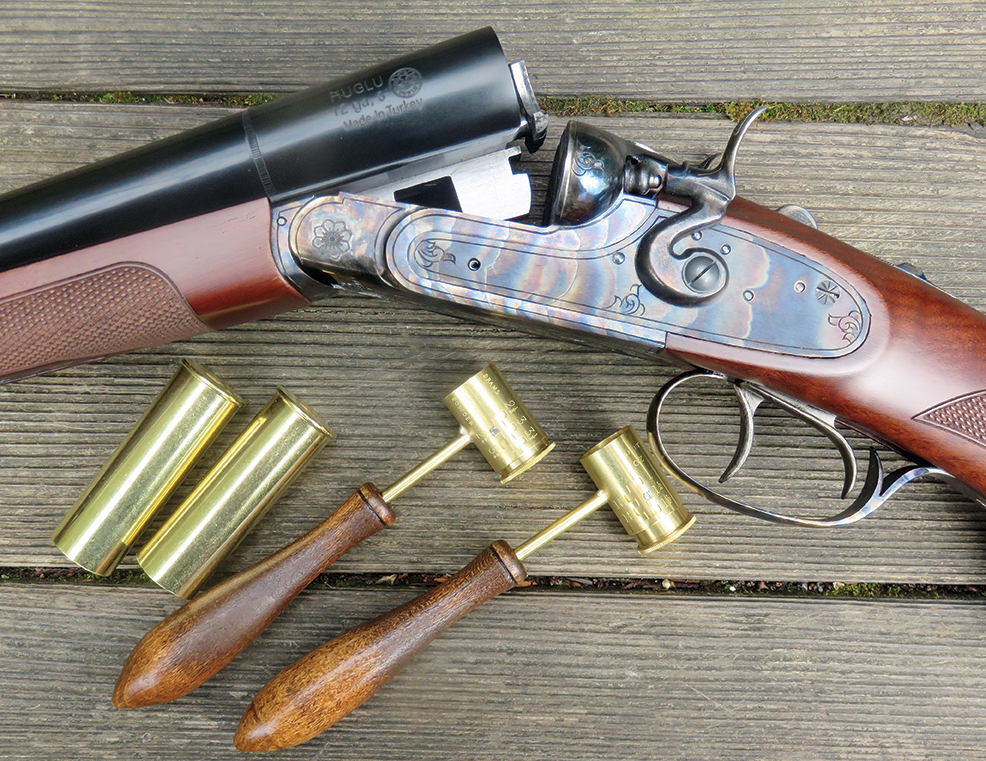 Cash Manufacturing Company, Inc. has introduced (or more correctly, re-introduced) adjustable shot and powder dippers that are very good for either loading muzzleloading shotguns or reloading black powder shotgun shells. The reloading of black powder shotgun shells, mostly with brass cases, is jumping into popularity again, so Cash's offering of these dippers comes at just the right time.
I say "re-introduced" because adjustable shot and powder dippers like these have been around for many years, dating back to at least the 1880s. They were used by almost anyone who was reloading shotgun shells with black powder, or for loading muzzleloading shotguns for that matter. So, I meant "re-introduced" in the general sense and I don't think Cash Mfg. had offered these dippers previously.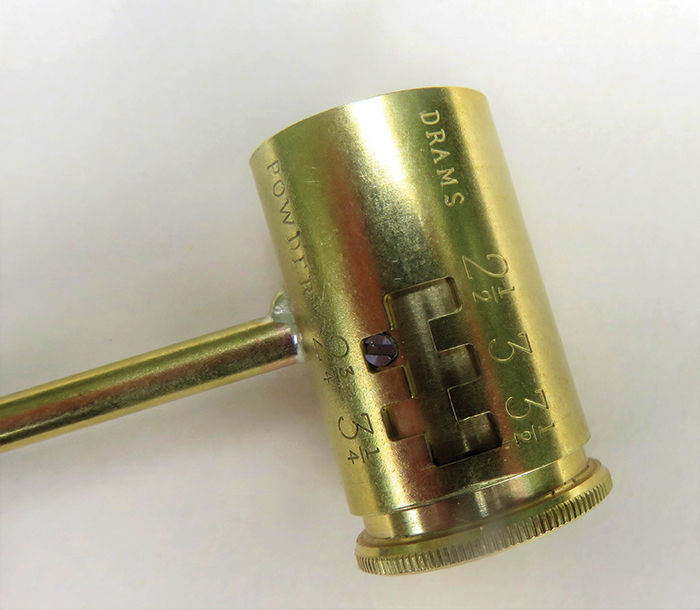 And I'll keep referring to these dippers, as a pair, because Cash makes one of them with markings for drams of powder and another with markings for ounces of shot. Other than the differences in those markings, from what I can see, the dippers are identical. And I have one little complaint which I'll get out of the way quickly, I wish Cash would use larger markings on these dippers which would greatly aid those of us with less than fantastic vision. I can see the markings as they are, just not easily.
To be specific about these handy dippers, they are both 5¾-inch long with comfortable, turned wooden handles, on a brass shaft which connects to the brass measuring cup. Inside that cup is a telescoping inner cup and the volume is adjusted by sliding the inner cup out to get the volume wanted. There is a small steel screw in the side of the inner cup which corresponds with graduated "slots" in the outer cup, setting the dipper at the adjustment desired. Very easy to use.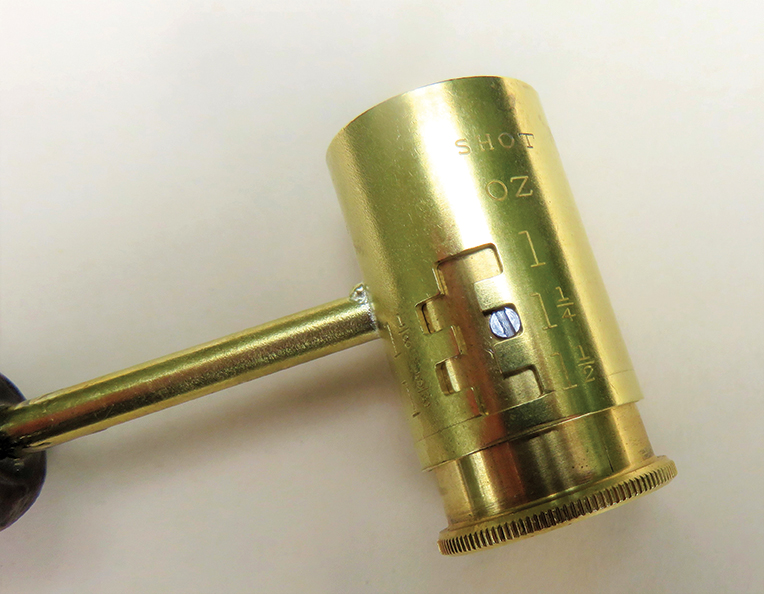 The dipper marked for the charges of powder can be adjusted from 2½ drams to 3½ drams, in ¼-dram increments. (A dram of black powder is about equal to 27 grains.) The dipper marked for lead shot has markings for 1 ounce to 1½ ounces, in 1⁄8-ounce increments. Back in the old days, dippers like these were usually marked for both shot and powder; maybe we can talk Cash into marking theirs that way.
For me, these dippers are just what I need because I'm taking a real interest in loading black powder shotgun shells. More about that will be said, I'm sure, but for now let me tell you that these dippers are priced at $32.95 each. They're available from Cash Manufacturing Co., Inc. and to see all of the things they offer, visit their web site at tdcmfg.com. Contact information: Cash Manufacturing Company, Inc., 201 South Klein Drive, P.O. Box 130, Waunakee, Wisconsin 53597-0130; Phone (608)-849-5664 or office@tdcmfg.com.