For my partners and I, any trip to the Matthew Quigley Buffalo Rifle Match always includes a stop at C. Sharps Arms in Big Timber, Montana. My real reason for stopping at the shop this year was to pick up my new rifle. I'll tell you more about the gun (even though I actually didn't intend to use it at the "Quigley") as we get into the story. And, this year, I think I have a story to tell.
Mike Moran, Allen Cunniff, and myself, arrived at "Quigleyville" on Monday afternoon, five days before the match actually started. Camp was sparsely settled at that time so it was easy to find a spot for our tents. As there were more coming in to join us, finding a flat spot for camping was a good move. Even before the tent went up, I strolled down to the registration tent and signed in because only registered shooters can use the range for sighting-in or practice, and I needed the practice.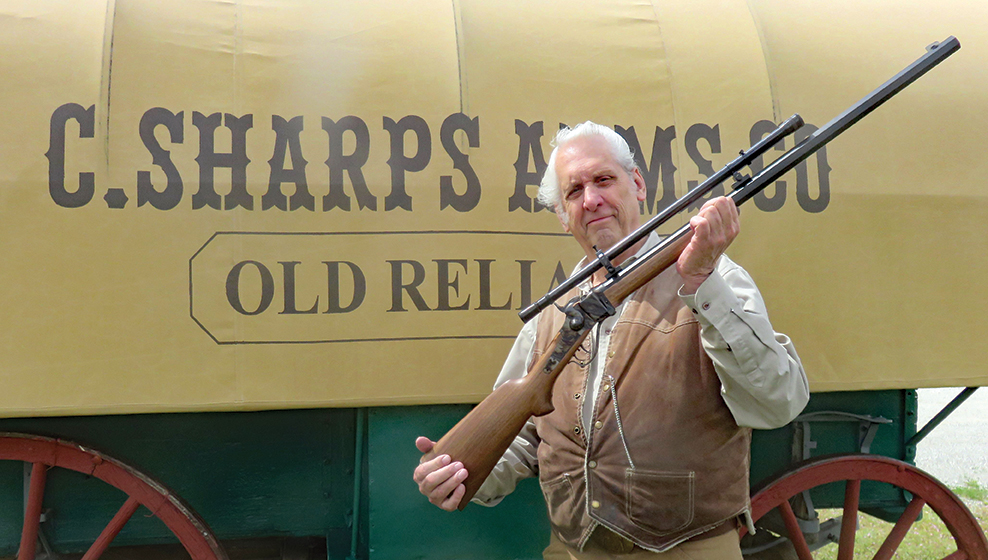 Now for the introduction of the new rifle. It's a Sharps 1874 Bridgeport Model with a 28-inch barrel, 1½ Heavy, in 45-70 caliber, which is topped with one of the new MVA 10X scopes. My real plan was to shoot my 45-90 in the match, another Bridgeport Model, which is also scoped. Using the 45-90 would have been practical because I had over 120 rounds of fire-formed ammunition for it, while my 45-70 ammo was all in new, unfired cases. Ammunition in unfired cases is never as consistent as ammo in fire-formed brass.
Prior to the match, the ranges are open for shooting most of the time. However, the range does close occasionally so the targets can be repainted, and it closes for the night at 8:00 pm. About 7:30 pm on our first day in camp, I was sitting in the tent with the new rifle across my lap. I couldn't stand it any longer and that's when I asked Mike Moran to accompany me to the firing line where I'd try shooting the new 45-70 with just 10 rounds. Mike quickly joined me and we set the cross-sticks in front of the "diamond," (Target 4) which is at 405 yards.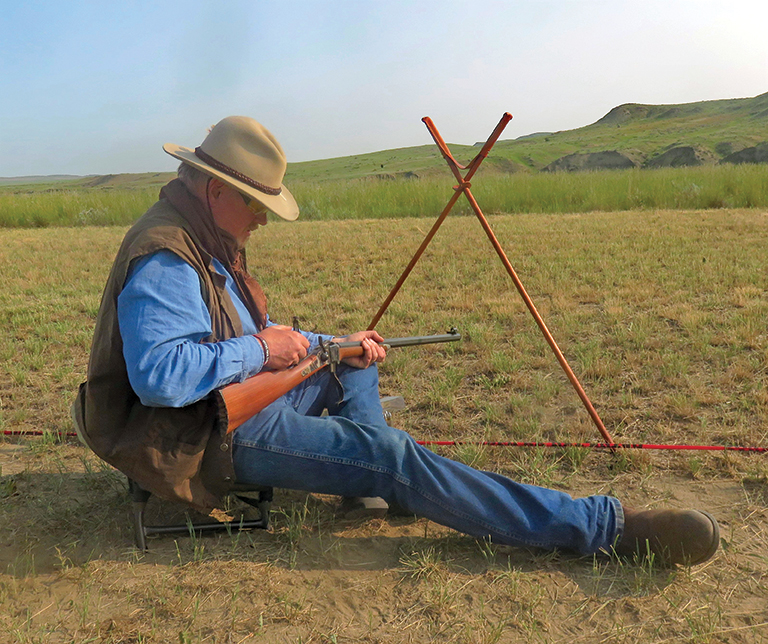 For a sight setting, I borrowed one from the page in my book for the 45-90, but my first shot went very high, way up the hill! That was okay, and I wiped the bore before shooting a second shot, with the elevation reduced by several minutes. Soon hits were being made and the bore was wiped between all shots, just to help the new barrel get broken in. After my 10th shot was fired, the cease-fire horn was sounded and the new rifle was taken back to the tent for a good cleaning. From then on, a blow-tube was used between shots for fouling control.
More shooting was done the next day, getting sight elevations for all six targets. It was then that I decided to use the new 45-70 in the match. The fact that my ammunition was not up to "match standards" didn't make me shy about using it, even though it probably should have.
Mike Moran and I partnered for the sighting-in and for the match as well. We found it very easy to trade places and when it was my turn to shoot again, I'd just use his cross-sticks, raising them only a little, while he returned to the spotting scope. That meant we'd only need to carry one set of cross-sticks to the firing line. During the match, Mike shot in the second position for Squad Two and I was placed in the second position for Squad Four. This made it very efficient and we didn't need to change anything other than to trade places, which saved us both time and reduced the equipment we'd need on the firing line.
Our other partners often did the same thing. Jerry Mayo and Bob DeLisle got to camp a day after us. Then Mike Holeman arrived with his brother Mark for their first Quigley match. Scott Sibley came in on Wednesday and also joining us was Phil Wiebe. Scott Sibley is from Wyoming, while the others I've mentioned came from the western or "wet side" of Washington State; we call ourselves the "Black River Buffalo Runners."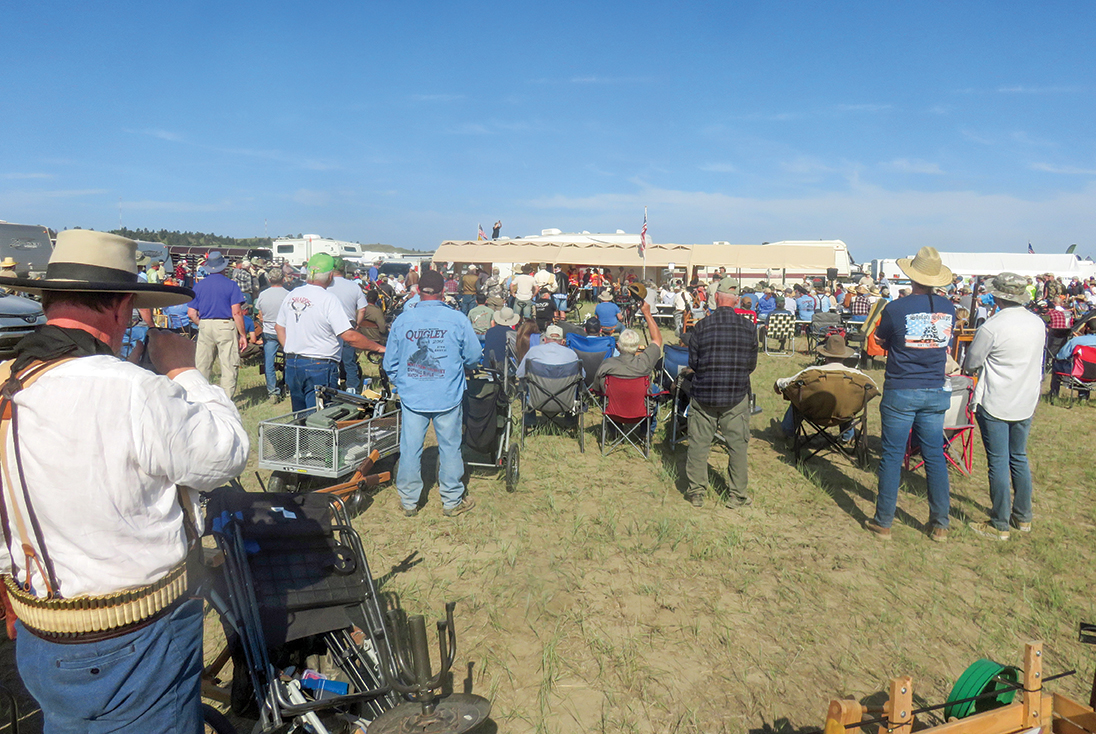 In addition to the shooting, we covered the vendors' row from end to end. New shirts were bought from both Sagebrush and Caroline's Embroidery. I mentioned both of them last year but now I'm able to list a contact for Caroline, her email address is cldusatko@hotmail.com. She is retired but still does some work from home and I get a new shirt from her every year. Buffalo Hats was also there and both Mike and I celebrated by getting new hats. My hat this year is simply more "Quigley" than last year's. Other items that were purchased included some of the best cleaning patches I've found (again from Sagebrush) and some treasured primers that were being sold from an estate.
Allen and I also bought 50 pounds each of some lead alloy that also came from another estate; the deal was too good to pass up. In addition, Allen bought some powder from Buffalo Arms Company. Going to the Quigley Match always includes getting re-supplied.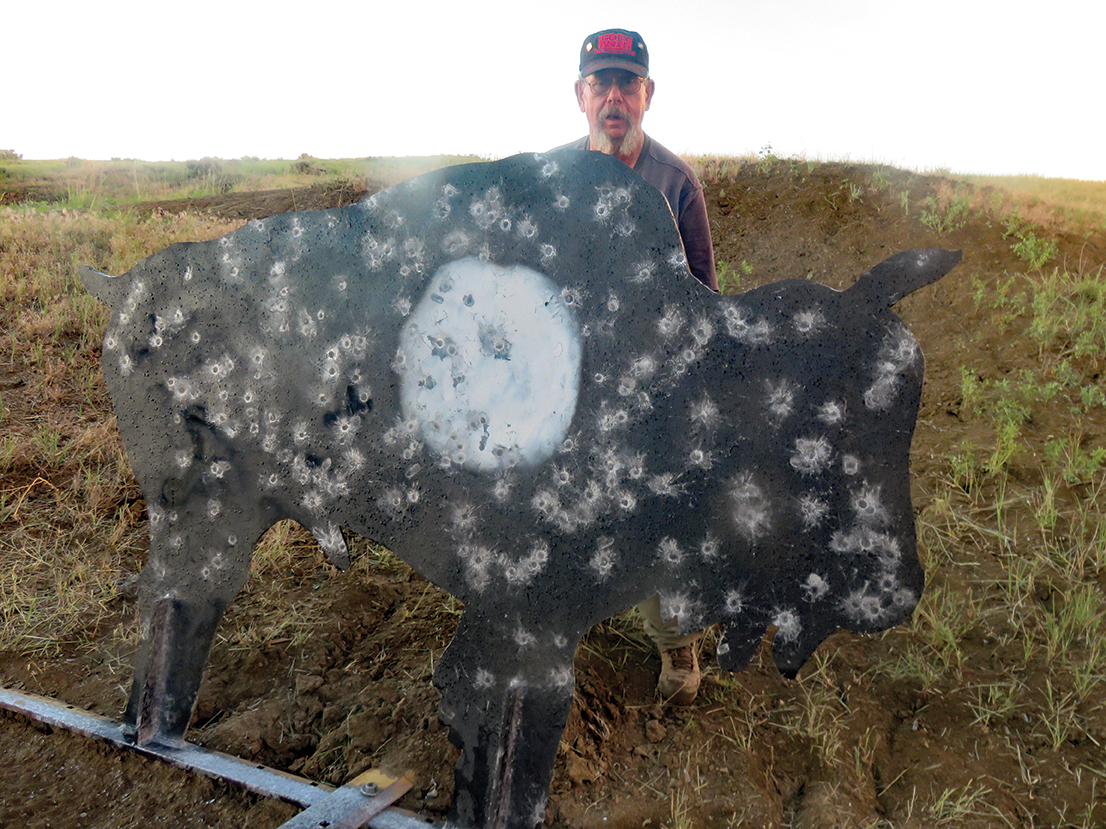 One of the busiest places on vendors' row was the C. Sharps Arms tent. Pat Dulin had a workbench set up at the back of the tent where minor repairs could be made, such as replacing firing pins or changing lever springs. To the best of my knowledge, those small repairs were made without charge. We have to agree that is really outstanding customer service.
During the week, with more and more shooters arriving in camp and getting registered, the number of shooters rose to over 600. International travel has opened up again, allowing more shooters to attend. It was a real pleasure seeing many of those shooters who I had met before. On the other hand, some familiar faces were not seen and for some of them, we'd hear they had gone on their last round-up. It was while getting to know some of those familiar faces again that I found Harvey Pennington who was camped right next to us. Harvey and I had a good talk and he's working on a new book about his shooting experiences. I'm looking forward to reading that.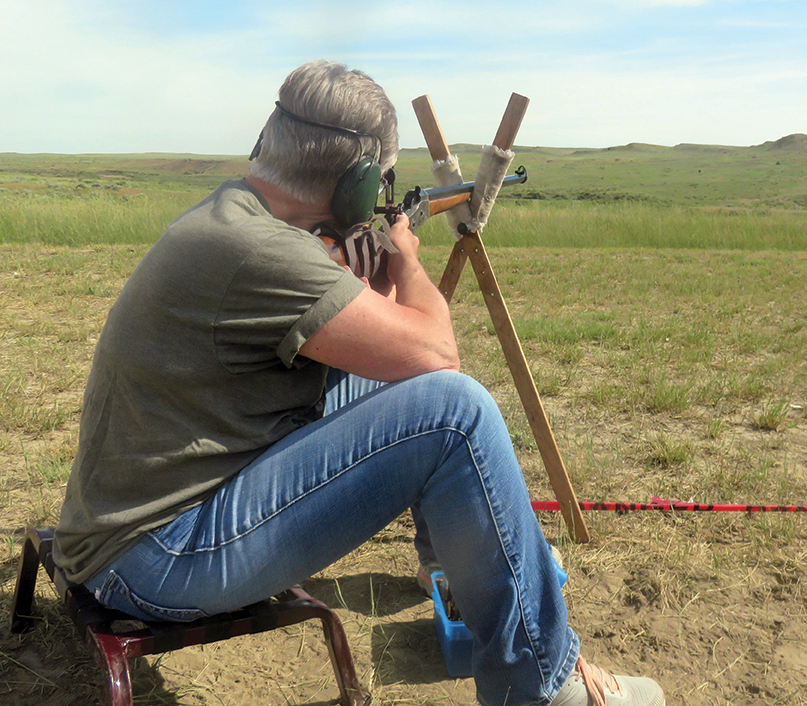 On Friday evening, we invited several others to our camp for the Annual Burger Feed with antelope burger brought in by Scott Sibley. We set up a good and well-stocked bench of condiments, such as onions and relish, plus the usual spreads, so guests can equip their burgers with what they'd like. The cooking of the meat, so far, is done by me but I'm just waiting for the first one to complain because they'll get the job. I do the cooking over a propane "rocket engine" that Scott Sibley brings with him. Actually, I don't mind doing the cooking and it all boils down to a very enjoyable evening. Al Kajin accepted our invitation, and downed two of the burgers, but Claudia, the Match Director, was too busy with final preparations.
After all, the Quigley Buffalo Rifle Match is much more than a just shooting match, it's a huge reunion, as well as a very fine shopping spree. The shooting is the common bond that draws such friends and acquaintances together, but there is a lot more to do than just shooting the buffalo rifles.
On Saturday morning we found out that our group would start on the "diamond" at 405 yards. That should have been like revisiting an old friend because that's where I started with the new 45-70 rifle. No friendship was made between that target and myself though, and I finished my eight shots at that target with just one hit. Such low scores would follow me through the match, although I did get two hits on the offhand bucket.
One old friend was there and that was Becky, our scorekeeper. Becky, who lives in Forsyth, has been the scorekeeper for Red F (our group) each time that Allen and I have shot at Quigley and we're always happy to see her again.
After the range was closed on Saturday evening, Al Kajin came back to our camp with an invitation to join him as he went out to the targets to turn off the transmitters which signal hits back to the scorekeepers or allow the strobe lights to flash, indicating hits.) Going out to those targets is a real treat, not just to see the targets up close but to look back at camp which, from the buffalo, is basically a half a mile away.
As the shooting continued on Sunday morning, it became apparent that I was doing things wrong. I mean that only as far as getting a good score was concerned. After all, I was shooting with a rifle that I had no experience with, using ammunition that was loaded in un-fired cases, and additionally, a few incorrect sight adjustments were made. That was especially true with windage adjustments, for some reason I found it too easy to adjust the new scope in the wrong direction. And, if those things weren't enough, I fired at the wrong target at least twice. At Quigley there are two of each target and four of the "buckets." That allows two groups to fire at the same time and at the "buckets" it allows four squads to shoot at the same time.
I wasn't prepared to shoot well with the 45-70 but I wanted to use that new rifle anyway. On top of that, the ammunition that I sighted-in with used different bullets than the ammo I used to shoot for score. Both of those loads used 70 grains of Swiss 1½ Fg powder but with differing bullets, they simply weren't the same load. I had 50 rounds of each load, and between practice and sighting-in as well as the 48 shots fired in competition, it was all used up.
None of us would do that if we really felt competitive and wanted to win, as an unfamiliar rifle will have too many surprises. Unfired brass is not as consistent as fire-formed cartridge cases. Those two factors alone are enough to reduce a shooter's score but I simply wanted to use that new heavy Sharps in 45-70. Besides that, I'm just not a contender for the top 10, so I had to hope that I could shoot my way into the top 600.
Even that turned out to be a challenge. My hope was that those "little things" wouldn't make much of a difference even though I know, any difference can make a difference.
And, was it worth it? You bet it was! I was learning things about my new rifle and its new MVA 10X scope in a hurry. Maybe an embarrassing hurry but I'll have to live with that. What I learned the most was this is a rifle I'll want to shoot a lot more.
The top shooter was Dan Boenker with a score of 41 hits. So far, the Quigley targets have never been "aced," no one has made 48 hits with 48 shots. For a complete rundown on the shooters and the scores, visit the Quigley web site at www.quigleymatch.com.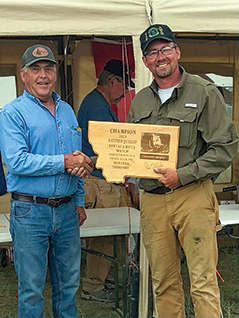 Dan Boenker, our match winner, mentioned this was just his second time to shoot at Quigley and the rifle he used belongs to his dad. That rifle is an original Remington Rolling Block that was sporterized by Curt Hardcastle. It was re-barreled with a 34-inch Green Mountain 45-caliber barrel and chambered for the 45-100 cartridge. The rifle is equipped with MVA sights and Dan actually had to stop at the MVA booth on vendors' row to get a taller ladder for the sight because he was running out of elevation needed to reach the buffalo target.
Here's some information on the load he was shooting: Starline cases, annealed with necks turned, CCI BR2 primers, 90 grains of Swiss 1½ Fg powder, 5⁄16 compression, .030 Walters wads, 20-1 mixture of lead and tin for the 540-grain Paul Jones Postell bullets lubed with SPG Lube and sized to .459, seated with all grease grooves inside the case neck.
Between shots during the match, Dan ran two patches through the barrel, which were wetted with a mixture of Murphy's oil soap and water. Then he dried the chamber.
His father was his spotter, and Dan spotted for his dad when the elder did his shooting. This was a family affair because Dan's brother and his wife also shot in the match and their children were spectators behind the firing line.
Here are the top ten finishers at Quigley and their scores at the various targets. For those interested in the distances for each target, we have them here: Target One (805 yards), Target Two (600 yards), Target Three (530 yards), Target Four (405 yards), Target Five (417 yards) and Target Six, which is the offhand target, is at 350 yards. Eight shots are fired at each target for a possible score of 48.
Through the combined efforts of C. Sharps Arms, Kenn Womack and Treebone Carving, a Number 4 Remington Rolling Block in 22-caliber was rebuilt and made to look like a new rifle. That rifle was given away as the youth prize and it was won by a young girl. What a beautiful way to start down the path to good shooting.
The weather at Quigley this year was pretty good, with some light rain during the night. While the awards were being given, the weather changed with the suddenness that seems to prevail at Quigley. Skies darkened and at least a few of us hit the road before the awards were concluded, more to keep our reservations in distant towns than to avoid any weather. Consequently, we missed the ending of the awards, but we also missed the hard wind and driving rain that pretty much washed the awards ceremony away. The awards were ended in a hurry; nobody was hurt, they just got very wet.

So, this year's Quigley – the 31st match – located on the Al Lee ranch just northwest of Forsyth, Montana, was just as fantastic as any of the previous matches. I'm not about to judge this year's doin's by my low score. As always, the administration, scorekeepers, range officers, and the other shooters were simply great. Now, I'll start planning and practicing for next year's Quigley Match and hopefully my score will be much higher, unless I get another new rifle!