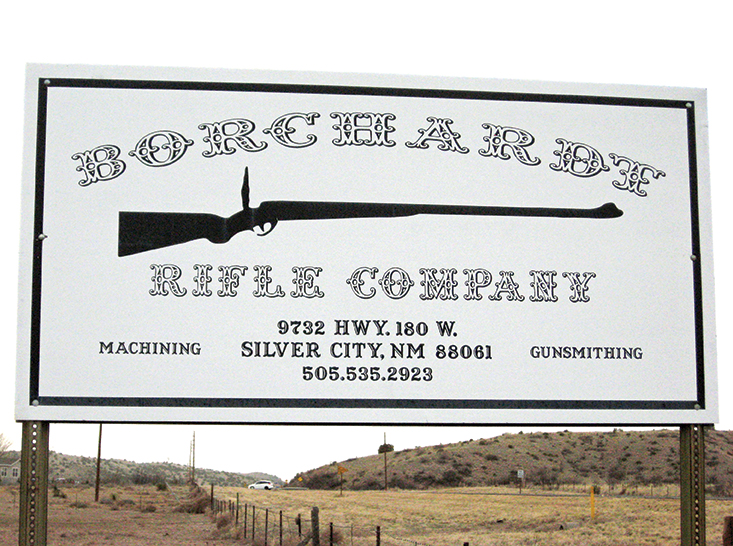 Albert (Al) Story was born October 31, 1940 in San Diego, California and attended Sweetwater High School. Al was always interested in hunting and so consequently, in guns. One of his favorite stories revolves around a young girl he sat next to in class named Ruthie Navarro. Ruthie's father was a gunsmith and the family lived in her father's gun shop. During the many times Al walked Ruthie home, he would take advantage of the opportunity to speak to her father and ask questions about gun work and machining.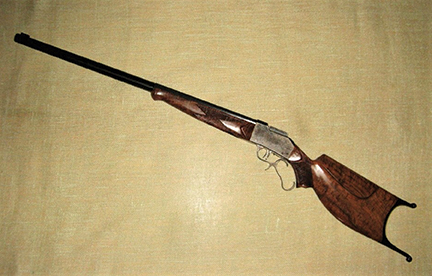 After initial machinist training, Al became a tool and die maker and ran his own shop (30 by 40 feet) in San Diego from 1972 until 1985, specializing in aerospace and electronic machine work. After selling his business, Al went to work for the Buck Knife Company as a tool and die machinist in 1985. Al made fixtures for production grinding and parts for various machines to keep them in service. He left the Buck Knife Company (and California) in 1988.
After several discussions with Ken Lewis and others, Al decided to relocate to Silver City, New Mexico where he purchased his current residence and built a small machine shop (30 feet by 70 feet) on the property. After several years of various machining projects and gunsmith work for local and not-so-local customers, Al decided to enlarge his shop with a 20 by 40-foot addition in 2005.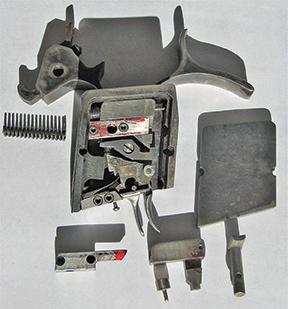 One of the projects he undertook involved Ken Lewis and Cliff Chandler. Ken had an idea for a new single shot action. He brought the idea to Al and Cliff and they refined the design. Cliff made a working wooden model and Al transferred the design to metal. The resulting action was known as the Story striker action. Gerald Kelver describes it in his book Single Shot Rifle Notes – Yesterday and Today:
"In 1986 Ken Lewis, a single shot rifle shooter and a competitor at the Coors Schuetzenfest got him (Al) interested in building an action for a match single shot rifle. Clifford Chandler, a fellow worker, helped design and build the first model which was made to Ken Lewis' specifications as a shooter. Al did the machine work.
The model was first made in wood and the problems worked out. Al then transferred the specifications to metal. Minor modifications have been made to simplify machining. During the first year only two of the actions were on the firing line at the Coors Schuetzenfest in Golden, Colorado. Since then the number has increased.
The action is smooth operating and has precision tolerances; it is more than adequate in strength for any rifle cartridge. The metal used is a number 4130 Jorgenson Steel Company alloy, heat treated, and normalized. The action is of a hammerless type and is a striker type action."1

Another interesting project was the design and construction of the Story single shot action. Al built a total of 10 of these actions and Gerald Kelver describes an amusing incident involving one of Al's Story single shot rifles in 50 BMG at the 1986 Coors Schuetzenfest:
"Al's display at the Schuetzenfest is always an attention getter, for he displays a well-made Story Single Shot Rifle action for the 50 caliber Browning machine gun cartridge. The rifle has the appearance of a magnified Ruger No. 1. The rifle has a double set trigger and a Tasco specially-built telescope in 16X, which has five-inch eye relief. The barrel has a muzzle brake that Al built. In 1986, Al obliged the crowd at the Coors Schuetzenfest by firing the rifle at 200 yards. The report was thunderous and Al was knocked off balance, recoiling three or four feet. He has somehow now lost his enthusiasm for firing the gun. This rifle might be described as the ultimate in offhand rifles!"2
When I asked Al about the experience his reply was: "The one I did shoot was a nightmare, it was horrible, just horrible." Turns out it was a little more than horrible. Al used to have a white post set up at a measured 700 yards distance on his personal range that he would shoot at with the 50 BMG rifle. During one session he fired the gun before he was completely prepared. After the shooting session Al mentioned he felt a little "uncomfortable" when he was working on a Borchardt rifle that evening. Uncomfortable is right, while working on the Borchardt he could actually feel his chest moving up on one side and down on the other. Off to Las Cruces they went only to find out he had split his sternum open. The folks at Las Cruces wired him back together and Al mentioned that he doesn't shoot anything much larger than a .30-06 anymore. He has since sold his personal 32-pound 50 BMG single shot.
While all this was going on, Al added new machinery and some new employees, Clay Collyge, Jeamie Burris and Bill Marcy. They currently manufacture several interesting items including CNC-turned barrel bands for the Ruger 10/22 carbine. These barrel bands are machined from a solid billet of steel. Al's shop also manufactures six and eight-chamber cylinders as well as ejector rod housings for the Ruger single-action revolvers. However, to single shot enthusiasts, the most important item he manufactures would be the Borchardt single shot rifle and their match-quality barrels.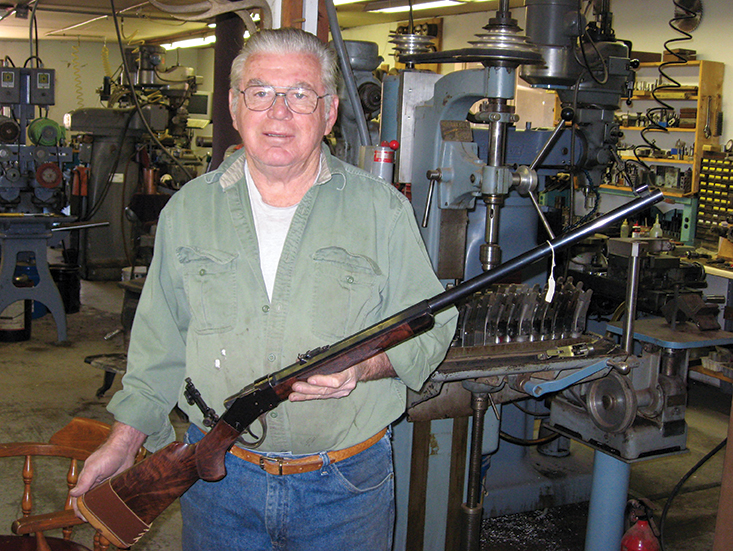 Al's company – the Borchardt Rifle Company (BRC) – provides barrels in the form of barrel blanks for gunsmiths and students at the various gunsmith schools to contour and rifle. BRC will bore, rifle, contour and fit barrels for customers. The standard BRC barrel will visit a boring machine, a reaming machine, a honing machine and then be rifled with a carbide button. Following the rifling process, the barrel will then be stress relieved. Barrels can be had in full octagon, part octagon/part round, full round, or contoured to a customer's specification. Sight dovetails and holes tapped for the various scope bases at proper center-to-center distances for the specific scope design is an option, as well as chambering and fitting the barrels to a wide variety actions.
Clay Collyge is the machinist that does the majority of barrel work at BRC. Clay has been working with Al for over nine years, machining barrels, installing barrels on actions, as well as doing contouring and chambering. Clay also does bluing and trigger jobs, and is pretty much a "jack of all trades". Without doubt, Clay is Al's right-hand man.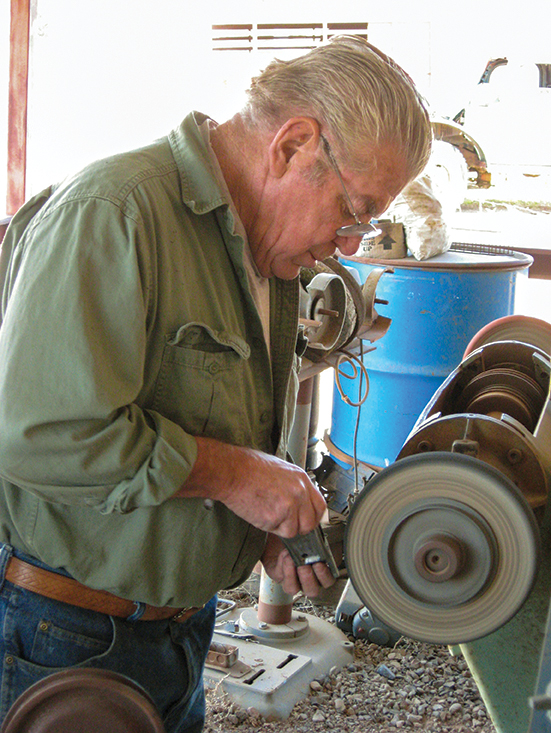 If there is any question of whether the BRC barrels are of competitive quality, one only has to look at the sample targets displayed on the BRC website (www.rugercyl.com) or look at the targets shot by Ken Lewis that BRC uses for advertising in the Black Powder Cartridge News. Something of particular interest to many of us is that their barrel-boring machine is a 100-year old unit that was used by the Colt Firearms Company.
BRC has completed 79 Borchardt rifles to date. When I asked Al which was his favorite, his reply was, "Serial Number One." Al does all the stock work on the Borchardt rifles. Wood is American walnut (unless the customer specifies otherwise) and Pam Wheeler does the checkering that is based on patterns supplied by BRC.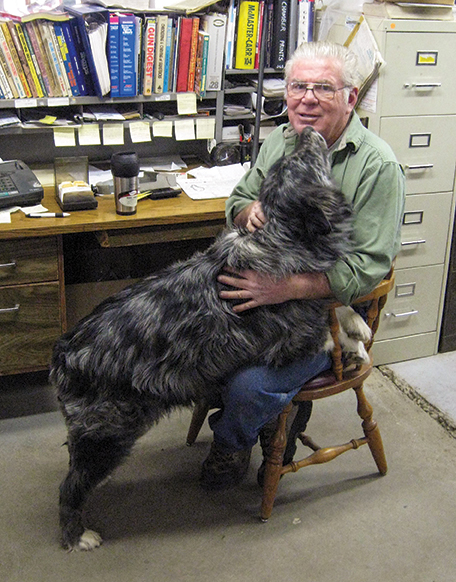 As a lover of steel butt plates, I asked Al what the time difference was between fitting his standard composite butt plate versus a steel butt plate. Al replied that it takes him an hour and a half, sometimes two hours to fit a composite butt plate or a recoil pad, but it can take eight to ten hours to properly fit a steel butt plate. Our conversation returned to barrels and I asked what was his favorite barrel configuration; his reply was a barrel 30 inches long, part octagon, part round in .45-70 caliber. BRC uses 4140 for the barrels and 8620 for the action and various component parts.
It was only natural that we find out exactly what it was that caused Al to decide to build Borchardt rifles to begin with, so I asked. Al responded: "Buddy Boyle, a gun collector from Las Cruces, asked me if I could build a Borchardt rifle. He had one and brought it to me to look at. I took it apart and I told him I could build that gun and the first run I made 27 of them. It turned out to be quite a job and a lot more than I anticipated and therefore I don't know if Buddy was my friend or not."
Next let's take a little photo journey through Al's shop where those beautiful Borchardt rifles were born. All photos courtesy Ken Iddins unless otherwise indicated: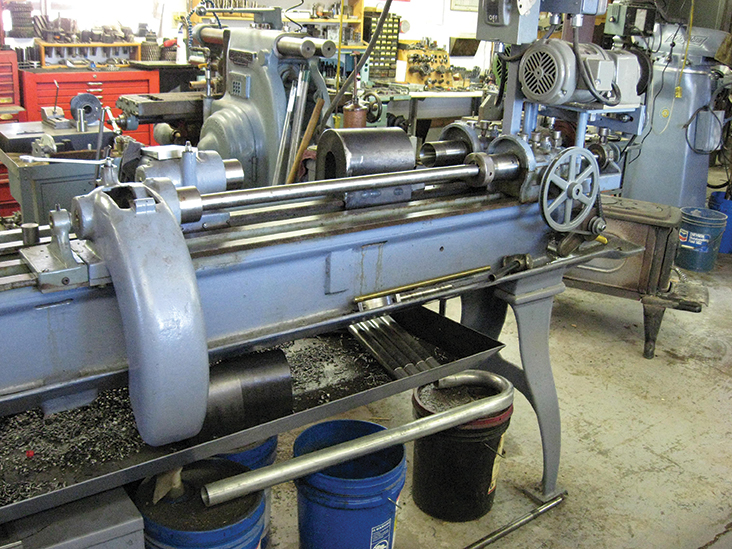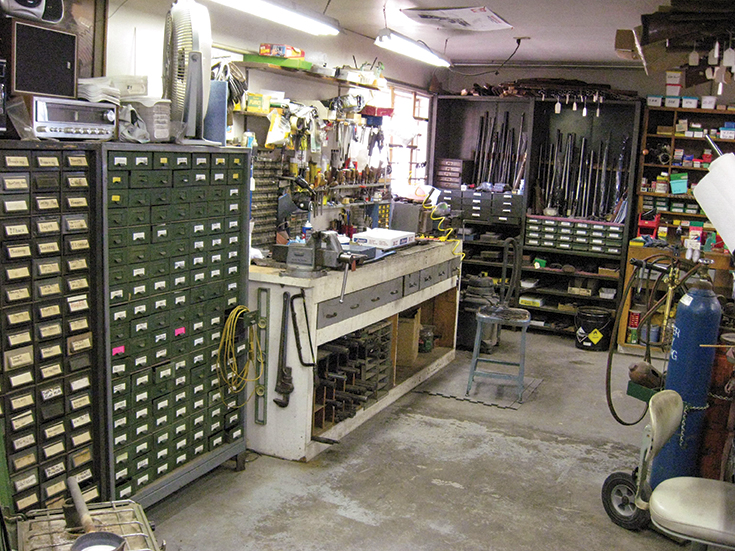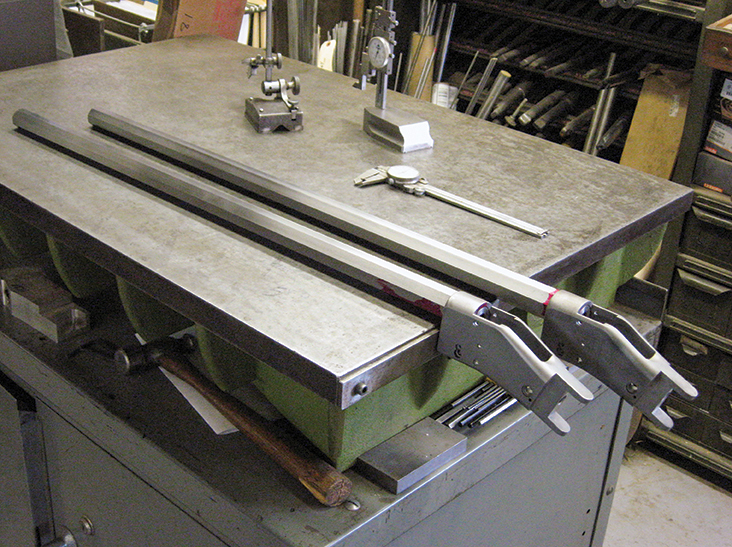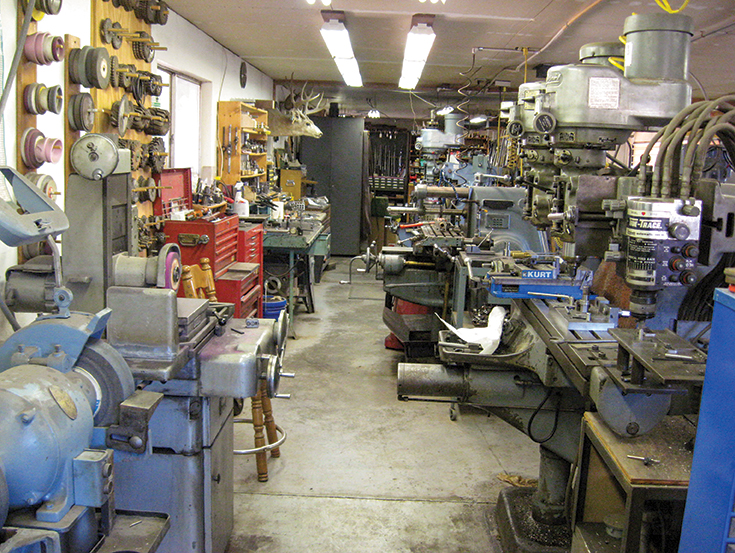 I had sent Al a list of questions to answer and one of them was to include anything important that I had overlooked on the questionnaire. Al replied: "I love what I do, it's my passion. I'm 82 years young and still working. When I cash in my chips I hope I'm found running my Bridgeport milling machine. I want to thank all of my loyal customers and the friends I've made along the way."
God bless you, Al, and we hope you have many, many more years at the Bridgeport milling machine. I understand that complete Borchardt rifle acquisition is extremely limited now, but I know for a fact I still need several more of your BRC match quality barrels!3

References:
1. The Story Rifle Action, Gerald Kelver, Single Shot Rifle Actions – Yesterday and Today, Stop and Go Printing, Denver, Colorado, 1988, Page 103
2. The Story Rifle Action, Gerald Kelver, Single Shot Rifle Actions – Yesterday and Today, Stop and Go Printing, Denver, Colorado, 1988, PP 103-104
3. Personal correspondence, telephone calls, and questionnaire.