We stopped by Montana Vintage Arms the other day and Jim Gier showed us the newly updated A Model scope that is now in production. These scopes are being offered in the 23-inch length in 8x and 10x. This is quite a step up from the 5x maximum offered on the B Model scope. The new A Model also has objective bell focusing for distance and parallax rather than having the focus adjustment located on the tube. We were very impressed with the new A Model from several standpoints.

First, these scopes are of excellent quality; the fit and finish is just impeccable. We have come to expect this level of quality from MVA given their top-flight products over the years. Anyone who has ever tried their hand at machining parts will immediately appreciate the close tolerances on all MVA products. It goes without saying that scope mounts need to be precisely machined and fit to eliminate inherent error in adjustment.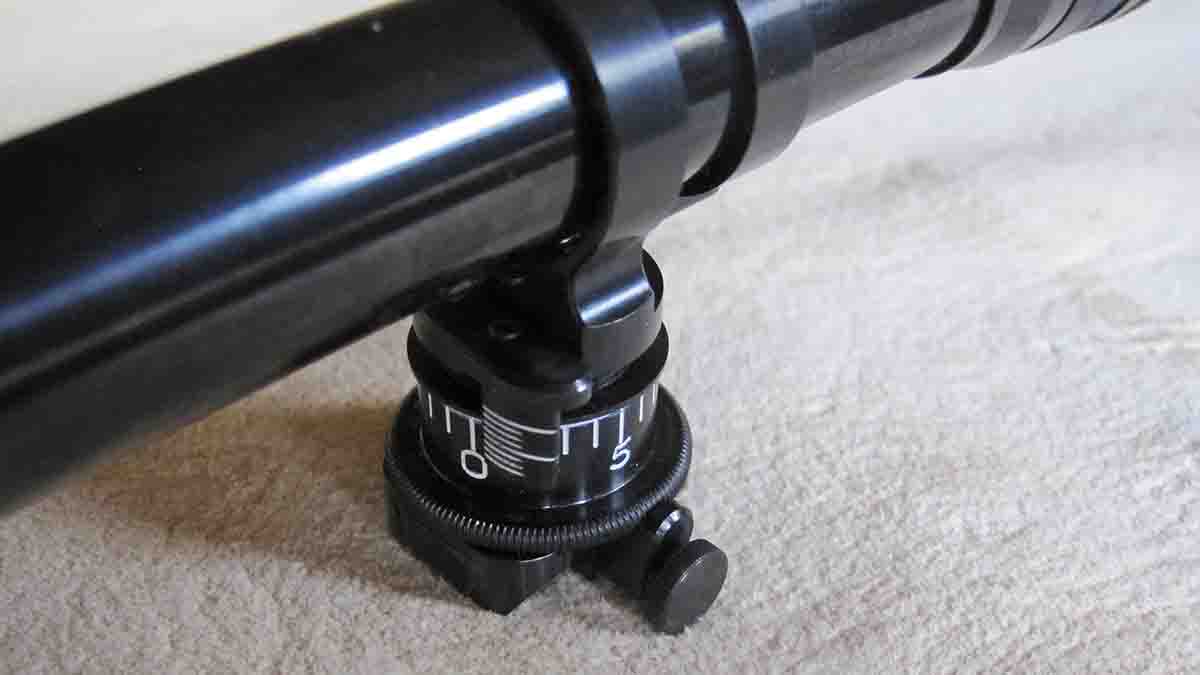 Second, a new patent-pending front mount has been devised that helps keep the cheek-weld of the shooter in relatively the same place on the rifle stock. This is accomplished by having an adjustable front mount for elevation, as well as the rear mount. This is especially great news for silhouette shooters where maintaining a somewhat consistent cheek-weld on the stock has always been difficult.
The front mount also lets one split the difference on eyepiece height by lowering or raising either mount. For my part when shooting silhouette, I can see using the front mount for rough sight correction and the rear for fine adjustment. Either way, the MVA front mount gives many more options to the shooter.
Eye relief of the A Model scope tested was 2½ inches and it would focus from 30 feet to infinity. I was glad to see that it would focus this close, as this means it can be used for .22 rimfire gallery shooting which is typically shot at 50 feet. There is a saying among serious shooters that goes, "You can only hit what you can see." The increased magnifications of the A Model means more target definition and resolution of holds. This spells higher scores, especially on those ranges that are notorious for having hard-to-see targets.
I've always been impressed with the glass used on MVA scopes and this new one didn't let me down. Even in low-light conditions, the scope remained bright and clear with very little distortion at the extreme edges of the image. The glass is the heart of any scope and MVA did not cut corners here.
When buying a vintage scope, one always runs the risk that it will have some issues such as weakened crosshairs, dirty lenses or worn mounts. These things all cost money to fix, as well as taking time. The addition of these new magnification powers in the MVA scope means that if one is looking for a quality, vintage-style telescope that is ready to use, available with custom crosswires and backed up by a bulletproof warranty, you can do no better than the scopes from Montana Vintage Arms.
It's also worth mentioning the advantage of modern, quality lenses. Many times a vintage scope leaves something to be desired in clarity and gathering light. The Montana Vintage Arms scopes that were tested have been excellent in this regard. Given the price that vintage scopes have been commanding lately, one can buy a newly manufactured MVA scope for the same price and not worry about wear and tear – makes sense to me.
The new Montana Vintage Arms A Model scope starts at $950 in either 8x or 10x and is available with a variety of reticles. Visit www.montanavintagearms.com or contact them at 61 Andrea Drive, Belgrade, Montana 59714-8918. Phone: 406-388-4027. Take some time to look at the rest of their excellent products made with the same dedication to quality.
SPG Lube in Tins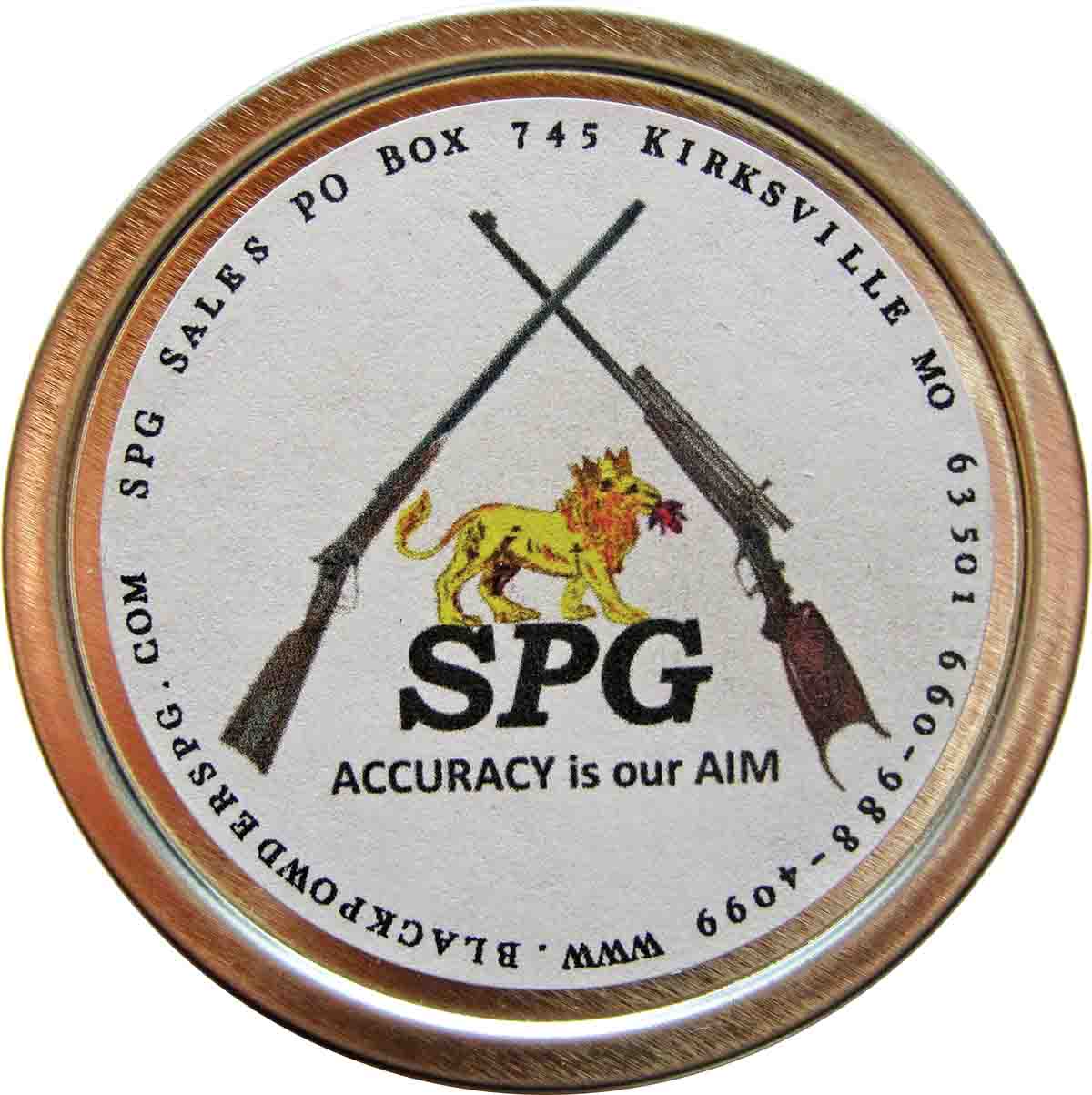 SPG Sales sent us a new product recently; SPG Lube in a handy tin. We have used SPG Lube for years in our round ball muzzleloaders (as a patch lube) and this handy tin will be a welcome addition to our shot pouch. What many shooters probably don't realize is that we have also used SPG Lube to relubricate .22 rimfire ammunition.
Now, that statement is sure to raise a few eyebrows. Yes, I know that some competitions like BR 50 reportedly ban the practice of "relubing" .22 ammunition. Why, I'm not entirely sure, but I would guess that a shooter who was successful (and relubed) in a match was viewed as having some kind of an advantage. I can speak with authority that the practice is not banned in the Wyoming Schuetzen Union, and I don't believe that either the ISSA or the ASSRA restrict it.
This is a bit curious, as it is well known among cast bullet shooters that fresh bullet lubricant generally shoots the best. However, many riflemen just assume that .22 ammunition, no matter how old or poorly stored, is going to shoot well even if the bullet lubricant is dried out.
For some reason, they seem to think that the basic tenets of cast bullet shooting don't apply to rimfires. Another example of this "rimfire wisdom" is that many shooters don't believe that a .22 ever needs to be cleaned. I have actually had serious smallbore competitors assure me that cleaning was not only unnecessary but detrimental to a .22's accuracy. This is puzzling, as .22 rimfires generate primer and powder fouling just like any centerfire and much of the match ammunition uses a soft lead bullet that requires some form of lubrication. Everybody is entitled to their opinions, but for myself, I clean my .22s every time I use them and I relube the grease grooves on rimfire bullets if the lube is dried out and flaky.
How best to do this? Well, I lightly roll the bullet over a block of the bulk lube so that the cannelures pick up a film of lube. You don't want to overdo it; a light film is plenty and be careful not to lube the case. The bulk SPG Lube tin that SPG Sales is now selling makes this easy to do, even at a match. The tight-fitting lid also keeps the lubricant clean during transport.
Many times, a cranky .22 rimfire barrel responds well to relubed bullets, especially if it is leading. I have also noticed that my .22s are much easier to clean after using fresh lube, just as one would expect with a cast bullet centerfire. Rimfires are notorious for being picky about ammunition but so far, I have not had one that responded negatively to freshly lubed ammunition.
Contact SPG Sales at PO Box 745, Kirksville, MO 63501. Phone: 660-988-4099 or check out their website: www.blackpowderspg.com to order your Lube tin. Cost is $7.20 for the large 2-ounce tin or $4.50 for the smaller one-ounce; a good supply is in stock. While you are there, take a look at their other supplies for the black powder cartridge shooter. I'm betting there's something else you'll need.
Digital Trigger Pull Gauge From Lyman Products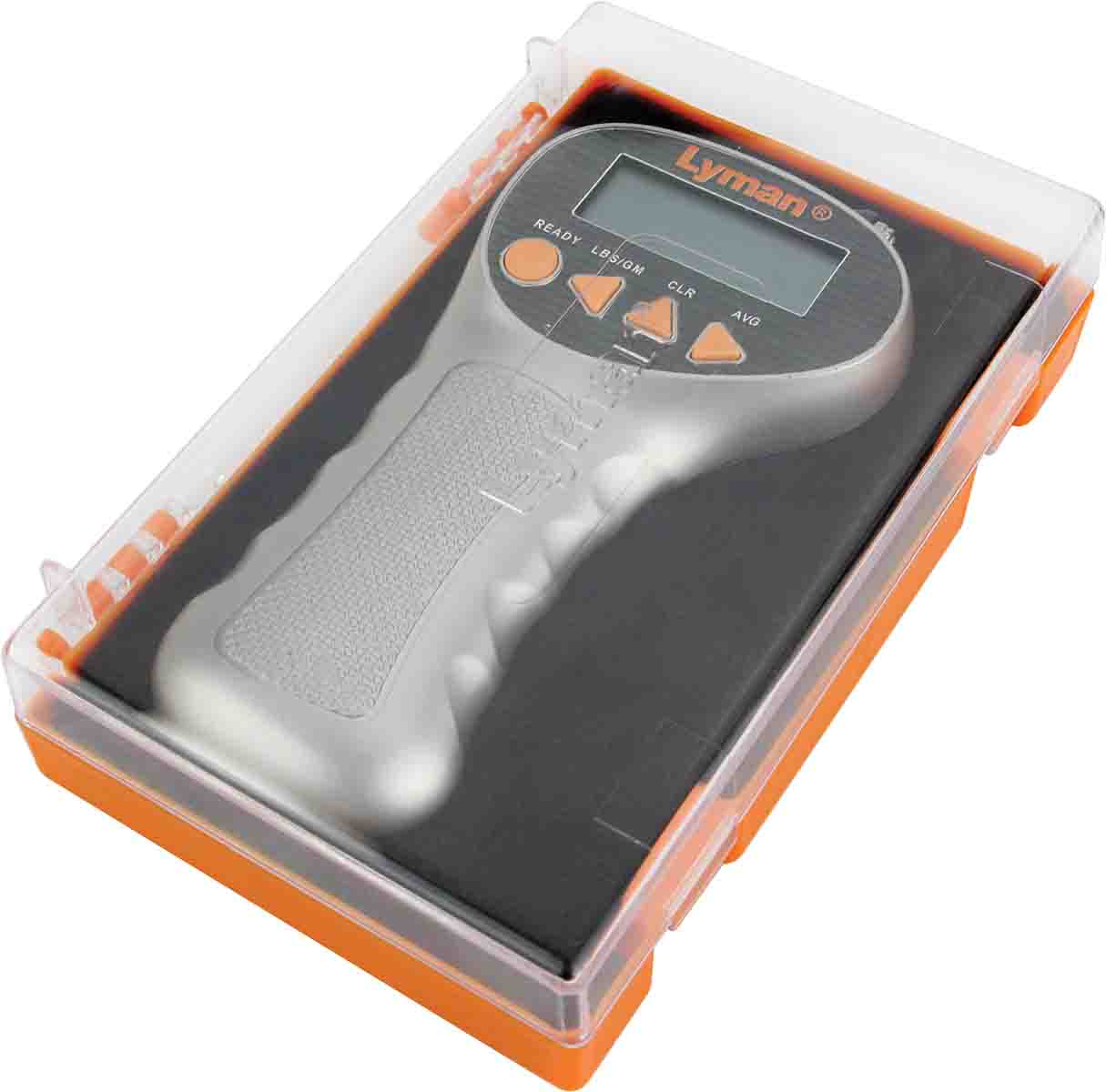 Nothing is worse than a creepy, heavy trigger pull and it makes it almost impossible to shoot rifle accurately. An inconsistent pull can be just as bad. Trigger work is something that should only be attempted by a knowledgeable gunsmith. But even if a shooter isn't skilled in that area, it is good to know the pull weight of a new rifle. Testing for consistency is something that is also within the grasp of every rifleman thanks to Lyman's new Digital Trigger Pull Gauge.
Lyman's digital scale is extremely easy to use. I tested the set triggers on my favorite Ballard offhand rifle and found them to break at 1.4 ounces with .1 variation (plus or minus) over 10 pulls. The roller on the scale lever made it simple to repeat the positioning on the trigger, which I'm sure contributed to consistency. Lyman claims that the Digital Gauge is 20 times more accurate than a common spring gauge and I believe it. The memory on the scale will register 10 trigger pulls and then average them. The maximum trigger pull that can be measured is 12 pounds.
I've used many different spring gauges in the past and while they have been useful, none of them have been anywhere close to giving me the readings that Lyman's pull gauge did. Purchase one of these new digital scales and see if you don't agree. Price is $59.95 plus shipping. Visit www.lymanproducts.com or call 800-225-9626 or mail your order to 475 Smith Street Middletown, CT 06457.
Accurate Molds' .44/40 Bullet for Black Powder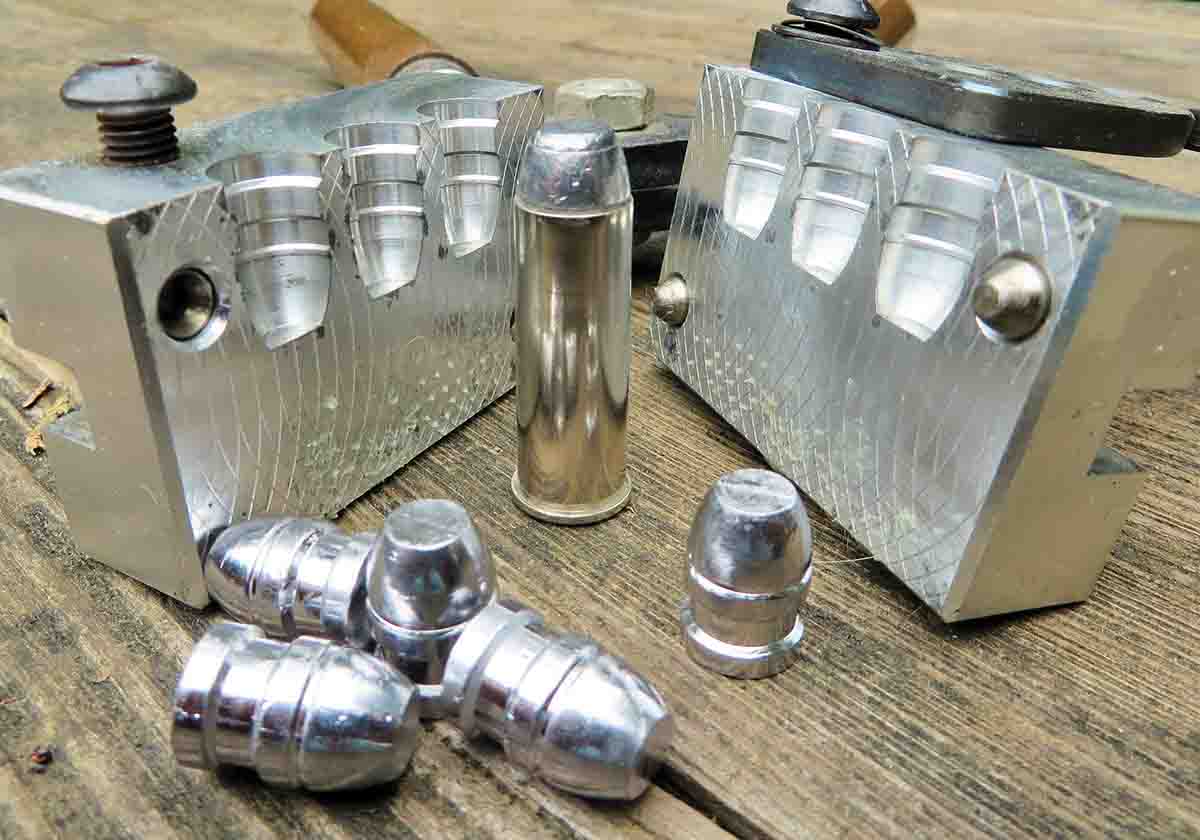 Accurate Molds actually has a number of moulds for the old .44 WCF that are especially made to be used with black powder loads. They are all very similar in profile and mainly differ only in their weight. Their main similarity is in the nose of the bullets, which I think is practically identical, and the very wide or large single lube groove that surrounds each bullet. It's that large or generous amount of lube needed to fill those lube grooves which make these bullets so black-powder oriented.
The bullets or moulds I'm referring to are easily found on their website: www.accuratemolds.com. Start browsing first with #43-205C and including #43-210G, #43-215C, #43-230E, #43-245C and #43-260C, which are labeled as being for the .44/40 with a fast rate of twist. These bullets are all from the same "family" and that variety gives .44/40 users options from 205 grains on up to 260 grains.
The ony bullet mould that I have any experience with is #43-205C and I'm simply too satisfied with it to give very much consideration to the others, and the "205" refers to the general weight of this bullet. When cast with a 20:1 alloy, the bullets weigh right around 205 grains. More lately, a batch was cast using reclaimed .22 rimfire bullet lead, and the bullets with a softer alloy weigh just over 212 grains. For my general shooting with the .44/40 in both rifle and revolver, I'll use those bullets without discrimination.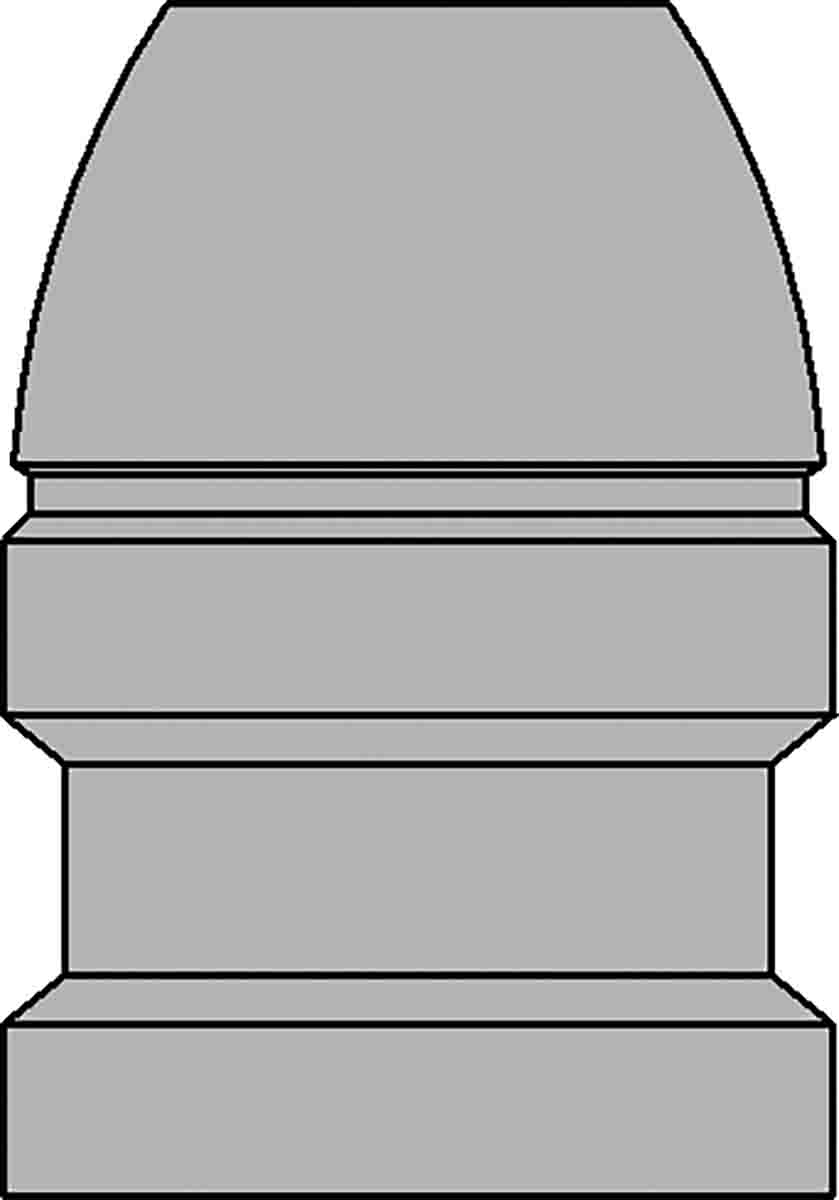 What makes these bullets desirable for black-powder shooters is the single, very large lube groove that obviously identifies this style. We can probably agree that this is more lube than necessary but with black powder, too much lube is plenty. When this bullet is shot out of my C. Sharps Arms Low-Wall with its 28-inch barrel, the rather generous lube star on the muzzle is simply a comforting sight to see.
My mould for this bullet is one of Accurate's triple-cavity styles, made of aluminum blocks. I do like the aluminum blocks because of their lighter weight, allowing me to cast a good pot of lead without being too tired to enjoy what I'm doing. And, being a triple cavity, the pile of cast bullets grows at a surprising rate which is always good to see. For shooters who do a lot of shooting, such as in cowboy action competition, the triple cavity is a very good idea. Accurate Molds' quality is very high, making them very easy to recommend.
Casting bullets with this mould was very productive and soon, a good pile of bullets for my .44/40s was available for loading and shooting. Bullets were sized to .429 inch when lubed with BCP Lube from C. Sharps Arms before being loaded into nickel-plated Starline cases that were primed with CCI Large Pistol primers (I use the nickel-plated cases to identify black-powder loads). The bullets were seated over 33.0 grains of Olde Eynsford 2Fg powder, which should develop a muzzle velocity of over 1,300 fps out of the 28-inch rifle barrel. I must say "should develop" because none of these loads were checked over the chronograph but other bullets of similar weights have been check previously. With about 30 cartridges loaded, it was time to try them on a target.
While using my CSA Low-Wall in .44/40, I was getting good groups at 50 yards. My friend, Lynn, who was shooting with me, put five of these new bullets through one jagged hole, shooting from the bench with the target at posted 50 yards.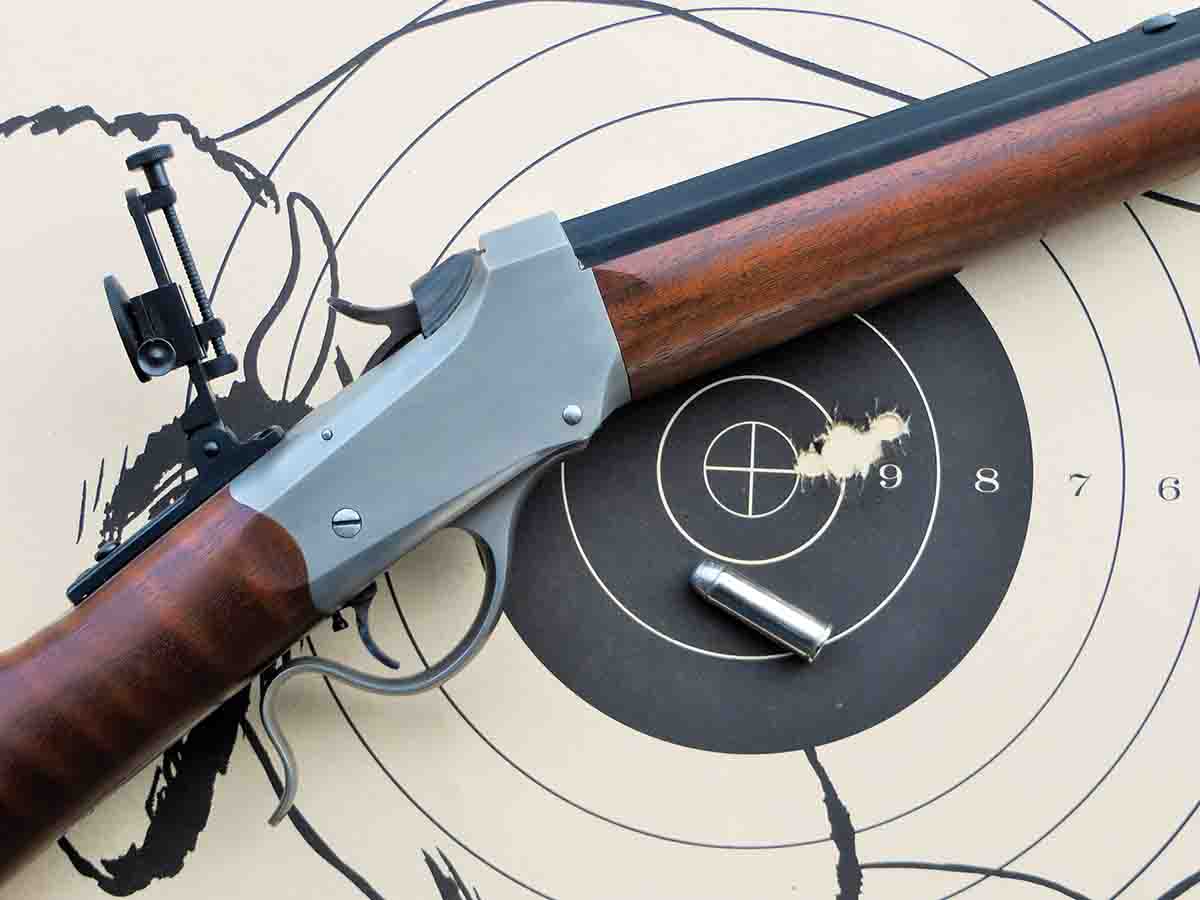 As the picture shows, Lynn's group with the Low-Wall and the bullet from the Accurate mould is very good. It was good enough that he didn't try to improve it. I did try but, as you can guess, I came in second.
Every aspect of using this bullet mould and the bullet cast with it is very positive. From now on, this is my standard bullet for my .44/40 shooting and I'll try these bullets with some other loadings in my revolvers fairly soon. There might be a way to improve upon this bullet for the .44/40 but if so, I don't know what it would be.
There is no hesitation in giving Accurate Molds my highest recommendations. Accurate's mould blocks can be aluminum, brass or steel, in single or multiple cavities. Double-cavity moulds or larger can be cut for two or even three different bullets. To see more designs, just take a quick trip to www.accuratemolds.com where you will find easy-to-follow instructions on ordering or contact Accurate Molds, PO Box 315, Salt Lake City, Utah 84110. - Mike Nesbitt
Industry News
Montana Vintage Arms Is Expanding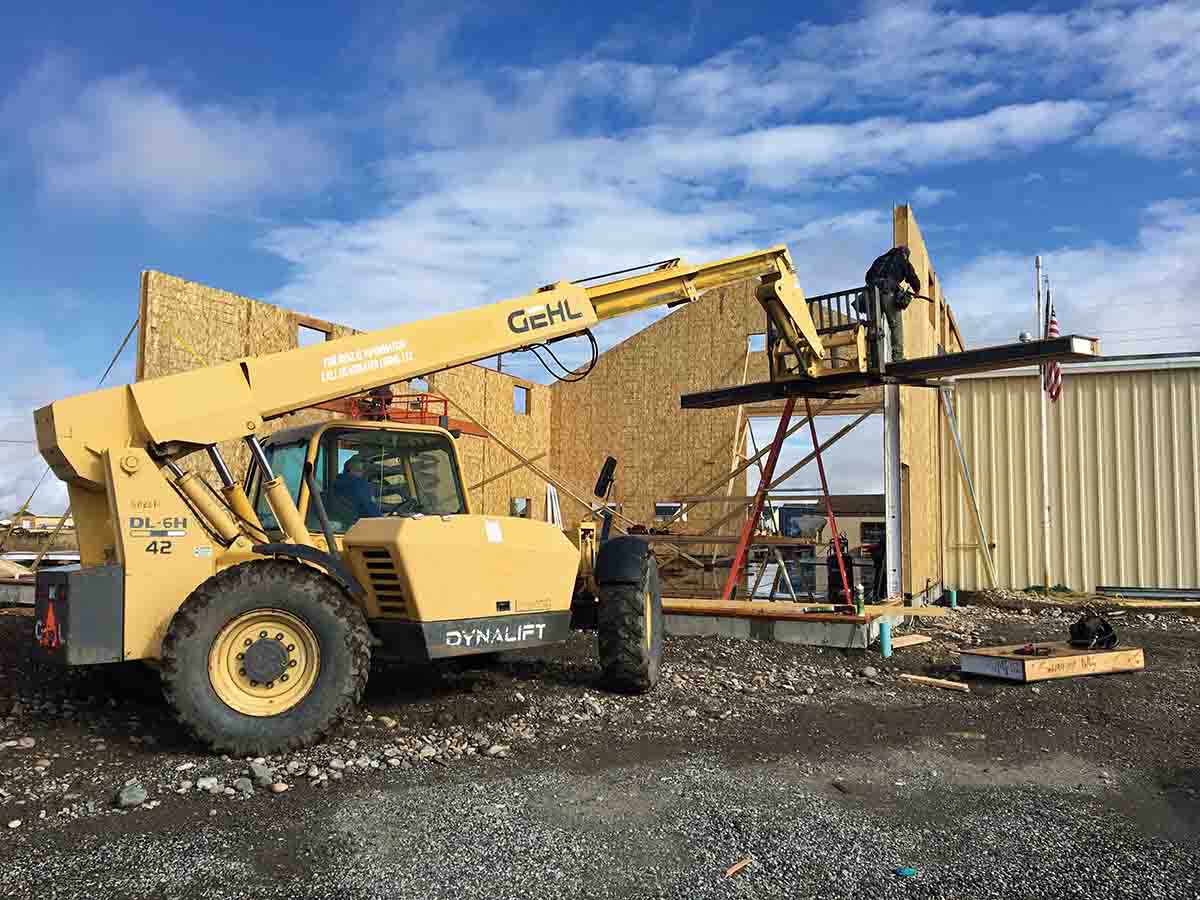 Montana Vintage Arms is currently adding new floor space that will double the size of its shop. New state-of-the-art machining centers have been added that required more room, so the walls went up! They are racing the Montana winter to get the new shop closed in and then the process of moving machines and benches into the new area can begin. Production will continue throughout this process so that order delivery will not be interrupted.
MVA continues to offer the best in sights, scopes and accoutrements for the traditional rifleman; the new shop space will enable them to meet growing demand and maintain their high standard of quality. Check out their website at www.montanavintagearms.com or call 406-388-4027 to order a catalog featuring their full product line. - Staff