Rath and Company (represented by Charles Rath, Robert M. Wright, and James Langton), Myers and Leonard, and the Cator Brothers filed suit in the U.S. Court of Claims for the recovery of losses they suffered during and after the battle of Adobe Walls. Their sworn depositions contain interesting information regarding the actual battle of Adobe Walls and the immediate events afterward. Other individuals who provided sworn depositions either in support or contradicting previous testimony concerning the events at Adobe Walls were Andrew Johnson, William "Billy" Dixon and W.B. "Bat" Masterson.
The men were questioned individually and gave formal depositions at various locations and dates. Rath, Wright, Johnson and James Cator had gotten together some days before they were to provide their sworn testimony to discuss the events and refresh their memories. What's interesting is even though these men had gotten together to get their stories straight, there was disagreement about the facts in the sworn depositions they gave.
This is a fairly long series of articles, as some of the depositions were quite lengthy. The information provided about the circumstances surrounding the battle of Adobe Walls, the differences in memory and styles of testimony, along with the general history of the great buffalo hunt certainly make them interesting reading and worth repeating here. We hope you agree.
We continue this series with a short "hide-hunting" history, and later the depositions of William B. "Bat" Masterson.
UNITED STATES OF AMERICA CHAS. RATH & Co., Complainants
State of Kansas SS = V =
Sedgwick Co. The United States & the Cheyenne,
Kiowa & Comanche Indians
Of the Masterson brothers, only William B. Masterson provided a deposition in the Rath and Company lawsuit. Their story as hide hunters is so intertwined that we have included a short history of the Masterson Brothers and their time on the range:
The Masterson Brothers; Edward, William "Bat", and James
The Masterson family left Canada sometime in 1861 and emigrated to the United States. Of the six Masterson children, four have their births recorded in the parish of St. George, Henryville, county of Iberville, province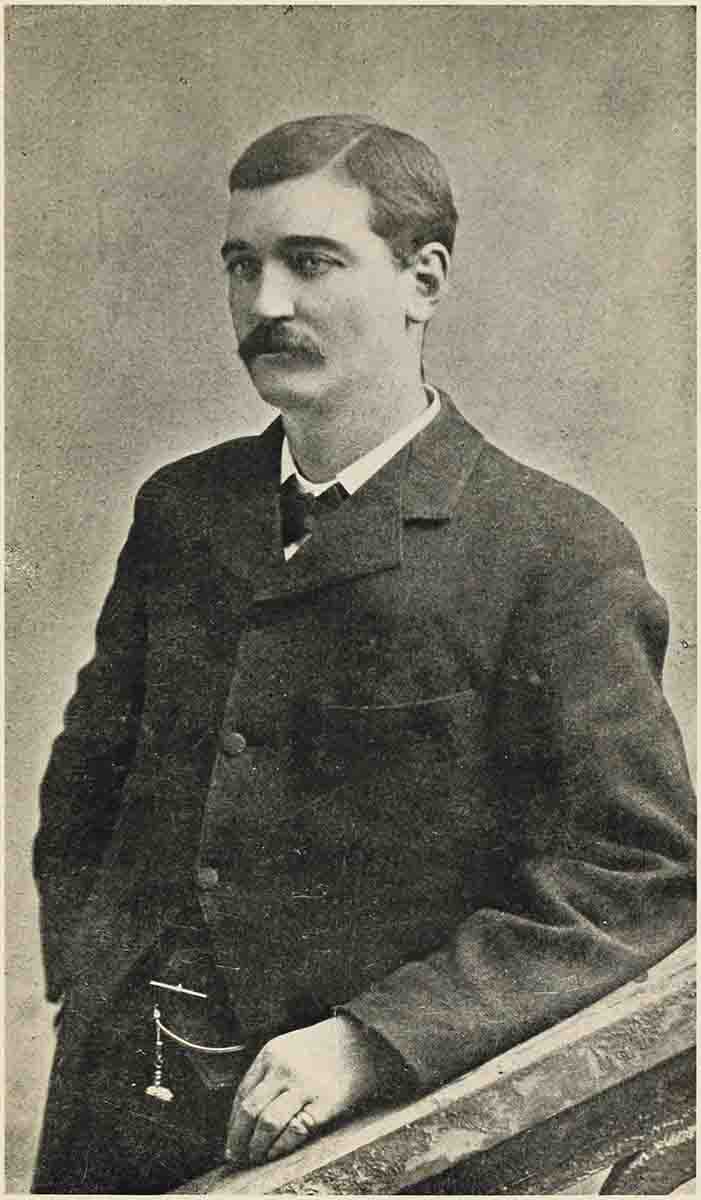 of Quebec, Canada. William Barclay, which the family shortened to "Bart" and sometimes to "Bat" was born November 26, 1853. James was born in 1855, Nellie in 1857, Thomas Jr., in 1858, George Henry in 1860. Edward and Emma, or "Minnie", as the family called her, are not recorded. Edward was born in 1852 and Emma in 1862.
They didn't have far to emigrate – Henryville, thirty miles southeast of Montreal near the northern border of Lake Champlain, is about eight miles from the United States border. The family made various stops including upstate New York; Iroquois County, Illinois; Fairfield, Wayne County, Illinois; a farm in the vicinity of St. Louis, Missouri, and finally they reached their permanent home in Grant Township, Sedgwick County, Kansas, in June 6, 1871. Sedgwick lay directly between two cow towns; Newton to the north and Wichita to the south. The two Masterson boys remained on the farm only long enough to help their father construct a sod house and turn enough ground for crops. In the fall of 1871 they were off to hunt buffalo.
Nineteen-year-old Ed and almost eighteen-year-old Bat Masterson headed south to Stone's Store. Hunters outfitted here at the future site of Caldwell, Kansas. The boys found employment as skinners and stock tenders and moved west toward the Medicine Lodge River with their first hunting party. They pushed past the Medicine Lodge and continued west until they reached the Nescatunga, a tributary of the Salt Fork of the Arkansas. No record indicates who the outfit belonged to, nor how well they did that first season. Some sources indicate it may have been the Thomas Nixon outfit.
The Masterson brothers met Raymond Ritter, a subcontractor for the Topeka firm of Wiley & Cutter, which held the grading contract for the Atchison, Topeka, and Santa Fe railroad. The boys joined Theodore Raymond and began to grade a five-mile section between Fort Dodge and Buffalo City. By July, the graders reached Buffalo City and A.A. Robinson arrived to lay out streets for the new town, the name of which became Dodge City. In September, the first work train arrived in town.
Ritter gave the Masterson's a small portion of their wages and then departed with the excuse that he had to get the balance from Wiley & Cutter. It wasn't long before the Masterson's and Raymond realized that they'd been had. They loaded up Raymond's wagon and pulled for the camp of
Tom Nixon and Jim White, which was then on Kiowa Creek. Nixon and White had established a large camp on the Kiowa and numerous parties used this as their headquarters. Nixon's freight teams often hauled their hides to market, which meant the hunters could remain on the killing ground.
In the fall, Henry Raymond, Abe Mahew, Steve Mahew, and James Masterson joined Bat, Ed, and Theodore on the Kiowa. Henry's diary mentions the Masterson brothers frequently, beginning with the November 22, 1872 entry:
November, Friday 22, 1872
mistake. started for Chiwa on Friday. At Nixons camp. saw Bat kill 4 buffaloes.
November, Monday 25, 1872
Abe and Bat started for Dodge City this morning. Ed killed 19 buffalos. Skinned 15 of them. I killed one at night. Saw jack rabbit. Saw pack of wolves. Sent for pants and overalls, and cup and camphor gun, by Bat. Made ring of hoof.
November, Thursday 28, 1872
Killed and skinned 7 buffalos. Abe and Bat got back, also all of Nixons camp returned.
November, Saturday 30, 1872
Ed and Bat and me killed and butchered 17 buffalos. Jim pegged.
December, Wednesday 4, 1872
Butchered 20 buffalos, Ed, Theo, Bat and me. Three Indians in camp today.
December, Thursday 5, 1872
butchered 19 buffalos, Ed, Theo, Bat and me. Abe loaded and started for Dodge City.
Three Indians in camp today.
December, Friday 6, 1872
butchered 12 buffalo, Theo, Ed, Bat, and me. I shot some wounded ones. Spring day. Some little rain at evening, turned cold and clear. went to Yahoo's camp at night, Theo, Nixon, Hunt, and me.
December, Wednesday 11, 1872
Bat, Abe, Ed, Jim, Rignyer and me went to Indian camp to trade. Theo went to Dodge with Nixon. Killed my first grouse today. Saw Indians eating lice.
An Indian came out of his tepee and called to the hunters, motioning for them to come and visit or trade. Upon entering the tepee, they discovered a circle of Indian men sitting or lying around the owner of the lodge. The owner got a long-stemmed red pipe, filled and lighted it, and taking a few puffs passed it to the one next him and so on until it made the circuit of the men in the lodge.
Bat had his buffalo gun. One of them reached for it and Bat unloaded it and gave it to the enquiring Indian. Bat then demonstrated through sign language how to load and fire the buffalo gun. He would throw down the lever and reach as though getting a cartridge from his belt, then go through the motion of placing it in the gun, close the breech and give a little puff of breath in imitation of firing. He then shook his head slowly from side to side as in awe at the speed one could load and fire. The visitors were unable to converse except in sign. On the center pole near the top hung a bunch of scalps, trophies of some of their battles.
The tepee they were in differed from the others, on the outside was painted pictures in colors of blue, red, yellow and black. Very showy, representing scenes of their activities, like Indians on horse back with bows or other weapons chasing the buffalo.
Some of the young men had come with the intent of trading for robes and had brought sugar to trade. Unscrupulous traders had made the Indians believe that one quart of sugar or coffee was equal in value to one dollar, and that ten quarts of either of these commodities would secure a good robe. If you tried to pay them in money nothing short of $10.00 would purchase one.
An elderly Indian woman had a little basin that just held a quart. She would turn down a thumb or finger, keeping tally and then when it came to the last there was but seven quarts. Bat picked up a small robe and motioned for her to let him have it for the seven quarts. She frowned and shook her head. When he made as if to take it any how, she grabbed it and they had quite a tussle. Henry Raymond looked for trouble but Bat finally gave up and the young traders carried that much sugar back to camp. One young squaw grabbed a handful of sugar and went away laughing and eating it. Most hunters did not use granulated sugar but light brown.
Entries in the diary continue with:
December, Monday 16, 1872
Theo, Bat, and me butchered 6 buffalos, Cold in fore[noon]. three Indians in camp today.
December, Friday 20, 1872
very cold day. Shook snow off hydes. Theo and Bat went to Big Johns. Started to town. 4 bull whackers here to spend eve. Sang songs and played violin. Snowed.
December, Wednesday 25, 1872
Christmas day. Shot at mark to see whos treat. Ed and me best. fine day in morning. Wind rose about noon. went to Nixons camp. played fiddle for stag dance in dug out. terrible windy and cold. Stayed all night. I slept with boss Jim White.
December, Thursday 26, 1872
Came home from Nixons camp. nearly froze to death. staid in camp a[ll] d[ay]. Texan Jim came here crazy with tooth ache. Jim and me went to Yahoos to hear boys sing. Bat didnt come.
December, Friday 27, 1872
In camp a[ll] d[ay]. Snowed all day, not very cold. I killed grouse with needle gun. Jim went to Yahoos to play cards. Bat did not come.
December, Saturday 28, 1872
Ed, Abe and me went to Yahoos, got Abes gun, went to main Kiwa to hunt turkey. Saw fellow with cap made of hyde off antelope head, with horns and ears on. Saw 4 antelope and lots of turkeys but killed none. Bat did not come. thawing today.
The bitter cold weather caused the buffalo to thin out to such an extent that the hunters returned to either town or their homes. The hunters pulled for Dodge City. Ed and Jim Masterson, along with Henry Raymond loaded 990 pounds of meat in the wagon and left for Dodge City. Bat decided to remain in Dodge City while the rest of the party left for Sedgwick.
They remained there sometime but could not find work. When Henry Raymond decided to return to the buffalo range, Ed Masterson decided to join him. They left Sedgwick on February 18, 1873.
The Diary mentions the Masterson brothers again:
February, Thursday 20, 1873
aweful cold and windy. Some snow, cut some wood. Ed and me went to town, I wrote letter to Elen L. Ed and me down to town at night, at dance house. Jim Barbour and I came home early. fair weather at night. Splendid music.
February, Friday 21, 1873
Nixons Teams started to camp this morning. Nice morning tho turned cloudy at night. I wrote and mailed letter to Theod, two fancys up to ranche today. Nell Saintclair and Nell Pool. Ed, me and Levy went down to town twice. Ed down town at night I did not go. awful cold.
February, Saturday 22, 1873
Snowed about two inches of snow last night. Still Snowing. Snowed off and on all day. I went down to town. Saw them dancing some. was left alone at ranche part of day. Jim Sheppard and George came, them and Ed went down to town. I put silver mounted guard on my revolver. me and Levy nicht gehen in stadt [aren't going into town].
February, Monday 24, 1873
at ranche most all day alone. learned to play Geary Owen on the accordian by note. an old man from Michigan came to ranche to learn news about his son who was lost. Supposed to be frozen to death. Levy came. we three went down to town, called at Shermans heard die fraulins mach gantz slicht aussprechin die Lill and die Nell [the girls speak quite openly about Lill and Nell] Ed in town at night. Nixons outfit came in. all in town at night.
February, Wednesday 26, 1873
Went down town in fore noon. mail didnt came until about night. no letter for me. I mailed letter to Theo. Ed hired to Kelly heard fellow play banjo and sing. Bat paid me $3.50. I paid Ed $1.50. all down town at night but me. got home.
February, Thursday 27, 1873
down at town. got no mail today. Kelly and Nixon caught buffalo calf. saw them set all the dogs after it and horribly torture it. I bought rubber coarse comb for 75 cents. shot 14 shooter at telegraph pole and hit [it from] 60 yards. beautiful day. Bat and Ed geschlaft mit freunden litzten nacht [slept with friends last night]. At dance house at night.
February, Friday 28,1873
got up made fires. found old Bony aft buffalo calf. I took my pistol and shot it to end it misery. went down town got no letter. Bat got letter from Theo and Nellie. I bought pistol belt and knife scabbord $1 10 cs. at ranche all night.
March, Saturday 1, 1873
At ranche most all day. went to town got no mail. Saw wolf chase and saw them catch jack rabbit. played ball. Bat and me and George M. [Mitchell] and Pat Baker shot at marks. I made best shot. wrote some for Carlinville Dem[ocrat]. played accordian, beautiful day.
March, Tuesday 4, 1873
beautiful day. down in town Bill Brooks got shot at with needle gun the ball passing through two barrels of watter lodging in outside iron hoop. Jordan [Kirk] shot at him. I was down town most all day. Pat and Bat went to hunt the horses. Soldier got beat over the head with boot and $5 taken from him in town.
April, Wednesday 2, 1873
worked for Rath. Haly and me bailed hides. George Mitchel and Bat and the Sweed hauled and put in car in afternoon. I got pair of boots of Rath this morning $7.50 got pr sock with them. hat ein hemd geborgen von [borrowed a shirt from] George. Kelly and Rhine had row tonight. Columbus [Crouse or Kruse] left today.
April, Thursday 3, 1873
Kelly got head put on him last night and Jim Redman today. Haly, Andrew and Me bailed hides today. George and Bat hauled. Haly and I got quart of sherry $1.00. Gave Johne's w[ife] an apfel, heutenacht [apple this evening]. warm day. left shirt at dug out to get washed. at dance hall at n[ight].
April, Sunday 6, 1873
Windy and cold. rained some during the night. rained some in morning and snowed. covered up hides and helped haul 4 loads of bails to cars until Bat and George came, when all worked, cold and windy all day.
April, Sunday 13, 1873
got breakfast at ranche and went down town. got dinner at hotel and went to work for Rath in aft noon. about 5 oclock there came a terrible wind storm continued untill late in night. had to quit work. got nichol of Ed. mailed letter to Theo. Bat worked borrowed Andrews coat.
April, Monday 14, 1873
Wind still blowing and very cold today. bailed hides for Rath after finishing car load of hides began yesterday. very windy all day and cold. Emigrant train camped in town to night bound for Colerido. Bart didnt work.
April, Tuesday 15, 1873
got breakfast at ranche. went down town. aweful cold and windy. got letter from Seth, Bat took [Raymond] Ritter prisoner. I went on train got his valice. did not work. got two meals at hotel. wrote to Seth at night.
Bat found out that Ritter was coming through town with two or three thousand dollars in his pocket. Bat went to meet him and a crowd gathered to see just what he would do. Legend has it that Bat boarded the train, searched the cars until he found Ritter. He then marched Ritter onto the rear platform at gunpoint and demanded his money. He gave notice that if Ritter refused to pay – he would not get back into the car alive.
Ritter began to protest, but shrugged and mumbled that his money was in a valise in the car. Bat motioned to Henry Raymond to retrieve the bag and when Raymond returned, Bat ordered Ritter to count out three hundred dollars. This Ritter did, and as soon as he had turned the money over to Masterson, Bat released him and led the way to Kelley's saloon to set up drinks for all admiring fans. Masterson had not been noticed much around town before this incident, but thereafter, he was considered a man to be reckoned with.
Henry Raymond's diary continues the saga of Bat Masterson:
April, Thursday 17, 1873
Cold in morning and clear. went down town. did not work. went out with Ed, Bart, Scotty, Charles, Hunt [John], Ed House and Kelly to kill some buffalo. got 5. Kelly fell off his horse got badly hurt. Sent for doctor.1 Sold hides, Ed owes me two dollars. got book and pencil 75 cts. at hall at night.
April, Friday 18, 1873
Beautiful still day. at ranche most all day. took shot gun went up the river to kill some ducks. killed sea gull, but no ducks. went to town at night. gave Bat $1.00. Kelly very bad tonight. made will.
April, Saturday 19, 1873
beautiful day. Jim White, Bart, and me went out to kill meat for restaurant. got 11 buff. Didnt go to town at night. Mrs. [N.B. (Sally)] George fixed salve and tied my finger up. rising pained me very much. mrs. N[ixon]. hat mir candy gegeben [gave me candy].
May, Friday 9, 1873
Clear and very cool in morning though turned off very pleasant and warm. rode Jim up to Sam Wilsons doeby and came back and washed him all over. found Bat here and S. Wilson. hab a weing zu Mrs. G gesprocken von die liebe [talked a little to Mrs. George about love] played vio, fixed old [word illegible].
May, Monday 12, 1873
nice day though had quite a shower of rain at eve. Mrs. G[eorge] loaned me a book to read. Claude Duval, or a midnight row at St. Jame's. read it through today and to night. Sam did not come to night. Bat here today.
May, Wednesday 14, 1873
George Mitchel and Bat here today. miserable cold drizzling rain all day. tried to set out some plants. George gave me a shirt and pair of pants. him and Bat came to the stable late and night and bade me farewell. George and Bat gone.
July, Monday 21, 1873
Tom Nixon and O'Brian here in morning. I wrote letter to Theo before breakfast. Nixons bull train came along. we sent 54 hides to town by him. Seen Bat sent letter by him. I killed 8 buff and Dudley 3.
July, Wednesday 23, 1873
Dudley hunted. killed 3 buffalo two cows 1 bull. headed off Jim Whites train. got some flour. moved Jim and Ed Masterson and their outfit from the train down to our camp.
July, Thursday 24, 1873
I killed one old bull before breakfast. Dudley hunted. killed 11 buffalo. Ed and Jim helped us skin them. N.B. George stayed all night with us on acct of Jim White. Labeau and one of his men here at eve.
July, Friday 25, 1873
killed 9 buffalo. Dudley hunted. all bulls but one. Ed and Jim out with us.
July, Monday 28, 1873
gethered up hides that were scattered. fixed up my bunk again. nice day though cloudy. Jim B[arbour]. and Ed went to other camp in aft.
July, Tuesday 29, 1873
cloudy all day. no buff in sight. Ed and Jim Barbour went in aft noon and killed young spike. two boys from other camp came and got some flour.
July, Wednesday 30, 1873
nice day. very warm Jim M[asterson], and me went over the hill to try to get some buffalo for meat. did not get any. came back by other camp. Ed and Jim came thru got some flour and turnips.
July, Thursday 31, 1873
in camp. teams did not come untill night. [Jim] Lochren and [William] Harris passed here. [John] Webbs outfit camped with us over night. got some grub of him. Bat and Dudley came in at night. Bat brought me postal card from Seth.
August, Monday 4, 1873
Mastersons and us moved camp to the springs on Cimaron below mouth of Bluff creek. I killed two chickens, dressed them had them for supper.
August, Tuesday 5, 1873
went out south 5 miles did not see any buffalo. came in to camp. Bat shot and hit kiote on run. I got some ripe grapes around spring. got hackberry stick split it and made gun stick. made one for Bat.
August. Wednesday 6, 1873
made mistake. moved camp on Sunday. Tuesday went beyond salt plains and most of Buffalo creek. got but one buff. fixed gun spring weaker and easy on trigger. I killed (Wed) 9 buffalo 8 cows and one bull. Dudley, Bat and I all went to same herd. I killed 2 others none.
August, Thursday 7, 1873
went way ovr into the Nation [Oklahoma] Saw but few buffalo. did not hunt. returned to Camp went over the river turned the hides over. M[asterson] boys got 8 hides 5 cows 3 bulls, looked very much like rain at eve but did not rain.
August, Friday 15, 1873
got breakfast at Kelleys restaurant. got new hat at Myers $4.00 came out to N[ixon']s ranche to get mare shod. Jim B[arbour]. got him hat $4.05 and shoes $2.50. loaded up buckboard drove to O'Briens. crossed river at Fort. met Bat going to town bet[ween] Fort and town.
August, Monday 25, 1873
drove to Medicine [Medicine Lodge River], and stoped for dinner then drove across to where we camped on Mule creek [A tributary of the Salt Fork which flows south from Kiowa county through Comanche and Barber counties]. got two hides that Jim White left, then across to our old winter camp on Kiowa [creek]. found Masterson boys camped here. Dudley killed 2 buff.
September, Wednesday 10, 1873
Heinrich [Henry Kramer] shod one span horses all round and set 3 shoes for Decker [Tom]. I made two hooks to put in back hand, and made gate hinge. Jim White Bat and Ed and Levy here. got new razor 4 2.25. pd Levy 25 cts.
September, Friday 19, 1873
Bat and the boys came in. Chisler also. I made some corner straps to go on coal box for wells. welded tongue rod and made spring key. Henry shod old Jim.
October, Friday 24, 1873
I made iron pump handle. made toe cork. Bat and Abe Mahew came today. I sent $10.00 to Theodore and a letter. set tires and done shoeing for Harris [William].2
Unfortunately, Henry Raymond's diary makes no further mention of the Masterson brothers. We will continue the story of "Bat" Masterson in the next issue.

References:
1. "Bat" came up to Nixon's where I was staying saying that some of the bums were going out to kill buffalo for Kelley's restaurant just for fun and would do it Indian fashion. This is ride after them and shoot them with revolvers. He said if we could rig up a team and wagon to bring in the meat we could sell the hides and make a little spending money in that way. I told him I didn't know but we could see. We caught up some old plugs that had been turned out to die or rustle a living and by the use of what ropes and chains we could find we managed to hitch them to an old wagon. Kelley, as had been mentioned kept a restaurant and saloon. After they made one round and had slain a number of buffalo, some of us were skinning while they went for another round. I remember Kelley passing around his quart bottle saying "Here, boys, some of my best!" and given "Here's luck!" should respond with "Drink Hearty!"
One such round the boys saw that he was getting pretty groggy. Told him to stay back and let some one else ride his "Calamity" as he called him. He said he never rode that horse but some calamity overtook him.
He consented to this, but when the others started off yelling and whooping, he could not stand it and said, "Here, give me that horse!" He always had a pack of hounds and loved them as he would a wife but did not want them to follow. He pulled his gun as though to shoot the dogs. Ed Masterson saw that I was in the range and called for me to move. I did not move I was sure he could not shoot his dogs. Ed took me by the [w]rist and pulled me aside.
So he mounted Calamity and away he went. It was not long until we saw some one on horse back on a ridge about a mile away who seemed to be motioning. We all looked awhile and saw him take off his hat and wave. Bat took Dutch Albert's pony and rode over to see what was wrong. He came back saying that Kelley's horse had stepped in a prairie dog hole and Jim was badly hurt.
We took the wagon and loaded him in. Bat went ahead on horse back and got a spring wagon and came to meet us. He was badly hurt and thought the end was near. Made his will – he owned considerable property.
After a long time he finally recovered. He was a good-hearted Irishman, but when full of booze he got on the warpath and made trouble for himself. - Raymond, "Notes." pp. 10-11
2. McGinnis, Edith B., "THE PROMISED LAND," (Texas: Toepperwein Publishing Co., 1947) 21-155
Joseph W. Snell, "DIARY OF A DODGE CITY BUFFALO HUNTER, 1872 -1873," The Kansas Historical Quarterly, Volume XXXI, Winter, 1965, No. 4, pp. 345-395,
H.H. Raymond, NOTES ON DIARY OF H.H. RAYMOND OF 1873, pp. 1-53.
DeArment, Robert K., "BAT MASTERSON, THE MAN AND THE LEGEND," Oklahoma: University of Oklahoma Press, Norman, 1979: 1-441.
Baker, T. Lindsay and Billy R. Harrison, "ADOBE WALLS, THE HISTORY AND ARCHEOLOGY OF THE 1874 TRADING POST,-", Texas: A&M University Press, College Station, 1986: 27,55,65,68-69,72,75,83-84,102-103,105-106,109,140.
Dixon, Olive K., "LIFE OF BILLY DIXON," Texas: State House Press, 1987: 115,125-127,160,163,178,188,192.