It had been shooting side-by-side muzzleloading hammer shotguns for a number of years when I first visited the Southern Side-by-Side Championships and Exhibition at Deep River Sporting Clays near Sanford, North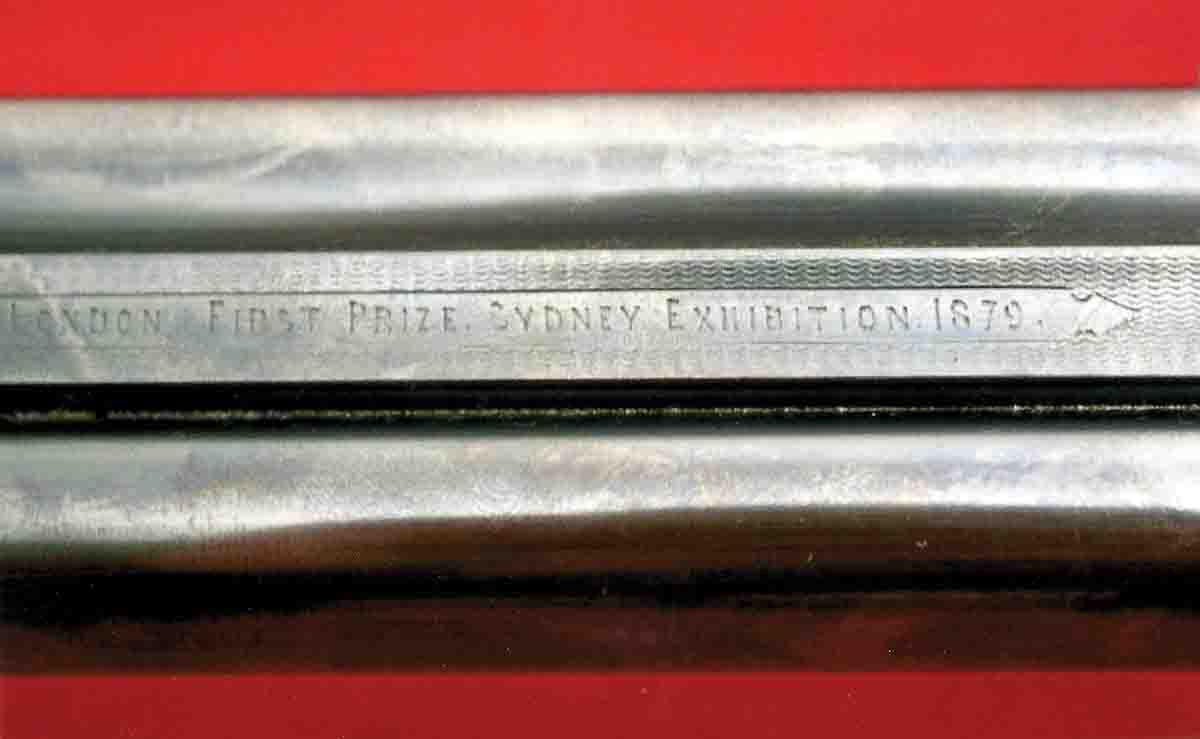 Carolina. In addition to the shooting matches, there were three large tents and an 18-wheeler full of exhibitors from the United States and Europe. There was no admission fee to visit the exhibitors and do some shopping on the side.
In the early 2000s, I decided to seriously look for an antique cartridge, double-barrel hammer shotgun. Robert Brown from England had a booth with such shotguns and the accouterments to go with them. Two of his offerings caught my attention. One was a double-barrel hammerless Greener. However, I was looking for a hammer gun, and the other was a pretty little double-barrel, side-lock hammer shotgun resting in a case lined with red felt that included a two-piece cleaning rod.
This fully refinished hammer shotgun had been sleeved with 28-inch full and full barrels and nitro proofed for 2¾-inch shells. The rib was engraved with the following: "WS RILEY. EAGLE GUN WORKS BIRMINGHAM & 63 BISHOPSGATE ST. WITHIN LONDON. FIRST PRIZE SYDNEY EXHIBITION 1879".
I am sure this meant that Eagle Gun Works got the award and not this specific shotgun. The fully engraved locks each had a banner with "W.S.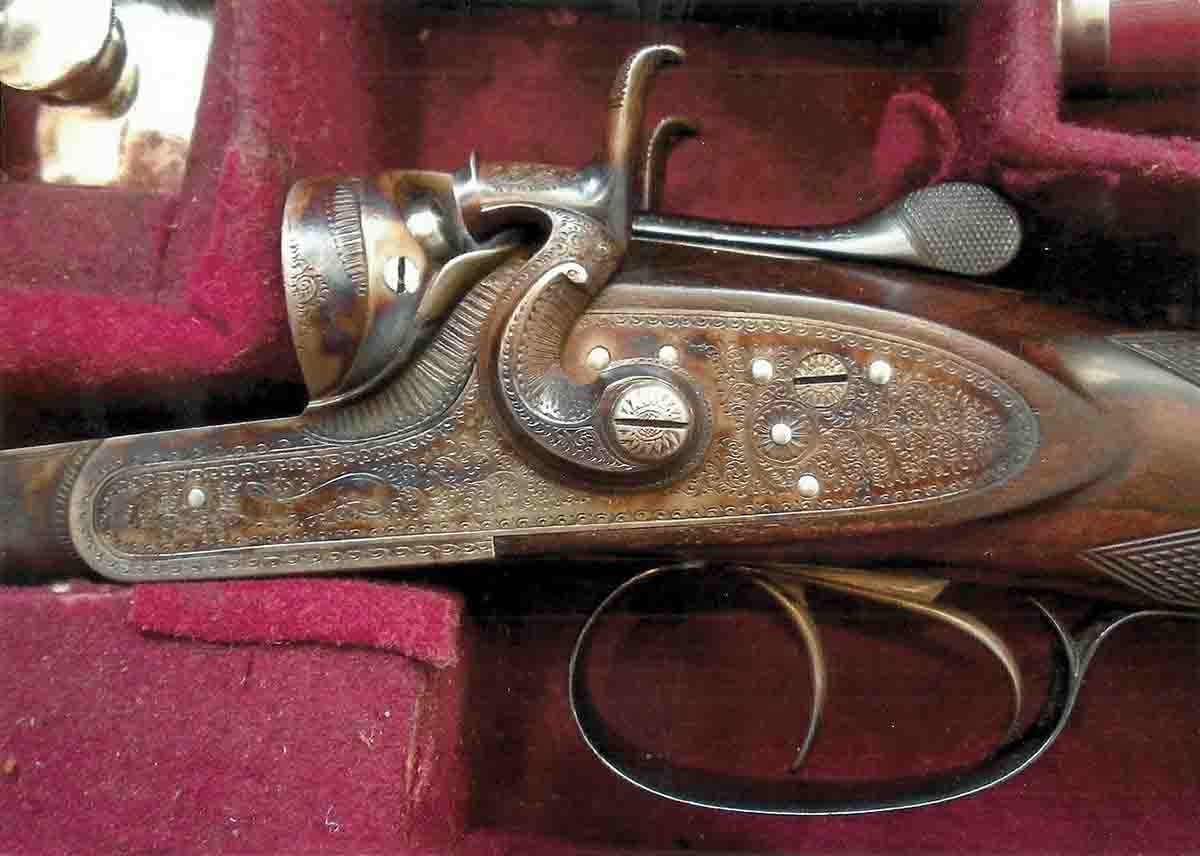 RILEY" engraved on them. The top tang, fences, hammers and action bar were all fully engraved.
The butt was checkered with engraved heel and toe plates. The forearm had an Anson push-rod fastener. Even more importantly, the shotgun handled as though it had been specifically made for me. In any event, after some serious bargaining, we agreed on a price and this little shotgun had a new home. Later that evening, I looked up William Sparks Riley in Boothroyds' Revised Directory of British Gunmakers (1997). This gave me little information except that W.S. Riley was at Eagle Gun Factory, Stafford Street, Birmingham (1868-1880). I also visited the Ancestor Department at the Church of Latter-day Saints which has census records for Great Britain that provided considerable information.
William Riley was born about 1825. The census for 1851 lists William Riley as a gun finisher. In 1853, he married Mary Ann Allen. They subsequently had five children – two sons and three daughters. The 1871 census for Birmingham, Warwickshire, listed William Riley as a gun maker. In 1881, he was listed as 56 years of age and gave his occupation as gun finisher.
The 2¾-inch chambers and the nitro proof meant that I could use standard commercial trap/skeet loads. This greatly increased my opportunity to use the little shotgun. At that time, a Helice match (a mechanical simulation of live pigeon shooting) was held each month at Deep River Sporting Clays, and it became a favorite for a small group of us. The lightweight Riley with its full-choke barrels and easy handling was ideal for this type of shooting and I made full use of it for those matches. I was even fortunate enough at age 76 to win one of the Senior matches with the little Riley. Unfortunately, a short time later misfortune befell the mechanical pigeon throwers and put an end to those shoots.
As I am more of a hunter than target shooter, I soon got ready for dove season that opened a couple of months after I got the Riley. For hunting, I decided to use black powder rather than smokeless powder loads. Deciding on loads was easy, as I could just use the same loads I had used in my 12-gauge muzzleloading shotgun. This consisted of 85 grains of GOEX FFg, an over-powder card, an SPG lubed 1⁄4-inch fiber wad, 11⁄8 ounces of No. 7½ lead shot, an over-shot card and a roll crimp using an antique crimper. This load worked well for doves that fall.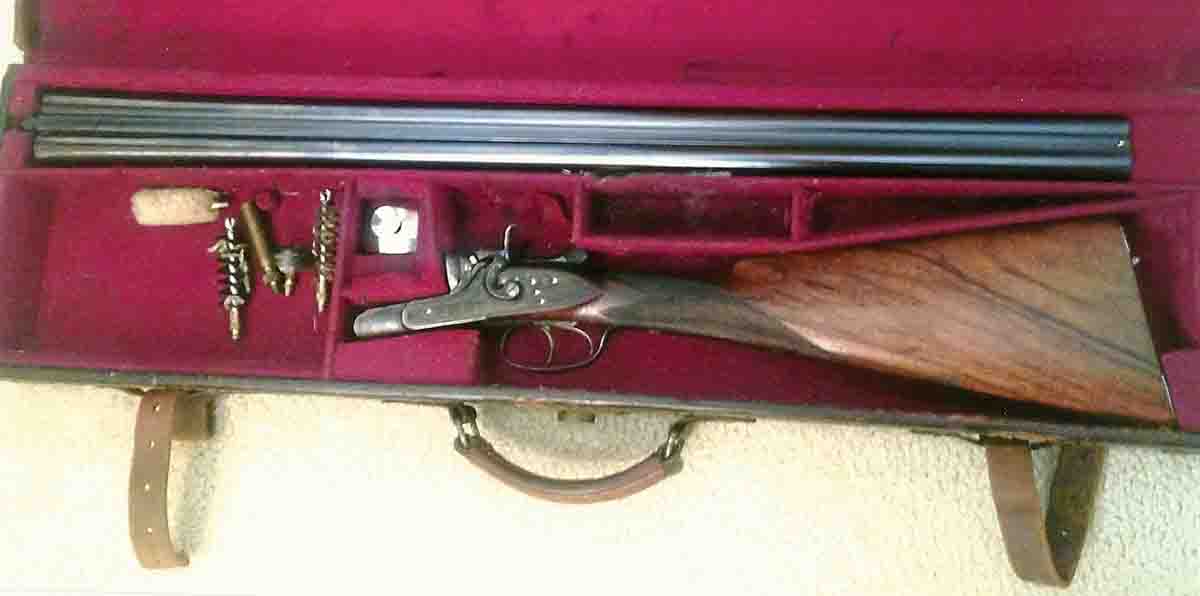 Hunting for wild birds is limited in my part of North Carolina, but there are several shooting preserves for quail. Over several years, the Riley was used for doves, quail, pheasants and duck. The load for the quail was the same. For pheasants, some lead No. 4 shot was salvaged from commercial cartridges and used the same load, as I had with the No. 7½ shot. This was satisfactory for pheasants though I would have preferred to use a larger powder charge than what I wanted to shoot in the Riley. Consequently, I used a different shotgun for pheasants after one trip with the Riley.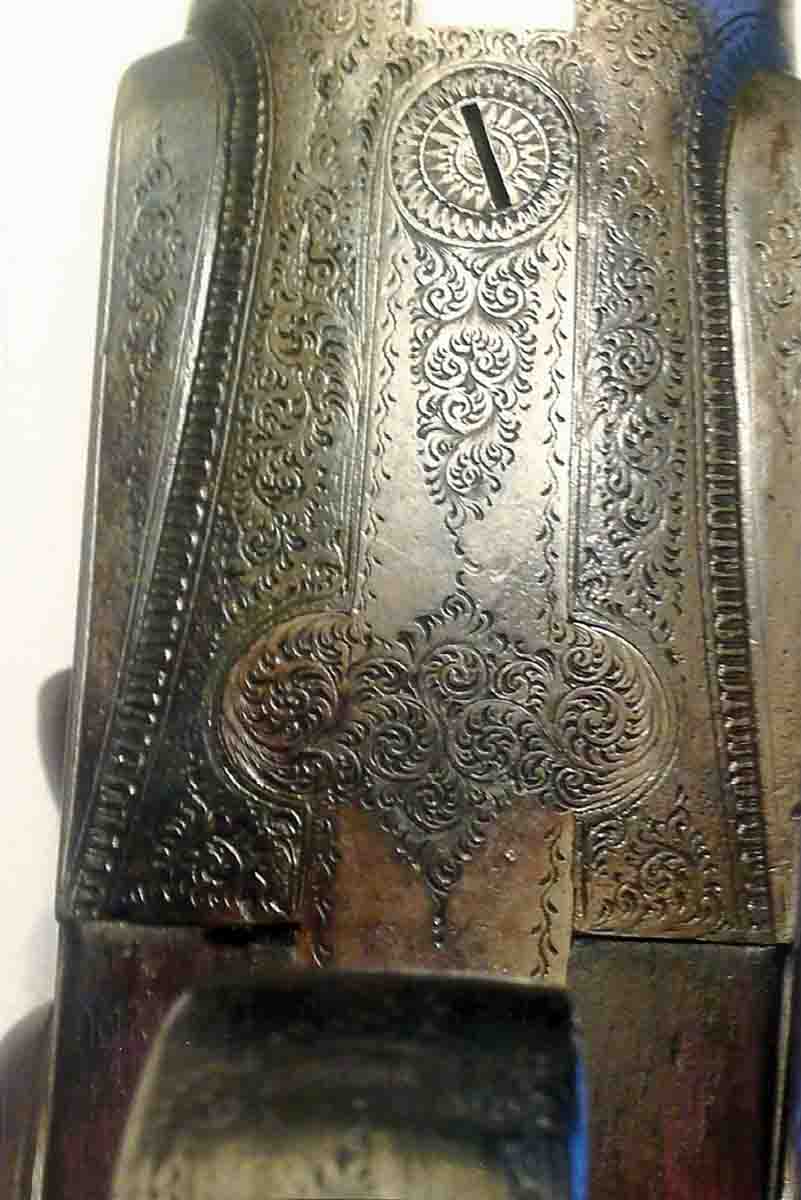 To shoot ducks, even on a preserve, one needs non-toxic shot. I had previously purchased seven pounds of No. 4 Nice Shot, seven pounds of No. 4 Bismuth shot and 7 pounds of BB Bismuth shot to use in my muzzleloading shotguns and a couple of other black powder cartridge shotguns. For mallard ducks at Haddock's Shooting Preserve, I used both the No. 4 Nice Shot and No. 4 Bismuth with the same powder charge that I used for quail and pheasant. Since the shooting was over decoys, the shots were all within 25 to 30 yards. These loads worked fine for that kind of shooting.
The real test of the Riley as a hunting gun came in December 2016. I had again drawn a permit to take a tundra swan. Each year 65,000 to 75,000 of these large, beautiful, white waterfowl winter in eastern North Carolina. Mattamuskeet lake, Phelps lake, Pungo lake and New lake, plus the Sounds and the large fields of winter wheat provide excellent food for this large number of waterfowl. A total of 5,000 permits are issued by the North Carolina Wildlife Resources Commission (NCWRC) each year by drawing. Each permit entitles the holder to harvest one swan. Hunting licenses and permit applications are available from NCWRC in Raleigh, North Carolina. There is a strict reporting system for the harvest, or lack thereof. The number of birds are monitored by aerial survey each year. The population wintering in North Carolina has been steadily to gradually increasing.
The tundra swan is a large bird with a body length of 45 to 59 inches, a wingspan of 66 to 83 inches and a weight of 7.5 to 21.2 pounds. The size of this bird requires the hunter to take several things into consideration, particularly when using an antique shotgun and black powder. The first is that because of the size of the bird, the hunter tends to think they are closer than they really are. One should pick several spots about 25 yards away from the blind and put some decoys out at that distance. These "markers" enable the shooter to judge the distance for shots in the 25- to 30-yard range. Twenty-five to 30 yards is the best range for the lighter loads occasioned by using black powder, 12-gauge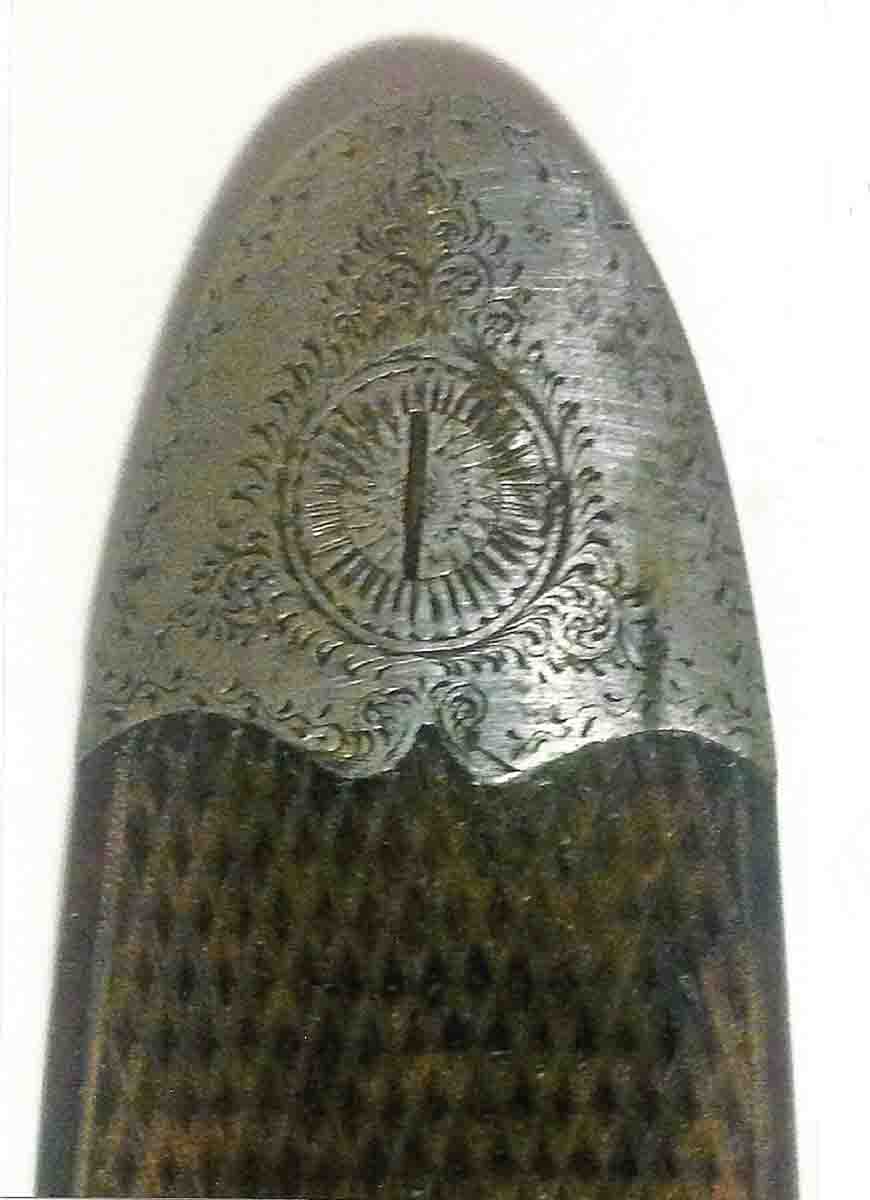 cartridges. I have taken swan with black powder and Bismuth BBs at greater distances than this, but I was using a 10-gauge muzzleloading shotgun. Also because of the size of the swan, one needs to use large shot; hence the old statement about "swan shot." I have never seen "swan shot" and don't really know what it is except that it is large shot, perhaps about the size of buckshot.
In any event, BBs have worked well for me. However, with the muzzleloader I could use more powder and shot than a 2¾-inch, 12-gauge shotgun shell could hold. My 12-gauge load consists of 85 grains of FFg GOEX, an over-powder card, a ¼-inch SPG lubed fiber wad and the plastic leaves from a plastic 12-gauge wad. This shot-cup holds about 11⁄8 ounces of BBs or about 50 shot. Paper hulls and a crimper were used on the 12-gauge reloader. The shells closed up with a bit of a bulge on the end, but the shot stayed in and the shell loaded in the shotgun just fine. I then went to the range and patterned each barrel at 25 yards using a standard target. These loads would work if I did my part.
Shep Hurwitz, my friend and hunting partner, had also drawn a permit, so I called Teddy Gibbs of Engelhard, North Carolina and made arrangements to hunt on December 5, 2016. The hunt included a room at Tom Jennette's motel in Engelhard, North Carolina. We had made this hunt a number of times in the past, so this was sort of like visiting friends and going to "our own hunting camp."
Ducks fly earliest in the morning, followed by geese and the swans fly last. Hence, one doesn't have to start as early when swan hunting. This was good, because this year we woke to a light rain and drizzle. Ryan Berry, our guide this year and on a previous hunt, met us at the motel about 6:30 a.m. We quickly loaded our vehicles for the short drive to the hunting area. We were hunting on a farm that had an open equipment shed where we could be out of the rain as we waited for the sky to lighten. About 400 yards away, our blind straddled one of the drainage ditches that crossed the field. Teddy Gibbs came by to say "hello" and see how we were doing. Soon the sound of distant swans reminded us it was time to get to the blind and put out our decoys.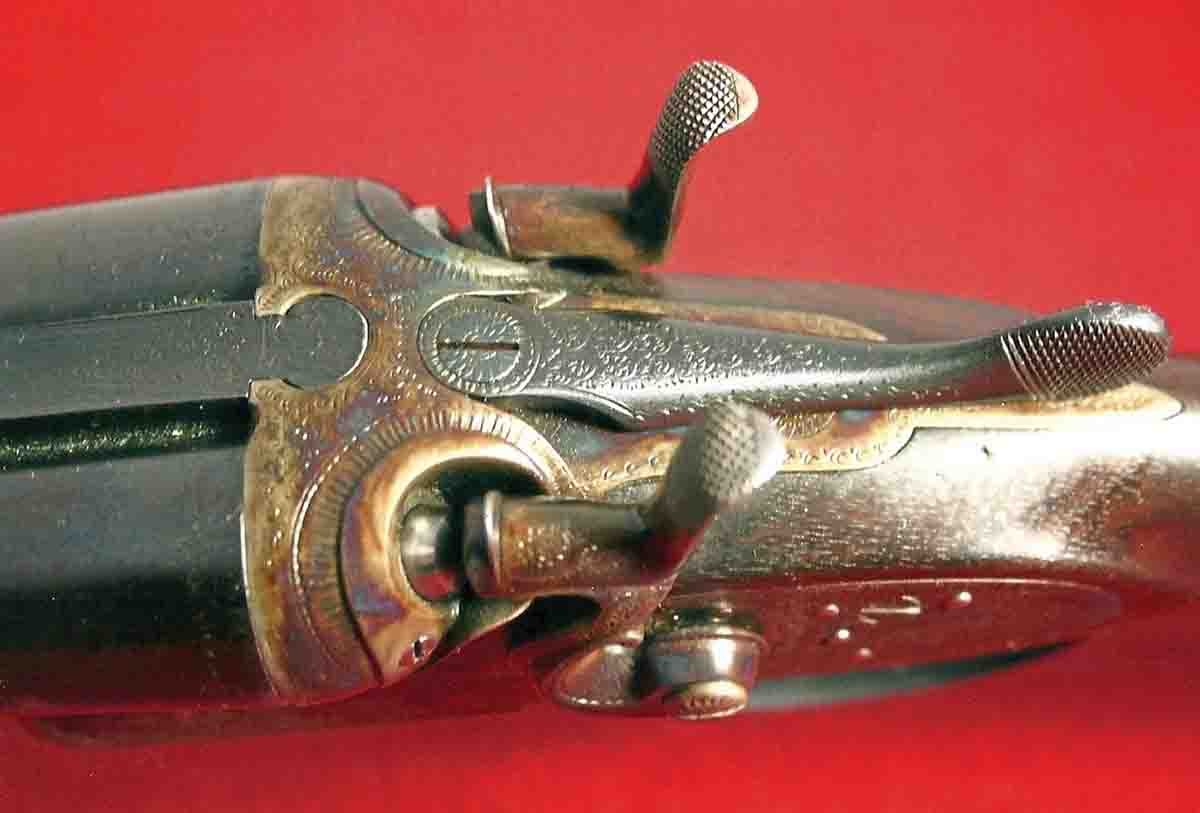 The decoys stored in the blind were both shells and full size. It didn't take the three of us long to place the decoys on both sides of the blind. We were not a minute too soon, as the first flight of three swans made a fly over before we were situated and had the guns loaded. The hunting pressure on these birds is light because of the limited number of permits for a large area of land. The result is that the swans sometimes come by to have a look at very close distances; however, I have seldom seen them attempt to land among the decoys. If one is hunting for a trophy swan, he needs to look for the swan that is all white, as the more immature birds have grayer necks and heads. Since my purpose was to use the Riley 12-gauge rather than trophy hunt, I had decided to take the first good shot I got. Shep, who was using a 12-gauge Remington 1100, graciously gave me that opportunity.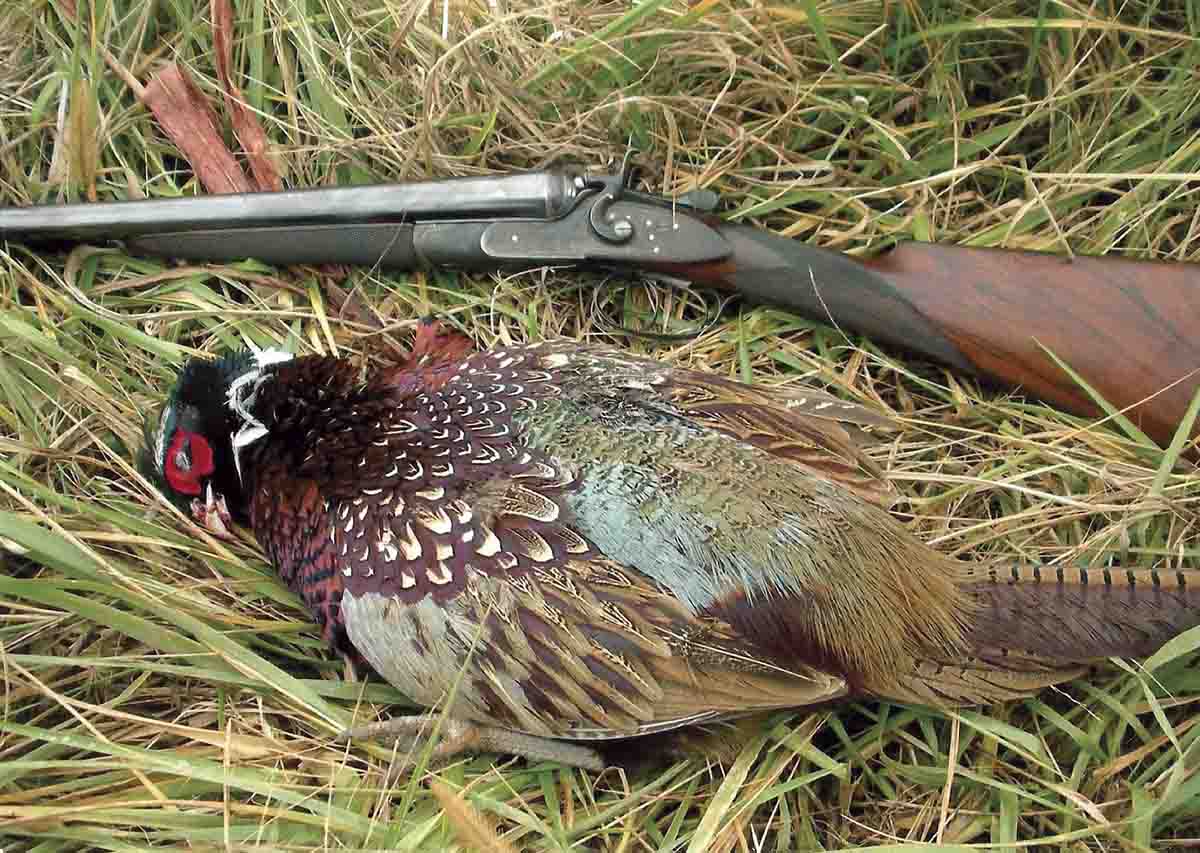 Within the next few minutes a second flight of four or five birds came from behind us, angling over my right shoulder. They were on us almost before we saw them. By the time I cocked both hammers and had my shotgun shouldered, the birds were about 20 yards in front of us and moving away. I pulled the right trigger as I came upon one of the birds. As every hunter knows, time sort-of stands still at moments like this, so the actual time between when I thought I saw a leg drop and I fired the left barrel was momentary. With the second shot, the swan collapsed in midair. Thirty yards from the blind lay my quarry. The W.S. Riley with its black powder load of Bismuth BBs had performed as its maker intended.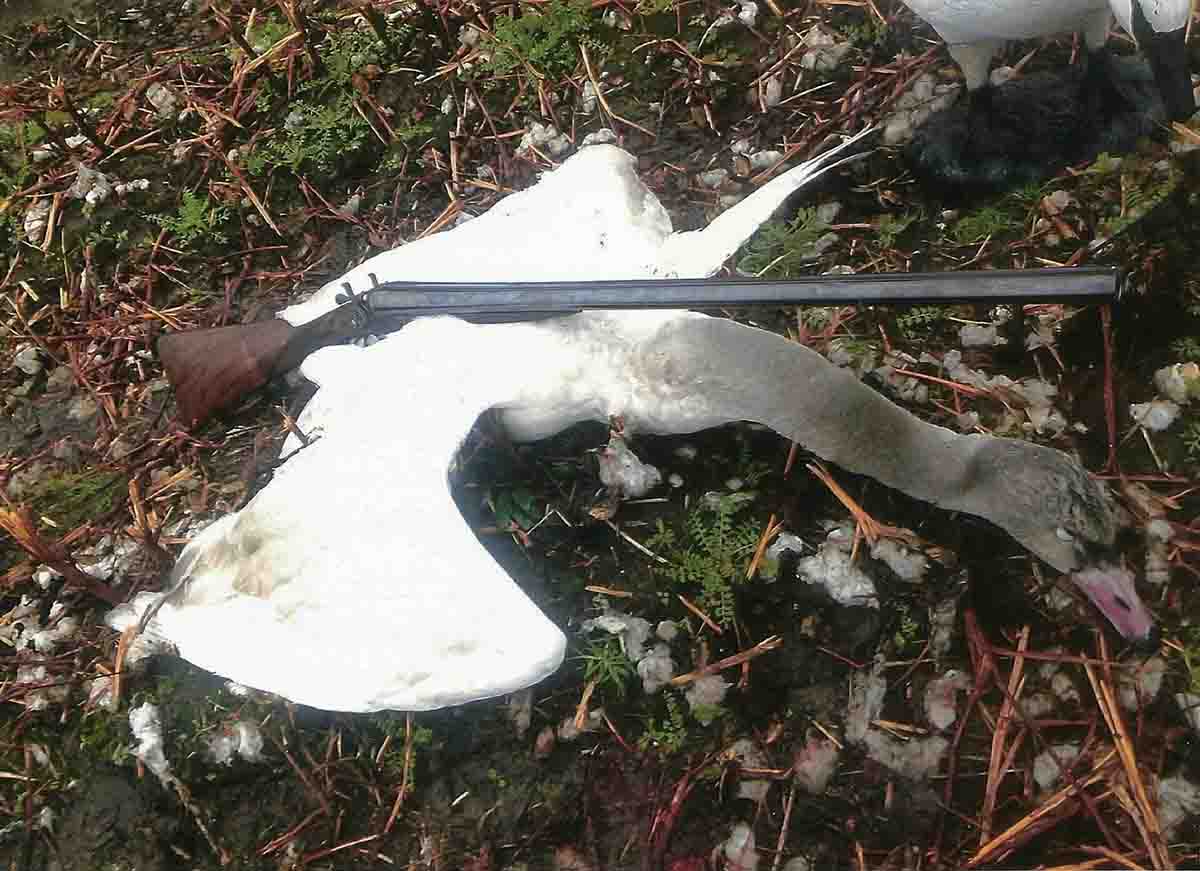 It wasn't long before another flight of four birds came over and Shep filled his tag. Our hunt was over before we really had enough time to fully enjoy watching the birds fly, but I learned long ago that when hunting, one passes up an opportunity at one's peril. Anyway, we had seen the flights of these majestic wild fowl many times before and hoped to do so again.