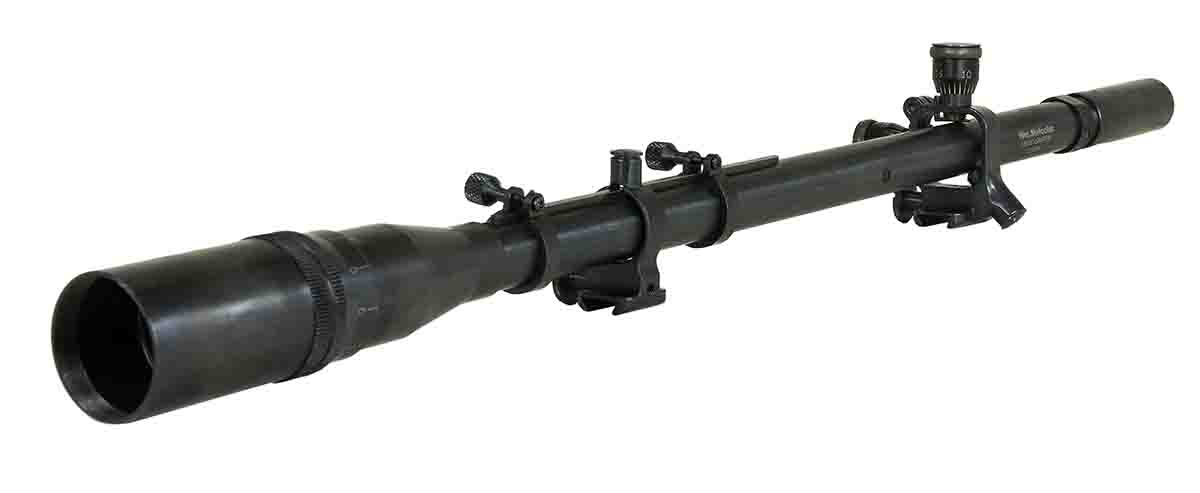 There seems to be a growing amount of interest among black-powder shooters for the new "Vintage Sniper" matches, many being held in conjunction with BPCR Silhouette and Target Rifle competitions. This review will be especially interesting to those enthusiasts, as well as the gentlemen engaged in the Schuetzen disciplines who regularly use the Unertl or Lyman Target Spot-type scopes.
Hi-Lux Precision Optics recently sent one of its Wm. Malcolm USMC "Sniper" 8x 1¼-inch scopes. This product is a direct copy of the Unertl 1¼-inch scope, but the mounts more closely resemble those found on the Lyman Target Spot telescopes. Overall length is 22 inches, and the scope weighs in at a bit over 1½ pounds.
Initial examination was encouraging. The scope felt very solid, and the glass was extremely crisp and bright, more so than many of the original Lyman and Unertl scopes in my possession. Hi-Lux advertises the scope as having multicoated lenses to aid in light transmission, and it appears to really help. The objective focused from 50 feet to 200 yards and beyond with just a bit of the stiffness one would expect in a new scope. Crosshairs were easily focused with the eyepiece and leveled with the same type of locking ring found on a Unertl or Lyman. The windage and elevation clicks were solid, positive and in a dot test proved very repeatable. There was a small bit of backlash in the adjustments. Tightening the screw on the rear mount split ring took much of this away and still allowed the scope to be adjusted. The Hi-Lux also came with a set of barrel blocks correct in height for an '03 Springfield as well as scope caps and a recoil spring. Also included were properly fitted keys for the screws, a very nice addition, and a limited lifetime warranty. My overall initial impression was that this scope was a quality product.
What didn't I like? One thing – I didn't care for the Phillips-head screws in the stop rings, crosshair lock ring or the Torx-head screw in the lock for the rear mount adjustment. However, I am a bit of a traditionalist and do prefer slot-head screws on my firearms. I can understand the Phillips thing and will freely admit that generally when one buys an original Unertl the first thing you have to do is fix "buggered" screw heads that were over-tightened. The Torx screw in the rear mount lock is probably a good idea as this is an easy screw to mess up when it is slotted. If one really doesn't care for the modern screws, they are easily replaced – a small point in the overall scheme.
Hi-Lux advertises its Wm. Malcolm 8x USMC "Sniper" scope for $549.00 MSRP, which I consider to be a very fair price. Of late, original Unertl and Target Spot 1¼-inch 8x scopes have been bringing an almost ridiculous price – and don't even think about one that is USMC-marked. This offering from Hi-Lux puts an affordable, good-quality scope with exceptional glass in your hands without paying the premium collector's price. For those wanting an "old-school" scope for either their Schuetzen rifle or vintage sniper rifle, the Hi-Lux will fill the bill.
For more information, contact Hi-Lux Precision Optics at 3135 Kashiwa Street, Torrance CA 90505; phone: 1-888-445-8912 or check out the website at: www.hi-luxoptics.com. The website features a complete line of vintage and modern scopes, as well as accessories, such as scope blocks, bases and tube extensions.
The Hi-Lux scope will be used for some of my shooting endeavors this spring, and I will report back on my experiences in an upcoming issue. Stay tuned. – Steve Garbe
Wyoming Sight Drifter

Recently the editor showed me a new concept in sight "pushers" – The Wyoming Sight Drifter. This is a coil spring containing two metal plugs that can be snapped to controllably drift, tap or move parts held in dovetails.
I was presented with the chance to use the "Sight Drifter" when a friend wanted help changing out front sights on his Model '92 levergun. In operation, the two metal plugs (one steel, the other brass) touch when the spring is relaxed. One merely holds the brass end against the sight base and snaps the other end from a measured, repeatable or possibly increasing distance to apply the force necessary. The sharp edges of the dovetail itself were easily tightened when the original sight was necessarily returned to its now enlarged position.
So effective was this new device that I hereby publicly vow to purchase three for myself and three for various friends. No more cumbersome hammers cluttering my shooting boxes and a worthy addition to my workbench.
Priced at $32.00 plus $5.00 shipping, to purchase these contact: Steve Anderson, 1101 Hereford Ranch Road, Cheyenne WY 82007; or phone: 1-307-421-2127. – Robert Robinson
[We asked our good friend Robbie to test the sight drifter, and I must say that after using it myself, I'm of the same opinion. This is one of those simple things that just works too good to not have. The Wyoming Sight Drifter will become your favorite tool for installing sights. – SPG]
Stock Wood from Cecil Fredi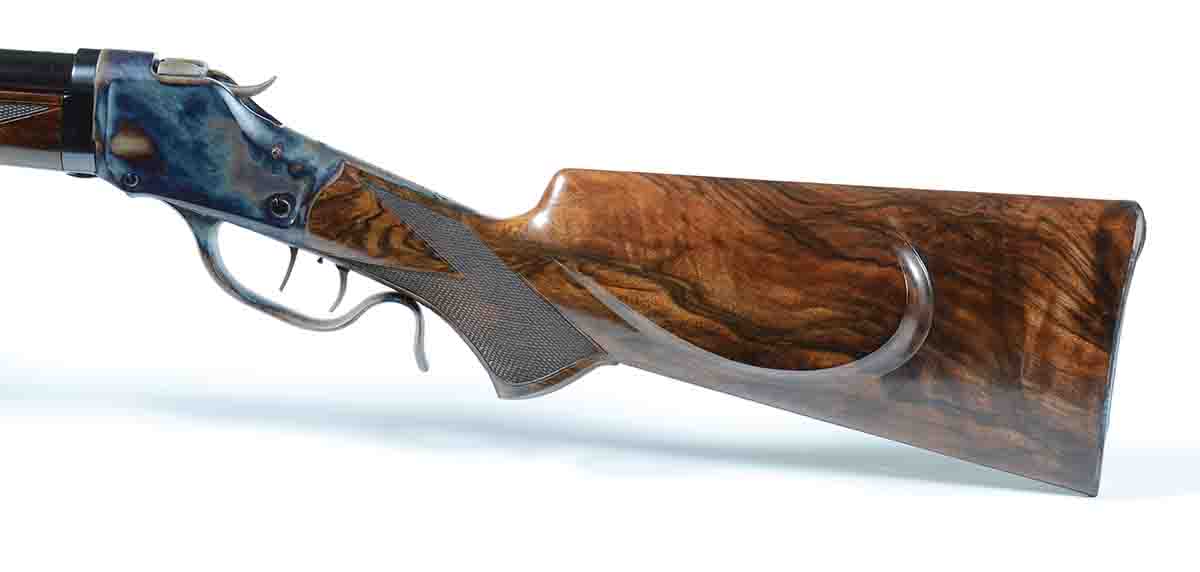 I have never met Cecil Fredi in person, but I feel as if I know the man simply because of his outstanding product and customer service. Cecil has for many years supplied the gun trade with exemplary wood for gun stocking. Several of my personal rifles have Fredi wood on them, and I treasure them.
There is a good feeling that comes from being treated fairly in any kind of transaction, and my experience with Cecil is that I always got more than I paid for. His descriptions of his inventoried wood are always on the conservative side, and he stands behind his product. This is unusual in this day and age. Fredi wood is beautiful, well laid out and dry. Anyone who has attempted to stock even just one firearm will appreciate that simple statement.
Cecil has a huge inventory of stockwood, so huge that I can't imagine him not having a blank that would suit almost any taste – and, as I said before, it is dry. Cecil lives in the Nevada desert, and his wood averages 10 percent or less moisture content. This isn't a guess on Cecil's part, as he checks and monitors the wood. For those of us in the West, dry wood is an absolute requirement.
Cecil's website, www.gunstockblanks.com, features a sample gallery of his stock blanks. Give Cecil a call for wood on that next project rifle and discuss your wants. He can make recommendations on the correct blank for your firearm needs and quote a price. You won't be sorry. Cecil can also be contacted at Gunstock Blanks, 5401 Mello Ave., Las Vegas NV 89131; 1-702-382-8470, fax: 1-702-382-0525. – Steve Garbe

New Dixie Catalog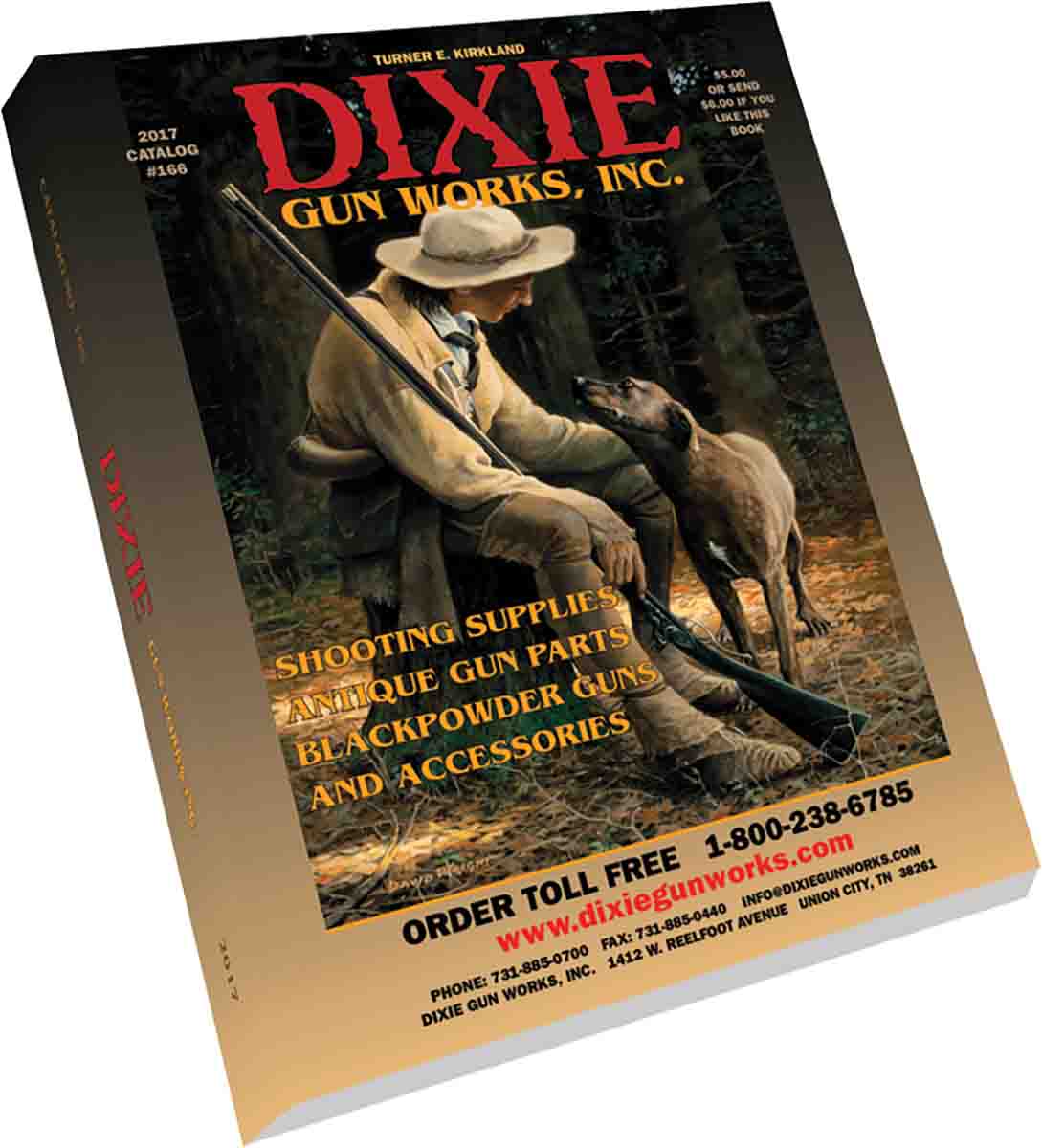 Fortunately for those of us in the antique rifle world, there are many outfits today specializing in the "bits and pieces" we need to keep our firearms running and up to speed. Foremost among these has always been Dixie Gun Works. The thing that sets Dixie apart from the pack is that it has an extensive selection of replacement parts for antique firearms and many times original production parts. I mean, where else can you find an original cam roller for an early model Whitney Rolling Block rifle? The answer is, right there in the new Dixie Gun Works catalog. Of course, you'll find many other items you will need as well; Dixie is a complete supplier to the black powder shooting world.
I think I've made my point. If you don't have Dixie's newest catalog (or worse yet, if you've never seen a copy), order one today. They are in stock and ready to be shipped. Contact Dixie Gun Works at 1412 Reelfoot Ave., Union City TN 38261. Phone; 1-731-885-0700; or visit on the web: www.dixiegunworks.com. – Steve Garbe