This has to be one of the most physically impressive set of gun books I have ever seen! It is a large format (11x141⁄2 inches) three-volume set in a slipcase, the whole set weighing 193⁄4 pounds. They are finished in luxurious black velveteen covers with relief lettering and designs pressed therein. A sense of high quality emanates from these books, and the contents, both in photographs and text, reflect this feeling in each volume. All photos – and there are plenty of them – except those from earlier periods are in vivid color. These are the type of books one likes to savor on a cold evening by the fire with a glass of sour mash at hand.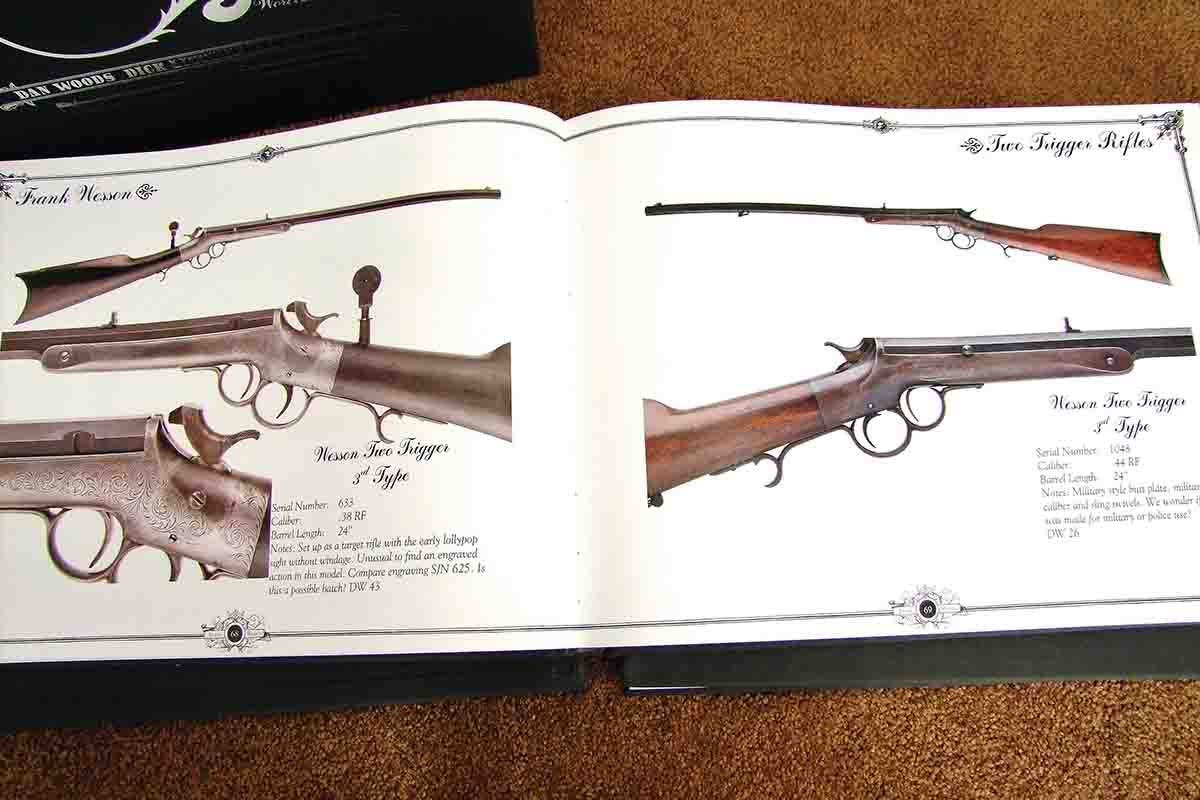 Frank Wesson was a rather obscure gunmaker, especially regarding single shots. He certainly is not in the same class as the more popular makers such as Winchester, Ballard, Remington, Sharps, Stevens or others. These books, however, present a somewhat prolific and popular gunmaker in the last half of the nineteenth century who not only produced single-shot rifles but also handguns and shotguns, as well as related products like reloading tools and ammunition.
Yes, Frank (Franklin) was related to the more famous Daniel Wesson of Smith & Wesson fame. Daniel was Frank's brother, and they were both tutored in gun making by their older brother Edwin Wesson, who was a well-respected gunmaker at the end of the percussion era. Each of the three volumes represent a segment of the firearms related to Frank Wesson, his brother Edwin and other Worchester, Massachusetts, gunmakers of that period.
Volume 1 (192 pages) includes all kinds of firearms, percussion and cartridge, long and short, made by brother Edwin and other Worchester makers of that era, such as Harrington, Brown, Clark, Coleman, Cutter, Holden, Knight and Wood. There are copious examples from these obscure makers along with historical information and photographs of arms from each gun-making entity. These craftsmen made some really interesting and beautiful firearms.
Volume 2 (272 pages) concerns Frank Wesson and his handguns and "pocket" rifles. Frank made both single-shot handguns and revolvers in a wide variety of types and sizes. These included target, dueling and pocket pistols. For those who are wondering what a "pocket" rifle is, they are essentially a single-shot pistol with a rifle-length barrel and a detachable buttstock. In the case of Wesson pocket rifles, the large majority have "wire" or "skeleton" detachable buttstocks, though there are exceptions. I used to call this style of firearm "bicycle rifles" and possibly the terms are interchangeable; I am not sure, as it is an area where my knowledge is severely limited. Pocket rifles are a very interesting genre, and after reading this volume, I wouldn't mind having a few in my collection.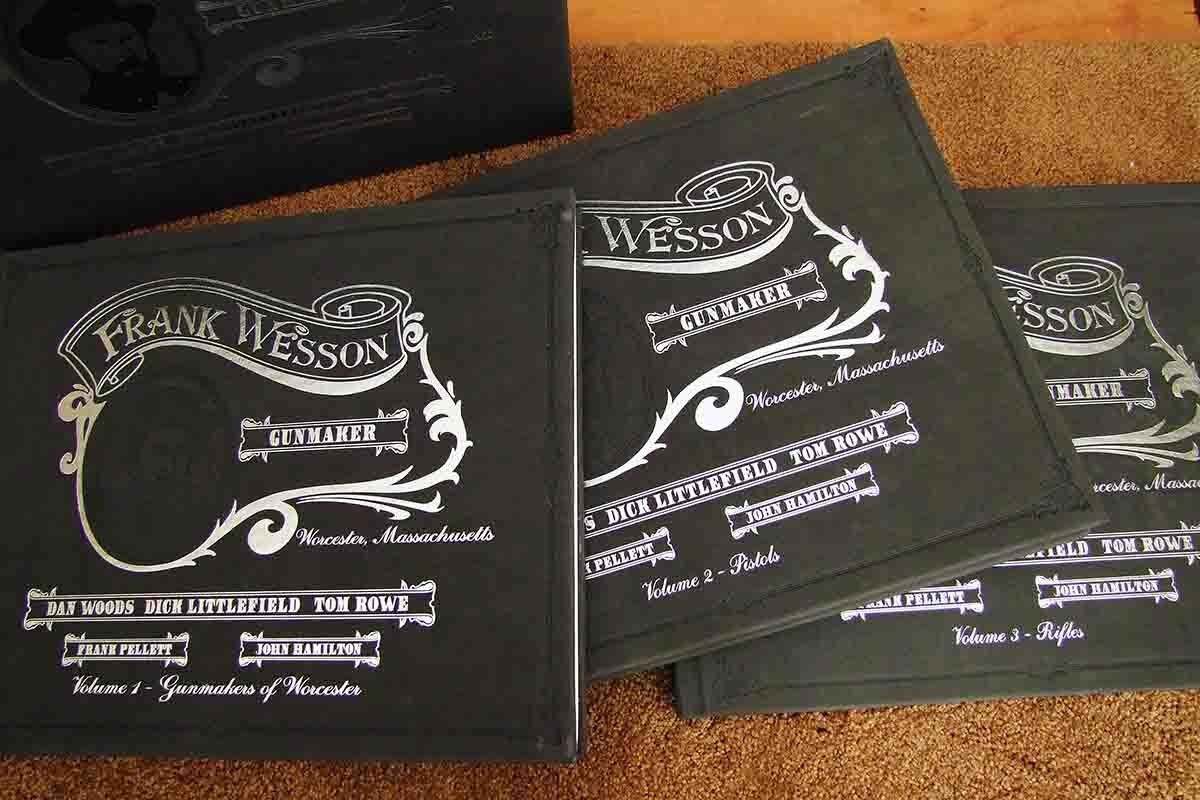 Volume 3 (293 pages) shows all the long-gun types made by Frank and his company. Most shooters will recognize the "Two-Trigger" rifles that were the mainstay of the company throughout its life. These neat rifles were in direct competition with other makers' single shots with many being chambered for the same cartridges. There were up to seven different varieties of these two-trigger rifles for the collector to consider, and each is treated thoroughly with much detail and photographs to illustrate their differences. As with Wesson's competition, there was available within the seven types an infinite variety of rifle subtypes such as gallery, target and midrange. Options and embellishments resulting in some really beautiful specimens were available as well. I would venture to say that most readers will be pleasantly surprised at what Wesson produced in his two-trigger rifles.
The section of Volume 3 that will really catch every single-shot lover's eye is on "Target Rifles." Many will recognize Wesson's No. 1 Target rifle, which represents very closely Alexander Henry's 1865 patent rifle. The No. 1 is a classic falling-block, underlever single shot essentially produced for long-range competition. Wesson's No. 2 rifle is also a falling-block, underlever, single-shot target rifle for long and midrange shooting. The No. 2 could also be ordered in a hunting version. It is interesting to note that Steve Earle of Massachusetts makes authentic copies of both Nos. 1 and 2.
The remainder of Volume 1 concerns some odd-ball guns and rifles created by Wesson that do not fall into any specific category like single or double shotguns and rifles, all made as one-offs or in very low volume.
The three volumes are available as a set only; individual books cannot be purchased separately. The price is $350.00 postage paid from Dan Woods, PO Box 1212, Trinidad CA 95570. Check or money order only please – no credit cards. This is a rather a steep price for books, but in this case, they are worth every penny when you consider what you are getting for your money. If you are like me and need every new book on my favorite subject (single-shot rifles), the cost is cheap considering the amount of information and repeated perusal enjoyment it provides. – Tom Oppel