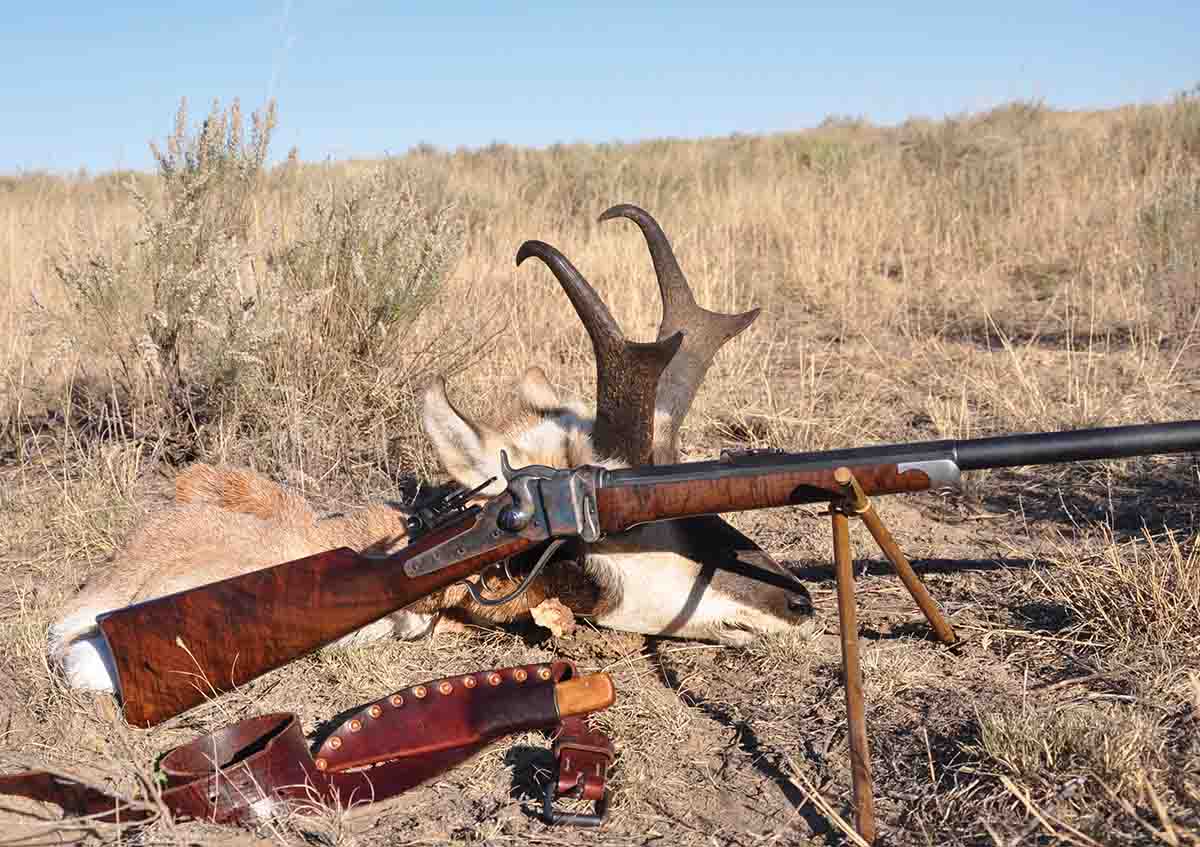 The buffalo are for the most part gone from the plains now. There are a few places left where they still roam, but they almost seem out of place in areas where they used to be common. The pronghorn antelope (Antilocapra americana), on the other hand, are still running the plains just as their ancestors have for thousands of years. If you shoot black powder, you are probably a history buff, and the antelope is a notable creature in the history of the West. A few examples of people include "White Antelope," a Cheyenne who was killed at Sand Creek; "Antelope Jack" Jones, a buffalo hunter killed just before Adobe Walls; and "Antelope" Ernst Baumann, a market hunter out of Denver. Quanah Parker was chief of the Quahadi or "Antelope Eater" band of the Comanches, and Lewis and Clark made several antelope references while on their expedition. Obviously, there is quite a bit of historical significance to the pronghorn.
Even though I hunt other animals with black powder, I'm a big fan of antelope. I like their looks, the country they inhabit and the challenge of hunting them with black powder. I must add that we like antelope steaks and burgers, too. Like most people I started hunting them with modern scoped rifles, but for me it got to where it just wasn't satisfying anymore. I then graduated to roundball muzzleloaders, where 125 yards was my limit, and I had a lot of fun. For the last 15 years, I've used black-powder cartridges exclusively, but being no Billy Dixon, I limit my range to 200 yards and only under good shooting conditions. Sometimes it can be tough in the country we hunt, since there aren't nearly as many antelope or large areas of public land as there is in Wyoming. The season is relatively short, and the modern rifle shooters usually get them stirred up, so the hunting can be challenging.
My rifle for this trip would be my Shiloh Hartford .45-70. I really enjoy hunting with this rifle, and she's been good to me. I call her "Gusty" after Augusta "Gusty" Wallihan, who hunted in Northwest Colorado in the 1800s. I previously used the Sharps to kill a bull elk, also in Colorado last year. I use a combination of the Lawrence barrel sight for closer ranges and a Montana Vintage Arms 133 tang sight for longer shots as the need dictates. The 133 is modified a little to enable it to be folded forward all the way, which allows use of the barrel sight. The front sight is a brass blade. The load is one that has worked well for me and is made up of a self-designed 430-grain, pure-lead, grooved bullet with a .200-inch meplat from a custom mould, lubed with SPG Lube, 69 grains of Swiss FFg and a Winchester Large Rifle Magnum primer.
The 2016 Colorado antelope season started Saturday, October 1st, but as is typical for us, my wife, Wendy, and I skipped the opening weekend hoopla. We left early Sunday afternoon so that most of the other hunters would be gone by the time we started hunting on Monday morning. That gave us the rest of the season to hunt, which was five days. We got to the ranch – where we had permission to hunt – late Sunday afternoon and set up our tent camp. The rancher always asks if I'm going to hunt with the Sharps and black powder, which he thinks is pretty cool.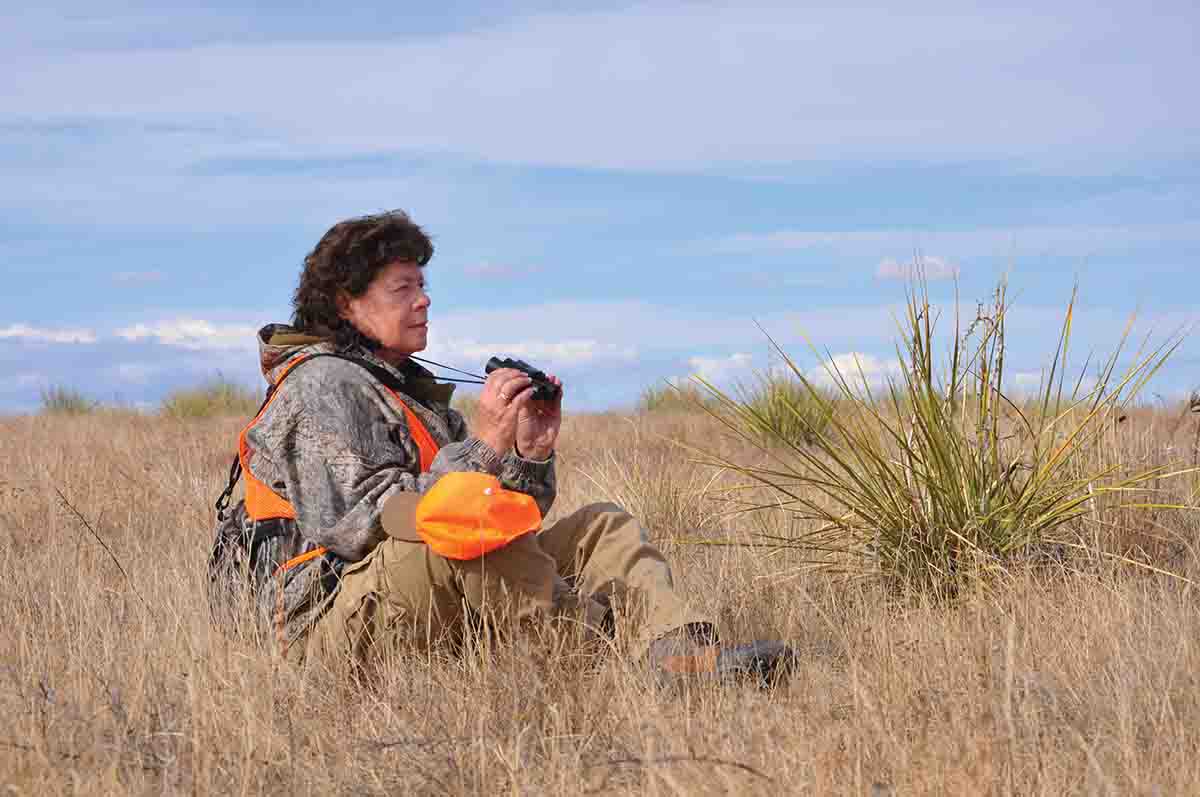 Monday morning started out with a great sunrise and nice weather, but the wind was forecast to really pick up later. Before leaving camp I spotted a buck that was about three-quarters of a mile away. He had some interesting horns, and we would see him every day we were there; actually he became quite sentimental to us. Our plan was to first look over some of the ranch to see what was around. At one place we spotted a small buck working his way toward us, and it was fun to watch him coming. He didn't see us sitting in the sage and passed about 30 yards away with some destination in mind until he got down wind of us. At this point his priorities changed and off he went with a lot more haste than he had earlier. The wind picked up with over 40-mph gusts, and being outside wasn't much fun. We saw about 10 bucks but nothing I wanted to go after. We got back to camp in the afternoon, and I took a little jaunt to get a better look at a buck that was close by. I found him, and while he was pretty tall, his prongs were small, so I just backed out and went back to camp, calling it a day.
At this point I must say that there comes a time in one's life when you realize that you've had more seasons than you're going to have. For the last several years that I've been able to hunt antelope, I've tried to get a buck that would be a trophy and wanted to do it with black powder. I've had many personally rewarding hunts over the years, ones that were challenging, rewarding and fun, but the "big one" has eluded me for a variety of reasons. This thought process would prove to be stressful during the first half of this hunt.
Tuesday morning we found a group of does and a nice heavy-horned buck that were moving but hadn't spotted us, so we waited until they were out of sight and started following. A game of hide and seek was played until they eventually settled in an area where we couldn't get much closer. The buck moved around his does trying to keep them in check, and I ranged him at 194 to 198 yards. The wind was blowing between 10 and 20 mph and fluctuating quickly from 11 to 9 o'clock. Not feeling comfortable shooting at that range under those conditions, I waited and started hoping they might move nearer or to a spot where we could stalk more closely. After about an hour and a half, the buck started posturing and grunting; we then saw another buck that was even bigger coming up with its does from about 400 yards away. The first buck took off after the newcomer, followed shortly by his does, and just like that we were by ourselves. We then sat and watched those two bucks get into a fight that lasted about 15 minutes. The first buck won, took the other's does and chased him off – of course, in a direction away from us. Being able to witness that fight, however, made our day. After that, the antelope moved up on a hill and stayed there with no way for us to get closer. We watched them on their elevated position and eventually decided enough was enough. We had been watching them for a total of four hours, so we got up to see if the other buck was still in the area. Of course, the others left when we stood up.
Wednesday we went back to the same area to see if we could find one of those two bucks. We hiked the whole area, turning up some does but no bucks. On a high hill I looked around and spotted a nice buck and doe about a half mile away. Wendy and I met back up, made our way toward the antelope and worked up as closely as we could – still 330 yards away. There was no way to get 130 yards closer; they were on one little ridge and we were on another with nothing much in between. I searched for a way to move closer with no luck, and after two hours I decided we'd go back to the truck and drive around to a ranch trail that was a half mile on the other side of the ridge from the antelope. An hour later we were walking toward them on the backside of their ridge, but just as I feared, they had moved a little. Luckily I saw them first, and we got down without them seeing us. Once again we waited until they moved off enough to where we could crawl to get a hill between us.
We got to where we could walk and moved in their direction. Though I could see the buck's horn tips above the skyline from time to time, I felt we closed on them undetected. When I thought we were close enough, I didn't see them; they seemed to have disappeared. There was an ever-so-shallow area to the right, and with little expectation I walked over toward it. That's when the doe stood up from her bed staring right at me – and I was busted. I sat down, but she snorted and trotted in front of me with the buck following. He was in range but only briefly, and then off they went. I've blown other stalks over the years but this one hit me harder than it realistically should have. I couldn't believe we just used up a total of six hours, and I blew it. At the time, however, I felt it was more than just a blown stalk. It was one of our limited opportunities lost. After a little time passed, I knew I was being illogical and remembered how special it was to hunt with black powder. The animals I have taken with black-powder firearms mean more to me than a "trophy" with a modern rifle design. I also realized this whole trophy thing was starting to take the fun out of our trip. I still wanted to hunt for a mature buck, but making a "trophy" happen isn't always realistic. Back at camp we were treated to a beautiful sunset, the coyotes serenaded us again, and Wendy made fried deer burgers with potatoes and onions. Life was good.
Thursday was colder, and the wind was stronger again. We went to take another look at the funny horned buck we saw every day close to camp, but he was in a bad spot and the wind was wrong, so we went back to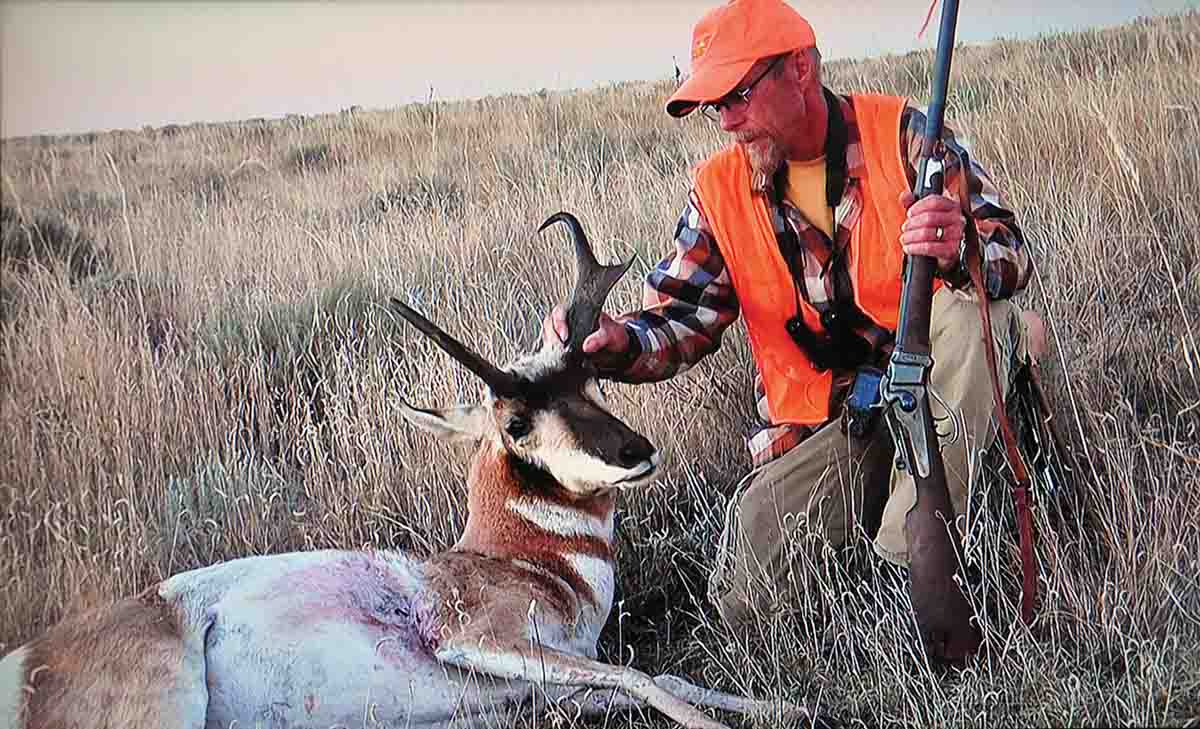 where yesterday ended. Besides, we had started to look at him as a neighbor. As we drove up, a group of antelope with a nice buck ran in front of us and around a long, low hill followed by the buck from yesterday. I got out and went around the hill. They were about 300 yards up just standing on the other side of the hill. I went back to the truck, and we went up our side of the hill to where I thought they were and started slowly over the hill. I spotted the same buck from yesterday, got down and ranged him at 123 yards; with my barrel sights being on at 120 yards it seemed good. The wind was from right to left at 25 to 30 mph. I figured about 10 to 12 inches for drift and waited for him to turn broadside and clear the sage and yuccas. Even with my shooting sticks, it was tough to hold steady in the wind, but I held for just in front of the hip with him facing left. At the shot he ran over the hill toward the others. We got up and went forward, not knowing what happened.
When we could see the buck, he was about 250 yards out, walking away and the others just standing there. They saw us and ran off a ways, but the one I shot at kept walking. We kept watching him, and he kept walking and stopping to eat once in a while, eventually going over another hill about three quarters of a mile away. The others were still in that area, so we hiked over to that hill. I didn't see him before he saw us, and he ran in a big circle back in the direction he came from, toward his home territory. I got ahead of Wendy trying to keep him in sight and came upon a good-sized rattlesnake. Knowing she'd follow my direction, I made a big detour to the side of the snake. When she caught up, we got to where we could see the buck. He was out on a flat area, again three quarters of a mile away grazing and looking around. After a little bit, he saw some other antelope in the distance and off he went toward them. I'm not sure what happened, but my shot didn't go where I wanted.
On Friday morning, the last day of the season found us back at the home of the same buck I shot at the day before. Once again we hiked to the backside of the small ridge he liked to stay on, while keeping to the downwind end. I got to where I could see the far side, and sure enough he was there, standing and looking in the opposite direction. Things were looking good. The range didn't look too far, so we crawled up behind some sage to get another look. Apparently, he also moved as we moved and was now 198 yards away but still hadn't seen us. The wind was blowing about 20 mph, so I wanted to get closer. We sat there another 15 minutes, when suddenly a dozen does came running over a hill right toward the buck. They came in and split up, half going toward him and the others behind and downwind of us. These does spooked and ran toward the others, which made all the antelope leave the country. At this point we were wondering what else could go wrong.
With nothing else in mind, we went back to camp and decided to go look for the buck I saw close to camp the first day. We hiked out, and when we got to the area, some antelope were spotted. Through the spotting scope I could tell this wasn't the same buck; the horns weren't as tall but had a good curl, and the prongs were better. We were on a hill, and they were on the side of another long hill about 400 yards away with a narrow, shallow valley between us. It was now 12:30 and the last stalk of our trip. Wendy stayed put; I backed off and worked down into the little valley and then up until I was below where I hoped the herd would be. I crawled up the hill looking through the sagebrush and spotted them to my right. Now I counted 10 does along with the buck ranging 190 to 220 yards away; the buck, of course, was at 220 with the wind still in the 20-mph range. I joked to myself that a .243 sounds good about now, knowing full well I wouldn't want it any other way than this. I sat and watched them for about two and a half hours as they worked their way to the left and farther away up the hill. The romantic in me thought they sure looked pretty up there; the pragmatist wished they were 100 yards closer. For something to do, I even tried to convey some kind of negative energy on the other side of them hoping they would move my way. It didn't work.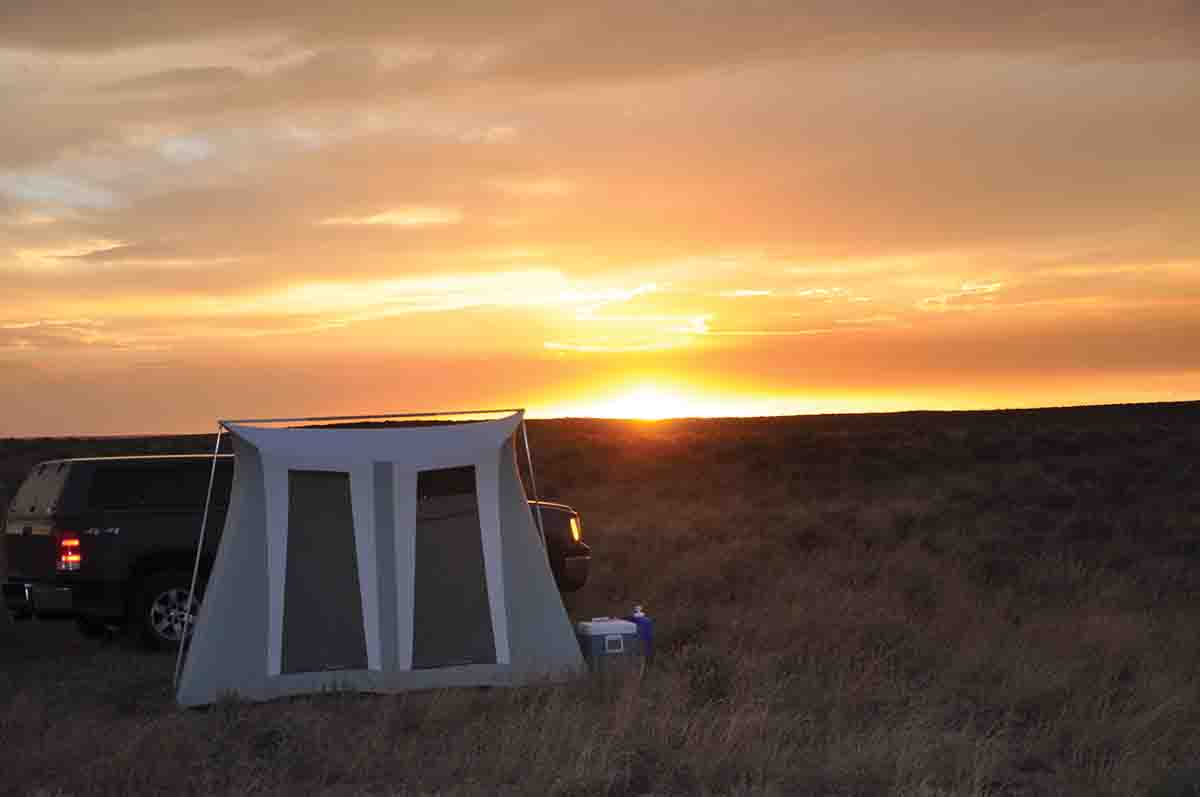 They eventually stopped and bedded down with the buck visible only because his horns stuck out above the sage. While most bucks are usually busy monitoring their does, this guy just lay there. I figured he must have fought the other buck and not only took his girls but also his area and was now taking it easy.
I decided to back off and go back down the little valley to look for another approach. Discovering there was no other approach, I sat and watched, hoping they would either move toward me or go over the hill. While sitting there, I thought of my wife sitting for hours behind some yuccas and sage. There aren't many men, much less women, who would do what she's done.
Finally at about 4:30 p.m., the an- telope got up and started ever so slowly working over the hill. When I thought the does were on the far side, a couple would come back over to look my way, then they would leave and another group would come back. At last the buck was the only one left, and he wouldn't leave the hilltop. Time was becoming a factor, as the sun kept getting lower. He stayed up there for what seemed like forever, but it was probably 20 minutes. They didn't know I was there, but I do believe they have something extra that can sense danger. Finally the buck went over, and I waited a few minutes to make sure he'd stay. I got up, got my rest sticks out and started moving toward the hill, jogging and fast walking. I marked where he went over and also kept an eye on the does, moving to the left. As I got to the top, I slowed down, taking a couple of steps and looking.
I thought the buck would be about 75 to 100 yards away when I got up there, but neither he nor the does were to be seen. I kept moving slowly, remembering the blown stalk from before. Through the sage to my right, I saw white and got down, moved up and looked with my binocular. It was the does that had moved. Finally, I saw the buck and moved a little to range the distance; he was at 175 yards. I got set up, but he started moving and went behind some sage and stopped. I moved over, set up again and flipped up the peep sight. I ranged him again, and this time he was 196 yards. Luckily the wind died down to 5 to 10 mph. I knew the bullet would drop 5 inches from the tang sight zero of 175 yards.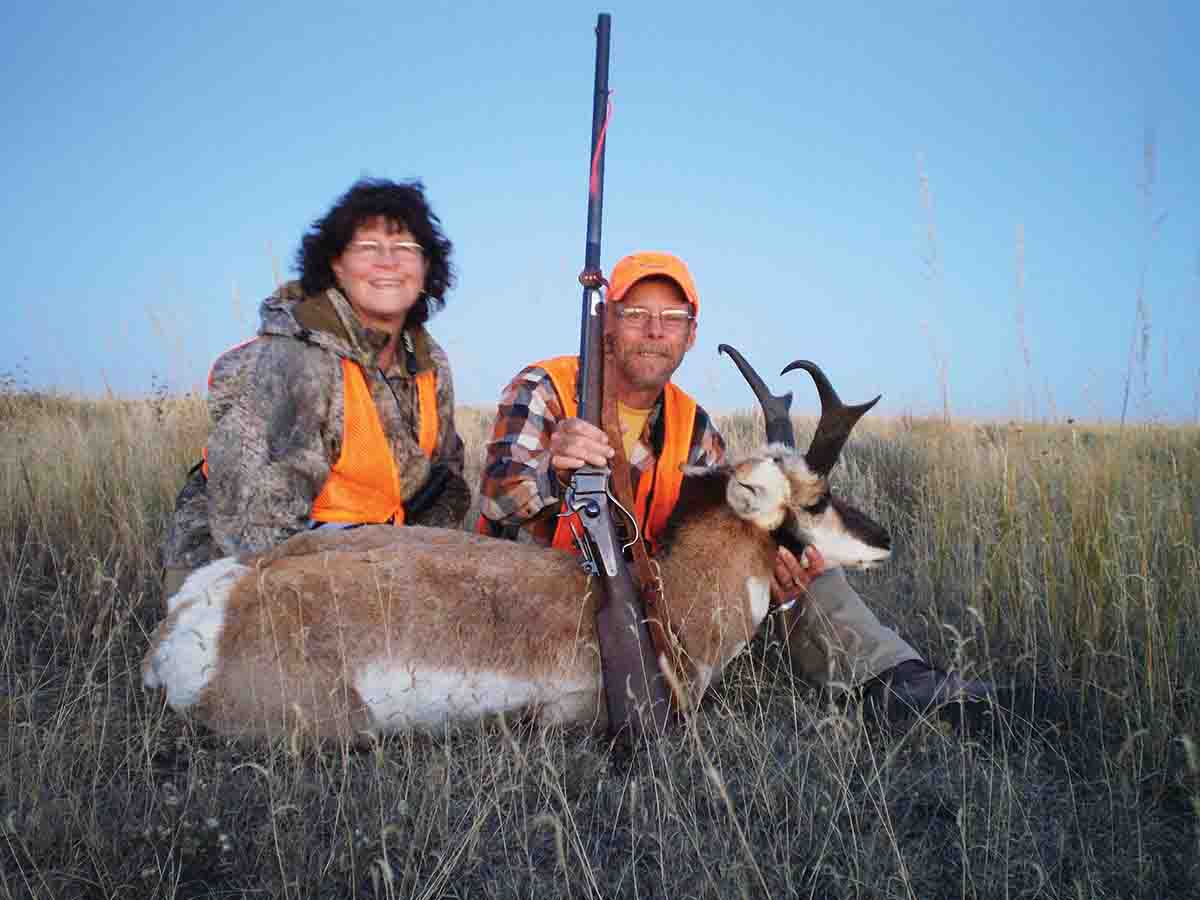 I started to aim, then stopped and told myself not to blow it. I rechecked the wind string on the barrel and it was from 1 o'clock. As is typical for me, I don't remember pulling the hammer back or setting the trigger, it just happens. The buck was facing to the right, and I held a little below the top of his shoulder, figuring a little drift to the left. The front sight looked good as the shot went off, and shortly I heard a loud whop. He took off, then turned left and ran as only an antelope can. After maybe 40 yards, he started to go down in the front but kept moving – it's that split second when you know the shot succeeded. He went down, and after that I almost couldn't believe it. I knew Wendy was somewhere behind me, so I stood and raised my arm to let her know we got him. When I reached her, I told her, "I think I hit him," but she didn't buy it and thought I was joking. She had been 400 to 500 yards back and watched with a binocular. She saw me aim, then the smoke, then the sound of the shot followed by the sound of the impact. She looked at her watch, and it was 5:22 p.m. We went down to where the buck was, and I got a little sad after having watched him for so long, but that's the way it should be.
By the time we took some photos in the twilight, dressed it out, got it back to camp and skinned, it was 10:30 p.m. The bullet hit the center of the heart and exited. A "scratch shot" as Dixon would put it, but it's good with me. I know it's not the size of buck most would call a trophy, but it's a mature buck, and we did have a trophy-experience hunt as well as some trophy steaks. Hunting with a black-powder Sharps and tent camping where the buffalo and antelope used to roam together is very special indeed. Sometimes I just need to be reminded.