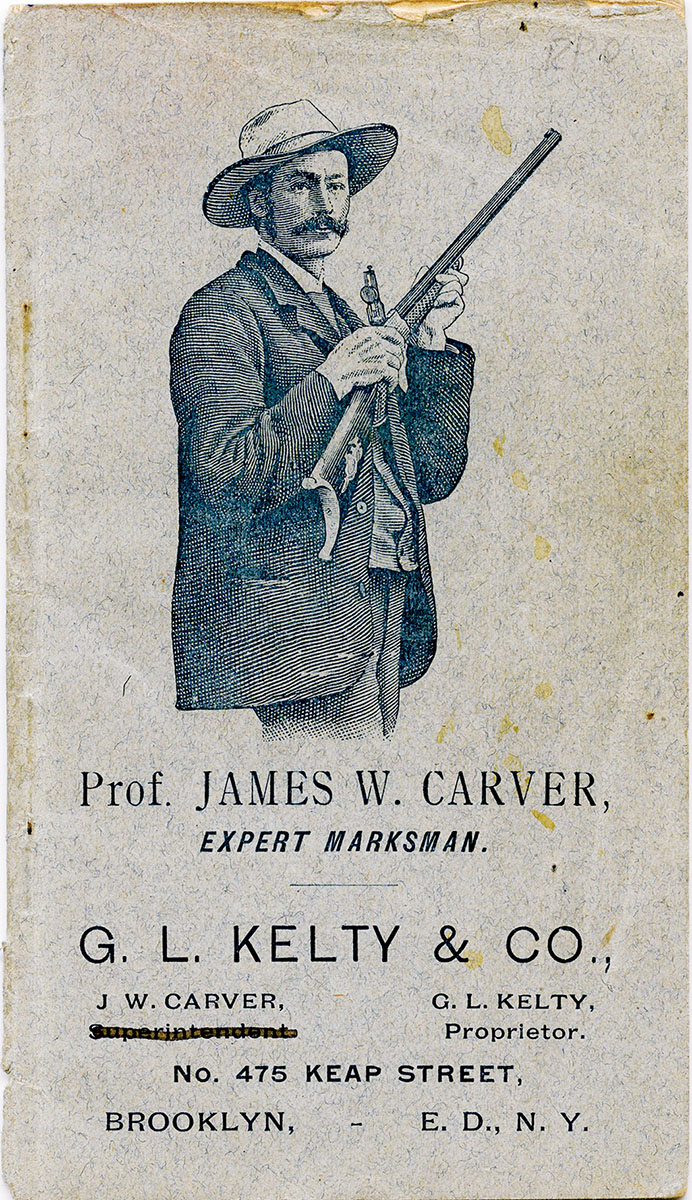 James Wood Carver (1858-1932)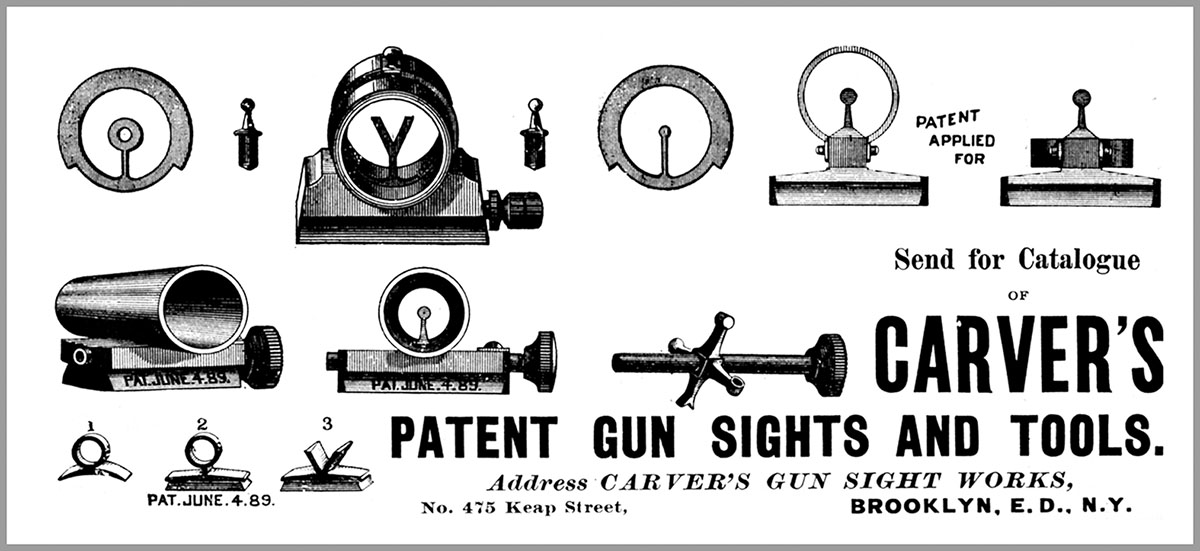 James Wood Carver was born on November 26, 1858, at Pawlet, Vermont. He was the son of Chester L. Carver and his second wife, Emaline George Carver. James W. Carver broke upon the public scene in October, 1885, as a result of a "queer," unschooled letter sent from the wilds of Pawlet, Vermont, to A.C. Gould, the urbane editor of The Rifle, who published the letter. The letter's author touted Carver's ability to perform remarkable feats with a rifle: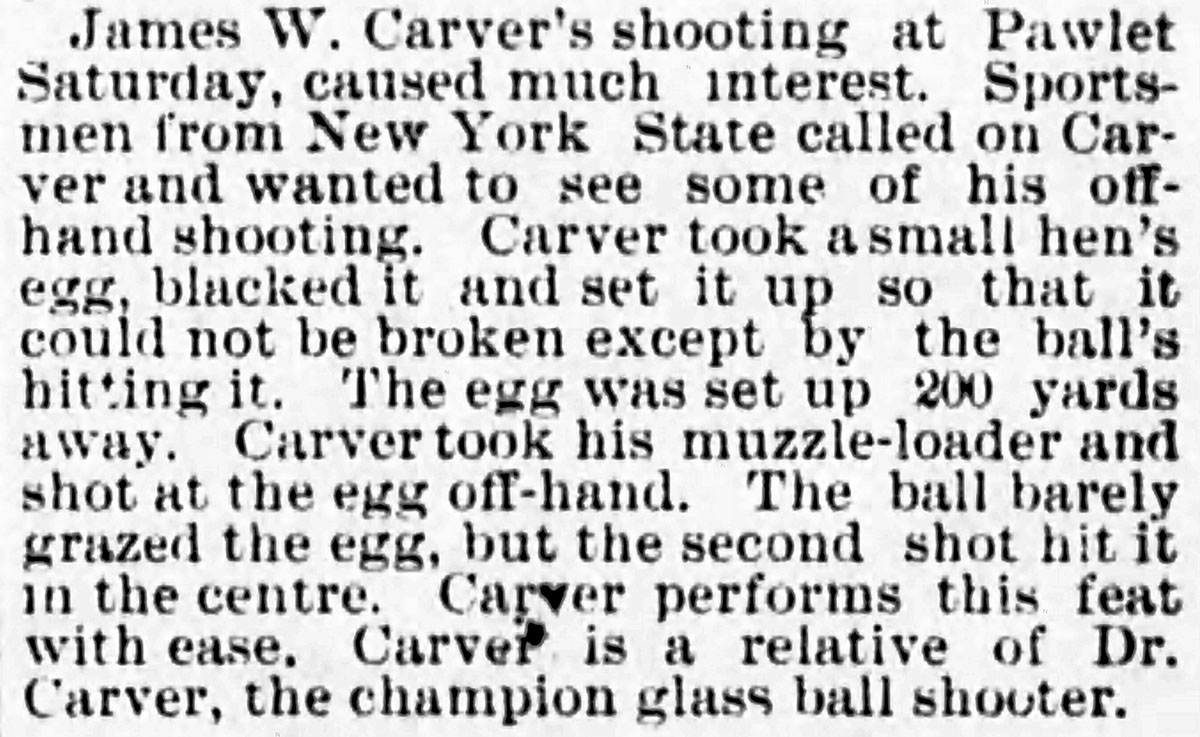 "Sir he can beat Richardson or any other man in the world shooting with rest or Offhand he is on exhibition he can break hen's Eggs 200 yards offhand or fast as you can set them up, he will shoot one ball top of the other 200 yards off hand he will shoot into a 6-inch ring 500 yards off hand he is a wonder to all that see him shoot he is a cousin of Dr. Carver the champion glass ball shooter his name is James W. Carver he is 27 years old weight 145 he is 5 foot 6 inches he is as supple as a cat he is 19 inches across the shoulders he is remarkable in singing. He can run the scale from low D to high C with ease he has but few that can push the saw or swing the ax with him please send him a sample paper."
The editor printed it along with a snide, derisive, and mocking op-ed article that advised Richardson, Farrow, Hinman, Rabbath and Hayes (all leading marksmen of the day) to cease attempting to excel in rifle shooting in the face of such awesome Green Mountain marksmanship.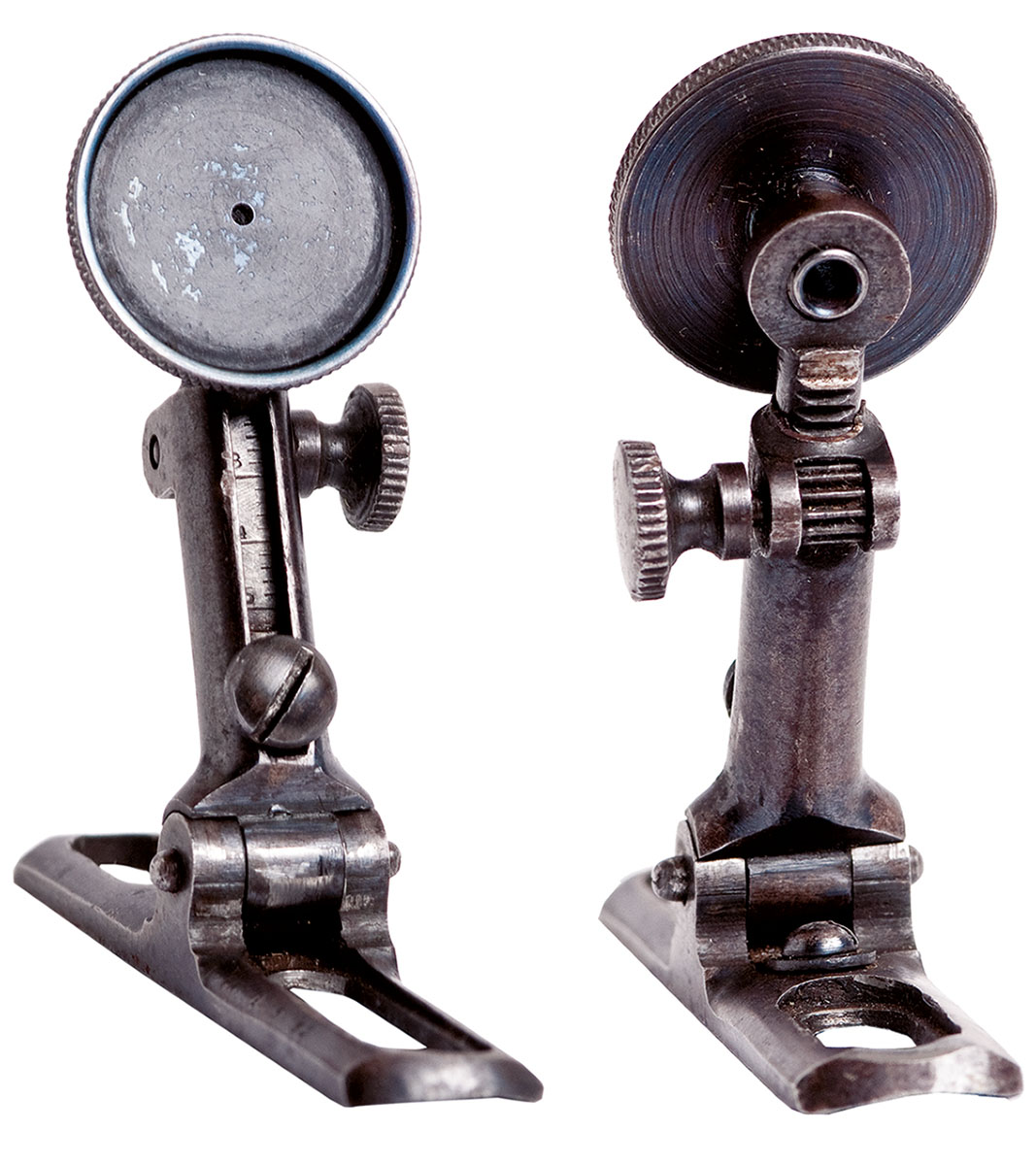 The editor went on to describe a fictitious scenario at Creedmoor in which Carver bested all comers by placing all his shots into the same hole (at 1,000 yards), and after each egg was broken, would "run the scale from D to high C, showing him to be a man of versatile talent."
Yet, for all this vaunted ability, real or imagined, Carver does not appear on the roster of any of the major Schuetzen matches of his day. He did, however, continue to periodically make the pages of The Rifle and its successor Shooting & Fishing as correspondents wrote in regarding the various rifle sights, sight accessories and loading implements manufactured by Carver in the factory he established at Granville, New York, in 1888.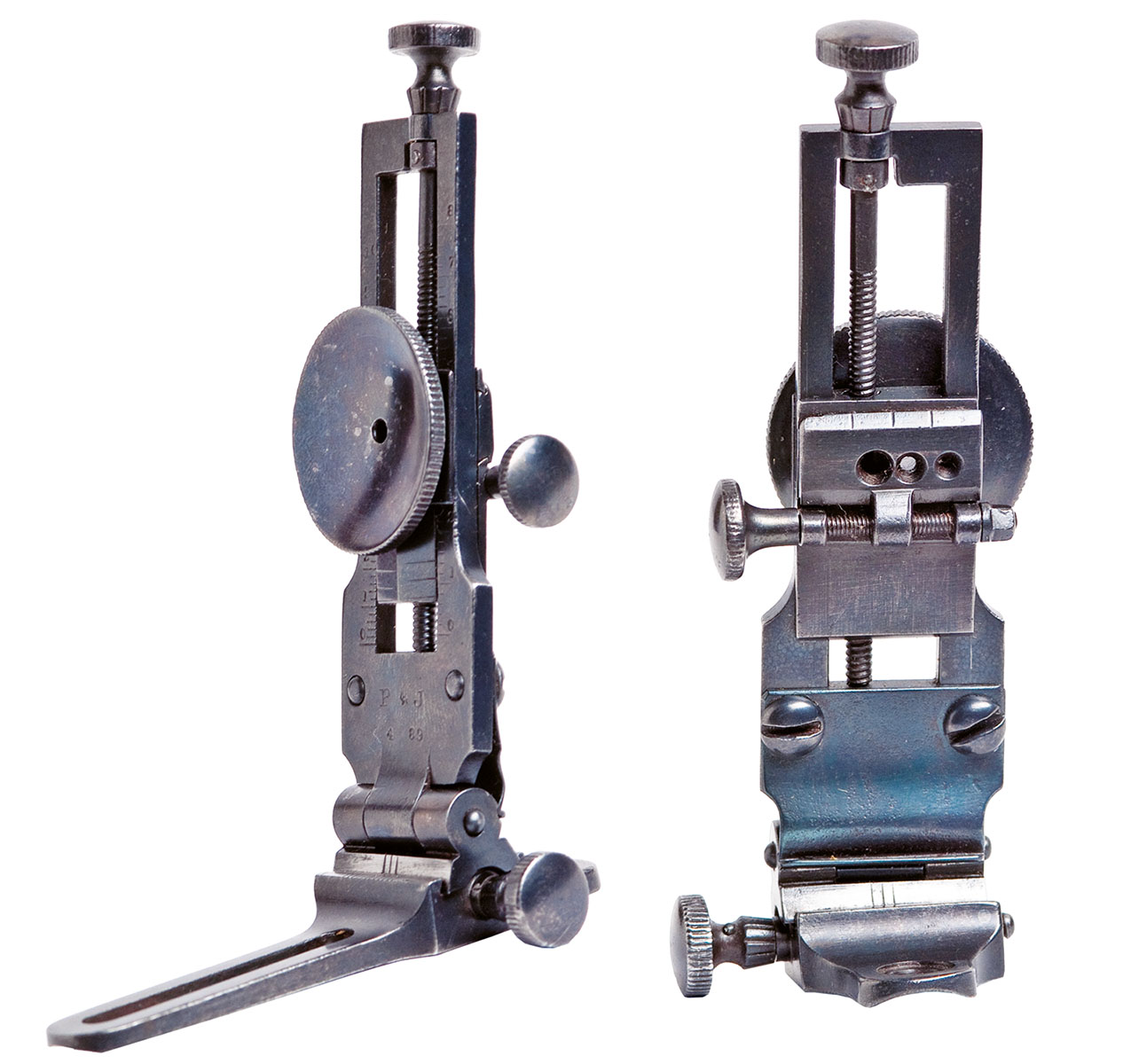 The Carver Manufacturing Co. was incorporated in 1892, under the laws of New Jersey with an authorized capital of $200,000. It was a prosperous concern and owned a number of patents from which it manufactured a variety of articles; light hand harvesting implements, bread and butcher knives, and gunsights being leading features. However, the company's facilities were not adequate to supply the extensive demand for its products. The firm's shop remained in operation until October 10, 1896, when it was destroyed by fire. The fire that ruined Carver's shop started in the adjacent Woods Specialty Co. shop and quickly spread to the Carver facilities (Granville Sentinel – October 16, 1896). Just prior to the fire, the company was being reorganized to enlarge the plant, increase facilities, and acquire the closely adjacent Woods Specialty Works, which were contractors for the finishing of Carver company products. Both shops were situated close enough together to have been connected by a passageway. A week after the fire, with insurance claims settled, plans were already being proposed to rebuild the Carver works. The building committee appointed by the stockholders, included George H. Carver. (Granville Sentinel – October 23, 1896.)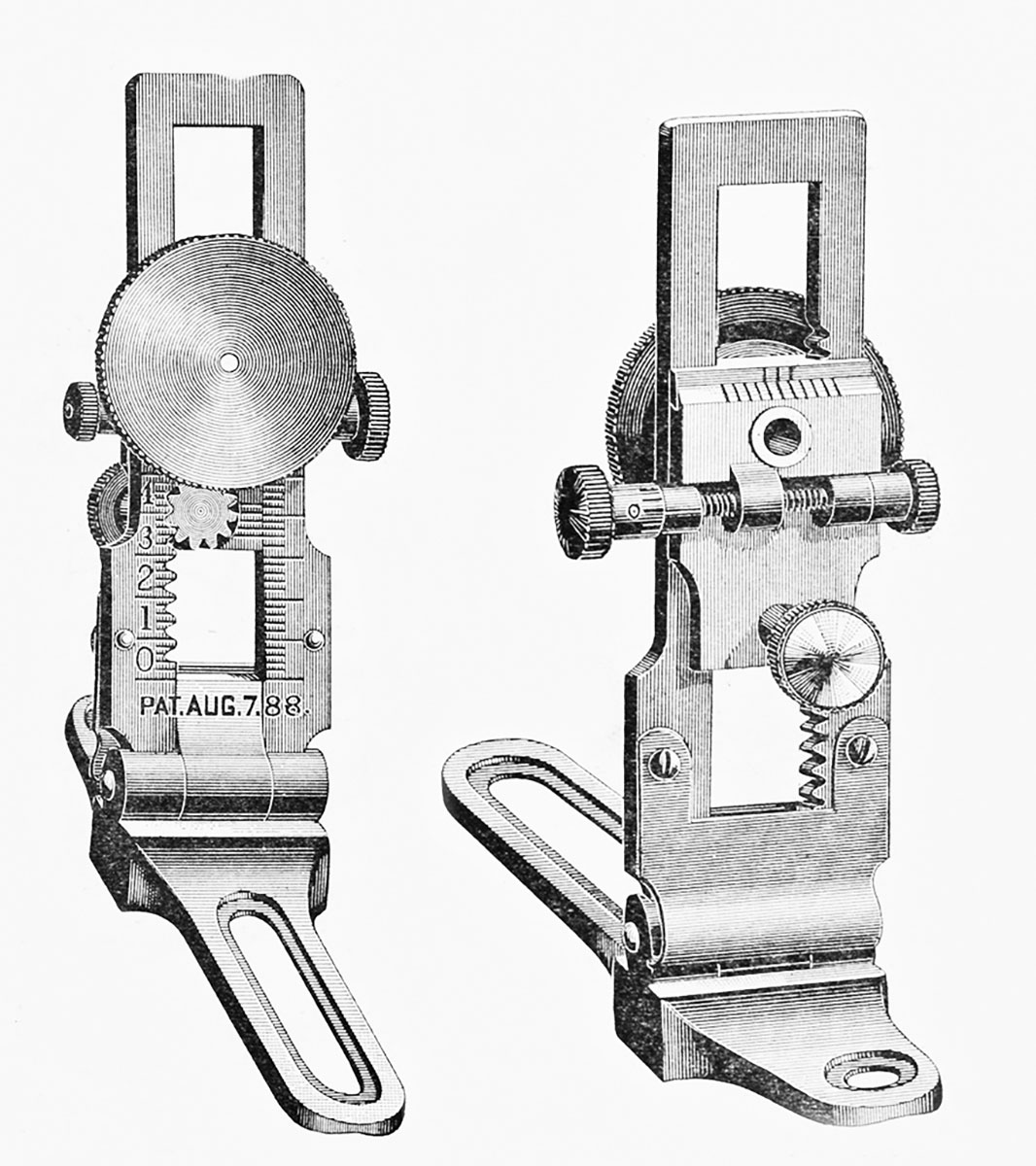 The first favorable responses to Carver's sights and accessories appeared in 1890, in a letter to the editor of
Shooting & Fishing
that was published in the May 15 issue. The writer extolled the virtues of Carver sights, the Carver combination re/decapper and bullet seater and Carver's ten-ball bullet mould. The author of the letter was a G. Wood, residing at 162 South 4th St., Brooklyn, NY. (
S&F, 8:3:14
) Wood was very likely a relative who was connected with the Wood Specialty Co. Gibbons L. Kelty, whose business address was given on Carver sight catalogs as 475 Keap St., Brooklyn, E.D. (Eastern District), New York. It was to Kelty that Carver assigned partial patent rights to four sights, one cartridge loading device, a breech seater, and a patent for an ax head, all during the 1889 to 1891 period. Kelty's trademark (K imposed on G) was shown in a Carver sight catalog as stamped on the staff of the illustration for "Carver's Patent Rear R. M. Vernier Peep and Wind Gauge Combined." This suggests that Kelty was the owner of the machine shop where Carver's sights were made.
A notice in the April 21, 1892, issue of Shooting & Fishing advised readers that "Mr. Jas. W. Carver, inventor of the Carver gun sights, announces the establishment of the Carver Manufacturing Company of Wallingford, Vt." The appearance of this notice seems to confuse the operating time line of Carver's factory at Granville with the point at which the factory was reported in The Granville Sentinel (October 10, 1896) to have burnt down. However, this does seem to mark James Carver's relocation back to Vermont and his employment by companies engaged in the agricultural tool industry. After Wallingford, Carver then worked in Pawlet from late 1896 until 1925, when he finally settled in Weston, Vermont, until his death in 1932.
Carver Sight Patents
Pat. # 387,282 issued Aug. 7, 1888, (filed Feb. 17, 1888): Folding rear tang sight with a frame staff, and universal screw slot base. The frame staff is vernier adjustable for elevation, and independently vernier adjustable for windage. This patent right is assigned to George W. Wood of Granville, New York. Was this the G. Wood that wrote the letter previously mentioned?
In an article by Ralph Greenwood (Shooting & Fishing December 18, 1890; 9:8:15) the author pointed out that modern American rifles were made with a variety of slot widths for front and rear sights and with a corresponding lack of uniformity in the size and distance apart of screw-holes for mounting rear Vernier sights. In attempting to cope with this problem, Bullard Arms Co. provided its rifles with a series of tang screw holes that would accommodate several of the leading brands of sights. However, with this design, Carver offered a solution to providing a universal screw base that would fit all rifles from the shortest span (Maynard's 11⁄8 inches) to the largest (Winchester's). The forward screw hole was fixed and the second hole consisted of an elongated recessed slot that could accommodate the second screw head at a variable distance from the first – and that slot could be rendered neat and tidy by a sliding cover. The pitch of the sight frame could also be adjusted to make it stand plumb (vertically perpendicular to the barrel) regardless of the angle of the tang. Together with its universal screw slot, it would fit any contemporary rifle.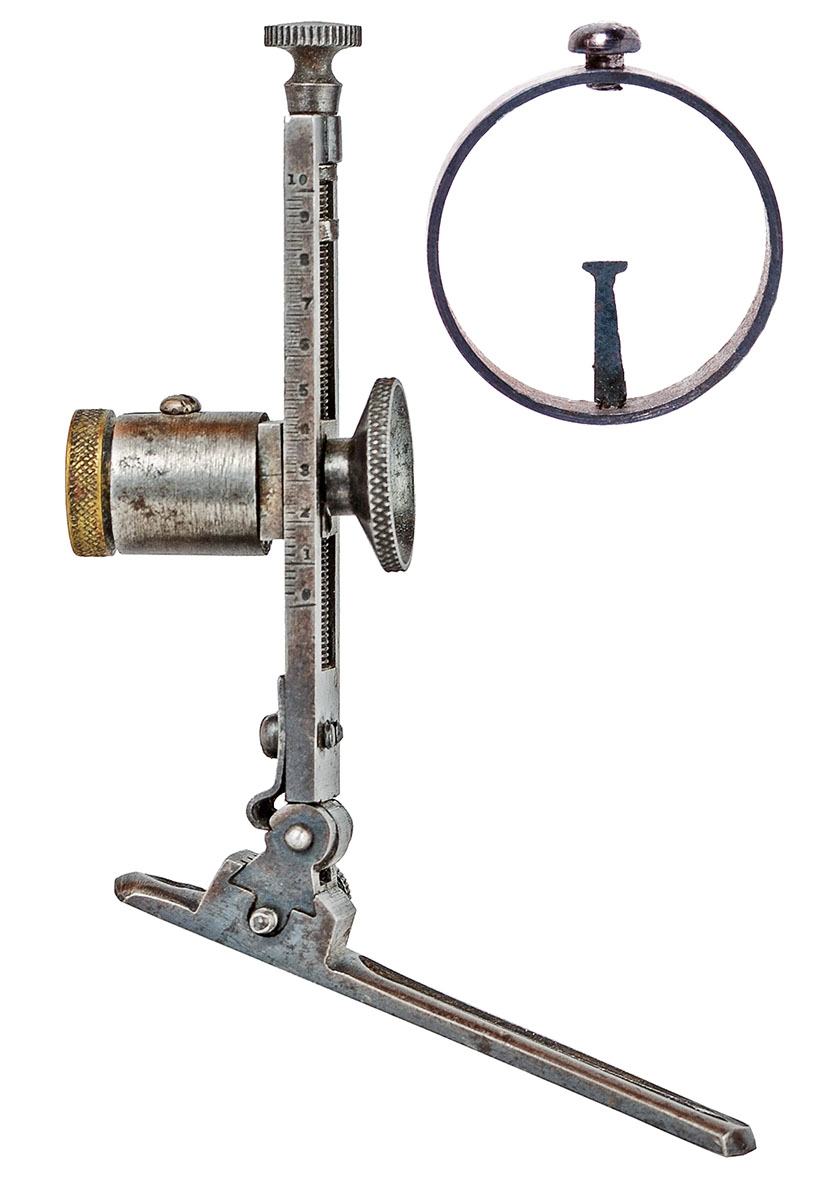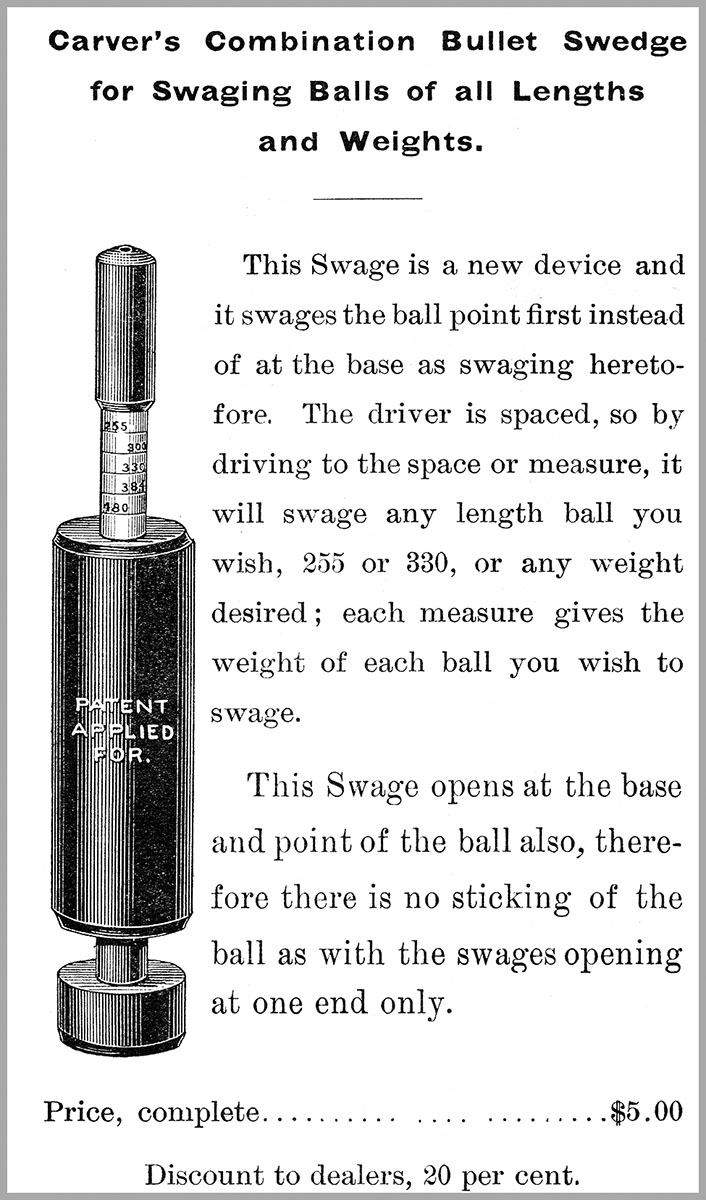 Additionally, projecting bars could be attached to the staff frame to contain vertical slide-bars carrying a shield or shade to cover the target as seen by the left eye. This shade allowed the shooter to keep both eyes open and relieve eyestrain. The position of the bars could be reversed to also allow sighting with the left eye. An open V-notched sight, suspended below the eyepiece, could also be somewhat adjusted for elevation. Carver's 1891 catalog also offered this sight with rack and pinion adjustment for raising and lowering the eyepiece.
Carver's patent shows a basic sight having "slight modifications" that would provide for vernier adjustable lateral movement of the staff frame. This patent, covering a windage adjustable base, preceded by one year John H. Soule's patent for a similar idea (Pat. # 410,039 issued Aug. 27, 1889). "A Commentary on Combination Sights for Rifles," submitted to Shooting and Fishing by James Duane, offered the opinion that "For the rear sight, possibly a Lyman rear, with detachable peep cup, mounted on a Soule or Carver base, would fill the bill more completely than any one sight at present in the market. The idea of the Carver sight seems to me to be better, and the base more symmetrical and compact than the Soule; but if a vote were taken, I should expect to find myself in a minority on this question." [S&F, May 28, 1891; 10:5:91] On the other hand…Ned Roberts called Carver's workmanship on the vernier wind gauge sight "only fair" and opined, "they did not become as popular as they doubtless would have otherwise." [Roberts & Waters, pg. 160]
Pat. # 388,166 issued Aug. 21, 1888, (filed Oct. 3, 1887): A sight frame staff for a folding rear tang sight, incorporating a peep sight above an open V-notch sight. Both sights with vernier adjustment for elevation and windage by means of individual supplemental laterally-sliding frames moving individually within the same vertical frame having dual vertical vernier screws. A pivoting plate with holes of varying sizes mounted over the eyehole of the target sight disc offered a choice of apertures. To guard against canting, a spirit level could be mounted below the disc's central aperture. Carver was co-patentee with George W. Wood of Granville, New York. Additionally, Carver assigned his rights to this patent to Wood.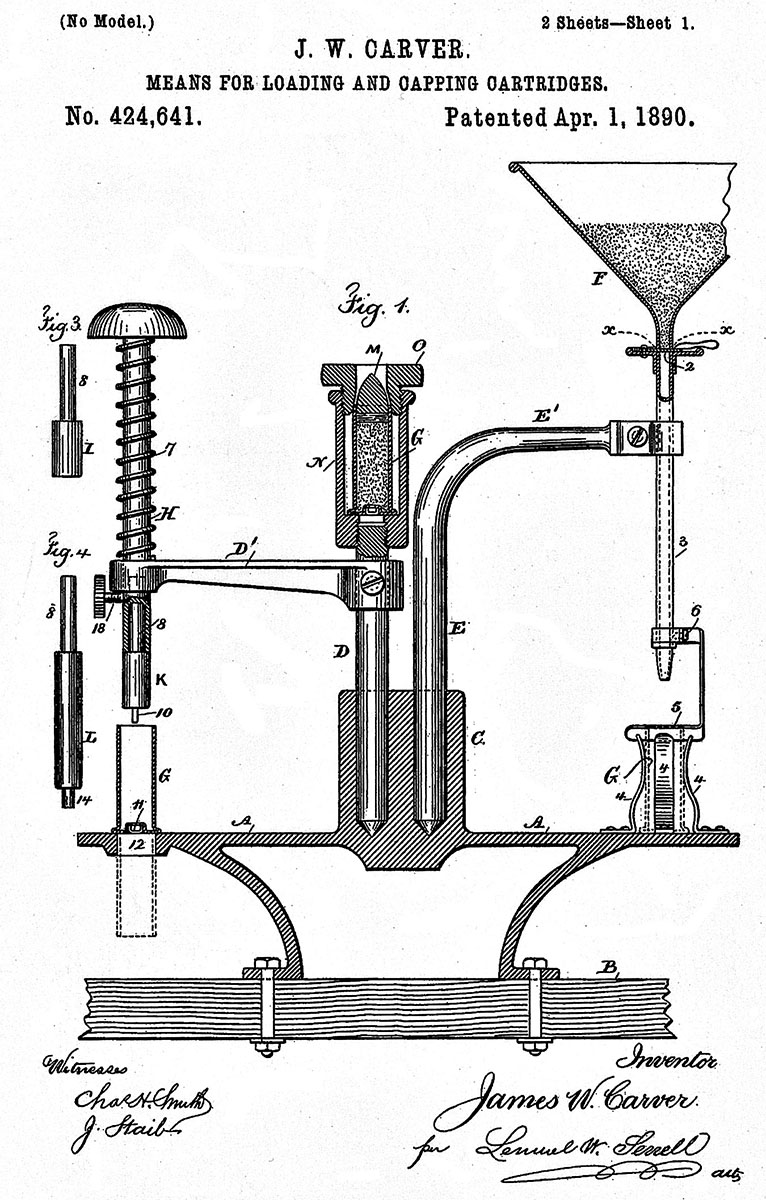 Pat. # 404,598 issued June 4, 1889, (filed Nov. 24, 1888): Folding rear cylindrical post tang sight with micrometer height adjustment of the post rod. The sight disc has a micrometer windage adjustable disc with spirit level, and provision to vary the angle between the support that carries the sight and the base, so that the sight will stand plumb. This was categorized as an improvement on Carver's Pat. # 387,282. Two-thirds of the patent right was assigned to Gibbons L. Kelty of Brooklyn, New York.
Carver termed this sight his "Combined Hunting and Target Adjustable Rear Sight." The target sight disc consists of a large cup or ring with perforated septum behind which is a slide plate having apertures of different sizes, which may be brought into line with the central aperture. A spirit level may be mounted on the face of the disc, beneath the central hole to detect canting. A plain disc with fixed aperture was also available. A second, smaller disc with large hunting aperture could be mounted atop the large sight ring for general sighting, or screwed on the micrometer adjustable post rod in place of the target disc.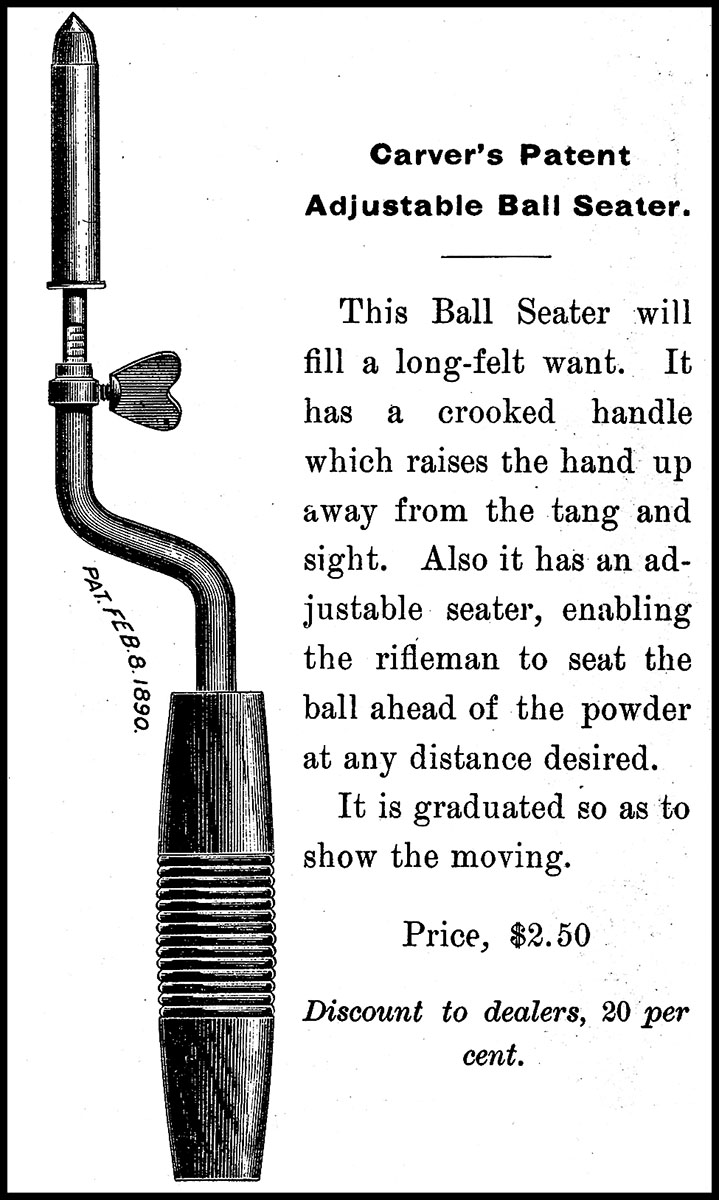 Subsequent modifications of this model were offered with the barrel of the cylindrical post fluted for a better grip, or with a rack and pinion adjustment system for hunting, which raised and lowered the post rod more rapidly than by a vernier screw. This later version was advertised as "absolutely the only sight that approaches the ideal…" [note "ideal" in lower case, not as a brand name] Neither Lyman's No. 1 post sight (Pat. # 211,753 of Jan. 28, 1879) nor the No. 2 (Pat. # 298,305 of May 6, 1884) made use of a rack and pinion to change elevation, nor was either Lyman base laterally adjustable.
The rack and pinion adjustment was first introduced in conjunction with a folding sight staff by William P. McFarland and George Washington Hadley in their co-patented improvement in gun sights (Pat. # 172, 465 issued Jan. 18, 1876). McFarland and Hadley claimed "A gun-sight consisting of the standard [staff] provided with the teeth or rack, the clamping slide provided with the pinion, and the perforated disc provided with a screw stem…" With both patentees being employees of the Massachusetts Arms Co., this rack and pinion form of folding staff sight was used exclusively by that company on its Maynard target rifles. The wording of the specification emboldened Carver to apply, 13 years later, a rack and pinion to elevate a post without fear of infringement.
Pat. # 404,599 issued June 4, 1889, (filed Jan. 7, 1889): Front sight with a tapered non-glare shade tube and adjustable revolving beads, or posts. Two-thirds of the patent right was assigned to Gibbons L. Kelty of Brooklyn. This sight was advertised as "Carver's Patent Universal Fore Sight."
This patent not only diminished the amount of light entering the tube to reflect off the sight bead, but also reduced reflection off the tube directed toward the shooter's eye. Carver's cross-shaped "sight holder" consisted of four arms or posts, revolving around an axle, each terminating in a form of bead, aperture, V, or U-shape. This concept of a four-arm "rotating" sight post had been previously covered as a specification in a patent issued to Emmit G. Latta of Friendship, New York (Pat. # 181,530 of August 29, 1876). Latta's patent covered both rear "peep" and front "globe" sights to be used on Creedmoor or long-range rifles, and specified that the form of his "rotating" four-arm front sight should include "a bead-sight, open bead-sight, caliper-sight, and a bar-and-slit sight." It was also specified that the front sight include a spirit level secured transversely to the underside of the "tubular shade." Latta does not appear to have filed for a renewal of this patent, which would soon expire by the time Carver filed for his on January 7, 1889. The idea for a revolving sight holder later found popular usage on German target rifles at the turn of the century and was illustrated as a Star Sight (Sternkorn) in the Adolph Frank ALFA 21 catalog of 1911.
Pat. # 424,640 issued April 1, 1890, (filed Oct. 19, 1889): Cupped-shaped rubber eye shield, which served to protect the face and eye from injury by recoil of the gun. This shield was combined with a glass lens inserted in a contracted portion of the cup's neck, to compensate for defective vision. The lens may also be tinted orange to increase acuity on an overcast day. Half of the patent right was assigned to Gibbons L. Kelty of Brooklyn. George W. Carver acted as a witness to the patent. It was advertised as "Carver's Patent Rubber Adjustable Shade and Lens."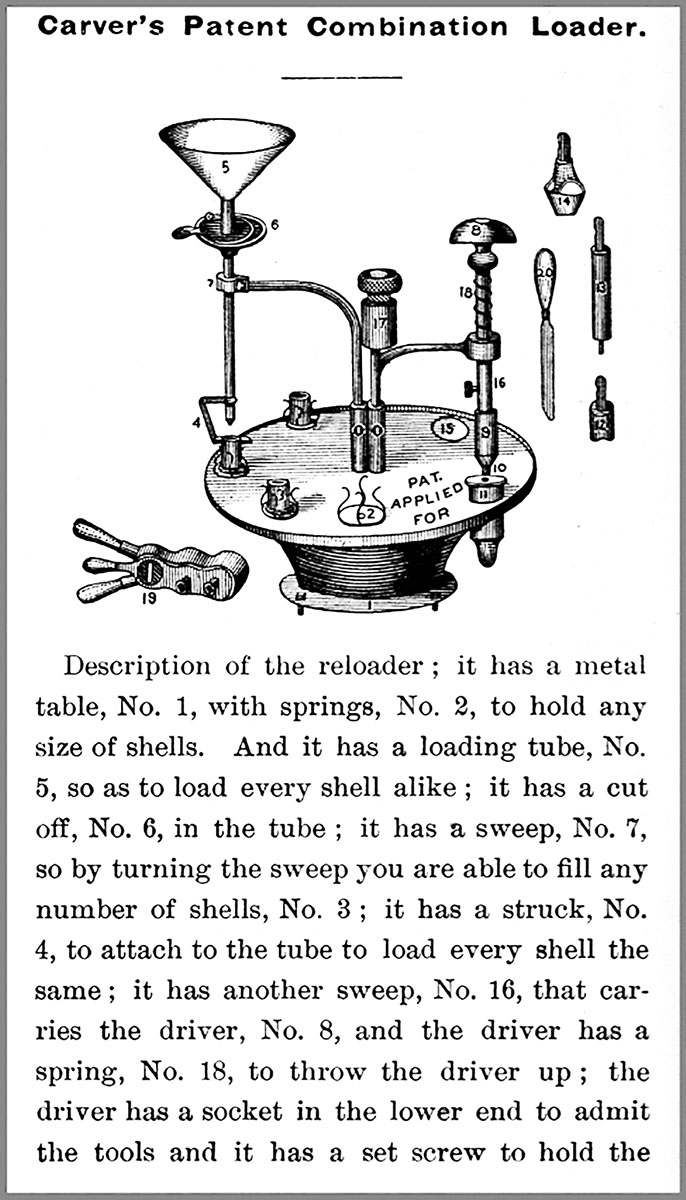 A patent issued on Dec. 7, 1869, to Charles Edward Sneider of Baltimore, Maryland (Pat. # 97,717) called for inserting a lens "of ordinary magnifying capacity to suit the age or vision of the user" in a hooded front sight. In his specification letter, Sneider went on to say, "I am aware that a telescope has been used in connection with the rear sight of a fire-arm, and also extended along the whole, or nearly the whole length of the barrel. I do not claim either of these things, but what I do claim as new… is in combination with the front sight of a fire-arm, a lens, located in close proximity thereto, so as to leave the intervening space between said front sight, or lens, and the rear sight unobstructed, and the natural vision of the user unaffected, until it reaches the lens, or front sight…"
Pat. # 453,828 issued June 9, 1891, (filed July 17, 1890): Front sight with removable or reversible (black or white) bead, and fold-down spring-bow or shield. Assigned to Gibbons. L. Kelty of Brooklyn. Fannis W. Carver (Carver's wife) acted as a witness to the patent application.
This sight received general approval from shooters and "experts" alike, one correspondent termed it a "four-in-one." [S&F, Feb. 19, 1891; 9:17:14]. Carver's sight could be changed without disturbing the base, to present either a white (hunting) or black (target) bead by removing and reversing the blade, and by turning up or down the surrounding bow or protective shield as desired. The blade and bow could also be removed from the base when the gun was being packed into a tight-fitting case or otherwise transported. Edgar B. Beach (1837 to 1925) had earlier patented a similar sight, but one based on a spring-loaded, pivoting, fold-down annulus enclosing a pinhead post. When folded down, a fixed open sight blade, mounted to the base of the annulus, was presented to view, (Pat. # 63,690 of April 9, 1867). However, the blade of Beach's open sight stood taller than the pinhead post. Thus, there was a built-in annoying shift in the point of the bullet's impact, which more than one correspondent had cause to remark upon. An improvement on Beach's idea was patented by James M. Farrington of Concord, New Hampshire, (Pat. # 285,474 issued Sept. 25, 1883, and assigned to arms maker James E. Gage of Concord). Farrington's idea differed from Beach's in the manner of creating the spring tension that held the fold-down annulus in position. Farrington employed a slit spring-eye or annulus, whereby the annulus itself acted as a spring.
Pat. # 466,599 issued Jan. 5, 1892, (filed Jan. 29, 1891): A means of adapting the base of a sight to fit any make of gun by use of two elongated slots, and an improvement that provides a pendulum with aperture, mounted within the peephole sight disc, that is suspended from a small knife-edged rod to aid in plumbing the gun (avoid canting). When plumb, both apertures align with a clear view of the target. Granted Carver as an improvement on his Pat. # 404,598 of June 4, 1889. The patent right was assigned to George H. Carver of National City, California. G. H. Carver acted as a witness to this patent application.
Carver's idea for a pendulum aperture to detect canting was the subject of a patent issued in Germany at the turn of the century. It was termed a universal pendulum sight for target rifles (Universal-Pendeldiopter für Scheibenbüchsen) and was illustrated in Oscar Will's Venuswaffenwerk catalog of 1902. The German version also accommodated a vertical aperture slot that aligned with the vertically slotted sight for the Field Target (Feldscheibe).
This is Carver's second patent to specify the use of a slotted base. However, in this patent, Carver employs the use of two longitudinal screw slots in the base, which made mounting the sight even more universal than did his first sight patent calling for a combination of one fixed screw hole and one elongated screw slot. Oddly, the idea of a sight base completely slotted from one end to the other was also included as a specification to a patent for a multiple aperture peep sight obtained by Webster L. Marble of Gladstone, Michigan (Pat. # 450,469 issued April 14, 1891.) Although Marble's patent preceded Carver's second patent specifying a double slotted base, the nature of the slots differed. Carver's design bridged the middle of the base and provided stronger cheeks or ears between which the foot of the staff pivoted.
Pat. # 649,194 issued May 8, 1900: Front and rear sights containing convex and concave lenses respectively in combination, which create a tubeless telescopic sight. Carver retained sole control of this patent.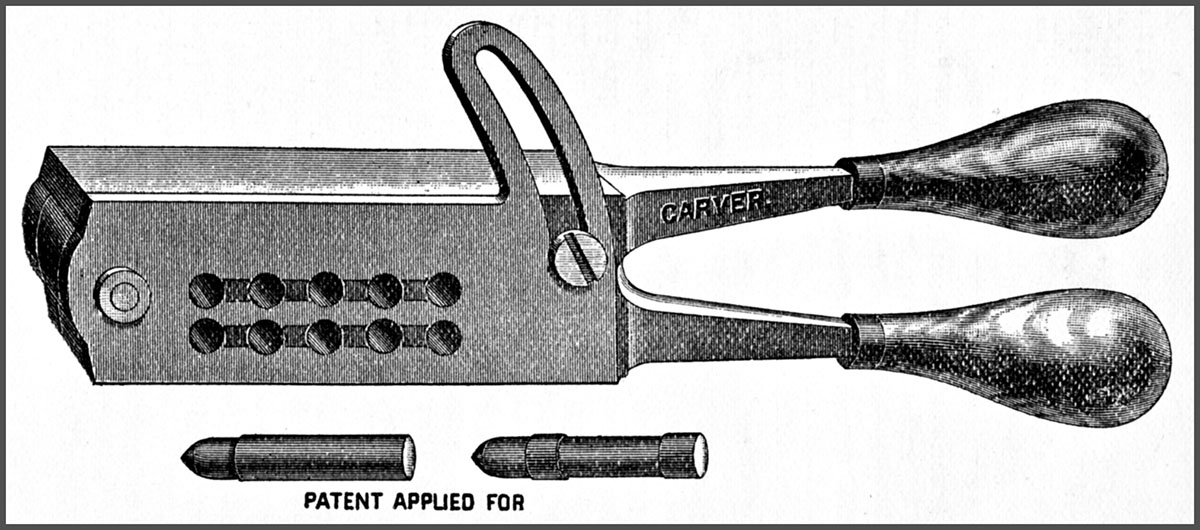 This "Tubeless Telescopic Sight," also referred to as a "semi-telescopic sight," uses a front globe sight containing one or more convex lenses [objective lens] and a rear peep sight enclosing one or more concave lenses [ocular lens], to provide a focus; essentially a telescope sight without the usual tube and mountings. The front sight also includes a "sighting bead" consisting of a choice of either an aperture, crosshair, or pinhead post insert. The rear hooded lens is on a tang sight frame that is Vernier adjustable for elevation and windage. Carver's system was capable of producing 2, 4, 6, 8, 10, 15 and 20-power magnification simply by changing the lenses in the rear sight.
This concept goes several steps beyond Sneider's idea (Pat. # 97,717) or Carver's previous effort to devise a sight (Pat. # 424,640) that takes the place of corrective eyeglasses for defective sight.
Carver's Arms Related Patents Mentioned in Carver's 1891 catalog:
• Carver's Patent Combination Loader
• Carver's Patent Ball Seater
• Carver's Patent Adjustable Ball Seater, Re-and De-Capper Combined
• Carver's Patent Cartridge Loader
• Carver's Improved Champion No. 1 Ladle
• Carver's Extractor Re- and De-Capper Combined
• Carver's Lighting Automatic Mould
• Carver's Combination Bullet Swage for Swaging balls of all Lengths and Weights, both Grooved and Plain
Carver's Extractor
The "Carver" Bullet: Carver is regarded as having designed a paper-patched pointed bullet of peculiar shape in .32-40 and .38-55 calibers designed for use especially in Ballard and Maynard rifles. [Ned Roberts]
Pat. # 424, 641 issued April 1, 1890, (filed Nov. 11, 1889): Device for loading and capping cartridges, and resizing the bullet. Half of the patent right was assigned to Gibbons L. Kelty of Brooklyn. F. [Fanny] W. Carver acted as a witness to the patent. This machine appears to have been suited for reloading centerfire revolver cartridges. Under the nom de plume Picus [S&F Feb 12, 1891; 9:16:310] said, "So far as I know there is but one machine made for loading pistol cartridges. This is the invention of James W. Carver of Vermont; this gentleman has also invented a series of sights for rifle and shotgun. Judging from the printed description of Mr. Carver's loading machine, its manipulation is rather intricate, but this might recommend it to many."
Pat. # 427,224 issued May 6, 1890, (filed Oct. 21, 1889): Combined implement for seating a ball [bullet] and capping cartridge case. Half of the patent right was assigned to Gibbons L. Kelty of Brooklyn.
Pat. # 460,102 issued Sept. 22, 1891, (filed Oct. 22, 1888): Improvement in rifling gun barrels for breechloading firearms. Rifling does not extend to the muzzle, but stops short and transitions to smooth and slightly smaller than bore diameter [choke-bored]. The projectile receives the necessary rotation imparted by the rifled grooves, but the base of the bullet is swaged passing through the smooth portion at the muzzle. Carver claimed that "lead fins or projections on the bullet were thus removed, the bullet smoothed, and no projections remained to interfere with the bullet's flight. Two thirds of this patent right were assigned by me and [intervening] agreements to George H. Carver of National City, California."
A well-known method advocated by Harry Pope to resolve this lead residue problem employed reverse seating of the bullet, down the bore, from the muzzle, employing a bullet starter and false muzzle. In Carver's method, the two additional appendages (starter and false muzzle) were not required, but it must have been difficult to stop short the work of the rifling cutter within the bore in order to create a smooth transition to the smooth choke-bore.
Partially covered cast iron bullet ladle with detachable handle and a pour spout: This ladle was marketed as Carver's Champion No. 1 Ladle and was patented.
Ten ball bullet mould: The patent for this mould was issued in 1885.
To purchase a copy of this excellent book, American Rifle Sights, please contact:
Buffalo Arms Co., 660 Vermeer Court, Ponderay, Idaho 83852. Phone: (208)-263-6953. Email: info@buffaloarms.com or visit their website at buffaloarms.com. Contact Tom Rowe at rowebooks1@gmail.com.
Select Carver Bibliography:
Carver, James W. – Instructions to Young Marksmen; in all that relates to the general construction, practical manipulations, causes and liability to error in making accurate performances and the theoretic principles upon which such accurate performances are founded, as exhibited in the modern rifle (early 1890s).
Gooding, J. S. – "Carver's Hunting and Target Sights, Prof. James W. Carver, Expert Marksman." Canadian Journal of Arms Collecting: Canada, Feb. 1987.
25:1:17-22. Includes Reprint of Carver's 1891 catalog.
Phillips, Harry and Terry Thomas – Vermont's Gunsmiths & Gunmakers to 1900 Including Inventors & Patentees of Firearms and Accoutrements, Manufacturers and Armories. Dorset, Vermont: Two Damn Yankees, Inc., 2000. pp. 57,58.
Roberts, Major Ned H. and Kenneth L. Waters – The Breech-loading Single Shot Rifle. Prescott, Arizona: Wolfe Publishing Co., Inc., 1987. pg. 160. A basic Carver vernier sight is illustrated on pg. 155.
Stroebel, Nick – Old Gunsights, A Collector's Guide 1850-1965. Iola, Wisconsin: Krause Publications. pg. 134. [Washington County] Washington County Biography and History of the Town of Queensbury with Historical Notes of Other Various Towns. Gresham Pub. Co., 1894.
Waters, Kenneth L. – Vermont Life, vol. VI, no. 1. S
Periodicals:
The Granville Sentinel. Granville, New York. Oct. 16, 1896; Oct. 23, 1896.
The Rifle. Boston, Massachusetts. Oct. 1885; 1:6:60
Shooting & Fishing, Boston, Massachusetts.
Sights – 4:18:303; 8:3:54; 9:8:155; 9:14:269; 9:17:334; 10:5:91; 11:26:506; 15:2:29; 18:334
Tubeless Telescopic Sight - 29:14:390; 30:10:186; 31:2:27
Acknowledgements:
The author would like to thank Granville Town Historian Edith Sparling and ASSRA Archivist Emeritus Rudi Prusok.