The Winchester Model 1885 Single Shot was the work of two late nineteenth-century firearms geniuses. John M. Browning was the initial designer and William Mason redesigned Browning's patent to make it more easily manufactured by Winchester's mass production methods. It was a resounding success as the Model 1885 was manufactured from 1885 through 1920, producing approximately 140,000 rifles.
The Browning name is well-known to just about all gun enthusiasts and it still exists today as the "Browning Arms Company." To say that Browning was a genius could be considered as somewhat of an understatement, as he was probably the most prolific and tireless developer of successful firearm designs in modern history. His list of accomplishments, from single shots to machine guns, boggles the mind. With his single shot and lever-action repeaters, he essentially helped put Winchester among the top of domestic firearm manufacturers in the late nineteenth-century.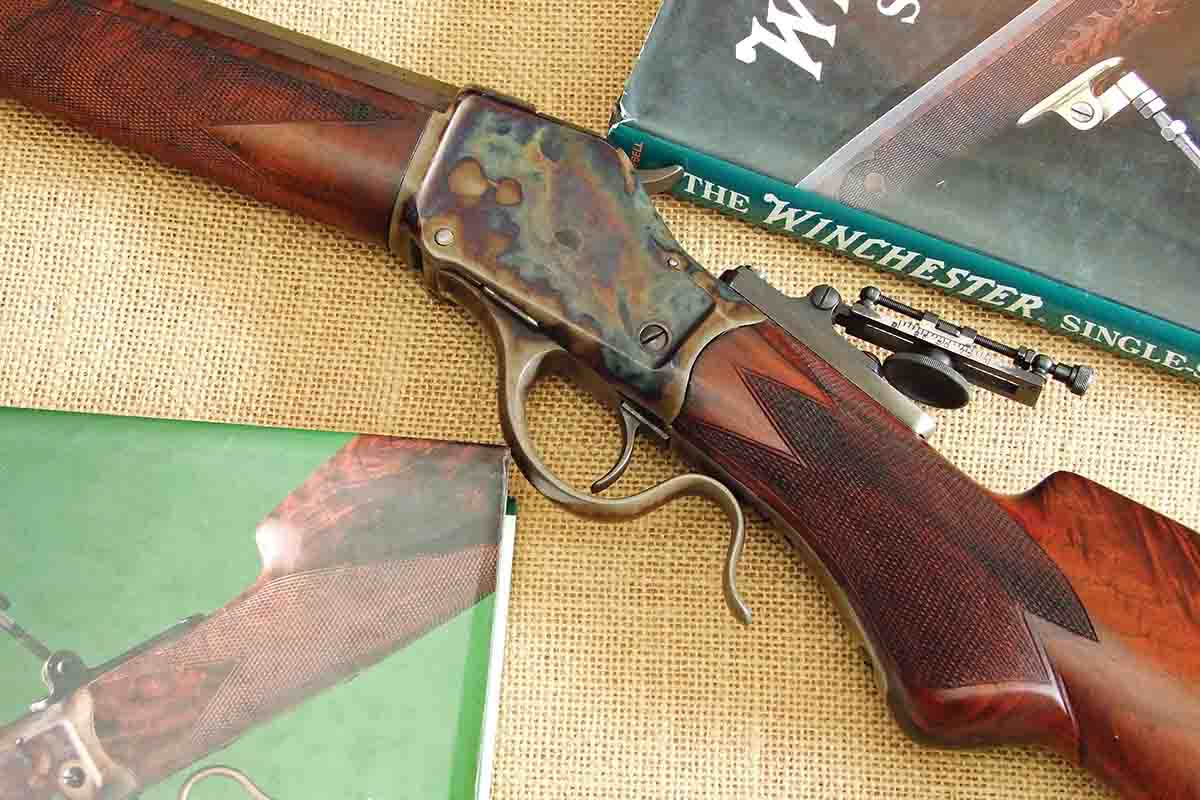 William Mason was an unsung genius and somewhat of a ubiquitous figure in the firearms industry. He started at Colt's facility in 1861, and moved between Remington and Colt, finally ending up at Winchester. He is credited with two important design ideas that all gun cranks are familiar with: the side swing-out cylinder, which pervades all modern revolvers, as well as an even more well-known invention, the Model P Colt. This firearm is more commonly known as the Single Action Army or the "cowboy" Revolver. Mason was involved in other new and improved concepts, especially in the modification of Browning's designs produced by Winchester, starting with the Model 1885 through the Model 1895 and more.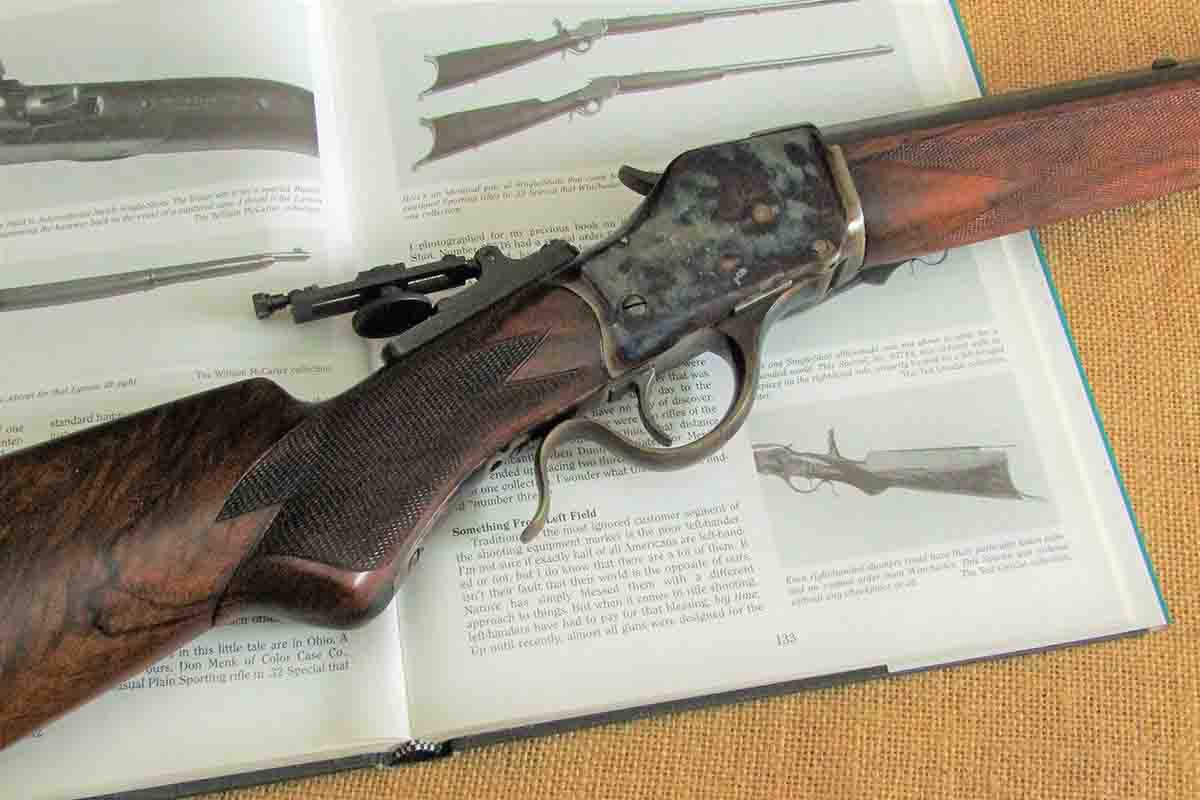 If you have read my previous articles in the
Black Powder Cartridge News
on Ballard rifles, you know how enamored I am of them. I consider them the best looking, most aesthetically pleasing of the late nineteenth-century single shots. However, as much I like Ballards to look at, I prefer to shoot the Winchester 1885, especially offhand – they seem to fit me just right. In the aesthetic category lineup, the 1885 Winchester comes in a very close second to the Ballard. The rifle discussed in this article is an example of what Winchester was capable of producing outside of the "run of the mill" Model 1885s and it differs radically from the more common rifles.
Before I continue, I want to mention the main references I used for this article. First was John Campbell's Volumes I and II on the Winchester 1885. These two books are well researched and contain a plethora of information on Winchester's single shot rifle. The other is The Winchester Book by George Madis, a treatise on all Winchester guns and rifles – truly a seminal work. My particular rifle does not fit conveniently into any category mentioned in either book. I do, however, rely heavily on the descriptions and photos in Campbell's Volume I. In Campbell's Volume II there is a photo of a rifle similar to mine on page 133.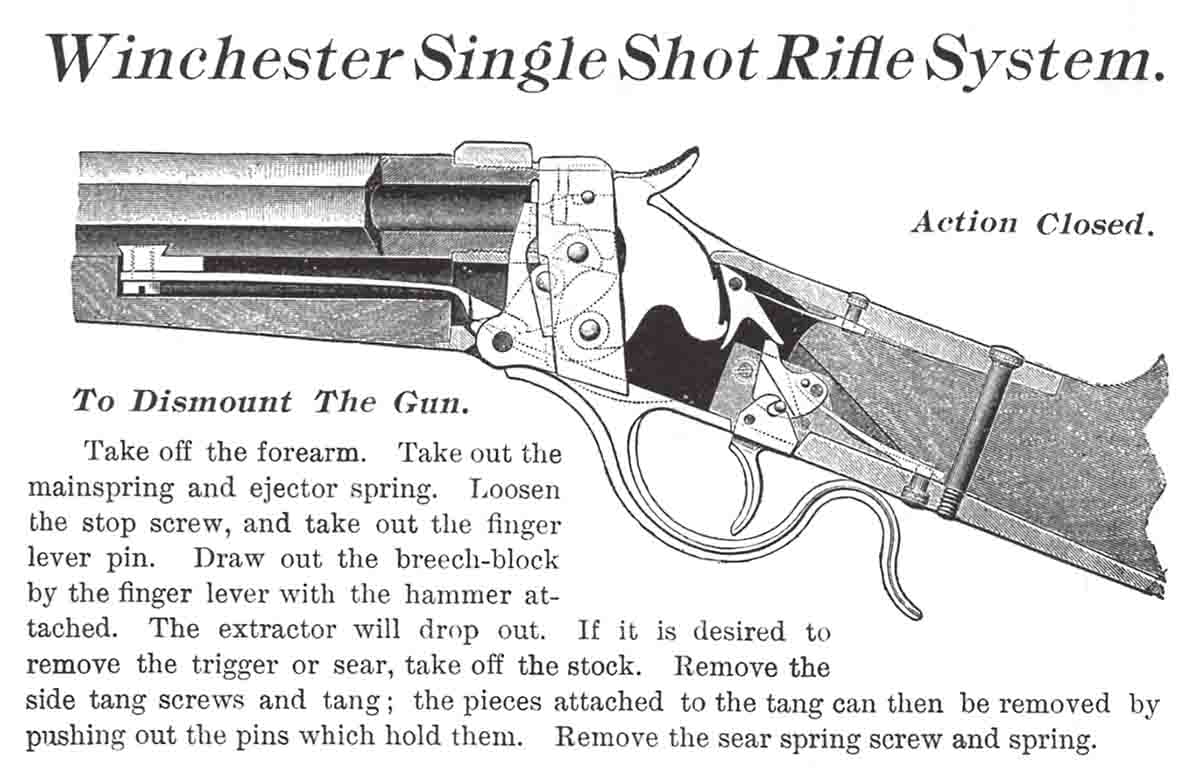 Also in Madis' book there is a photo of a very similar setup as mine, except it has a lighter barrel. In any event, as anyone can see by the photos, this is a truly beautiful rifle and one that any single shot collector would be proud to own. Apparently, Winchester was open to building just about any firearm a customer could desire, so long as they were willing to pay for it.
When I bought this rifle from a local dealer it was close to a basket case. The wrist had been broken and fixed very crudely and the tang inletting was messed up. The fine checkering was very worn on both the pistol grip and forend. It was as if one of the prior owners thought it was nearly worthless and treated it that way. I, however, saw the potential for it and bought it at what was probably a third of its value, if in decent condition. I do love bargains! I wish I had some "before" photos, but I unfortunately do not.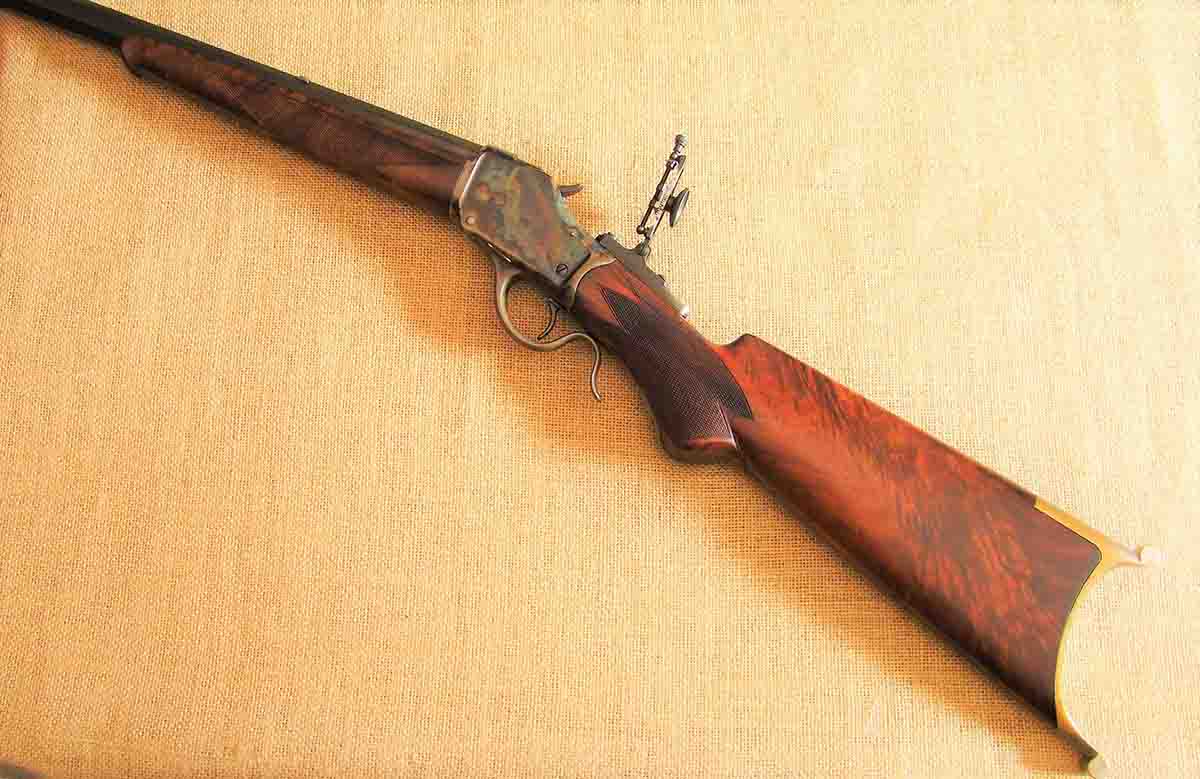 The dealer had a copy of the Winchester records for this rifle, but nowhere does it mention its special features. It describes the cartridge chambering as .38-55 and the correct barrel length and weight (28-inch, No. 3 weight). This '85 is now chambered for the .45-70 cartridge, which was the result of the barrel being bored, reamed, and re-rifled. As mentioned above, the original chambering was in .38-55 as is stamped on the top flat.
I toyed with the idea of realigning it to .38-55 again, but decided against it – too much work and expense and the re-rifling job had been very well done.
Based on Campbell's book, this Model 1885 could be called either a "Special Sporting Rifle" or a "Special Target Rifle." Both of these categories of 1885s had pistol grip stocks with checkered panels on the pistol grip and forearm. Usually, both would have upgraded wood as well. The wood on my rifle is considered "XXX," which is stamped on the left side of the lower tang, under the inletting, as was part of Winchester's standard practice for upgraded wood. It sure is nice lumber, to say the least, as even the forearm has nicely grained wood. Where mine deviates from the Special Target standard is that there is no cheekpiece or offset stock. Where it conforms to the Special Target standard is the presence of a Swiss buttplate. I could have a Special Sporting rifle with a Swiss buttplate or a Special Target rifle without a cheekpiece. One of the things both models had, according to Campbell, was exceptional triggers. Mine certainly possesses this desirable feature. The trigger is light and crisp, almost like a set trigger, but not quite. One of the neatest features of the early High Walls with a pistol stock is the sculpted bottom of the grip, where later models had a hard rubber cap. The sculpted grip gives a definite sense of elegance to this rifle.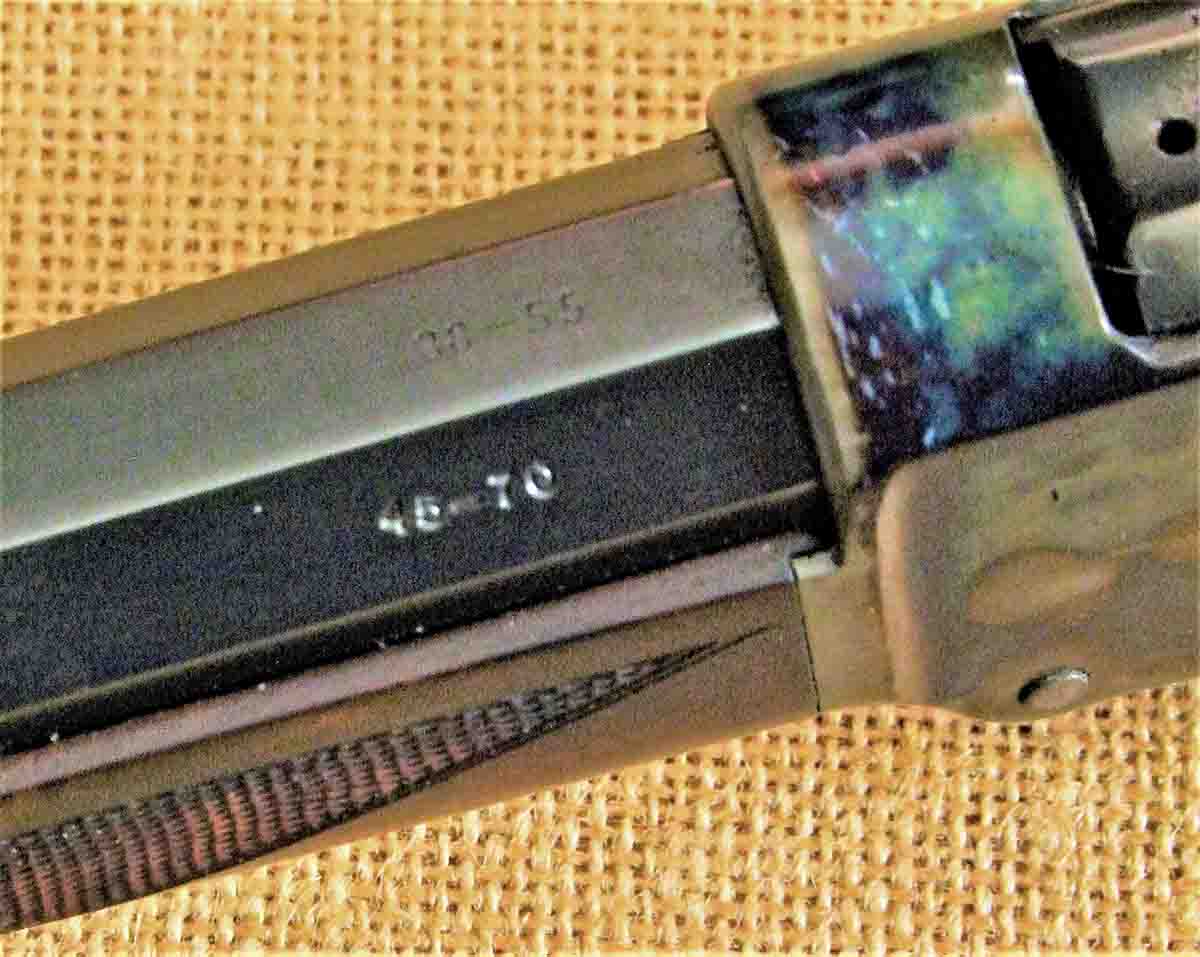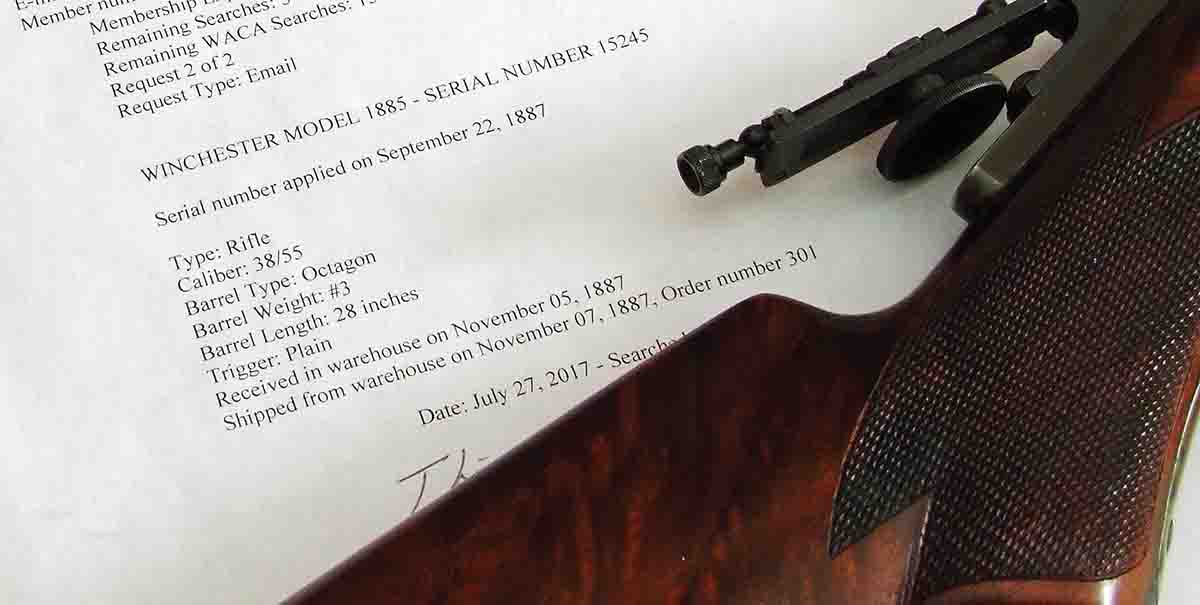 Based on Madis' book, my rifle's serial number determines it was made in 1888. However, the information my dealer got from the Cody Firearms Museum in Cody, Wyoming, puts it at 1887. It weighs right at 9 pounds, even with its 28-inch, No. 3 barrel. The tang inletting was handled by gluing relatively thin pieces of walnut in the tang mortises and then re-inletting the tang. The original inlay in the grip cap was replaced with a piece of ebony. There were two very evident wooden plugs about ¼-inch in diameter in the front and rear of the pistol grip on both sides, and these were eventually hidden by changing the checkering pattern slightly when the checkering was recut. Deep dents in the wood were raised and the whole stock sanded and finished with my own hand-rubbed oil finish. The break area is still evident just to the rear of the pistol grip on the right side of the buttstock, but fortunately it blends in with the grain, so it is not that visible. I had the action and lever color case hardened by Dan's Gunsmithing in Woods Bay, Montana. Dan does exceptionally nice case color work. The barrel was re-blued using the ancient rust-bluing method.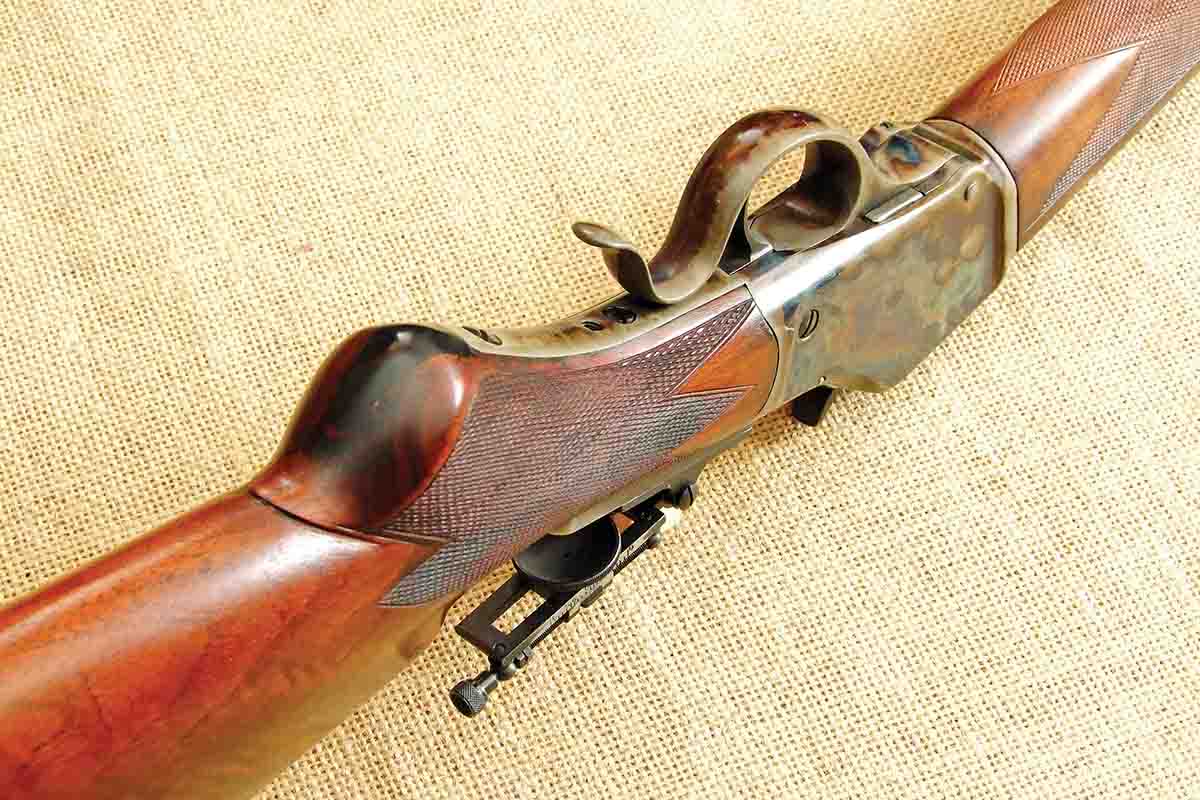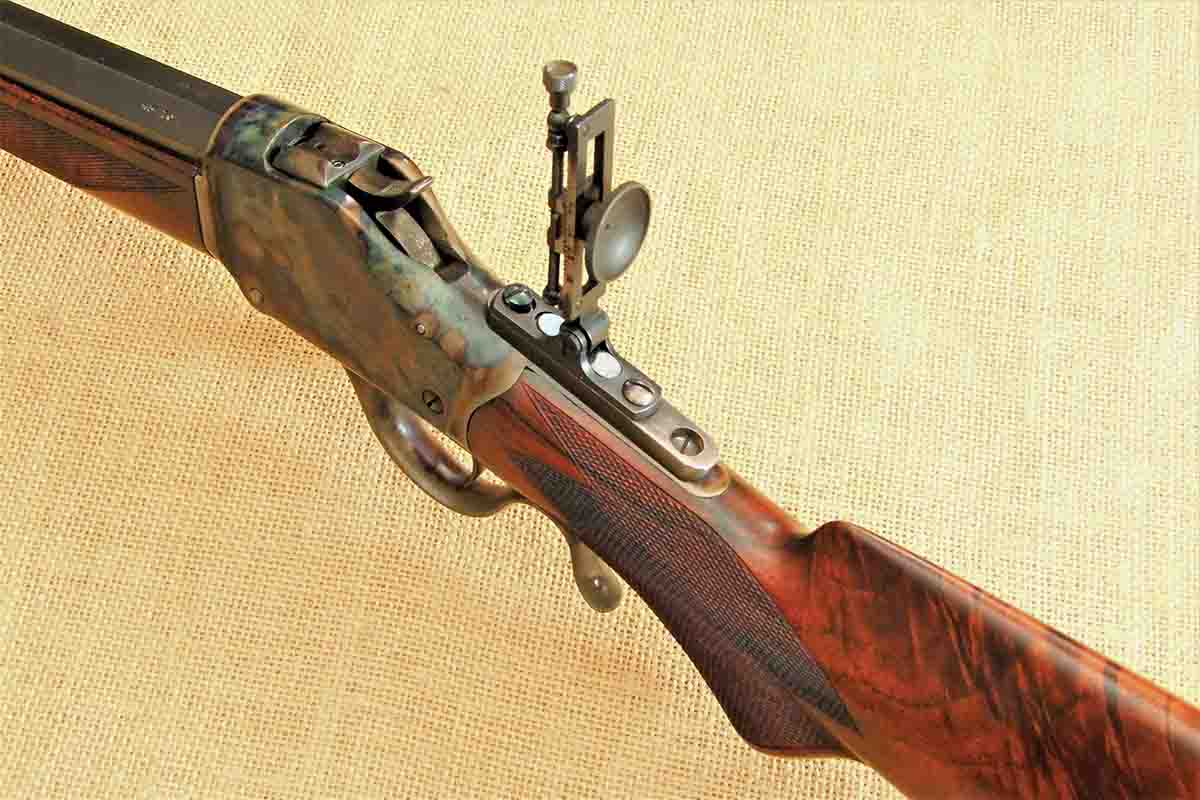 When I purchased this rifle, it had one of the standard Winchester front sights and an aftermarket open sight in the slot at the rear of the barrel. The front sight was kept but the rear sight was removed and replaced with a blank. A new tang sight from Dixie Gun Works with both windage and elevation adjustments was added. Like most 1885s, the tang had already been drilled and tapped at the factory for a sight; but the one I had on hand had hole spacing that was incorrect, so a base was made to fit the Winchester hole spacing. In order for me to accurately shoot these old single shots, I have to use a peep sight or scope, as my eyes cannot clearly see an open rear sight anymore.
I have what I call a standard "plinking load" for many of my single shot rifles, the .45-70 being no exception. The .45-70 plinking load consists of an RCBS 400-grain cast gas-check bullet with 28 grains of Buffalo Rifle powder behind it. All the other plinking loads use smokeless as well. I use them for informal offhand shooting at one of my steel gong targets, usually at 100 paces. Prior to using any rifle for these informal shoots, I sight them in over a bench. When I did this with this Model 1885 rifle using my plinking loads at 100 yards, the groups were smaller than expected considering the lack of a scope; pretty good accuracy and sufficient for my use.
There you have it – a somewhat rare example of one of Winchester's finest production "high-end" rifles. A true joy to the eye and a pleasure to shoot!