In a lifetime of reading gun books and magazines, I have never seen a test of linen cartridges, nor have I ever seen an accuracy test of an original New Model 1859 Sharps rifle. The question I will answer is, "How accurate were they?" Precision accuracy tests as we know them today, were simply not done by the government back then. We also know that linen cartridges were widely used in the Civil War, and that this type of rifle was used by Berdan's Sharpshooters, among others. Suffice it to say that Berdan's men killed more Confederates than any other regiment in the Union Army, mostly using linen cartridges, so let's see how well their rifles actually performed.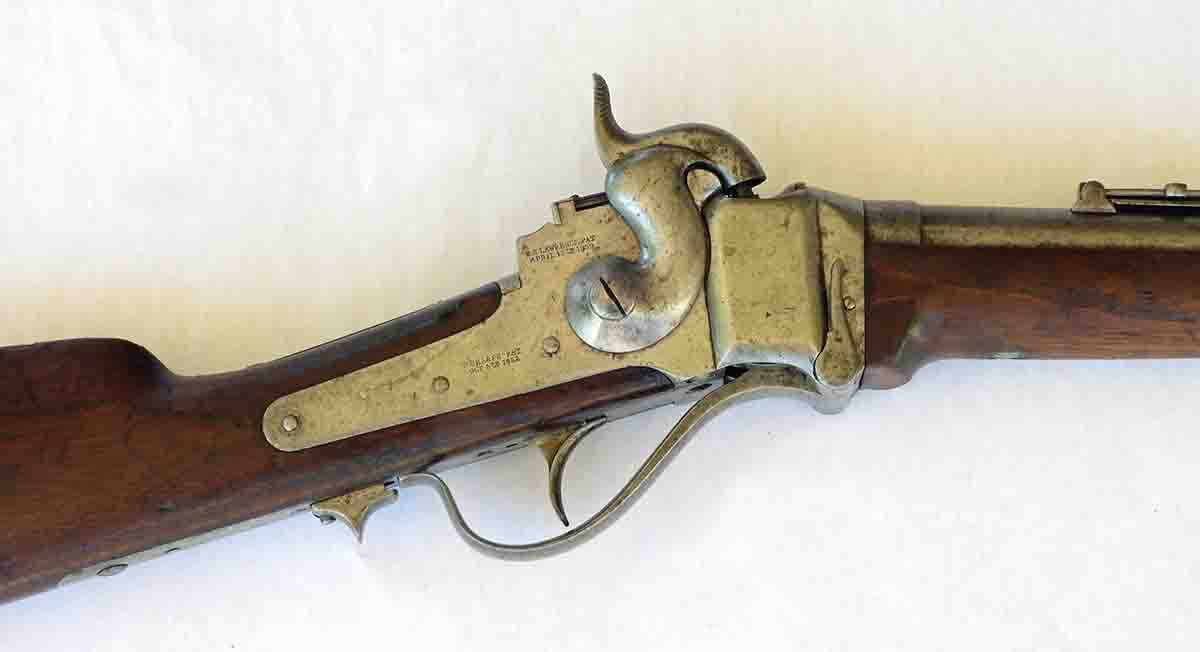 In the late 1850s, the Sharps Company had a big problem, namely its paper ammunition. It was too fragile. Mounted Dragoon soldiers on the frontier reported that at a halt, they would check their personal cartridge boxes and often find two or three broken paper cartridges. As a result, an issue of 20 rounds per man could be completely gone in just a few days. That was partly because the cartridges were often loose and bouncing around inside the tin compartments in the leather cartridge box. The paper usually broke at the base of the bullet due to the weight of the bullet, and because the bullet lubricant often soaked into the paper, which weakened it significantly. Loose powder in the box then stuck to the lubricant on the other bullets and made a greasy mess. Another big problem "out West" was that supplies were shipped by freight wagons over much longer distances, and over rougher terrain, which damaged many of the cartridges in transit. For example, it could take over three months for ammunition from Fort Union in northern New Mexico to reach the Dragoons at Fort Buchanan in southern Arizona.
Meanwhile, inventors like Maynard and Burnside had come up with more durable brass cartridges, which had the added bonus of sealing the gap between the breech and barrel. As we know, gas leakage was often a sticking point with the Sharps percussion design. The Ordnance Department conducted tests from 1856 to 1858, and they found the Burnside and Maynard to be superior to all others, including the Sharps, and small orders were placed for both new rifles to test them under actual field conditions. Believe it or not, the Burnside was the first brass cartridge arm ever adopted by the U.S. Army. With respect to the Maynard, A.M. Ball, master armorer of the Harpers Ferry Armory testified in 1860: "I feel no hesitation in saying that I believe [the Maynard] to be the very best breech loading arm in the world." That statement carried a lot of weight, and the Sharps Company knew they had to knuckle down and do better. Their answer was the linen cartridge.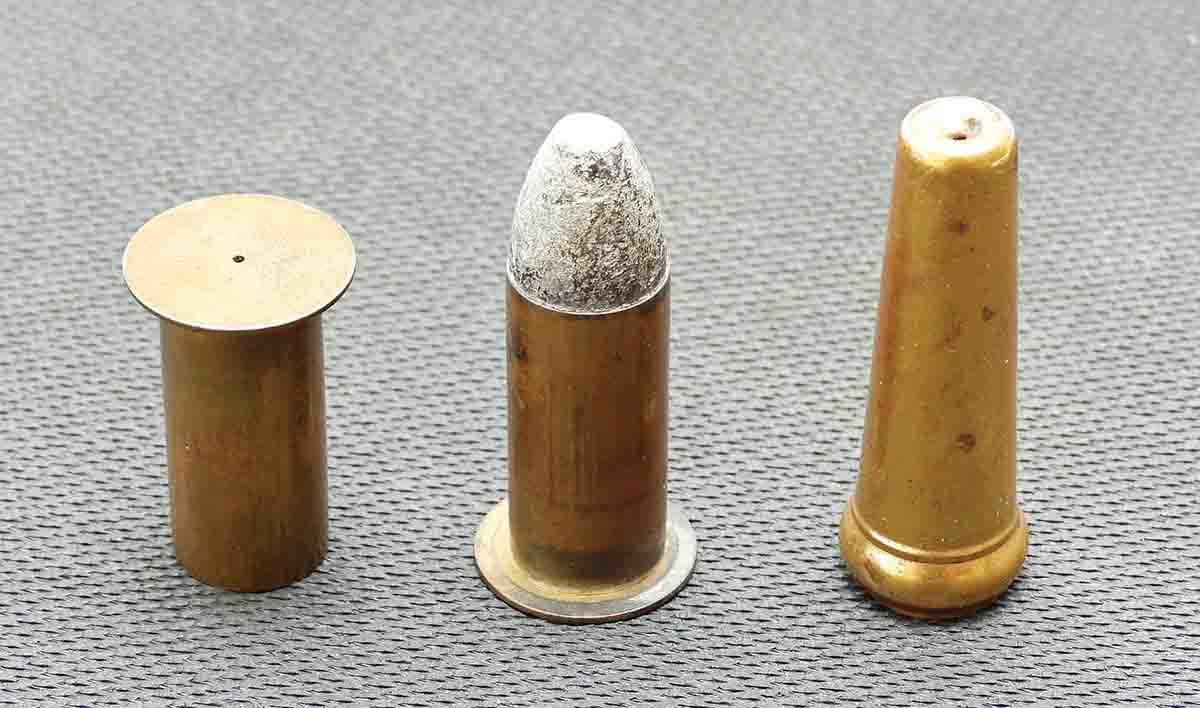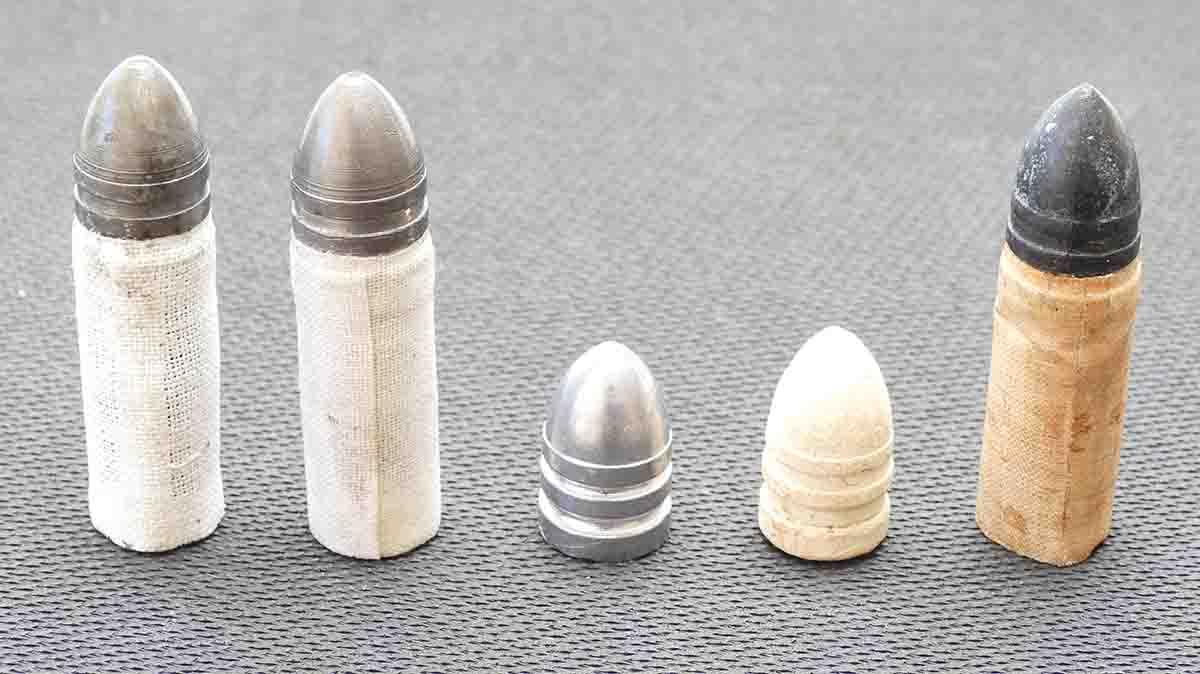 So, what is linen? It is cloth made from the flax plant, and this plant was also where they got "tow" for rifle cleaning, and for fire-making with flint and steel. Linen was known to be very flammable, fairly inexpensive, and it made for a stiffer, tougher cartridge. Even though linen cartridges were recommended by the Sharps Company in the late 1850s, it wasn't until 1864 that the Yankees completely stopped making paper Sharps cartridges, in favor of linen. Therefore, paper and linen existed simultaneously for most of the conflict. The Rebels stuck with paper only, since they had a hard time even finding enough of that.
The Sharps Company had an ammunition subcontractor (Robert Chadwick, Sharps' brother-in-law) located near their factory grounds who made their linen cartridges; to simplify things, we'll just refer to those cartridges as Sharps Company cartridges. They were flat-based and fit the chamber perfectly, which eliminated the need for cutting off the tail of the cartridge by raising the knife edge of the breechblock. By the way, many paper cartridges were also flat-based. The Sharps Company ammunition was considered the best because the bullets fit the tapered throat (aka: bullet seat) perfectly and the powder charges were very consistent. The powder in some of the "off brands" could vary by as much as 5-15 grains, which resulted in lousy accuracy.
The Linen Cartrdige Tube: The Crux of The Test

Now here is a bombshell for you . . .
The Sharps Company linen cartridges were not nitrated. What's more, it seems the U.S. arsenals never nitrated their linen cartridges for the Sharps. Yep, that's right, because they didn't need to be nitrated. Linen burns just fine as it is. No formula has ever been found in the archives or in any company or arsenal records to indicate that linen ammunition for the Sharps was nitrated to burn better. Does this lack of evidence mean it wasn't done, even once? No, but please read on as the authors have over six months of research and testing behind this conclusion, as well as information from leading antique ammunition experts.
Most gun writers have made this false assumption about nitrating over the years because they have never actually made and experimented with linen cartridges to test the burning characteristics. That's okay because the materials and information were not readily available. The top expert on Civil War small arms ammunition, Dean Thomas, author of the four-volume study "Round Ball to Rimfire," also believes that Sharps never nitrated their linen cartridges, nor did the arsenals. Ditto for ballistician Charlie Hahn, who has experimented with many different types of Sharps cartridges over many years of shooting with the North/South Skirmish Association.
For this test, I shot scores of un-nitrated cartridges in the Sharps, and I never observed any linen residue left in the chamber, other than a few very tiny flecks of fully-consumed linen ash; and then, only a few times. There is also no trash left on the ground in front of the muzzle, as with paper cartridges, and it seems like all of the linen is burned to dust. If you hold a piece of linen up to the sun, along with a piece of writing paper, you immediately notice that more light passes through the linen than the paper. The linen is more porous. My theory is that the fire from the powder charge in the chamber of the rifle penetrates the linen more easily through the thousands of tiny holes in the weave, and that makes it burn more completely than paper. In contrast, paper fibers are pressed tightly together in a liquid and gel state during manufacture, totally unlike the weaving process.
I and other gun writers, and government officials have often been confused by the word "combustible" with reference to early cartridges, and this has helped to perpetuate the nitrating myth. In addition, advertising by ammunition firms in the nineteenth-century deliberately confused the issue to make more money. Is regular paper not combustible? Is regular linen not combustible? Of course, it is. Yes, there were true "fully combustible cartridges" in the sense that we use the word today, such as those made by Johnston & Dow or The Hazard Powder Company. Some of these were made with the thinnest, most delicate tissue paper, like cartridges for the Colt revolver, while others were made with a flammable "skin" over the powder. In addition, some used collodion, which was liquid gun cotton/nitrocellulose to coat their paper cartridges. An original "combustible" cartridge that was scientifically analyzed by a crime lab ballistics expert, Luke Haag, in Arizona, revealed a pellet of hard, compressed powder, merely coated with a thin layer of beeswax. My point here is to show that the word "combustible" meant different things to different people in the nineteenth-century.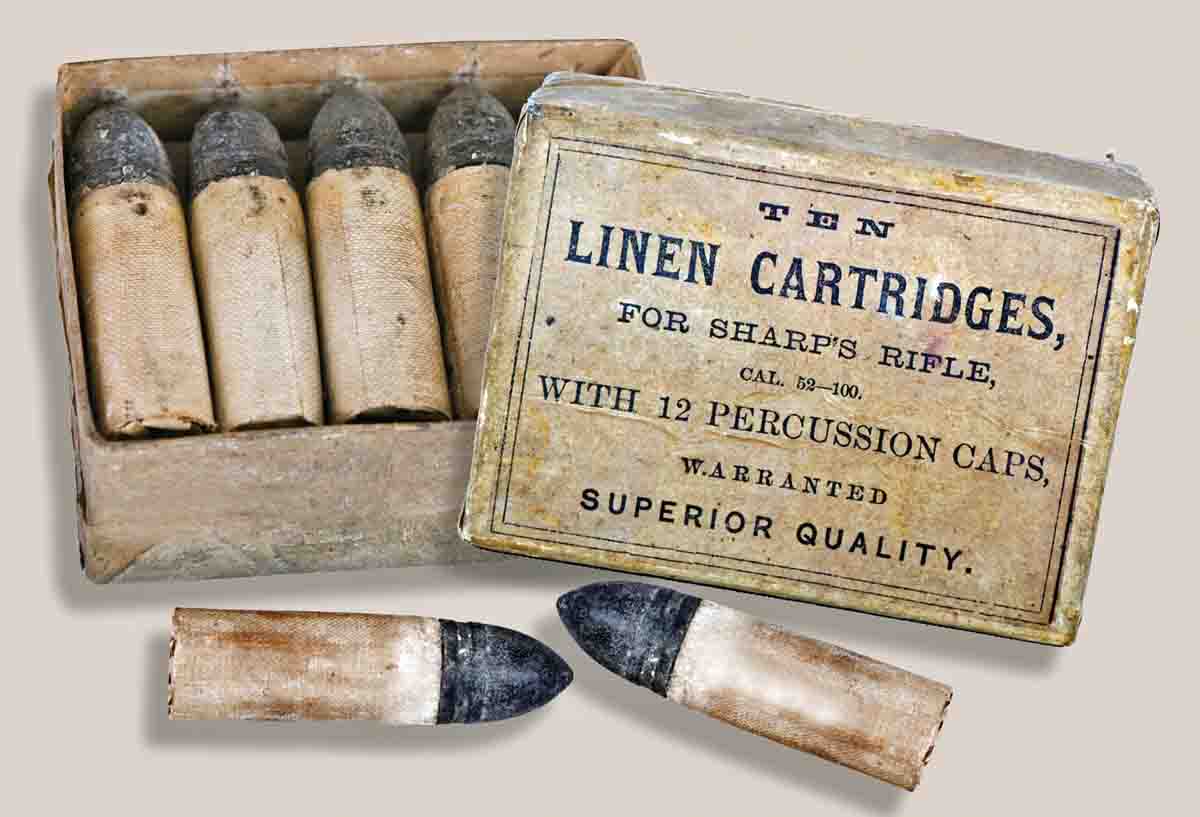 Need more convincing? If so, here is some more evidence for you. In January 1865, George Penfield, the executive agent for the Sharps Company told the Ordnance Department exactly what their linen cartridges were made of, and how much each individual component cost. Saltpeter, nor anything similar was on the list. [Note 1] Only lead, black powder, linen, paste/gum, wax and tallow (for the bullet lube), and bank note paper (for closing the bottom) were used to make the cartridges.
The arsenals often bundled their cartridges together and tied them with string; however, the Sharps Company wisely packed their ammunition in small 10-round cardboard boxes to better protect them during transport. These boxes were sometimes coated with "shellac varnish" to make them water resistant, because shellac is dissolvable in alcohol, but not in water. It also made the boxes more durable. In our shooting experiments, we even tried completely coating some of the linen cartridges with shellac, thinking that it might enhance the burning characteristics, but it didn't. It just added more hassle.
With respect to the paper on the bottom of the cartridge, we had two original linen cartridges as exemplars, and it was clear that the bottoms were not impregnated with anything, probably to allow the flame from the percussion cap to better pierce the paper. For our tests, we used 100 percent cotton rag paper .002 inch thick, glued into the bottom of the case with Elmer's glue that had been thinned with water. (In comparison, typing paper is typically .004 inch thick.)
Just like some cloth today, linen usually had "sizing" in it back in the 1860s. I consulted two garment historians to find out what sizing typically consisted of back then, and the answer was cornstarch, which is still used to this day. The Washington Arsenal even put an extra application of sizing on their linen to make their Sharps cartridges stiffer, and theirs were considered to be the best of any arsenal-made Sharps ammunition. Watervliet Arsenal did not use starch, and their ammunition was known to be loose and much more fragile. After experimenting with six different thicknesses and thread counts of linen, we decided to apply extra starch just like the Washington Arsenal. The material we finally settled on was called "Irish handkerchief linen," and it looked similar to the original cartridges in our collection. It was .011 inch thick, and we cut each piece to 1.375 inches by 2.875 inches. We used only one wrap around the forming mandrel, because our expert Dean Thomas said that was the norm, and because two wraps came out way too thick. Besides, we couldn't find any linen (even on the internet) made thin enough for two wraps that would fit properly into the throat of the barrel. We know that they had thinner, tighter linen back in the 1800s, but not today. In fact, our two original exemplar cartridges both had two wraps of linen, each layer being only about .006 inch thick, to make .012 inch on a side. Our one wrap with extra starch also came out to .012 inch, so that tube thickness was identical.
The Right Powder, Bullet and Lubricant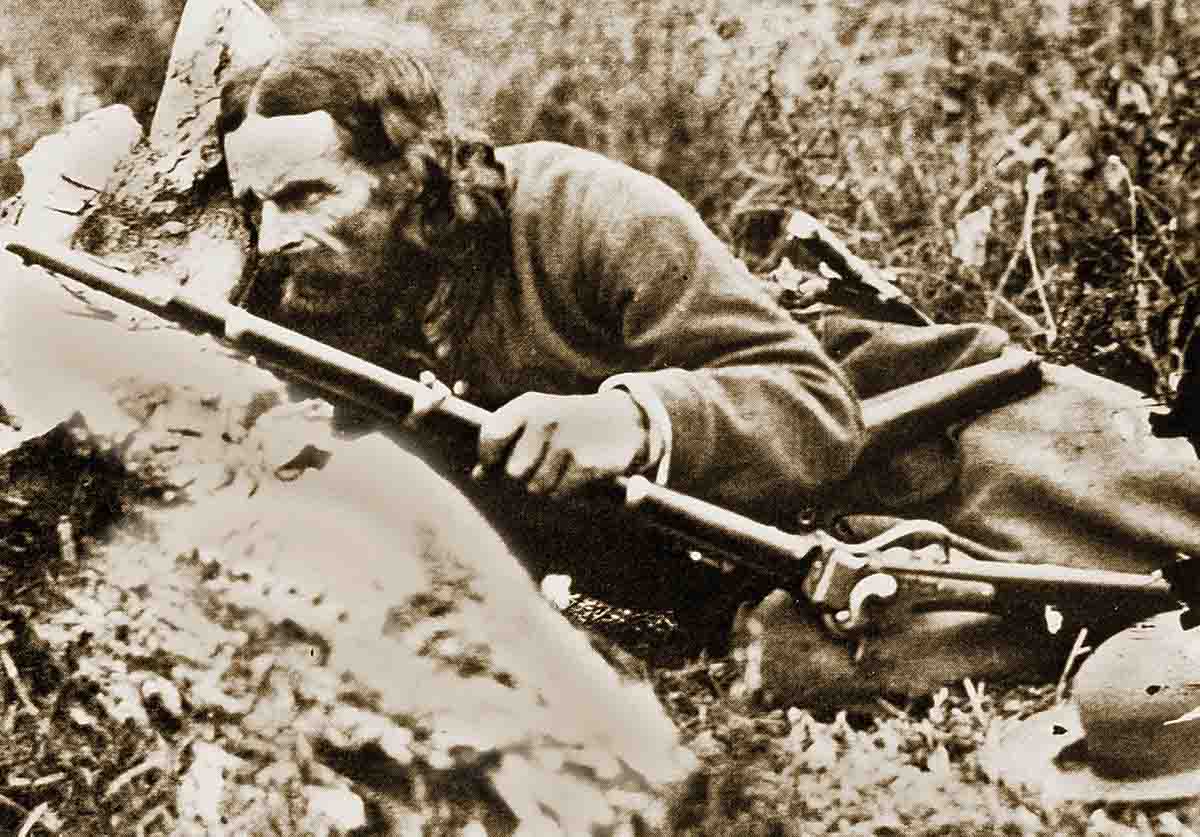 In 1864, the Ordnance Department increased the powder charge for the Sharps from 60 to 65 grains, so we decided to go with 65 grains in order to duplicate the late-war "perfected" Sharps Company and Washington Arsenal cartridges. This powder increase was so that the bullet trajectory would better equal the range graduations on the carbine rear sight. In addition, we followed the 1864 ordnance instructions to choke the linen into the bottom grease groove of the bullet to help prevent the powder from leaking out around the bullet.
For all tests, we weighed the powder and the bullets, because we wanted to focus on just one variable – the linen and the effect it had on accuracy by being glued to the base band of the bullet. It was not our intent to create match-grade ammunition, but rather to create a valid, scientific test by eliminating as many variables as possible. We were trying to recreate high-quality cartridges of the era, perhaps equal to those supplied by the Sharps Company, which were acknowledged to be the best.
The bullet was a close copy of original Civil War flat-based Sharps bullets in our collection. It is a tapered and grooved picket bullet. The weight was kept between (plus-or-minus) one grain, to cull those with air bubble voids. It weighed 420 grains and measured .526 inch for the top band, .536 inch for the middle, and .547 inch for the bottom band. Overall length was .890 inch. It was cast of pure lead as were the originals. [Note 2] As for the lubricant, it was a mixture of tallow and beeswax, just like the original Sharps and arsenal recipes.
The Test Rifle: A New Model 1859

An original New Model 1859 rifle was selected to recreate historic results, and because the bore is a 9.5 on a scale of 10. The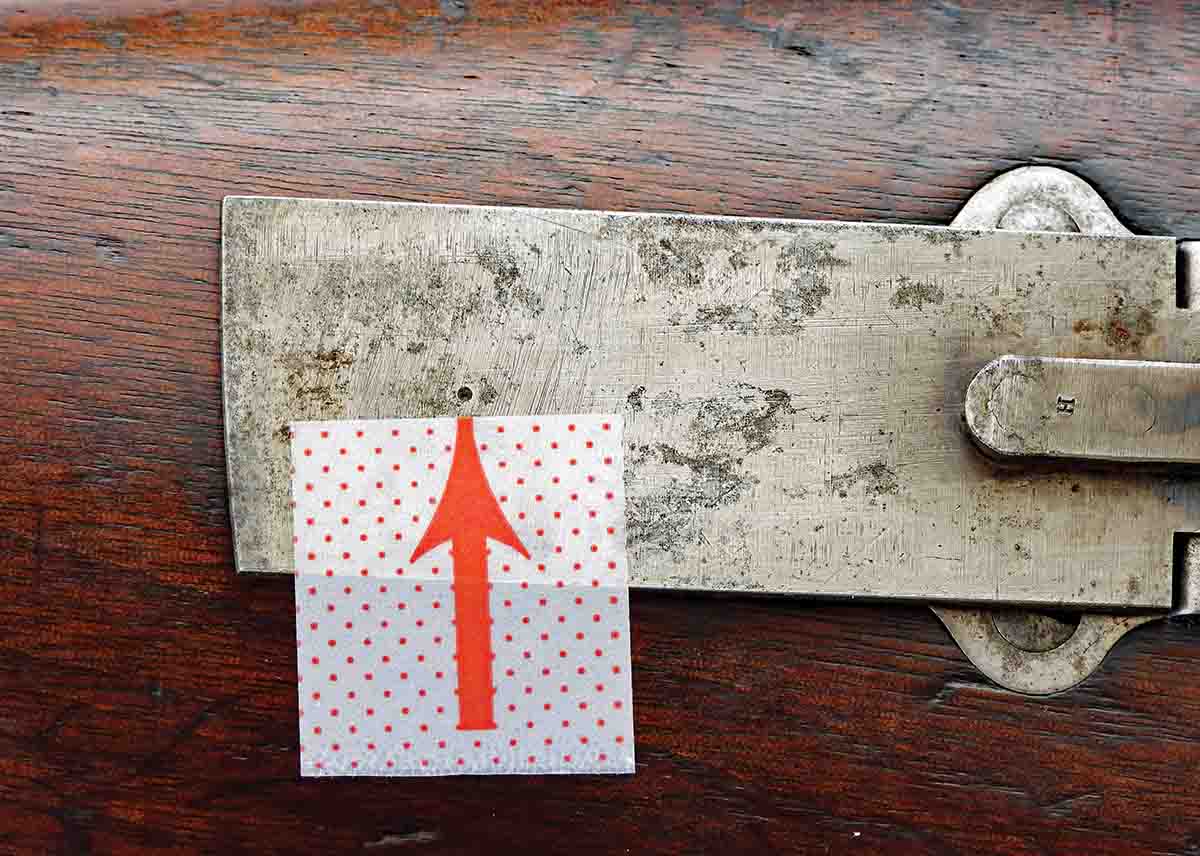 barrel is 30 inches long and it takes the angular bayonet made by Collins & Co. It has six-groove rifling with the lands and grooves of about equal width. The land-to-land diameter was .521 inch, and the groove-to-groove measurement was .538 inch, giving a rifling depth of .0085 inch. Interestingly, the bore dimensions for Civil War Sharps firearms seem much smaller than those of the earlier Model 1852 and 1853 "Slant-Breech" Sharps carbines that I tested in previous issues of
Black Powder Cartridge News
. For example, the earlier Models 1852 and 1853 had land diameters of about .526 inch, groove diameters of .550 inch, and the rifling was about .012 inch deep. This is a very big difference between the specifications for the early versus the late Sharps percussion models. So how do you select a bullet to fit them all when groove depths range from about .535 inch to .550 inch? Often, the solution from manufacturers was to select a very large diameter bullet that would work fairly well in all of them. In the 1860s, using a bullet with a diameter of .010 inch (or more) over the groove diameter was not unusual. In my test, for example, the base band of the bullet was .009 inch over the groove diameter of the test gun. With more modern cast bullet rifles, best results are usually obtained with about .002 inch over the groove diameter.
The receiver on the test gun was very tight, and the gap between the breechblock and barrel was less than .001 inch as measured with a feeler-gauge shim. As you know, the flash channel in the breechblock has two right angles and a blind hole with a clean-out screw. I first tried a modern nipple with a very small orifice, and I kept getting hangfires, so I switched to an original nipple with a larger diameter hole and it worked perfectly. I also used old CCI musket caps that say "Extra Strength" right on the tin. Please be safe when shooting an old Sharps, because many of them are just simply worn out, and the receivers are iron, not steel. Have your gun checked by a competent gunsmith who actually shoots such firearms, and please start with reduced loads. Even though linen burns about 99 percent, there is always a chance that some smoldering residue could remain in the chamber, so please be careful when inserting the next round.
Berdan's Two Regiments

This particular test rifle, serial number 39681, came from a widow in California after her husband died about 1979. The oral history was that the rifle had belonged to a family member from New York, who was a lieutenant in Berdan's Sharpshooter regiment (his name was not remembered by the widow). After the Civil War, he came to California and brought the rifle with him. I know this isn't a rock-solid provenance; however, I tend to believe little old ladies because they usually don't lie, except maybe about their age. Besides, they usually don't need the money either because of their late husband's big life insurance policy!
We know from the history of Berdan's regiment, as written by Captain Charles Stevens, that the officers were dyed-in-the-wool expert marksmen and that many carried rifles into battle, although the exact type was not specified in the unit history. [Note 3] They had to buy their own rifles out of their own pockets, per Army regulations, because officers were not allowed to use government-owned weapons that were purchased for enlisted soldiers. There was even strict Congressional oversight about this, and Berdan was called in more than once to ensure his officers got the word about government-owned equipment. Yes, there were some heavy muzzleloading target rifles kept by each company in boxes stored in the company supply wagon, but they were not suitable for skirmishing, which is how the sharpshooters were typically used. There were over 60 officers in both sharpshooter regiments under Berdan's purview, so some New Model 1859 Sharps rifles were likely purchased by them on the civilian market. Both regiments lost many officers to combat deaths, wounds, and disease; new replacement officers were often needed, which probably raised the final number of Berdan's officers to well over 60, maybe to even 80 to 100.
Brace yourself, because here comes some new stuff that is sure to stir up some comments from the Berdan collector community.
No one has ever really discovered or has written about how Berdan's many officers armed themselves. Many collectors are stuck on the serial number range of 54374 to 57574, which contains the 2,000 rifles provided for the enlisted men only. If an officer absconded with, or "liberated," one of the 2,000 government Sharps, he was breaking the law by violating Army regulations. Could the so-called "secondary serial number range" include some bought by the officers? After all, the Sharps rifle used by the famous Berdan enlisted sharpshooter "California Joe" was also purchased on the civilian market. Or how about some of those rifles with single triggers in the 54374 to 57574 range?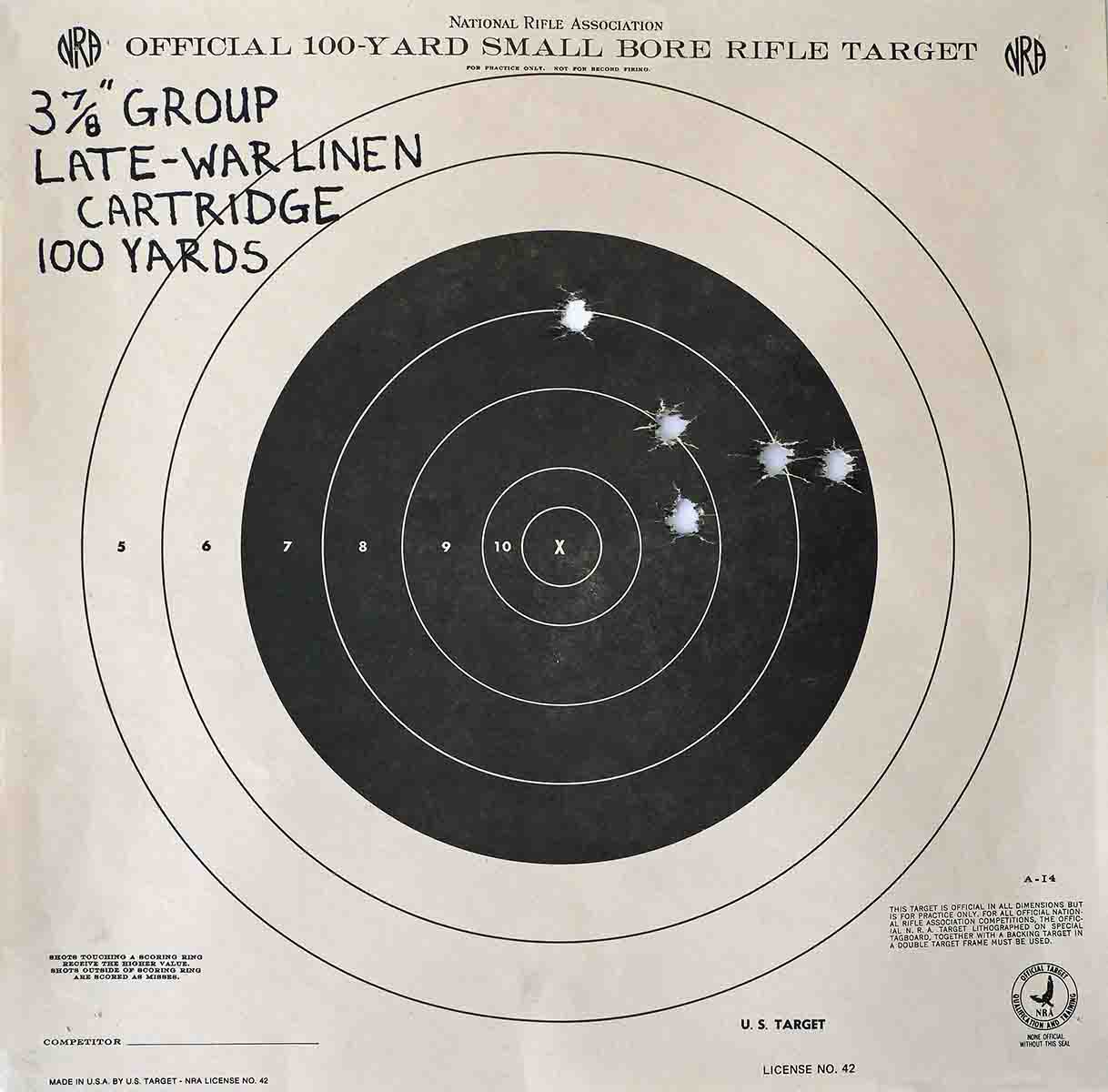 The test rifle even has the pin punch mark inside the patch box lid which was reported by Sharps experts Coates and McAuley to be the final inspection and approval mark made by John Taylor, who was brought in to inspect the 2,000-gun Berdan order. [Note 4] This suggests that this test rifle was inspected at the Sharps factory while John Taylor was there on temporary duty. However, there is no visible John Taylor "JT" cartouche on the stock as it is very worn there. Noted Berdan expert Larry Munther disagrees about the punch mark and said that he has also found it on some non-Berdan New Model 1859 rifles, and even some carbines. However, he did agree with the author that some of Berdan's officers probably bought Sharps rifles on the open market. He added, "Nobody has ever really considered that before, but that certainly fits with their role as skirmishers." In addition, Munther has authenticated one genuine Berdan rifle with serial number 39840 (only 159 numbers away from the test gun), and he remarked that Wiley Sword had documented at least one more in this same range as well. [Note 5] The author is not convinced nor claiming that the test gun was definitely part of the 2,000-gun Berdan order, only that it was available for purchase at the right time by one of Berdan's men, in line with the provenance. Maybe somebody will take this up as an interesting new area of study, because our history of allowing junior officers to carry privately-owned long guns goes back to the British in the French and Indian War, at least.
Berdan's soldiers kept fewer and fewer heavy target rifles as time went on, and by the end of their enlistments there were only a few remaining in each company, according to their unit historian. Readers of this magazine are also dyed-in-the-wool shooters, so I ask you to imagine that you are a junior officer in Berdan's regiment, skirmishing through the woods with very high "pucker-factor," while being shot at by a determined foe. Would you rather have: 1) a whippy little unsharpened foot-officer's sword and a petite revolver; 2) a cumbersome, heavy muzzleloading target rifle with all the accoutrements, or; 3) a fast and accurate Sharps breech loading rifle?
Shooting Test Results

All record groups were fired from the benchrest position, using front and rear bags, at a distance of 100 yards. All groups were measured center-to-center of the two widest shots. The most consistent load tried was 65 grains of GOEX FFg, with the linen starched and choked into the bottom grease groove per the 1864 government specifications. Elmer's Glue thinned with water was used to attach the bullet to the linen case. This load gave a 10-shot average velocity of 1,047 feet per second (fps), a 10-shot extreme spread of 24 fps, and a 10-shot average deviation of 6 fps. Five, five-shot groups were fired, and the bore was wiped with one wet patch and one dry patch between the five groups. The smallest group was 3¼ inches; the largest group was 5 inches, and the average group size was just under 4 inches.
The second major load tested used shellac to attach the bullet to the starched linen case. We thought this might have been used back in the 1860s. However, this load proved to be a failure because the shellac gave too strong of a bond, not releasing properly (or at all) from the base of the bullet. Often, some linen went downrange still attached to the bullet. There were many big flyers and the chronograph data was erratic, with an extreme spread of 65 feet per second for 10 shots. Therefore, these groups are not included here, because we might look like fools! Water-based paste is probably what they originally used.
Interesting Things We Tried That Didn't Work Out So Well

We started out with the assumption that the linen had to be nitrated with something, which ultimately proved wrong. For example, we tried liquid canvas dope that was used on World War I biplanes to shrink the material tightly onto the frame of the aircraft. This stuff is known to be highly flammable, and it worked fairly well, but we found it to be totally unnecessary. (This is probably where the term "shot down in flames" comes from.) Shellac exterior coatings were also a waste of time. Just think, such coatings would have added a lot to the cost of the ammunition, and the government rewarded those who could make them the cheapest. Some of the different types of linen that we tried had a weave that was too loose, almost like gauze. We discovered that washing any of the linen beforehand was not a good idea, because it sheds the sizing and a lot of lint. Eventually, 100 percent cotton (not linen) sheeting of .010 thickness was tried, and this worked very well, but it did not burn quite as completely as the linen. Also remember that synthetics, like polyester, melt! Nevertheless, the cotton burned well enough to be a very good second choice, and it rolled/formed easier for those who might want to try making some at home.
Conclusion
I have wanted to play with some linen cartridges all my life, so this "experimental archaeology" was a real treat. We have shown that nitrating was an extra step in the manufacturing process that wasn't needed, especially with the expense of hard-to-obtain chemicals like saltpeter. We have proven that linen burns more completely than paper, even the nitrated paper that we have tried in the past. In the heat of summer, we have also learned that linen won't break like paper when the bullet lubricant soaks into the cartridge, as this was a major source of damage to paper ammunition.
I have always been a student of Berdan's Sharpshooters, and I have read everything ever published about them. They "laid low" many chivalrous sons of the "Old South" with their diabolical New Model 1859 Sharps rifles and their improved linen cartridges – perhaps even some of my own ancestors. I had always thought that this combination of rifle and ammunition would shoot fantastic, but imagine my dismay when I discovered that the accuracy was only average. Also, the groups would have been even larger had I used unweighed bullets and powder charges, like in the original cartridges.
Excluding the high-end Whitworth and Kerr rifles, Confederate sharpshooters preferred .577 two-band Enfield muzzleloading rifles combined with top-quality British ammunition. By the way, the Rebels also had large sharpshooter units. Based on my years of experience shooting Enfields, I now know that they shoot even better than the Sharps with linen cartridges, and Enfields routinely shoot 2- to 4-inch groups at 100 yards with good ammunition. Of course, the Sharps was much faster to load, which was a big plus for skirmishing out in front of the battle lines.
Was the durability of the linen cartridges more important to the Army than excellent accuracy? Having served in the U.S. Army much of my life, I instinctively know the answer to that question – undoubtedly "yes." Finally, based on my previous percussion Sharps accuracy tests for this magazine, it now appears that the "old style" ring-tail Sharps bullets shoot the best.
Everyone tends to think that the era of the Sharps linen cartridge ended with the Civil War. However, do you suppose any were used on early buffalo hunts? A 420-grain bullet with 65 grains of powder would certainly do the trick on big game. How many were carried by cowboys and settlers for hunting and protection? For all the rifles that were converted to .50-70 after the Civil War, there were still plenty that weren't, like the one in this test that made it all the way through the "Wild West." And no, I won't be going into the business of selling linen cartridges, because they are a pain in the butt to make!

References:
1. Dean Thomas, "Round Balls to Rimfires, A History of Civil War Small Arms Ammunition" Part/Volume 2, Thomas Publications, 2002, page 212 -213. This is a wonderful set of books.
2. Thanks to Pat Kaboskey for providing bullets from his mold. He pours match-grade Civil War era bullets and can be reached at 262-363-4625 or cwbulletman@aol.com.
3. Charles A. Stevens, "Berdan's Sharpshooters in the Army of the Potomac 1861-1865," Dayton, Morningside, 1984, reprint from 1882 original.
4. Coates and McAulay, "Civil War Sharps Rifles and Carbines," page 19, Thomas Publications, 1986. This is an excellent reference book.
5. Wiley Sword, "Hiram Berdan, his famous Sharpshooters and their Sharps Rifles," Mowbray Inc., 1988, pages 95-98. Serial number 39573 is listed on page 98 as a documented Berdan rifle.
Thanks to Dean Thomas; Tim Prince of College Hill Arsenal; Charlie Hahn of Hahn Machine Works; Luke Haag, ballistician and cartridge expert; Roy Marcot, Sharps author extraordinaire; and Larry Munther, for their advice and assistance.