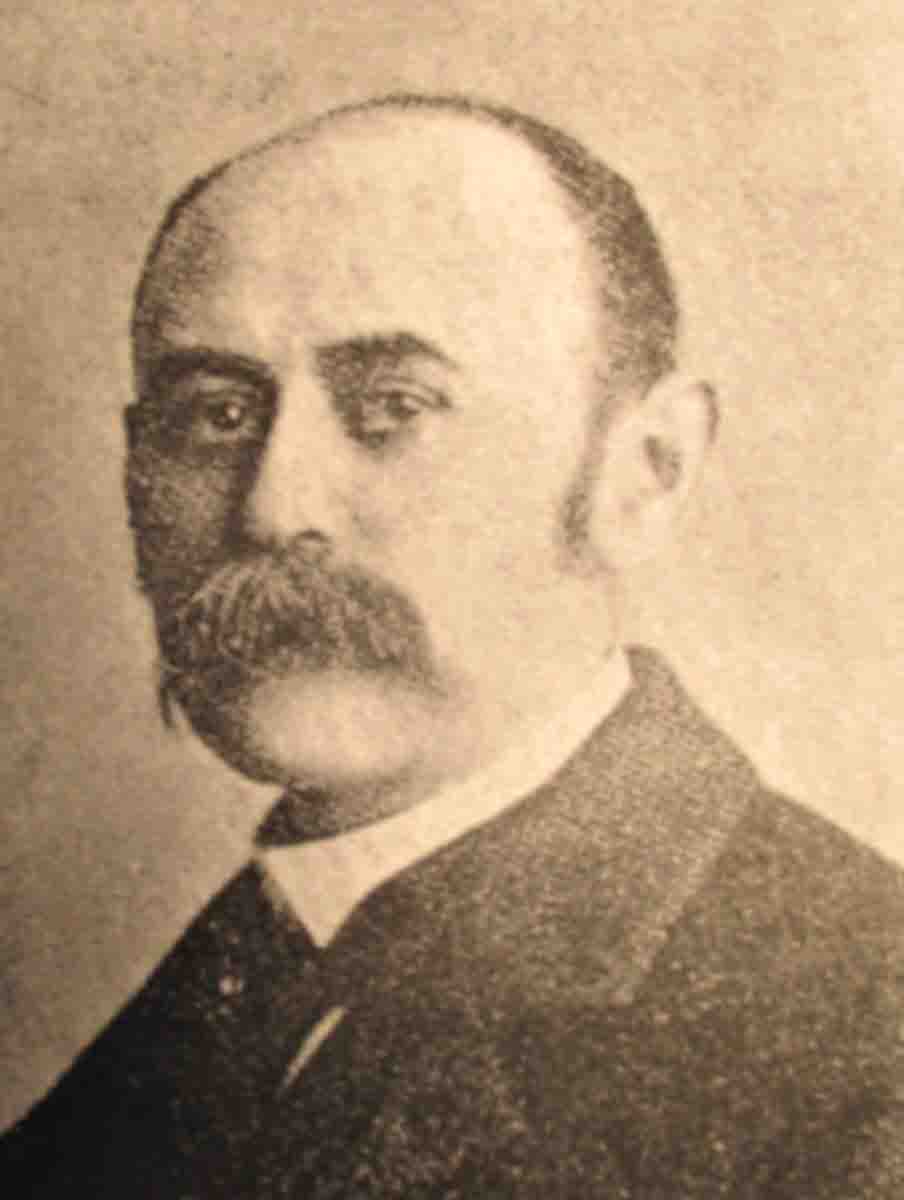 The Old Veteran

Standout offhand riflemen of the Schuetzen heyday came and went. Over time, each progressed to the top of their game and enjoyed a measure of notoriety, with some remaining in the limelight longer than others. A very few are remembered as the best of them, and in certain small circles, are household names yet. Among the "lesser-knowns" qualifying to be included in this class was New Jersey's Michael Dorrler. Born in Germany in 1850, Dorrler immigrated to the U.S., landing in New York City when he was eight years old. When he was 26, he was working as a bookbinder and Annie Burns became his bride in 1879. Son George came along a year later.
In 1875, young Mike Dorrler purchased an old muzzleloading Yankee rifle for $10 from a Bowery district pawnshop. Thus, began his lifelong preoccupation with rifles and shooting. In the beginning, the "beginner rifle shot" turned in beginner's scores. With an entry-level rifle, he practiced industriously at the 209 Bowery location of the Zettler Rifle Club in New York, and rubbed elbows with Barney and Charles Zettler, Milton Farrow, and others of New York's top gallery shots. In March of 1880, he shot in a match with Milton Farrow, who won with a 48 – Dorrler put up a 44. Michael Dorrler, at the age of 33, claimed his first win that May.
During that first year, he was gaining experience and polishing his form. At Zettler's weekly shoots he was averaging 43 out of a 50 possible. By and by, persistence paid off and the beginner got better. By the fall of 1879, he finished second out of 10 men in a 200-yard event.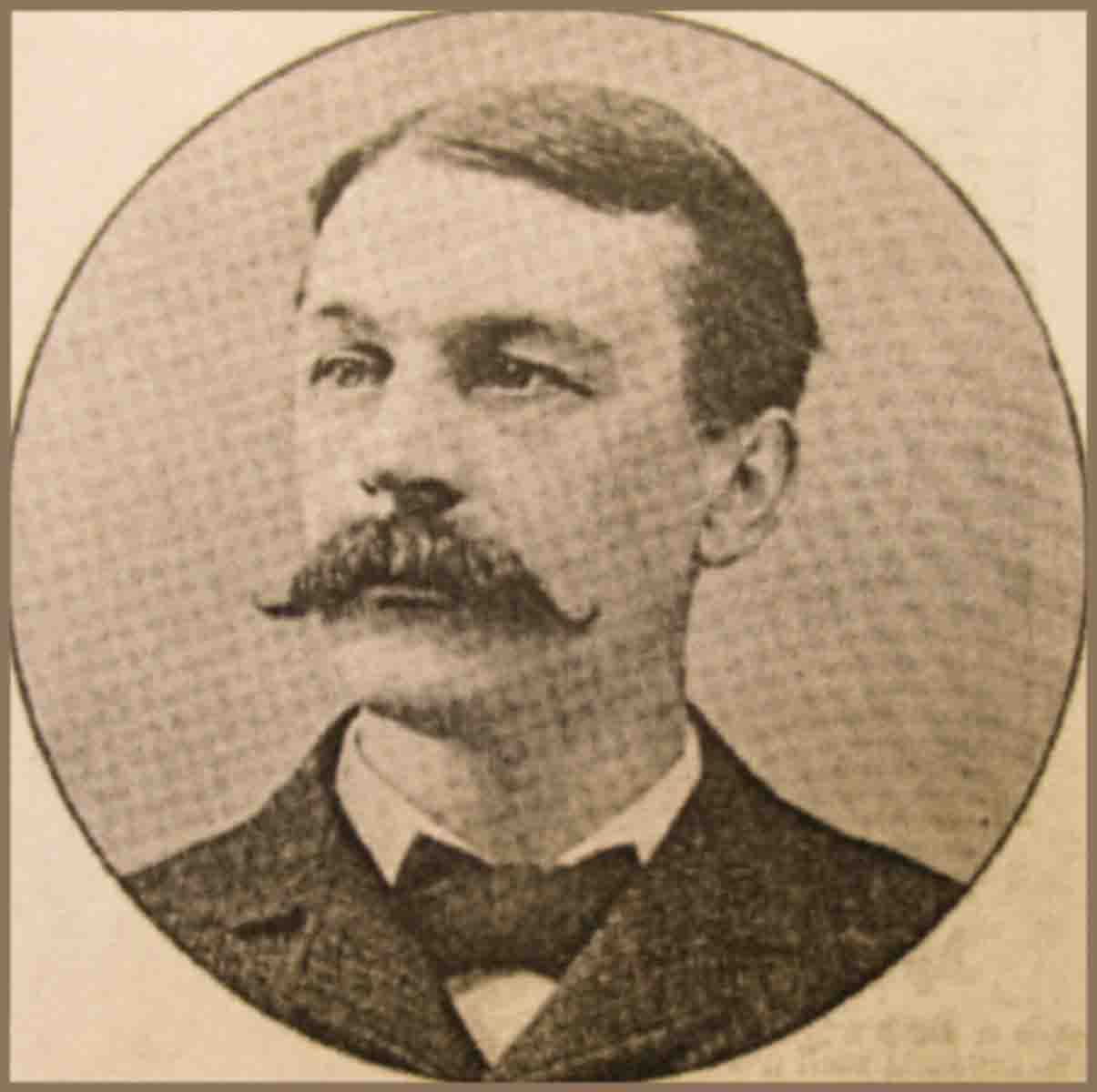 In May that year he posted a second-place score in a 30-shot, 200-yard contest. That winter he didn't miss a Zettler gallery shoot. By July of 1881, Dorrler branched out and sampled the Creedmoor-style of shooting. He showed up at the great Creedmoor range and entered a 200-yard event with a loaner "State Model" of military rifle. Out of a field of 487 entries, he finished in the top 30 with a score of 20 out of 25 possible. Of those men who tried to juggle dual shooting disciplines, few became proficient at either. Michael Dorrler elected to wholly devote himself to the mastery of the offhand match rifle.
In April of 1881, in a Zettler Club match with the Essex Club of Newark, Dorrler finished one point ahead of Milton Farrow and both finished identically at that May's New York Schuetzen Corp. Festival, stepping Dorrler into a more distinguished league. At the Ninth Annual Creedmoor meet that September he finished 14th out of a fairly big field and won a $2 cash prize. The progress encouraged him.
At an 1882, 200-yard prize shoot on the grounds of the Seppenfelt, New York Rifle Club, (which offered $250 in cash prizes) he finished one point out of first place. Dorrler continued to gain proficiency and confidence. The next spring, he shot at the famous Union Hill Range, watched as William Hayes and Milton Farrow engaged one another in an Individual Match, and won some minor prizes and claimed for himself a King Shot.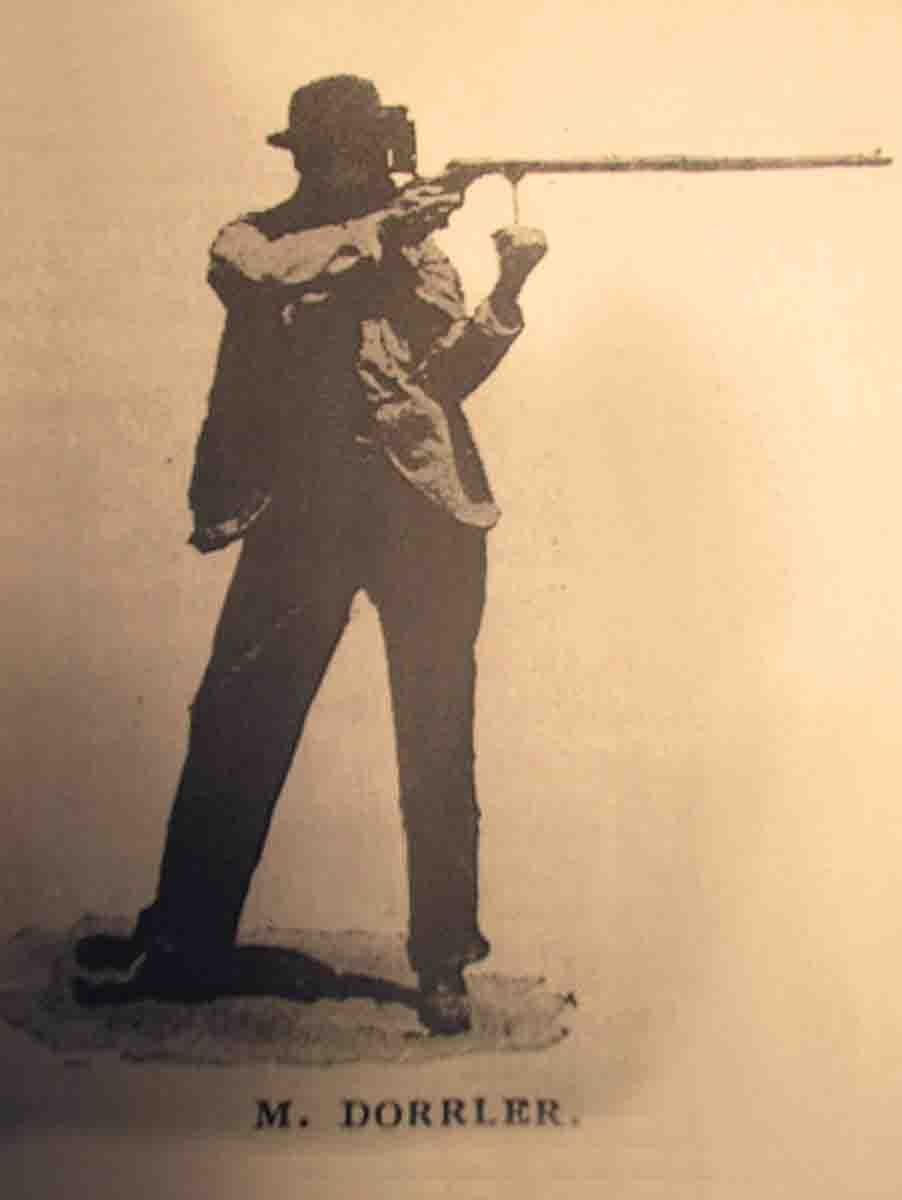 Dorrler didn't leave much for tracks in the sporting magazines during 1884 or 1885. He was then spending much of his range time with his fellow riflemen at the Bullshead Rifle Club. As a general thing throughout his active shooting career, he took advantage of the abundant opportunities to compete in the local and regional contests and the regular practice club shoots.
On Saturday, June 26, 1886, by then, equally talented and just as equally regarded offhand riflemen Michael Dorrler and William Hayes engaged in an informal one-on-one, 100-shot match on the German target. The contest took place at the Union Hill range. The stakes, a dinner for 24 at Del Monico's, reflected the amiable nature of the mutually friendly contestants. Reportedly, the leading riflemen of New York and vicinity spectated, together with a large number of likewise interested onlookers, most of whom may have had to buy a ticket.
Hayes, of the Newark Rifle Club, shot his trusty .32 caliber muzzleloader (likely false muzzle-equipped) that launched 160 grains of lead. The Zettler Club representative Michael Dorrler used the .38-55 #10 Ballard that he'd owned only two months. The match went on despite extraordinary windy conditions and Dorrler won the match with 2,178 points to Hayes' 2,145. Afterwards, a referee's foul rumblings of "unfairness" and "disadvantage" issued forth in protest. He cited the inequity occasioned by Hayes being outclassed in the wind-bucking direction, owing the properties of the competitor's ammunition. Dorrler reacted by letting the opposition – his friend – off the hook. Initially, Dorrler had consented that the winner could stipulate three other future individual matches. After his concession, he proclaimed that he'd "never again" contest anyone in an individual match. That stance would change.
Ballard used the match results beneficially in a prominent illustrated advertisement under the dramatic banner reading "The Ballard Against the World." Here they asserted that the actual advantage belonged to Dorrler because "he shot a Ballard rifle," and they couldn't resist the sly allusion to Hayes owning three Ballard rifles. Milton Farrow later referred to the Ballard owned by Dorrler and provided these details:

".. specially made 32-inch Remington barrel, .38-55. He uses a paper patched bullet (by himself). He cleans after every shot. Dorrler claims his rifle will place 10 shots in a four-inch circle at 200 yards." While wringing out the new Ballard at the Bullshead Rifle Club's range near Guttenberg, New Jersey on May 8, 1886, Dorrler shot, from rest, a 10-shot, 200-yard group that was contained in a four-inch circle. Three inches held nine of them. The group was remarkable enough that Marlin used a cut of it in a Forest and Stream ad, and also on the cover of their next catalog.
Magazine coverage spanning the late 1880s, and early 1890s, seems to have been a string of insipid match reports bearing Dorrler's scores, and apart from the occasional individual match with a small number of challengers or the challenged, there are big gaps between newsworthy accomplishments.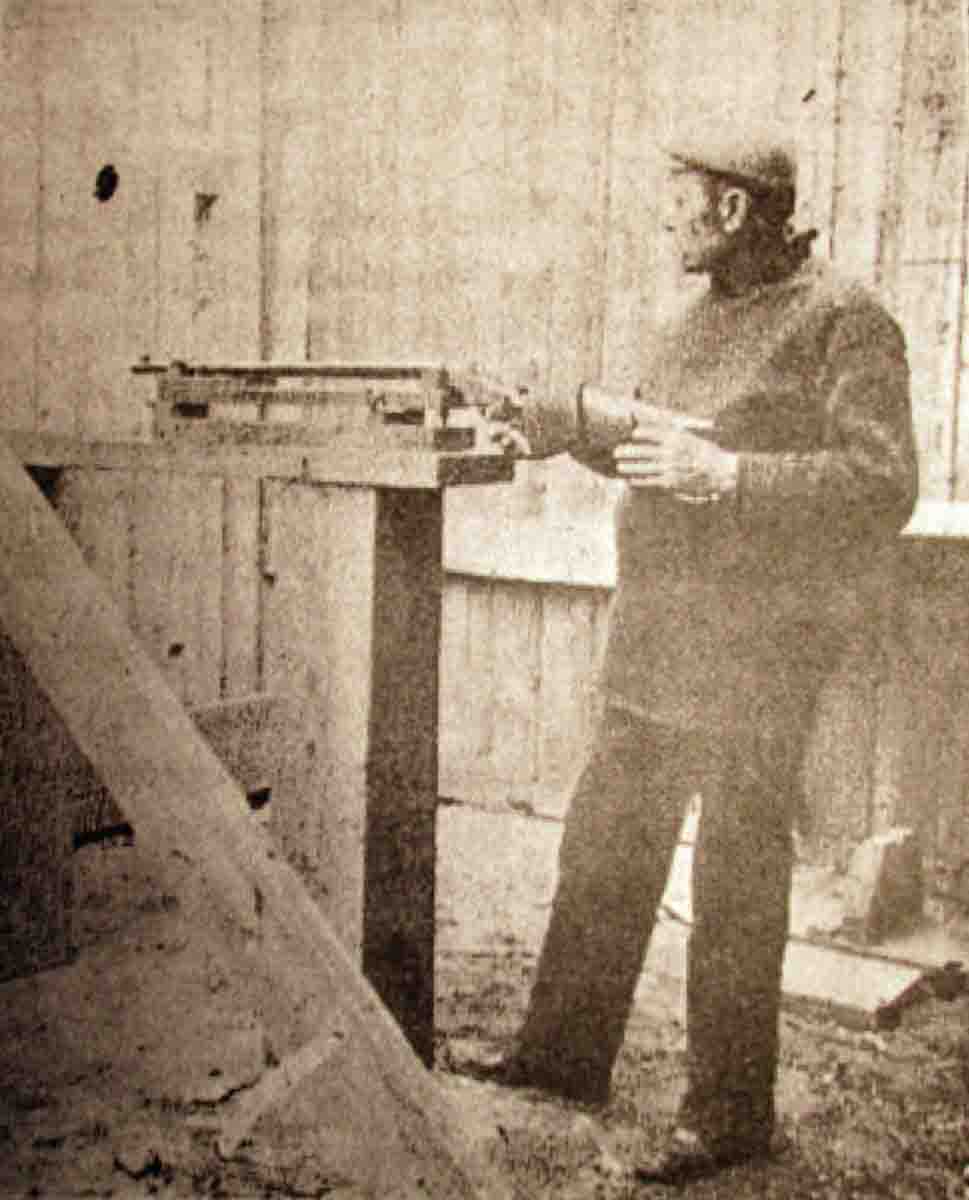 In 1894, Dorrler engaged in an individual match with Fred Ross in April. This match, according to a reporter near the firing line, was "The all-consuming topic in the minds of our local riflemen." On May 13, Dorrler made a three-shot, 75-point "possible" on the German Ring Target at the Williamsburg Corp. Festival. This almost unobtainable possible had been made in California, and now it had crossed the Continental Divide as the first one by an Eastern rifleman. A Forest and Stream columnist continually referred to Dorrler now as "the Old Veteran" and opined that "(Fred) Ross and Dorrler are conceded to be the best shots in the East." To give that judgement greater credence, Dorrler and Ross finished first and second in the second annual gallery tournament at the Greenville Rifle Club in November of 1894. On a more melancholy note, a contemporary used these words to describe Dorrler's physical appearance, "The old champion who never looks healthy."
A radiant example of an 1890s triumph over the odds (a clutch situation involving Michael Dorrler) happened in a gallery match between Dorrler's Greenville Rifle Club and the stronger Empire Rifle Club of New York City. At the close of a tight match, it narrowed to the eighth and last man, to shoot a lofty 243 for the win by a single point. All the pressure was on the "Old Veteran." Behind the lines, bets were being taken and money changing hands. The last shot needed to be a 25 and it was! "Greenville Wins, Dorrler is King, Long Live Dorrler!" his teammates clamored as they carried him out of the building on their shoulders.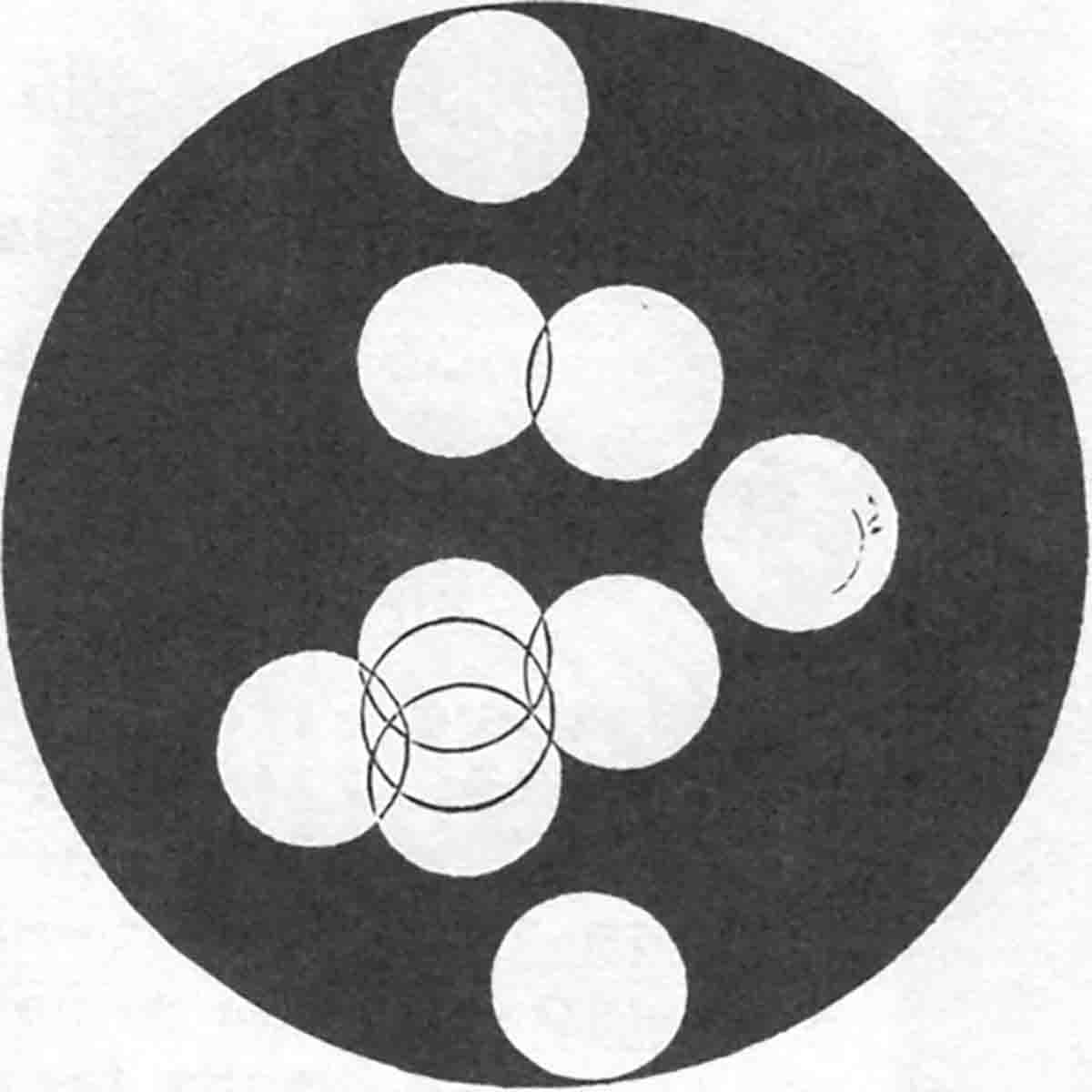 At the first Shooting Bund Tournament (also known as the International Sharpshooters Union) held June 3-8, 1895, at Glendale Park in Brooklyn, Fred Ross won the King Medal and prize with a score of 371. Dorrler was second, just one point behind. At the second meeting of the Bund in 1898, William Hayes put his name on the $100 gold medal in the 200-shot, 200-yard event and took home $50 cash. Second place, again, belonged to Dorrler.
Some 500 riflemen gathered for the 1904 National Schuetzenfest at the Glendale Park grounds on Long Island, New York. They included the best offhand shooters in the country. Dorrler of the Zettler Rifle Club finished his string with 370 points. The King's Medal and the Schuetzen King Crown was awarded to Fred Ross, whose score was one point higher than second place Dorrler's. He was in top form the next year. In February, 1896, Dorrler won the two-day gallery event at Zettler's tunnel range, and F.C. Ross had to be with contented with second. With a 145 x 150 score, Dorrler defeated each of a field of 200 to win an April 25 offhand competition on the German Ring Target.
One of the fixtures on the Eastern rifleman's dance card was the annual Election Day Match, considered to be the contest that determined the Rifle Championship of Greater New York and vicinity. This competition also marked the end of the outdoor Schuetzen season. It drew the best shooters of metropolitan New York City and outlying municipalities. This was a 100-shot, 200-yard offhand affair with a separate prize for the best 10-shot score, and was shot each year on the state Election Day. The inaugural match of 1893 was held with 29 entries at Long Island's Cypress Hills Park. After three years, it was moved to Ambruster's Park at Greenville, New Jersey. For each of the first four years, Fred C. Ross was the winner. Dorrler came in second in 1896. In 1897, Dorrler beat "the man to beat" with a first place score of 2,182.
Fred Ross won again in 1898, and it was uncertain that Dorrler was on the competitor's roster. Dorrler let only one shot slip out of the black at the 1899 contest and won with a new record total of 2,246 points out of a possible 2,500. This score was thought to be a high-water mark for the annual event. Fred Ross finished a distant second. The top three men used cartridges loaded with King's Semi-Smokeless powder, which the powder maker was pushing heavily, and who made good advertising mention of the winner's results.
On November 6, 1900, Dorrler put up the phenomenal score of 2,257 points on the German Ring Target and beat an assembly of the best rifle shots in the East to win his third and final Election Day Match. This was the highest score ever recorded on the ring target in any country, and erased the record of William Hayes which had stood for 15 years. He was awarded two medals, the first place prize from King's Powder Company and another from the Peters Cartridge Company. Fred Ross came in second with 2,243, which would have won 99 Schuetzen contests out of a 100. Walter Hudson's 2,210 earned him third place.
After the 1901 match, the Shooting and Fishing staff writer, who dubbed Dorrler "the veteran rifleman" wrote: "Dorrler's magnificent record of last year (2,257) was not surpassed, nor was his score of 1899." Dorrler did not compete, and was not resting on his laurels. He offered as an explanation that, "…he had no intention to shoot and intended to hang his rifle on the wall for some time at least." Fred Ross finished first that year, followed by W.G. Hudson.
Records are made to be broken, and in the 1903 Election Day Match, Dr. Hudson won with a 2,301, a score that was considered to be beyond reasonable grasp. A week later, Dorrler showed up at a lesser match with a .38-55 Winchester rifle "fitted with a false muzzle and bullet starter made by himself." At the time, he hadn't yet worked all of the bugs out of the misbehaving gun.
With the relaxation of the rules regarding rifle telescopes, the swing was to scope sights. Resistant at first, Dorrler converted in 1904, and showed up at the Election Day event with a Stevens-Pope-Ballard .32-40 with a scope attached. He didn't like the light of opening morning and failed to complete the score he'd started. When the 1905 Election Day Match was held at Zettlers, 22 of the top "cracks" in New England came to the line. The best knew who they were and turned out. The "also rans" were likewise aware and stayed home. With his Remington Hepburn Schuetzen .38-55 using his smokeless powder handloads and the new Ideal 375272 bullet, Walter Hudson won. Dorrler came in fourth with a 2,259, behind French and Pope.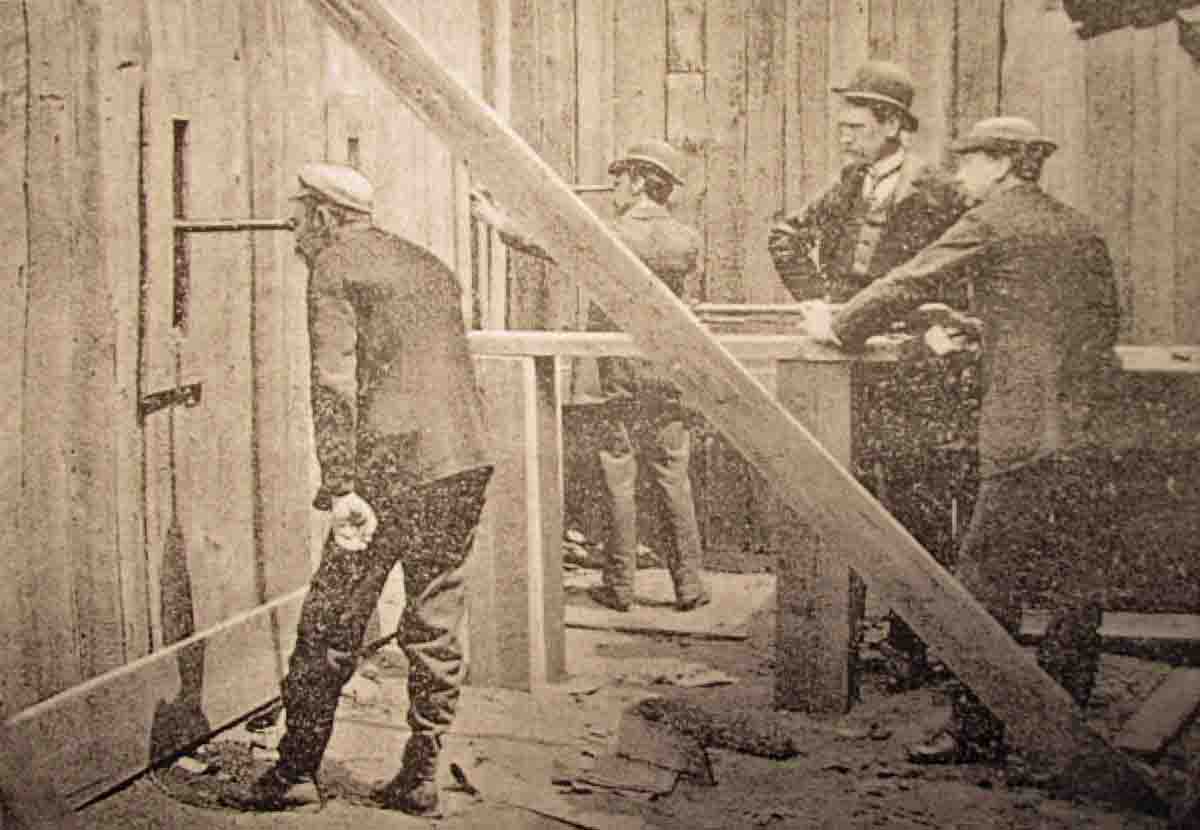 By 1906, the Election Day match had gathered enough attention that many clubs had a counterpart event under consideration. Armbruster's Park in Greenville, New Jersey, was now hosting the popular match; that year A. Hubalek took first place. Dorrler was there shooting a Stevens .33-40 muzzle loaded, with a 30-inch barrel fitted with a three-power scope having a pinhead reticle. This was a development of F.L. Smith, Stevens optics expert, for the throwbacks such as Dorrler that were weaned on a pinhead and were slow to adjust to the new crosswire.
The match of November 1909, in keeping with the new format of the publishing powers, merited only two columns after the National Guard goings-on were attended to. Fred Ross again was the winner, a full 18 points ahead of Dr. Hudson. Dorrler attended the 1910 meeting, finishing in 27th position. Predictably, Walter Hudson won the 18th Election Day Match in November of 1911, Hubalek was second. Arms and The Man, with their new and misplaced military focus, failed to report any but the top eight places in their ultra-abbreviated reportage of this once popular event. Michael Dorrler left few inky footprints in the 1912 sporting pages except for his unexpectedly good showing at the Annual Indoor Championship matches in March. He won the Zimmerman trophy and tied for third in the Bullseye match. Arms and The Man, was relying upon their advertisers to give the results of civilian matches.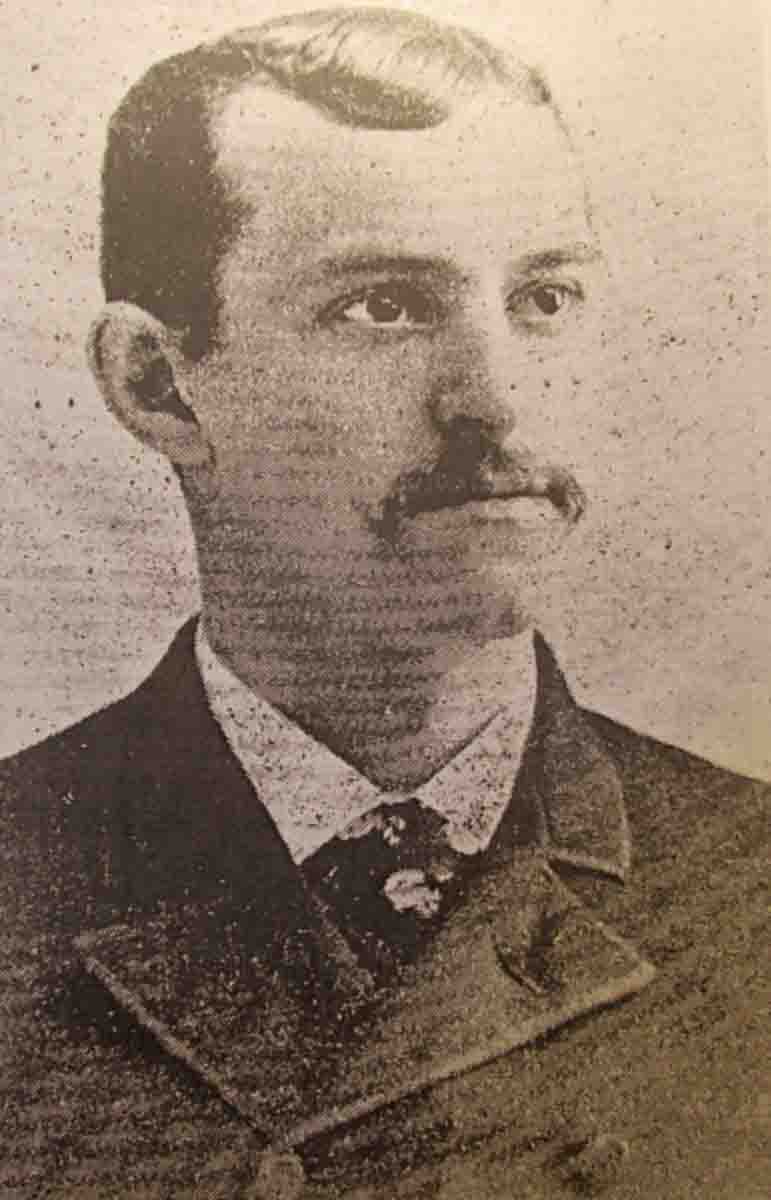 The American Record Match, originated with W.H. French, was hoped to become an annual Schuetzen event. The first 100-shot match was fired on February 22, 1905, at Ambruster's Park. Dr. Hudson and his Remington-Walker .38-55 took first place. Dorrler came in fifth behind the usual front-runners. It was observed and reported that Dorrler was not in his usual good form; stress due to work was the suspected cause. Dorrler was running his own bindery business, "Dorrler Bindery," during this time. Dr. Hudson was out of town for the 1906 contest and his absence occasioned a rearrangement in the winner's list. W.H. French won his own match, young Arthur Hubalek finished second, with Dorrler, shooting his .33-40 Stevens, a very close third.
The most important gallery tournaments of the era were those shot at the annual National Sportsman's Show/Exposition held at the Madison Square Garden. This was the "Gay 90s" version of the SHOT Show. These contests were known as the Indoor Rifle Championship of the United States, and its winner each year was regarded exactly that way. Conditions called for 100 shots offhand at the ¾-inch German/American Ring Target, reduced in size for the range. A score of 2,500 was possible. Ranges varied somewhat but the earliest were shot at 100 feet. The first Sportsman's Expo was in 1895, but the match wasn't added until two years later. The first event, said to have taken place on the roof of the Madison Square Garden building, was held March 18-20, 1897. Michael Dorrler came in first place with a record score of 2,421. Fred Ross placed second, a whopping 38 points behind Dorrler. First prize was $20 cash plus a "deluxe" Winchester Schuetzen rifle. He also collected a handsome bronze trophy donated by Gus Zimmerman. Dorrler also won the "Bullseye" prize for most center shots, which carried a $20 prize together with the bragging rights.
The sporting press gushed excitement and praise. Forest and Stream heralded the inaugural Indoor Rifle Championship as "Mike Dorrler's Tournament." A lot of printer's ink was devoted to the win, and to the winner now dubbed as "the veteran Jerseyman." It was the sort of ending that was talked about for years thereafter, not just regionally, but as a national sporting headline. The win was a credential that the press kept fresh for Dorrler for a good number of years. They regarded it as one of the great, if not now forgotten, feats in the history of Schuetzen riflery.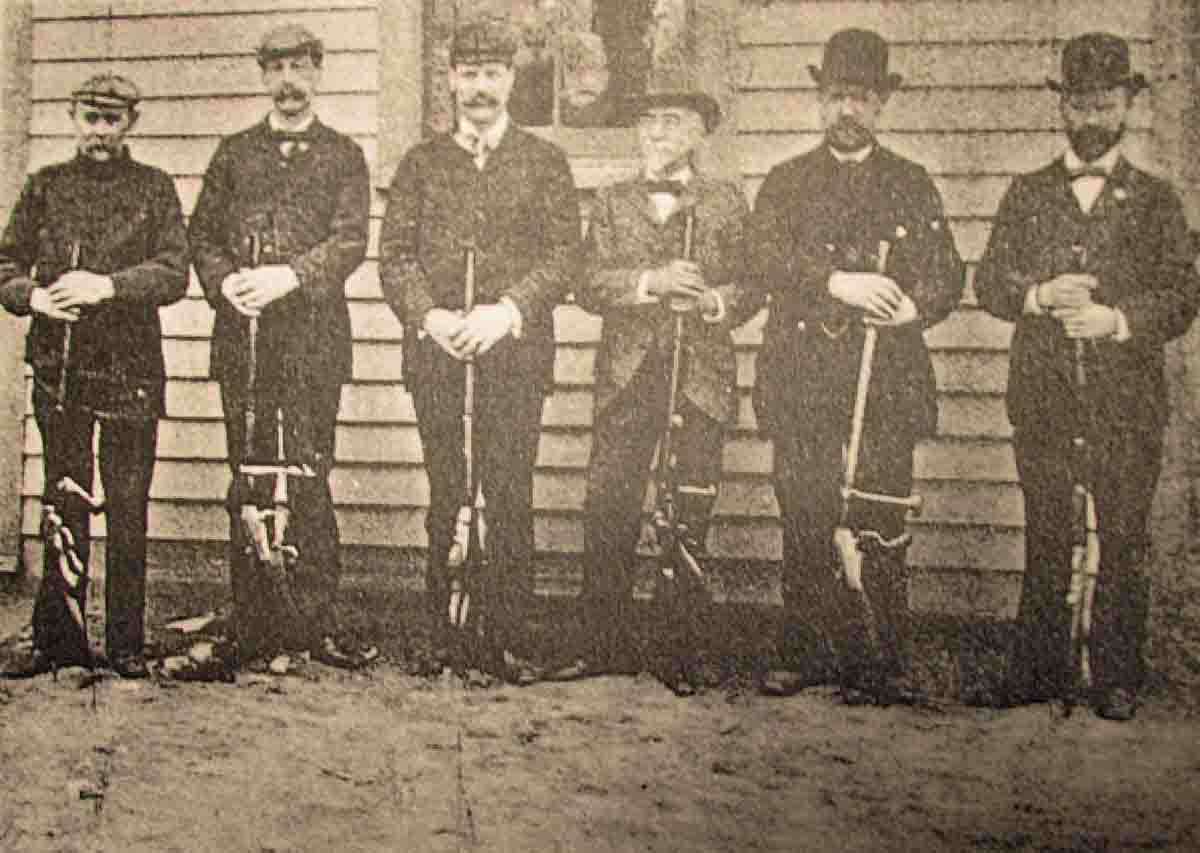 Dorrler used a Stevens Ideal rifle chambered in .22 Short and shot the almost universally-used Peters brand of Shorts. A third of a page Stevens ad matched the exuberance shown by the press – "Stevens Rifle Victorious" as it was accustomed to being able to express. The necessary illustration of the rifle was also included together with Dorrler's obligatory testimonial: "This rifle is the finest I have ever owned." Word of Dorrler's achievement made the news at the Shell Mound district of the world that Dorrler would visit them soon. A second rumor foretold that he would travel to the land of his birthplace and take part in the great Schuetzenbund that summer. Neither came to pass.
In 1903, the Sportsman's Expo at Madison Square Garden was discontinued. The Zettler brothers revived the Annual Gallery Indoor Rifle Tournament and conducted the event at their indoor tunnel ranges in metropolitan New York City, where it seemed to have lost some of its luster in the transition. Like the annual Election Day Match, the annual Gallery Indoor Rifle Tournament was preserved as an awaited fixture for the riflemen of New York. In 1903, Dorrler won with a score of 2,432. Hudson and Pope finished second and third.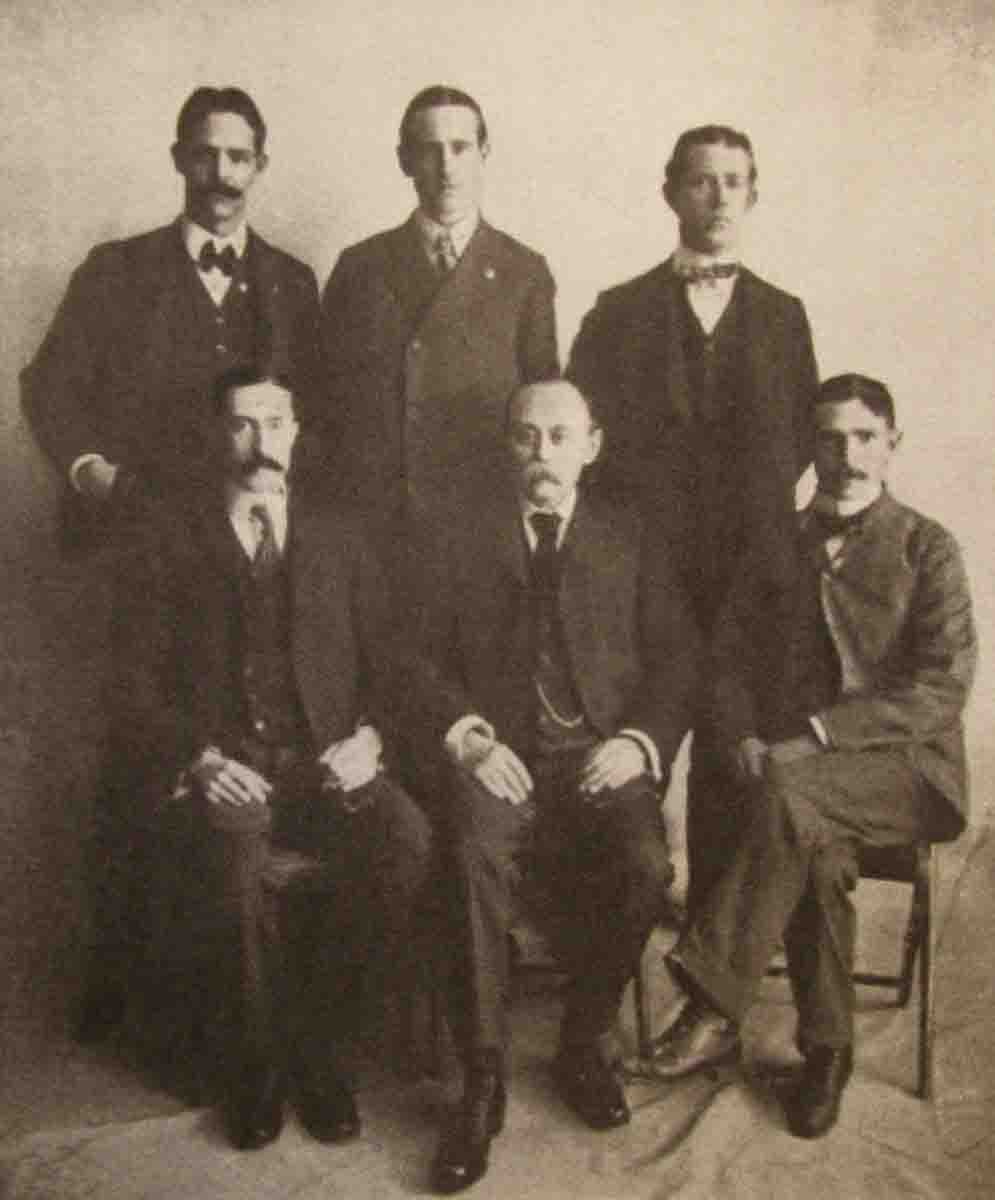 The Shooting and Fishing reporter hit the nail on the head when he wrote: "The men who were present and took part in this year's (1904) contest were the best and most expert marksmen." Louis Buss of Brooklyn took first place, Louis P. Ittel won the Zimmerman trophy and a Stevens' rifle as his prize. Dorrler had to be contented with 12th place. Dorrler's whereabouts in recent days had been a mystery and one of his teammates quipped when they saw him the following week: "like the woodchuck, Michael came out to look for his shadow." Dorrler delivered the news that "he was out of it for the time being." As the 1904 Gallery season wore down in April, Bill Tewes had tied Dorrler's club record of 2,460 and very soon bettered the Old Veteran's score for a new record.
At the March 1906 Zettler Annual Gallery Tournament, two Steven's Schuetzen rifles and one donated by Winchester were among the prizes worth winning. Dorrler didn't take any of them home, but finished in the top 10. The Zettler Rifle Club hosted its 32nd annual tournament at Union Hill on October 3-4, 1906. Dorrler was there to celebrate his 31st year as a Schuetzen rifleman, and to finish a paltry three points out of first place. Annie Dorrler participated in the short-range Ladies Match; she was a good sport.
George W. Plaisted covered events for Shooting and Fishing, and looked forward to encountering Dorrler at a Greenville shoot in the spring of 1906. His regret for failing to do so found its way into print; "I was very much disappointed in not meeting the veteran Mr. Dorrler on the range, for in the past any group of riflemen on the Greenville range without the old War Horse in it is not complete." Among his club mates and circle of cronies he was regarded as another good sport, proven to be one that would sit still for a good-natured ribbing at his expense. Dorrler himself laughed off the discovery that his friends had once inked his bald head as a message board as he napped during a break in a match.
The weeklong rite of March for 1908, had almost every competitor taking advantage of the telescopic sight. This included the one on Dorrler's Stevens-Pope rifle. He failed to make the top 10 that year. Bill Tewes won the 1909 Zettler indoor match with a record 2,470, partly because Hudson wasn't there. Starting to lose his touch, Dorrler shot a 2,420. In 1910, the yearly March Indoor Gallery contest at Zettlers was still a significant aspect of the gallery competitor's calendar. It remained so for Arthur Hubalek, Dr. Hudson, and H.M. Pope, who finished in that order. Dorrler, now 60 years old, was 14th.
The National Rifle Association's (NRA) publication, Arms and The Man, carried no mention of the 20th Annual Individual Rifle Championship at Zettler's, held March 15-22, 1913. They didn't have to. The full-page advertisement taken out by Remington-UMC listed the winners of the competition using their cartridges and did the publisher's job. Peters Cartridge Co.'s half-page advertisement covered most of the remainder of the high scorers, together with their scores. Making sure no one was left out, Winchester's advertisement listed all of the top-flight competitors using their telescopic rifle scopes. Hubalek won, second was Hudson. No advertisement included the name "Dorrler."
After the match, a number of old-timers congregated at the rear of the range, enjoying a long laugh-filled session rehashing their glory days. Dorrler became noticeably disillusioned and lamented that he'd become an "old has-been," and was quite through with shooting. An encouraging spoof by his contemporaries helped him out of his funk. The word spread that Dorrler had an upsetting experience, one that caused him to arrive at a decision. In a knee-jerk impulsive reaction, Dorrler immediately placed an advertisement in Arms and The Man to sell his rifles and shooting kit, including his .33 caliber Stevens-Pope with extra barrel and his Stevens gallery rifle with extra barrels. The reason for selling was given as "retirement from the shooting game." There were no takers. Sometime later and apparently still serious, he broadcast that he would now "sell chances" on the package. Eventually it was revealed that Dorrler had been talking of selling his outfit for 20 years. Thirty-five chances were sold, and the ticket held by Frank Kahrs, the affable Remington-UMC representative, was drawn from the hat.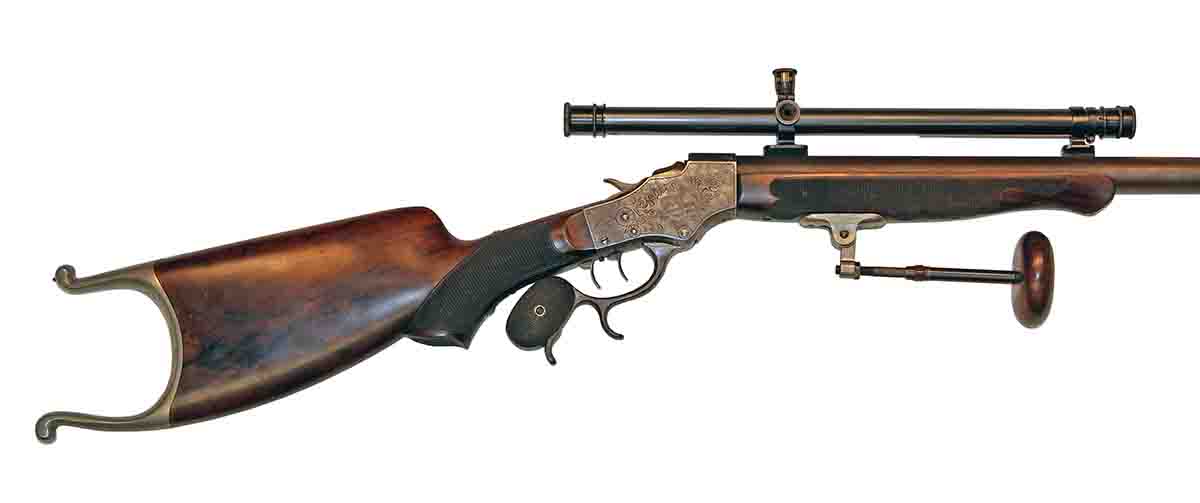 The 1915 Gallery contest didn't draw the attention it once did. Since 1910, Hudson and Hubalek had been the top two. It was Hudson's turn to win, which he did by a point. Competitors numbered 45, down 18 from the year before. Dorrler's edge continued to dull, but he persevered. His finish in 27th place was still ahead of the pack.
The 20th run of the event was held March 12-18, 1916, at Zettler's 23rd Street gallery. "Old Man" Dorrler, still keeping his hand in the game, was counted among the competitors that failed to make the winners list.
Al Blanco ably covered the yearly March Indoor Gallery Championship of 1917. There was a gathering of the old timers. Blanco had this to say about a genuine personality: "There was the venerable Mike Dorrler, without whom a Zettler shoot could hardly be called a success." Dorrler, proving that at 67 he still had it, came in 17th in the 100-shot match and won the "Bullseye" match.
There was no longer Election Day Match coverage in Arms and The Man or Forest and Stream.
Dorrler showed up at the 22nd Annual Indoor Gallery Championship in March of 1918, after being idle for a long stretch of time. In the "Bullseye" event portion of the match, earlier in the week, he'd put up a score good enough to win 6th place. In the main 100-shot event, (which Hubalek won with a remarkable 2,476 out of 2,500) the record indicates Dorrler entered and withdrew without finishing.
The grand "Old Veteran," who'd lived through the entire span of the glory days of Schuetzen shooting, died later in 1918. For the last century, Michael Dorrler, as a personality and a standout has mostly gone unconsidered, dwarfed and obscured in the shadow of Walter Hudson and Harry Pope. It's about time he got his due. - Jim Foral