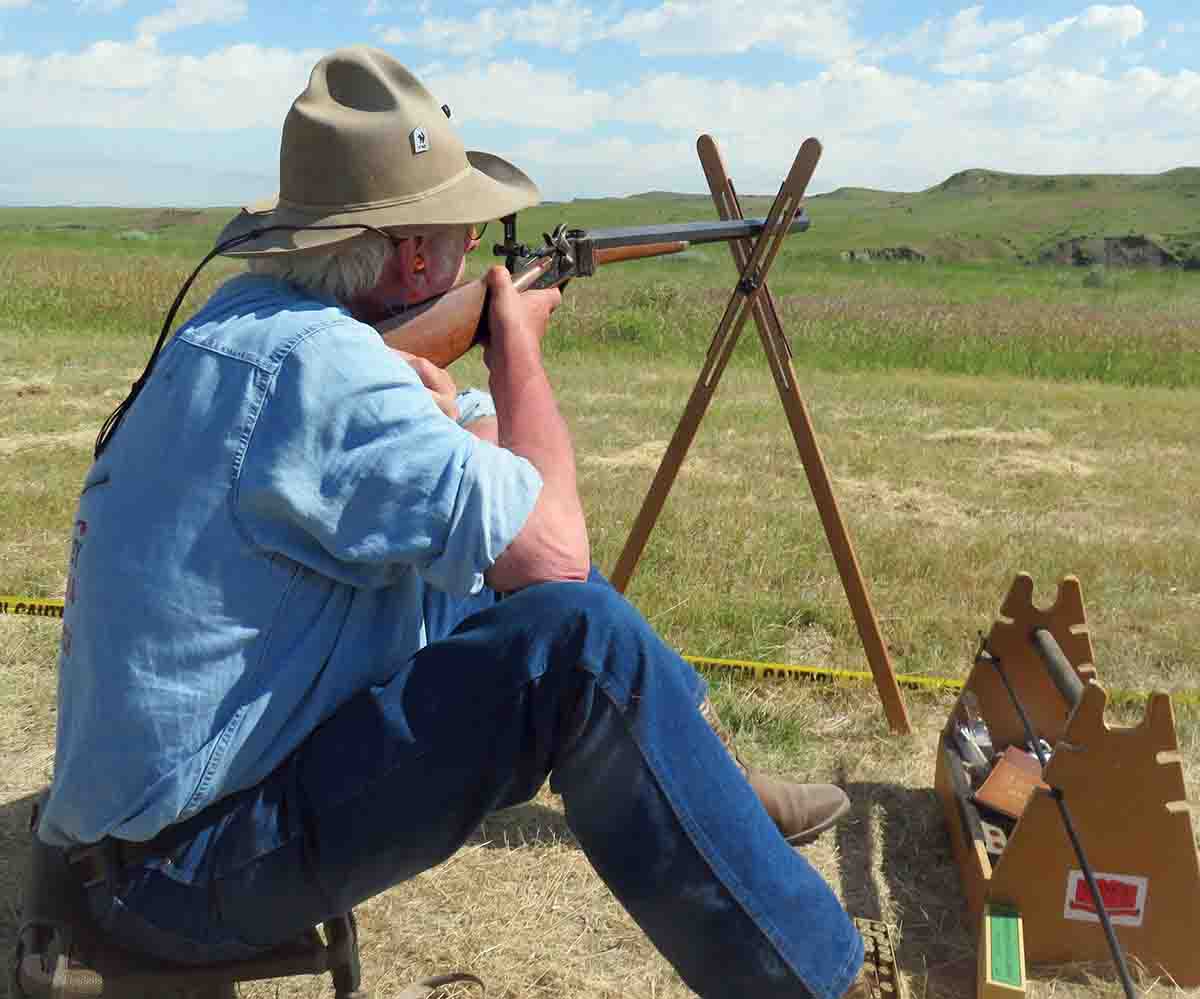 For the past few months, I've been using some of Cat's Shooting Sticks and now I feel prepared to offer you a good review of these shooting accessories. Even before using these cross-sticks, I was quite impressed with their workmanship. Both sets I reviewed are made of strong oak and are 48 inches long. That makes them designed for shooting from the sitting position and they are long enough for me to use while seated on a low "turkey hunter's" stool. We could say that one of these sets of sticks is a bit more deluxe than the other, while the plainer set is more straightforward. Both sets are truly excellent.
The first set I tried were the "Spiked Sticks" which are drilled to accept heavy nails (with heads removed) and can be stuck into the ground. The "Spiked Sticks" have leather strips glued to the sides of the sticks so the rifle's barrel is not resting directly on the wood. This set also has plastic knobs on the pivot or adjustment bolt.
It took me only one trip to the range where I did some shooting across the set of Spiked Sticks to really like them. One feature I instantly enjoyed was the adjustment for height. With regular cross-sticks if you need to adjust your height, you usually need to reset the sticks. But while using Cat's Shooting Sticks, the shooter can just lean forward, loosen the pivot and adjust the pivot bolt up or down as needed and then retighten it. The change in height is done as simple as that. The height adjustment has never slipped while I've been using these sticks, even with a 15-pound Sharps rifle.
My first use with the Spiked Sticks was in hard, gravelly ground, tapping the sticks down with light blows of a hatchet used as a mallet. Those sticks stayed put and my shooting went very well. Just recently I used the same set of sticks at the Quigley Buffalo Rifle Match where the spikes could be pushed into the clay soil and, again, they stayed very rigid. I have also used these cross-sticks with muzzle loading rifles where the targets showed that the sticks worked very well. The Spiked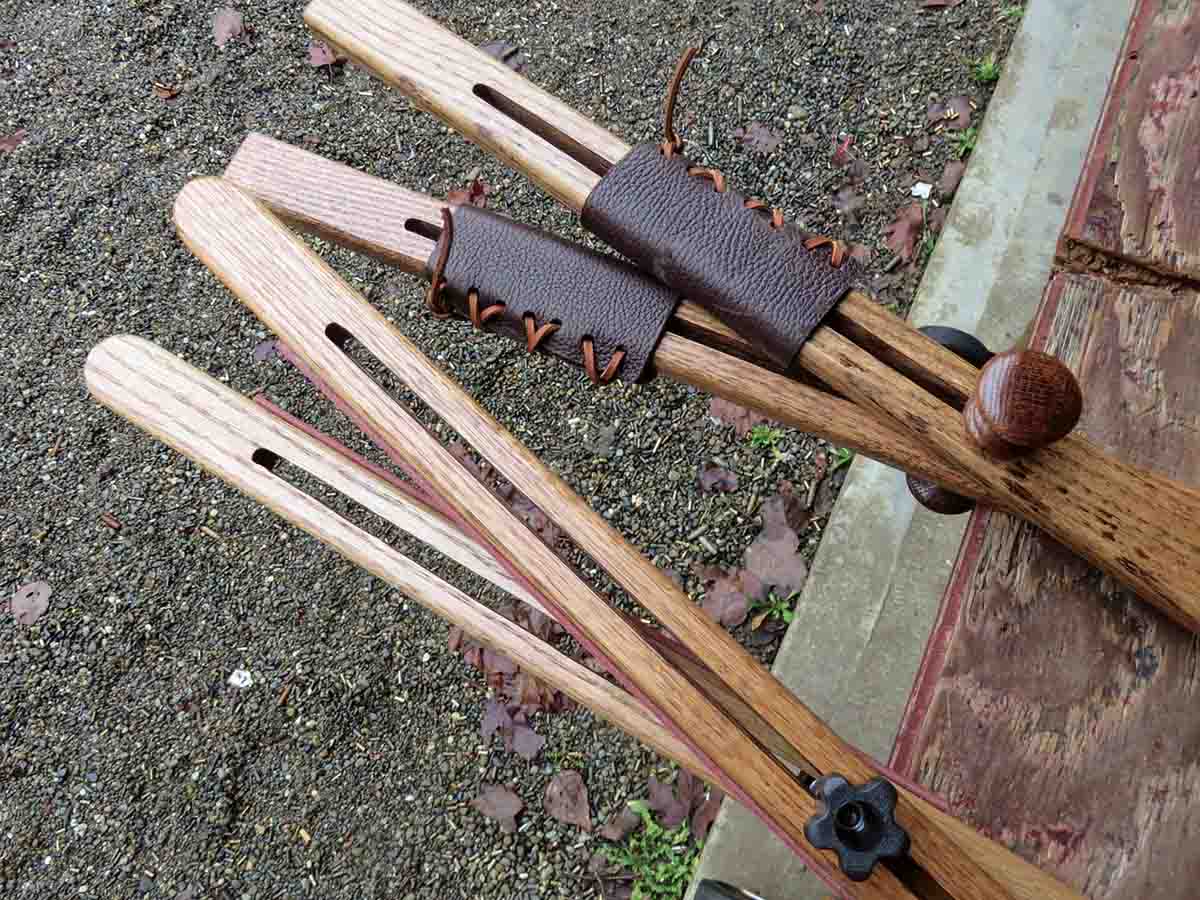 The deluxe sticks with the pinned steel blades were also tried, and I used them in an area where the ground was more of a grassy sod. The sticks were simply pushed into the ground, yet they remained solidly upright, easily supporting the weight of the rifle. These deluxe sticks also have sliding leather "sleeves" that offer greater padding and better protection for the rifle's barrel. This set of sticks also features wooden oak knobs on the pivot bolt, which do look better than the plastic knobs. The "Pinned Steel Blade Sticks" are priced at $86 plus shipping. I used this set of sticks while shooting in a silhouette match and they performed flawlessly.
If I was "pinned down" and had to choose which set of Cat's Shooting Sticks I personally like the most, I'd quickly admit that my favorites are the Spiked Sticks. I found those to be quicker to use and easier to adjust. One thing that makes them easier to use is the glued leather strips in place of the sliding leather sleeves. Those sleeves seem to get in the way while making height adjustments and need to be held out of the way when tightening the knobs on the pivot bolt. Maybe I'm just uncoordinated but I do find the Spiked Sticks easier to use, which lets me get back on target quicker.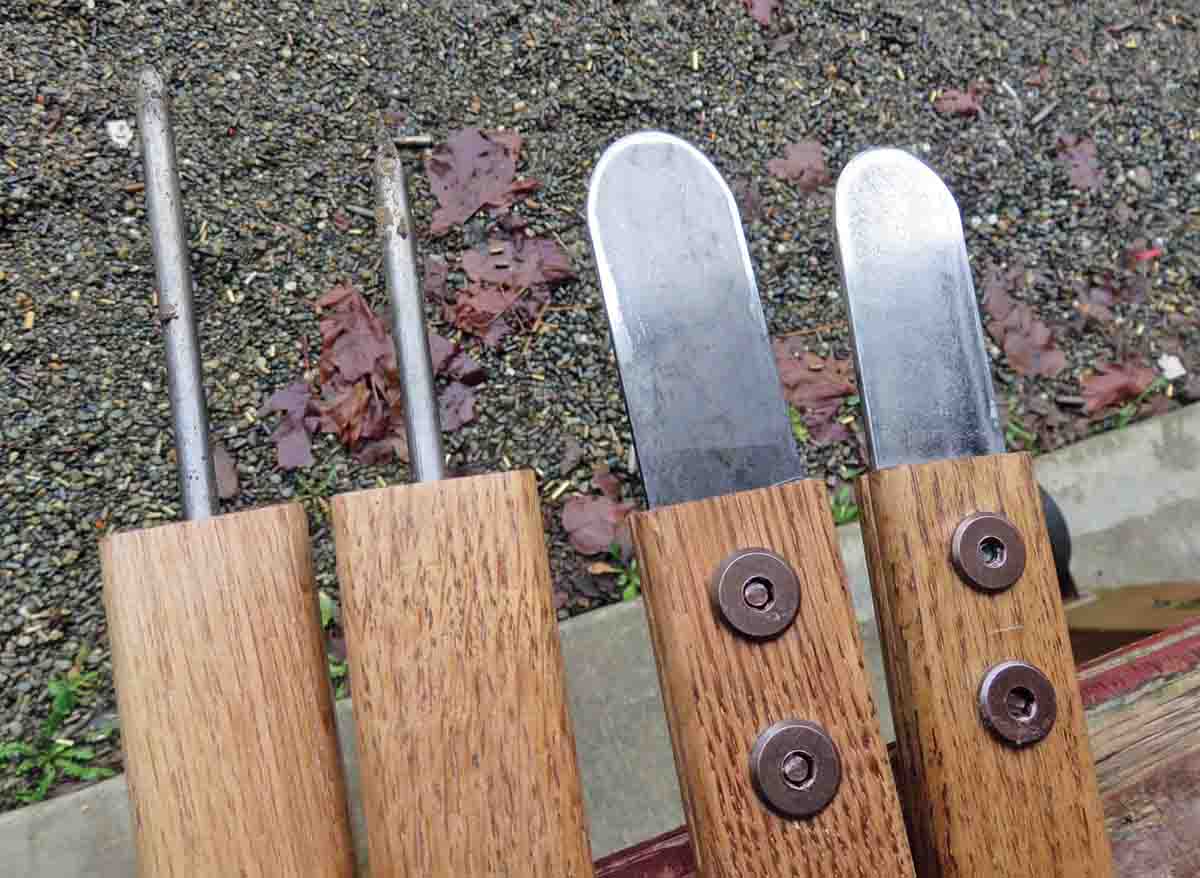 Cat's Shooting Sticks is a great place to get cross-sticks for prone shooting as well as for bench shooting. Those, along with the sticks for sitting/kneeling, are the company's most popular products. They also offer several different accessories which are handcrafted for shooters by shooters, most of which are manufactured right in their home workshop. Everything is ready for immediate delivery, except the shooting stools, which are only made when ordered. Custom orders are welcome and if one wishes something unique, they're always open for suggestions. As an example, those sliding leather sleeves are available separately.
Contact Cat's Shooting Sticks by visting catshootingsticks.com, emailing them at cat1870cas@yahoo.com or calling (435) 590-7983 or send mail, 1020 S 4375 W, Cedar City, Utah 84720. Buffalo Arms (buffaloarms.com) also carries their products.
Springfield Trapdoor Marksman Rifle Front Sight

The Springfield Trapdoor Marksman Rifle Front Sight is a very rare and unique front sight. Freeman R. Bull and his brother, Milan, while employed in the Model Shop at the Springfield Armory, were responsible for designing and manufacturing not only this Marksman rifle front sight, but also the rear barrel sight and the special windage-adjustable tang sight of the Marksman rifles. They also adapted various Sharps Rifle Co. sights to the Long Range Springfield Trapdoor rifles and Officer's Model rifles. In addition to this, they manufactured the windage-adjustable Bull rear barrel sight that is sometimes found on the Long Range and various Officer's Model Trapdoors.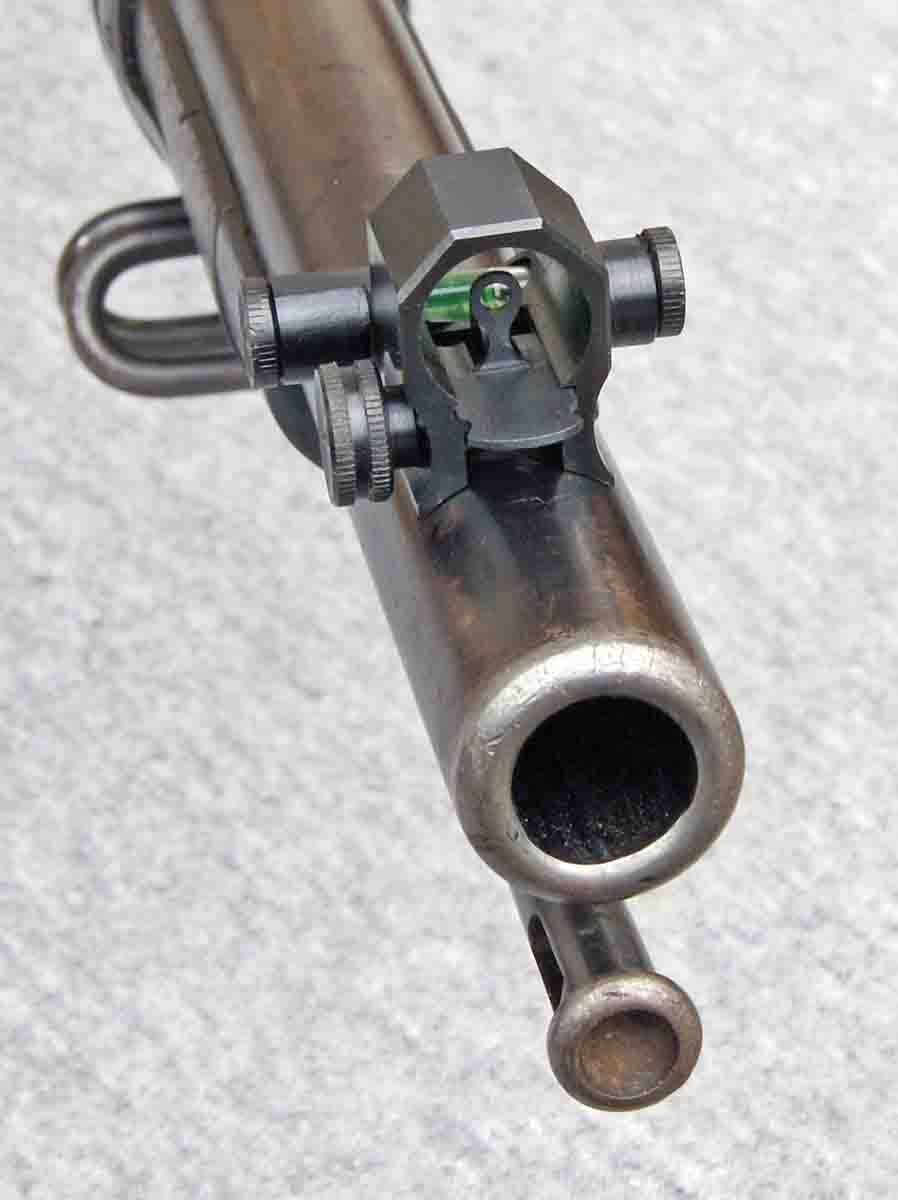 Pat Dulin of C. Sharps Arms Co., Inc. has made available a CNC-machined reproduction of this Marksman Rifle Front Sight based on drawings by Tony Daum. Mr. Daum's drawings are based on examination and measurements of the Marksman rifle presented to Lt. R.C. Van Vliet of the Army Division of the Atlantic for his performance during the matches held on November 17, 1881.
What makes the Marksman rifle front sight so unique is the method of attachment to the existing front sight stud on either the Marksman rifle or a standard infantry rifle. A very minor and inconspicuous alteration to the front sight stud consists of a 6- to 7-degree taper cut on the back of the stud and a .120-inch diameter cut to the front of the stud for the thumbscrew. This allows the Marksman rifle front sight to simply slide over the stud and lock in place with the thumbscrew. On my infantry rifle, in combination with the original rear barrel sight, I can use either the aperture clip sight or the standard post without having to remove the globe sight assembly. To alternate between the aperture and the post, I simply remove the aperture clip from the sight. To remove the entire Marksman sight assembly requires only a twist of the screw and the entire globe assembly lifts off the barrel and the standard front sight is available to use with the standard rear barrel sight. To use the Marksman rifle front sight on a barrel with a dovetail, all you need to do is make an insert that fits the dovetail and the internal dimensions of the front sight. For optimal fit, Pat will need to know the barrel dimensions and taper of your barrel.
For additional information and pricing, email C. Sharps Arms, at info@csharpsarms.com or call (406) 932-4353 or write PO Box 885, Big Timber, Montana 59011. - Leo J. Remiger
Roberson Cartridge Company New Brass Cases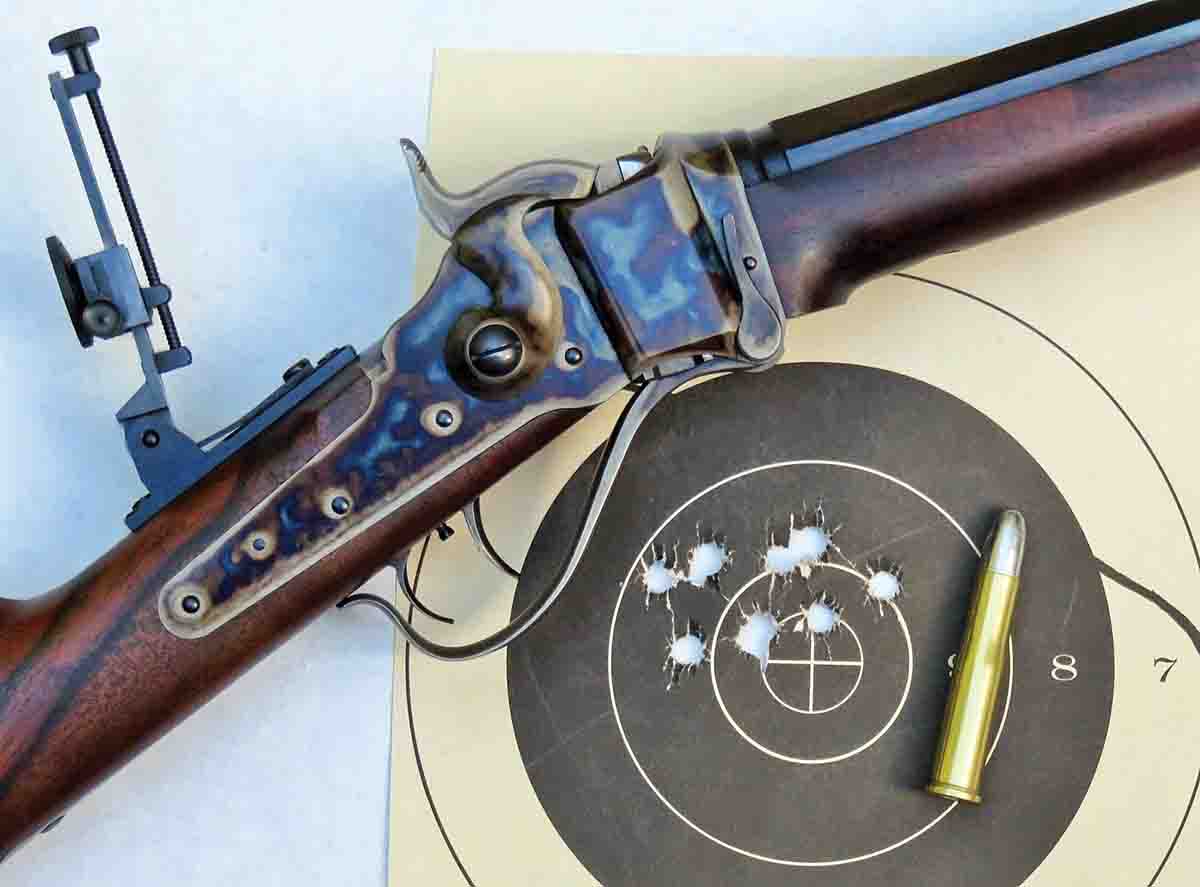 Roberson Cartridge Company is a "new kid on the block" as far as making brass cartridge cases goes, but the company is going for it in a very big way. They have a lineup of cases, available or soon-to-be available, for a long list of calibers. Some of those calibers are going to be very welcome by black powder shooters and handloaders. I'm saying that ahead of time because I just received some of the company's brass for the .44-77 and for the .44-90, and from what I see, I'm already impressed.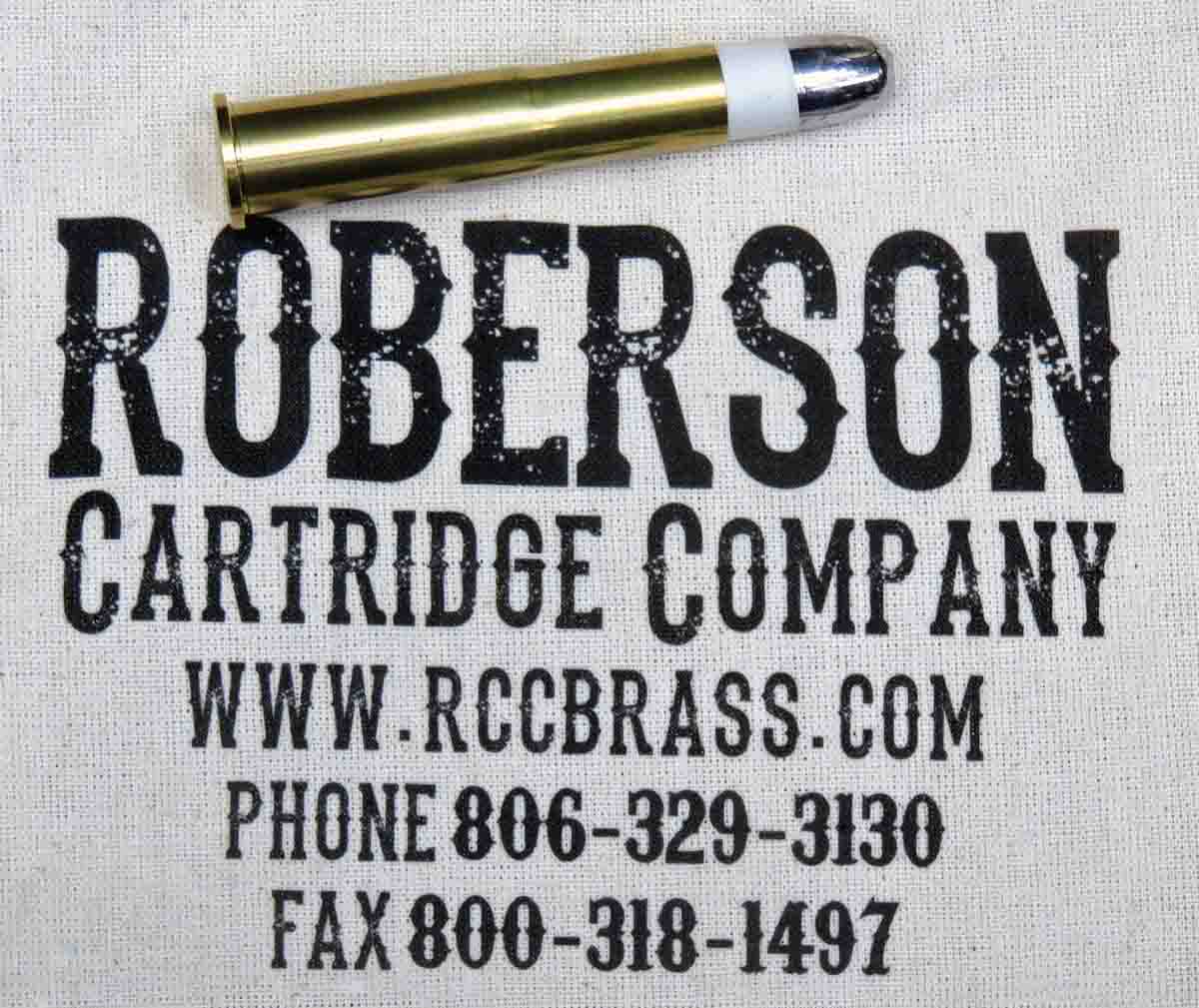 The .44-77 brass got my attention first. Ten cartridge cases came in a white cotton drawstring bag with "Roberson Cartridge Company" stenciled on the front. My first step was to measure the thickness of the rims with a micrometer, which came out at .070 inch, just slightly thinner than the Jamison brass that I'm already using. Next, just so there would be no surprises farther down the trail, I chambered a couple of the new empty cases in my C. Sharps Arms rifle. No problems there.
One of the new empty .44-77 cases was weighed and it balanced the scale at 217.5 grains. An unfired Jamison case was also weighed just for comparison and it was 4 grains heavier, 221.5 grains. Please note, those were not average weights, only the weights of the two individual cases. Both were selected at random. Actually, they were pretty close.
Following that, the new cases were all run through my RCBS sizing die just to make sure. Then they were checked for length in my file trim die. Again, no problems, they all "measured up" very nicely. Next, they were expanded and primed. The primer pockets seemed to be just a little tight, guessing from how the primers popped in, but again, no problems.
That first loading was somewhat similar to the original Sharps load for the .44-2¼ case using 71 grains of Olde Eynsford 1½ Fg. That powder, plus an .060-inch Walters wad, went under a 415-grain bullet cast from my favorite Brooks "Tru-Bore" mould. For ignition, CCI large rifle magnum primers were used. For a starting load, that should be pretty good (I've used that load before) and it would be tried at just 50 yards.
Those fired just fine, as should be expected, then they were resized and check for length – no stretching. For the second load, the same Brooks bullet was used over 72 grains of Olde Eynsford FFg which increases the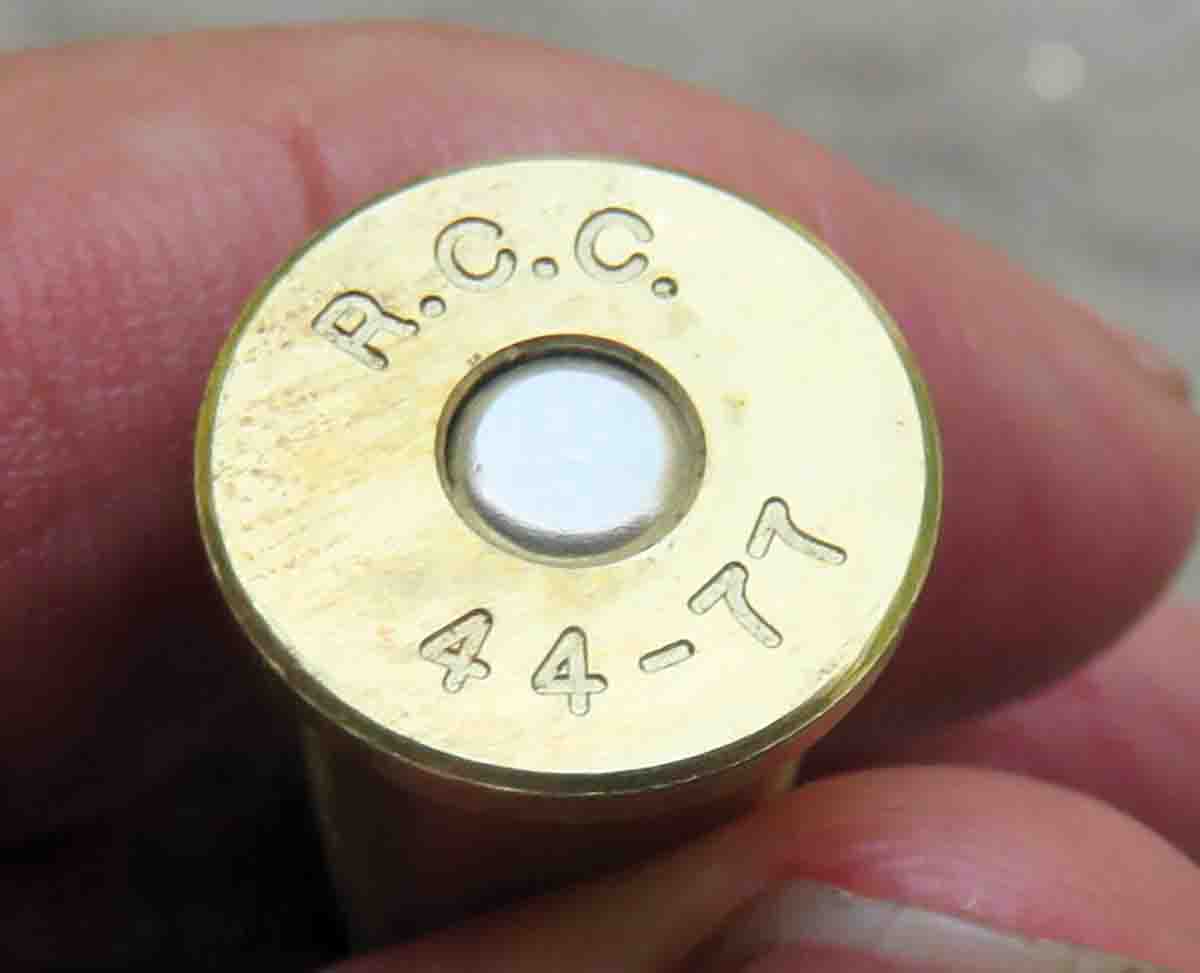 pressure. Again, no stretching of the cases was detected.
After the second firing, the case necks were annealed. That made a real difference in the sizing and expanding of the cases as well as the seating of the bullets – much nicer. The third handload was taken to the range and fired for a group, which was very good while still shooting at just 50 yards and with a blade front sight.
Now those cases have been fired four times and loaded five times with still no sign of any stretching. I talked with Jeff Roberson about that and he gave me some interesting information about the brass used for its cases. Jeff said, "When we got into this business we discovered that most drawn brass has a small percentage of lead in it so that it doesn't get too hard during the draw process. Normally, it is annealed after each draw and during the production cycle cases will be annealed 4-6 times depending on the caliber being manufactured. Typically, when the cylinder is formed it goes through 4 draws and is annealed each time. The annealing alters the molecular structure of the brass and most manufacturers allow the brass to cool at room temperature. So, we've discovered this will allow for variances in the case head hardness and allows for higher percentage of failure in the primer pocket after a few firings.
"We had C2600 (70 percent copper and 30 percent zinc) made into rod for us. It is hammer forged into a tight molecular structure and that gives us better head strength and longer life span under normal pressures. I think SAAMI's top pressure is 65,000 psi, but it could be more. Then we had 15 percent malleability designed into the brass for expansion and contraction and that gives us some really good brass. Black powder shooters should get a lot of reloads per case. We've tested our brass with a .40-90 Sharps and put 100 rounds through one case without any issues."
Jeff went on to say, "Our method is unique in that we use CNC lathes and mills to manufacture our cases versus a draw process. This allows us to manufacture low volume runs of a lot of different calibers. Our business model is to manufacture low volume runs of vintage, obsolete, hard to find and wildcat calibers for customers."
I'm not going try shooting these cases 100 times before finishing this report. Besides, I'm already very pleased with the Roberson cases. Compared to other brass cartridge cases, the Roberson brass is more costly. These .44-77 cases are priced at $7.51 each, but Roberson has a very wide list of available cartridge cases and some of them have optional headstamps. Custom headstamps are also available. Visit rccbrass.com to see what they have to offer or call (806) 329-3130. I sure have been impressed with the .44-77s and now I'll give the .44-90s a good try. Mike Nesbitt
Enviroclean FA Ogre Manufacturing
We have been using this firearms cleaning product from Ogre Manufac-turing for several weeks now and would like to give a few impressions of this new, environmentally-safe gun cleaner.
First off, I have to admit that as time goes along I have become more and more aware of my cavalier attitude towards using cleaning solvents. This, especially after a mechanic friend of mine has been diagnosed with

liver problems related directly to his use of harsh cleaning solvents in his auto shop. It really gave him a wake-up call and he now wears latex gloves for nearly all of his mechanic work, especially when working with grease and solvents. In my own gun work I have in the past never bothered with any kind of protection and I think that has been a serious mistake. I now wear latex gloves when using solvents to clean firearms and feel better for it.
That brings us to Enviroclean FA from Ogre Manufacturing. John Thompson, founder of Ogre, who
is a chemist by trade and a "gun guy" by inclination, decided that there had to be a better way to clean firearms than with potentially toxic chemicals. He developed Enviroclean FA to address that problem. Enviroclean FA is a biodegradable cleaner and is classed as "non-hazardous" by DOT while also having a high flashpoint (greater than 200 degrees Fahrenheit). This makes it significantly safer to use than acetone, isopropyl alcohol or xylene.
But does it work? Yes, I found it to work as well as many other cleaners at removing carbon fouling and black powder fouling, the two major things that we as black powder shooters want to remove from gun barrels. After running several wet patches through the bore and leaving it for a few minutes, I simply wipe it dry with clean patches and that has handled very well the fouling that I typically incur. I typically do not use brushes when cleaning, but one may need to when dealing with copper jacket fouling. Although it is billed as also being a lubricant, I still use a good grade of gun oil to protect the bore after cleaning with Enviroclean.
I am appreciating using a solvent that doesn't have noxious fumes as well. I liked the smell of the old Hoppes No. 9 as well as anyone, but some of the new cleaners really have a sharp chemical smell. It's not too bad if you are outdoors, but inside a closed shop it is a different story. Inhaling these fumes can't be doing any good. Some of the harsher solvents would give me a headache when used inside, so I'm appreciating Enviroclean from this standpoint as well.
Contact Ogre Manufacturing, LLC at 231 South 79th Street, Milwaukee, WI 53214 or call (414) 475-9339. Orders can also be made by email at ogremfg@aol.com. Enviroclean FA runs $3 for a one-ounce bottle, $15 for the eight-ounce or $90 for a one-gallon jug, plus postage and handling. Your liver will thank you. - Steve Garbe