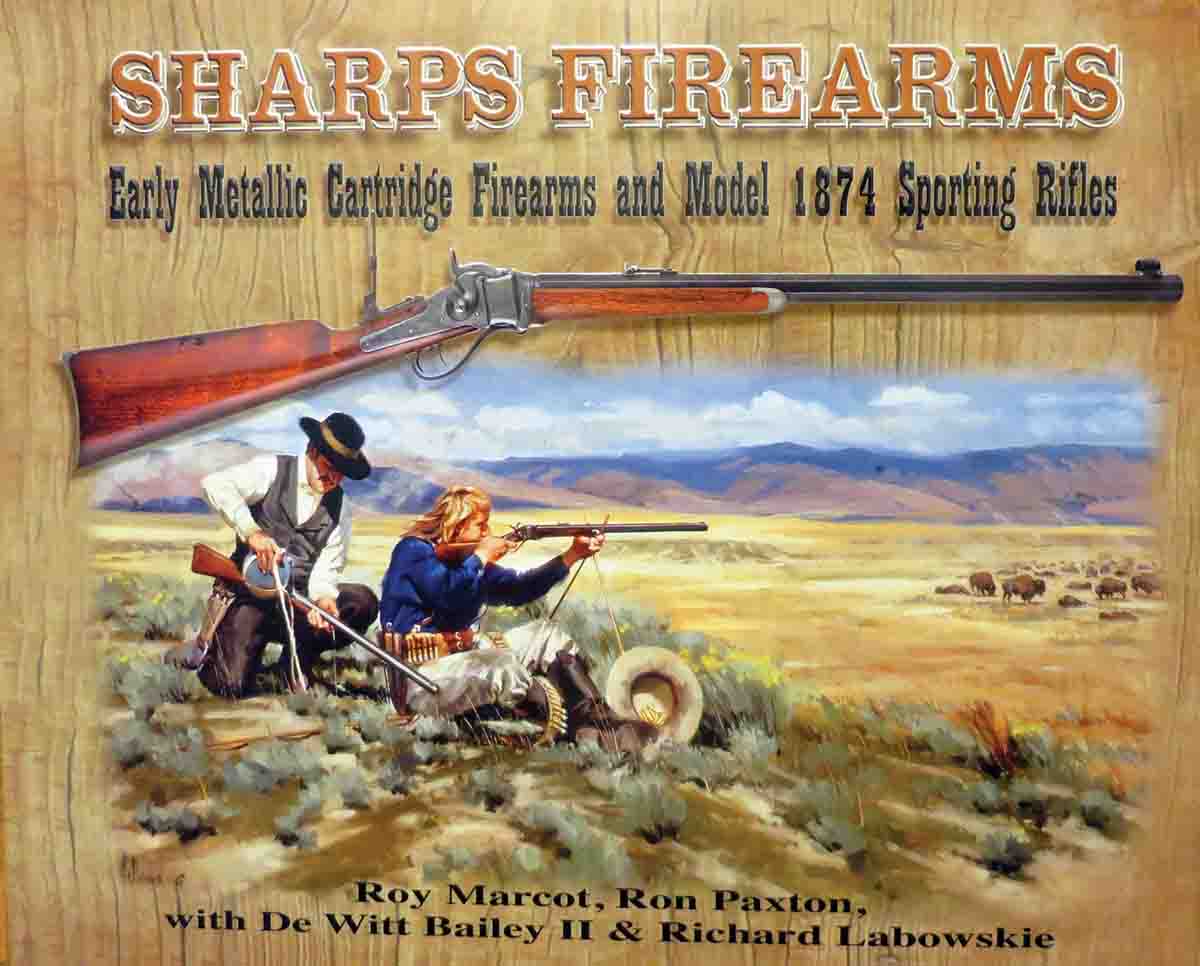 Several years ago, an editor gave me some good advice about writing book reviews. He said, "Be brief. Remember, you're reviewing the book and not rewriting it." In this case, however, being brief will be very difficult. It's not that I would want to rewrite this book, instead, I would want to describe almost every word and every photograph.
To put things simply, this is the book that Sharps rifle fans and collectors have been waiting for. But it's even more than that, this is just Volume II out of a four-volume set on Sharps firearms. Volume II, which is dedicated to cartridge-firing Sharps rifles from early 1866 versions to the most famous Model 1874, has come out first simply because it was ready first.
This volume has 388 pages nicely divided into ten chapters. Chapter 4 is about Sharps Model 1869 Sporting Rifles and I have spent several hours visiting those 24 pages. The remainder of the book (chapters 5 through 10) is devoted to the Model 1874 in the following chapters: Sporting Rifles, Sporting Rifle Characteristics and Features, Military Rifles, Military Carbines, Buffalo Hunting and Buffalo Rifles and Hunters. The first three chapters are devoted to the early development of metallic cartridges and early versions that used them. Let's just say that the coverage of early cartridge models, conversions and the Models 1869 and 1874 is very complete.
That description only considers the text in this new book. What will stand out far more are the photographs. Photographs of more than 1,300 original Sharps rifles were taken for this set of books, and they are displayed in very good full-color pictures. Again, being brief simply cannot accurately or adequately compliment the fine photos of Sharps rifles in this book. Many readers will surely go through the book from picture to picture, reading only the captions of the photos that interest them at the moment.
The greatest recommendation I can give, if you are a Sharps buff, is to get a copy of this volume. It is available in two different editions. The standard, hardbound edition is priced at $89.95 plus $10 for shipping/handling and insurance. A special, leatherbound deluxe edition is also available with a slip case, page ribbon and gilt-edge pages for $165.00 plus $15 for shipping/handling and insurance. Gun clubs and other organizations can seek special book pricing. To place an order, please make checks out to "Northwood Heritage Press" and mail to Roy Marcot, 12655 E. Horsehead Road, Tucson, AZ 85749. If you have any questions regarding an order, call 520-906-0716 or email Roy Marcot at roymarcot@msn.com.
Distant Thunder Shooting Products' Sporting Tang Sight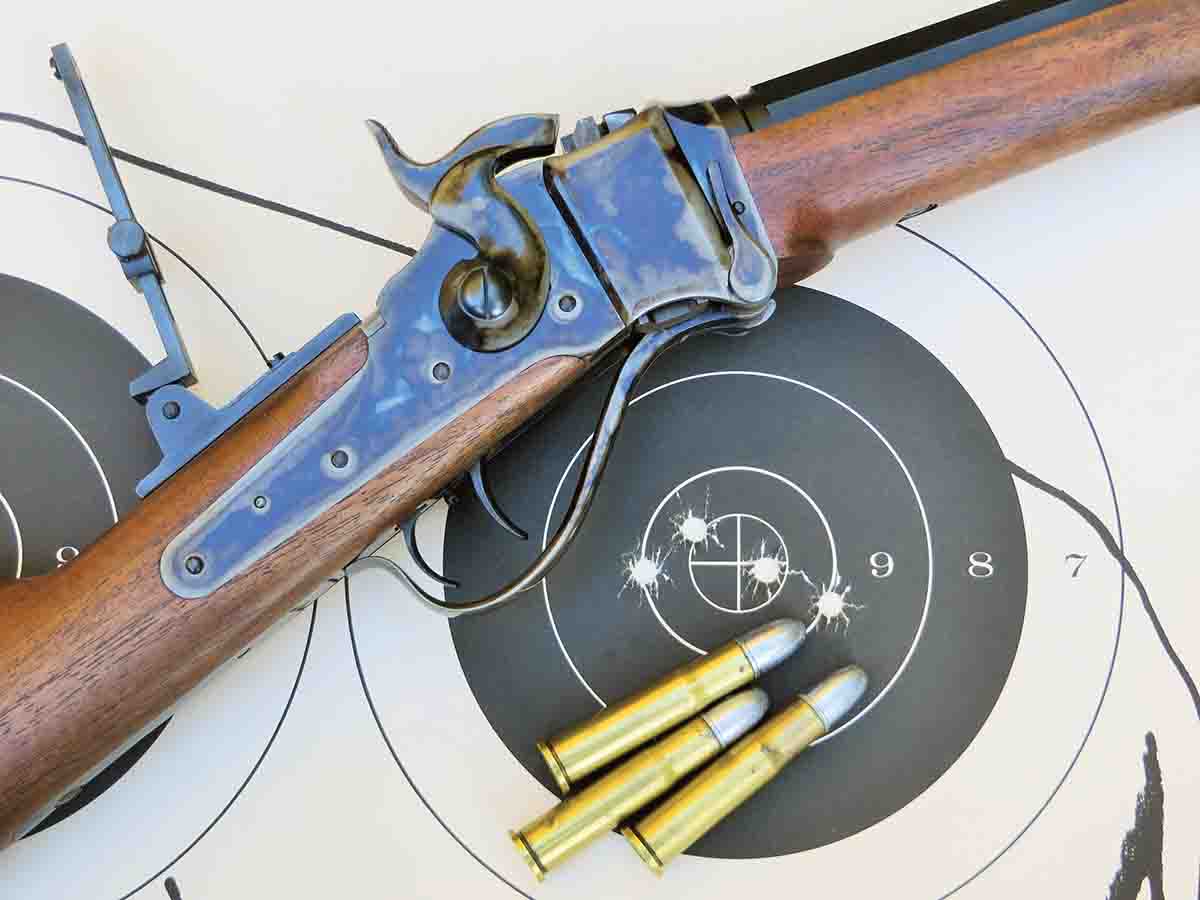 Distant Thunder Shooting Products introduced their Buffalo Hunter Sporting Tang Sight which was recently put into limited production and is being made as orders come in. Jim Klustens, the maker at Distant Thunder Shooting Products, allowed me to offer some ideas for features on this new sight. As you can quickly see, this Sporting Tang Sight is like the old Sharps sporting tang that had no eyecup.
It isn't an exact copy of the old Sharps sight, and it does have one feature that might be called an improvement – the setscrew for the elevation. Actually, that setscrew is an option because shooters who want the sight to be as authentic as possible can simply order the sight without it. Based on the shooting I've done with this sight so far, the elevation doesn't seem to slip. Even so, I'm glad to have the setscrew, and I'll continue to call it an improvement. If you visit their website listed at the end of this review, the photo of the sight does not have the elevation setscrew.
There is one more setscrew for the windage. Windage adjustments are accomplished by simply moving the windage bar, which is dovetailed to the slide on the sight, to the right or left. Once the best position for windage is found, the windage bar can be locked into that position with a very small screw on the slide. This screw is not shown in the photos.
One very noticeable thing about the Sporting Tang Sight is that it has no eyecup. When my sight was being made, I specifically told Jim that I wanted a 5⁄64-inch diameter "peephole." My eyes like more light than what most people prefer. In the photo showing the sight from the back, it might look like that peephole is too large for some shooters' tastes. Jim simply asks all who order this sight to let him know what custom aperture size is desired. My partner, Lynn Willecke, also purchased one of these sights for his .44/77 but with a much smaller aperture size. Where we live in the dark timber, the peephole wasn't large enough and he planned to drill it out.
The hole spacing and sight bases are made only for mounting to Sharps rifles. However, Jim will consider making custom bases for rifles needing other mountings. If you have a rifle needing special screw-hole spacing, such as for a Rolling Block, be sure to mention that to Jim.
A Buffalo Hunter Sporting Tang Sight is mounted on my carbine/hunters rifle in .40/70 Sharps Straight and I really do like it. Now that its alignment is all set and well sighted-in, I think this sight will stay there. It's now ready for hunting, for sure.
The price is $225.00 plus postage. To order, contact Mr. Jim Kluskens, O'Hare Tool, Inc., PO Box 138, Niagara, WI 54151 or call 715-251-3839 or visit the Distant Thunder Shooting Products website at distantthunderbpcr.com to look at their complete line of products.
Reloading Tools of the Black Powder Era 1850-1910
Vol. 1 & Vol. 2
By Tom Rowe & Ed Curtis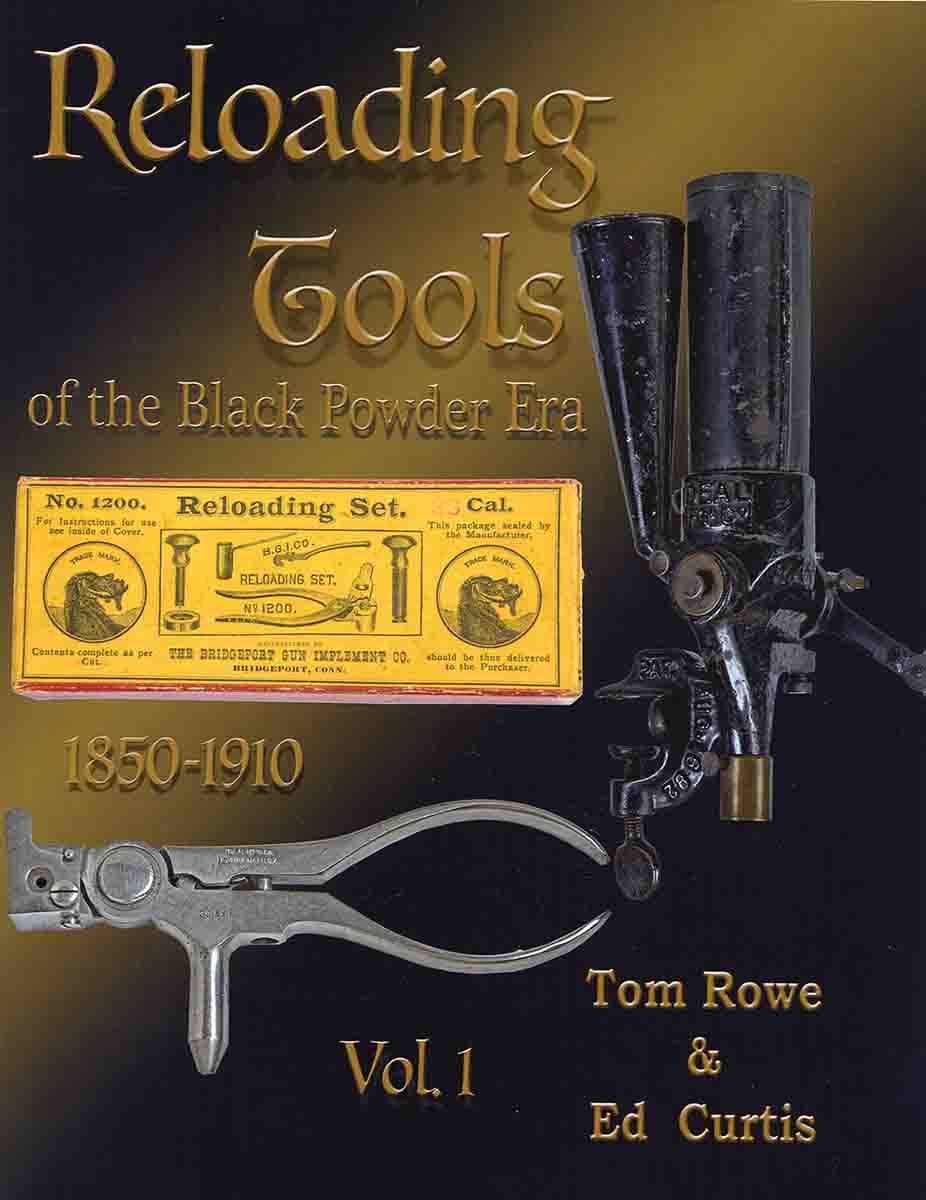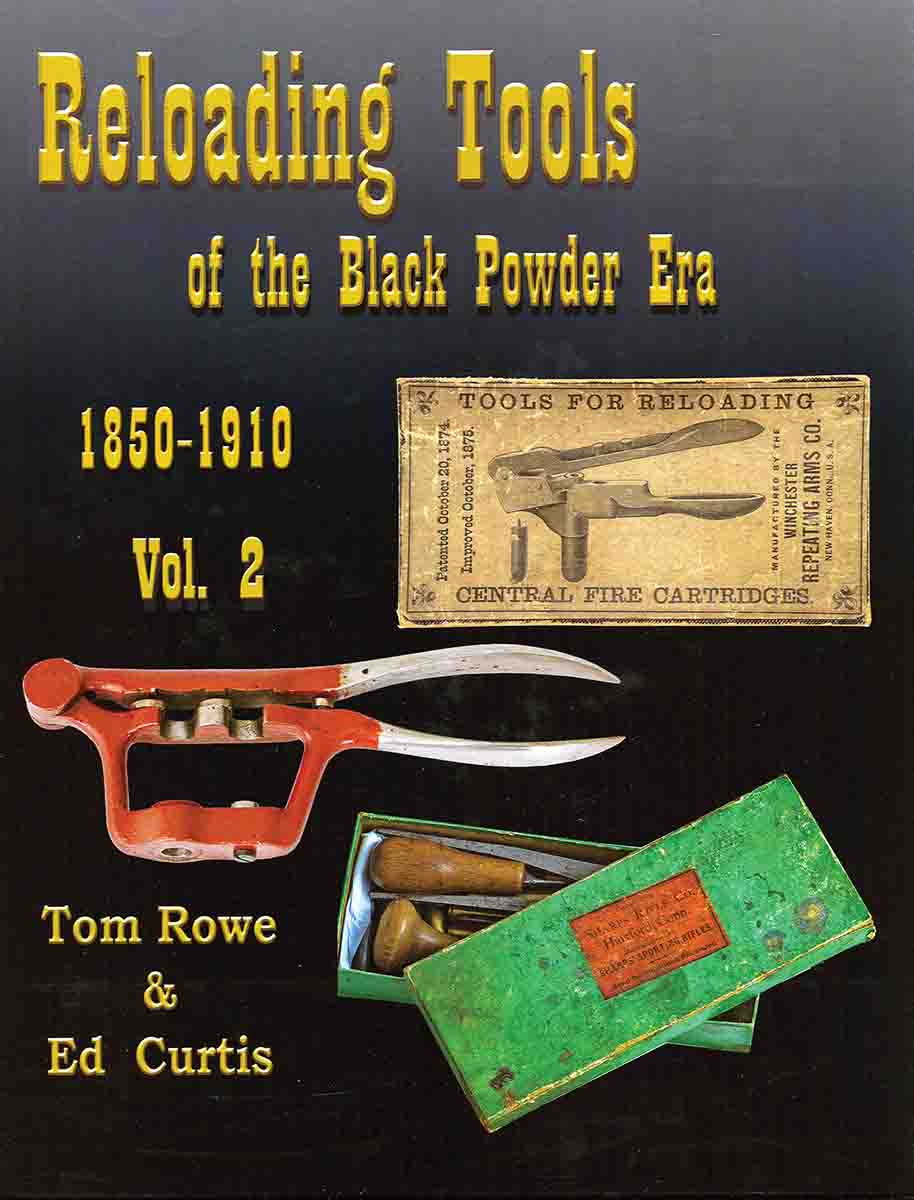 For those of us who enjoy identifying, collecting and using original reloading tools with our single-shot rifles, we now owe a debt of sincere gratitude to Tom Rowe and Ed Curtis. They have published two new volumes, Reloading Tools of the Black Powder Era, 1850-1910, Vol. 1 and Vol. 2.
Each volume contains over 300 pages. Dimensions of the book are 8.5 x 11 inches, hardcover, with a dust jacket and printed on excellent quality paper. Superb photographs display each individual tool. Specific and concise details on various reloading tools enable the reader to identify even the most obscure tool. Period ads and instruction sheets, when applicable, enhance the information accompanying many of the tools. There is also a rarity index that will enable the reader to appreciate how likely it will be to actually see an example of the reloading tool, much less obtain one.
Volume 1 contains chapters on Ideal Manufacturing Co., Bridgeport Gun Implement, Union Metallic Cartridge, Ballard, Marlin, Bullard, Maynard (Mass. Arms Co.), Stevens, and Peabody (Providence Tool Co.).
Volume 2 contains chapters on Remington, Sharps, Smith & Wesson, Colt, Wesson, Whitney, Winchester, California makers, Small Makers, Military, Schuetzen and Unknown Examples.
Each volume contains a comprehensive index that allows the reader immediate access to the location of information. The excellent visual presentation of so much detailed information contained in these two books enables the reader to identify and obtain answers to virtually all their rifle reloading tool questions. As a side note, these two volumes deal with reloading tools for rifles, and in some cases, revolvers and pistols. However, there is very little shotgun reloading tool information.
You can order the two volumes of Reloading Tools of the Black Powder Era by mail: Rowe Publications, PO Box 207, Sugar Grove, VA 24375, email: rowebooks1@gmail.com or call 276-783-8037. Payment by check or money order only. The two books weigh approximately nine pounds. The cost per volume is $79.00. Postage is $5.00 for individual volumes or $8.00 for the set. International shipping is extra, please call for pricing. -Leo Remiger
"Blurb" Books and Tom Rowe's Efforts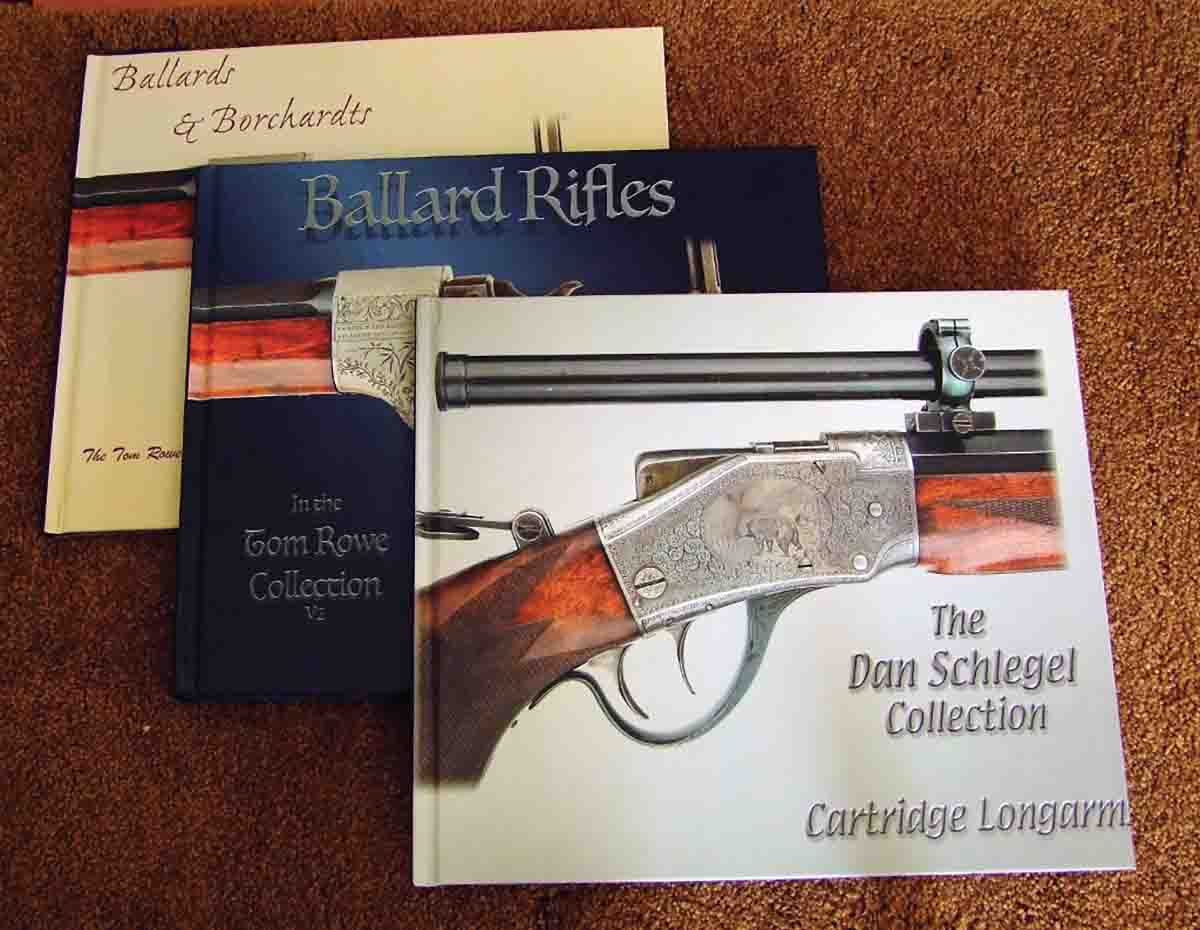 "BLURB" is a self-publishing website that allows amateurs and professionals to create books of their own content, design and format. This is a fascinating idea to me and opens many doors to those of us who love old firearms but are reluctant to go to the major effort of compiling a manuscript for publishing and subsequent approval/disapproval. With BLURB you can do it yourself, and buyers can buy or not buy what you have created. I am already putting this idea to use by creating a book on my British black powder double rifle collection.
Tom Rowe is a well-known name in the gun book publishing arena, especially due to his specialty of single-shot rifles. I have reviewed a few of his books in the past, the most recent being on Wesson firearms.
Tom put me onto the BLURB website when we were discussing his vast collection of Ballards. He mentioned three of his efforts were completed using the BLURB idea. I checked them out and was singularly impressed. Besides being a publisher of firearms and their related paraphernalia, Tom Rowe is also an excellent gun photographer and his BLURB-published books really bring this out in spades. These books are impressive art.
This past Christmas I received three of Tom's books. All the books are hardbound and use heavy paper for each page with a texture and coating that really enhances the fine photos within. All these books are essentially picture books in vivid color with little technical data. They all are 10¾ inches x 12¾ inches. Here is a brief synopsis of each one.
The Dan Schlegel Collection: A photographic essay of the long gun collection by the late Dan Schlegel. This collection includes mostly vintage single shots of all types but also contains many vintage repeaters. All are presented with excellent color photographs. I have several criticisms of this book. First, there is no biography of Dan Schlegel. Who was he, where did he reside, when was he born/died and so forth? Second, there are no page numbers to quickly determine how many pages are in the book. But the page count was on the BLURB website - in this case 94 pages. Third, there is no descriptive information for each rifle including the cartridge chambering. Also, there are numbers shown for each rifle, but no list to reference them against, rendering them meaningless. In spite of these shortcomings, the book is still a pleasure to look at and savor. Schlegel had a really beautiful collection of rifles, many of which I covet.
Ballard Rifles in the Tom Rowe Collection: If you like to look at superior color photos of vintage Ballard rifles, this book will make you salivate! Tom Rowe has one heck of a collection of these nineteenth-century beauties. Not only does the book have photos of Tom's rifles, but he also includes some old photos of gun cranks of the past using their Ballards and other rifles, one of which was on the cover of a recent issue of Black Powder Cartridge News. I love this idea, which just makes the book that much more appealing, like icing on a cake. Unlike the Schlegel book, each rifle has associated technical specifications such as model and cartridge and a personal/historical note from the author – a neat touch. Again, there are no page numbers; however, the BLURB specifications for the book reveal a page count of 122 pages.
Ballards & Borchardts – The Tom Rowe Collection: Not only does Rowe have a great collection of old Ballards but he also has a pile of beautiful Borchardts. I'm sure many of the Ballards shown in this book are duplicates from the book above; I have not done a comparison examination because they are still a joy to look at, even if duplicated. His collection of sporting and target Borchardts is spectacular; this is evident from the fine photos depicting them. I enjoy so much looking at the combination of lovely wood and blued and/or casehardened metal of these old beauties, a combination that will soon be forever lost. Each rifle is accompanied by a historical/provenance comment by the author. BLURB shows a page count of 100.
I thoroughly enjoyed these three books that have already provided me with countless hours of visual pleasure on a subject I am so enamored of. If I did not get them as a gift, I would have bought them myself. Their shortcomings are minor compared to the satisfaction they provide. The BLURB entry for each book allows the potential buyer to examine the book in detail page by page, so you can evaluate exactly what you are going to buy. These books are not inexpensive; each is around $100.00, but well worth the expense for the uniqueness of subject matter and especially the photography. To me, they are a must for any single-shot lover's library. For more information, visit blurb.com. -Tom Oppel