The Milky Way was at arm's length, asking to be brushed by fingertips that tingled in a night chill. On the edge of that expanse was the Southern Cross, a marvel of nature and symbol of tranquility. I stood in reverent awe, allowing this scene to bring refreshment from a dour mood that had consumed the day. There was some transformation as a result, but tranquility didn't immediately become the overriding emotion.
The evening in question closed the third of a five-day hunt in South Africa. I had booked with Louis Steenkamp, as I had the previous year. That adventure had been nearly perfect, and I was able to collect a fine nyala bull while using an Osage self-bow and cedar arrows. I had hoped for a similar experience on this trip, but nothing had worked out as desired. For three days, gusty winds had battered the bushveld, the only constant being their variables- from the south one minute, from the north the next. The scent of hunter and PH permeated every inch in every direction. Game was locked down.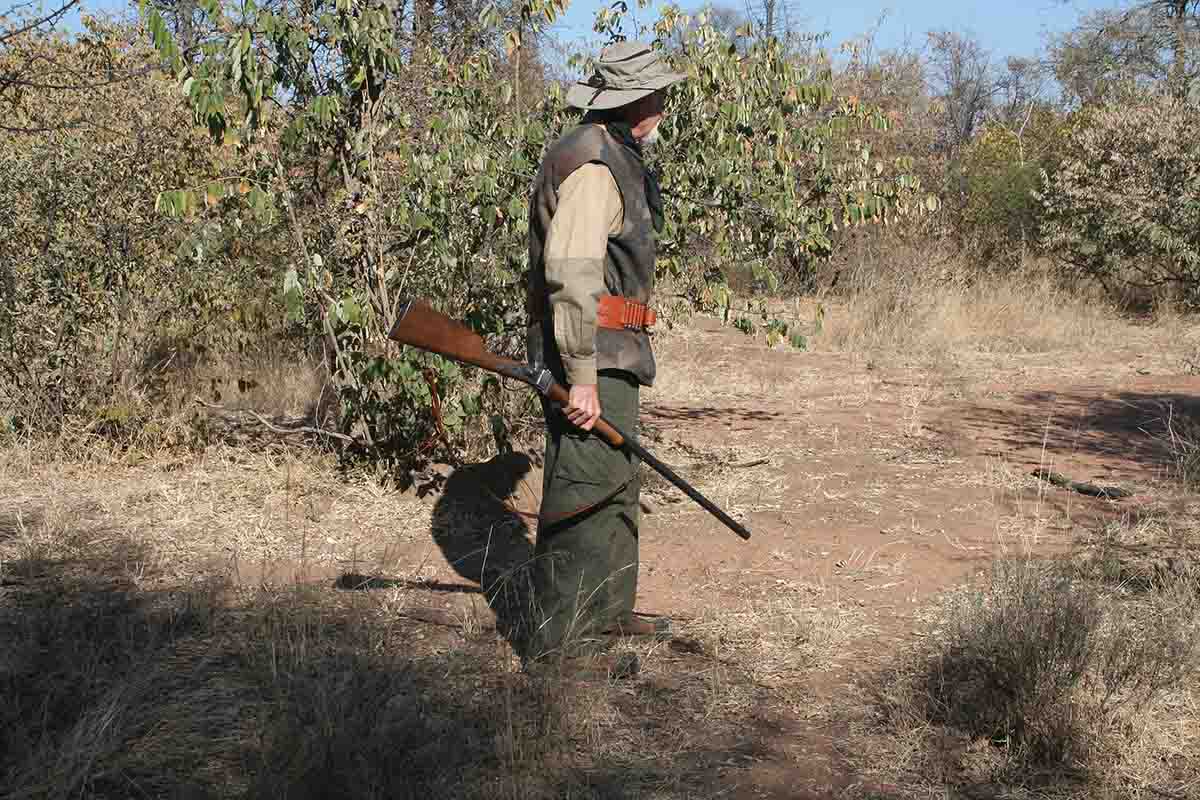 To make matters more complex, abundant rainfall during May held this June expedition captive. Leaves that should have littered the bushveld floor still clung to branches, creating a curtain that hid any creature that might be there. Even the waterholes were sustaining precious little use during daylight. Two days remained, and here I was beneath that glorious sky, looking upward for solace.
Louis Steenkamp is a true gentleman. I have known him for years, and he has visited my home and trophy room on more than one occasion. He was sympathetic and understanding of the situation and offered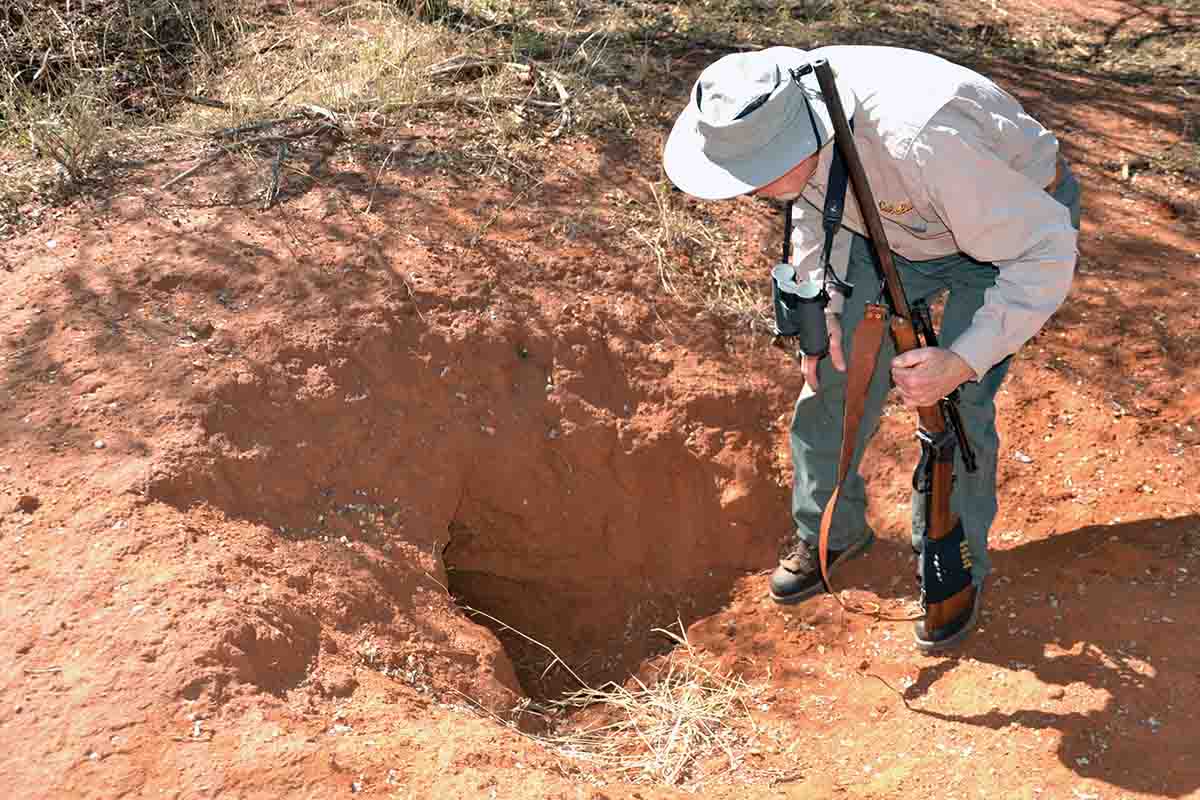 encouragement. However, if things didn't change soon, I stood a reasonable chance of leaving Africa with all my black-powder cartridges unfired.
I recall those early meetings with Louis and how he was intrigued by my rather antiquated methods of doing things. He fondled the homemade stick-bows I use and practically melted with glee at the heft of my C. Sharps Bridgeport '74 in .45-70 Government. Plans for future hunts began, and in 2013 the nyala hunt came to be. While on that safari, he and I concocted the one we were now on. This one would be done with the Sharps; a zebra and waterbuck being the primary species of interest.
I had only seen, however, fleeting glimpses of both through the bush. I had also seen gemsbok and wildebeest at two different waterholes while sitting in a desperate attempt to gain a clear shot at either of the two species I sought. I had the gemsbok and wildebeest from my first hunt in Africa, so they were of no interest other than the majesty they exemplified in this perplexing land. Not an insignificant matter, this majesty, but not animals I opted to collect.
The next day showed some improvement, with winds abated to a degree. We elected to sit at a waterhole early on and move about the bush as the day aged. Only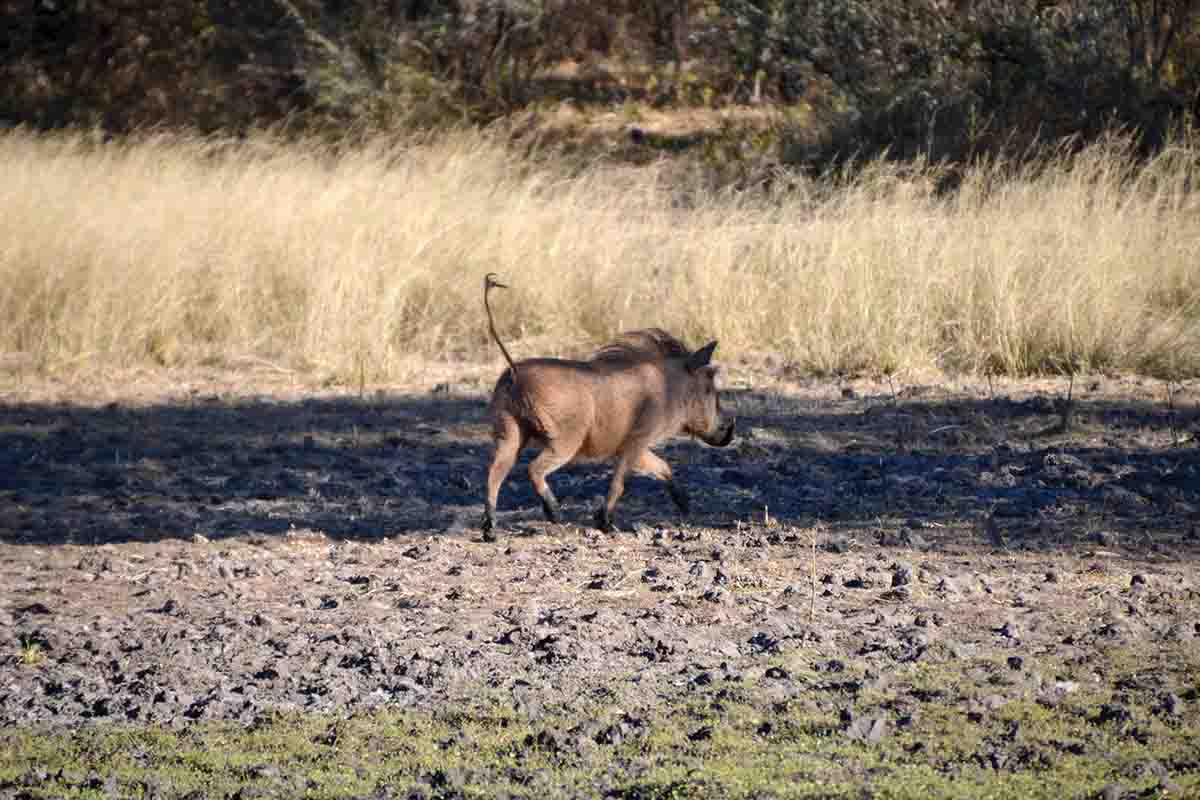 minutes before we left that blind, off in the distance something was twisting and creeping through thick cover – a jackal. I was instructed to take him if the opportunity arose, so I made ready for the shot. A jackal was hardly a test for the black-powder load, but it would require precise shot placement. When the canine closed to within 50 yards and reached a spot clear of brush, the Sharps rumbled and the jackal crumpled. Not a zebra or waterbuck, but a shot well made. I was pleased. Then the winds renewed their vigor.
With all this mention of black powder and loads, there are certainly questions of how this was accomplished. Flying with black powder, whether loaded or in bulk, is not allowed. In fact, attempting to do so is a sure recipe for some serious legal issues. It simply must be avoided, regardless of the gymnastics attempted to cover the infraction.
After a great deal of discussion via email and phone with Louis prior to the hunt, he discovered that South Africa had a provision that allowed a PH to acquire a one-use permit to purchase and transport black powder and primers for client use. This fit my needs perfectly. Louis eventually sent me a picture of him holding a can of Swiss 11⁄2 and a box of Federal 215 Magnum Rifle primers. The remaining chores became mine.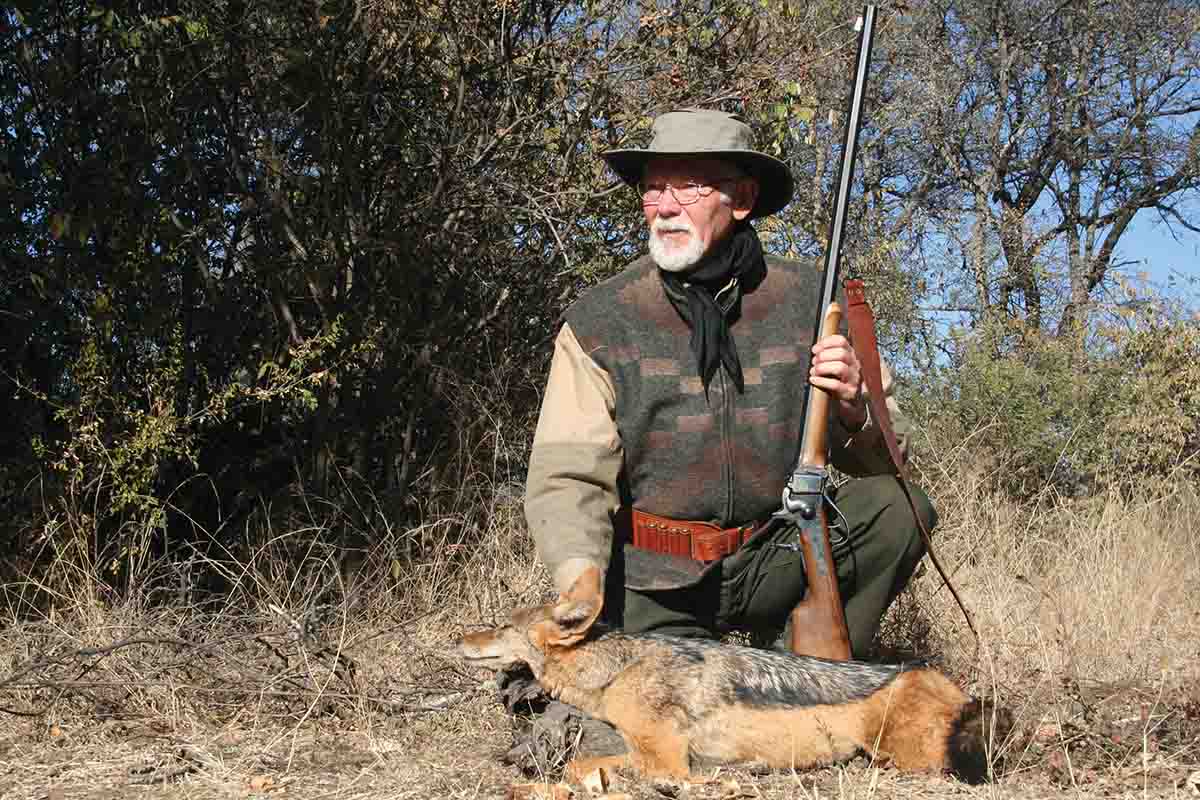 I ordered a small Lee press from MidwayUSA. I fit it to a thin oak board with bolts and wing nuts. Louis had C-clamps available, so this unit could be attached to a concrete ledge near the patio at Sofala's Lodge. I prepared the cases here at my reloading station and packed them along with the cast bullets I had made and lubed with SPG Bullet Lubricant. Cases and bullets – unloaded and properly packaged – create no problems with the airlines. I declared them but was quickly given the go-ahead.
Also in the packing were John Walters .060 wads, a section of copper tubing flared on one end, a small oak holder for the tube, a tiny brass funnel to be taped to the copper, an RCBS electronic scale, and a box consisting of compression, seating and taper crimp dies. A cheap metal spoon was thrown in the mix for the purpose of transferring powder onto the scale. I must admit this makeshift reloading contrivance worked to perfection. The first load fired punched the eight-ring with dead-center elevation at 100 yards.
Before I realized it, I found myself on the last afternoon of this particular hunt. With emotions frayed and disappointment hovering about me, Louis and I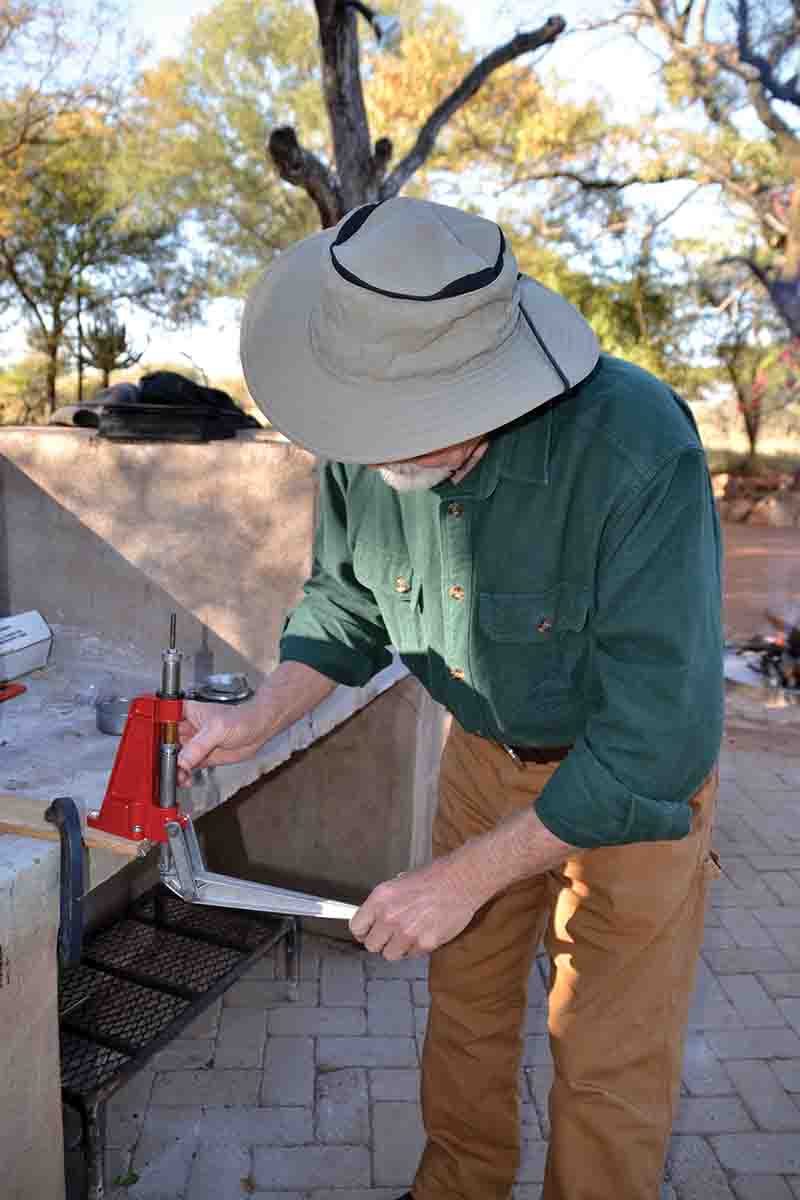 went to an elevated blind near a cattle pen left over from ranching in the 1960s. A water tank was in the distance; wire fencing rusted and sagged in reflection of days past.
This spot afforded a plus – open brush. Things weren't as tangled and cluttered as in most areas, and the possibility of seeing game move about was enhanced. A ranch road made a 90-degree turn beside the blind, so increased visibility was accomplished; the final vigil was underway.
Creeping silently along a derelict fence, there it was, making its way toward an opening of red African soil. An Impala ram. Not one for the record books, but a mature specimen just the same. I care little for record books.
Each time it would look away or put its nose toward the ground, I would inch the Sharps into position. When it looked up I dutifully stopped, frozen in the moment. At a solid opening and with the Sharps properly set, I touched the trigger. The shot reverberated across bushveld, and a cloud of gray smoke obscured the view. Still, there was no doubt of what had happened. The whump of a bullet striking told the story. The ram lay motionless, grand even in this posture. I crept from the hide, walked to the ram and removed my hat while offering a prayer of respect and thanksgiving. The sun was now an orange phantom beneath thick bush to the west.
Once more, I revisited the Milky Way and Southern Cross that evening. My heart was light, filled with gratitude. The only somber emotions were triggered by the reality that I would leave this land of magic the following day. Next year it would be the zebra, waterbuck and the Sharps.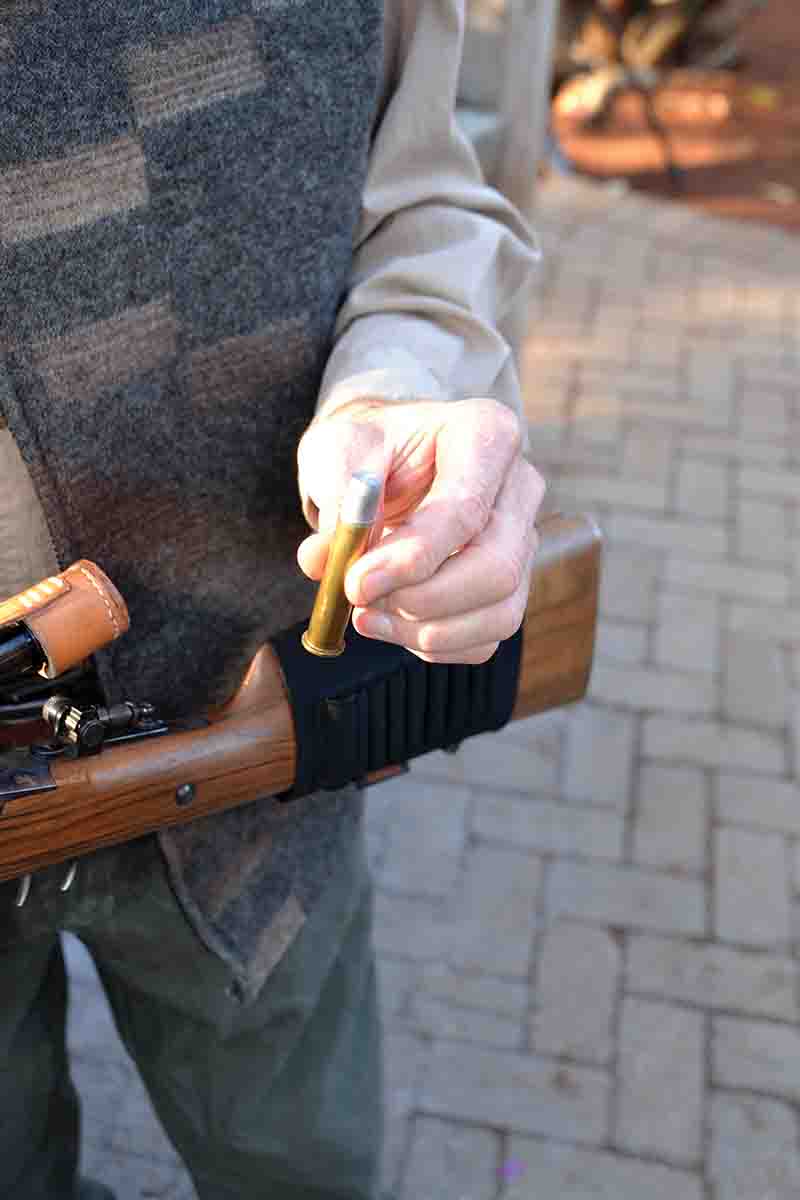 The month of May again, and with it some of the same frustrations faced last year. Rains had been persistent, and vegetation was thick and lush; not ideal for sneaking about in search of game. Louis had secured the powder and primers from the previous year, so I planned to do things in similar fashion as I had done before, but there were changes.
One change was the addition of a Montana Vintage Arms Model "B" scope. My already aging eyes had grown a year older, and I was having difficulty with the tang rear sight and blade front. I could still employ the Sharp's iron sights, but I opted to try the scope. It was amazing. The MVA scope will remain a permanent fixture on the rifle for hunting.
Some other modifications came in the loading process. I had used Lyman mould No. 457193 on the jackal and impala, as well as on whitetails and wild hogs here at home. It is a reliable hunting bullet, but I wanted something with a more pronounced meplat and increased weight. This project began with Lyman 457125. The round nose of that bullet would be adapted to a broad meplat, if possible.
My friend Neal, who is a consummate tinkerer and dedicated black-powder shooter, suggested we cast some bullets from Lyman 457125 and attempt to judiciously remove a part of the nose. The bullet's grease groves were wrapped in masking tape and gently put in a lathe. the nose was marked and carefully cut to the desired proportions. Results were more than positive. After weighing and inspecting some of the modified bullets, we found that we were consistently producing projectiles with a wide meplat and average weight of 485 grains. Trial runs with SPG-lubed bullets ahead of 68 grains of Swiss 11⁄2, .030 Walters wads and Federal 215M primers worked perfectly – I had my load.
In an effort to take as little loading gear as possible, one other thing I wanted to try was to simply load cases without weighing the charges and skipping the drop-tube procedure. I did this by weighing 68 grains of Swiss and pouring it into a bulk measure customarily used in loading my flintlocks. With the measure set at that increment, I placed a brass funnel into the prepared case and poured slowly from the bulk measure into the case. Again, positive results. I would not need scales and a drop tube, a plus when packing sparsely for air travel. Forty prepared cases and as many trimmed, lubed bullets, along with a brass funnel, measure, Lee press and dies accompanied me to Africa.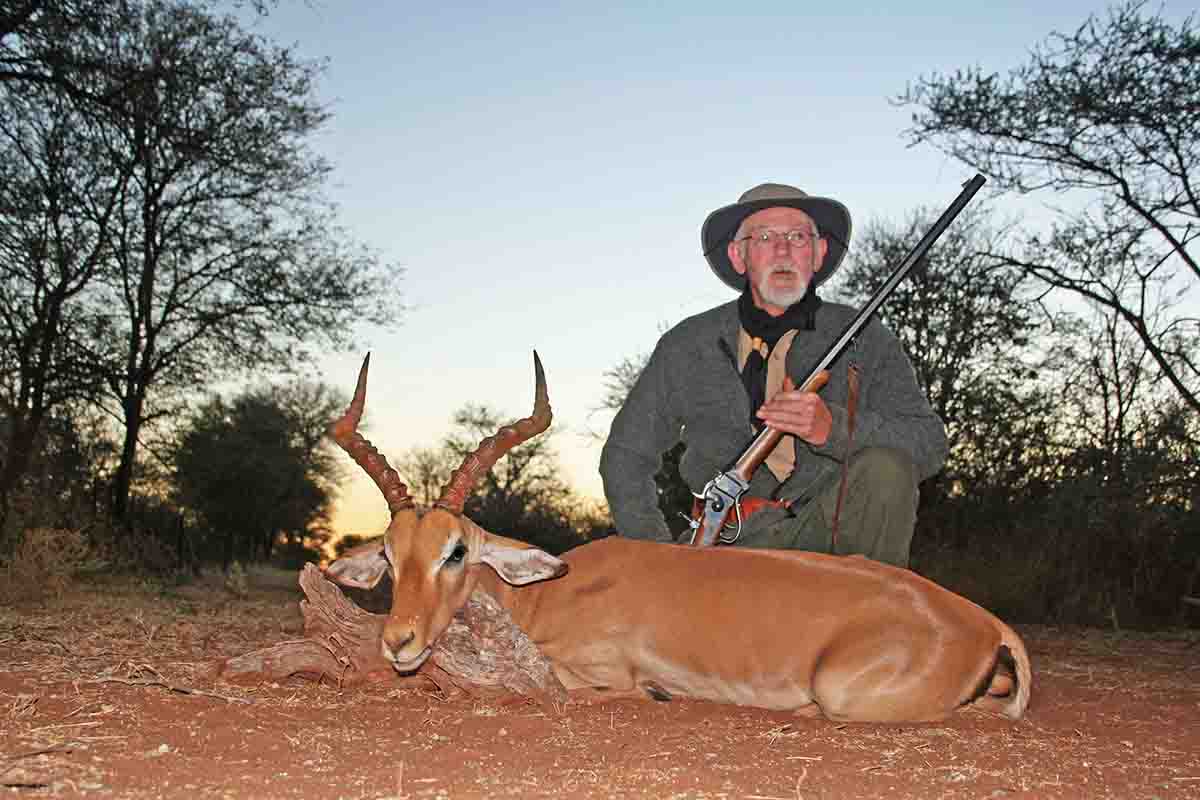 Things progressed slowly the first four days - that is, if collected game was an indicator. Zebras scurried about thick brush, hoof beats on red soil was the only proof they were ever there. One particularly handsome waterbuck led us on a full-day sojourn through thorns and along two-tracks without so much as an anticipated shot. There was even one of the striped marvels that almost played his hand poorly. He stopped within range, but offered nothing but hindquarters protruding from tangles. I guess he played that hand wisely after all. We kept at the chore; time was slipping away.
On the next to last day, Louis and I were sorting through the bushveld when we heard what was no doubt a collection of zebras running right to left. Louis dutifully and spontaneously set the sticks; my Sharps found its place there. Five or six zipped past, never pausing to give additional study to whatever it was they were running from. What they were running from didn't matter to me, either. What did matter was that it seemed the entire group had gotten by with no shot offered. But then there was another, and perhaps even another in addition to that one, off in the distance but still on the right path.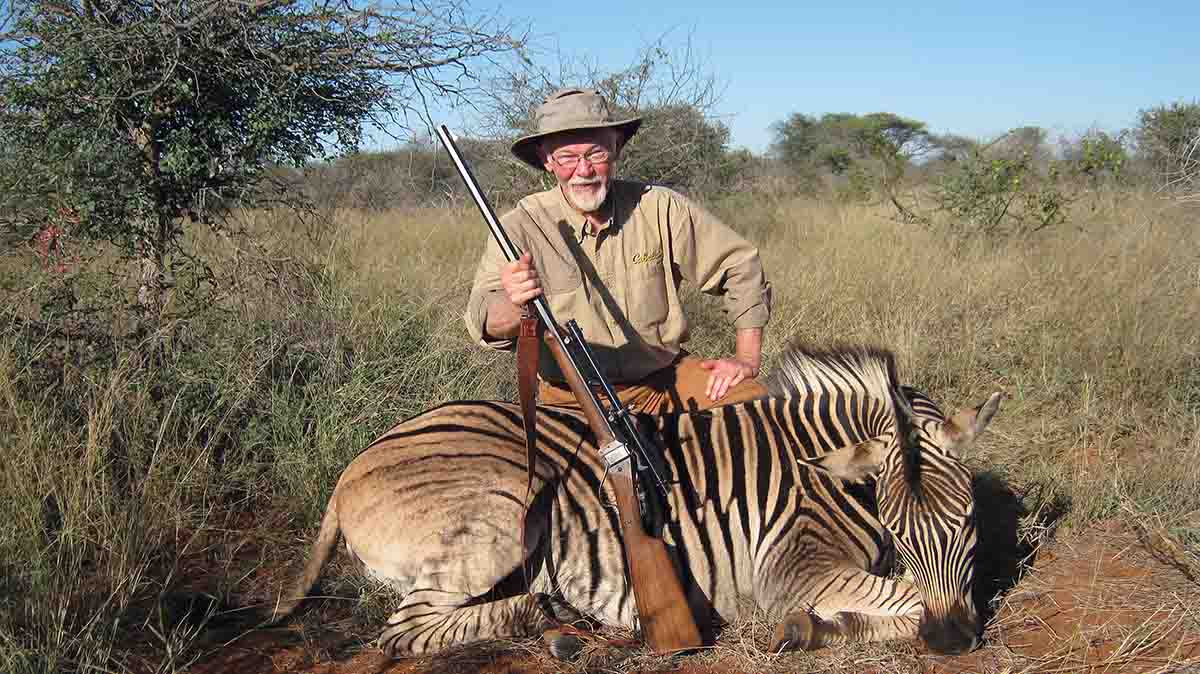 That anticipated moment came quickly. One zebra stopped behind thorn bush, its entire posture one of energized muscle mass and wondrous striped beauty. A tiny opening was there, the Model "B" settled and the Sharps thundered. Time stopped. But it didn't stay in suspension long. The zebra that was the object of my attention bolted. Still, it was immediately obvious that it would not go far.
Kneeling beside that magnificent creature brought again to my heart and mind a deep sense of gratitude.
Nighttime found me staring again at the sky, words of thanksgiving drifting upward. Tomorrow I would make ready for the trip home.