Smithmoor Winter .22 BPCR Series
Carpenter, Wyoming - November 10, 2018
Smithmoor Range
The first match of the 5th Smithmoor Winter .22 BPCR Series is over and it was a good one! The first match of the season is always fun as there are many shooters we haven't seen all summer, and there are usually some new faces and friends to meet.
We had 27 shooters make it out to shoot. We had capped the match entries at 30 and we were a little worried we would have to turn some folks down, but it all worked out. Thank you to everyone for letting us know you were coming. We have made a few changes in a bit of an experiment. If it is something we like, we will stick with it and maybe even be able to adopt something like it at the national level.
Our first big idea was the creation of the Grand Master Class. Several match directors have had a problem with the current classification system and several ideas have been discussed at the national level. Here at Smithmoor, it was decided that we are going to leave the score break-downs alone, but add another classification. To shoot in the Grand Master Class, shooters will need three scores of 34 or greater in a year, a single score of 37 or greater, or to have been a past National Champion. I truly feel there is a division in the current Master Class and it bothers me that someone can clean all the prone targets and possibly not even be in the running for an award. We will try my idea and see how it works.
The other idea to test is a "rung" target with a full-bullet strike will count. I really believe that in the big-bore matches the rule about ringing the targets is a good one. There is an advantage to low-recoil rifles and this rule keeps the playing field fair. If a competitor wants to shoot a small-caliber rifle, great, but you might lose some points to rung targets. What are we to do in the .22 game? Use a bigger bullet or more powder? Obviously, we can't. Ringing a target is basically just bad luck. I don't think that should work against shooters. Each shooter will be allowed one review per match. As long as their review is legit, they will get it back. If they call for a review and there is not a hit, they lose the ability to ask for a review the rest of the match. Hopefully this will combat excessive requests to review targets.
There were lots of great things that happened at the match. Some of the highlights were the father/son squad. We had one full squad of fathers that shot with sons. I thought it was pretty darn cool. We also shot a paper target for the fifth station. It was a 100-yard German Ring target. Kenny Wasserburger shot a super 244/250 in some nasty wind to win the paper match. We had several ties and a few shoot-offs to settle them. I love those, and it is fun to see folks really trying hard to win. Luanda Taylor shot her very first match and shot a 27/40 to be placed in AAA Class. That is some good shooting! We had three brand-new shooters, five "new to us" shooters, and four junior shooters. I thought those numbers were pretty impressive.
As always, the food was great. Coralee made a giant roaster full of her famous ham and beans plus several big pans of cornbread. Several folks brought donuts and Beverly Reed supplied a big pan of apple spice cake. Thank you to all who helped with the food, it really adds to our match.
The weather was quite cold and windy with temperatures in the low 20s with a wind that pushed 25 mph most of the day. I thought the scores were great considering the weather. I am always amazed that a .22 can be shot so accurately in heavy wind. We had the stove in the shed cranking out the heat and it stayed quite comfortable inside the building.
I was quite pleased to give Carol McDowell a first place pin for her great score of 25/40 to win A Class. Carol is a dear friend, and I am so pleased to see her improve and shoot well. AA Class went to veteran shooter Dick Farmer with a 28/40. AAA was a tie between Mark Pachares and Jeff Woodring with 32/40 scores. It was late and cold, so they elected to do reverse animal count resulting in Mark coming out on top. Our new Master Class had a three-way tie with 32s between Coralee, Cecil, and Steve Anderson. Cecil won the shoot-off by whacking two of the three chickens. I really enjoyed shooting with my Dad and he did a great job spotting in the wind. We wound up with a 35/40 and earned the Match Winner pin. Thanks Dad!
In December, we move the .22 match to the third weekend to work around a couple of us wanting to go the Jim Gier Memorial Schuetzen Match in Butte, Montana. So, we hope to see everyone back next month on December 15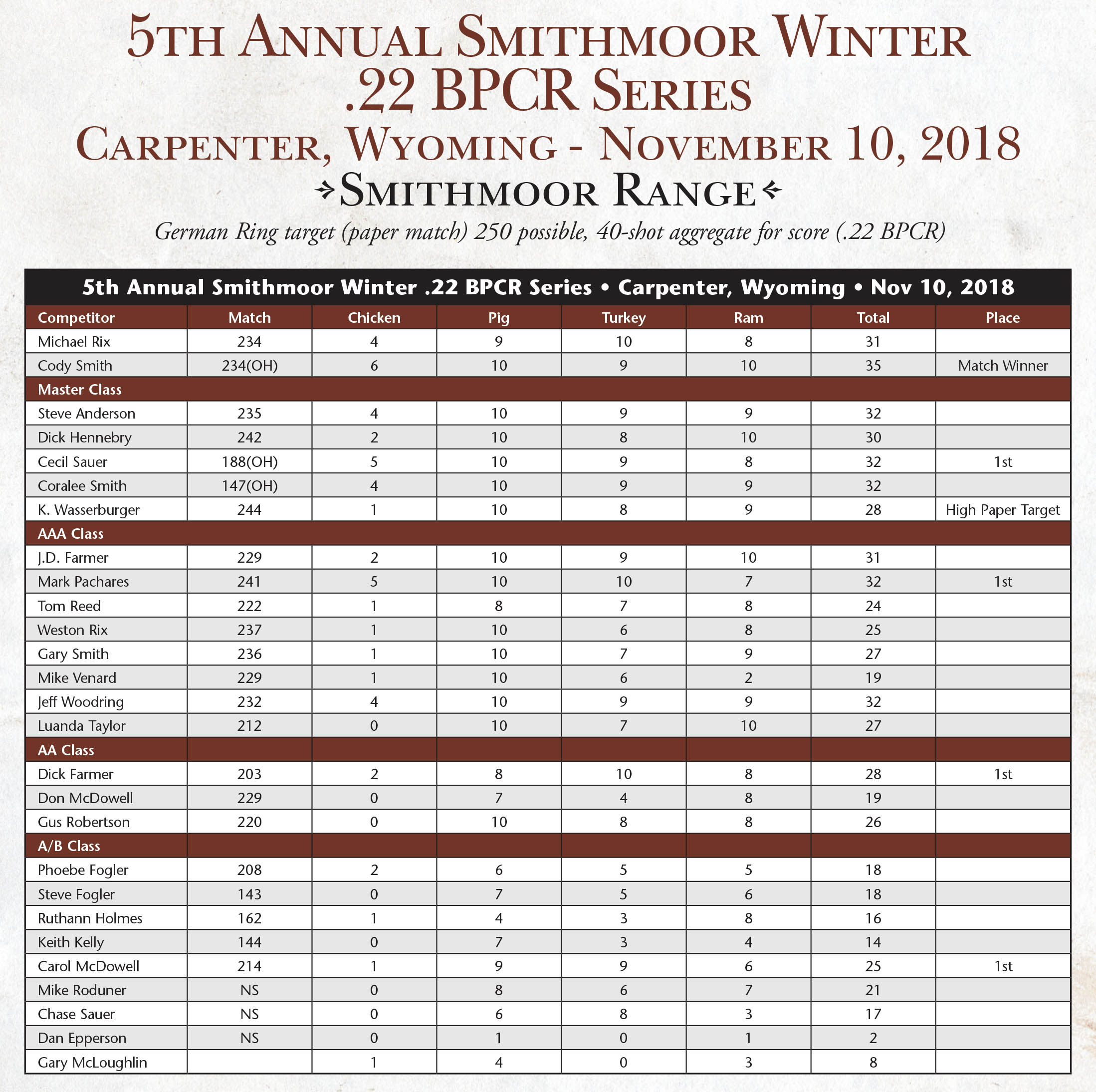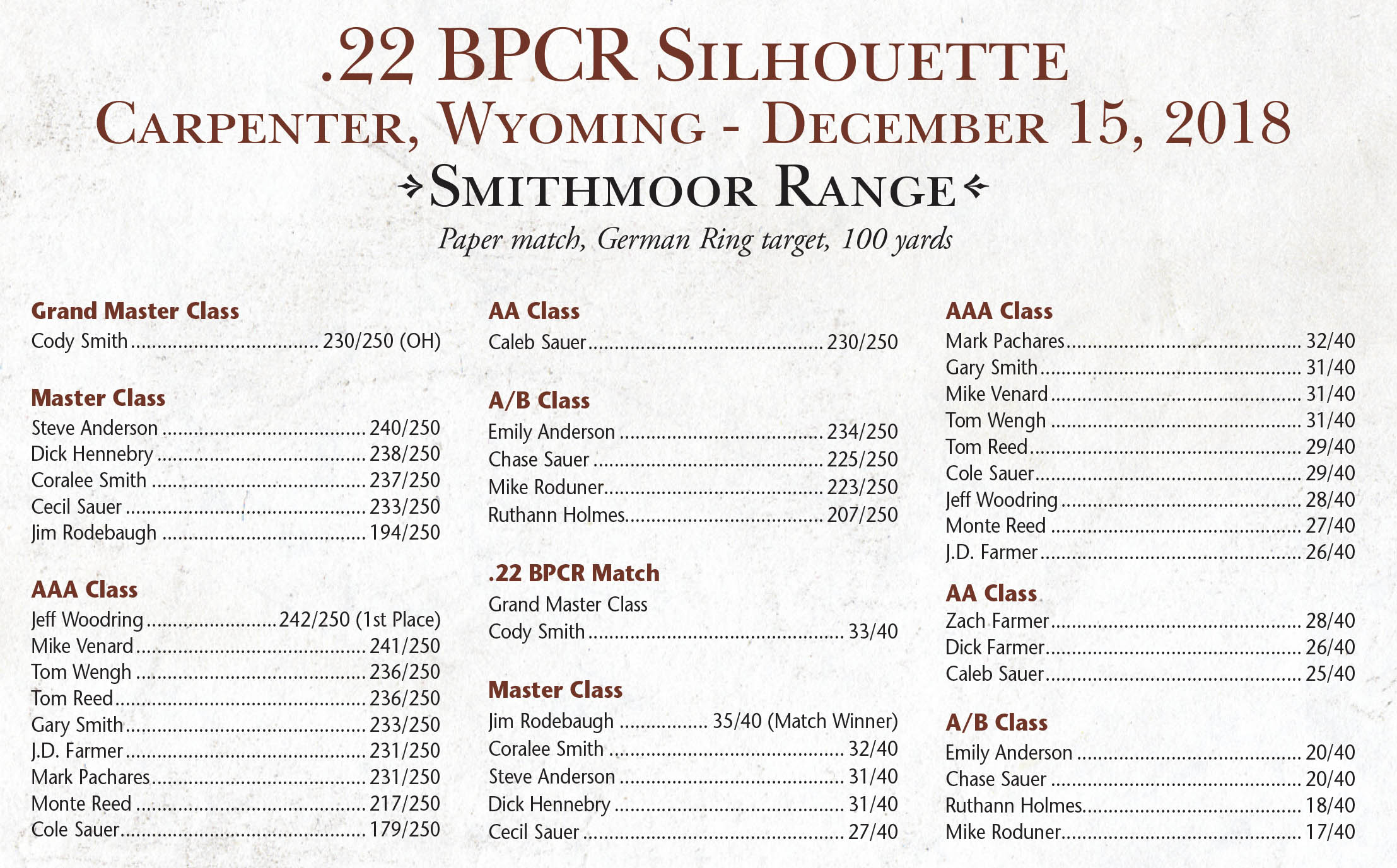 2018 Richard Hicks Slug Gun Memorial Match
Canal Fulton, Ohio - September 30, 2018
Canal Fulton Ramrod Club
The annual Rich Hicks Memorial Match was held Sunday, September 30, 2018. As Tom Oakes stated, "We experienced every weather condition possible except snow." Twelve shooters participated, three of which were new to the match. There were three historic rifles on the shooting benches and two rifles by P. A. Reinhard were on display.
Bob Dickson won first place in High Cartridge with his Shiloh Sharps .45-70 Long Range Express rifle. Bob used iron sights and said that he had experimented with loads this year.
Mark Barnhill won the King of the Slug Gunners match, the Slug Versus Cartridge match as well as the Original Rifle match. Mark used a .47 P.A. Reinhard rifle, shooting a 532-grain, two-piece bullet (soft base, hard nose), freezer-wrap patch, and 90 grains of Swiss Fg powder; sights were a Unertl 20X scope.
The match prizes were provided by the Log Cabin Sport Shop, SPG Sales, as well as some anonymous donors. Thank you all very much; we really appreciate all your support. - Mark Barnhill