D.N. Heizer was born on November 11, 1846, in Ross County, Ohio. His father Edward Heizer and all of his brothers moved to Iowa on the admission of Iowa as a state into the Union. He remained on the Iowa farm,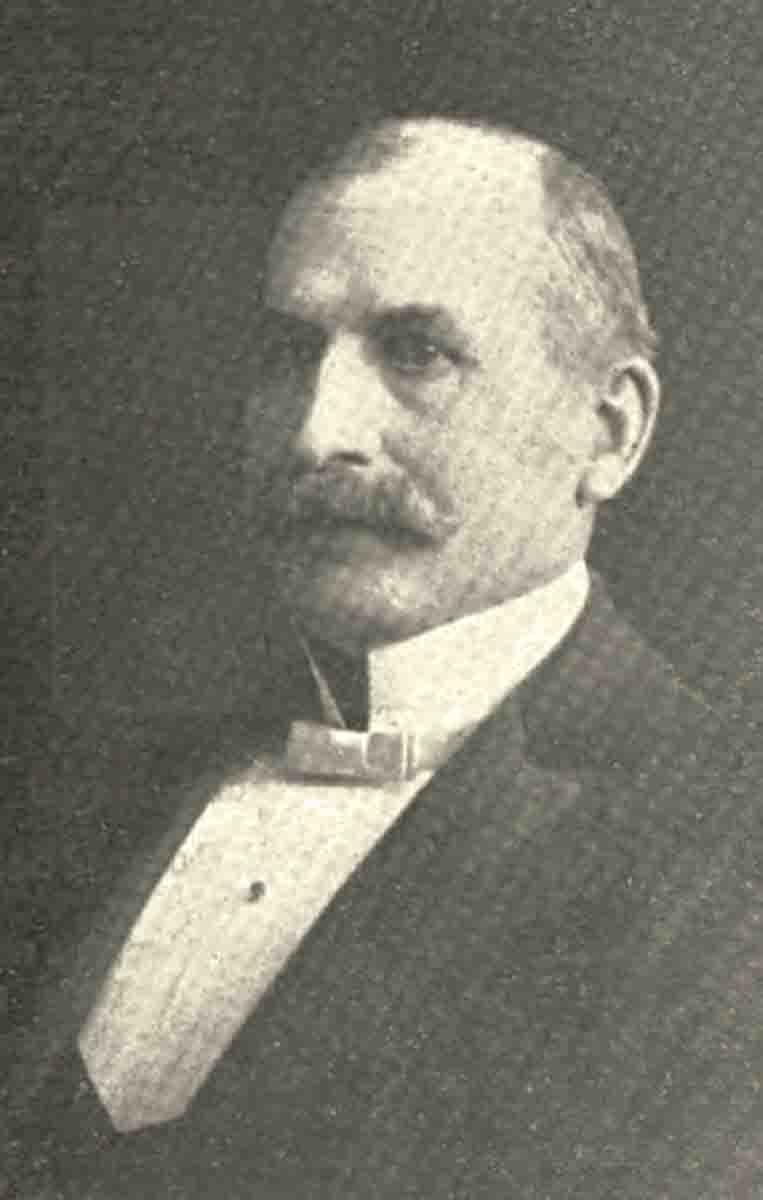 which was located 15 miles north of Burlington, until he was 17 years old. He then enlisted in the latter part of the Civil War in Company M, Second Iowa Cavalry, served 18 months of active service and was mustered out at the close of the war at Selma, Alabama. When he returned home he spent a year on the old home farm, and during the next five years, he spent the greater part of his time taking courses at Iowa State University and teaching.
He left some wonderful descriptions of various men and incidents he encountered in his early days in Kansas. For instance, his description of Captain Griffin:
Captain Griffin was also a young man less than 30, had been in the war and lost a leg; was a small man, but he possessed enough spirit and energy to fully make up for his size. He could cover as much territory with his one good and wooden leg, as many men with two good ones. He was full of dash and afraid of nothing, and when later in that season, the Indians brought him to bay in a buffalo wallow in the Medicine Lodge country, seventy empty needle gun shells were found with his body, showing he made a game defense."
He mentions a hunting accident that involved Judge Mitchell of Quincy, Illinois:
They were apparently on a buffalo hunt, from what Finn related to me, and seemed to be having a good time. In charging a buffalo on the north side of the Bottoms from Ft. Zarah, Judge Mitchell had a horse killed, but escaped unhurt himself.
His colorful description of George N. Moses:
About this time came Geo. N. Moses, "Mose," as he was familiarly called among the plainsmen. "Mose" impressed me, and I shall never forget the time he came to my camp, then on the northwest quarter of section 22, township 19, range 13, on the Walnut. He rode up on a fourteen-hand white Texas pony; he dismounted from a big high-backed cowboy saddle with two cinches and wooden stirrups a foot wide. "Mose" and the saddle were larger than the bronco. He stood before me six feet high and straight as an Indian arrow; he had on a weather-worn cowboy hat with a rattlesnake band, a navy blue woolen shirt, a pair of much worn buckskin pants with fringe down the seams, cowboy boots, a heavy belt of cartridges with two Navy 44's in it's holsters, a five-day growth of beard and about a three-ply coat of tan on his face. He reached out his hand and said, "How," like an Injun. As I took it and glanced him over, I made up my mind at once that this was a man I would rather have with me than against me.
After being appointed census taker, D.N Heizer left an entertaining story of how he encountered Tom McCaughan:
On Saturday, March 20, I began taking the census. In the evening I came home to my dugout about ten o'clock and found a light in the window. I peeped in very cautiously and somebody was in my bed, and it looked like a rosy cheeked, curly headed girl, who was sleeping very peacefully in the only bed on the plantation; here was a fine kettle of fish – what right could this intruding young lady have for absolutely taking possession of the only home I had on earth? There were dying embers in the fireplace and eggshells scattered over the hearth. She made herself comfortable with fire from my Sunday wood and appeased her prairie appetite with a three dollar setting of Black Cochin eggs and then deliberately gone to sleep right in the middle of my sole and only bed. After surveying this sublimity of nerve, I noticed on my buffalo settee, a pair of trousers, then I was aroused to self again and with the point of a Navy 44, I punched this intruder and to my great surprise, it proved to be Tom McCaughan, my future brother-in-law, who afterward went with me and helped in my census work and who also became a great favorite with the buffalo hunters as he was afraid of nothing; always genial and pleasant, a good cook, good story teller and all around good fellow. The Indians called him "Man-Squaw" because of his clean, rosy face and long curly hair.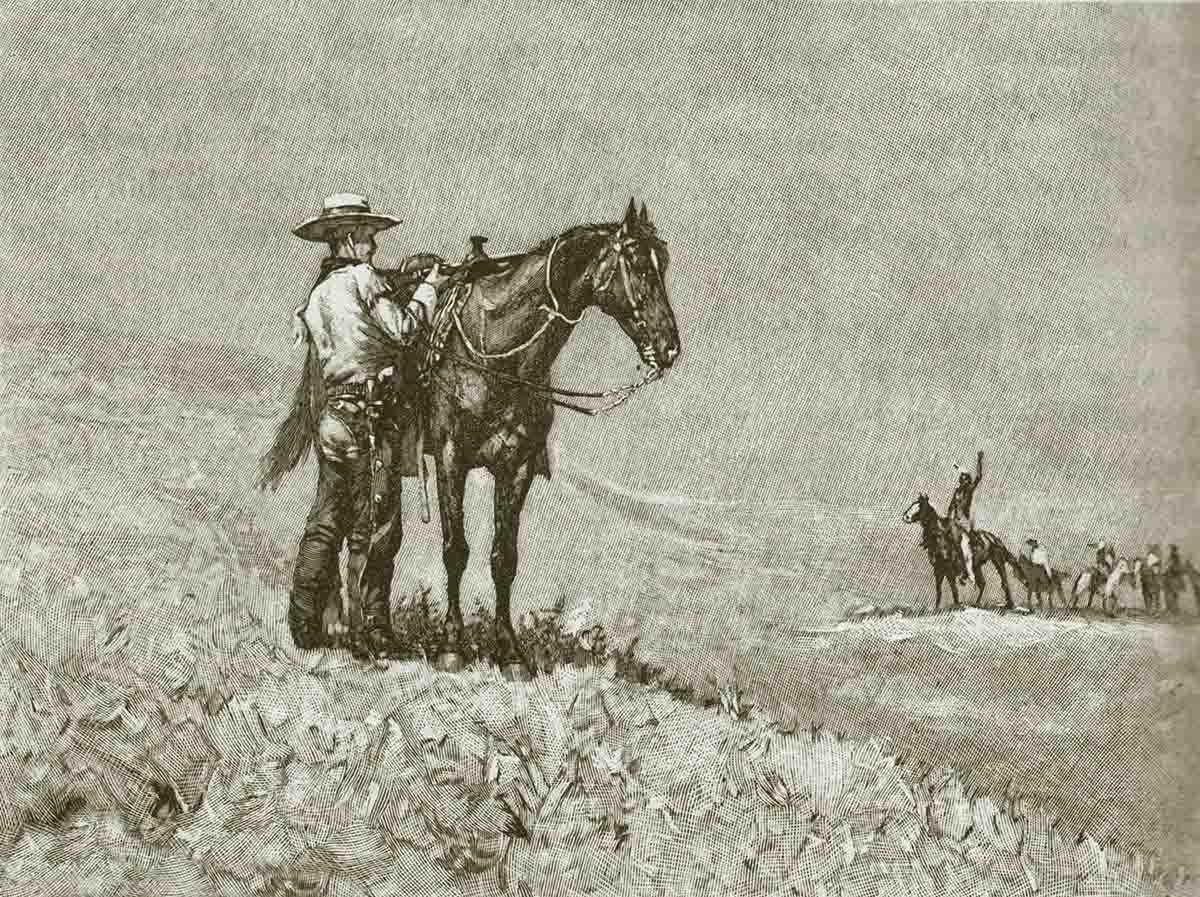 D.N. Heizer's buffalo-hunting exploits are also detailed:
Oct. 2, 1871: Went out to see the Pawnee Indians and traveled all day on the trail with them. Bought one pony and had a merry time with the Indians. Stayed all night at Landon's Ranch on the Smoky River.
Nov. 14, 1871: Up in the morning early, traps together, we set sail with three yokes of bulls to a bull wagon, Henry Huffines principal "whacker." Company consisted of Charlie Prescott, George N. Moses (commonly called "Mose",) Henry Huffines, Albert B. Robinson (Bob) and D.N. Heizer. After a drive of a few miles with no excitement, we pitched our camp at what is known as the "12-Mile Timber" on the Arkansas. Here Charles, an unerring rifleman, shed the first blood for the company by slaying a swan, a beautiful bird and we ate it. I committed the next murder, which need not be told, it could be smelled.
Nov. 15, 1871: Broke camp in the morning and jogged along on our way. Weather clear with cool breeze from southwest. Passed Pawnee Rock about noon. (Said Rock named from a fight the Pawnees had at that place.) Arkansas Valley very flat and low on the left. Came to Boyd & Beal's Ranch and stayed overnight.
Nov. 16, 1871: Went to Ft. Larned and laid in more supplies and in the afternoon went on to the river and camped on the old Sully Trail. Day bright and clear until late that night.
Nov. 17, 1871: Awakened before daybreak and heard the gentle patter of rain, first from the southwest, but while getting breakfast, it wheeled around to the north. Rained all forenoon, then began a sleet which finally ended in a snow. During this cold, bleak rain, we sat around, stood around and stamped around. Getting colder, we took off our boots, packed our pedestals in a heap and packed a blanket about them – sang songs, told stories and made merry. After noon it began to sleet and Chas. Henry and I took the cattle and drove them back to the Boyd Ranch, where we stayed all night in a hard crowd of bull whackers and buffalo hunters.
Saturday, Nov. 18, 1871: Still housed in the ranch and still a fearful storm is raging. Around some are smoking, some playing cards and others reading newspapers, such as you find at Western ranches being "The Day's Doings," "Sporting Times," etc. One thing favorable, no whiskey.
Sunday, Nov. 19, 1871: Spent the day on the ranch. In the morning "Mose" and "Bob" came in from the camp after a lay-a-bed of forty-eight hours. Henry and Charles then went down, the storm being over. The boys at the ranch spend the day in playing cards and vulgar jesting. Three of them gambled all night.
Monday, November 20, 1871: In the morning "Mose" and I set out for the camp and on our way, saw three buffalo lying on the river bank. We went to camp, found Henry and Charles all right, took some cartridges, crawled down along the river bank and killed three bulls. Skinned and cut them up. Took some meat to camp, cooked it in skunk oil and ate our fill. At night we came back to the ranch.
Tuesday, Nov. 21, 1871: Went out again from ranch and "Mose" killed two more buffalo. We then went to camp, got dinner, skinned the two buffalo that "Mose" had killed Sunday morning, got supper and started back to ranch. Came by and skinned the two he had killed in the morning and came on in. For the last few days weather moderately warm, some clouds but thawing.
Wednesday, Nov. 22, 1871: Started home on old "Satanta" but it was very cold and he could not travel, so I turned back, took the team out and we gathered up the load to start home the next day.
Thursday, Nov. 23, 1871: Started home and got as far as the old "12-Mile Timber" on the Arkansas and camped at Boyd and Beal's hay train camp. Came in late at night, cold and the wolves made music with their howling.
Friday, Nov. 24, 1871: Kept camp. Took breakfast at 12 PM, and started on a hunt. Mose and I killed on buffalo and put out wolf bait. "Ike" (one of the hay train men) killed a mess of grouse and quail.
Saturday, Nov. 15, 1871: Came home by night time and lay our booty down, tired and weary, glad the trip was over.
Sunday, Nov. 26, 1871: Henry, Charles and I spent the day at Capt. Rugers. Enjoyed a wild turkey with him. Bitter cold and stormy.
Wednesday, Nov. 29, 1871: Bill showing prices:
1 Gallon molasses $1.25
6 2-3 lbs. sugar 1.00
5 Bushels corn at $1.25 6.25
1 Pair gloves 3.25
4 Lbs. lard 1.00
12 Lbs. butter at 35 c. 4.20
1/4 Bushel Apples .60
Buffalo meat 3 cents per lb.
Sunday, Feb. 4, 1872: Cold and stormy. Alone in the dugout all morning. Dressed up to stay at home. People are concerned about what the Indians will do in the spring. Jack Jamison has just been down among the Osages and Kiowas and thinks they will be hostile in the spring.
Wednesday, Feb. 7, 1872: Exploits of the "Great Buffalo Trio," Chas. Prescott, E.W. Morphy and I started for a hunt. Camped in the evening at 12-Mile Timber. Fair weather and we sat around our bright, blazing campfire and gazed on the starry heavens. We poetized, moralized, sang songs, and our gallant Morphy was unmindful of the saying "Laugh and grow fat," excited our risibles by all sorts of comical scenes from his stock of theatricals. We lay down after smoking the pipe of peace and slept. But lo, in the dead of the night, Morphy, feeling the heat at his toes, raised the cry of fire. Our bed was ablaze and we presented a weird spectacle as we had to hustle and put it out. It would have done for the witch scene in Richard III.
Up in the morning early, had breakfast and went south. What a country we saw. Range after range of sand hills, barren and desolate. No tree in sight. A long, weary drive and we reached Rattlesnake creek, where our spirits were revived by the sight of a herd of buffalo. Charles and Morphy tried to steal up to them but the flatness of the country was against them. It being night, we pitched our camp on the wild, desolate prairie and here we sat, our horses tied to the back of the wagon, our bed made beside it on the ground. Alongside is our camp fire of buffalo chips. Charles has retired and Morphy, with the ease and comfort of a King in his Palace, sits on a stick and smokes his pipe while "Dick Turpin," my dog, races back and forth after the wolves prowling around our camp. We have formed our plan of attack and with the rising sun, the ball will open.
Friday, Feb. 9, 1872: While eating our breakfast, the impudent wolves came in numbers within two hundred yards of the camp. "Dick Turpin" ran out at them and at one time, formed an interesting tableau. Three stood in a row, stone still, while he stood a few paces from them, intently eyeing them, each afraid of the other. After breakfast, we set out after the buffalo and Morphy and I chased them on foot all day long with ill luck. They were very wild and we only succeeded in wounding a few. Late in the evening, he and Charles killed an old bull; we took his pelt, cut his liver out, cut it in chunks an inch square seasoned each with strychnine and distributed them about his remains for wolf bait. Camped near by for the night, and such wailing and howling was never heard before.
Found eleven dead wolves within fifty feet of His Majesty's carcass and there would have been more had there been more bait. Again we renewed the chase; Charles took a horse and killed a cow that had been wounded the day before; rain set in and we, with our meat, started on our hunt for timber. Drove about ten miles, facing a bleak, cold rain and getting colder, down came the snow; no tree appeared and our team being tired, we halted and fixed for the storm. Tried to cook in the wagon box by building a fire in the Dutch oven. No go! Sheltered it and cooked a meal outside, after which we went to bed in order to keep warm. A cold north wing howled all night – so did the wolves – although we did get some sleep.
Sunday, Feb. 11, 1872: After breakfast, three men came to our camp with them, we drove back to the hunting ground and killed three fine buffalo that evening. We sold our coyote pelts for 65 cents each.
Thursday, Feb. 15, 1872: Reached the Arkansas river by noon, fed our teams and started across with half our load. The last two days thawing had started the ice in the river and today it again turned cold with a gale from the northwest. Great chunks of ice were floating and the river seemed to be rising. Got in the main current and horse mired in the quicksand. I had to plunge out into the icy water up to my arm pits, loose the horses from the wagon, turn them over to get their feet loose from the quicksand and then go to Great Bend, where I got Louis Frey with his team of mules, to come and help pull us out. All this time, I left Charles and Morphy sitting in the wagon in the middle of the river. I was mad at them because they would not get out in the water and help me. My clothes froze stiff on me but after we got the load over, I trotted all the way home, five miles, behind the wagon to keep warm. Got home late in the evening. "labor omnia vincent improbus."
Monday, Feb. 19, 1872: I hunted my cattle and started to plow for Uncle Dick Demis at $5.00 per acre. Plowing by myself with two yoke of Texas cattle I found not calculated to cultivate the most elegant manner or style of expression. The leaders would turn and look at me and the furrows were very crooked. (Note – I think this the first land broken in Barton County.)
Friday, May 3, 1872: April 31st, there was a horrible murder committed at Zarah. Zake Light, a clerk and brother-in-law of Mr. Buckby, who was about eighteen years of age, shot a young man who had been there for two weeks looking for land. He went into the store in the evening and asked for some crackers and cheese. Zake gave him the crackers but said they had no cheese. The young man made a joking remark about such a store keeping nothing to eat. Zake was insulted and ordered him out of the store. He refused to go and Zake shot him through the head. It was unprovoked and Zake ought to be hung if it was right for any man to be hung.
Monday, May 20, 1872: We moved today to the town of Great Bend to live. Tom and I shall continue to dwell here henceforth.
Wednesday, May 22, 1872: We had some sport today. Just before noon two buffalo came just in sight of town, and in less than ten minutes every horse in the livery barn was out in pursuit or rather, to meet them. After they had chased them out of sight seven more buffalo came into the Walnut north of town. Everybody, including women and children, came out in a stampede to see the fun. A skirmish line of men with guns started out on foot. I seized an Indian pony, belonging to Mr. Hubbard which was hitched outside the store, and after giving Mr. Hubbard my pocket book to take care of, off I went with a needle gun on the pony. I soon got beyond the footmen and away I went for the burly old fellows across the Bottoms. When about one-fourth of a mile from them, they turned and ran northeast toward the bend of the creek. I was lucky enough to shoot one just as he was going down into the creek. Hubbard, the trustee of my pocket book, lost $5.00 of my money on my success. There was a big crowd standing in the northern part of town watching me, and Jack Conkie pulled out a bill and wanted to bet I would get one and Hubbard took him up.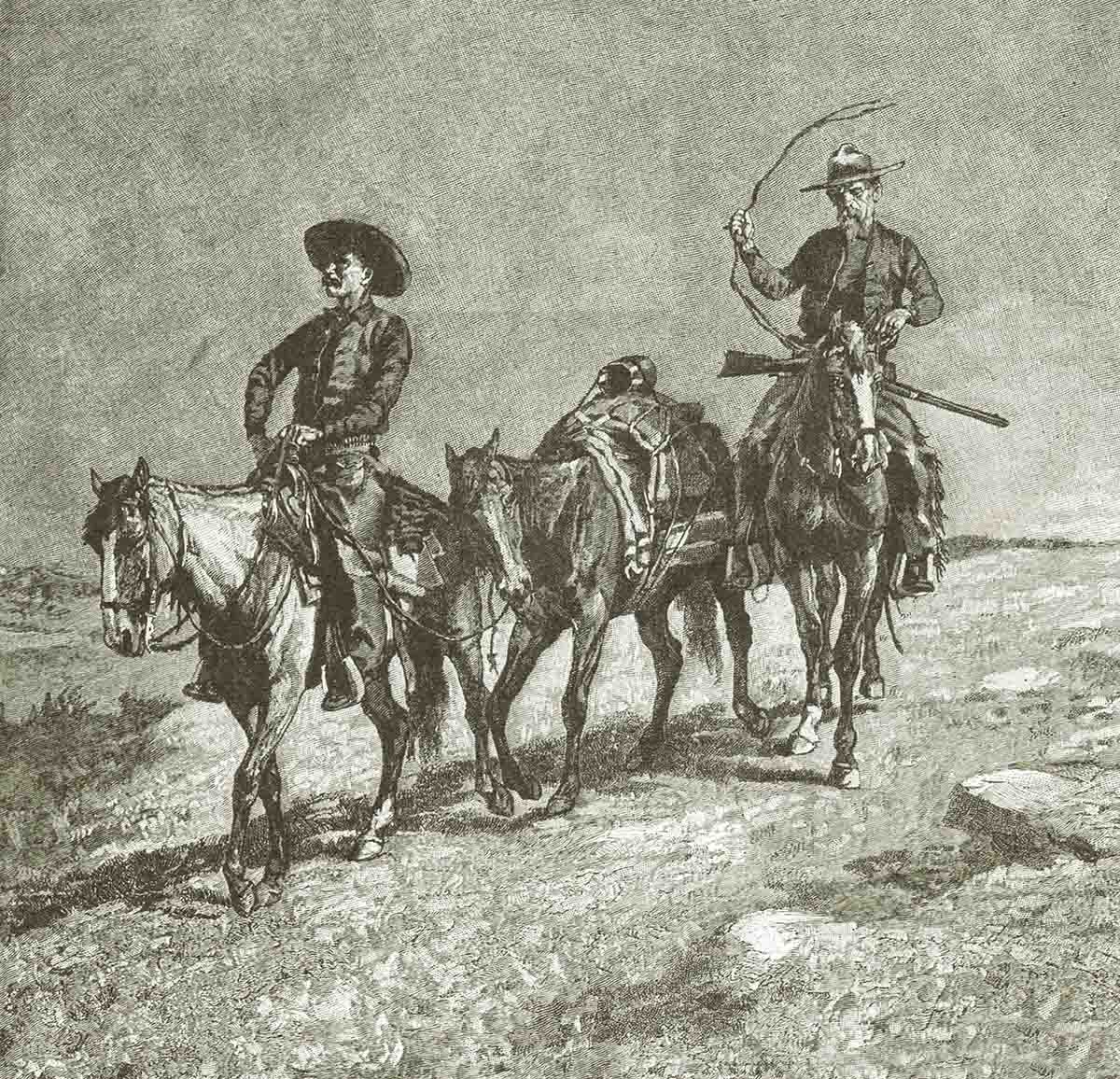 It always amuses me to read the common perception of a buffalo hunter as an illiterate, uneducated, filthy, vermin-ridden individual. D.N. Heizer hunted buffalo. He was fortunate in his opportunity to attend college and held the following positions as listed in
Biographical History of Barton County, Kansas
(1912) pp. 255-267, while he lived in Barton County: first Notary Public commissioned in the county on January 9, 1872, issued to D.N. Heizer and signed by James M. Harvey, Governor and W.N. Smallwood, Secretary of State; appointed as Census Taker of Barton County to take census for organization of county, March 22, 1872, by Gov. James M. Harvey; elected July 5, 1872, to office of Probate Judge of Barton County; elected November 5, 1872, to office of Register of Deeds of Barton County; Rail Road Assessor of 4th Judicial District composed of the counties of Barton, Ellsworth, Ellis, Lincoln, McPherson, Russell, Saline and Wallace. Commission signed by W. N. Smallwood, secretary of state; appointed Deputy Country Surveyor, July 13, 1872, by John Favrow, County Surveyor; appointed City Treasurer of Great Bend, Kansas, July 14, 1874 by Samuel Maher, Mayor; elected November 2, 1880, to Office of Representative of the 120th District, Barton County; appointed April 2, 1881, Member Republican State Central Committee of Kansas, J.B. Johnson, Chairman; appointed June 27, 1883, Appraiser of Ft. Larned Reservation by Secretary of Interior, U.S.; elected 1886 to office of Mayor of Great Bend, Kansas.