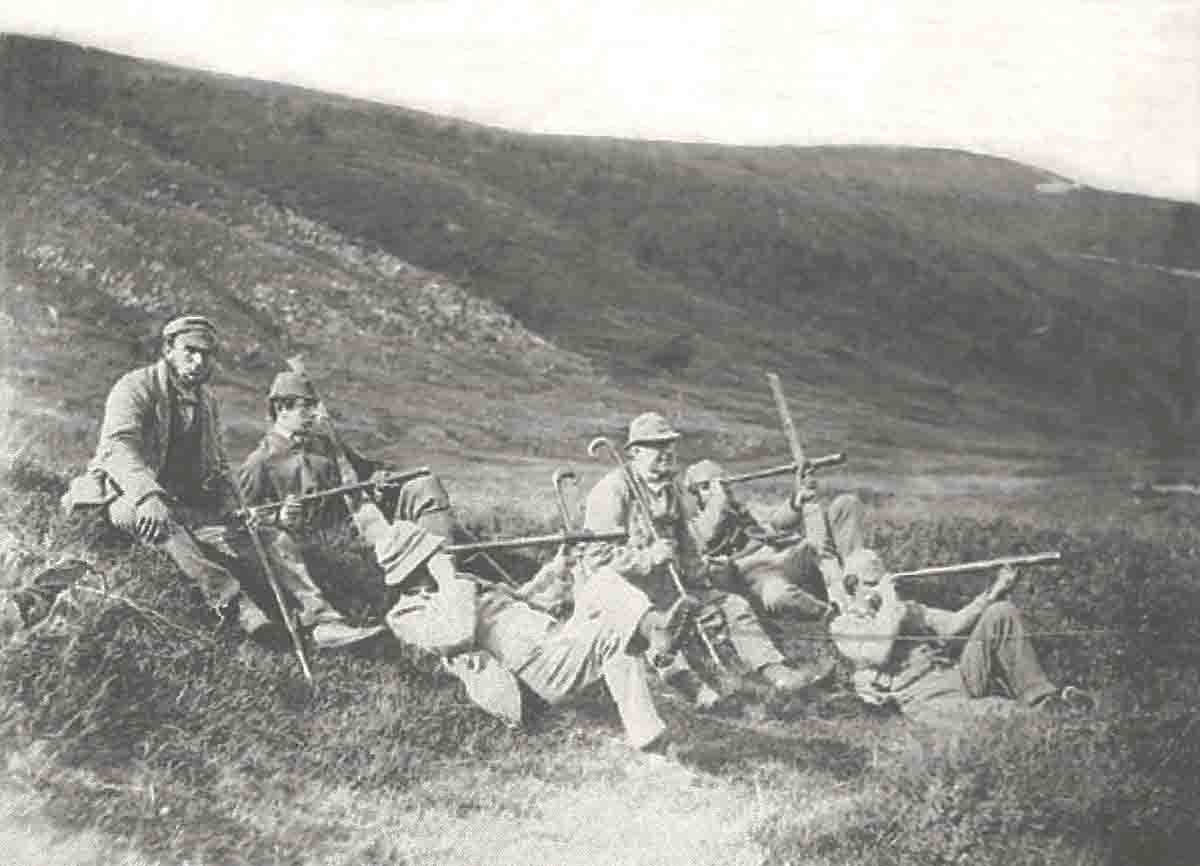 Horatio Ross was born at Rossie Castle, Forfarshire (near Montrose) about 35 miles northeast of Dundee, Scotland, on September 5, 1801. He was the son of Hercules Ross and Henrietta (nee Parish) Ross and named for
his godfather Lord Horatio Nelson. Hercules Ross and Lord Horatio Nelson corresponded over the period 1780 to 1802 and their letters are in the Archives of the Royal Naval Museum.
Horatio Ross joined the 14th Light Dragoons in 1821 and retired as Captain in 1826. He won large sums in prizes for shooting and steeple chasing1. He became a member of Parliament for Aberdeen in 1831, and in 1834, he married Justina Henriette, daughter of Colin Macrae, Chief of the Clan Macrae. They had five sons, three of whom shot with their father as four of the Scotch eight competing with the English for the international trophy, the Elcho Shield. Horatio Ross was so often successful and so highly regarded that the British NRA honored him with some long-range shoots at the Bisley Ranges. The firm of Holland & Holland also named a model of rook rifle for him.
Obituaries published in The Scotsman on December 7 and in The Highlander December 9, 1886, described him as, " . . . one of the best athletes and sportsmen of his day in the early part of the present (19th) century," as well as, "A shot without equal . . . one of the best riders of the day."
It was also reported that he won the first steeplechase on record; that he, together with three of his five sons, was part of a team of eight competitors shooting for Scotland in 1863, and that he was regularly out on the Glorious Twelfth of August for the opening of the grouse season. In a letter to an old friend, he said that he was preparing for his 69th consecutive Twelfth.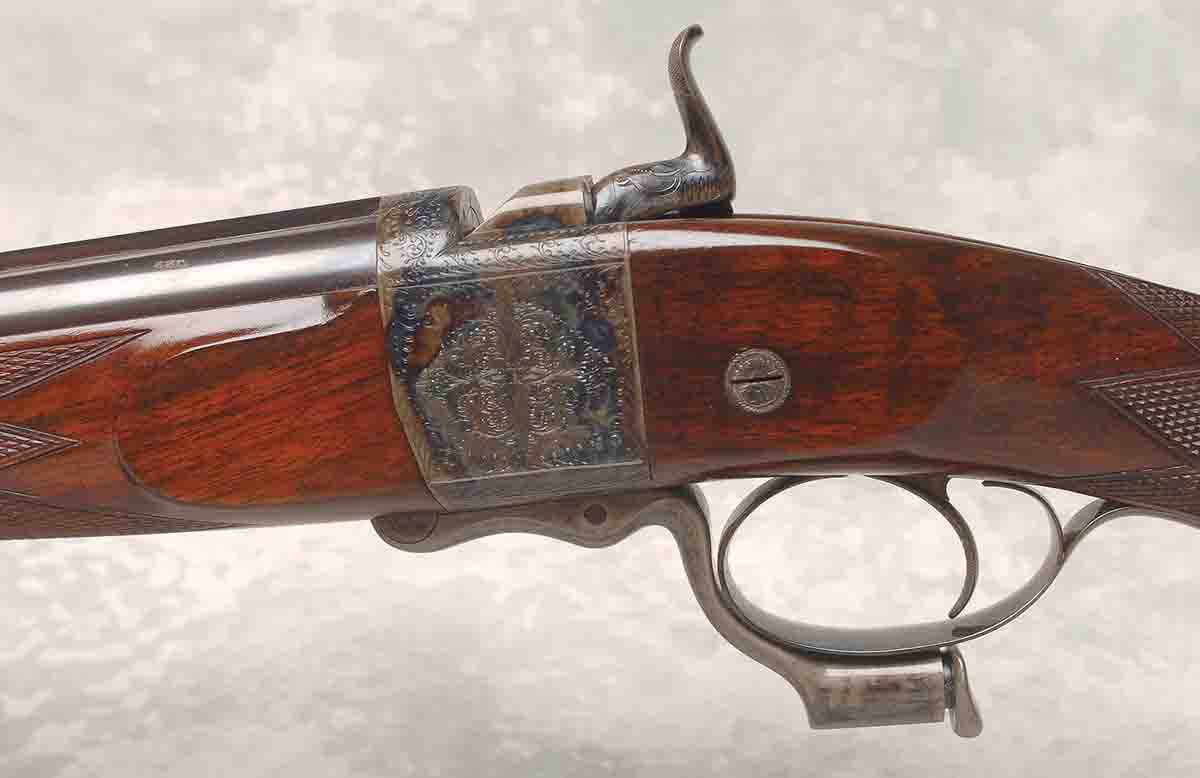 A keen deer hunter, he shot his last stag in the season of 1884 when he was in his 83rd year. Prior to that he had once taken eight deer in 20 minutes, as well as shooting 13 deer with 14 shots. Sir Edwin Landseer was a close friend of Ross, who, along with Queen Victoria, was one of his wealthy patrons. According to Ormond, Landseer painted Ross in hunting scenes. 2
In addition to hunting, fishing, target shooting and steeplechasing, Horatio Ross was a passionately keen amateur photographer. He was a daguerreotypist from 1847 and a calotypist from 1849. He was taught the calotype process by James Ross. He helped to establish the Photographic Society of Scotland, and he became the Society's vice president from its foundation in 1856. He led the case for the amateur photographers in the Society at the Special General Meeting in 1858 when there was a rivalry between the amateur and professional members.
The original Henry records for the beautiful single shot rifle No. 3575 under consideration here verify that it was sold to Captain Horatio Ross on June 8, 1875. It is listed as a "Best" quality single shot .450 Express with a 32-inch full rib, 145⁄8-inch length of pull, 111⁄16-inch drop at comb, 2¼-inch drop at heel, and pistol
grip. Alexander Henry was one of the very best gunmakers of his day. Everything he turned out was handsomely crafted with great attention to detail. "The lock, action, barrel and furniture look as if they have been nailed to a tree and the wood grew around them, so expert is the fit." 3
Alexander Henry petitioned for patent protection and was granted Patent No. 1071, April 17, 1865. His outside hammer, back action lock, falling block action is similar to the Sharps system, but in my opinion it is simply elegant by comparison. A friend once traded a Sharps Business rifle with Freund "More Light" sights for the first of several Alexander Henry falling block rifles that he has owned. There is no accounting for impulsive action, is there?
Was Horatio Ross impulsive when he block-stamped "Queen of the Forest" on the right side of the rifle stock? That he thought highly of the rifle and used it very well is manifest in his correspondence. First, a letter to Alexander Henry written in June 18764:
Dear Mr. Henry,
Yesterday I gave the 'Queen of the Forest' a severer trial than I ever did previously.
I was anxious to take advantage of the rifle range and target here, to ascertain exactly what its trajectory really is. I got Mr. Ferguson to assist me, as I consider him to be one of the most careful and painstaking rifle shots we have.
We began at 100 yards and fired at 130, 150, 180, 200, 220, 230, 250, 275, 300, 325, 350, and 400 yards.
We aimed at the same spot as at 100 yards. Up to 250 yards, using the first sight, we found that up to 230 yards there was no perceptible drop.
At 250 yards we had to put up the flap sight, which gave very satisfactory results as far as 350 yards, after that, at 400 yards, we found the drop considerable and sudden.
Mr. Ferguson said that, until he had shot this rifle, he had no conception that it was possible to make a rifle which, up to 230 yards, had such a flat trajectory.
Yours very truly,
– Horatio Ross

Next, a letter written from Ross' hunting lodge, Wyvis Lodge near Loch Ness, to famous Scot gunmaker, Hugh Snowie of Inverness, dated Saturday, August 27, 18815:

Dear Snowie,
You like to hear of anything connected with Highland sport. I therefore send you a very curious account of what occurred last Monday to me. I may say that I do not recall anything like it during the more than half a century that deerstalking has been my favorite sport. I was stalking three stags and slowly slipping down a hill when two sheep saw me. The stags saw the sheep and knew at once that danger of some sort was near and from their manner it was evident that they were about to bolt. They were a long way off but I had confidence in my Henry rifle. I fired at one whose horns were clear of velvet. To my surprise they never moved. I fired again at the same stag, then they started at a gallop. The stag I had shot at, after going about thirty yards fell down dead. On going up to him I found that both my bullets had hit him, one passed through the liver, the other through his heart and the two bullet holes were not more than four inches apart. There is no great merit or difficulty in hitting a stag standing steadily broadside although the distance was considerable (200 yards by measurement) but that he should not have moved after a bullet has passed through his body is quite unaccountable...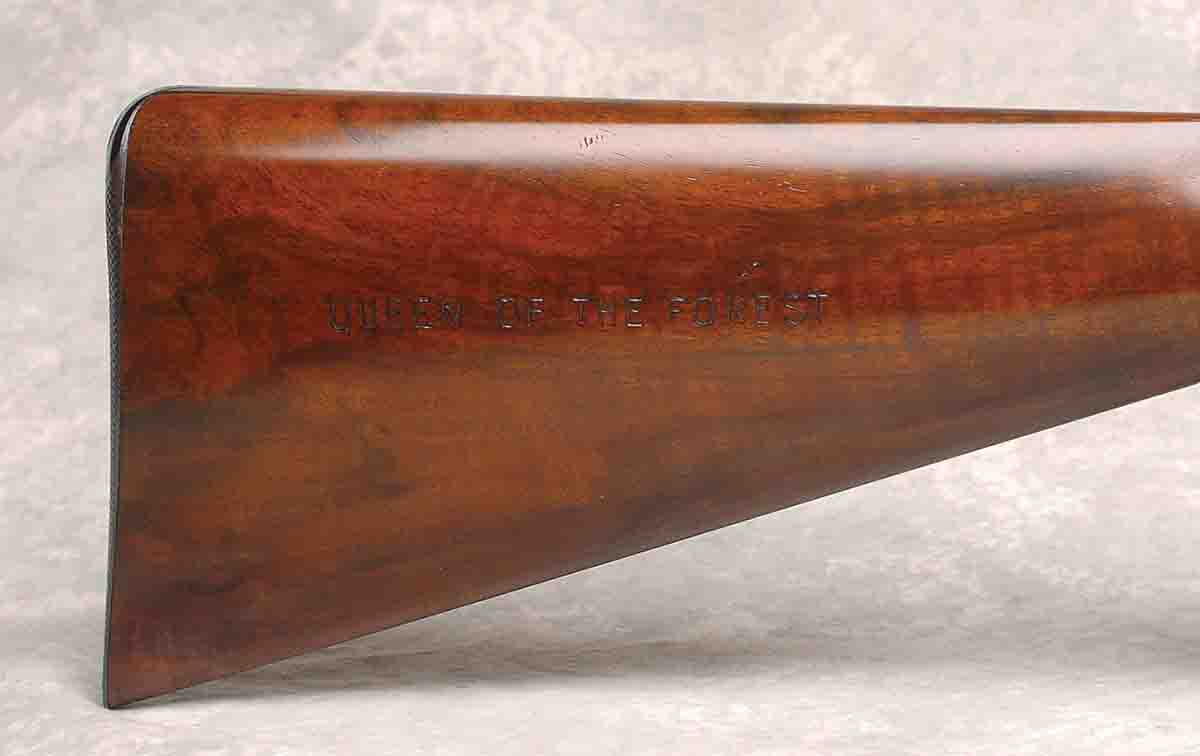 It is noteworthy that Ross was in his 80th year, and the iron sights on the rifle were not user friendly to such chronologically enhanced eyes.
However, Ross had exceptionally good vision as demonstrated in his ability as a pistol shot. He killed 20 swallows one morning before breakfast, most of them on the wing. He was, in fact, known to be the best pistol shot in all of Europe. In an interview with Sir Henry Halford in 1893, Halford recalled,
So great was he with the use of a pistol that a Spaniard came over specially to study his methods, querying whether Ross was as proficient with the weapon as avowed. A match was arranged between the two men with dueling pistols- the distance being twenty yards, and the target a bull's-eye, the size of a sixpence (.764 inch diameter). The Spaniard hurried off home after seeing Ross hit the bull's-eye with twenty consecutive shots.
Ross was chosen to act as Second in 16 duels and was always successful in dissuading the combatants from carrying them out. So, it is with great pleasure that this thumbnail biography of a remarkable rifleman and his "Queen of the Forest" is presented to the readers of The BPC News.
Acknowledgment
Grant Cypher at Ron Peterson Guns, Albuquerque for photographs of Horatio Ross' Henry rifle.
References:
1. Gilbert, Miles. "Thomas Kennedy, Maker to HRH Prince Albert." Double Gun Journal, winter 2010.
2. Ormond, Richard. The Monarch of the Glen: Landseer in the Highlands. National Galleries of Scotland, 2005. pg. 70
3. Winfer, Wal. "Alex Henry and his Falling Block Rifles." The Gun Digest, 1979. pg. 78
4. Walsh, J.H. The Modern Sportsman's Gun and Rifle. Vol II. Wolfe Publishing Co. Prescott, AZ.
5. The Englishman. Jan. 9, 1887