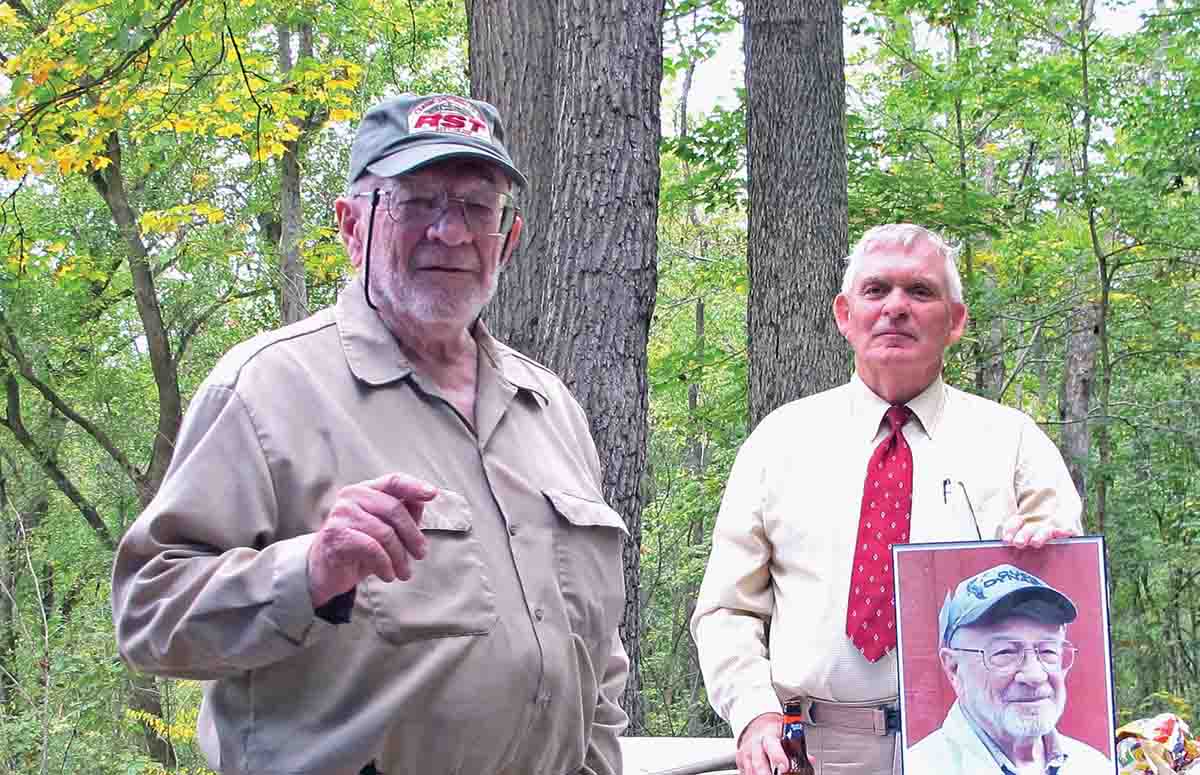 This shoot was originally conceived by Bob Woodfill, the African hunting enthusiast of Vevay, Indiana. It was respectfully named for Don Kettelkamp, a modern-day African hunter, who wrote prolifically about his African experiences with the late Don Malsen in a 1996 book, Hunting Southern Africa with Muzzle Loading Rifles. Don Kettelkamp also wrote black powder hunting articles, too numerous to mention, for Muzzle Blasts, the house organ of the National Muzzle Loading Rifle Association. These articles started about 1980.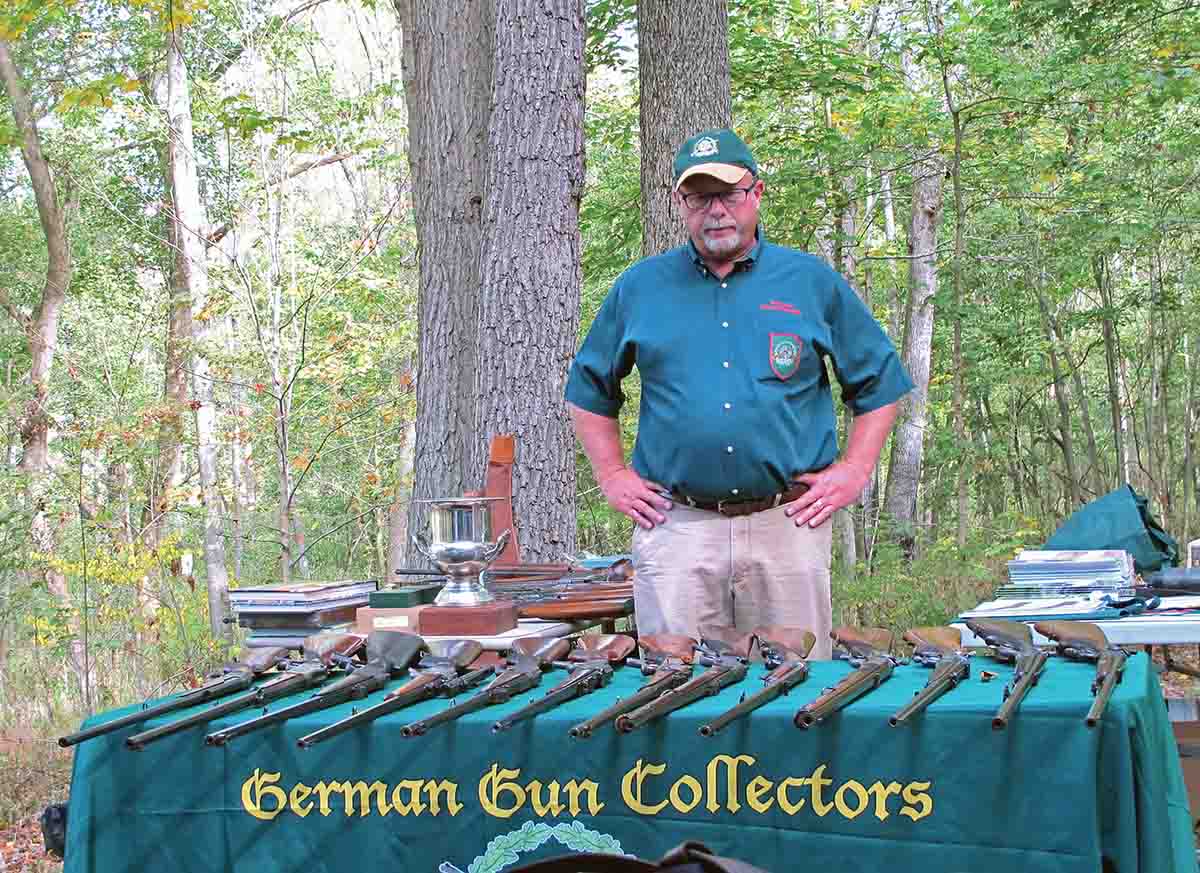 Another avid hunter Randy Cochran bought a fair-sized farm near Rabbit Hash, Kentucky, and established it as a tree farm. A serious sportsman, he built two cabins on it and used the original farmhouse as a bunk house/storage area. A number of his friends congregate there each fall to hunt the many deer on the farm. The Don Kettelkamp Shoot was created with Randy's full cooperation.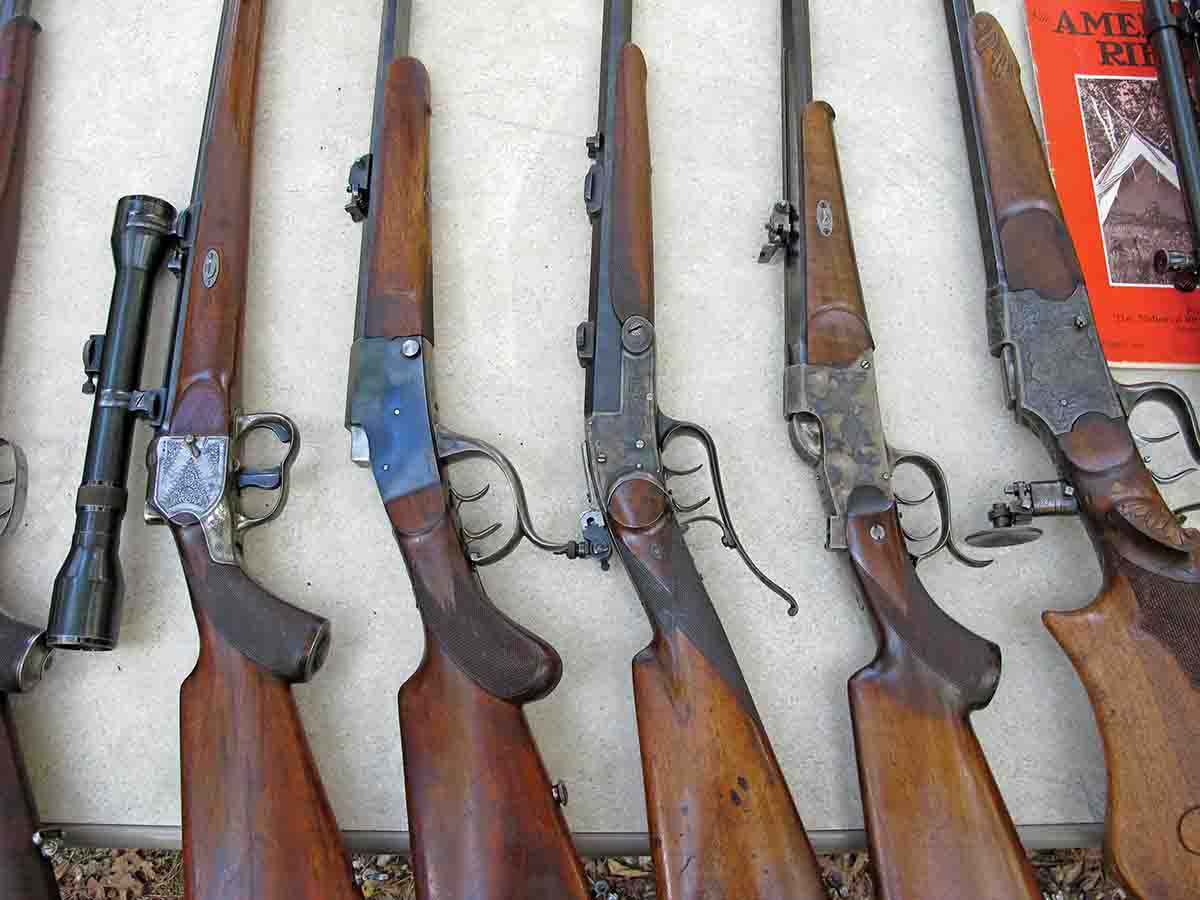 Two years before this event, a group met here to indulge in some English stalking rifle shooting. The shoot was designed and run by Bob Woodfill, who is no stranger to running memorable invitational matches in Indiana. While primarily for English stalking rifles, two German rifles among the English examples attracted the attention of the German Gun Collectors Association (GGCA).
Dialogue about these two rifles led to an invitation for some GGCA members to attend the 2017 shoot. While the focus was originally on English-made stalking rifles, German stalking rifles were displayed in some numbers at the 2017 event. Such was the enthusiasm that the decision was made to do it again in 2018, and even more German rifles appeared.
On October 27, 2018, this group of stalwart, historically minded shooters met to engage in a joint German/English stalking rifle shoot. Participants from the GGCA, American Single Shot Rifle Association (ASSRA) and National Muzzle Loading Rifle Association (NMLRA) were represented, although no muzzle loading rifles appeared in 2018 due to the time constraints of the match.
The definition of a stalking rifle is a bit less than universally agreed upon, but with this group, the focus was on light, single shot rifles of English or German origin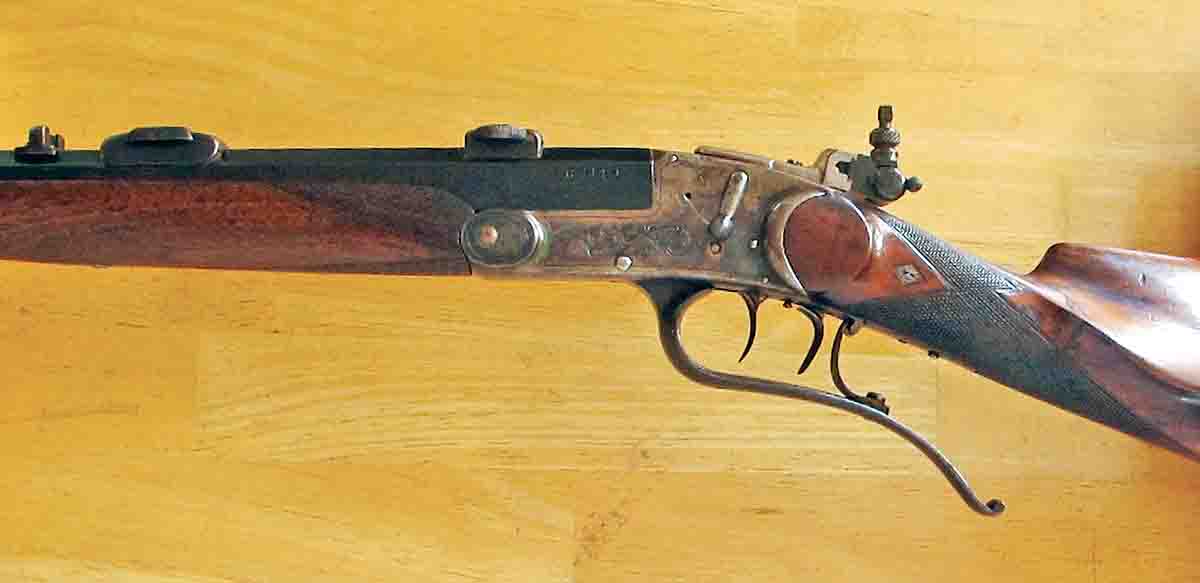 intended for deer-size game. They were of tip-up (Kipplauf) or falling-block design. While scopes and aperture sights are seen on many stalking rifles of the current day, the use of scope or peep sights in this match resulted, by the rules, in cutting a shooter's score in half!
There were no repeating rifles at this event. All of the cartridges used with the exception of three (a .30-06, a 7x57 and a 7.92x57) were introduced as black powder cartridges, and all but three of the stalking rifles used in this match were antique.
Many people wonder if "Rabbit Hash" is actually a real place, and if so, where is it? Rabbit Hash is indeed a real place and is located on the Ohio River (river mile 506.1) on the west side of the northern-most part of Boone county in Kentucky. But this particular farm is within a few hundred yards of where Lick Creek flows south into the Ohio River at mile 512.0 – some six miles from Rabbit Hash. This seeming anomaly is occasioned by the snake-like Ohio River flowing back to the east at this point. Some wags say the Ohio River got as far as Rabbit Hash and decided to go back to Pittsburgh! If so, it soon met tough-going and resumed its gentle meandering westward to the Mississippi. And, yes, Indiana is south of Kentucky at this exact point, and the sun goes down "up river"! (As an aside, passengers on the steamboat Delta Queen were warned about river pirates with a cannon down a bit past Rabbit Hash and on the Kentucky side. Details are sketchy, and the statute of limitations may have expired, but that's another story.)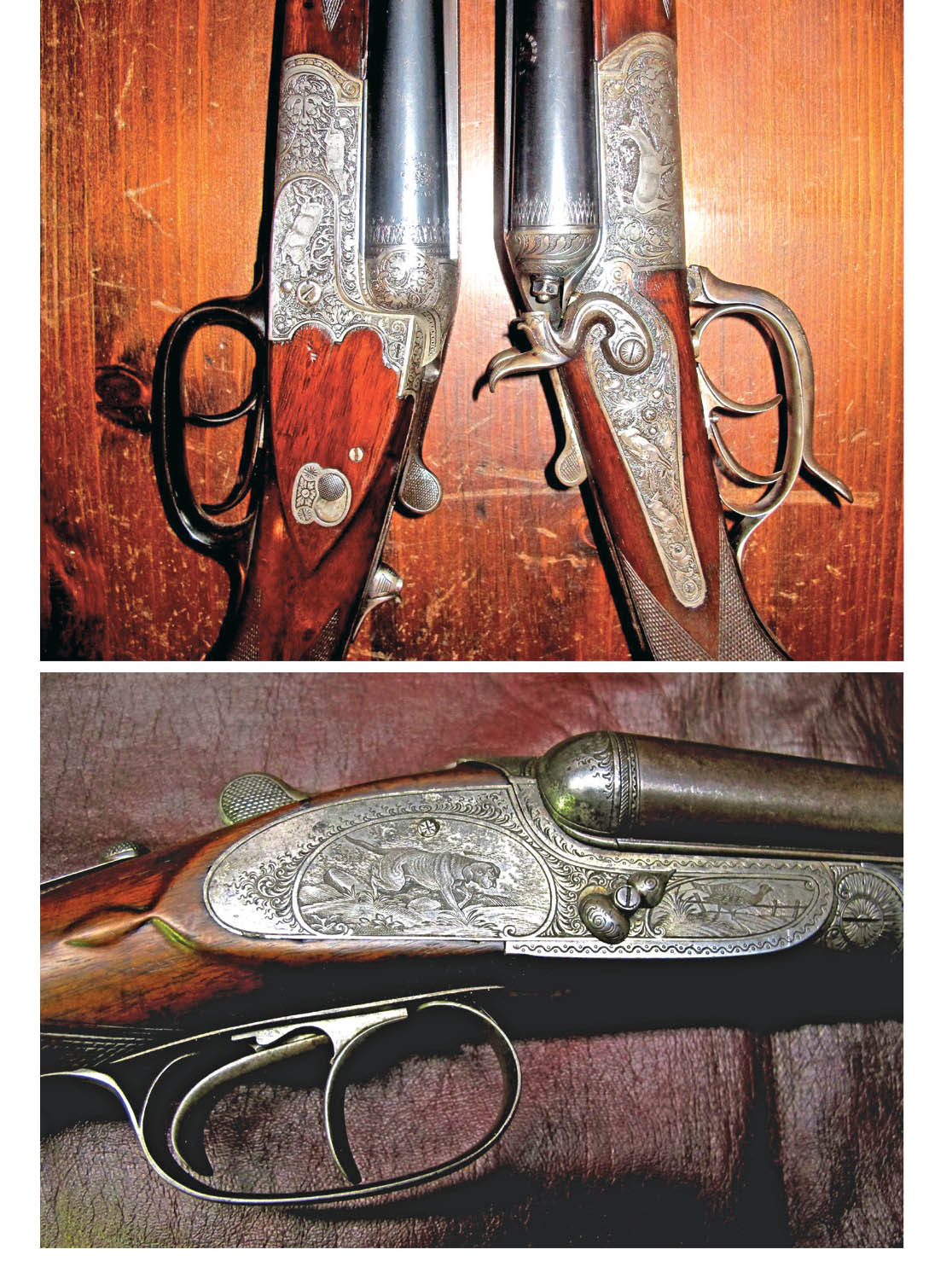 This was held to be a really fun shoot by all participants. It will be noted that bundled-up clothing, damp/cold weather, inadequate preparation, and age were mitigating factors on some of the scores! Nearly, if not all shooters had reached their half-century mark and at least one was in his 84th year. All that having been said, there was some very excellent shooting exhibited by the top competitors. Several days of rain had come grudgingly to a stop that morning, but the ground was slippery and boots weighed heavily with mud.
The hospitality was great. The environs arrayed in fall's splendid colors, and Randy opened his cabins to the few who spent their nights there. A "pitch-in" dinner was held the night before at Randy Cochran's house overlooking the Ohio River above Rabbit Hash. An impressive array of rifles were brought in by the shooters and displayed in Randy's shop.
The next day's shooting was done at Randy's tree farm. Shooters started to arrive about 10:00 in the morning. A chronograph was set up and the velocity of cartridges were recorded. A canopy and ample seating accommodated a talk given by African hunter and GGCA Director, Gary Fatheree. The subject was black powder hunting in Africa, especially concerning the things you need to know if you go. At noon, a fine luncheon preceded the shooting.
The shooters were divided into four squads and each squad started on a different part of the course. Nine steel-plate swingers were set at various distances in the woods from about 50 to 130 yards. These were static targets until hit. Cool deliberation could be indulged in addressing the two shots required at each. But, there were two dynamic targets to get the shooter's juices flowing! A "running deer" and a "charging boar" were targets that were moving and bouncing right along! Then, there was a knock-down target that took a rifle with real authority to knock it down.
As this article is written for The BPC News, the focus here is black powder. Two of the more successful shooters were Jim Poynor and Roscoe Stephenson, both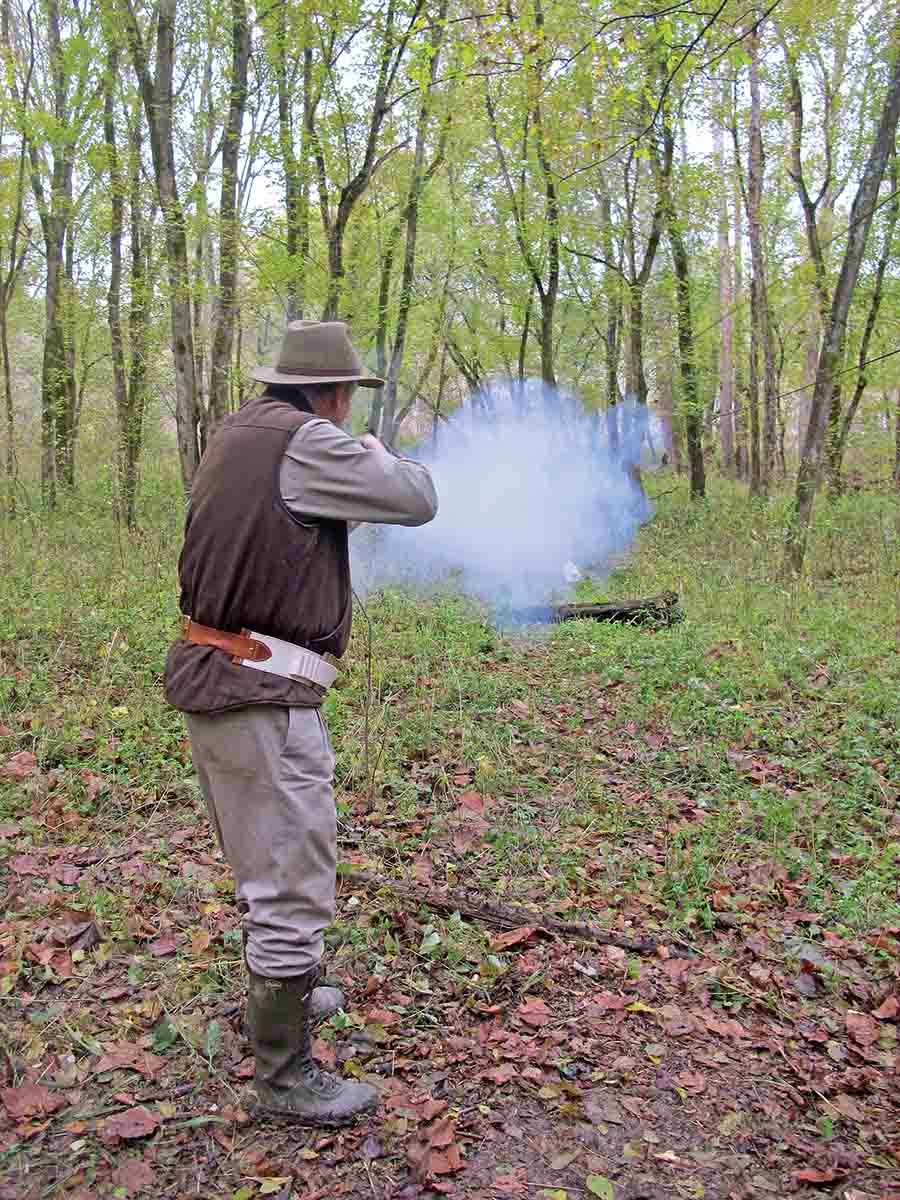 traveled here from Virginia. They finished in forth place (Jim) and sixth place (Roscoe) with both shooters using Olde Eynsford black powder, lube cookies and grooved/lubricated bullets. They did no cleaning during the 24 shots of the match. Each of their rifles demonstrated a generous lube-star at the muzzle and excellent accuracy, even at the end of the shoot. Jim used 85 grains of 1½ Fg behind a 240-grain bullet in his .450/.400 (23⁄8) Boss rifle. Roscoe used 110 grains of FFg behind a 330-grain bullet in his .45 (3¼) Alex Henry. Roscoe's rifle is a fine Alexander Henry and Jim's is a very nice tip-up Boss. Roscoe admitted he has other qualifying rifles that he shoots better, but wanted to honor the fine Henry by bringing it, the oldest rifle among them.
The "charging boar" was represented by a kill-zone-size plastic milk jug, which was suspended from a hand-powered, bicycle-wheel trolley. Suspended by a rope long enough to allow the jug to hit the ground and logs, the target charged, leaping and racing toward the shooter.
Most of the shooters, the writer included, used cartridges of modest recoil, or loaded to modest levels for the knock-down target. All of the targets except the knock-down favored the low-recoil loads. The .303 British and 8.15x46R were both well represented. There was one 9.3x72R, one .30-06, one 8x57 and one 7x57. All were fueled to modest energy levels, quite capable of taking deer-size game at close ranges but they would not flatten the knock-down target.
Shooters came from Virginia, northern and southern Ohio, Illinois, Indiana, Pennsylvania, Kentucky and Utah.
This was really a fun shoot. You could be a partisan of English, German or American rifles. You could be a user of black or smokeless powder; all were represented and all showed merit in greater or lesser degree. It is a rare black powder shooter who owns no smokeless firearms and an increasingly rare smokeless powder shooter who does not have a "smoke pole" in the closet. The latter, thanks in no small part to The BPC News. As for the partisanship of the author, well, he's been known to work both sides of the street!
It takes a lot of work and not a little coin to put on a shoot like this that attracts folks from diverse and distant parts of the country; and sees them happily homeward bound in spite of damp and threatening weather. We shooters owe a lot of thanks to Randy Cochran. He pulled in many markers among his friends and squandered a good bit of his own time and coin to make this event happen. Nor should the efforts of Bob Woodfill be overlooked for his planning, communication and advice, plus being a lightning rod for anything that goes wrong!
As our German friends say – Waidmannsheil! or from our British friends – Cheers!