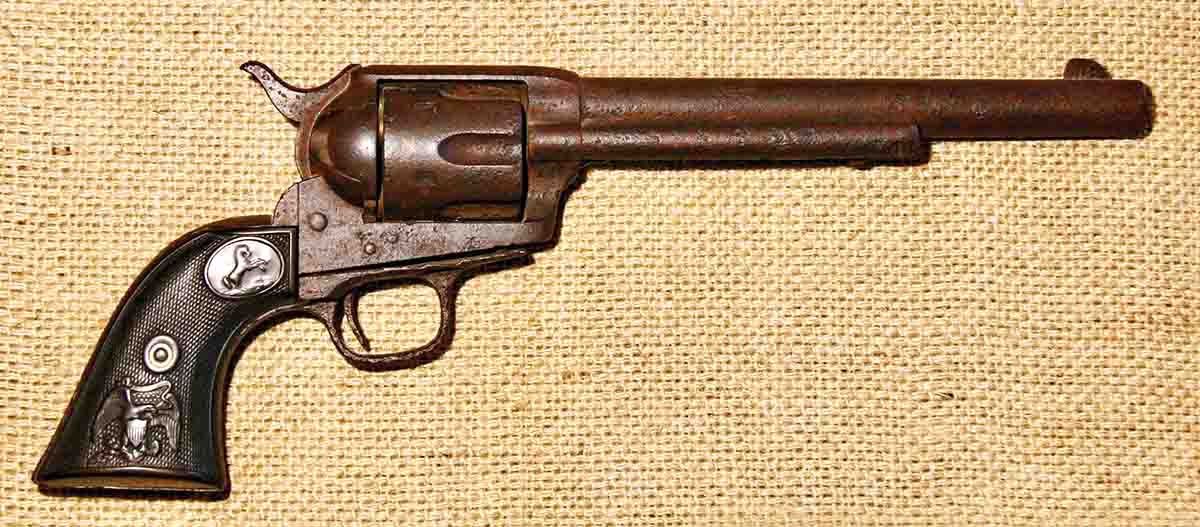 This Colt .45 "Peacemaker" was found out in the desert in historically one of the most dangerous places on Earth. The end of the barrel was spotted sticking up out of the dust in the middle of nowhere, 17 miles from Tombstone, Arizona, 16 miles from Fort Huachuca, and only nine miles north of the Mexican border. It was made in 1884, based on the serial number of 111,506. The gun has one empty chamber, two fired shells, and three live rounds in it. The hammer is frozen in the first click or notch. Given the clockwise rotation of the cylinder, it had been carried on the empty chamber, then two shots had been fired, and the owner was in the act of cocking the hammer for the third shot, when it fell to the ground. You get an eerie feeling that the guy died violently when he dropped this gun, because he was in "The Valley of the Shadow of Death."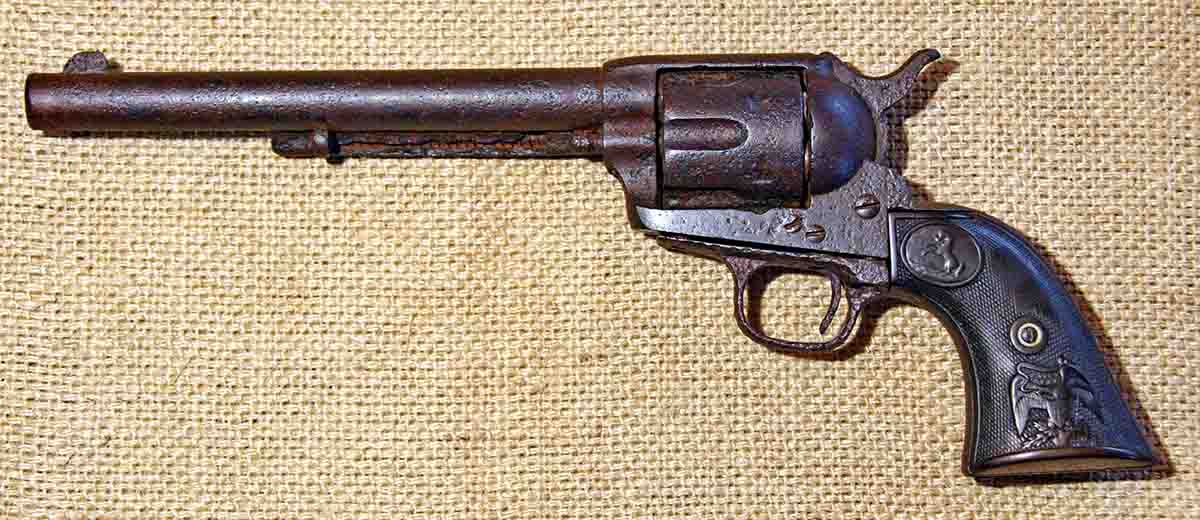 Here is what was happening in this area at the time. Tombstone was in its heyday, and "Boot Hill" was full of people murdered in the town and out in the desert. Only very seldom did anyone die of natural causes. It was not uncommon for Anglo outlaws, Mexican bandits, and rogue Apaches to raid small, individually owned mines out in the remote areas. In fact, what is known as "the bloodiest cabin in Arizona" is only about 10 miles away. This is a small adobe miner's cabin where at least 20 people were found murdered over a number of years. A few miners would move in to work the rich silver vein, they would get robbed and killed, and a few new miners would move in to continue working the claim. This cycle of mayhem was repeated over and over.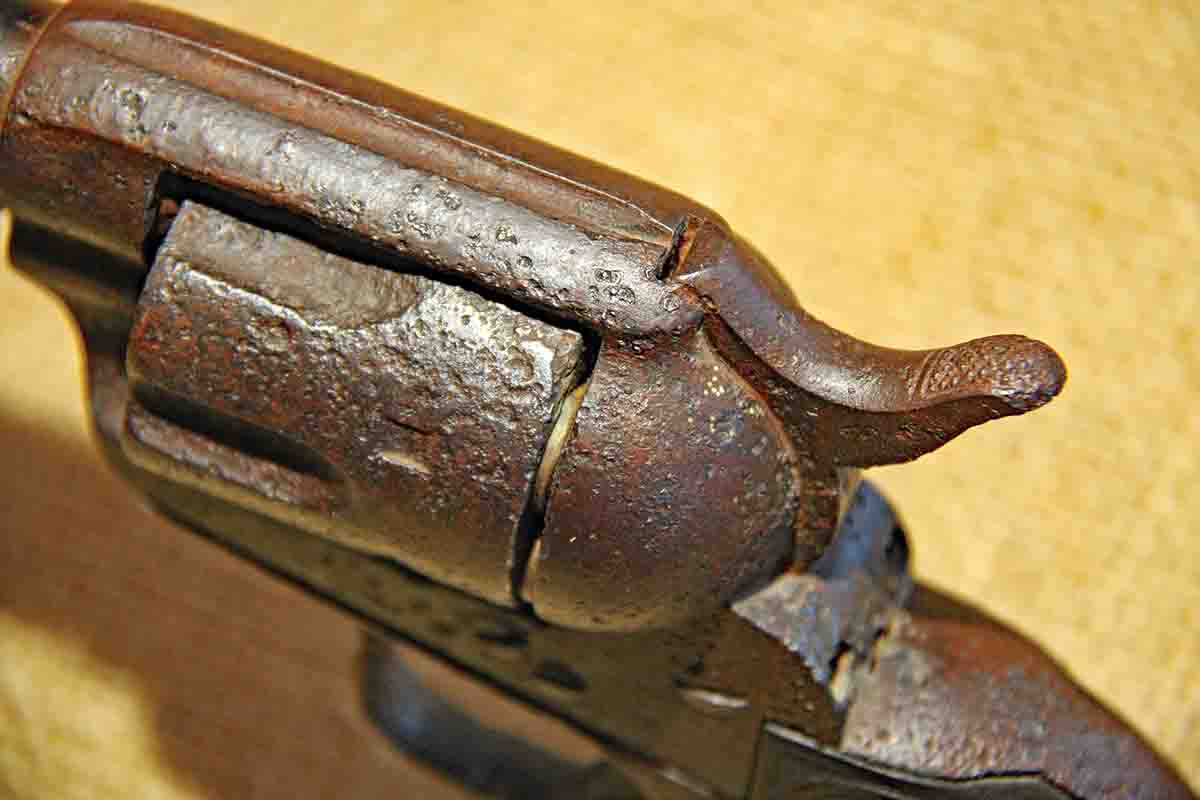 Cattle rustling became a big business, because there was a shortage of beef to feed all the local miners. The "Cowboys" were an organized crime ring who often stole cattle in Mexico and drove them up to Tombstone for sale. You may remember that these were the bad guys in the movie "Tombstone" with Kurt Russell. Even after this ring was broken up by Wyatt Earp and other lawmen, livestock rustling was still an easy way to make a living. From 1886 to 1922, "Texas John" Slaughter, the famous Cochise County sheriff, set out to clean up this mess with a war on crime, and he is said to have killed more bad men than any other lawman in the Old West.
Fort Huachuca was established in 1877, in an attempt to control the Apaches, and it exists to this day. The cavalry troopers made routine patrols out through the desert, and when they found a corpse, often naked and with no identification, they would bury the remains in the post cemetery. There are many white marble gravestones marked "unknown" in that cemetery. Legend has it that Tombstone got its name from a soldier who told the first resident of the town, "The only thing you will find there is your tombstone!" Over the years, there were lots of skirmishes with bad men in the area, right up into the early 1900s. Mexican bandits and even some of Pancho Villa's Mexican revolutionaries made occasional cross-border raids here. This triggered the U.S. Army's "Punitive Expedition" into Mexico, led by General "Black Jack" Pershing in 1916.
Let's not forget Geronimo and his band, because they killed hundreds of people in southern Arizona and northern Mexico. In just the last five months of Geronimo's bloody career, the governor of the Sonora Province reported that Geronimo's band had slaughtered some 500 to 600 Mexicans. This Apache band would live on the Arizona reservation for a while; then they would leave, killing along the way, and they would eventually be forced to return to the reservation. Orders from Washington said that the army was not to punish any Apaches, regardless of murderous past actions, as long as they were living peacefully on the reservation. This enraged many whites, because had a white man committed similar crimes he would have been hanged, but not Geronimo.
Representatives in Tombstone sent a formal letter to Washington, D.C., complaining that Geronimo had been in custody four times for murderous acts, but the government always allowed him to return to the reservation unpunished. For example, in 1885, Geronimo and several other chiefs fled the reservation with about 135 people. In short order, they had killed over 30 whites and captured one girl alive, whom they hung from a meat hook that was spiked into her skull. When a rescue party found her, she was not quite dead.
Atrocities were also visited on the Apache as hundreds were killed and the terror continued until September 1886, when Geronimo and his small band finally surrendered for the last time in nearby Skeleton Canyon. However, some renegade Apaches continued raiding sporadically in northern Mexico until about 1940, according to local historians.
This relic revolver was found in the epicenter of all of this mayhem, and one can only wonder whether it belonged to a good man, or a really bad one.