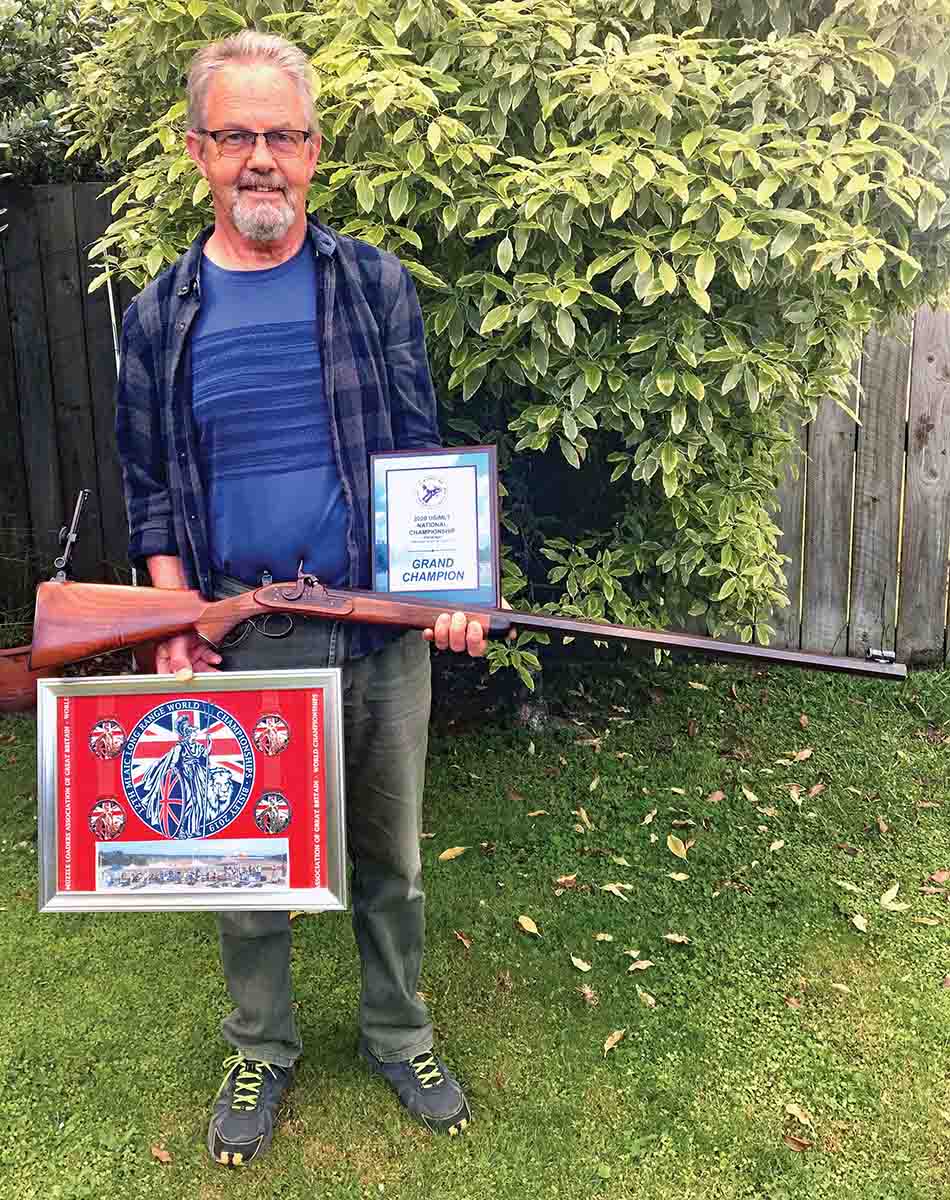 During a recent stay in New Zealand, we found ourselves in Rotorua, which is the stomping grounds of expert Kiwi rifleman, Laurie Kerr. Laurie has been a friend since we first met at Raton, New Mexico, a number of years ago and we have managed to stay in relatively good communication ever since. Laurie recently turned more than a few heads by his second place win at the 2019 World Long Range Muzzleloading Championship and a first place finish at the 2020 United States National Muzzleloading Championships. We weren't really surprised; we've known for quite a while that Laurie took his shooting very seriously and is a top-notch competitor.
We were fortunate to be passing through that area, so we stopped at Laurie's house, had a great visit catching up on old times and discussed the new shooting matches in the area. I, naturally, had to question Laurie on the rifle and ammunition he used for his latest long-range competitions. I was struck by the fact that he was using a .40 caliber side-hammer muzzleloader, which most current wisdom deems a too light caliber for 1,000-yard shooting. Laurie is one of the few riflemen shooting from the old "back position" and I wanted to see how he manages to shoot so well from what many consider as an unworkable position. I knew that many readers of The Black Powder Cartridge News would like to know more, so I gathered up the pertinent facts over beer and a burger.
Laurie's rifle was built by himself, along the lines of the British Henry, Gibbs and Metford long-range rifles of the late 1800s. Like many who are involved in muzzleloading, and particularly in long-range muzzleloading, Laurie does much of his own gunsmithing. He cut the stock pattern out from a nice stable piece of New Zealand English walnut and carefully inlet the barrel and furniture. He also modified the Rod England breech to give more of a direct ignition channel, which has paid dividends in eliminating hangfires and misfires. The rifle is a beauty, exhibiting careful workmanship, pleasing lines and weighs 12¾ pounds with the sights.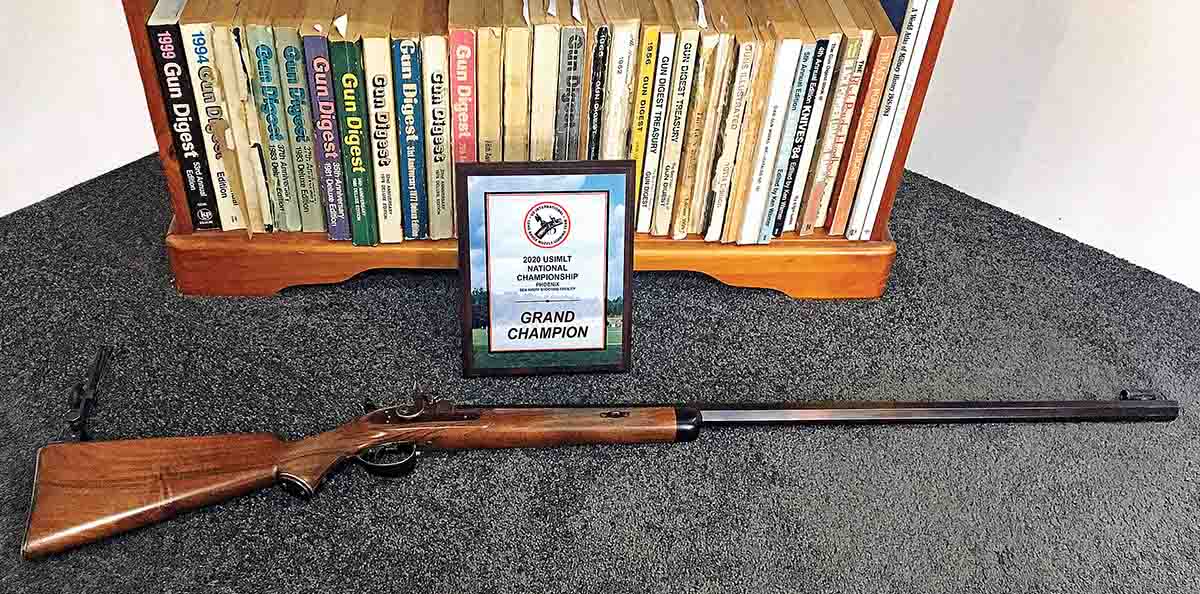 The barrel on the Kerr rifle is a Green Mountain 3½ weight, full octagon, 33 inches long with a 14.5-inch twist. This is a tighter twist than one usually sees on a .40, with the generally encountered one being 1:16. However, given that the bullet Laurie is using is 1.590 inches long, that tighter twist is necessary for good stabilization. Being curious, I ran the Greenhill formula on the bullet and came up with a recommended twist of 1:15.70 inches. The 14.5 twist was right on the money for good stabilization as I've found that one wants about an inch tighter twist than what Greenhill recommends for best accuracy. Green Mountain has long enjoyed a solid reputation for making excellent barrels so there were no surprises there on interior barrel uniformity and finish.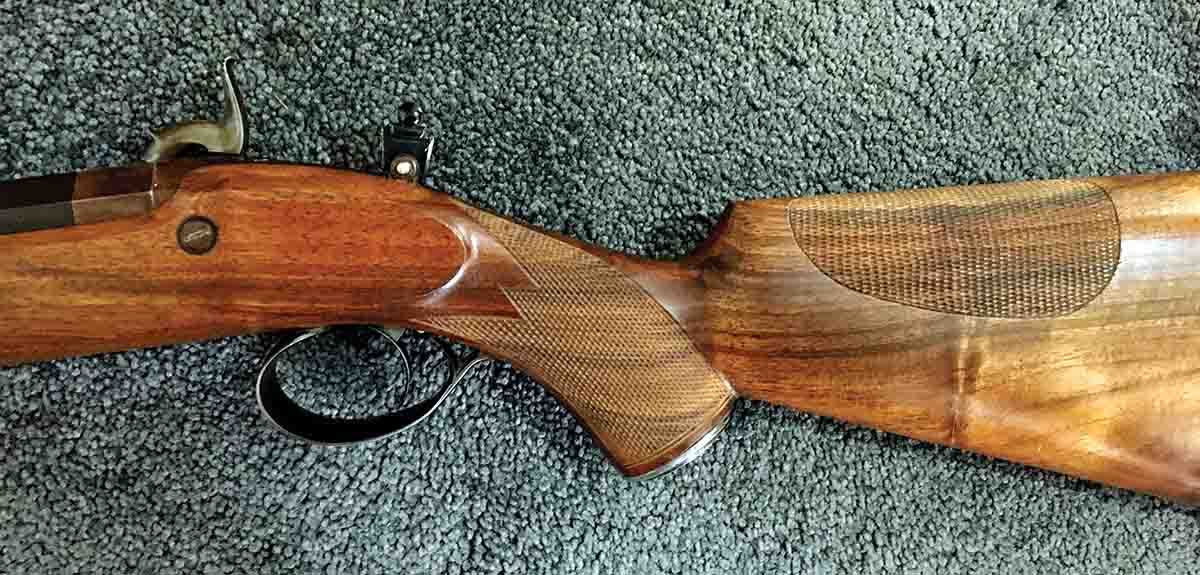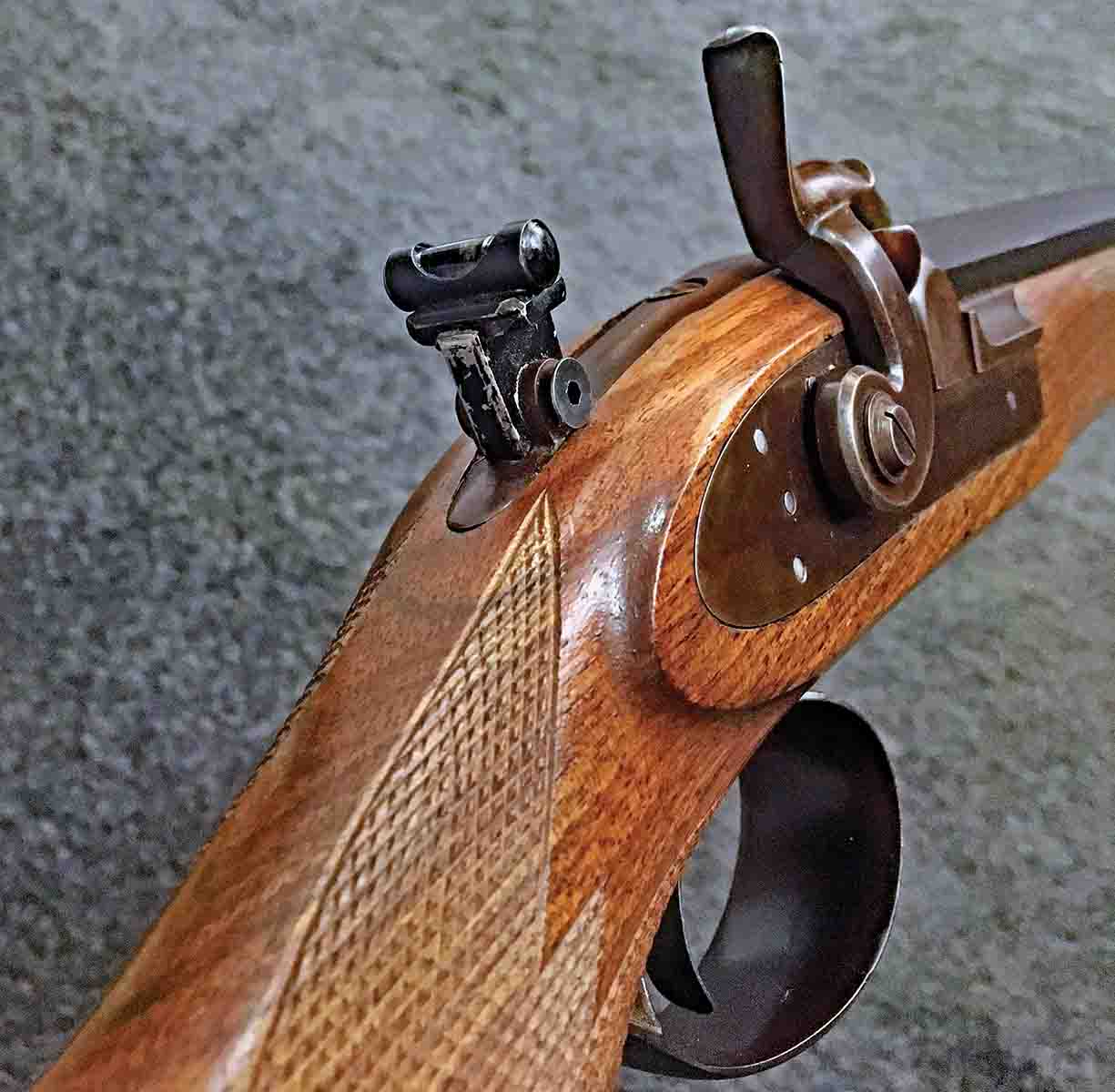 Kerr swages his own paper patch, Metford-style, 465-grain bullets on Corbin equipment using a 96-2-2 alloy which gives it a Brinell hardness number (BHN) of 13. By comparison, a typical one in 10 alloy bullet will have a BHN of about 11.5 and No. 2 Lyman alloy is rated at 15. One can see that Laurie's bullets are fairly hard. This really helps prevent nose slumping and the attendant poor accuracy. The .393-diameter slugs are patched with .0017-thick paper, dry, using two wraps and the tail is twisted into the slug's hollow base. Final bullet diameter is .399. This provides for an easy fit in the Green Mountain .3995 (land) - .408 (bore) barrel. Liquid Alox is used to waterproof the paper patches after they have been applied to the bullet. Laurie lightly lapped the barrel to give a slight choke at the muzzle and he said that once the bullet is through the choke, it will nearly drop of its own weight to the powder.
The paper patch, once wrapped on the bullet, is sliced vertically with a razor blade to ensure that the patch comes off the bullet at the muzzle; an important point in successful paper patch bullet shooting. Laurie has made a simple fixture for rolling the paper patches on the swaged slugs that ensures that they are wrapped tightly and consistently.
The patched bullet is then loaded over 85 grains of 1½ Fg Swiss powder, trickled down the barrel without using a drop tube. The bullet is seated with approximately 10 pounds of pressure on the powder. After firing, Laurie pours in the powder charge then cleans the bore in the British fashion; that is, wiping only down to the charge and not cleaning the breech. This keeps the breech dry and keeps misfires at a minimum. Two wet patches and two dry patches are used and then a final patch moistened with ATF transmission oil is run down and up once. Laurie uses CCI Magnum No. 11 percussion caps and does not snap a "clearing" cap between loadings. Of course, given that this is a fairly high-pressure black-powder load, a platinum-lined nipple is a must and was made by Rick Weber. A standard unlined percussion nipple would quickly burn out using a load such as this.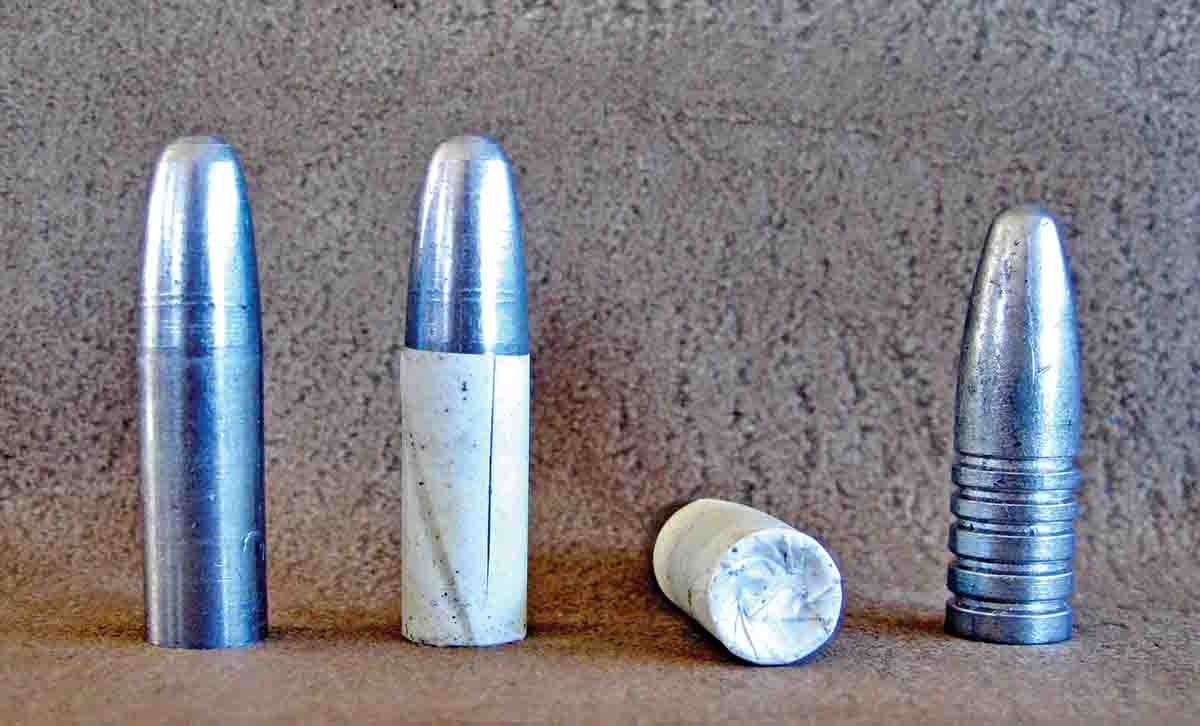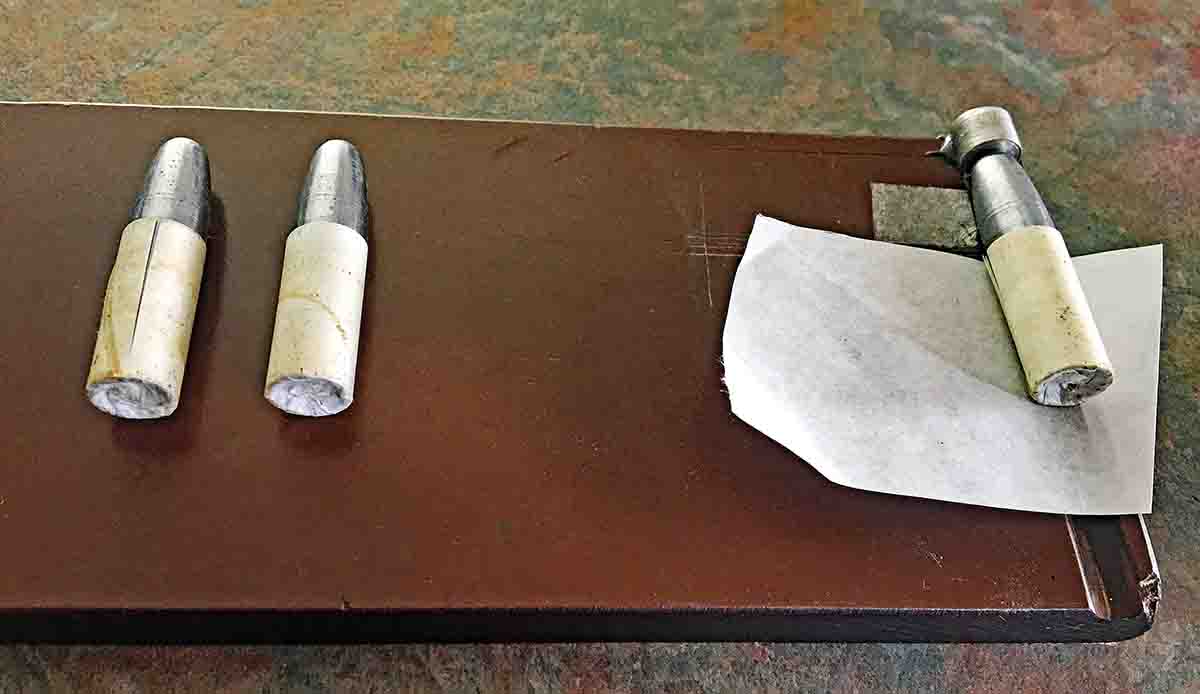 Laurie shoots from the "back position" ever since a mountain biking accident made his shoulder extremely sensitive to recoil. This position removes all recoil from the shoulder and in addition, because a heel-mounted rear sight must be used, it also provides for an increased sight radius of 48 inches.
This is a significant increase over the typical tang-mounted sights used in the usual prone position. Obviously, long sight radius means increased precision in sight alignment on the target.
Laurie is steadfastly convinced that his .40 caliber, paper patched 465-grain bullet is the ballistic superior to many of the heavier .45 bullets being used in the muzzleloading game. Conventional wisdom has long held that the .45 caliber rifles are what must be used, especially for the 1,000-yard targets. However, I must agree with Laurie when he stated, "Ballistic coefficient doesn't lie." His long-for-caliber .40 slug has certainly done the job in practical application on the firing line. At one of the recent competitions, Laurie was asked by a prominent long-range rifleman (shooting a .45 caliber rifle using a grease-groove bullet) how much windage he had on. Laurie's response was "Nine minutes," which was drastically less than the 16 minutes the other shooter was using to stay on target in those same conditions.
Given Laurie's success in the long-range game, it should at least give other competitors pause when thinking about the suitability of the .40 caliber rifle for long-range work. Plus, I don't think we've heard the last of Laurie and his .40 caliber rifle. He is constantly thinking of ways to improve his rifle's performance and I'm sure he will be competing at, and winning, many long-range matches in the future.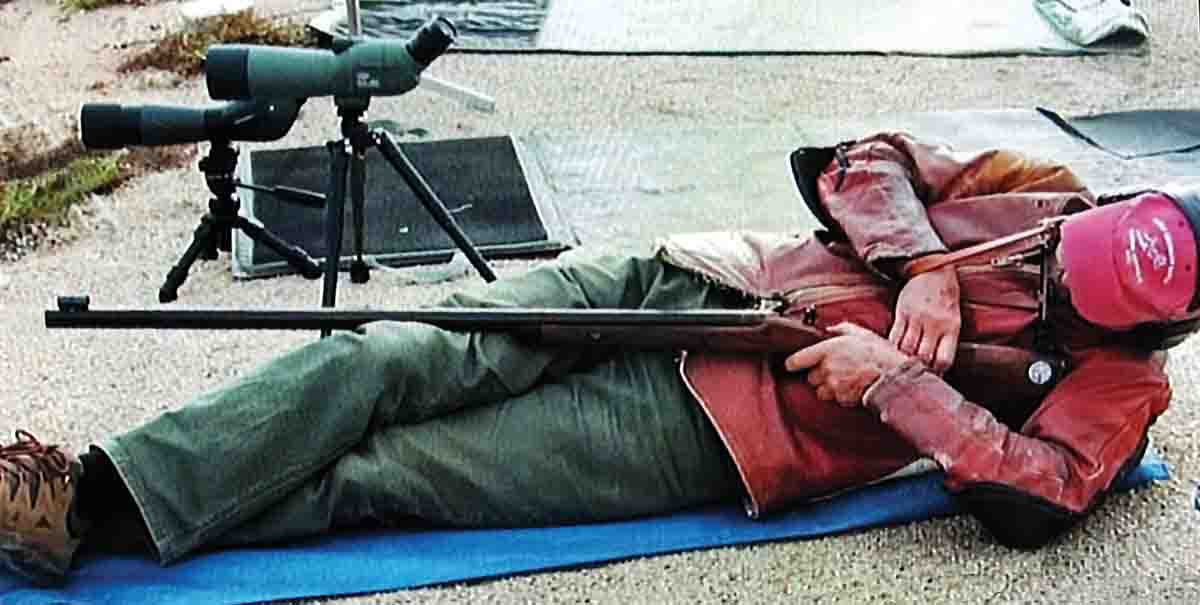 Wins:
Second Place at the 2019 World Long Range Muzzleloading Championship.
First Place at the 2020 USIMLT National Championships.
Rifle Load:
Standard Green Mountain 3.5 weight, 1:14.5 twist, 460-grain paper swaged bullet, Metford-style bullet, 96-2-2 BHN 13, .0017 paper, 2 wraps, twisted tail and cut, sliced, dry patched, no wads, 85 1½ Fg, no drop tube, CCI Magnum, two wets and two dries, and then trans ATF oil, clean down to powder, no snap cap, water proofing patches with Liquid Alox, seated on powder with 10 pounds, what aperture front, back position, Steve Baldwin rear, Parker Hale front 5mm hole aperture (300-500) long 3.5mm hole for long range. Back position, weight 12¾, Swiss 1½, automatic transmission fluid wiped bore.