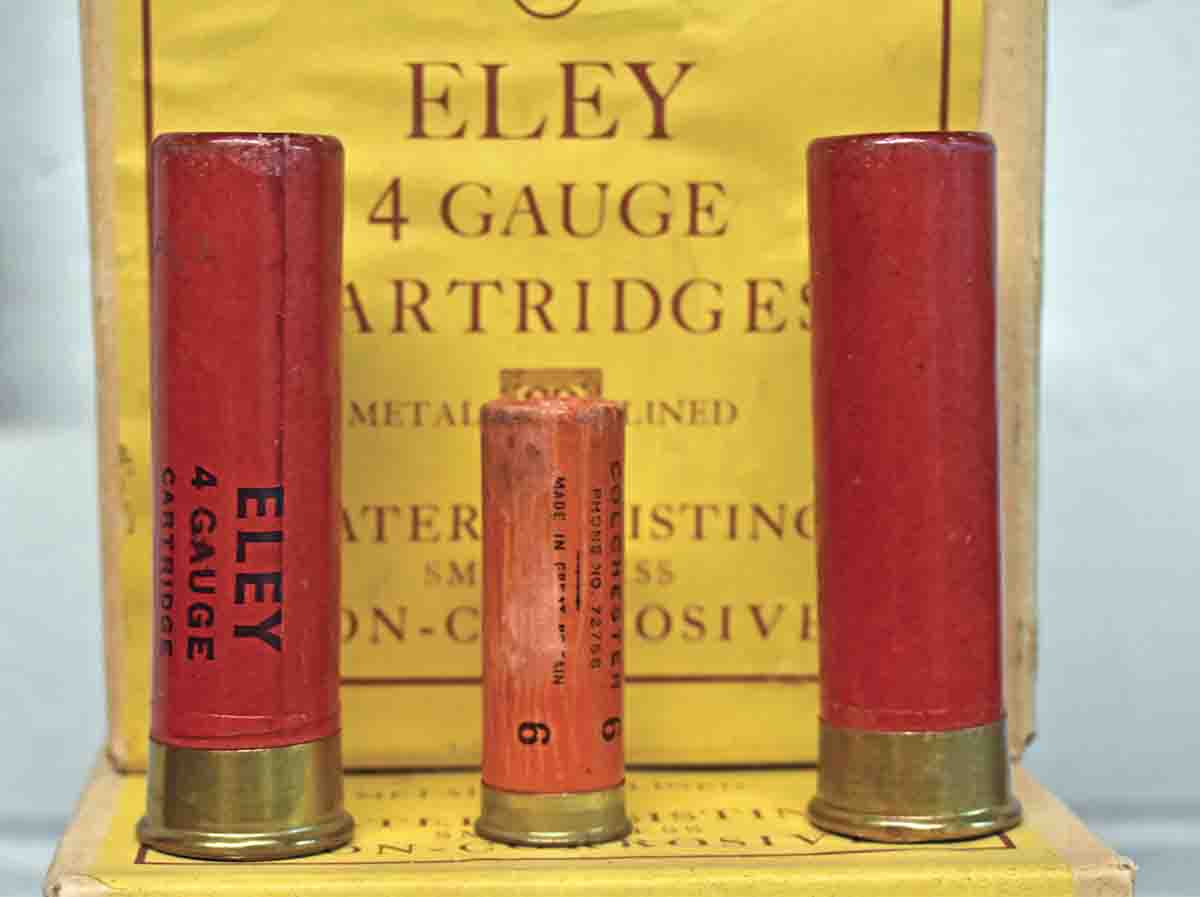 Q
. What were the smallest and largest black-powder charges used in sporting rifles?
A. Two drams or 55 grains in the .360 Black Powder Express up to 16 drams or 440 grains in the largest 4-bore rifle.
Q. How did the English gunsmiths determine the proper weight for a shotgun?
A. Proper shotgun weight was determined by 96 times the shot charge weight in ounces. A 12-bore proofed for a one-ounce charge times 96 = 96 ounces or six pounds gun weight. A 4-bore proofed for a 3½ ounce charge times 96 = 336 ounces or 21 pounds gun weight.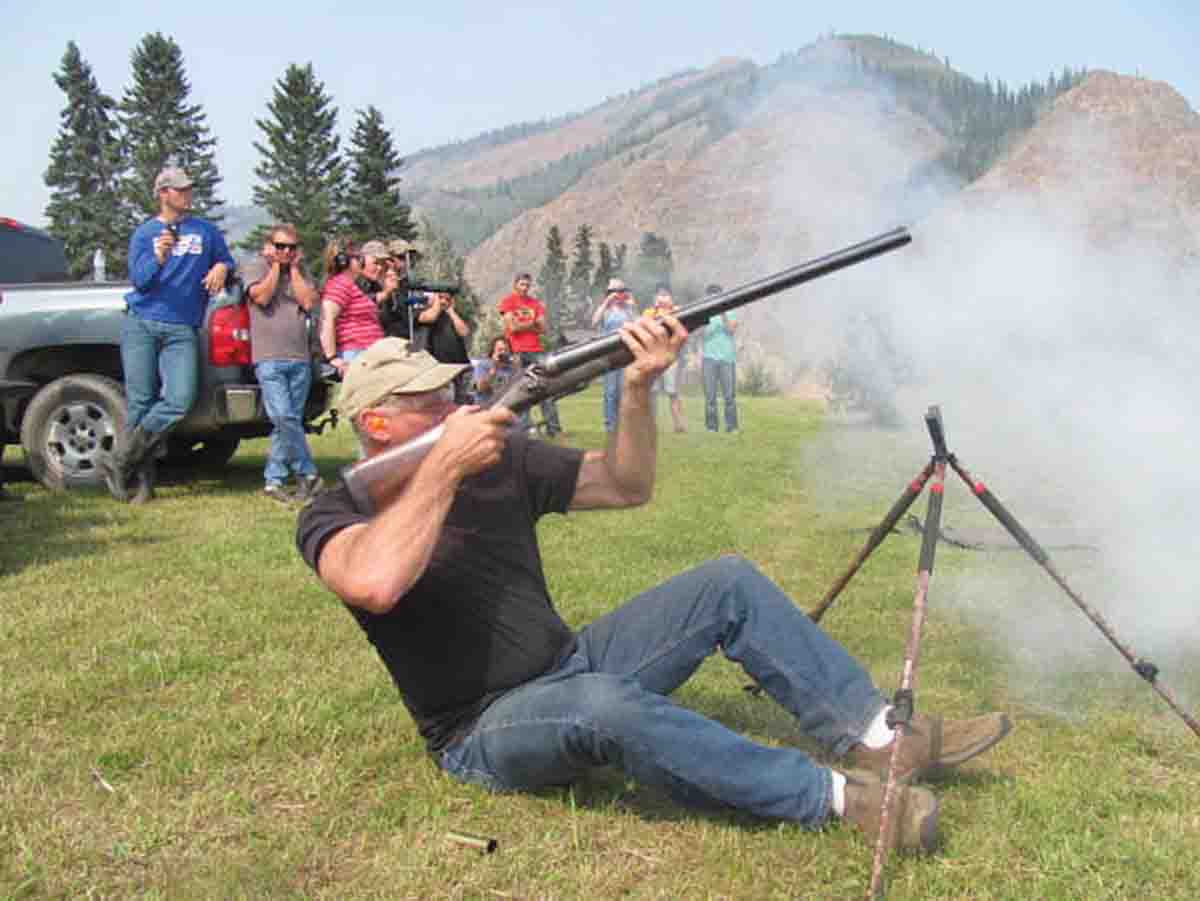 Q. Why do 8- and 4-bores vary so much in bore diameter?
A. While the chambers of the 8- and 4-bores were standardized, it was the wall thickness of the cartridge case that determined the diameter of the projectile and therefore the bore. A paper case had thicker walls than a brass case, equating to a smaller projectile diameter. Smaller bore rifles vary also, but not as much as the larger 8- and 4-bores.
Q. Where did the term "express rifle" originate?
A. James Purdey of London, in approximately 1856, named his new innovation an "express train rifle." He used a larger than normal charge of black powder and lighter than normal projectile weight to obtain a higher than normal velocity. The word "train" was soon dropped, and the rifles were known as "express rifles." When black powder gave way to smokeless or nitro powder, the two were differentiated by "black powder express" and "nitro express."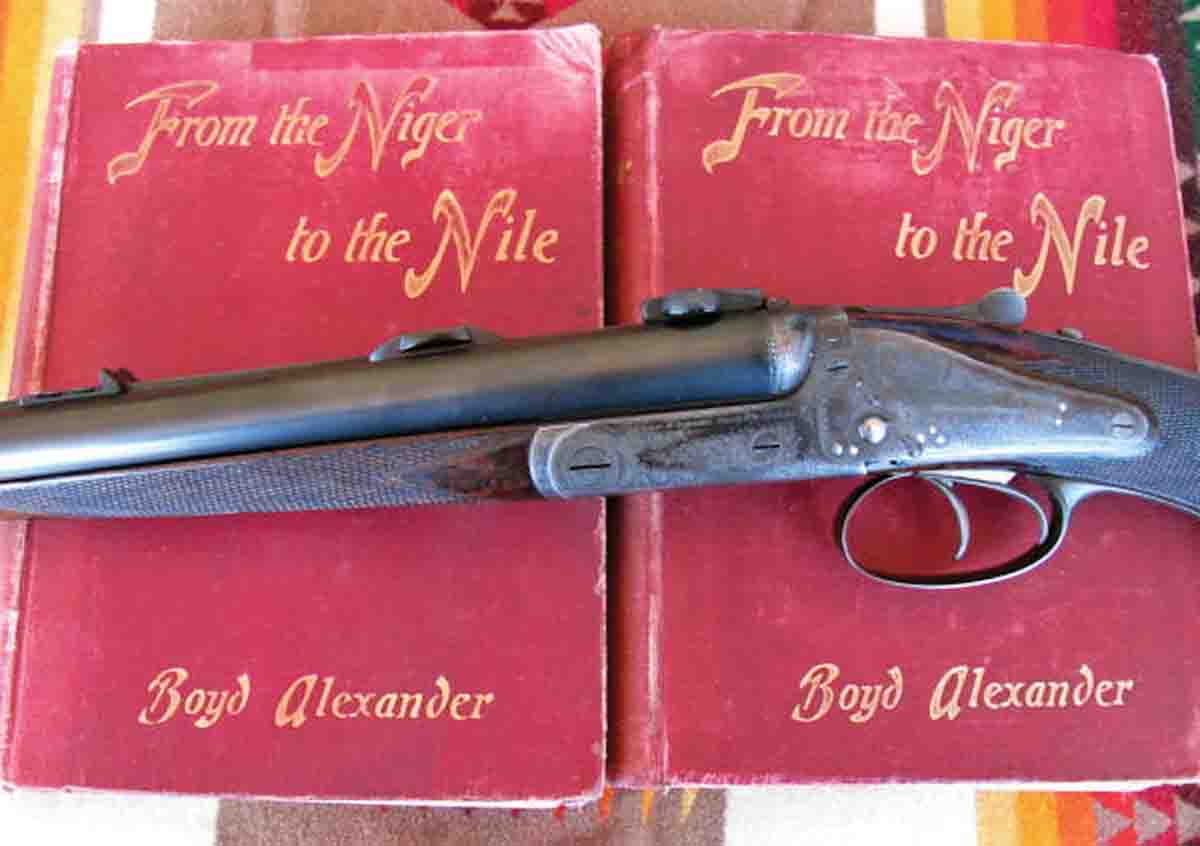 Q. What do numbers such as "38" and "39" mean when on a British-proofed express Winchester rifle?
A. As in a 12 gauge shotgun (12 balls to the pound or 1⁄12 each), a .50 caliber rifle would accept either a round ball of 1⁄38 of a pound or 1⁄39 of a pound. This nomenclature was used in the proof houses of Birmingham and London for the bore size of black powder rifles, both "express" and larger "bore" rifles.
Q. Did the term "Winchester Express" originate from the same use as in England?
A. The word "express" was in used in the United Kingdom before the first Winchester express round was developed (the .50-95 Express in 1879). Winchester used the term for a heavy powder charge and a light bullet.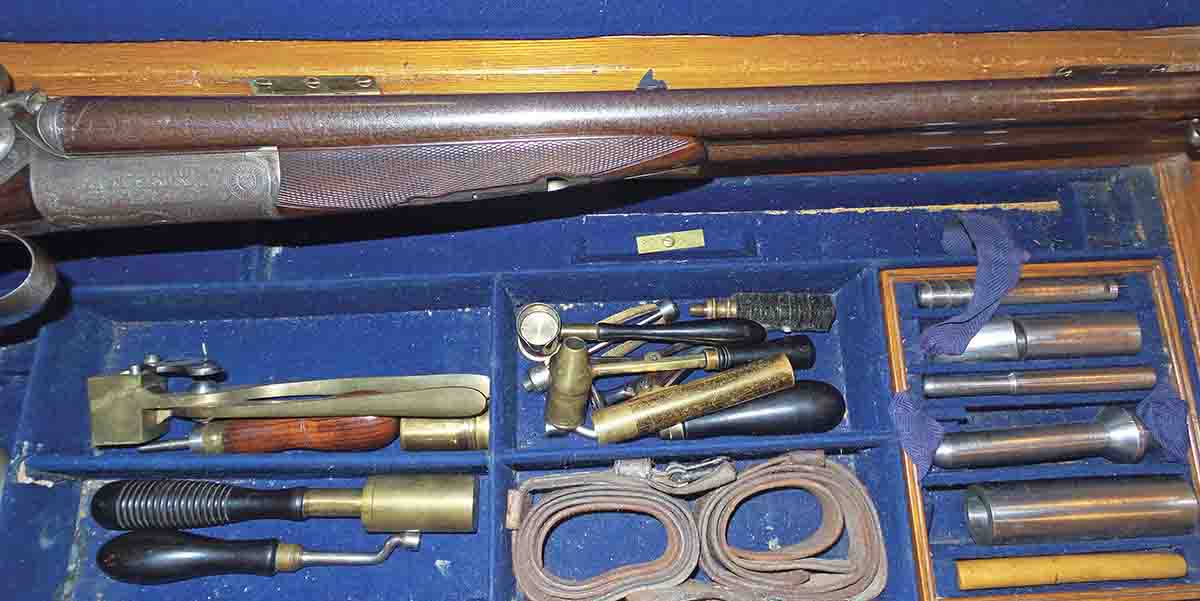 Q. What does the word "grain" mean?
A. Based on the weight 1⁄7000 of a pound, from the ancient days for a grain of cereal.
Q. What is a "dram weight"?
A. A dram is 27.5 grains or 1⁄16 of an ounce.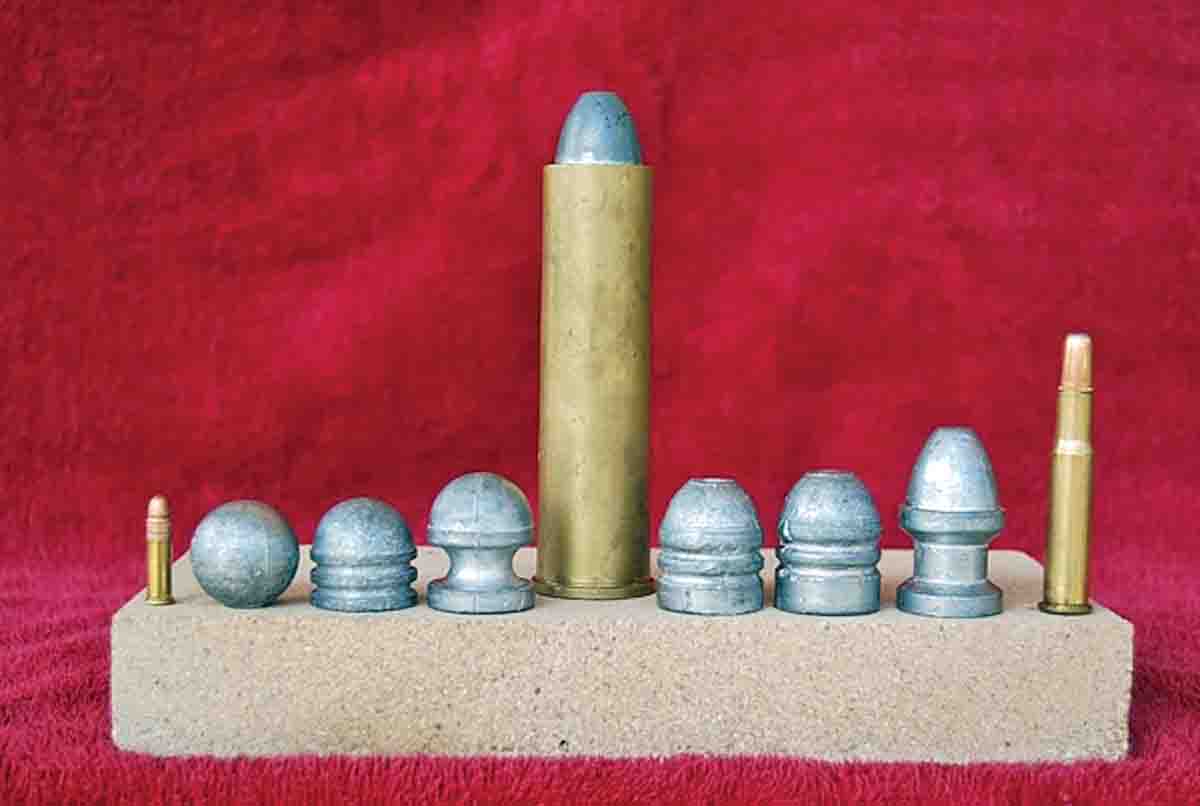 Q. What type of explosive bullets were used in large caliber black-powder rifles?
A. In Samuel Baker's own words: "My half-pound shell was exceedingly simple. A cast-iron bottle, similar in shape to a German seltzer-water, formed the core, around which the lead was cast. The neck of the iron bottle projected through the pointed cone of the projectile, and formed a nipple to receive the percussion-cap. In external appearance the shell was lead, the iron bottle being concealed, within half an ounce of the finest grained powder was inserted through the nipple by means of a small funnel; this formed the bursting charge." Baker's bursting charge was 220 grains of fine black powder.
Q. What is meant by "Paradox" rifling?
A. "Muzzle rifling" is another term for a smoothbore firearm with a chokebore having the choke with rifling cut into it to provide bullet spin. The short rifling would produce bullet spin for accurate rifle shooting but not enough spin to a load of shot to ruin a pattern. Rifled choke guns would pattern shot approximately equivalent to an improved cylinder choke.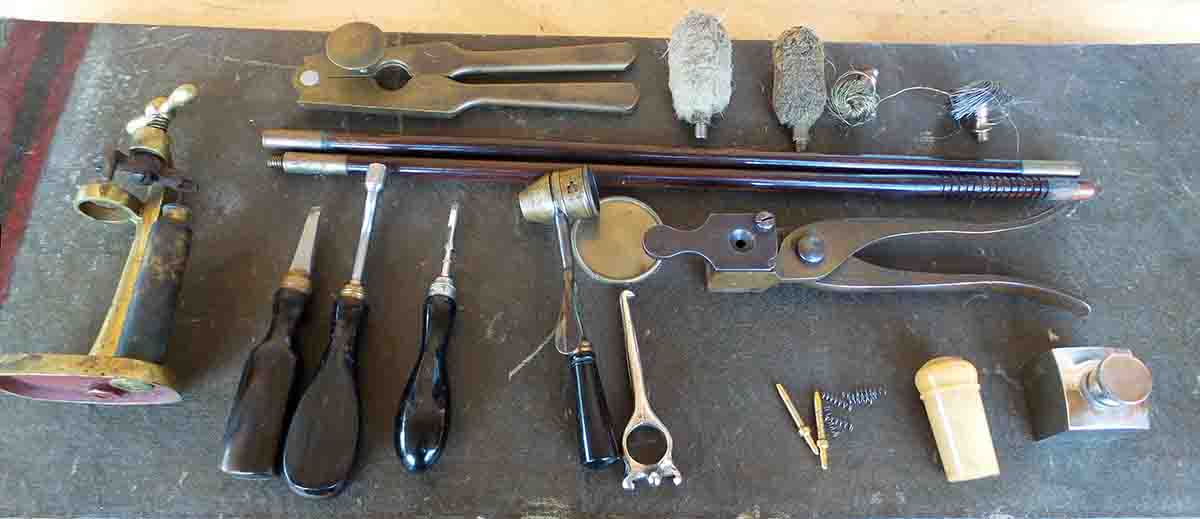 Q. What is the advantage of a rifled choke?
A. While the accuracy achieved can be the same as a rifled bore, if all is equal as to bullet weight and powder charge, velocity will be higher in a rifled choke as the bullet travels most of the distance in the bore without the hindrance of rifling. Also, recoil is less, as the bullet does not have to push itself through the rifling lands. Cleaning a smoothbore takes far less time for both powder fouling and lead deposits.
Q. What accessories were included in a rifle case from the UK?
A. Basic cleaning equipment (rod, tips, oil bottle, turn-screws for disassembly), extra parts (firing pins, springs, front sights), minor reloading tools (bullet mould, sizer, seater, re/de-prime tool) to major reloading accoutrements (case trimming, neck expanding and reaming, paper patch cutter, etc.).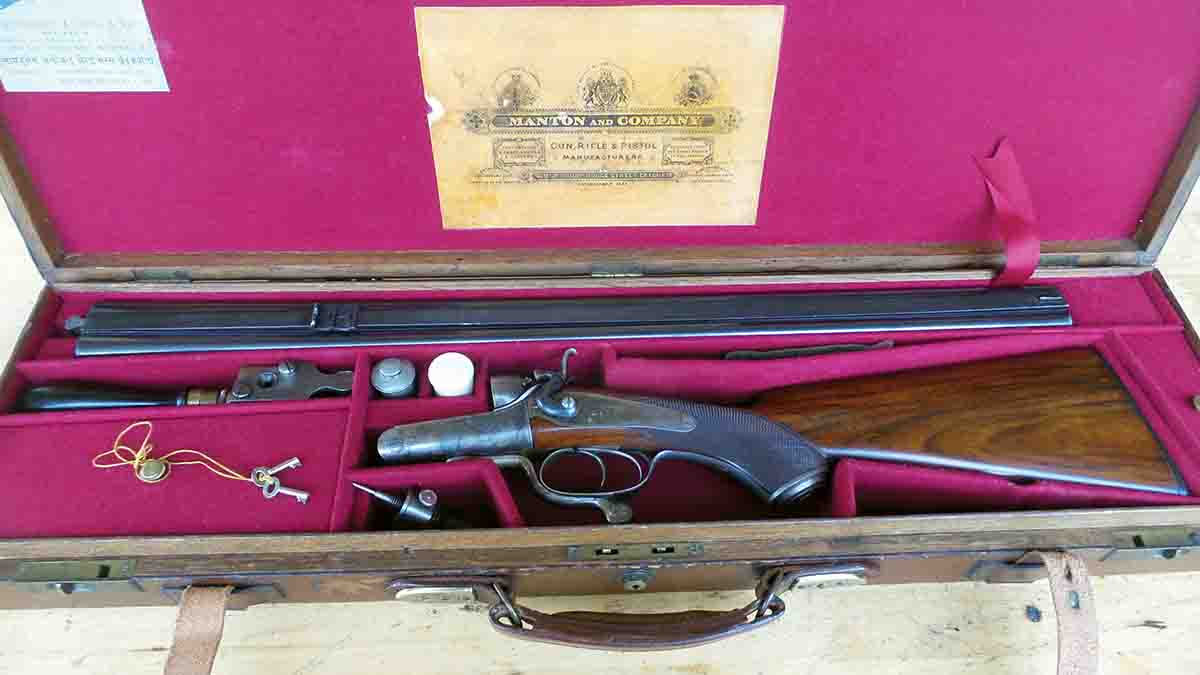 Q. What were the lightest and heaviest bullets used in black-powder cartridge rifles?
A. Generally, they were 190-grain bullets for a .360 Black Powder Express to 1,882-grain slugs (4¼ ounces) for the 4-bore.
Q. Why were published velocities of black-powder cartridges higher than what I can achieve in my rifle?
A. Cartridge testing generally used longer barrels to achieve a higher velocity to add a bit of "blue sky" to the advertised velocity figures.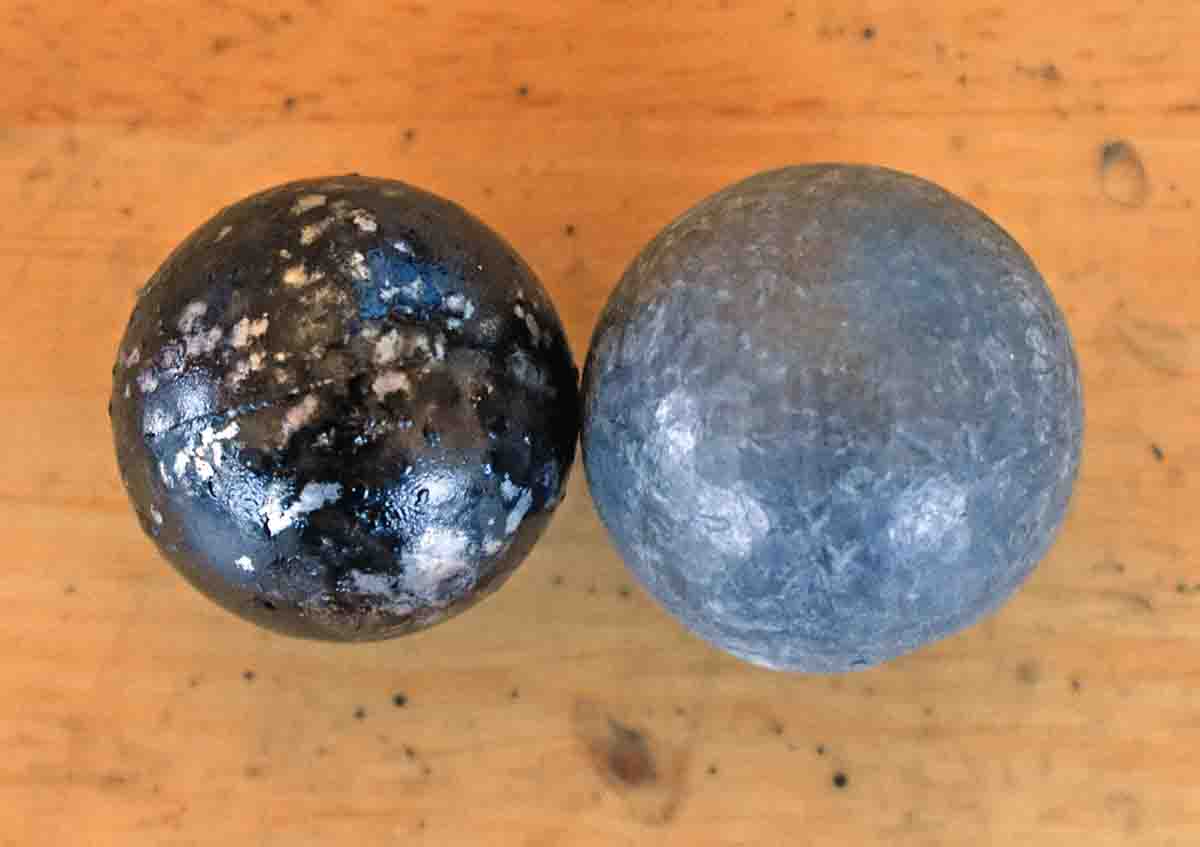 Q. Why can't I achieve the published velocities of older black-powder cartridges when I reload my rifles?
A. Today's black powder is not as efficient as the powder of the vintage years, if the granulation is equal. However, modern refinements are getting closer. In GOEX powder, FFg is too slow to achieve the velocity of the vintage Curtis and Harvey No. 6 and FFFg is too fast. If GOEX produced a 2.5 to 2.7 Fg that would be perfect! Other powders such as Elephant, Swiss, and Olde Eynsford may give more velocity per charge than the standard GOEX.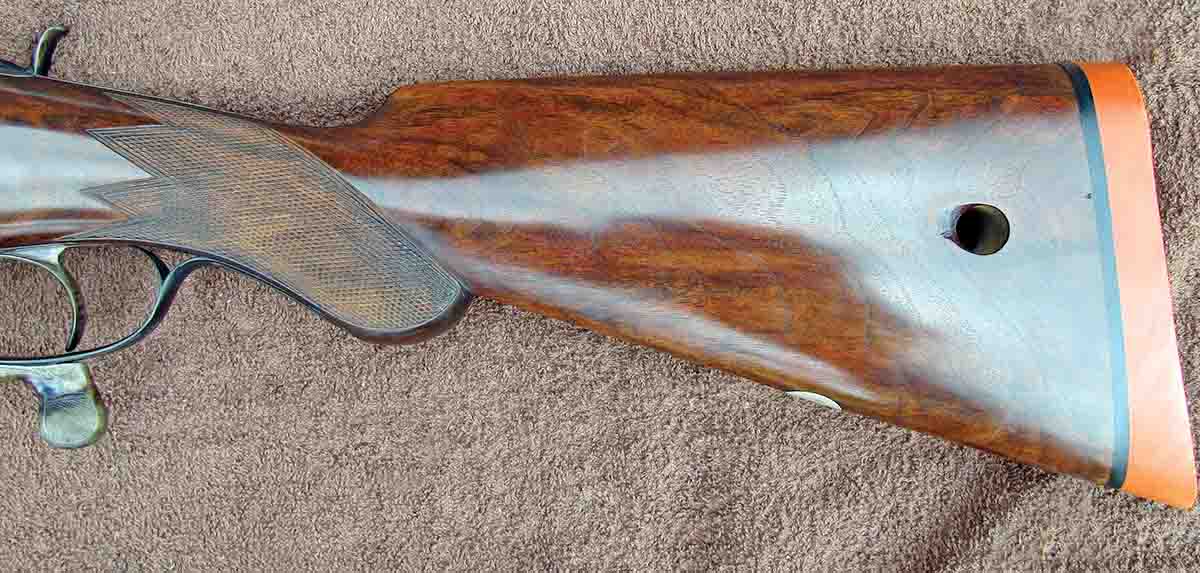 Q. How can I find the history of my antique rifle or shotgun?
A. Many factory ledgers are still in the libraries of the makers. However, many were destroyed in the bombings and fires of World War II, or were lost over time. The English and Scottish records are far more complete than those of Winchester, Marlin and Colt. If the name of the original owner is in the ledger you can do several things. If there is a military designation, contact the Scottish Military Museum's library. They will provide a biography of the person you seek. It could be a sentence or several pages for a military man of note. Other than that, Scotland Yard began registering firearms in 1903, I believe, and their older records may be in their database. The Mormon Church has records of millions of people and you may find the name corresponding to the date of your rifle. Old phone books may also contain a name to track down ancestors. This is easy if the last name is not common or has unique spelling.
Here's an example of one of the author's double rifles, from the Scottish Military Museum records on Capt. Harrisson, owner of the author's .577 Black Powder Express double rifle by the firm of Manton. (As Harrisson served in India it is quite possible he returned to India after retirement to hunt. Manton and Company were retailers of sporting goods in India).
Captain George Alexander Harrisson
79th Queen's Own Cameron Highlanders
Promotions:
Ensign: on 23 November, 1852
Lieutenant: 8 August, 1854
Captain: 13 July, 1855
10 November, 1856 placed on half pay
Re-appointed to the regiment as Captain, 7 August, 1857
Retired 1866
Regimental History:
The 79th regiment served in Crimea and Turkey from 1854 to 1856, and in India from 1857 to 1871.
George A. Harrisson was born in 1835 at Tolethorpe Hall, Rutland, England, and died in 1899 in London. He married Emily Jane Monkton and had one son, Lionel George Everson and one daughter, Ethel Georgina Emily. He had two older brothers who also served in the 79th Cameron Highlanders. One brother died in the Crimea.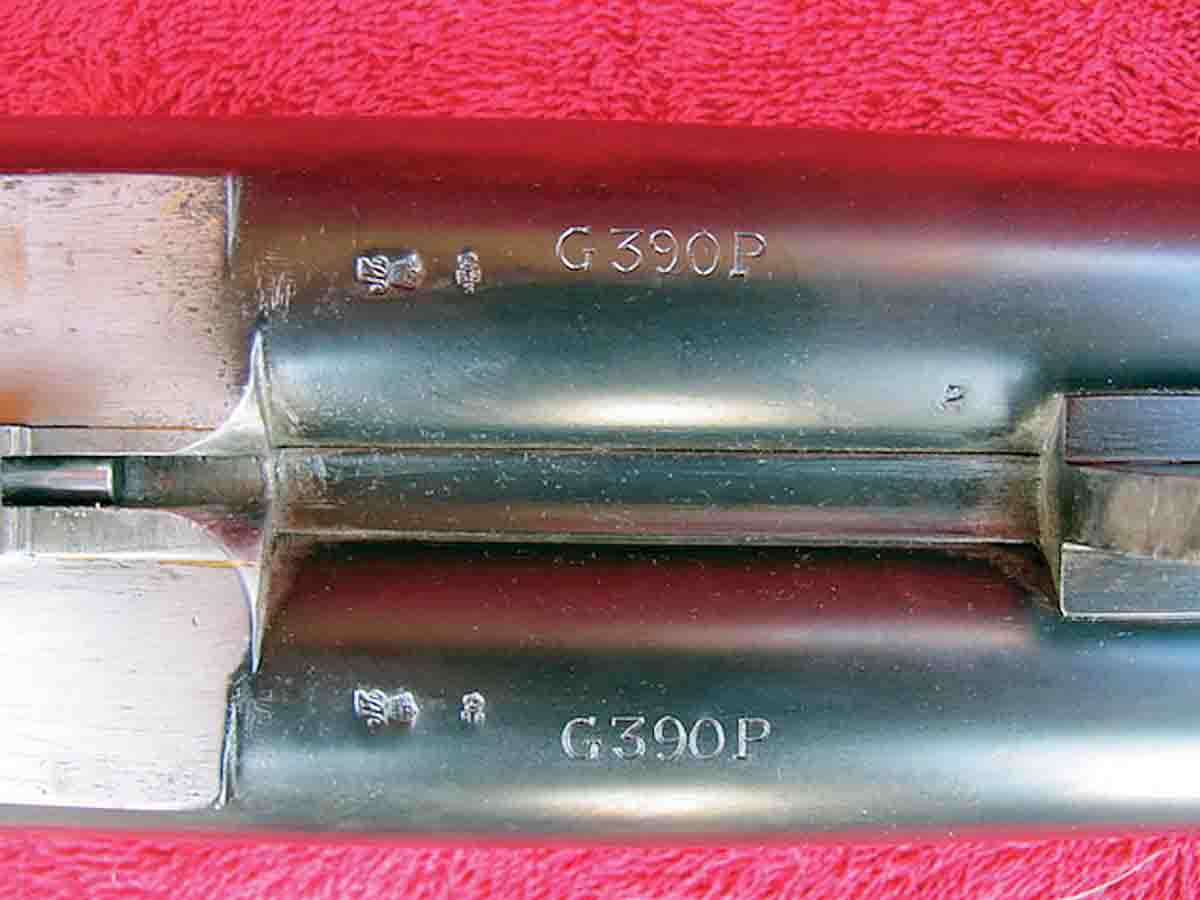 Q. Today, 2-bore black-powder rifles are made, both single and double barrel. Weren't 4-bores the largest rifles in the vintage years?
A. 2-bores (1.326-inch) were made as punt guns to be mounted at the bow of a boat. They were used to shoot flocks of geese or ducks, sometimes 100 per shot at distances of 100 yards. Larger bores were used in the punts, also, such as a 1-bore (1.669). However, for shoulder-fired weapons, the 4-bores ruled the roost, both in rifles and shotguns.
Q. Why are articles written on 2-bores being used in the vintage years?
A. Samuel Baker wrote of his elephant rifle taking an 8-ounce bullet and many assumed this was a 2-bore. Now, if the 8-ounce projectile was a ball, it would be two to the pound or a 2-bore. However, Baker's 8-ounce projectile was an elongated bullet with an explosive compound included therein. An elongated bullet in a 2-bore would weigh far more than a ball of 8 ounces. Baker's rifle was a 4-bore (made by Holland & Holland) designed to shoot the heavier bullet with a reduced charge of black powder (10 drams) rather than the 14 to 16 drams of the standard 4-bore. To shoot 14 or 16 drams with an 8-ounce bullet would push the recoil to unbearable limits, resulting in a rifle weighing 30 pounds or more.
Q. How many reloads can be expected from the larger bore rifle brass cases?
A. In the author's own experience, 100-300 reloads are possible in a thick-walled brass case as the pressures are so low the brass does not stretch or fatigue.
Q. How did the English let the buyer of their rifles know the correct powder charge and bullet weight?
A. In many, but not all rifles proofed in England (Birmingham or London) the cartridge load was stamped or engraved on the barrel or action. Examples are: "charge 10 drams, 1,100-grains bullet" or "5 drams, 3-inch case, 340-grains bullet" or a simple "G390P" as on the author's 4-bore which is "Grains 390 Powder."
Q. A 4-bore ball should weigh 4 ounces or 1,750 grains. Why do some 4-bore balls weigh 1,400 grains?
A. Again, due to the thickness of the brass case wall or the thicker wall of a paper case, 1,400 grains is 1⁄5 of a pound or 1,400 grains, which equates to .970 in diameter. This size is the most common for 4-bore cartridge rifles. A true 4-bore ball weighs 1,750 grains and is 1.052-inches in diameter. Muzzleloaders were made with the true 4-bore size, but not cartridge guns and rifles. Paper-cased 4-bores can shoot a projectile as small as .919 or 6-bore.
Q. Why do large shotguns have a hole through the stock?
A. As a kid I would read stories of the hole being used to pass a rope through and tie off the shotgun so the big 4-bore or 8-bore shotguns would not fly out of the shooter's hands during recoil. Not quite true. The shotgun was tied off, yes, but it was to make it retrievable if it fell overboard when hunting for waterfowl. Punt guns were stationary in the boat and most didn't have the hole; shoulder-held shotguns did, however.